The Ainsworth (エインズワース, Einzuwāsu?) family is an independent magus lineage residing in Fuyuki City, that exists in the parallel world to that of the Fate/kaleid liner PRISMA☆ILLYA world.
Characteristics
[
]
They are a famous magus family. It is uncertain when they decided to save humanity but they continued their journey for more than 1000 years. 200 years ago, the Ainsworth sought the power of the Holy Grail and formed with two other magus family to develop the Holy Grail War and created the Class Card system afterward. They are similar in nature to the Einzbern family, seeking the Holy Grail and creating many homunculus-like servants that they call "Dolls." Julian claims that their overall goal lies in saving the world from the degradation. His plan is through the sacrifice of Miyu Edelfelt and to transform humans into a species that can survive the environment that will eventually be produced by the world's collapse.[1]
In truth, the origin of the Ainsworth are more simple, a young Darius Ainsworth was traveling to study alchemy until he was informed of a discovery that occured in a excavation, Pandora. He took her to his home so she could recover, however, there was no need of this is she was immortal, she threw the box into the fireplace blaming her continued misfortune on it, willingly catching on fire, she told him to wake her up once they had discovered a way to kill her. A distressed Darius grab the blanket of the bed and extinguished the fire asking her why is she doing such things, she told him about the box and how she will never die until it's opened, determined, he grabs the box with his bare hand despite it still being in the fire, and promising to one day open it so she can rest in peace.[2]
"I pray- So that this pitiful little girl can have a peaceful slumber". This was the original wish of Darius and the Ainsworth family.[2]
Years later, in the end of his life and after many failed attempts, Darius tells Pandora how he heard the voices of the "fairies" and asks them how can he open the box, he laments of how short human lives are and how he could never open the pithos, Pandora tells him that just like how stars shine upon the darkness of the night, he was her light and thanks him for his efforts. But Darius isn't satisfied with this outcome, he cannot afford dying without having opened the pithos as promised so she can finally die, so he hugs Pandora and tells her that he will never leave her alone before his body becomes black mud.[3]
He comes back with a copy of his body at his prime, all due to having been storing his data inside of the pithos for dozens of years and making use of Flash Air, making him the same as Pandora, unable to die until the box is opened. However, Flash Air always leaves something out, and Darius who has been displacing himself for a millenia, eventually became mad and a shadow of his former self having completely forgotten the reason why he sought to open the pythos in the first place.[4] Ever since then, the quest of a 1000 years of the Ainsworth began, with each head being eventually replace by Darius. Residing in their castle in the crater of Fuyuki, they hope for the miracle of the Holy Grail to finally be able of opening Pandora's Box.
Magecraft
[
]
Their family's magecraft is Flash Air, Displacement magecraft that substitutes something for something else. Derived from Alchemy, the system has a fundamental rule that the replacement will always suffer from degradation. Thought of as basic and low-level, there are very few who use it, limiting it mostly to the Ainsworth family. They specialize in it, allowing them to switch a multitude of things.
Darius Ainsworth invented Flash Air over a thousand years ago. He created it in order to record and store dozens of years of his life, the concept of "Darius", within Pandora's Box, as it contains a place that is not bound by the same rules of the World and so the record of his soul won't suffer decay inside it. Because of this, every version after him is but a copy of the back-up stored in the Pithos, and every time he dies a record of him in his prime is used to make a near-perfect replica. This has the side-effect of making Darius unable to die unless the Pithos is opened, making him immortal. Tanaka explains that Flash Air is, in actuality, an application of "Transfer Magecraft" that uses the entire imaginary world inside the Pithos as a back-up.[4]
It allows the Ainsworths to displace the soul and consciousness of others into stuffed animals and other objects, replacing them with pseudo-personalities like those used in their Dolls. Pandora has been subject to it for over 1000 years, as Darius states that although her body is immortal, her soul gets worn down by the passage of time. So Darius uses it to have Pandora "spit out all her soul" as a pool of black mud or "pus", getting rid of the "intellect" of her broken mind and "resetting" her personality and memories, reverting her physically and mentally into the body of a "ignorant and innocent child" so she would not suffer suicidal despair at her undying condition. Darius then stores the data of her memories and body within the Pithos, and will reset her again the next time she gets to this point of begging for death and uselessly trying to kill herself.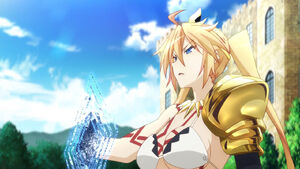 Darius Ainsworth himself has made the circuits of his descendants capable of "[giving] birth to the concept of Darius", allowing Darius to conceptual replace the next head of the Ainsworth, or any of his descendants, with himself; allowing his mind, his appearance, his whole existence, to exist continuously for millennia. It is also through Flash Air that Class Cards are created.
They can change the relations of doors and windows in a building, regardless of actual geographical location, allowing for them to be changed or have one connect to another in an instant to confuse enemies. They can displace an entire mountain with buildings, such as their own castle. They can launch and redirect any attack, be it their own or their enemies, from any direction or angle, displacing a portion of space to place hostile projectiles behind the enemy, allow for their own projectiles to change trajectory by shifting space, increase the velocity of projectiles to become faster and harder-hitting, allow for them to have their limbs appear anywhere, and make their enemy's own sword swings hit them from behind. They can block sword strikes from even a Holy Sword by inversing the coordinates of the attack's surface area, causing the sword to be deflected by itself, and do so subtly enough that it seems like they are blocking it with their bare skin.
They can shift space to teleport or become intangible and can also change their appearance to that of another person, and someone like Darius who has mastered it through generations can displace light and sound to become invisible, create illusionary copies, make the space around the illusions intangible to trick opponents, project his voice to be heard from places he's not or to become completely soundless. They can also make places invisible and inaccessible, like their castle, and can also create a Bounded Field specialized in Displacement Magecraft to achieve this effect without them having to do it themselves. With such a bounded field, not only are such places invisible, but trying to enter it will warp a person so they immediately exit on the other side of the field. They can also grab at a person's heart by displacing their body around their hand, create portals by displacing space to reach out to someone or something, and move their whole body through them.
One of the basics of Displacement Magecraft is "Shape Replacement", which is replacing the shape of an object into another shape, such as a spoon into a fork or a detailed Rose flower. Through enough skill and power, one can give even massive objects powerful shape-shifting ability, and with precision to only affect selected sections instead of needed to transform the whole object, such growing massive spine-covered, spike-launching tendrils from parts of the Ainsworths' Cube, which is larger than a castle. The spike tendrils at least B-ranked or higher, as Julian created them with the purpose of getting past the Berserker Class Card's God Hand, which blocks C-rank attacks or lower.
Brainwashing
[
]
Into oblivion Into oblivion Into oblivion
Fall fall fall... to the abyss
Your life not exist
You know you no
Lose lose lose your all and...
They can also brainwash others to become like dolls. Illyasviel von Einzbern is able to resist it due to her mental strength, and she completely evades it by taking refuge in the empty area Chloe von Einzbern previously inhabited when they were two personalities in one body, but Rin and Luvia were succesfully brainwashed previously to act as the family's maids.
Members
[
]
References
[
]