Armstrong (アームストロング, Āmusutorongu?), Class Name unknown, is a Servant summoned in the Moon Holy Grail War in Fate/EXTRA.
Profile
[
]
Identity
[
]
Armstrong's full name is not stated. There is an unnamed Servant dressed as an astronaut in Fate/EXTRA Last Encore that may be Armstrong.[1]
Appearance
[
]
Personality
[
]
Role
[
]
Fate/EXTRA
[
]
Shinji Matou states, "Have you been inside of the Arena yet? Interesting place, isn't it? I thought it was amazing at first, but it's really pretty primitive. It's like an ocean pulled from a story. I even saw a Master who managed to summon Armstrong. Sorry, I was just messing with you. I dig the sea theme. Overall the game's pretty well done."[2]
Fate/EXTRA Last Encore
[
]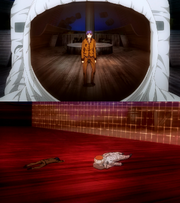 Shinji Matou and Francis Drake face an astronaut Servant as their opponent in their first round. The astronaut is shown collapsing backwards after being defeated, erased by SE.RA.PH along with their Master.[1]

Abilities
[
]
Development
[
]
References
[
]