Atalanta Alter (アタランテ オルタ?), Class Name Berserker (バーサーカー, Bāsākā?), is a Berserker-class Servant summoned by Ritsuka Fujimaru in the Grand Orders of Fate/Grand Order.
Profile
[
]
Identity
[
]
The appearance of Atalanta who went through a transformation due to her personal Noble Phantasm, the Pelt of the Calydonian Boar. Also known as Atalanta Metamorphosis. A rare existence who, while being Demon Beast-ified due to the Pelt of the Calydonian Boar and having her status elevated to equal an A-class Mad Enhancement, is capable of composed thinking. It's not a transformation left relying fully on rage, but since she is already in a beast-like state when summoned, the rank is lower compared to the time when it's used as a Noble Phantasm.[1]
Appearance
[
]
By peeling off the Pelt of Calydon, she immediately returns to being an Archer.
Personality
[
]
She executes the most suitable process for defeating her enemies and even retreat is acceptable based on the circumstances. However, there's basically no way for somebody regarded as an enemy to persuade her. Despite possessing a skill identical to Mad Enhancement, you can communicate with each other. However, persuading her based on logical reasoning is almost impossible.[1]
She has no interest in whether you are an ally of the Human Order or not. No matter how much of a beast she is, if you do not deviate from the rules carved into her heart, she'll be a loyal Servant. However, if it conflicts with these rules, it seems like she will throw away the Master-Servant relationship. Perhaps, even the identification of the Master will be impossible. Of course, if you do not break said rules, there will be no problems. Although she is somewhat different from her normal state, she still retains her urge to protect and care for children.[3]
Role
[
]
Fate/Grand Order
[
]
Anastasia: The Permafrost Empire
[
]
Three months prior to Chaldea's arrival, Atalanta Alter was summoned to the Russian Lostbelt by the remnants of the Counter Force. She becomes leader of a rebellion against Ivan the Terrible.[4] The rebellion started as a result of Yaga Moscow's refusal to provide food to the weaker villages, and their claiming of any hunted Demonic Beast.[5] At some point, she met Beowulf and his faction, though she never learned his name.[3]
Ritsuka's party first meet Atalanta Alter when she intervenes in a fight between them and her rebels. She rejects the group's request to join her since they're human. She then tests their strength their to prove they're not Ivan's allies. With that, she is convinced the group isn't with Ivan. She introduces herself and takes the group to the rebel stronghold.[4]
On the way, she considers giving Avicebron any materials he requests if the group works hard. After passing through a tunnel, the group reaches the stronghold.[6] Later that night, Atalanta Alter makes the group the rebels' reserve corp. She assigns them missions requiring a small elite team to test their utility. Leonardo da Vinci asks her about the tree in Yaga Moscow, to which Atalanta Alter recalls her spy there reported it's called Fantasy Tree. After Ritsuka accepts her missions, Atalanta Alter orders Patxi to escort them. Their first mission is to pass out the rebel's manifesto at nearby villages. She then gives the group some Demonic Beast fangs and golem cores in advance. She agrees to give the rest if they help capture cities allied with Ivan.[7]
Patxi returns later ahead of the others to report to Atalanta Alter that they successfully convince two of the three villages on the manifesto to help. The third village unfortunately was destroyed. Ritsuka and Avicebron return soon after without Mash. Atalanta Alter reveals there is another Servant led faction She wishes to meet him herself, so she has Avicebron watch the stronghold while she, Ritsuka, and Patxi are gone.[3]
On their way, the group chance upon some dead Yaga with signs indicating they were killed by a blade wielding human. Billy the Kid. Beowulf then arrives in response to Billy's call for him. He immediately suspects Ritsuka of being the human mage with Ivan, so he and Billy fight the group to test their strength. After proving themselves, the group are accepted by the duo and their men.[3]
Inside Beowulf's cabin, Atlanta Alter proposes they join forces against Ivan. Beowulf and Billy have no issue, but their men won't accept it out of male chauvinism. Atlanta Alter then asks him if he was responsible for the dead Yaga she and the others found earlier. He denies it, given his sword is more akin to a club. He and Billy recall rumors of a human killing Oprichnik and Yaga alike. Beowulf then proposes they form an alliance out of his and Atlanta Alter's concern for the potential discord between their factions. Billy suggests using Shanshan, a domesticated Demonic Beast which detects magical energy through scent, as a messenger. Shanshan however is too scared to learn Atalanta Alter's scent, seeing her more as predator because of all the Demonic Beasts she's killed. It can't learn the others' scents either, so Billy joins the rebels. Beowulf then warns the Oprichnik in Yaga Moscow have strength on par with a Servant, and proposes his men attack the capital to draw their attention to give the rebels an opening.[3]
Returning to the stronghold, the group are told by Avicebron that they're nearly out of food.[8] Atalanta Alter reluctantly proposes they steal from the pro-Ivan city of Yaga Smolensk, Patxi's hometown. They'll attempt to negotiate for the food, but regardless how negotiations go, they will leave with the supplies they require. Later, Ritsuka and Mash tell Atalanta Alter their concerns about a possible massacre. As it isn't certainty, Atalanta Alter doesn't herself with the possibility of a massacre. Regardless, she agrees to pass on Ritsuka and Mash's concerns to the rebels before they depart.[5]
The group quickly kill the Oprichnik before negotiating with the mayor. Atlanta Alter demands 60% of the town's food supply before taking it down to 50%. However more Oprochnik suddenly arrive and start killing rebel and civilian alike. The rebels and civilians nearly get into a skirmish when a rebel shot a civilian after mistaking his broom for a weapon. Atalanta Alter stops them, and orders her rebels to aim only for the Oprichnik. Avicebron then arrives, and his golems collect the weapons and kill the Oprichnik. The group retreat after the rebels get about a third of their intended target. Patxi does not go with them however.[9]
Back at the stronghold, Atalanta Alter warns Yaga Tula is under attack by the Oprichnik and a Servant. Avicebron alters the golems at the stronghold so they can follow simple orders from Atalanta Alter while he and the others are gone. Before the others leave, she reveals the Servant is Wolfgang Amadeus Mozart. They return later with the assumed Mozart, Antonio Salieri. Atalanta Alter has tracked down magical ore and a jewel able to control golems. She agrees to share the information if the group helps construct a new stronghold. She wants it built at a ravine between the current stronghold and Yaga Moscow. It is protected by a large forest inhabited by vicious Demonic Beasts. She previously didn't considering moving there because its natural defense would make attacking the capital difficult. However this changed when her scouts discovered an incomplete tunnel that cuts through the forest. It can allow the rebels to reach the capital in a day once it's complete.[10] Leaving Billy in charge of the stronghold while they're gone, Atalanta Alter leaves with the others.[11]
Arriving at the construction site, Atalanta Alter divides her Yaga into lumberjacks and tunnel excavators. With the new stronghold complete, Atalanta Alter readies to contact Beowulf in preparation for the attack on Yaga Moscow. Ritsuka and Avicebron return to the Shadow Border, joined by Billy.[11]
While they're gone however, the stronghold is attacked by Grigori Rasputin and the Oprichniki. Atalanta Alter questions how they located and go inside the new stronghold. Rasputin commends her and the rebels for their efforts, but says they overlooked two crucial details. First was not expecting them to go through the forest, and the second for believing the fortress could withstand against a Servant. Atalanta Alter responds they would've detected the deployment of an Anti-Fortress Noble Phantasm, and she knew the forest would handle any Anti-Unti or Ant-Army Noble Phantasms. She reveals the forest is made up of living spirit trees over four centuries old, which are harder than metal, and have their own wills. Rasputin responds though that wood from 400 year old spirit trees can't withstand against a Noble Phantasm with a longer history. He then orders the bearer of such a Noble Phantasm, Minotauros, to show himself.[12] Atalanta Alter gives herself when some children are taken hostage, with Salieri following suit. They and the rebels who were captured are then taken to an old fortress converted into a prison.[13]
There Kadoc Zemlupus asks Atalanta Alter to join him. She refuses, believing he is in league with Ivan. Kadoc asserts that he isn't, pointing out the lack of Oprichniki. He then asks Atalanta Alter to help him defeat Ivan and Chaldea. Kadoc knows that despite being a Servant from the Proper History, Atalanta Alter's true sympathies lie with the Yaga. Atalanta Alter is herself aware what will happen to the Lostbelt if Chaldea is victorious.[13]
Later, she goes to Yaga Moscow with Kadoc. There she waits for Ritsuka's party with him and Anastasia Nikolaevna Romanova,[14] knowing they should've read the note about she and Salieri being executed in five days.[13] When the others come to rescue her, Minotauros traps everywhere in his labryinth. That was part of the rescue plan, and the group slay Minotauros. Afterwards, Avicebron appears, and confesses he wants to use the labyrinth to build Golem Keter Malkuth. However he lacks a core sufficiently strong enough to fight Ivan, so he chooses himself to be the core.[14] He then gives Ritsuka control of Adam before becoming its core. The labyrinth then proceeds to reconstruct into Adam.[15]
Ivan awakens with Adam's construction. The Oprichnik then all disappear with his awakening. He emerges infused with a mountain-sized mammoth-like creature. Kadoc proposes to the group that they work together to defeat Ivan, suggesting they target his true body at the mammoth's head. Atalanta Alter, Beowulf, Anastasia, and Miyamoto Musashi then leave to hold Ivan off, while Ritsuka commands Adam to attack him. None of them can even scratch him however. Fortunately, Salieri's wrathful playing of Dies Irae from the palace leaves Ivan vulnerable. Ivan attacks the palace with his lightning in a effort to kill him, but Ritsuka blocks it with Adam. Ivan tries again, this time intending to destroy Ritsuka with the palace. Fortunately Mash arrives to block the blast. She then blocks another blast with Mold Camelot, the light of which entrances Ivan enough to lower his trunk. Musashi uses this chance to cut it off, disappearing immediately afterwards. Ritsuka then uses this opportunity to have Adam rip Ivan out of the mammoth. The mammoth is rendered inert, and Adam falls apart.[15]
Ivan asks Atalanta Alter, Beowulf, and Anastasia for their names, which they give. After Anastasia defeats him to gain the throne, Ivan leaves for Fantasy Tree Orochi. Atalanta Alter and Beowulf leave to meet with the others after Kadoc and Anastasia leave to usher in her rule.[16]
At Orochi, after Ivan disappears, Kadoc orders Atalanta Alter to kill the others. Atalant Alter confesses her betrayal is due to her refusal to abandon the Yaga, not caring that she'll soon cease to exist if the Proper History disappears. She asks herself why it came to this, as neither Chaldea nor the Yaga did nothing wrong. She then fights the group, during which her rebels shoot at Ritsuka. Patxi shields them however, telling them to save their world become succumbing to his wounds. Billy then arrives and challenges Atalanta Alter to a duel, which she loses. She confesses she knew the Lostbelt would have to disappear, but the rebels knew this already. Every night they heard her crying, trying to muffle her sobs so they wouldn't hear. Even though they accepted their world would need to disappear, the rebels continue to fight because Atalanta Alter believed in their future. Atalanta Alter tells them they did nothing wrong, saying its the purpose of living things to try to survive. She then disappears agreeing with Patxi's last request.[16]
Christmas Event: Holy Samba Night
[
]
Jaguar Man convinces Atalanta Alter to be her partner in the Santa Tag Team Tournament, representing the animal kingdom by saying an eternal Christmas would bring eternal happiness to the children. They serve as the fifth match for Bradamante and Quetzalcoatl. Before the match starts, Atalanta Alter suspects there is a secret place to see the match results or to watch the match illegally, given that people seem to be betting on them. Her reason is thinking thus is because the children in town seem to know she is a wrestler. She declares it is for their smiles that she fights and the match starts. She and Jaguar Man lose, however. Atalanta Alter considers it a conundrum that being overeager for victory can actually make children dislike you before losing consciousness.
Abilities
[
]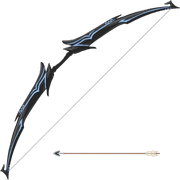 Since this is a magical beast transformation by means of the pelt of Calydon, which manifests in the form of her Agrius Metamorphosis Noble Phantasm, Atalanta Alter is a rare existence that possesses composed thought despite receiving a boost in parameters comparable to A Rank Mad Enhancement. Because this is not a transformation that indulges in fury, but a summoning in which she is constantly in a state of beastification, the rank has fallen in comparison to when she employs the Noble Phantasm.[1] She uses a variation of Tauropolos, known as "Tauropolos: Bow of the Darkened Heavens", with her arrows being made of mana.[2]
Atlanta Alter attacks with animal-like ferocity; clawing, kicking, and even biting to kill the enemy. She still retains her archery skill from when she is summoned as an Archer, though the arrows made from her mana are darker. She can also temporarily become the Calydonian Boar to attack her enemies.[17] She is mentioned as being close to the nature of the Yaga of the Russian Lostbelt. It is possible to implement the optimal means to defeat an opponent, and she may even consider retreat according to the situation. However, it is fundamentally impossible for her to be persuaded by one that she has once considered an enemy.[1]
Atalanta also owns Tauropolos Skia Thermokrasia. The Tauropolos which she employs as an Archer Class servant is absorbed into her own body and used to fire a single shot that is imbued with all her magical energy. Rather than an arrow, this is more like a ballistic missile​. Opponents that receive this are absorbed by a "darkness" with adhesive qualities and forcibly assimilated. In order to resist this, an extremely powerful Magic Resistance skill is necessary.[1]
Skills
[
]
Class Skills
[
]
Beast Enhancement (B Rank): All parameters are raised by two ranks. Despite granting strength equivalent to an A-ranked Madness Enhancement, the skill's user can remain calm, without losing their reason.[2]
Independent Action (A Rank): One is able to act even with the absence of their Master. However, in a situation where one decides to use Noble Phantasms and the like that requires an enormous amount of Magical Energy to consume, backup from their Master is necessary.[1][2]
Personal Skills
[
]
Self-Evolution (EX Rank): An improvement skill towards oneself that exceeds Self-Modification. She continues to evolve by the second in order to overcome any kind of obstacle towards the accomplishment of an objective. However, due to being too much specialized for said objective, it holds the demerit of having less applicability than Self-Modification.[1][2]
Crossing Arcadia (A Rank): She can move while jumping over every obstacle on the field, including enemies.[1][2]
Wild Beast's Logic (B Rank): Combat thinking derived from turning into a beast. Although she does not employ skillful maneuvers, speed thinking for the sake of swiftly killing the opponent accelerates. By coordinating with the Self-Evolution skill, the rate of enemy defeats increases even further.[1][2]
Development
[
]
Creation and Conception
[
]
Ototsugu Konoe is the character illustrator for Atalanta (Alter).[1]
References
[
]
↑ 1.00 1.01 1.02 1.03 1.04 1.05 1.06 1.07 1.08 1.09 1.10 1.11 1.12 1.13 1.14 1.15 1.16 1.17 1.18 1.19 1.20 1.21 1.22 1.23 1.24 1.25 1.26 1.27 1.28

[] Fate/Grand Order - Atalanta〔Alter〕(Berserker) Profile [T]

Atalanta (Alter) - Archer

Illustrator and Voice actor
Illustrator: Ototsugu Konoe
Voice Actor: Saori Hayami

Parameters
Strength: C++
Endurance: C++
Agility: A+
Mana: B
Luck: E
Noble Phantasm: B+

Personal Skills
Self-Evolution: EX
Crossing Arcadia: A
Animalistic Logic: B

Class Skills
Beastly Enhancement: B
Independent Action: A

Noble Phantasm
Tauropolos Skia Thermokrasia: Consuming Shot of Dark Heavens
Rank: A
Type: Anti-Unit Noble Phantasm

Profile
The figure of Atalanta upon transformation by means of her Noble Phantasm, the pelt of Calydon.
Also called Atalanta Metamorphose.

Level 1 Bond
Height/Weight: 166cm・57kg
Source: Greek Mythology
Region: Greek
Alignment: Chaotic Evil  Gender: Female
If the pelt of Calydon is peeled off, she will instantly turn back into an Archer.

Level 2 Bond
Since this is a magical beast transformation by means of the pelt of Calydon, she is a rare existence that possess composed thought despite receiving a boost in parameters comparable to A Rank Mad Enhancement (because this is not a transformation that indulges in fury, but a summoning in which she is constantly in a state of beastification, the rank has fallen in comparison to when she employs the Noble Phantasm).
It is possible to implement the optimal means to defeat an opponent, and she may even consider retreat according to the situation.
However, it is fundamentally impossible for her to be persuaded by one that she has once considered an enemy.

Level 3 Bond


An improvement skill towards oneself that exceeds Self-Modification.
She continues to evolve by the second in order to overcome any kind of obstacles towards the accomplishment of an objective.
However, due being too much specialised for said objective, it holds the demerit of having less applicability than Self-Modification.



Logic of the Wild Beast: B


Combat thinking derived from turning into a beast. Although she does not employ skilful manoeuvres, speed thinking for the sake of swiftly killing the opponent accelerates. By coordinating with the Self-Evolution skill, the rate of enemy defeats increases even further.

Level 4 Bond
"Consuming Shot of Dark Heavens"
Rank: A  Type: Anti-Unit Noble Phantasm
Range: 1~99  Maximum Targets: 1 person
Tauropolos Skia Thermokrasia.
The Tauropolos which she employs as an Archer is absorbed into her own body and used to fire a single shot that is imbued with all her magical energy.
Rather than an arrow, this is more like a ballistic missile​.
Opponents that receive this are absorbed by a "darkness" with adhesive qualities and forcibly assimilated.
In order to resist this, an extremely powerful Magic Resistance skill is necessary.

Level 5 Bond
Although she is able to have a conversation despite possessing an skill equivalent to Mad Enhancement, logical persuasion is fundamentally impossible.

She has no interest in whatever you are an ally of the anthropic principle or not.
No matter how much the beastification has progressed, she remains a faithful Servant so long you do not deviate from the rules she has carved in her heart. But once you go against with those rules, she will probably abandon the relationship of Master and Servant.
Probably, she won't even be able to discern her Master anyone.
Of course, there will be no problems so long you do not go against those rules.

Interlude
???

アタランテ〔オルタ〕 - アーチャー

イラストレーター・声優
ILLUST:近衛乙嗣
CV:早見沙織

パラメータ
筋力:C++
耐力:C++
敏捷:A+
魔力:B
幸運:E
宝具:B+

保有スキル
自己進化:EX
アルカディア越え:A
野獣の論理:B

クラス別能力
獣化:B
単独行動:A

宝具
闇天蝕射
ランク:A
種別:対人宝具

キャラクター詳細
アタランテが自身の宝具であるカリュドーンの毛皮で変身した姿。
アタランテ・メタモローゼとも。

アンロック条件:絆レベルを1にすると開放
身長/体重:166cm・57kg
出典:ギリシャ神話
地域:ギリシャ
属性:混沌・悪  性別:女性
カリドゥーンの毛皮を剥がすと、たちまちアーチャーに戻る。

アンロック条件:絆レベルを2にすると開放
カリドゥーンの毛皮による魔獣化のため、Aランクの狂化に匹敵するステータス向上がありながら、冷静な思考を保つ稀有な存在。
(怒りに任せての変身ではなく、既に獣化した状態での召喚のために宝具として使用した時よりランクが落ちている)
相手を倒すための最適な手段を実行可能であり、状況によっては撤退も視野に入れる。
ただし、一度敵とみなした相手に説得されることは基本的にない。

アンロック条件:絆レベルを3にすると開放
○自己進化;EX
自己改造を上回る、自身への改良スキル。
目的遂行の如何なる障害も乗り越えられるように、自身を秒単位で進化し続ける。
ただし、目的に特化するあまり応用性が自己改造より低い点がデメリット。

○野獣の論理:B
獣に変化したための戦闘思考。搦め手は使えないが、迅速に相手を殺害するための思考速度が高速化する。自己進化スキルと連携させることで敵を倒す速度がさらに増す。

アンロック条件:絆レベルを4にすると開放
『闇天触射』
ランク:A  種別:対人宝具
レンジ:1~99  最大補足:1人
タウロポロス・スキア・セルモクラスィア。
アーチャークラスで使用するタウロポロスを自身に取り込み、全魔力を注いだ一撃を放つ。
矢、というよりは弾道ミサイル。
喰らった相手は粘着質の「闇」に取り込まれ、強制的に同化させられる。
これに抵抗するためには、極めて強力な対魔力スキルが必要。

アンロック条件:絆レベルを5にすると開放
狂化と同様のスキルを持ちながら会話は通じるが、基本的に論理面での説得はほぼ不可能。

彼女はあなたが人間の味方であるかどうかに興味はない。
どれほど獣化されても心に刻んでいるルールを、逸脱しない限り、彼女は忠実なサーヴァントであるが、そのルールに抵触すればマスターとサーヴァントの関係を捨てるだろう。
恐らくマスターの識別すら不可能になるに違いない。
もちろん、あなたがルールに抵触しなければ何も問題ないのだが。

アンロック条件:「??? 」をクリアすると開放
???

↑ 2.00 2.01 2.02 2.03 2.04 2.05 2.06 2.07 2.08 2.09 2.10 2.11 2.12 2.13 2.14 2.15 2.16 2.17 2.18 2.19 2.20 2.21 2.22 2.23 2.24 2.25 2.26 Fate/Grand Order material VII Atalanta Alter's profile translated by Konchew
↑ 3.0 3.1 3.2 3.3 3.4 Fate/Grand Order: Cosmos in the Lostbelt - Anastasia: Permafrost Empire, Section 9: Birth of a Yaga
↑ 4.0 4.1 ''Fate/Grand Order: Cosmos in the Lostbelt'' - Anastasia: Permafrost Empire, Section 3: Golem Master
↑ 5.0 5.1 Fate/Grand Order: Cosmos in the Lostbelt - Anastasia: Permafrost Empire, Section 11: Becoming Those Who Pilfer
↑ Fate/Grand Order: Cosmos in the Lostbelt - Anastasia: Permafrost Empire, Section 4: Rebels
↑ Fate/Grand Order: Cosmos in the Lostbelt - Anastasia: Permafrost Empire, Section 5: Manifesto
↑ Fate/Grand Order: Cosmos in the Lostbelt - Anastasia: Permafrost Empire, Section 10: Eyes of a Monster
↑ Fate/Grand Order: Cosmos in the Lostbelt - Anastasia: Permafrost Empire, Section 12: Imminent Slaughter
↑ Fate/Grand Order: Cosmos in the Lostbelt - Anastasia: Permafrost Empire, Section 15: Grand Duchess Anastasia
↑ 11.0 11.1 Fate/Grand Order: Cosmos in the Lostbelt - Anastasia: Permafrost Empire, Section 16: Deforestation, Mining, and Construction
↑ Fate/Grand Order: Cosmos in the Lostbelt - Anastasia: Permafrost Empire, Section 17: No Longer of the Lightning
↑ 13.0 13.1 13.2 Fate/Grand Order: Cosmos in the Lostbelt - Anastasia: Permafrost Empire, Section 19: Patxi's Decision
↑ 14.0 14.1 Fate/Grand Order: Cosmos in the Lostbelt - Anastasia: Permafrost Empire, Section 20: The Tumultuous Land
↑ 15.0 15.1 Fate/Grand Order: Cosmos in the Lostbelt - Anastasia: Permafrost Empire, Section 21: The Lightning Tsar Reigns
↑ 16.0 16.1 Fate/Grand Order: Cosmos in the Lostbelt - Anastasia: Permafrost Empire, Section 22: The Grand Duchess of the Beast Nation
↑ Fate/Grand Order - Atalanta Alter, Animations