For the specific location, see Avalon.
Avalon: The Everdistant Utopia (全て遠き理想郷, Subete Tōki Risōkyō?) is the hallowed scabbard of Excalibur, the embodiment of the utopia King Arthur seeks, originally stolen from her shortly before the Battle of CamlannWP due to the machinations of Morgan le Fay. It is a luxurious piece of equipment made of gold and decorated with blue enamel that seems more like a treasure to show dignity and nobility like a crown or staff than a weapon. No one knows what kind of Divine Mystery it is made from, but it was created by fairies along with Excalibur, an inscription written in Fairy Letters engraved on its center to show that it is not the work of man. It bequeaths limited immortality through constant regeneration, as well as preventing physical deterioration caused by aging. The utopia Avalon was thought to be derived from the island that produced the "Apple of Immortality" in Greek Mythology.[3]
The Noble Phantasm is not like one brought forth from the Throne of Heroes with the Heroic Spirit or actually possessed by King Arthur due to her unique status. It is the genuine artifact that was lost to her, it was found by Richard I during his life and stored in a box, centuries later it was excavated in CornwallWP at the request of the Einzberns shortly before the Fourth Holy Grail War. It is still in pristine condition after one thousand and five hundred years, though it no longer functions without a connection to its original owner. Used as a catalyst to summon Artoria as a Saber-class Servant, its existence is kept hidden from her. It is later used to save the life of Shirou Emiya at the end of the Fourth Holy Grail War, and it is once again used as a catalyst to summon her during the Fifth Holy Grail War.
The holder of the scabbard is granted potent healing, allowing for critical and fatal wounds to be rapidly repaired to restore the wielder's health. Minor injuries are restored easily, and even large missing portions of the body and destroyed vital organs like the heart can quickly be restored at the critical moment before death. Targeting anything other than the holder's head in order to destroy their brain is futile, requiring for a decisive strike to be landed in order to cause any true damage. It does have its limits in repairing the body, as counteracting the curse from Shirou being stabbed by Gae Bolg takes a great deal of time and dealing with the massive backlash from Ea clashing with Excalibur takes a number of minutes to restore Saber's health.
Its function as a Noble Phantasm is an "absolute defense" that completely shields its user in the domain of the fairies, Avalon, the unreachable utopia that King Arthur dreamt of and was said to have gone to after her death. It is the greatest protection in the world that goes beyond defending or reflecting, completely isolating its user in a world completely separate from the regular world. The scabbard dissipates into countless tiny particles in the air and engulfs the user to become a "portable fortress" that shuts out all interference. It is the Bounded Field of the tranquil domain of fairies that keeps out all filth from the outside world, and allows nothing to harm the tranquil King that stands in the land of Avalon. The individual is shielded from all destructive interference in the physical realm, transliners from parallel worlds, and multidimensional communication as far as the sixth dimension. It is on the level of true magic, an actual true magic in itself, that transcends all magecraft, and not even the Five Magics can overcome the barrier.[4]
It is said in Arthurian legend that after Arthur received Excalibur, Merlin approached him with a "magic sheath" that would not allow for a drop of his own blood to be spilled so long as he possessed it. It can be called even more valuable than Excalibur due to its loss being connected to his death.[5] When asked "Your highness. Which do you like better? The sword or the sheath?", Arthur is said to have answered that the sword is better without hesitation. Merlin scolded him instead with "Please make no mistake here. The sword slashes the enemy, but the sheath protects you. As long as you have the sheath on you, you will spill no blood and take no wounds. You should truly value the sheath, not the sword."
Master's Noble Phantasm
[
]
While normally useless as a magical artifact, Avalon can also be used as a Master's Noble Phantasm after Saber is summoned. It can be disassembled and sealed inside Saber's Master or someone who will constantly be close to her, such as Irisviel von Einzbern, as a Conceptual Weapon to aid them with its regenerative abilities. The contract between Saber and a Master isn't a requirement to use Avalon's abilities, but having one will provide the user the true benefit of limited immortality by allowing it to obtain magical energy from Saber and fully utilize its effects according to the contract. This allows Kiritsugu to use Innate Time Control, which causes enough damage to shatter bones and tear tendons with brief use, at double his normal level for extended periods of time. However, it only nullifies the damage he receives; he is still burdened by the excessive pain of the injuries. Additionally, it will not heal wounds inflicted by Excalibur.[6]
Avalon's effects are less potent for those without the contract, allowing its regenerative abilities to be used only while Saber is close enough to provide magical energy to it. It will not function at all if she is unable to provide it with magical energy by being near its bearer. Its functionality increases as she gets closer and becomes able to provide it with more magical energy, and it can be increased further through direct contact with the wielder. It is enough to keep Irisviel functioning as a person, while she would normally start to break down and lose functions as a human due to her status as the vessel of the Holy Grail. She needs to be within range of Saber to function normally, while her suffering increases as Saber moves farther away.
Avalon can be removed from its user at any time to be passed on to another. Irisviel is able to manifest it by placing her hand on her chest, concentrating magical energy within her on to her fingertips, and allowing the form of the scabbard to appear within a silhouette of light before finally manifesting. Kiritsugu is able to do the same to implant it into the dying Shirou, and it remains within him for many years. It remains merged with him in the Unlimited Blade Works and Heaven's Feel routes, but it is discovered during the Fate route after Shirou manages to project it to reflect the strike of Merodach. Shirou and Saber must employ a different method to retrieve it from within him, having Saber to gather its form while Shirou shapes it with Projection in order to return it to her from across time.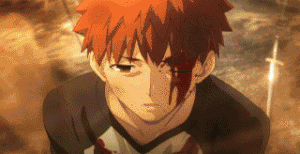 Though Saber is already gone when Kiritsugu implants it within Shirou, the residual energy residing within it is enough to resuscitate him. It becomes inert afterward, but it draws him closer to swords and actually changes his Elemental Affinity and Origin to "Sword" as well. Once the Fifth Holy Grail War enters the preparation stage, magical energy starts flowing within Avalon due to it being confirmed that Shirou will summon Saber.[7] After it is used as the catalyst to summon Saber a second time, the connection is fully re-established and it heals him from a number of fatal wounds during the War. Even after separating it from him, it has merged with him to the point where he is able to create a perfect projection of it without any degradation that bypasses all of the steps due to having a complete record of it. After the connection to Saber is gone, it can be said his image of Avalon also disappears.[8]
Development
[
]
Hirokazu Koyama is the weapon designer for Avalon.
References
[
]
↑ 1.0 1.1 1.2

[] Fate/complete material III: World Material - The Servants of the Fifth Holy Grail War: Saber, p.020-021 [T]

Artoria
Class: Saber
Master: Emiya Shirou
Alignment: Lawful Good
Sex: Female
Height: 154cm
Weight: 42kg
Armament: Armour, Sword

STR: B
CON: C
AGI: C
MGI: B
LCK: B
Noble Phantasm: C

Legend
Once up on a time, there was a king in England named Arthur Pendragon. He was the legendary king who staunchly defended the land from the invading Saxons for a long period of time.
The name Arthur, written in the fashion of Romans is "Artorius". Its feminine form is "Artoria", which is the true name of Saber.
Artoria was born between Uther Pendragon and a Queen hailed from the rival kingdom. She grew up under the guidance of the True Magician Merlin, and became the king after pulling out the Sword of Selection. Later, she led Lacenlot, Gawain, and other famed knights to achieve innumerable deeds. They engaged the King of Saxons at the Battle of Badon Hill and brought peace to the land of Britain. Because the Scabbard of the Holy Sword stopped her from aging, Artoria continued to reign as the ideal king. It was ironic that Queen Guinevere and the serving knights grew more distant from Artoria precisely because she was too ideal. In the civil war that raged at the end of her reign, she crossed blade with her very own son, Mordred. At that instant, she pledged her service as a Heroic Spirit after death in exchange for striking a pact with the World. The one wish she hoped the Holy Grail could realise was "redo the selection of the king". In legend, the body of King Arthur was transported to the Fairyland – Avalon, where he is healing his wounds in serenity.

Tactics
Saber's ability is maximally unleashed while engaging in an honourable face-to-face single combat. It is a method of battle that is full of chivalric honour, and it is also one that suits Saber's sense of aesthetics. However, this does not mean she dislikes strategising. Because she is also a capable military commander, she tends to loath fabricated strategies that have no concrete basis. She fine-tunes her strategy meticulously. While on the battlefield, she further adapts her actions in response to the ever-changing dynamics of combat. Naturally, Saber despises cowardly actions, strategies or not. For this reason, in the Fourth Holy Grail War, her compatibility with the cool-headed, achieving-his-goal-at-all-cost Master Emiya Kiritsugu was the worst.

Class Abilities
Magic Resistance: A
Artoria boasts the highest rank of resistance to magic amongst the Servants. She is capable of completely neutralising grand sorceries involving magic arrays and instant contracts. Even modern magi of the highest level cannot wound her directly with sorcery. Artoria is able to resist an action force onto her powered by one stroke of the Command Spell. Such is the extraordinary rank of Artoria's Magic Resistance, sufficient to shake the very foundation of the Servant System. If the opponent is someone who attacks with sorcery, Artoria will charge without fear and determine the outcome of the battle with a slash.
Also, as her "Pendragon" name shows, Artoria is the holder of the Element of the Red Dragon, charged with the task of protecting the kingdom. She carries the very magical power of the Dragon. This humongous magical power is also the source of Artoria's Magic Resistance. Due to the characteristics of Dragon, Artoria has much trouble with existences such as Siegfried, who is associated with tales of "Dragon extermination". If she is targeted by "Dragon-slaying Sorceries", it is possible that Magic Resistance will not function to its fullest extent.
In the story, Artoria retained her Magic Resistance of A while having Emiya Shirou and Rin as Masters, regardless the two's differences in power and characteristics. On the other hand, while having Matou Sakura as her Master, her Magic Resistance decreased to B as a result of Blackening.

Riding: B
Since "knights" are soldiers who are proficient in mounted warfare, Saber's rank in Riding is very high. Chariots can be ridden the same way. Motorcycles and automobiles are treated as "modern mounts", thus a high rank in Riding is also applicable. It is unclear if Riding is applicable to aircrafts. Saber's Riding was elevated to A while having Emiya Kiritsugu as Master. However, Artoria can ultimately only control normal mounts. She cannot control Pegasi, Griffons, Dragons, and other Magical Beast, Divine Beast Ranked Phantasmal Species. This is due to her Class not being Rider, as well as the fact that she was a King in the Age of Man, thus did not have the fortune of having "Legends of Riding Phantasmal Species".
Artoria rode a motorcycle in the Fourth Holy Grail War, but did not have the opportunity to demonstrate her Riding ability in the Fifth Holy Grail War. Provided with the appropriate mount, the battles might have developed differently.

Personal Skills
Instinct: A
Instinct is the ability to instantly identify "the best personal course of action" during combat. Because this skill allows for the prediction of trajectory, it is possible to avoid attacks from firearms. At rank A, it is essentially in the realm of predicting the future. Through this ability, it is possible to negate the penalties inflicted by visual and auditory interference to a certain extend.
Being able to discern Cú Chulainn's ultimate technique certainly reflects her skills, but having exceptional Instinct also helped her immensely.

Mana Burst: A
The ability to reinforce one's weapon and body through the infusion of magical energy. By reinforcing the ability of the body to a great extend using magical energy, the physically fragile Artoria was able to fight head on with monsters such as Berserker. At rank A, even a stick can become a weapon of great power.
Executing large-scale body reinforcement through Mana Burst is only possible with Artoria's immense magical power.
(Translator's Note: This is basically analogous to Strengthening/Reinforcement Sorcery.)

Charisma: B
Artoria possessed high Charisma, and reigned as the king of England. The morale of military forces she commands is extremely high. However, this strong influence is still insufficient to build a vast empire spanning the world, so it remains at rank B (enough to rule a country).
Caption: Artoria, the protector of the British Isles. Even with her Charisma, she could not avert the fall of her kingdom.

Noble Phantasms
Invisible Air
Rank: C
Type: Anti-Unit
Range: 1~2
Maximum Targets: 1 Object

A barrier that renders the blade hidden by entangling it with layers of wind, and altering the light refraction rate. It is closer to a sorcery than a Noble Phantasm. By using this barrier, Artoria can attack without the opponent recognising the sword's reach and trajectory. Since concealing one's Noble Phantasm also conceals one's true identity, Invisible Air was highly effective at the early stages of the Holy Grail War. It also has other advantages such as increasing attack power and accuracy. Entangling the sword with wind and using the wind as the blade enhances the attack power, while having an "invisible weapon" provides an advantage in accuracy. (Translator's Note: It is probably more "decreasing opponent's evasion" in RPG terms.) Since the advantage of Invisible Air lies in "invisibility", the accuracy increase will not occur while engaging opponents who possess Eye of the Mind or do not depend on vision.
In the Fourth Holy Grail War, Artoria unleashed the condensed air and used it as a long-range weapon that mauls down groups of enemies --- "The Iron Mallet of the Wind King".

Excalibur
Rank: A++
Type: Anti-Fortress
Range: 1~99
Maximum Targets: 1000 Persons

The greatest and most powerful Noble Phantasm of Artoria (Translator's Note: Not Avalon?). It is the strongest and most majestic holy sword that symbolises King Arthur. The pinnacle of holy swords. Excalibur was not forged by mankind, but crystallised within the Earth, using the wishes of mankind as the basis. It is one of the ultimate God-forged weapons, a Last Phantasm. Originally cared for by the Faeries of the Planet, it was passed into the hands of King Arthur through the Lady of the Lake.
Excalibur converts the mana of the wielder into light, and as the sword is swung, the light is released from the tip of the blade like a laser beam and destroys everything in its path. Of course, the mana consumption is extreme, thus it cannot be fired consecutively. In the Fourth Holy Grail War, the beastly giant sea monster summoned by Caster was completely incinerated by this Noble Phantasm. Excalibur is classified as an 'Anti-Fortress Noble Phantasm" due to its magnitude and destructive power.

Avalon
Rank: EX
Type: Bound Field
Maximum Targets: 1 Person
The sheath of Excalibur, a Noble Phantasm with its origin in the Fairyland Avalon where King Arthur rests. The wielder will heal from any wound, and the aging process will cease. Unleashing the true name of Avalon will deploy a Bound Field that provides the greatest defence. A Noble Phantasm that annuls the interference of True Magic; its existence is equivalent to True Magic.
In legend, losing this sheath casted an ominous shadow onto the life of King Arthur, eventually cascading to the collapse of the kingdom. In modern times, the Einzberns excavated Avalon at Cornwall and passed it into the hands of Emiya Kiritsugu. Afterward, it was planted into the body of Emiya Shirou to save his life, eventually becoming the link that led to his bond with Artoria. In Fate Route, Artoria learned that Shirou was her "sheath", which led the duo to emerge victorious in the Holy Grail War.

対魔力: A
また、アーサー王の父ウーサーは、マーリンの計らいで竜の因子を持った後継者を造り、アルトリアは人であり ながら竜そのものの魔力を帯びるに至った。

↑ 2.0 2.1 2.2

[] Fate/Zero material - Servant Status: Saber, p.012-013

Class: Saber
Master: Kiritsugu Emiya
True Name: King Arthur
Gender: Female
Height/Weight: 154cm/42kg
Alignment: Lawful Good

Strength: B
Endurance: A
Agility: A
Mana: A
Luck: D
Noble Phantasm: A++

Class Skills
■ Magic Resistance: A
Cancels all magecraft below A. In reality, no magi of today can harm Saber.

■ Riding: A
Able to freely manipulate all beasts and vehicles, save mythical beasts and divine beasts.

Personal Skills
■ Instinct: A
The ability to always "feel" the best course for oneself during combat. This heightened sixth sense is now close to precognition. It reduces by half any obstacles to vision and hearing.

■ Mana Burst: A
This transfers magical energy into one's weapon and body, and by releasing the magical energy instantaneously, it increases one's ability.

■ Charisma: B
Natural ability to command an army. Charisma is a rare talent, and B-rank is enough to lead a country.

Noble Phantasm
■ Invisible Air: Bounded Field of the Wind King
Rank: C
Type: Anti-Unit Noble Phantasm
Range: 1~2
Maximum number of targets: 1 person
An invisible sword. Simple, but displays tremendous effect in hand-to-hand combat. A Noble Phantasm guarded by strong magecraft, it does not mean the sword itself is transparent.

■ Excalibur: Sword of Promised Victory
Rank: A++
Type: Anti-Unit Noble Phantasm
Range: 2~3
Maximum number of targets: 1 person
A sword of light. A weapon not made by man, but a god-made equipment forged by stars. A Noble Phantasm at the top of the category of holy swords. A holy sword which transforms the owner's magical energy into "light", increasing its momentum due to the convergence and acceleration, and enable the use of magecraft of divine levels.

■ Avalon: The Everdistant Utopia
Rank: EX
Type: Barrier Noble Phantasm
Defense target: 1 person
The power of the sheath of Excalibur. Expanding the sheath, it shuts out all physical interference by placing the owner in the land of the fairies.

CLASS セイバー
マスター:衛宮切嗣
真名:アルトリア
性別:女性
身長・体重:154cm/42kg
属性:秩序・善

筋力:B
耐力:A
敏捷:A
魔力:A
幸運:D
宝具:A++

クラス別能力:
■ 対魔力:A
A以下の魔術は全てキャンセル。
事実上、現代の魔術師ではセイバーに傷をつけられない。

■ 騎乗:A
幻獣・神獣ランクを除くすべての獣、乗リ物を自在に操れる。

保有スキル:
■ 直感:A
戦闘時、つねに自身にとって最適な展開を"感じ取る"能力。
研ぎ澄まされた第六感はもはや未来予知に近い。
視覚・聴覚に干渉する妨害を半減させる。

■ 魔力放出:A
武器、ないし自身の肉体に魔力を帯びさせ、瞬間的に放出する事によって能力を向上させる。

■ カリスマ:B
軍団を指揮する天性の才能。
カリスマは稀有な才能で、一国の王としてはBランクで十分と言える。

宝具:
■ 風王結界
ランク:C 
種別:対人宝具 
レンジ:1~2 
最大捕捉:1人
不可視の剣。
シンプルではあるが白兵戦において絶大を効果を発揮する。
強力を魔にに術よって守護された宝具で、剣自体が透明という訳ではない。

■ 約束された勝利の剣
ランク:A++ 
種別:対人宝具 
レンジ:2~3 
最大捕捉:1人
光の剣。人造による武器ではなく、星に鍛えられた神造兵装。
聖剣というカテゴリーの中では頂点に立つ宝具である。
所有者の魔力を"光"に変換し、収束・加速させる事により運動量を增大させ、神霊レベルの魔術行使を可能とする聖剣。

■ 全て遠き理想郷
ランク:A++ 
種別:結界宝具 
防御対象:1人
エクスカリバーの鞘の能力。
鞘を展開し、自身を妖精郷に置くことであらゆる物理干渉をシャットアウトする。

↑

[] Fate/side material - Encyclopedia: The Everdistant Utopia [Noble Phantasm], p.063 [T]

The Everdistant Utopia [Noble Phantasm]
Avalon.
The paradise in the Arthurian legends; a scabbard bearing the name of the Faerie Land.
The utopia Avalon was thought to be derived from the island that produced the "Apple of Immortality" in Greek mythology.
Avalon mended all wounds and halted the wielder's aging process. After unleashing its true name, Avalon would break into hundreds of shards and shield the wielder from all interference.
The sheath of the holy sword was excavated by the Einzberns from Cornwall. It was given to Kiritsugu as a catalyst to summon King Arthur.
It was a Noble Phantasm reaching the realm of True Magic. Avalon shut out all physical interference, operation of parallel worlds, and multi-dimensional communication (up to the sixth dimension).
If Saber went hikikomori, no one would reach her.

全て遠き理想郷【宝具】
アヴアロン。
アーサー王伝説における常春の土地、妖精郷の名を冠した鞘。
アヴアロンはギリシャ神話において、"不死の林檎" があるとされる島から連想されたという理想郷。
持ち主の傷を癒し老化を停滯させるだけでなく、真名を以って開放すれば数百のパーツに分解し、所有者をあらゆる干渉から守りきる。
聖剣の鞘はアインツベルンがコーンウォールより発掘し、アーサー王召喚の触媒として切嗣に与えたもの。
魔法の域にある宝具で、あらゆる物理干渉、並行世界からのトランスライナー、多次元からの交信(六次元まで)をシャットアウトする。
セイバーがこれで引き篭もったら手におえない。

↑

[] Fate/complete material III: World material - Theory of Magic - Magecraft: Effects on the Level of True Magic, p.049

Effects on the Level of True Magic
Although generally speaking "there are five True Magics", this number does not reflect "effects that rival True Magics". There are several examples in the story. Many Mystic Codes and creatures that exist in the world are also "shaped through True Magic". Finally, there are those without definite shapes, but only exist "in motion".
A representative example of this last category is Assassin Kojiro Sasaki's secret sword technique "Tsubame Gaeshi". It is an ultimate technique which consists of the blade absolutely, simultaneously tracing separate paths and severing the target. In thaumaturgy, this is called "Multidimensional Refraction Phenomenon – Kischua Zelretch", in other words, a limited application of the Second Magic "Operation of Parallel Worlds".
In addition, reality marbles, the sorcery that overwrites reality with the caster's internal landscape, is also thought to be a skill that approaches the miracle of True Magic. Although temporary, there are not too many magi who are able to execute this World-altering grand sorcery.

•Avalon: The Everdistant Utopia
The matching "scabbard" of the holy sword Excalibur. The wielder does not age, and injuries will also quickly heal.
After invoking its true name, Avalon dissipates as tiny particles into the air, and shields the wielder from all interference. No damage can be done to the wielder when a state of absolute defence is initiated. Even interference from the parallel world based on the Second Magic will be blocked. An "absolute defence" that can even repel the assault of True Magic, it is a True Magic in itself. No one can harm the tranquil King that stands in the land of Avalon.
When Avalon was unleashed, not even the King of Heroes could harm Sabre.

•Caster's Sorcery (limited to Ryudo Temple)
In the ancient era, sorcery is synonymous to True Magic, thus magi are Magicians. The true identity of the Caster in the Fifth War is Medea. She is one of these sorceresses that lived in the Age of Gods. Therefore, the sorceries which she executes have powers that approach the realm of True Magic. No matter how large-scale the sorcery is, she can use 'High Speed Divine Language" to cast it in one step. Her skills even transcend the strongest magi of the current era, exceeding the Magicians. Although Medea is not a Magician, no one can argue that she is "a magus that is infinitely close to the Magicians".

•Phantasmal Species (Phantasmal Beasts of the Millennium-Rank, and Divine Beasts)
The creatures told in the myths and legends around the world. Dragons, Fairies, and Ghosts etc. are such examples. The Pegasus mounted by Rider is a member of the Phantasmal Species.
Phantasmal Species embody mysteries simply by existing, thus they transcend normal sorceries. Those Phantasmal Species that have survived for millennia are thought to be equal to True Magic, even observing one can be said to be a miracle.

•The Spatial Transportation of Servants
Spatial Transportation is a sorcery in the realm of True Magic. Not used normally, but Masters can use command spells to realise it to a limited extend. This is called Forced Summoning. Although the distance may be quite far, after the command is issued, the Servant will traverse great distances and arrive at the side of the Master in haste.

•Zelretch's Treasure Chest
The heirloom of the Tohsaka House, and now it is a mystery chest that Rin favours. It was made by Zelretch.
It looks like a "genuine treasure chest" from the outside, but it is really a "magical chest" that was made by applying the Second Magic. By bending space, most items can be fit into it. Possibly due to the effect of the Second Magic, the rate of temporal passage inside the chest is different from that of the outside. One hour inside equals to one day outside.

↑

[] Fate/complete material II: Character material - Weapons: Excalibur's Sheathe, p.119

User: Saber
Avalon, the Everdistant Utopia. The name of Excalibur's sheathe, which also holds power as a Noble Phantasm. Aside from healing the user's wounds and halting their aging, it also turns into a perfect fortress that protects against all physical interference when activated. Even in Arthurian legend, Excalibur's sheathe is a "magic sheathe". After Arthur received Excalibur from the fairy of the lake, he was approached by the wizard Merlin, who bequeathed upon him an enchanted sheathe. It is said that as long as he possessed this sheathe, he would not spill so much as a drop of his own blood. As such, it was even more valuable than Excalibur, and its loss to the machinations of his half-sister Morgan Le Faye is connected to King Arthur's death.

エクスカリバーの鞘
使用者:セイバー
エクスカリバーの鞘は、それ自体が別の宝具"全て遠き理想郷(アヴァロン)"としての力を持つ。所有者の 傷を癒したり老化を停滞させたりできるほか、展開することですべての物理干渉を防ぐ完璧な要塞 にもなる。 アーサー王伝説でも、エクスカリバーの鞘は"魔法の鞘"である。アーサー王が湖の妖精からエクスカリバーを 授かった後、魔術師マーリンより"この鞘を持つ限り血を流すことがない"という魔法の力を有する鞘がアーサ ー王へ渡された。その価値は武器であるエクスカリバーより貴重であった。ゆえにこの鞘をアーサー王の異父姉 であるモルガン・ル・フエイに奪われたことが、アーサー王の死につながっていく。

↑ Fate/stay night Fate route: Bad End 9 – Walpurgis night
↑

[] Fate/complete material III: World material - FAQ with Nasu: General Questions about Fate, p.130
Q: Before he summoned Saber, why did Shirou dream about the Sword of Promised Victory (Excalibur)?

Q: Before he summoned Saber, why did Shirou dream about the Sword of Promised Victory (Excalibur)? Was the Greater Grail contacting Shirou in order to select him as a Master?

A: During the preparations leading up to the Holy Grail War, when it was decided that Saber (Artoria) would be summoned, "All is a Distant Utopia (Avalon)" within Shirou reacted with his mana flow to cause the image of a "sword" to manifest in his subconscious.

Q:セイバー召喚前に、士郎が"約束された勝利の剣"の夢を見たのはなぜ? これは大聖杯が士郎をマスターとして選ぶためにコンタクトしていたのですか?

A:聖杯戦争が準備段階になり、セイバー(アルトリア)召喚が確定したため、士郎の内部にある"全て遠き理想郷"にも魔力が通るようになり、深層意識にあった"剣"のイメージがより表面化したからだと。

↑

[] Fate/complete material III: World material - FAQ with Nasu: Servants, p.133


Q: Archer's greatest defense is "Rho Aias", but if he were the same person as Shirou...

Q: Archer's greatest defense is "Rho Aias", but if he were the same person as Shirou, shouldn't his greatest protection be "Avalon"? In the Rin route, Archer knew that the holy sword's sheath was inside Shirou, so wouldn't the Heroic Spirit form of the Shirou that "knew" that the sheath was merged with him be Archer?

A: Avalon's power won't work if Saber's not connected to it. It's a different story during the Grail War, but all it does when Saber isn't around is make Shirou's magic attribute into "sword". Also, after the Grail War is taken apart, the line between him and her will be gone, so it's best to think that his image of "Avalon" also disappeared.

Q:アーチャーの最高の守りは"熾天覆う七つの円冠"とのことですが、彼が士郎と同一人物なら"全て遠く理想郷"が最高の守りではないのでしょうか? 凛ルートアーチャーは士郎に聖剣の鞘が埋まっていることを知っていたようですから、聖剣の鞘が自分に同化していることを"知っている"士郎が英霊化した存在がアーチャーではないのでしょうか?
 
A:"全て遠く理想郷"はセイバーと繋がっていなければ発見しない能力です。(そもそもセイバーのみが使える"全て遠く理想郷"を、マスターが使わせてもらっているだけわけですし)聖杯戦争中ならまだしも、セイバーがいない状態では士郎の魔術特性を"剣"にするだけのものなのでしょう。また、聖杯戦争が解体された時、セイバーとのラインも消え、"全て遠く理想郷"のイメージも消えたと考えるべきでしょう。
Fate/stay night




Fate/hollow ataraxia

Argon Coin • Avalon • Avesta • Bellerophon • Blood Fort Andromeda • Breaker Gorgon • Caladbolg II • Caliburn • Dainsleif • Durandal • Ea • Enkidu • Excalibur • Excalibur Morgan • Fragarach • Gáe Bolg • Gate of Babylon • God Hand • Gram • Harpe • Houtengeki • Hrunting • Invisible Air • Kanshou and Bakuya • Nine Lives • Nine Lives Blade Works • Potion of Youth • Rho Aias • Rule Breaker • Tsubame Gaeshi • Unlimited Blade Works • Verg Avesta • Vajra • Zabaniya: Delusional Heartbeat • Zabaniya: Cyber Phantasy

Fate/Zero

Arondight • Avalon • Ea • Enkidu • For Someone's Glory • Gáe Buidhe • Gáe Dearg • Gate of Babylon • Gordius Wheel • Ionioi Hetairoi • Knight of Owner • Prelati's Spellbook • Vimana • Zabaniya: Delusional Illusion

Fate/EXTRA

Agni Gandiva • Amalavijñāna - Boundary of Emptiness • Amita Amitabha • Angra Mainyu/CCC • Aestus Domus Aurea • Athanaton Ten Thousand • Báthory Erzsébet • Bellerophon • Blessing of Wisdom • Blood Fort Andromeda • Blut die Schwester • Brahmastra#O' Brahma, Cover the Earth • Brahmastra Kundala • Brynhild Romantia • Carolus Patricius • Carolus Patricius Auctoritas • Carolus Patricius Dimitte • Charles Patricius • Chakravartin • Cursed Cutting Crater • Daishintou • Eightfold Blessing of Amaterasu • Excalibur Galatine • Excalibur Image • Fairy Snow Photon Ray • Fierce Tiger Forcibly Climbs a Mountain • Gate of Skye • God Force • Golden Hind • Golden Wild Hunt • Joyeuse • Joyeuse Ordre • Kavacha and Kundala • Kazikli Bey • Kilenc Sárkány • Katoptron Katho Phlegon • Märchen Meines Lebens • No Face May King • No Second Strike • Nursery Rhyme • Photon Ray • Saraswati Meltout • Teardrop Photon Ray • The Queen's Glass Game • Vasavi Shakti • Yew Bow

Fate/Apocrypha

Akhilleus Kosmos • Agrius Metamorphosis • Andreias Amarantos • Antares Snipe • Armor of Fafnir • Balmung • Blasted Tree • Bridal Chest • Casseur de Logistille • Clarent • Clarent Blood Arthur • Crying Warmonger • Diatrekhōn Astēr Lonkhē • Dromeus Komētēs • First Folio • Golem Keter Malkuth • Hanging Gardens of Babylon • Hippogriff • Kavacha and Kundala • Kazıklı Bei • La Black Luna • La Pucelle • Left Hand - Xanadu Matrix • Legend of Dracula • Luminosité Eternelle • Maria the Ripper • Phoebus Catastrophe • Right Hand - Evil Eater • Secret of Pedigree • Sikera Ušum • The Mist • Trap of Argalia • Troias Tragōidia • Vasavi Shakti
Unused: Abyssus Draconis • Benkei Butsu • Eighth Implement • Interfectum Dracones • Sacrifice • The Disputed Spoils of War • The Globe • The Seven Arrows of the Big Dipper

Fate/Grand Order

A

Absolute Sword - Endless Flash • Absolute Sword - Endless Three-Stage • Aigis • Agni Gandiva • Airavata King Size • Akafiloga All-Grið • Alf Layla wa-Layla • All Things Must Pass - To Flourish is To Fall • Ama-no-Sakahoko • Amalavijñāna - Boundary of Emptiness • America's Sweetheart of Darkness • Ambushed from Ten Sides - As If There Was No Shadow • An Gal Tā Kigal Shē • An Gal Tā - Seven Colors • Angelica Cathay • Anpu Neb Ta Djeser • Antares Snipe • Anti-fling Rondo • Apfel Schiessen • Arc de Triomphe de l'Étoile • Ark • Arondight Overload • Around Caliburn • Ars Almadel Salomonis • Ars Nova • Ars Paulina • Artemis Hagnós • Ascalon • Assault Medicine Full-Burst Party • Astrapste Argo • Asurashreshtha • Athanaton Ten Thousand • Attendre, Espérer • Authentic Triumph • Autumn Leaf Viewing • Avidya, Three-Stage Thrust • Azamaru • Azrael

B

Balmung Kriemhild • Báthory Brave Erzsébet • Báthory Halloween Erzsébet • Bayard • Beagalltach • Beautiful Journey • Bishamonten's Eight Phases Wheel Charge Formation • Black Arts Decapitation Method - Moonflower • Black Dirty Barty Howling • Black Dog Galatine • Blasted Tree • Bloodbath Crown • Blue Summer Palladion • Brahmastra#Rakshasa-Piercing Immortal (Rama) • Brahmashirastra • Breaker Gorgon • Bölverk Gram • Bone Collector • Boneless Man • Bouclier de Atlante • Breast Zero Erzsébet • Bright Ehangwen • Brynhildr Sigurtein • Bucephalus

C

Caledfwlch Caladbolg • Caladbolg • Caliburn • Candy Star Photon Ray • Caress of the Medusa • Caribbean Free Bird • Caribbean Free Bird - Act 2 • Channeling - Omen of the Great God Ibuki • Chaos Labyrinthos • Chariot My Love • Chariot of Boudica • Chionis Tauros • Christine, Christine • Chronos Rose • Chyornyj Oprichniki • Chu Shi Biao • Chyornyj Oprichniki • Clarent Blood Arthur • Crazy Trip Drive Idol • Crocea Mors • Cross-Calibur • Cruaidín Sétanta • Crying Warmonger • Crystal Dress • Crystal Palace • Curruid Coinchenn • Cursed Cupid Cleanser • Custos Morum

D

Das Rheingold • Dazzling Castle of the Sun in the Demonic Realm • Dead End - Airgetlám • Demon King of the Sixth Heaven • Demon King Turns the Heavens - Red Spider Lily • De Sterrennacht • Des Océans d'Allégresse • Dharmapala Girl - Nine-headed Dragon Massacre • Dimension of Steam • Dinosaur Summer Goodbye • Dio Santissimo Misericordia de mi • Dioscures Tyndaridae • Distihia Milya • Divine Sword - Kusanagi-no-Tachi • Dojo-ji Bell Form 108 - Fire Dragon Mow Down • Duria Antiquior • Durindana

E

Edin Shugra Quasar • Elementary, My Dear • Emotional Engine - Full Drive • Emotional Engine - Vivid Full Sensation • Encomium Moriae • Enfer Château d'If • Eternal Lament • Eternal Mirror that Models the Celestial Bodies • Etherspace, Howbeit the Order • Everlasting Summer Sunlight • Excalibur Vivian • Eye of the Euryale

F

Failnaught • Fairy Tale Erzsébet • Fax Caelestis • Femme Fatale Baiser • Fergus My Love • Fergus, My Good-Looking Brave • Fetch Failnaught • Fintan Finegas • First Folio • Five Elements Mountain - Buddha Palm • Flawless Masterpiece - The Crane's Fate, A Teary Farewell • Fleur de Lys • Flucticulus Diana • Flying Bright Spirit - Fire-Tipped Spear • Formlessness • Fragarach Énbarr • Frieren Scharfrichter

G

Gae Bolg Alternative • Gáe Bolg: Gouging Piercing Spear of Carnage • Ganesh Impact • Ganesha Vighneshvara • Ganryuu-jima • Garden of Avalon • Gate of Skye • God Spear, No Second Strike • God-Striking Whip • God Force • Gohou Shoujo-Kuzuryu Ousatsu • Golden Drive • Golden Eater • Golden Spark • Golden Wild Hunt • Great Death Claw • Great Flame of Mount Ooe • Great Grudge of Rashoumon • Great Ram Nautilus • Grendel Buster • Guillotine Breaker • Gugalanna Strike

H-K

Hachiman Prayer - Shooting Through a Great Demon • Half-dead Blood Axe • Hamesh Avanim • Haradhanu Janaka • Hazy Inverted Moon - Eleven Forms • Heavenly Demon Rain • Heaven's Hole • Het Gele Huis • Hollow Heart Albion • Hope of Avalon • Hört Glut Rachegötter • Iam Redit et Virgo • Imitation God Force • Immortal Chaos Brigade • Inexhaustible Bale • Innocence Arondight • Invisible Air • Ira Lupus • Iz Tula Seven Drive • Jaguar in the Black • Jet, Three-Stage Thrust • Judgment of the Ten Rulers of Afterlife - Journey of the Wicker Basket • Kama Rūpāstra • Kama Sammohana • Kazikli Bey (Berserker) • Kazikli Bey (Lancer) • Knight of Owner • Kur Kigal Irkalla

L

Laevatein • La Féerie d'une Nuit • La Grâce Fille Noël • La Grondement Du Haine • La Grosse Tour • Lapithai Caeneus • Lauda Lentum Domus Illustrius • La Mort Espoir • Laus Saint Claudius • Le Rêve Ensoleillé • Let Us Walk Together Through Our Land • Leviathan Melt Purge • Lie Like Vortigern • Like a Soaring Dragon • Longinus Count Zero • Loptr Laegjarn • Lord Camelot • Lord Chaldeas • Lord Hachitendo of Hakuro Castle's Hundred Demons • Lordless Camelot • Lumino-Calibur

M

Mac an Luin • Maelstrom - Evil Spirit Left Minister • Magna Voluisse Magnum • Mahāpralaya • Mahākāla Shakti • Manual of Accusation • Märchen Meines Lebens • Mara Śūnyatā • Marital Vows of Rainbow Skirts and Feather Robes • Marvelous Exploits • Mata Hari • Mathematical Malignant Annihilate • Mechanical Illusionary Method - Bull Swallowing • Melammu Dingir • Metabole Piglets • Meteor Snegurochka • Mikotto • Mold Camelot • Moles Necessrie • Monte Cristo Mythologie • Moralltach • Mountainous Power and Matchless Valor • Mount Ooe - Enlightened Oni Slayer • Multitude of Colors - Providential Oni Poison • My Red Mead

N-O

Nahin Denge • Namaḥ Samantavajrānāṃ Hāṃ • Nammu Duranki • Nightingale Pledge • Nine Lives • Nine Lives - Roma • Nirmānnarati - Heaven's Foam • Nobunaga THE Rock 'n' Roll • No Second Strike • Nursery Rhyme • O' Dragon, Conquer the Expanses of Wadatsumi • Oar Wooden Sword • Ochd Deug Odin • Ogre Trance • Okuni Repertoire - Kabuki of the Izumo Wild God • Oṃ Ālolik Svāhā • One Shot, My Love • Onikiri Yasutsuna • Only For Killing • Onyx Tauros • Optateshke Okimunpe • Opulence of Sunlight and Catnap • Orchid Rounds X • Orion Hórkos • Ortygia Amore Mio • Outrage Amazon • Ox-King Storm Call - The Inescapable Net of Heaven

P

Pain Breaker • Pale Blue Dot • Pandemonium Cetus • Pāpīyas Metamorphosis • Pashupata • Peerless in Swordsmanship - Zen and the Sword As One • Pèlerinage du Temple • Per Aspera Ad Astra • Phantasm Punishment • Phantom Maiden • Photon Ray • Phoebus Catastrophe • Piedra Del Sol • Pohjola Fimbul • Poseidon Maelstrom • Poseidon Blessing • Prelati's Spellbook • Prince Lanling in Battle • Prisma☆Splash Rainbow! • Prydwen Tube Riding • Pure Land of Mice • Pygmalion Chisel Out • Pygmalion Chisel Out

Q-R

Qliphoth Rhizome • Quetzalcoatl • Queen Anne's Revenge • Quintett Feuer • Ragnarök Lífþrasir • Ramesseum Tentyris • Rapid-fire Ortygia • Red Form • Requiem for Death • Resurrection Fraught Hades • Rêve de Durandal • Rhongomyniad • Roadless Camelot • Roncevaux Olifant • Round of Avalon • Rule Breaker

S

Saint War Order • Samadhi Through Transforming Flames • Sanat Kumara • Sanat Kumara Wheel • Santa Maria - Drop Anchor • Saraswati Meltout • Sea Serpent Storm Blue • Secace • Secace Morgan • Secret-Calibur • Secret-Myniad • Sentinel Stellaris • Serment de Durandal • Settlement Sword • Sfyrí tou Tálos • Sha Nagba Imuru • Shimabara Hell • Shinsengumi • Śakra's Vajra • Shooting Star Ortygia • Sibuxiang • Six Realms Five Rings - The Divine Figure of Kurikara • Six Secret Teachings and Three Strategies - Noble Demon King's Great Feather Fan • Skewered Plasma Blade • Smile of the Stheno • Sneferu Iteru Nile • Snegleta Snegurochka • Song of Grail • Song of Selfless Loyalty • Sotoori Hime - Spider's Demeanour • Space Dead Man's Hand • Spinster Habetrot • Star of Calamity • Sudarshan Chakra Yamaraj • Sumerki Kremlin • Suzume Gaeshi • Svanhvít • Switch On - Airgetlám • Sword of Boudica • Sword of Paracelsus • System Keraunos

T

Taisu Awaken • The Tale of Genji - Aoi - Mononoke • The Tale of Genji - Kiritsubo - Parting • Tarasque • Tauropolos Skia Thermokrasia • Teardrop Photon Ray • Tengu's Feather Fan - Sudden Gale • Testarossa Maiden • Theodosios Constantinos • Thermopylae Enomotia • The Domination Beginning • The Dynamics of an Asteroid • The Greatest Hits - "Calling Agape" • The Pilgrimage of the Five Hundred Arhat • Thirty-six Views of Mount Fuji • Three Enigmas • Thunderer • Ticktock Bomb • A Tour of the Waterfalls of the Provinces • Trichiliocosm • Triple-Linked Crane Wings • Trishula Shakti • Tri-star Amore Mio • Triste Suave Alonso Quijano • Troias Tragōidia • Troia Hippos • Troia Velos • Trojan Reinforce • Tsago Degi Naleya • Tsubame Gaeshi • Tsumukari Muramasa • Tunguska Nine Drive • Twin Arm - Big Crunch • Two-Pronged Formation

U-V

Uisce Beatha • Underthrow Freeze Sinker • Unlimited Lost Works • Unspeakable Formation • Unreturning Formation • Uomo Universale • Uraeus Astrape • Valiente Asalto Dedicado a la Princesa • Vendredi Treize • Vijñaptimātratā: Mystic Eyes of Death Perception • Vijñaptimātratā: Mystic Eyes of Distortion • Vishnu Bhuja • Viy Viy Viy • VR Shinkage-ryuu Hidden Art - Tomoe's Abyssal Solar Blade • Völkermord Feuerdrache • Vulcano Caligorante • Vyākaraṇa - Buddha of Glorious Sandalwood

W-Z

Wandering Tales of Shana-oh (Eye of Shiva - Detecting the Six Secret Teachings • Usumidori - Short Steps With The Heavenly Blade • Benkei - Steadfast Position • Dan-no-Ura - Eight-Boat Leap • Hoemaru - Spider Slayer • Kikenjō - Icicle Cutting) • White Shaft Spear • Wicker Man • Winning Arkaputra • Wish Upon a Star • World Faith Domination • Wry Rhyme Goodfellow • Xiuhcoatl • Yew Bow • Yucatán Regalo de Navidad • Zabaniya(Delusional Heartbeat • Zeus Funder • Zmei Gorynych • Zveri - Krestnyy Khod • Zweite Schiessen

Fate/Prototype




Fragments

Abu el-Hol Sphinx • Bab-ilu • Brynhild Komedia • Brynhild Romantia • Dangerous Game • Enki • Excalibur Proto • Gae Bolg Origin • Kibisis • Mantle • Mesektet • Mirror shield • Ramesseum Tentyris • Stella • Winged sandals • Zabaniya: Delusional Poison Body

Fate/strange Fake

Age of Babylon • Excalibur • From Hell • Grand Dictionnaire de Cuisine • Grand Illusion • Goddess of War • King's Order • Musketeers' Masquerade • Natural Born Killers • Nine Lives • Reincarnation Pandora • Rounds of Lionheart • Unknown‎ (Gilgamesh) • Unknown (Hippolyta) • Zabaniya: Phantasmal Pedigree (Febrile Inspiration • Ichor of Reverie • Meditative Sensitivity • Raving Shadow Flash)

Fate/kaleid

Apneic Beauty • Arrow Protection Amulet • Authoritarian Personalism • Crown Undertaker • Fake Nine Lives • Hades's Cap of Invisibility • Ig-Alima • Mjölnir • Nameless Class Cards • Ninth Prayer • Sul-sagana • The Heavens are Born from the Earth • True Nine Lives • Shadow Hand of Code • Zabaniya: Dead Heartbeat Melody

Capsule Servant

Curly Hair Sword Antenna • Laser Excalibur • Starlight Champs-Élysées

Fate/KOHA-ACE

Boneless Man • Child of the Sun • Coat of Oaths • Demon King of the Sixth Heaven • Fierce Tiger Forcibly Climbs a Mountain • Flag of Sincerity • God Spear, No Second Strike • Golden Demon Realm ZIPANG • Lightless, Three-Stage Thrust • Like A Soaring Dragon • Maxwell's Demon • Sunomata Castle • Sword Hunt • Three Line Formation • Transcendent Dazzling Castle of the Sun

Fate/Requiem

Autumn Leaf Viewing • Flying Dutchman • Galahad Alter's Second Sword • Hannibal Barca's Noble Phantasm • La Grosse Tour • Longinus • Pale Blue Dot • Sword of the Strange Hangings

Other

Brionac • Boomelancer • Cú Chulainn's Castle • Hazanken • Hecatic Wheel • Holy Grail • Gungnir • Unlimited Bla Gáe Bolg Gandr Works Excalibur