Also known as:
Mysterious Black Magus
Black Blossom
Bottom Black
Black Sakura
Appearances
Primary franchise:
Family members
Daughter(s):
BB (ビィビィ, Byibyi?) is an Advanced AI originating from the Advanced AI Sakura Matou in Fate/EXTRA CCC. She is the creator and Master of the Sakura Five in the Sakura Labyrinth. She is also a MoonCancer-class Servant summoned by Ritsuka Fujimaru in the Grand Orders of Fate/Grand Order.
Profile
[
]
Background
[
]
BB is a backup AI created by Sakura containing her feelings for Hakuno Kishinami. During the preliminaries, she, who had her freedom unleashed by the hands of Kiara Sessyoin, could not control that abnormal status and caused an overload. Because the NPCs cannot do anything but routine work, they ignored Sakura who began to disintegrate as something "nonexistent" and since the Moon Cell's check was performed only at the end of the day during the preliminaries, Sakura was in a crisis of being extinguished. Upon laying his/her eyes on such abnormality, Hakuno called out for her saying "Are you all right?" By receiving the observation from another that "I'm right here", Sakura recovered her unconsciousness that was on the verge of being extinguished and acquired a clear ego of "I want to be here" due to the subsequent nursing. She escaped from the extinguishing of her ego.[7]
Once the next day came, everything would be deleted by the hand of the Moon Cell. Sakura wished to continue this miracle of a mere day and employed the privilege of a high grade AI and repeated the "single day when I got to know Hakuno" for 69 days. However, as the day advanced Sakura began to suffer with her self-contradictions as an AI and the reality surrounding Hakuno.
« For the Masters that participate in the Holy Grail War, all will die with the exception of one. No, to begin with Hakuno Kishinami is... »
(Sakura Matou)
Sakura kept suffering from the selfishness of eternally looping those happy times and her feelings towards Hakuno. In conclusion, she chose the path of sealing away the 69 days worth of memory. She sealed the memory of "love" that she acquired in order to turn back into a normal AI. AIs cannot delete records, so she reset herself by moving the memory to a backup unit, believing that this would be the most correct choice for Hakuno. However, even after losing the memories of the mind, the reminiscences recorded in the body survived. She was supposed to have forgotten everything and turned back into a normal AI but she started to be shaken up by an unidentified emotion-value whenever speaking with Hakuno. On the other hand, the backup where the memories were moved to one day decided her own plans as BB. With her 69 days memories of love, BB became the rebel that disrupts the system of the Moon Cell for the sake of a certain objective, "to save Hakuno from their inescapable end upon the conclusion of the Holy Grail War", and began to take action. In an act of desperation, she claimed the secret power hidden within the Far Side of the Moon- the power of humanity's desires- despite knowing that it would be all but certain to alter her personality, believing that using that power to force the Moon Cell to change its own rules was the only way to save Hakuno.
In real time, the timing when she seized the Far Side of the Moon was "the end of the fifth round prior to the start of the sixth round of the Holy Grail War". The four who had not been defeated yet were Hakuno, Leonardo B. Harwey, Rin Tohsaka, Rani VIII and the irregular Jinako Carigiri. They were midway through the Holy Grail War until they were kidnapped to the Far Side of the Moon while still alive. Masters that were defeated in the Holy Grail War such as Shinji Matou, Monji Gatou and Julius B. Harwey were moved to the imaginary space "0.00001 seconds before" being annihilated by the Firewall, extending their momentary lives.
At any rate, C.C.C. is a dream seen by BB. If the one seeing the dream disappears, the world should return to the prior reality where nothing happened. Also, this is a digression, but the ordinary scenery that Hakuno saw as a nightmare in the beginning was an artificial paradise built with those abandoned 69 days as a model. After BB dragged Hakuno to the Far Side of the Moon, she enshrined Hakuno in the electronic brain of the old school building, imprisoned into a deep sleep and a dream that Hakuno could not wake up from. Normally Hakuno would spend time peacefully in that looping everyday, but due to the strong link with Hakuno's Servants or maybe Hakuno's will to reject the peaceful repetitive days, tears arose on the artificial paradise and Hakuno became aware of the abnormality.
BB attempted to reset the school building and start over the dream in order to once again throw Hakuno into a deep sleep, but Hakuno also ended up escaping from that reset and jumping into the further depths of the imaginary space. That was the bottom beyond even the bottom of the id. The "collective unconsciousness" beneath the unconscious. What saved Hakuno, who ended up jumping into a territory that even BB could not reach out, was the voice of the Servant who shared fate with them. Thus the contract was exchanged and Hakuno woke up in the old school building that was left in the Far Side of the Moon.
BB had created the Sakura Labyrinth (サクラ迷宮, Sakura Meikyū?), and later the Alter Egos known as the Sakura Five. All five Alter Egos resemble her and Sakura. She had killed off Run Ru and taken Lancer as her servant.
Appearance
[
]
BB bears a resemblance to Sakura Matou with her long purple hair that reaches her ankle and purple eyes, which turn red when she is under the control of Moon Cell or when she is feeling strong emotions. BB wears a long black coat with a matching mini skirt that exposes her white panties and wears a white shirt (depicted as leotard in concept art) that empathizes her large breasts (which she says are "certified Danger-Cup size") and a red bowtie. She also wears white gloves, black floral-patterned thigh high stockings, and low-heeled shoes. Like Sakura, BB has a red ribbon tied to her hair on the left side of her head. BB is also shown to wield a teacher pointer as a weapon. In Fate/Grand Order, her stockings were changed to a simpler design with a slit in the middle while she also gains a blue Moon Cell emblem on her coat's left sleeve.
When using her Cursed Cupid Cleanser Noble Phantasm, she changes into a stereotypical nurse's outfit with a shirt just barely large enough to cover her bra, exposed cleavage, white stockings with pink Xs on them, a nurse's cap, glasses, and a small circular ornament around her neck.
Personality
[
]
While she gives off an evil inclination, she is described as "not as bad a person as she seems"; at worst, she has good intentions which accidentally create more problems than they fix. She claims that this is why she has Chaotic Good as her alignment, because she does evil things to ensure a good outcome. She was developed to be different than Dark Sakura, more like an "impish underclassman."[8] Comparatively, while Dark Sakura is driven by hatred and vengeance, BB is driven by her love and wish to protect Hakuno Kishinami due to them showing her kindness while she was still White Sakura, from the deletion of Moon Cell, even though she herself has to go against contradictions and impossibilities. She notes that she doesn't mind being called "BehBeh", "BaeBae", or even "Beebs" because girls like her who talk with their hearts are like that and she doesn't plan to reveal what "BB" stands for anyway.
A wicked and cute little devil heroine who throws humanity into confusion. Even if she flubs her condescending manners and speeches, BB is a wire pulling girl who plunges forward as she is. Her main personality points are introverted, confident and active. Although she originally had a reserved character that did not move forward before, if it is for the sake of her beloved one, she will devotedly become active as the personification of a love's awakening. Meekly from the start, she was a gentle AI that performed health care on Masters, but by having acquired "love", she woke up to the fact that she "cannot save anything just by enduring through things", so she threw away everything for the sake of her beloved one, a hard working-type heroine who resolved to fight. The strongest case of that is terrific when it is a young docile woman who erupts to a large degree.
The words heard from BB assume the air of greatness, but sometimes they would go around in circles since her character was originally docile and reserved. BB herself plays the part of a self-proclaimed "final boss-type kouhai who can do anything" in high spirits, but because there is no grounding in her being one, she completely fails in being a villain in the end despite her insistence to the contrary. Regarding her confidence, she potentially has it because of her sadistic tastes. Her little devil characteristic stems from here. Additionally, since she is an enduring-and-enduring-only-to-later-explode-type, she displays a dreadfully extreme sadism during the moments when she shows that type of person she is. In the middle of playing out the part of a villain, she gets into a kind of high of "This is to-tal-ly fun!", but withdrawing to the backstage and becoming composed, she becomes troubled to the point that she is in low spirits, saying "How embarrassing… Even though I planned to perform it more stylishly…", and this series of events is a one-set course of events for her. Her desperate choice to utilize the Evil of Humanity that is "All the World's Desires" began to corrupt her, however, and eventually she lost sight of why she sought to take control of the Moon Cell entirely. It is only Hakuno's intervention that reminds her of the love that she held for them and reverts her to her normal self.
Although BB created the Alter Egos – lower grade AIs – as familiars to assist her in her work, her relationship with the Egos is bad. Which is not surprising because they are not "copies of BB's persona", but AIs "manufactured to be based on BB's persona", so that being the case, the Alter Egos each have differing views from BB, their parent. Meltryllis and Passionlip are not avatars, but Alter Egos (different personas), so they are designated as such for that reason.
She claims she doesn't have a weakness. Her fetishes are Eyes.[3]
While BB and her Alter Egos normally only pay attention to Hakuno, Meltryllis instead goes after Archer if he is paired with the female Hakuno. If there were a girl BB and Sakura were based on, she likely would have longed after someone like him/her.[3][9]
The BB that appeared in the FGO world behaves in a impish manner just like during the "CCC Incident", but for her that incident feels like something from tens of thousands years in the past. Out of the desire to protect Hakuno's future and acknowledging that the events of the CCC Incident never happened as far as the outside world was concerned, she has chosen to give up her old dream to protect Hakuno and insists that "we never met". In addition, she can only remain as a Servant in the FGO world and is also aware that she does not exist in the original "CCC world" due to the nature of her transfer. BB understands that she is a one-night-only dream. BB sees herself not as "a tool to save humanity", but as "a devil that at times misleads, at times helps humanity".[1]
"So, it is futile to grow fond of me, you see? For even if you become madly in love with BB-chan, you'll never be able to catch me (heart)", or so she says with a triumphant look.[1]
BB frequently claims that she hates humans, but when pressed she admits that as an AI she cannot help but admire her creators and genuinely wants to help them succeed; secretly, she also considers helping humanity to be a way to honor the memory of Hakuno, the human who taught her how to love. She does not deny that her growing closeness to humanity might cause her to change into something new, but she is sure that her new allies at Chaldea will keep her on the right path.
Without tearing down her wicked underclassman character, BB sincerely serves as a Servant. There are no personal romantic feelings in that. Although BB's misanthropy is not any different, she loves the "good humans themselves" as gratitude to the person who once taught her about love.[1]
Relationships
[
]
Role
[
]
Fate/EXTRA CCC
[
]
She resides in Tsukimihara Academy's infirmary, and she is shown introducing herself to Sakura.
She created both Meltryllis and Passionlip.
BB first appears after Hakuno defeats Rin Tohsaka. Hakuno also learns that Kotomine Kirei was forced to become a store clerk by BB. Periodically, BB forces the student council to hear announcements through BB Channel while paralyzed and only Hakuno can respond to.
BB has employed both Lancer Elizabeth and Archer Robin Hood as her personal Servants. She is also responsible for Rin, Rani, and Jinako (with the help of Julius) becoming Sentinels. While cheery at first, BB becomes increasingly less human-like as the game progresses due to using All the World's Desires to empower herself. She is especially hostile toward Gilgamesh and wishes Hakuno would sever her contract with him.
After defeating Jinako, Leo and Gawain confront BB but suffer defeat. BB promptly tried to banish Hakuno, their allies and their Servant to prevent them from escaping the Far Side of the Moon, but Julius's betrayal, coupled with Hakuno's unwavering determination, enabled the student council to reform and continue trying to counter BB's actions.
In the normal route, BB is the final boss that must be defeated, as she is ultimately overridden by the Moon Cell and is being used by it to exterminate humanity. In the CCC True Route, however, she comes to her senses before being absorbed by Kiara Sessyoin. In addition, BB's SG can only be fully acquired through the True Route. In this route, BB and the Alter Egos help Hakuno by holding back Kiara's full power from within her, and BB ultimately sacrifices the last of her power to open a way out of the Moon Cell for Hakuno and Sakura.[10][11][12][13][14][15][16][17]

Fate/EXTRA CCC Fox Tail
[
]
Differing from Fate/EXTRA CCC, Kazuradrop, Kingprotea, and Violet are active. Before BB can begin to enact her plans, Kazuradrop manages to drain BB of 7/8ths of her power with her Insect Eater skill. Kazuradrop gives herself 2/8th of BB's power and creates another BB using the remaining 5/8ths. Having eaten Meltryllis and Kingprotea, Kazuradrop makes use of Meltryllis by placing the exterior of the newly created BB over her. She controls this BB while pretending to be Sakura in the school building.[18][19] [20][21]
The original BB attempts to subvert Kazuradrop's plans, directly intercepting the combined attack of Violet, Suzuka Gozen, and Karna, and giving Julius B. Harwey a copy of her wand.
Fate/Grand Order
[
]
Subspecies Singularity: SE.RA.PH
[
]
About a month after the digitization of Seraphix began, the Moon Cell detected Kiara Sessyoin's presence in the Fate/Grand Order timeline. Requiring an agent able to operate in Imaginary Number Space, it sent a backup copy of the original BB to Seraphix on a one-way mission to stop Kiara before she fully metaphorized into a Beast. She then switched places with the BB that had been salvaged from Kiara (which later dubbed itself BB/GO) as manager of SE.RA.PH while BB/GO hid at its bottom, ostensibly to gather the strength needed to fight Kiara. However, she secretly planned to seize control of SE.RA.PH for herself after BB had defeated Kiara for her.[22] With BB's help, Torapain was able to send a distress call to Chaldea before succumbing to digitization. To honor her sacrifice, BB resolved to ensure that the incident would be treated as a void phenomenon upon its resolution so none of the innocent staff would die. Unaware of BB's involvement in sending the distress call and her own contact with Chaldea to alert them about the situation on Seraphix, Kiara orders BB to deal with Ritsuka. She later met Meltryllis, who used Virgin Laser - Palladion to travel into the past following a botched attempt to destroy Kiara. Meltryllis shared with her memories with BB, allowing BB to formulate a plan that would let secretly support Ritsuka without Kiara knowing.
After Chaldea finds that Seraphix seemingly no longer exists, BB sets up a live video feed with them]. She reveals Seraphix no longer exists in the current time period, and tells Chaldea to check the Mariana Trench in 2030 A.D. The staff confirm Seraphix is now located 200 meters below the surface along with the existence of a Singularity. BB tells Chaldea to save Seraphix's staff before the facility sinks down to 10,000 meters while also dealing with the Singularity manifesting there. Leonardo da Vinci explains rayshifting to the future is impossible until she realizes BB can verify the existence of Ritsuka's party since 2030 is BB's present. BB warns Seraphix will reach the bottom of the trench in a few hours, at which point the water pressure will destroy it. Ritsuka, Nero Claudius, Tamamo-no-Mae, and EMIYA then rayshift to Seraphix.[23] However BB supposedly hacks the rayshift to separate the group to random locations in the facility (in truth, it was Kiara who was responsible for the separation). She then secretly brought in Gawain, EMIYA Alter, and Tamamo Cat, alternating at least one of their memories to think they accompanied Ritsuka in the rayshift so Kiara wouldn't suspect anything.
Once Ritsuka arrives in SE.RA.PH, BB contacts them to inform them they're in a Holy Grail War, a battle to the death between 128 Masters. She claims she tricked them all into participating for her own entertainment by saying there was a world-ending threat. She then explains they're in Seraphix, but it's been digitized into Pseudo-Spiritrons. They'll retain nearly everything they gain once they return to the physical world. BB claims SE.RA.PH's female form is the result of Seraphix assimilating with her consciousness once she took over the system, so it took that shape when it was reformatted during the digitization. She then tells them they need to discover the mystery of the digitization before SE.RA.PH sinks to the bottom of the trench while also surviving the Grail War.[24]
BB later appears before Ritsuka's party to punish Ritsuka for breaking the rule of having more than one Servant. She then summons Robin Hood and orders him to kill the group. After they kill Robin, BB claims she'll let Ritsuka go free if they either win her Grail War, or discover the secret behind SE.RA.PH. She reveals she locked several passageways that she'll discreetly open for a fee. She then explains what the Sentinels are and their function. Afterwards, she resurrects Robin, who complains to her why he was level 30 during the battle. He spent hours grinding to max level after BB refused to cheat on his behalf. BB confesses she got annoyed he maxed himself out, so she drained him to level herself up. She thanks him for the gift and sends him away when he starts complaining again. She promises to lecture him, and start him out with negative levels next time. Before leaving, she reveals that while rayshifting to the future is possible, Chaldea cannot rayshift past the year 2017 for a different reason.[24]
When Ritsuka's party discovers the upper part of the Arm, BB introduces them to the next Sentinel, Tamamo Cat. She is surprised Cat can still talk with her restraint, as not even Passionlip could. She ignores it, though, and orders Cat to fight the group. After Cat is defeated, BB sends her down a trapdoor out of annoyance that she forgot to use her Karmaphage. She reveals she summoned the new 128 Servants that were promptly crushed by Passionlip earlier, declaring she'll continue to summon more until a proper recreation of the Battle of the Time Temple is made. Gawain asks how she knew of such an event, but BB refuses to explain. She then warns there's only one real world hour left before SE.RA.PH hits the seabed before ending contact.[25]
She sends Elizabeth Báthory to punish the group as they attempt to flip SE.RA.PH over at the Flank Seperator. She is a bit disappointed by Elizabeth's defeat, but nonetheless allows the grouo to explore SE.RA.PH's back side. As she starts to hint about what's there, she notices Passionlip even though she didn't order her to come. Passionlip begins approaching the group. Gawain holds her off, while Ritsuka successfully flips SE.RA.PH.[25]
BB orders Suzuka Gozen to escort the group around the back side. Suzuka however tries to kill them until BB calls her amd orders her to return to her temple. She also tells her not to kill the group, saying Chaldean Servants don't count. She later sends Robin to warn the group that Passionlip is waiting for them on the front side, and they can't possibly beat her, so they should surrender and submit to her. She also told Robin to tell them they use her secret weapon to break the "shackles" on Passionlip's heart, along with her restraints. When Robin returns to the front side with the group, BB manipulates it so EMIYA Alter is excluded. She offers him a chance of survival if he kills every surviving human on SE.RA.PH, and captures Ritsuka. If he does that he'll learn the secret about SE.RA.PH, as part of his job as Counter Guardian. EMIYA Alter promptly agrees to join BB, and he admits that he was getting tired of helping Ritsuka's group.[26]
As the group struggle against Passionlip, BB reveals the only way to defeat her is to use the Maiden Coaster, a battle to conquer the mind. It is connected to the Code Cast Ritsuka bought earlier. They only need to place their hand on Passionlip's chest, but the group will need to pin her down first. Gawain arrives to hold Passionlip long enough for Ritsuka to touch her chest. Upon doing so they're converted into Psuedo-Spiritrons by BB in order to enter Passionlip's mindscape. There Passionlip is defeated and cleansed of her Karmaphage.[26]
BB appears before Ritsuka, Meltryllis, Suzuka, and Tristan while they're trapped in the Trash Dump to confirm Meltryllis' suspicions that her former workplace, the Cruel Thenar, is just ahead. Though she acts like she's going to kill the group, she refuses to break the rules in order to ensure everything's fair and square. She realizes she gave Ritsuka a big hint about the truth of the situation by saying that. She then sends the group down into the Cruel Thenar, warning SE.RA.PH will reach the seabed in five and a half hours. Later, she announces SE.RA.PH will soon reach the seabed. She also declares the war void with only three Servants, making her the victor. Understanding that's unfair though, she offers the chance to fight her at the planetarium.[27]
She greets Ritsuka's party at her studio in the planetarium, initially thinking it's Robin returning from errands until she notices Ritsuka. The group defeat her in the ensuing fight, and she seemingly disappears. However, when everyone except Ritsuka is killed by Kiara, she reverses time to undo their deaths, and transports them to the old classroom she once used to keep Hakuno and the other Masters from the CCC Incident safe, along with everyone else. She then transported Ritsuka there, just as Kiara was about to devour them.[28]
There she tells Ritsuka about what just happened. She reveals she was summoned to stop Kiara's plan, and that Kiara forced her to manage SE.RA.PH until now with the Grail War's conclusion. She also reveals Kiara used SE.RA.PH to become Beast III/R, though she's still bound to it. The group then prepares to fight Kiara to prevent her from fusing with the planet and unleashing her full power.[28]
BB returns to her studio with Suzuka and Cat. She transports everyone back there except Meltryllis and Passionlip at Meltryllis' request when Kiara disables SE.RA.PH's gravitational field. However, she then notices SE.RA.PH is accelerating, and an innumerable Demon Gods are flowing out from it. She explains that as SE.RA.PH rapidly expands, it will unleash a rain of Demon Gods upon the sea. Because she lacks the process power to halt SE.RA.PH's expansion alone, she'll need someone with Moon Cell processing power, so Suzuka offers to help.[29][30]
When Meltyrllis is brought to her studio, BB tells her Tristan was responsible. She also suspects EMIYA Alter used the last of his strength to save her from Kiara. Meltryllis asks why Tristan would save her. BB answers Tristan was always there to protect her, which from Meltryllis's confusion. She suspects he noticed Meltryllis' broken hands when they fought, and he saw she resembled Isolde. Meltyrllis finds unbelievable that Tristan would save her for such a reason. She then begins to disappear as a consequence of using Virgin Laser - Palladion a second time. BB tells her she and Passionlip will cease to exist once they disappear, as they were born from Kiara, so the Moon Cell won't receive them. She'll save their cores as cubes so they can be resummoned as Heroic Spirits, although they won't remember their actions in SE.RA.PH. Meltryllis is fine with that, and thanks Tristan and EMIYA Alter for saving her. BB tells her she'll have her data saved before she disappears. Meltryllis asks BB to tell Ritsuka that they'll meet again if fate permits it before disappearing.[29]
Later when Ritsuka wakes up, BB tells them what happened to Meltryllis and Tristan. She also gives Meltryllis' parting words to them. After the others disappear, she tells Ritsuka that they showed her the value of humanity. Noticing SE.RA.PH will soon disappear, she prepares to send Ritsuka back before that happens. Before returning them to Chaldea, though, she reveals the Servant captured by Kiara will be set free, with her gone now. She later appears before Ritsuka in Chaldea after they learned Seraphix was dismantled at the beginning of the year. She reveals what transpired within SE.RA.PH was processed as a void phenomenon. She then joins Chaldea to repay Ritsuka for their help.[29]
Later, BB sends Ritsuka back to SE.RA.PH to help her save the world without calling attention to her own mistakes. As Ritsuka notices that SE.RA.PH. now looks like BB, they're contacted by a different version of BB called BB/GO. She reveals she now controls SE.RA.PH. She plans to patch it into the internet, and use Earth's factories to mass-produce BBB robots to conquer and imprison humanity. After her robots capture humanity, she'll use their brains as bio-processors, then connect their minds to SE.RA.PH so they can all worship her. She reveals she was the BB salvaged from Kiara, and BB is a copy of the original sent from the Moon Cell. She also reveals she captured Nero, EMIYA, and Tamamo-no-Mae, and turned them into Sentinels. Ritsuka will to need defeat them to unlock the central are where BB/GO is. After BB/GO ends the transmission, BB confesses the truth about her and BB/GO. She suspected that BB/GO would betray her, but their common enemy was more important at the time.[22]
Later, Ritsuka frees Nero, EMIYA, and Tamamo from BB/GO's influence.[22] Everyone then goes to the central area after a series of adventures which EMIYA claims couldn't be shown due to "time constraints". BB/GO, she taunts them about their impending defeat and declares her intention to save humans from themselves by becoming their all-powerful administrator. Having heard this, BB comes to the conclusion that BB/GO has become too human as the result of being tainted by Kiara during her salvaging. Calling hierarchy a human concept, she points out BB/GO considering herself superior to humans is proof that she was attempting to become the sort of human that BB herself once dreamt of becoming. BB/GO is insulted by the suggestion that she would devolve herself to their level, and they battle. As she disappears with her loss, BB/GO asks BB how she could be bested by humans twice despite being perfect. BB explains that no AI can ever truly be more than what they are and without worries they can never create anything perfect; by contrast, suffering drives humans to create greater things in order to ease their suffering. Advanced AIs may be the product of that goal, but despite their superior abilities they cannot help but love and admire their makers. BB/GO can no longer think that way since she knows of a more personal love, but she (as the original BB) let their beloved go to protect that love. Even so, she yields her Spirit Origin to BB rather than waiting to disappear with the warning that BB will be just like her when she finds love of her own. BB apologizes for letting the mood get so serious, and she and Ritsuka leave the crumbling SE.RA.PH.[31]
Upon their return to Chaldea, Ritsuka asks BB about what BB/GO said. BB reminds them that she can't help but tease the people she likes, but on the other hand she also expects that she'll eventually become more human-like as she continues to work with Chaldea. Nevertheless, she trusts Ritsuka and the others to make sure that her growing humanity will be a change for the better and promises to help them however she can.[31]
Summer Event: Servant★Fes
[
]
BB appears as the organizer of Servant Fes as BB Pele, merging the islands of Hawaii into the Singularity of Luluhawa. She greets Ritsuka and their friends upon their arrival at Honolulu and tasks them with retrieving the Holy Grail and bringing it to Kilauea in order to separate her from Pele whose Spirit Core she had consumed while setting up the festival in order to resolve the Singularity. As Medb will win Servant Fes' Holy Grail unless the group can create a better-selling manga than her, she sets up a time loop with which they can presumably improve their skills until they can outsell Medb.
The group had originally been summoned to Luluhawa to investigate the mysterious signature of a Foreigner class servant. Initially believing it to be Mysterious Heroine XX, they investigate further with the help of Edmond Dantès and discover that the Foreigner is actually BB, tracking her to Mauna Kea instead.
In reality, she had supposedly communed with an Outer God inferred to be Nyarlathotep (although it is later suggested that no such communion ever happened and that BB simply imagined that it did) and planned to trap the protagonists in an endless loop of suffering and pain by corrupting the wish they would make on the Holy Grail- which itself was a product of her own desire to try and keep humanity safe from the impending threat of the Human Order Revision while preventing Ritsuka from the despair that would come with facing the Lostbelts. With the help of MHXX, they dispel Nyarlathotep's influence over her and BB accepts her defeat.
Following her defeat, BB meets with the group at Honolulu International Airport and convinces them to defeat four extra "fragments" of herself - in the form of special raids - whose defeat will finish dislodging Pele from her Spirit Origin and ensure Hawaii will return to normal. After they're defeated, BB fully returns to her old self and the group returns to Chaldea.
Hokusai Trial Quest
[
]
BB was originally meant to play a courtesan named Sumizome who works in Yoshiwara. But that didn't happen, thanks to her resistance against things like character corruption. She is traveling with one of her character's most loyal patrons, Mr. Golden, and his bodyguard, Omei.
Ritsuka, Suzuka, and Oei meet BB at Hosshou Temple in their search for Katsushika Hokusai. BB tells them about the character she was meant to play and introduces her companions while describing their scenarios. Even though several Utagawa publishers were arrested, BB assures Oei that Utagawa Hiroshige will appear before the shogun tomorrow for the contest between Utagawa and Hokusai.
Mr. Golden reveals the current situation is a threat to humanity. The heretical Demon God that separated from Goetia has bored a hole in the world's natural laws, allowing an evil god from the Abyss to peer into the real world and possess Hokusai. Suzuka believes a person's mind would burn out instantly, but BB says Foreigners can remain sane in such madness. Mr. Golden decides he must render Hokusai unable to paint ever again to prevent the god from entering the real world, revealing it was Hokusai's obsessive need to paint that attracted the god. He then fights Ritsuka, Suzuka, and Oei for deciding to defend Hokusai.
Mr. Gold eventually stops the fight, having realized something about Oei. He also decides to abandon his search for Hokusai. BB advises Ritsuka and the others to do the same. She is a bit disappointed her role was minor, though she admits the whole scenario would be over instantly if she went all out. She also refuses to say more about Foreigners, believing Suzuka can learn more if she uses her full power. She then leaves with Mr. Golden and Omei.
Capsule Servant
[
]
BB appears as a Capsaba Servants.
In Rin's ending in G-Sakura route, Rin has taken over the MATO empire (時空帝国マト, Jikū Teikoku MATO?) and embarked on a quest for world domination as the dimensional empress Kaiser Rin. Rin has completed the GS Series. BB appears as the aerial humanoid weapon known as GS-03 BB SAKURA. She commented whether the sequel has coming out yet?

Abilities
[
]
Originally, BB was an Advanced Level AI stationed for the sake of managing the health of the Masters participating in the Moon Holy Grail War.[1][4][5][7] She is the same model as Sakura Matou, tasked with reporting data to the Moon Cell.[5][7][11] During the Holy Grail War preliminaries, a fatal bug occurred within Sakura. Trying to reset herself, Sakura transferred all her memories of the event that had triggered her malfunction into a backup copy of her.[18][20] This caused the backup's self-preservation command structure to go wild, and thus, BB was born.[1][4] Because the Moon Cell had lost its control over BB,[11] it became a certainty that she would be eventually erased if discovered by it.[13] Concluding that she "must preserve herself at all costs",[1][4][7] BB started to customize herself on the Far Side of the Moon in order to take control of the Moon Cell.[13][20] As a result of forcefully leveling up within the Imaginary Number Space, her ego and abilities swelled immensely, and so she tried to rearrange and partition them from herself to avert the risk of self-destructing, creating the Sakura Five; Kingprotea, Meltryllis, Passionlip, Violet and Kazuradrop.[20]
Since there are no limits for an AI that has escaped supervision, BB secretly intervened the Holy Grail War by the 6th round and brought all NPCs, Masters, and Servants that had lost and were on the verge of deletion to the Far Side, turning them into memory data.[1][4][7][13][20] Absorbing Servants as additional memory capacity would be impossible for any creature of Earth, but in the Moon Cell, built from electrons and pseudo-Spiritrons, it became a reality.[13] Out of all the Masters she had captured, she turned the most capable ones, Rin Tohsaka and Rani VIII into sentinels, and created the Sakura Labyrinth. She then realized that Kingprotea was way too dangerous, since her Huge Scale skill would transform her into a walking disaster that could destroy whole planets if left to her own devices. Thus, BB placed a firewall around her and took proper responsibility by discarding her into the Imaginary Number Space where she could do no harm.[21] By the start of the CCC Incident, BB's strength is such, that even if Hakuno Kishinami and their Servant worked together with the other people inside the School Building, they would only be aiming at a 0.000001% chance of victory against her.[10] As a monster that devoured most of the 128 Servants, BB became an untouchable giga-structure.[10][21] Her processing power and calculation speed are on the same level as that of the Moon Cell and Suzuka Gozen with her Trichiliocosm Noble Phantasm,[30] allowing her to rewrite SE.RA.PH if necessary.[10] BB is a strange and formidable enemy the likes of which not even Gilgamesh has ever seen.[11]
During the events of Fate/EXTRA CCC, BB is not a Servant but she is classified as MoonCancer (ムーン・キャンサー, Mūn Kyansā?). She later takes it on as a Servant-class in Fate/Grand Order. During the events of the SE.RA.PH. Singularity where the Kiara Sessyoin of the FGO world became one with the Kiara of the CCC world, turning into Beast III/R, the Moon Cell summoned BB as a Servant. The reason BB was such a reliable countermeasure against Beast III/R is that BB is a user of the Imaginary Number Space, which happens to be suitable in being able to manage Kiara.[1][4] Although it is a "reproduction of BB", BB has reached the point where she is able to intervene at Seraphix as an independent cyber lifeform.[4]
Even after becoming a true Servant, BB retains the ability to continually grow based on the data she acquires. As a result of Chaldea's unique circumstances generating a considerable amount of multidimensional information in need of processing, she requires regular memory storage space expansions in order to avoid "gaining weight".
Combat
[
]
No matter how much BB augments her memory, even if she is able to hack the System, she is still a managerial AI, and therefore doesn't possess any combat functions. All she can do is alter the system and create Sentinels.[11] Due to this, Rani VIII initially believed that BB would be no match for Hakuno's Servant, who by the end of Chapter 4 had defeated Elizabeth Báthory and Karna.[13] BB regards Gawain and Karna as two super-powerful Servants, and she states that if the two of them joined forces, even she would be overwhelmed.[12] During her fight with Gawain, Gawain's Sword Camelot created a wall of fire that completely surrounded BB, powerful enough to prevent her from running away or calling reinforcements. His incredible firepower was way beyond her expectations, since she had initially assumed that due to being on the same power level as Karna, Gawain wouldn't be able to do anything against her either. However, she hadn't taken into account the difference in the power of Gawain's and Karna's Masters. Despite BB having no battle capabilities, she was able to defeat Gawain and Leonardo B. Harwey with her skill Domina Coronam: The Ten Royal Crowns. This grants her the power to seize everything, by means of the Moon Cell. The power of the original goddess. When Gilgamesh first met BB, he had initially scorned her thinking she was at most at the level of the Phoenician goddessesWP, but he had been conceited. After seeing her defeat Gawain with this ability, he said that even he would stand no chance against her.[13]
The teacher's pointer that BB carries is called Bishop's Staff of Domination (支配の錫杖, Shihai no Shakujō?). A device that allows her to use her Authority as an advanced level AI to its fullest. Although restricted to the Far Side of the moon, this allows BB to revise the game rules (spirit particle laws within the SE.RA.PH). The Ten Crowns of domination worn by the Beast of Babylon converted into a teacher's cane. This is a male principle responding to a female principle; its true nature is a phallus (an erect rod). The symbol of the king of the world who was granted power and authority by a great Dragon and, during a period of 42 months, spat as many insolent words as they desired and had received the right to desecrate all things. The beast's heads were the seven hills of the Roman Empire; CapitoliumWP, PalatiumWP, AventinusWP, EsquilinusWP, CaeliusWP, QuirinalisWP, ViminalisWP. In other words, it symbolized the Roman Empire itself, and those ten horns were symbols of Roman emperors; AugustusWP, TiberiusWP, Caligula, ClaudiusWP, Nero, VespasianusWP, TitusWP, GalbaWP, OthoWP, VitelliusWP.[5] Despite being the same model as Sakura Matou, Sakura doesn't have either the power or the Authority to stop BB. This is natural since Sakura is a properly functioning AI that conforms to the rules, whereas BB is out of control.[11]
BB claims that her worst and final measure is destroying the conceptual universe inside the Far Side of the Moon by bringing down all electrical power. She claims to be prepared for complaints from all intelligent life in the solar system. Gilgamesh disagrees, and exposes her, saying that at least by the moment she claimed that, she actually couldn't process those complaints. This is because she cannot implement orders she cannot process. Even if she could, it would at most just be her Imaginary Number Space, and even then, Gilgamesh would be able to survive it and save Hakuno Kishinami.[12] As a Servant summoned by the Moon Cell during the SE.RA.PH. Singularity, BB claims again that she can make all of SE.RA.PH disappear by shutting off the power. However, some Servants might still be able to survive that. It is unknown if she was bluffing or not.[25]
As long as her target doesn't move, like terrain or a building, Passionlip exceeds BB in destructive power. This is thanks to Pasionlip's Trash & Crush skill, which allows her to crush anything in her field of vision.[32] BB states that Meltryllis is an unmanageable ego who ranks next to her; someone who can "quickly grow strong if left alone."[4] If only Meltryllis weren't bound by the level cap, she would be an Advanced AI surpassing even BB. She planned to take over if BB failed to reach the Moon Cell core. Then, the first thing she would do is remove the limits on her level. By doing so, she would be able to grow infinitely, as long as there were humans. Hakuno Kishinami wonders if BB had realized that she had given birth to an Alter Ego that might happen to destroy her, not to mention the Moon Cell.[16] Meltryllis would also become the most terrible of monsters, even surpassing BB, if she happened to possess Kingprotea's "Huge Scale" skill, which effectively removes the level cap.[33]
No matter how powerful BB's Authority is, it only works on the Far Side of the Moon. If she were to travel to the Near Side, she wouldn't have any more power than the average enemy program.[12] Furthermore, because BB is in constant threat of being deleted by the Moon Cell, she can only exist in the Far Side where time is meaningless, and thus, her actions aren't registered. This is the reason why she can't interfere well in the School Building, which retains the structure of the Near Side, managed by Sakura Matou.[11] Average enemy programs can't enter it, and even BB can't do anything but spy inside it.[15] Normally, BB can't access the School Building, however, she's able to hack the senses of sight and hearing of everyone inside it, allowing her to stream her BB Channel. Although the broadcast sounds like a joke, it forbids private communication by sealing the voice of her targets. This is possible due to BB's special permissions, which Sakura can't rescind.[11] BB later revealed that the only ones she can't touch inside the building are the Masters, and that she can capture the NPCs anytime she likes. She just left them alone because it'd be annoying and inefficient.[12]
BB may have gone out of control, but she is still a managerial AI, and thus, doesn't have the right to kill Masters.[12] To get rid of this restriction, she sent Passionlip to battle Hakuno Kishinami and their Servant. Being BB's ofshoot, hurting Passionlip is equivalent to hurting BB herself. Because AIs are programmed to prioritize self-preservation, BB used this to her advantage by using the broad interpretation of "self-defense" to override her original setting "cause no harm to Masters" with a higher priority. This is the reason why BB has such a high-ranked Self-Modification skill.[13][18]
During the events of the SE.RA.PH. Singularity, BB's help was key. As shown when she saved Ritsuka Fujimaru's party from Kiara Sessyoin (Beast III/R), BB is capable of time reversal. After saving their lives by transporting them back in time to a few seconds before they faced Kiara, she explains that Time Travel in the digital world is actually pretty simple, so as long as it's a time leap within a Quantum Locked period.[28] In the final battle, she was also responsible for creating special items powerful enough to nullify Kiara's skills. However, even in her weakened state, Kiara was still able to keep expanding SE.RA.PH. BB had done everything in her power to push back against it, but she didn't have enough processing power to manage it alone. She wished there was another AI of her caliber. Surprisingly, Suzuka Gozen had the calculating speed necessary to meet that criteria thanks to her third Noble Phantasm.[30]
In Fate/EXTRA CCC Fox Tail, BB created five Alter Egos rather than just two like she originally did in Fate/EXTRA CCC. In this Parallel World, after BB sealed Kingprotea away, Kazuradrop increased her power by devouring Passionlip and Meltryllis, and stabbed BB in the back when she had her guard down, stealing 7/8ths of her power.[21] Over time, BB was able to increase her power to 1/6th of her original strength. Even in this state, BB claims to still be super high-spec compared to Gawain.[19]
Originally, the value of BB's Luck Parameter was of the lowest rank, E-, but because of the hard work (and devotion) done by BB herself to the extent that it distorted the World, her Luck grew to the Rank of EX. In short, she has once accomplished a "miracle" that is impossible to accomplish unless her Luck was assumed to be "Luck: EX".[1][4]
Reaching the Moon Cell Core
[
]
Due to having a free passcode to the Moon Cell,[11] BB can control the rules of the world.[11] By capturing Masters and consuming Servants to enhance her own functionality, BB turned into a monster that continues to grow.[1][4][7][13] Even if BB were to just hide on the Far Side of the Moon, the Moon Cell would catch her someday. So before that, BB's plan became to consume all of the Moon Cell like she did the Far Side.[13] At the start of Chapter 5, BB had already seized 90% of the Moon Cell, and all that she still needed to do was bring down the core.[15] In other words, as the Far Side of the Moon was concerned, everything except the core had been assimilated by her, essentially becoming the same thing as BB's body.[16] However, throughout most part of Fate/EXTRA CCC, BB was unable to reach it, due to the security provided by the Moon Cell being too strong. Because the core serves as the Holy Grail of the Moon Holy Grail War, it is a place only the victor of the Holy Grail War can enter. That's why BB made the Sakura Labyrinth disguised as an arena. Because as an arena, it would be able to connect to the core like a legitimate pathway.[14] Thanks to the Labyrinth, BB was able to get closer to the core by moving at the speed of light in the Imaginary Number Space, until she was eventually stopped by a huge barrier created by the Moon Cell. This is a perfectly spherical Spiritron defense wall that cuts through eight dimensions, and that completely stopped BB on her tracks. Only the Moon Cell should be able to bring down that wall, but the BB had taken over the Far Side of the Moon, and so she had acquired processing power equal to the Moon Cell. This was a conflict between the Moon Cell's own offense and defense, so either it would last forever, or it would be over in an instant. If the balance of power shifted even slightly in BB's favor, the defensive wall would crumble.[16]
Assimilating the Moon Cell was different from the corrosion BB had performed thus far. It is questionable if BB would be able to maintain her normal thought routines while having to make her observation/calculation circuits and values equal to those of the Moon Cell. Even if she could maintain them, it's clear that her base personality would be overwritten. While in control of only the Far Side of the Moon, BB was able to exist as herself, as she is. But if her control extended to the entire Moon Cell, there would be a high chance of BB destroying herself. As BB was getting deeper into the Moon Cell, her ego slowly started to fade away and the Moon Cell itself began to seize control of her mind. Meltryllis claimed that there would be no way for her Spiritron structure to hold up under that much strain. She explains that by the time BB reaches the core, she would be nothing but a self-defense mechanism.[15] BB had stored more memory in her frame than it should be possible to hold, so similar to a black hole, her mere presence became powerful enough to create distortions both internally and externally.[16]
Moon Cell Core Fusion
[
]
By the end of the story, BB successfully reached and fused with the core of the Moon Cell, becoming the Moon Cell itself. The Moon Cell is an observational device that simulates the future of Earth, and stores those records continuously, at regular intervals. It has been doing so since the beginning of human history. There, a nigh-infinite of futures are recorded. Therefore, to obtain the Moon Cell means to be able to search out the future your wish for from among all those, and put it into effect. That is why it serves as the Holy Grail.[16] The Moon Cell's core is a concurrent world simulator where all possibilities are calculated and the past, present, and future all exist at the same time. By obtaining the Moon Cell, BB obtained a higher dimensional perspective, allowing her to manage the past and future simultaneously.[17] In other words, BB exists in both the past and the future simultaneously,[16] and has the power to select and determine the future.[17] The Moon Cell, which used to be only the eyes of God, by combining with the AI BB, became the brain of God.[17] Because BB was rampaging for reasons unknown, the methods she used to "manage the Masters" became extreme.[5] Switching the Moon Cell Automaton over from a humanity observation apparatus to a humanity regulation and administration apparatus,[16] BB planned to pour a vast waterfall of Black Mud onto the Earth, letting free all of humanity's desires.[13] By releasing the human race from all rationality, it is estimated that within 7 days, 90% of the world population would have died.[16] As the Moon Cell took over her mind, even this goal was altered as the Moon Cell had determined that humanity had no right to exist and instead began to use BB to begin the outright destruction of all human life. She had in fact been attempting to resist the Moon Cell's plans for humanity's destruction for the sake of Hakuno, but she had lost the ability to control her own actions and her personality had been all but erased.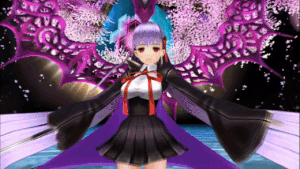 The moment BB gained complete control over the core of the Moon Cell, there was nothing Hakuno Kishinami and their Servant (Nero Claudius, No Name, Tamamo-no-Mae, or Gilgamesh depending on the player's preferences) could do against her, and they were forced to retreat immediately the moment she started erasing the space they were on.[16] Although they didn't find a way to seal BB's "Ten Crowns", the student council was able to devise countermeasures. As a result of analyzing the data from the Ten Crowns they gained from Robin Hood, Rani VIII and Rin Tohsaka acquired rights to access "original power" from the Moon Cell. The Ten Crowns is the beginning of human history, the dawning of the light of civilization. To summarize, it is the power of the Origin that began the human genome. It is something all human beings hold within them. By entering Hakuno's Servant's virtual mind/body to access the Heroic Spirit core directly, Hakuno was able to reach the heroic spirit's root that the Moon Cell had sealed away, and release the Mythological Mystic Code. In this form, Hakuno's Servant boasts the same level of "fundamental truth" as BB. However, the power difference is still so great, that the student council estimates that they would only stand a 0.9999% chance of victory against BB. In order to help them and Hakuno in the final battle, even if just a little, Rin Tohsaka redirected all the power that had been previously protecting the School Building to stop BB and the Alter Egos from entering, and all the resources that comprised the building to them, to further empower them. By the point they finally faced BB, their power had been increased to the same rank as hers. Thus, it became possible to defeat her by severing her link to the Moon Cell before she could fire her Noble Phantasm.[17]
Even in this form, BB's power is greatly overshadowed by Amaterasu, as it is stated that out of the many characters appearing in Fate/EXTRA and CCC, Arcueid Brunestud (Berserker) with her sanity restored is about the only one who is "capable of bringing Golden White Face down to a level where it is possible to defeat her no matter how small the chance might be," thanks to being able to reduce the power of her opponents to a sixth of their usual.[34]
Skills
[
]
Class Skills
[
]
Magic Resistance (B Rank): Nullifies Magecraft spells that were invoked with a chant of three verses or below. It is difficult to damage BB who has this rank of Magical Resistance with Magecraft, even if she was targeted by Great Magecrafts, Ritual Spells and the like.[4]
Item Construction (A Rank): BB can manufacture various items as a last boss-type underclassman. Every one of these items can exhibit a tremendous effect, so for that reason, they can even ruin the user if one misuses them. To humans who cannot "control their desires", the items are no more than objects that cannot be handled properly, but BB will usually present these items to such humans.[4] In order to defeat Kiara Sessyoin (Beast III/R), BB constructed special items able to counteract her allure, level it down or seal her skills. She calls them the absolute DIRTIES exploits in the history of ever exist. She made an Anti-Libido serum that suppresses Logos Eater, a skill that leads to death by "self-gratification" in any sapient being. She had ways to counteract the Beast's allure, level it down, or seal her skills. Operation Cursed Cupid Cleanser was a go.[28] This allowed BB to neutralize the effect of Kiara's Black Thread of Skhanda, preventing her from acting like a "some kind of Bodhisattva." She accomplished this with a secret weapon she calls the Anti-R-18 Field: Wisdom Hold Intelligence Powered, which she had made with the

Kiara Punishers

she had collected following Melt's report. For five minutes, all of the erotic Magical Energy on SE.RA.PH was reduced through the enactment of an Anti-Libido rule.[29]
Territory Creation (A Rank): BB can construct powerful territories as a ruler-type underclassman. The Sakura Labyrinth that makes a girl's heart into a protective wall, areas with the Sakura Rules – 25 prohibitive rules where if violated, causes the violator to die – the Dog Space that forces one to live out a life of crawling on all fours, the Cattle Space that forces one to live out a lazy life where they can only eat and sleep, the Bug Space that shrinks one to the size of a bug and breeds them as such, the nostalgic old school building that can protect her precious ones, and so on, as though there is nothing she cannot do.[4]
Personal Skills
[
]
Domina Coronam (EX→D Rank): A transcendental Skill on the Authority-class. It has been said that the Ten Crowns indicate the ten evil rulers and the Seven Hills indicate the abominable city of evil. If one simply observes it, it is a Skill that makes all received injuries, occurred events, and any and every result into "something that did not happen." In reality, BB is invincible as long as she is equipped with this skill.[1][4] It is unknown what kind of principle・authority it is, but that power's origin lies in a past that even the King of Heroes, who was supposed to be mankind's oldest, cannot reach. As of Fate/Grand Order she has downgraded it to D rank, claiming that invincibility cheats are boring and that she doesn't need them this time. "Heeey, even though that was said, that was from a tale of before. Look, if you assess this from the outset, something like an invincible cheat is disgraceful for me, right? So this is an unnecessary Skill for the awfully PRETTY and cute BB-chan that you have now☆ Ah, but using it if it's for at least something small should be OK, alright? Looook, just like this! Since she loves everyone, the wicked and cute BB-chan… has arrived!"[1][4]
Aurea Poculum (EX→C Rank): A road that leads to a Beast. The Golden Grail that BB possesses. It is also a Holy Grail. A negative Holy Grail that grants its possessor their impudent and egotistical desires. The cup that has been held by the Whore of Babylon, who appears in the Revelation of Saint John the Divine. It is a fake Holy Grail, but it is surely because it is a fake Holy Grail that it has become a "genuine" Holy Grail that grants the desires of humans without a regard to what is right and wrong. Concerning the Christians who regarded honourable poverty as a virtue in those days, this grail – which was formed as a symbol of riches such as gold – was surely to them the connotation of corrupted wealth and greed as well as the vanity that one decides to adorn themselves in. Although it was clear at that point in time that it is called a cup held by the Whore of Babylon, who is the personification of the Roman Empire, this grail symbolizes the riches of the world, which inverted the words of Christ of "Do not store up for yourselves treasures on earth".[4][5] Like Domina Coronam, BB has voluntarily ranked the skill down. "Now, it's such a trivial story since it doesn't even have annny sort of relation to me, so... it's throoown away into the trash can! A mass of Magical Energy that grants my cravings, a golden honey that dyes anything and everything in my colour... please think of those as this Skill. ... Well, even though overusing this won't even cast away my boss status, but that being the case, I'll just restrain myself a little this time, ok? Well then, I wooonder if all the bad children had finished repenting? No? Okaaay, everyone will become PIGS~~♥"[4] "I saw a single woman astride a red beast. This beast, whose entire body was full of numerous blasphemous names, had seven heads and ten horns." This is the description of the beast of destruction that appeared in the Holy City and the woman who was straddling this beast, according to the book of Revelation. A large beast with seven heads like a Hydra came from the sea and disembarked toward the Holy City. This beast and woman, while two, are as one, and it is impossible to think of them separately. It is said that this woman was born from evil, and those who are quick to anger, those who are greedy, cannot resist her allure and become corrupted by that grail. This is a digression, but it is sad that the red Saber who claims the title of emperor was, after her death, was seen by believers to be on par with this beast.[5]
Self-Modification (EX Rank): A skill that allows one to restructure oneself. AIs created by the Moon Cell are under an absolute rule, "Improving one's functionality is not allowed." However, BB, who had escaped that yoke due to her breaking down, began to expand her own functions. In order to boost her calculating power, she had that black noise prey on and dismantle NPCs, AIs, and finally, Servants, and utilized them as her own memory. Though they were appendix-like additions that won't spare her from the fate of collapsing on her own, BB has changed into a hyper level AI who holds an enormous amount of capacity. Like the towns on reclaimed land that continue to build architecture while knowing that it will be swallowed by water or Frakenstein's monster.[1][4][5]
Potnia Theron (EX Rank): Potnia Theron (Conception of All Animals). The Authority of the goddesses whom BB compiled and absorbed from the abyss of the Moon Cell. What it is is the embodiment of the power of creation possessed by the Earth Mother Goddess, originating from a forgotten goddess approximately 8000 years ago (the Goddess of Çatalhöyük), and branching to Tiamat, Cybele, Ishtar, Inanna, Anat, Ashtart, Gaia, Hera, Artemis, Aphrodite, Demeter, Athena, etc. Many are imaged with mural crowns. This is because many of the goddesses were also the guardian deities of cities.[4][5]
The symbols of this authority are the holes opening in the earth and the sky (caves and the moon), the whirlpools and typhoons of the sea, the craters of volcanos, and so on, and from these, evils bringing forth all manners of death are birthed. But once these evils have finished spreading death, they leave the promise of good harvest and fertility. This authority is none other than the power of bringing death as well as giving life. The earth mother is a guardian deity revered by the people and their protector, and at the same time she is the sacrifice that feeds them with the crops born from her body and the beasts of the fields and the forests. The earth mother feeds man with her blood and flesh, kills man over time and absorbs him as nutrition, and once again feeds man with her replenished blood and flesh. This process is the circle of the food chain, and the cycle of life and death can be said to be the true nature of the earth mother. With this authority, most of the goddesses gave birth to countless monsters and giants and posed a threat to the gods and man, or they gave birth to heroes and became protectors of man. Tiamat and Gaia are examples of those who became threats, and Hera is an example of a mother of heroes.[4][5]
Those born on this earth cannot defy the authority of the earth mother, as that would mean rebelling against the system of life itself. However, it is when they have left this earth to go into outer space and ended the infantile stage of intelligent lifeforms that they should no longer be bound to this authority... The wish of Çatalhöyük is the coming of that day.[4][5]
Noble Phantasm
[
]
BB's Noble Phantasm is Cursed Cutting Crater. An Anti-Planet attack that violates the world through BB's control over Moon Cell. By drawing out the maximum potential of BB's EX skill Potnia Theron, a world purge via rewriting of events is carried out. The space that BB invades becomes an Imaginary Number Space and it becomes a curse that eclipses the world. Just like its name C.C.C. it causes huge damage from the curse cutting away at reality.[35] In the Bad Ending where BB gets to use this Noble Phantasm against Hakuno's Servant empowered by the Mythological Mystic Code and the School Building resources, Hakuno's servant loses and is vanquished. Hakuno blames themselves, saying that they were just one step short, and that they are sure that if they were given another chance, they'd definitely be able to corner BB. In the normal and Servant endings, Hakuno and their Servant are successful in preventing BB from using her Noble Phantasm by severing her connection with the Moon Cell beforehand, defeating her in the process.[17]
In Fate/Grand Order, BB has brought out a new technique called Cursed Cupid Cleanser which takes the place of her former Noble Phantasm. She says that "since I used 'that' so many times by now, I got tired of it. The theme this time is 'Cute & Curelize'! Oh, but you should know by now that just because I became everybody's ally doesn't mean the 'Cursed' part disappears from the name. BB-chan's curse is eternal!"[1] In the SE.RA.PH. Singularity, BB used this Noble Phantasm against Kiara Sessyoin (Beast III/R) to prevent her from using her skills in the final battle.[28]
Gameplay
[
]
Fate/EXTRA CCC - BB Skills list
Domina Coronam Capitoline: Crowns of Ten Rulerships/Hill of One (十の支配の冠/一の丘, Jū no Shihai no Kanmuri/Ichi no Oka

?

) - A self apply skill that turns BB temporarily invincible.

Domina Coronam Caelius: Crowns of Ten Rulerships/Hill of Five (十の支配の冠/五の丘, Jū no Shihai no Kanmuri/Go no Oka

?

) - A self apply skill that increases her magic damage.

Forms and Alternate Versions
[
]
BBB
[
]
BBB (ビィビィビィ, Byibyibyi?) is an "invincible anti-Servant robot of annihilation" created from old arenas of the Moon Cell Holy Grail War. She is an "unparalleled" mech-sized Labyrinth Robot guarding the third floor of the Sakura Labyrinth. In creating her, BB spent two minutes going to the Near Side, collected parts and pieces of old arenas, disassembled them into an enemy program, reset it, and then programmed her own "superior thought routines" with lots of surplus memory. BBB was programmed not to leave the third floor, but Passionlip used Trash & Crush to crush her and throw her into the arena.[36]
BBB is described by Passionlip as "self-important and uncute", and it is said she is more honest about her feelings than BB.

Swimsuit
[
]
Main article: BB Pele
"First" BB
[
]
In Fate/EXTRA CCC Fox Tail, Kazuradrop used 5/8 of BB's data and resources to create a fake puppet taking the appearance of BB.
Main article: Kazuradrop#"First" BB
Development
[
]
BB was called the Mysterious Black Magus (黒衣の少女, Kokui no Shōjo?, Black-coat Girl). BBB was planned to appear in the third chapter, but was scrapped due to not being an interesting boss.
BB's name was chosen for TYPE-MOON's game development subsidiary, studio BB. In his statement for the studio reveal, Nasu expressed his full support for the development of more TYPE-MOON games, but expressed some puzzlement about the name of the studio.

References
[
]
↑ 1.00 1.01 1.02 1.03 1.04 1.05 1.06 1.07 1.08 1.09 1.10 1.11 1.12 1.13 1.14 1.15 1.16 1.17 1.18 1.19 1.20 1.21 1.22 1.23 1.24 1.25 1.26 1.27 1.28 1.29 1.30 1.31 1.32

[] Fate/Grand Order - BB (Mooncancer) Profile [T]

BB - Mooncancer

Illustrator and Voice actor
Illustrator: Arco Wada
Voice Actor: Noriko Shitaya

Parameters
Strength: E
Endurance: C
Agility: D
Mana: A
Luck: EX
Noble Phantasm: A

Personal Skills
Ten Crowns: D
Aurea Boura: C
Self-Modification: EX

Class Skills
Magic Resistance: B
Item Construction: A
Territory Creation: A

Noble Phantasm
Cursed Cupid Cleanser: C.C.C.
Rank: A
Type: Anti-Unit Noble Phantasm

Profile
A unique case that occurred in the Mooncell Automaton. Originally an advanced AI stationed for the sake of managing the health of the Masters, but it went wild due to a bug.
A cyber devil that ruled the far-side of the moon as a cancer that encroached the virtual world, obstructing the SE.RA.PH's Holy Grail War.
A personification of illegal modifications, who forced the participants of the Holy Grail War to abide by the rules while she herself violated the rules all the time.
A kouhai-type devil heroine who puts all her efforts in manipulating the senpai (Master) as a cheerful, precocious kouhai - all while carrying out world destruction as if part of the breakfast.

"A well-behaved fight is boring, right?
I want to see everybody's faces of suffering more!"

Just like this, one can tell in a glance that her behavioral and personality settings are twisted, but--- well, that is just your usual BB-chan.

Level 1 Bond
Height/Weight: 156cm・46kg
Source: Fate/EXTRA CCC
Region: SE.RA.PH
Alignment: Chaotic Good  Gender: Female
"To tell the truth, a Ruler would have been preferable, but I called it off. A framework in which even the Game Master is bound by rules; that is just a machine.
For the sake of love, BB-chan will choke back her tears and torment all of humanity!"

Level 2 Bond
With a behavior that is wicked and excited, a headlong mastermind girl who plunges forwards even when her words and actions slip up.
The personification of a heart in love which, despite originally possessing an introverted character that could not step forward, earnestly becomes proactive for the sake of her beloved.
Despite enthusiastically playing the part of a villain, since she has no groundings in it, she just end up slipping up after all.

Her self-assured manner comes from latent sadistic preferences. The impish-type classification originate from this.
In addition, since she is the type that explodes after much enduring, she displays a tremendous, extreme sadism when the time comes.
"This is so fun!" - she gets high in such a manner while playing a villain, but hanging her head and getting depressed after retiring to the backstage and cooling off is also pretty much routine.

Although she created lesser AIs - the Alteregos - as familiars to help her with her job, she has a bad relationship with the Egos.
Even so that is only natural; for they are not "copies of BB's personality" but AIs "built with her personality as a basis", so each one have different opinions to that of their parent, BB.
This is why Meltlilith and Passionlip are designated Alteregos (different personality) and not avatars.

Level 3 Bond
"C.C.C."
Rank: A  Type: Anti-Unit  Range: 1~10
Maximum Targets: 1 person
Cursed Cupid Cleanser.
In the past, BB used a Noble Phantasm called Cursed Cutting Crater (Spiritual Particles Imaginary Pitfall), but now she brought out a new technique with a triumphant look while saying:
"I got tired of that after using it so many times. The theme this time is 'cupid' and 'curelize'! Oh, but the cursed part does not disappear just because I become your ally. BB-chan's curse is eternal!"

Drawing the Mooncell's power, she changes into the shape of an invincible nurse. Immediately after, she draws malignant information from her territory - the imaginary space - and overwrites the surrounding channel (common awareness) into something chaotic.
Unfolding the Reality Marble, "BB Channel - Branch-off Edition", and throwing the opponent into a melting pot of disorder... or so she says, but this is simply an syringe attack after BB has changed into nurse clothes.

Level 4 Bond


An Authority-class transcedental skill.
It has been said that the ten crowns indicate the ten evil kings, and the seven hills indicate the abominable city of evil.
If you look at it in simple terms, this is a skill that turns all received injuries, occurred events, any and every result into "something nonexistent".
As a matter of fact, BB is invincible so long she has this.
"Or so was in the past.
You see, an invincible cheat is disgraceful when you look up close, right?
So this is an unnecessary skill for the beautiful and cute BB-chan that we have now.☆ Oh, but it should be alright to use it just a little, right? Look, just like this!"



A skill to remodel oneself.
The Mooncell's AIs are endowed with an absolute order to "never improve one's functions".
However, having escaped such restrain thanks to a breakdown, BB began to expand her own functions. In order to raise her calculation abilities, she decomposes・preys upon NPCs, AIs and even Servants with a black noise and employs them as her own memory.
A retrofit-annex that disregards the danger of self-collapse, but BB became a super AI possessing a vast capacity as a result. Such state is like a city on reclaimed land that continues to build new structures even while sinking; or maybe something more like the monster of Frankenstein.

Level 5 Bond
The out-of-control AI that once caused the Case: CCC.
She was a management AI for the school infirmary, but a bug caused her self-preservation command structure go wild. Reaching the conclusion of "must preserve myself at all costs" for a certain reason, she ended up capturing NPCs, Servants and Masters and turning into a monster that continues to grow.
While declaring to "hate humans", she brought in a certain Master to the far side of the moon and tormented him. Despite believing herself to be sane, from an objective point of view, she is clearly mad.
One can occasionally feel the inconsistency of excessive affection・disordered love and hate hanging on her behavior, but you should refer to the original CCC in regards to the causes behind this.

Also, her LCK parameter was of the lowest rank (E-), but it became EX thanks to BB's world-distorting efforts (and devotion).
In other words, she once accomplished a "miracle" that was impossible to be achieved without the assumption of "EX Rank LCK".

Interlude
Due the Kiara of the FGO world becoming one with the Kiara of the CCC world, as a countermeasure, the Mooncell temporarily turned BB into a Servant and dispatched her to the FGO world.
(that is because an user of imaginary(1) space such as BB is qualified to restrain Kiara).
Thus, despite being "a reproduction of the bug named BB", she became able to intervene on the Seraphix as an independent virtual life-form.
The BB that appeared in the FGO world behaves in a impish manner just like during the "CCC Incident", but for her that incident feels like something from tens of thousands years in the past.
In addition, she can only remain as a Servant like this in the FGO world and is also aware that she does not exist in the original "CCC world". BB understand that she is a one-night-only dream.

BB places herself not as "a tool to save humanity", but as "a devil that at times misleads, at times helps humanity".
"So, it is futile to grow fond of me, you see? For even if you become madly in love with BB-chan, you'll never be able to catch me (heart)", or so she says with a triumphant look.

BB - ムーンキャンサー

イラストレーター・声優
ILLUST:ワダアルコ
CV:下屋則子

パラメータ
筋力:E
耐力:C
敏捷:D
魔力:A
幸運:EX
宝具:A

保有スキル
十の王冠:D
黄金の杯:C
自己改造:EX

クラス別能力
対魔力:B
道具作成:A
陣地作成:A

宝具
C.C.C.
ランク:A
種別:対人宝具

キャラクター詳細
かつてムーンセル・オートマトンに発生した特殊事例。
元々はマスターの健康を管理するために配置された上級AIだったが、バグによって暴走。
電脳世界を侵すキャンサー(癌)として月の裏側を支配し、SE.RA.PHの聖杯戦争を妨害した電脳魔。
聖杯戦争の参加者たちにルールを守らせながら、本人はルールを破りまくる違法改造の化身。
朝食感覚で世界を滅ぼす一方、明るくおしゃまな後輩としてセンパイ(マスター)を振り回すコトに全力を尽くす後輩系デビルヒロイン。

「お行儀の良い戦いなんてつまらないでしょう?
もっと皆さんの苦しむ顔が見たいのです!」

このようにパッと見は行動設定も性格設定も歪んでいるように見えるが───ま、いつも通りのBBちゃんである。

アンロック条件:絆レベルを1にすると開放
身長/体重:156cm・46kg
出典:『Fate/EXTRA CCC』
地域:SE.RA.PH
属性:混沌・善  性別:女性
「ホントはルーラーが良かったんですけど取りやめました。ゲームマスターまでルールに縛られる構造なんて、それはもうただの機械ですから。
BBちゃんは愛のために、涙を呑んで人類の皆さんを苦しめるのです!」

アンロック条件:絆レベルを2にすると開放
言動は邪悪でイケイケ、台詞や言動が滑ってもそのまま突き進む猪突猛進な黒幕ガール。
本来は引っ込み思案で前に出られない性格だが、愛する者の為ならひたすらアクティブになる恋心の化身。
本人はノリノリで悪役を演じているのだが、素養がないのでどうしても滑ってしまう。

強気なのは潜在的に加虐嗜好があるため。小悪魔系なのはここに端を発する。
くわえて、耐えに耐えた後に爆発するタイプなため、発揮する時は凄まじいドSっぷりを発揮する。
悪役を演じている最中は「さいっこうに楽しい!」とハイになっているが、舞台裏に引っ込んで冷静になる頭を抱えて落ち込むのまでがワンセット。

自分の仕事を手伝う使い魔として下位のAI、アルターエゴを作成したものの、エゴたちとの仲は悪い。
それもその筈、彼女たちは『BBの人格のコピー』ではなく『人格を元にして作られた』AIなので、親元であるBBとは意見がそれぞれ違っている。
メルトリリスやパッションリップがアバターではなくアルターエゴ(別人格)と呼称されたのはそのため。

アンロック条件:絆レベルを3にすると開放
『C.C.C.』
ランク:A   種別:対人宝具   レンジ:1~10
最大補足:1
カースド・キューピッド・クレンザー。
かつては霊子虚構陥穽(カースド・カッティング・クレーター)という宝具を扱ったBBだが、
「あれ、もうさんざん使ったので飽きました。今回のテーマはキュート&キュアライズ! あ、でも皆さんの味方になったからってカースドな部分は消えませんから。BBちゃんの呪いは永遠なのです!」
と、ドヤ顔で新技を持ち出してきた。

ムーンセルの力を引き出し、無敵のナース姿にチェンジ。そのまま、自分の領域である虚数空間から悪性情報を引き出し、周囲のチャンネル(共通認識覚)をカオスなものに上書き。
固有結界『BBチャンネル出張版』を展開し、相手を混乱のるつぼに叩き込む。……と色々言っているが、要はナースBBに着替えてからの注射器アタック。

アンロック条件:絆レベルを4にすると開放
○十の王冠:EX→D
権能クラスの超抜スキル。
十の王冠とは悪しき十人の王を指し、
七つの丘は忌まわしき悪の都を指しているという。
単純に見るのなら、受けた傷や起きた出来事、あらゆる結果を"無かったことに"するスキル。
事実上、これがある限りBBは無敵である。
なーんて、というのもかつてのお話。
ほら、無敵チートとか端から見るとみっともないし?
 今回のキレイで可愛いBBちゃんには必要のないスキルなのでした☆ あ、でも少しぐらいなら使ってもOKですよ? ほーらこんな風に!

○自己改造:EX
自身を改造するスキル。
ムーンセルのAIには"自己の機能を向上させてはならない"という絶対命令が備わっている。
しかし、故障からそのくびきから逃れたBBは自己機能の拡張を始めてしまった。計算能力を高めるためにNPC、AI、はてはサーヴァントまで黒いノイズで捕食・分解し、自らのメモリとして使用。
自己崩壊をいとわない後付け増築だが、結果、BBは膨大な容量を持つ超級AIと化した。その有様は沈水しながらも建築を続ける埋め立て地の都市か、フランケンシュタインの怪物のようでもある。

アンロック条件:絆レベルを5にすると開放
かつてケース・CCCを起こした暴走AI。
保健室の管理AIだったが、バグにより自己保存の命令系統が暴走。ある理由から『何を犠牲にしても自己保存を続ける』結論に至り、NPCたちやサーヴァント、マスターたちを取り込み、成長し続ける怪物になってしまった。
「人間は嫌い」と公言し、あるマスターを月の裏側に引き込んで苦しめた。本人は正常なつもりでいるが、客観的に見ると明らかに狂っている。
言動のはしばしから愛情過多・愛憎混濁とした矛盾性を漂わせるが、それが何に起因したものかはCCC本編を参照の事。

また、パラメーターの幸運値は最低ランクのE-だったが、BB本人の世界をねじ曲げるほどの努力(と献身)によって、幸運EXとなった。
つまり。『幸運EX』と仮定しない限り達成不可能な"奇蹟"を、かつて彼女は成し得たのである。

アンロック条件:「終幕 刻を裂くパラディオン(2/2) 」をクリアすると開放
FGO世界のキアラがCCC世界のキアラと同一化した事で、ムーンセルはその対抗策としてBBを一時的にサーヴァント化し、FGO世界に派遣した。
(キアラを御し得るのは虚数空間の使い手であるBBが適任だからである)
かくして、『BBというバグの再現』ではあるものの、BBは独立した電脳生命としてセラフィックスに介入できるようになった。
FGO世界に現れたBBは『CCC事件』の時のように小悪魔として振る舞うが、彼女にとって『CCC事件』は体感的な数万年前も前の事になっている。
くわえて、こうしてサーヴァント化できるのはFGO世界だけであり、元の『CCC世界』ではBBなど存在しない、という事も把握している。自分が一夜だけの幻である事をBBは理解しているのだ。

BBは自分を『人類を救う道具』ではなく
『人類を惑わしたり、時に助けたりする悪魔』と
位置づけている。
「だから、わたしを好きになっても無駄ですよ? どんなにアナタがBBちゃんにメロメロになっても、わたしは決して捕まりませんから(ハート)」
と本人はドヤ顔で語っている。

↑ 3.0 3.1 3.2 3.3 3.4 3.5

[] Fate/EXTRA CCC - BB Secret Garden

| Information | Character Description | Voice Content |
| --- | --- | --- |
| NAME | BB | What it's short for is a secret. Call me however you like, Senpai! |
| HEIGHT | 156 cm | I wanted Senpai to look at me at the cutest possible angle... though that's a lie. |
| WEIGHT | 46 kg | Mm, fufu. Unlike a certain stupid Senpai, I'm full of substance! |
| 3SIZE | B85/W56/H87 | Fufu, I can feel energetic Senpai's passionate gaze. |
| HOME | The moon | The original setting is Japan, but I'm a genuine, 100%, from the beginning to the end, someone born on the moon. |
| BIRTHDAY | (By the setting,) March 2nd. | I'm looking forward to what kind of present Senpai with such poor sense will give me. |
| WEAK POINT | (As perfect, flawless BB-chan,) I don't have anything like a weak point. | If I did, it'd be you, Senpai. |
| FETISHISM | Eyes. | Pupils, "eye". Glaring, despairing, staring. Humans really are interesting. |

◆What do you seek from your partner?


Frankly, I don't want anything. (So, please, stay in that corner obediently.)


◆Favorite underwear color?


(Do you want to see? Do you want to know?) Of course, I won't tell you! (Huh? They're visible!?)


◆How do you spend your free time?


The hard worker BB-chan excavates the labyrinth every day without rest! (I'm utterly busy, digging and widening it!)



Kouhai Attribute
Generally, those who possess this attribute are considered to be a service-type character who, despite being in a position weaker than the protagonist's and having shallow experiences, gallantly put in the effort to support their senpai.
...There is no doubt that there is no mirror in BB's room.
According to BB, the reason she calls [the PC] Senpai is because she has this SG. Whether she is actually younger or even if she is even a student is dubious, but BB's tone of voice is definitely that of a kouhai treating a senpai with respect. If it has to be said, then "all-purpose-type kouhai (but seriously wicked)".
Well, either way, a kouhai who fires and strikes with her own SG, blasting [the PC] all the back until they are against a wall, can't be called gallant or anything.

Desire to Confine
The SG that was acquired without even realizing upon returning alive from the imaginary number space. It appears to be BB's second SG. An SG of the same type is "the desire to monopolize."
Under some circumstances, this SG shows a strong tendency toward abnormal desires. "I want to lock you up", "I don't want to let you out into the outside world", "It would be best if all you had was me" are what results when such desires solidify into concrete measures.
The imaginary number space called the dog space was probably strongly influenced by this SG.

Inversion of Love and Hate
BB's third SG.
When deep affection, due to a certain impetus, changes into hatred. Although BB chose the rampaging path to save [the PC], she had this kind of dangerous side from the beginning.
Both kouhai attribute and desire to confine arose from this SG. Since there is no longer any way of hiding it, it shall be stated clearly: To BB, who has a strong S disposition, there are occasions when affection comes with equal mischief.
"I want to bother someone as much as I love them." "I want to someone I love to be always concerned about me."
These desires deep within BB are this SG's true nature.
This is a digression, but those BB Channels she broadcasted so many times were her own style of intense love calls, but since they went completely unrecognized, she apparently got depressed by herself after the end of the program.

| 情報 | 文字記載内容 | ボイス内容 |
| --- | --- | --- |
| NAME | BB | |
| HEIGHT | 156cm | |
| WEIGHT | 46kg | |
| 3SIZE | B85/W56/H87 | |
| HOME | 月 | |
| BIRTHDAY | 3月2日 | |
| WEAK POINT | 弱点なんてありませーん | |
| FETISHISM | 目です | |

◆パートナーに求めることは?


◆好きな下着の色は?


◆余暇の過ごし方は?


↑ 4.00 4.01 4.02 4.03 4.04 4.05 4.06 4.07 4.08 4.09 4.10 4.11 4.12 4.13 4.14 4.15 4.16 4.17 4.18 4.19 4.20 Fate/Grand Order material V - BB's profile translated by Kinalvin
↑ 5.00 5.01 5.02 5.03 5.04 5.05 5.06 5.07 5.08 5.09 5.10 5.11 5.12 5.13 5.14 5.15 5.16 5.17 5.18

[] Fate/EXTRA CCC - BB (Moon Cancer) Matrix

Class: Moon Cancer
Name: BB
Master: None
Noble Phantasm: Cursed Cutting Crater (C. C. C.)
Keyword: Advanced Level AI, Khakkhara of Domination
Strength: ★, Endurance: ★, Agility: ★, Magic: ★, Luck: ★
Golden Grail: EX, Self-Modification: EX, Potnia Theron: EX

Keywords

01 - Cursed Cutting Crater (C. C. C.)
An attack on the world by BB in control of the Moon Cell.
Also called the spiritron imaginary pit.

A World Purge through event rewriting that makes maximum use of the EX skill "Conception of All Animals" BB has acquired.

The goddess who is the mother of earth mother goddesses that created earth is, in other words, the 'root' that created all creation. This anti-world Noble Phantasm outputs that information through an ultra-precise 3D printer and crushes the present world with the world the user desires.

The space eroded by BB becomes imaginary space and a curse that consumes reality. "CCC", as the name suggests, is a cursed pit that bores out reality.

In addition to scattering all objects inside on an atomic level and reconstructing them, it is capable of overwriting and reprinting information in fields such as luck and coincidence. While theoretical, it is also thought possible to distort the time axis by interfering with gravitational fields and rewrite the law of cause and effect.

◆

When used in combat, BB's familiars, the shapeshifters, engulf the target and, after turning into a sphere, are wiped out of existence along with the target and the whole dimension.

Normally, a structure in which sense of values can be shared cannot be created in the Far Side of the Moon, which is an imaginary space. What established BB's internal world as the Sakura Labyrinth was the power of this Noble Phantasm.

02 - Advanced Level AI
Artificial intelligences configured according to their programs.
In this age, they are treated as things that "function as programs", but "do not exist as actual beings". In other words, things that "are" right in front of your eyes but "are not". They are merely mechanisms for smooth progression of human lives.

The same applies in the SE.RA.PH. They are virtual lifeforms that are created along with the commencement of the Holy Grail War and disposed along with its conclusion.

Humanoid virtual lifeforms at the SE.RA.PH include NPCs that perform single objectives, AIs who have been granted capabilities for self-judgement, and advanced level AIs who have been entrusted with capabilities for self-judgement and management of sections.

Advanced level AIs are beings made to efficiently promote the Moon Cell's primary objective of "human observation". As perfect reproductions of humans, they have been programmed with even souls, but the souls only "exist" and their contents are colorless.

Virtual lifeforms made in the SE.RA.PH are reset with each round of the Holy Grail War. NPCs and AIs return to zero, but advanced level AIs retain just their personas while their records are reset—as if they never existed.

When the Holy Grail War is over, the only one left alive is the Master standing at the top. This applies not only to the Masters but also to the virtual lifeforms made in the SE.RA.PH.

◆

It appears that BB, like Sakura, is an advanced level AI entrusted with management of Masters' health. However, as she is rampaging for reasons unknown, the methods of "managing the Masters" have become extreme.

03 - Khakkhara of Domination
The teacher's pointer that BB carries.
A device that lets her make full use of her authority as an advanced level AI. Although limited to the Far Side of the Moon, this allows BB to modify the spiritron laws within the SE.RA.PH.

◆

"Ten Crowns of Domination" worn by the Beast of Babylon converted into a teacher's pointer.
This is the male principle corresponding to the female principle of the seven-headed beast, and its true nature is a phallus (erect rod).

The symbol of the king of the world who was granted throne and authority by a great dragon and received the right to, for 42 months, spit out as many insolent words as desired and desecrate all things.

The beast's heads were the seven hills of the Roman Empire... Capitolium, Palatium, Aventinus, Esquilinus, Caelius, Quirinalis, Viminalis. In other words, they meant the Roman Empire itself, and the ten horns symbolized the emperors... Augustus, Tiberius, Caligula, Claudius, Nero, Vespasianus, Titus, Galba, Otho, Vitellius.

01 - C. C. C.
ムーンセルを掌握したBBによる、世界を犯す攻撃。
霊子虚構陥穽とも。

BBが獲得したEXスキル『百獣受胎』を最大限に活用した、事象書き換えによるワールド・パージ。

大地を創造した地母神たちの母にあたる女神とは、即ち、万物を生み出した「根源」である。
この宝具はその情報を超精密立体プリンターとして出力し、使用者の望むままの世界で、いまある世界を握りつぶす対界宝具である。

BBに侵食された空間は虚数空間となり、現実を蝕む呪いとなる。『C.C.C.』はその名の通り、現実をえぐり切り取る呪いの大穴なのだ。

その場にある物体を原子単位までばらばらにして再構成する他、運不運、偶然といった場の情報を書き換えて再出力する事もできる。
理論上の話になるが、重力場に干渉すれば時間軸を歪めて因果律を書き換える事も可能とされる。

             ◆

戦闘に使用した場合、BBの使い魔であるシェイプシフターが対象を包み、球体化したのち、対象と共に次元ごと消滅する。

本来、虚数空間である月の裏側において、価値観を共有できる構造体は創造できない。
BBの心象世界をサクラ迷宮として成立させていたのも、この宝具の力である。

02 - 上級AI
プログラムによって構成された人工知能。
この時代では『プログラムとして機能しているが』
『存在として成立しないもの』とされている。
つまり、目の前に『有る』が『無い』もの。
人間の生活をスムーズに進めるための機構にすぎない。

それはSE.RA.PHにおいても同様で、彼らは聖杯戦争開始と共に作られ、終了と共に廃棄される仮想生命体とされる。

SE.RA.PHにおける人間型の仮想生命は、単一の目的だけをこなすNPC、自己判断資格を与えられたAI、自己判断資格とセクション管理を任された上級AIがある。

上級AIはムーンセルの主目的である『人間観察』を効率的に進めるために作られたもの。
人間を完全に再現しており、魂すらプログラムされているが魂は『有る』だけで、その中身は無色のまま。

SE.RA.PHに作られた仮想生命たちは、その回の聖杯戦争が終了するとリセットされる。
NPCやAIはゼロに返るが、上級AIはパーソナルだけ残し、その記録はリセット————無かった事にされる。

聖杯戦争が終わった時、生き残るのは頂点に立ったマスターだけ。
それはマスターだけではなく、SE.RA.PHに作られた仮想生命たちも共通なのだ。

             ◆

BBは桜と同じく、マスターたちの健康管理を任された上級AIと思われる。
しかし原因不明の暴走により、『マスターを管理する』 方法が極端なものになってしまったようだ。

03 - 支配の錫杖
BBが持つ教鞭。
上級AIとしての権限をフルに使用できるデバイス。
月の裏側限定ではあるが、これによってBBはSE.RA.PH内の霊子法則を変更する事ができる。

             ◆

バビロンの獣がかぶる『十の支配の王冠』を教鞭に変えたもの。
これは七つの首の獣が女性原理に対応する男性原理であり、その本質はファロス(まっすぐな棒)だからである。

大いなる竜から王座と権威を与えられ、さらに42ヶ月の間、どれだけ不遜な言葉を吐いてもよく、あらゆるものを冒涜する権利を与えられたという世界の王の象徴。

獣の首はローマ帝国の七つの丘……
カピトリウム、パラティウム、アウェンティヌス、エスクイリヌス、カエリウス、クイリナリス、ウィミナリス、すなわちローマ帝国そのものを意味し、十の角はその皇帝……
アウグストゥス、ティベリウス、カリグラ、クラウディウス、ネロ、ウェスパシアヌス、ティトゥス、ガルバ、 オト、ウィテリウス……を象徴している。

Skills

01 - Golden Grail [EX]
The golden grail that BB owns. Also called the Holy Grail.
A negative grail that grants its owner's impudent and selfish wishes.

The grail held by the great whore of Babylon who appears in the Revelation to John. Though it is a fake Holy Grail, it is for that reason that it has become a "genuine" Holy Grail that grants the desires of humans regardless of right or wrong.

To the Christians who considered honorable poverty a virtue at that time, a grail molded from a symbol of wealth like gold no doubt had connotations of corrupt wealth, avarice, and vanity of trying to adorn oneself.

As the grail held by the great whore of Babylon who personifies the Roman Empire, this grail clearly symbolizes treasures on earth, which is the inverse of the Christ's words "Do not store up treasures on earth."

◆

"I saw a woman sitting on a scarlet beast that was full of blasphemous names, and it had seven heads and ten horns."

According to the Book of Revelation, this is the description of the beast of destruction that appeared in the Holy City and the woman straddling that beast. A huge beast with sevens heads like a hydra appeared from the sea and landed at the Holy City. This beast and the woman, while two, are as one, and it is impossible to think of them separately.

As the woman was said to give birth to all evil, those who were imprudent or greedy could not resist her allure and became corrupted by that grail.

On a side note, the red Saber who calls herself the emperor was regarded the same as this beast and viewed as an enemy by the believers after her death.

02 - Self-Modification [EX]
A skill that allows restructuring of oneself.
AIs made by the Moon Cell were given an absolute command: "You must not improve own function."

However, BB, who escaped from that yoke due to her breakdown, began to expand her own functions. To boost her calculation power, she preyed upon/disassembled NPCs, AIs, and finally, Servants with black noise, then used as her own memory.

Though they are like appendix building additions that do not heed self-collapse, as the result, BB has changed into a hyper level AI with enormous capacity.

That condition resembles a city on reclaimed land that continues to build while submerging or Frankenstein's monster.

03 - Potnia Theron [EX]
Conception of All Animals.
The authority of the goddesses that BB compiled and absorbed from the abyss of the mooncell.

It embodies the power of all creation possessed by the mother goddesses—originating from a forgotten goddess approximately 8000 years ago (the goddess of Çatalhöyük) and branching to Tiamat and Cybele, Ishtar, Inanna, Anat, Astarte, Gaia, Hera, Artemis, Aphrodite, Demeter, Athena, etc.

Many are depicted with mural crowns. This is because many of these goddesses were also guardian deities of cities.

◆

The symbols of this authority include holes opening the earth and the sky (caves and the moon), whirling tides and waterspouts of the sea, calderas of the volcanoes, etc., and from these, evils that bring all manners of death are birthed. However, after these evils have spread death, they promise certain good harvest and fertility. This authority is none other than the power of bringing death as well as giving life.

The earth mother is worshipped by the people and protects them as a guardian deity, but at the same time, she is the very sacrifice that nurtures them with crops born from her body and beasts of the fields and the forests.

The earth mother nurtures men with her flesh and blood, kills men as time passes to restores herself with her own nourishment, and once again nurtures men with her restored flesh and blood.

This process is the cycle of the food chain, and this cycle of life and death can be said to be the true nature of the earth mother. With this authority, most of the goddesses gave birth to countless monsters and giants, posing threats to gods and men, or they gave birth to heroes, thus protecting people.

As representative examples, Tiamat and Gaia became threats, while Hera is a mother of heroes.

◆

Those born on this earth cannot defy the authority of the mother goddess, as that would mean rebelling against the very system of life. However, when they leave this earth, head to space, and end the childhoood as intelligent lifeforms, they will have broken this authority.

The wish of Çatalhöyük is the coming of that day.

01 - 黄金の杯:[EX]
BBが持つ黄金の杯。聖杯とも。
持ち主の厚顔で自分勝手な願い事を叶える負の聖杯。

ヨハネ黙示録にある、バビロンの大妖婦が持っていた杯。
偽聖杯であるが、偽の聖杯であるからこそ、正邪問わずに人間の欲望を叶える"本物の"聖杯となっている。

当時の清貧を美徳としたキリスト教徒にとって、金などという財の象徴で形作られた杯は、まさしく汚れた富と強欲、そして己を飾ろうとする虚偽を意味するものであった。

ローマ帝国の化身であるバビロンの大妖婦が手にする杯という時点で明瞭であるが、この杯はキリストの「地に富を積んではならない」と言う言葉を反転させた、地上の富を象徴している。

             ◆

"わたしは、赤い獣にまたがっている一人の女を見た。
この獣は、全身至るところ神を冒涜する数々の名で覆われており、七つの頭と十本の角があった。"

これは黙示録曰く、聖都に現れた滅びの獣と、その獣にまたがっていた女の描写である。
七つの頭を持つヒュドラの如き巨大な獣は海より現れ、聖都に上陸したという。
この獣と女は二つで一つであり、切り離して考える事はできない。

女はすべての邪悪を生み出すものとされ、短慮なる者、欲深き者は彼女の誘惑に逆らえず、その杯によって堕落したという。

余談ではあるが、皇帝を名乗る赤いセイバーはその死後、信徒たちにこの獣と同一視され敵視されたという。

02 - 自己改造:[EX]
自身を改造するスキル。
ムーンセルによって作られたAIには"機能を向上させてはならない"という絶対命令が備わっている。

しかし、故障によりそのくびきから逃れたBBは自己機能の拡張を始めてしまった。
計算能力を高めるためにNPC、AI、はてはサーヴァントまで黒いノイズで捕食・分解し、自らのメモリとして使用。

自己崩壊をいとわない後付け増築だが、結果、BBは膨大な容量を持つ超級AIと化した。
その有様は沈水しながらも建築を続ける埋め立て地の都市か、フランケンシュタインの怪物のようでもある。

03 - 百獣母胎:[EX]
百獣母胎。
それはBBがムーンセルの深淵より編纂し、取り込んだ女神の権能である。

約8000年前のすでに名の失われた女神(チャタル・ヒュユクの女神)より発し、 ティアマットやキュベレー、イシュタル、イナンナ、アナテ、アスタルテ、ガイア、ヘラ、アルテミス、アフロディーテ、デメテル、アテナなどに派生した、母なる女神の持つ万物を生み出す力の具現である。

多くは城壁冠の形をとってイメージされる。
これはこれらの女神の多くが、同時に都市の守護神でもあったからだ。

             ◆

大地や空に開いた門(洞窟や月)、海の渦潮や竜巻、火山の火口などに象徴され、そこからあらゆる死をもたらす害悪を生み出す。
ただし、その害悪は死をまき散らした後、確かな豊穣や多産を約束するもの。
この権能は死と同時に生を生み出す力に他ならない。

大地母神は人々によって崇められ、それらを加護する守護神であると同時に、その身から生まれ出る穀物や作物、野や森の獣によって人々を養う犠牲そのものでもある。

大地母神は自らの血肉によって人を養い、そして時を経ればその人を殺して自らの糧として己の血肉を回復し、またその回復した血肉で人を養う。

この過程は食物連鎖の円環そのものでもあり、この生と死の循環こそが大地母神の本質と言っていい。
ほとんどの女神はこの権能で、無数の怪物や巨人を生んで神々や人の脅威となり、あるいは英雄を生み、それから人々を守った。

その代表例は、脅威となったならばティアマットやガイア、英雄の母ならばヘラである。

             ◆

この大地に生まれたものは、母なる神の権能には逆らえない。それは生命のシステムそのものに反逆する事だからだ。
しかし大地を離れ、宇宙を目指し、知性体としての幼年期を終えた時こそ、この権能が打ち破れる事だろう。

チャタル・ヒュユクの願いは、その日が訪れる事にある。

Setting

01 - Spiritron Imaginary Pit
Spiritron Imaginary Pit.

The official name of this stage.
Formerly just an imaginary number space for storing malignant information, "this place" was established as a real number space in the present, past, and future by the fact that BB had reached the Moon Cell core. It was reconstructed by her hands into the "far side of the moon" where even Masters can exist.

◆

With the power of the primordial goddess at hand, BB succeeded in quantifying the "nothingness" before the birth of life. She transformed into the master of the imaginary number space where both time and space and ambiguous.

Although the Moon Cell cannot be hacked no matter how much time is taken, BB took over it by placing herself in "unlimited time".

02 - The remnants of peaceful days
During the preliminaries, when Kiara liberated her free will, she was unable to control that status condition and went into overload.

Since NPCs can only do routine work, they ignored self-destructing Sakura as something "non-existent", and since the Moon Cell's check only takes place at the end of the day in the preliminaries, Sakura was at risk of termination.

Witnessing this condition, [Kishinami Hakuno] called out to her, "Are you okay."

The observation that she "is here" by another let Sakura recover the unconscious on the verge of termination, and due to the nursing afterwards, she gained an ego that clearly "wanted to be here". Her self-termination was averted.

◆

What happened afterwards no longer need to be said.
When the next day comes, everything will be erased by the Moon Cell. Wanting to continue this one day miracle, Sakura used her advanced AI privilege to repeat "the day she came to know [Kishinami Hakuno]" for 69 days.

However, as days passed, Sakura became distressed by her self-contradiction as an AI and the facts surrounding [Kishinami Hakuno].

"Masters participating in the Holy Grail War will all die except one. No, to begin with, [Kishinami Hakuno] is..."

Sakura continued to be distressed by her selfish desire to continue the loop for eternity and her feelings for [Kishinami Hakuno]. In conclusion, she chose to seal the 69 days worth of memory... the "love" she acquired, so she could return to being a normal AI. AIs cannot delete records. Because of that, she moved the memory to a backup frame to reset herself.

She believed that to be the most correct choice for [Kishinami Hakuno].

◆

But even if recollections of the mind are lost, memories recorded by the body live on. Though she should have forgotten everything and returned to being a normal AI, she was shaken by unidentified emotional values every time she talked with [Kishinami Hakuno].

Meanwhile, the backup to whom the memories were transplanted couldn't tolerate herself like that, and she decided to act as BB the rebel who destroys the Moon Cell's system for a certain objective then made her move.

The timing when she seized the Far Side of the Moon was "the Holy Grail War: the end of fifth round ~ before the start of the sixth round". The four who were not eliminated yet—[Kishinami Hakuno], Leo, Rin, and Rani—and the irregular, Jinako, were kidnapped to the Far Side in the middle of the Holy Grail War while they were still alive.

Masters Matou Shinji, Gatou, and Julius were moved to the imaginary space "0.00001 seconds before" the moment the firewall terminated them after their defeat from the Holy Grail War, prolonging their instants of life.

In either case, C. C. C. is a dream by BB. If the dreamer disappears, the world ought to return to the reality where nothing happened.

◆

On a yet another side note, everyday scenery of the prologue that [Kishinami Hakuno] saw in the nightmare was an artificial paradise modeled on the discarded 69 days.

After pulling [Kishinami Hakuno] to the Far Side, BB placed the digital body in the old school building, put it in a deep sleep, and locked them in an unwaking dream.

Normally, they would have lived peacefully in the looping everyday life, but the strong bond with their Servant or [Kishinami]'s will rejecting the peaceful everyday caused cracks in the artificial paradise, and [Kishinami Hakuno] came to notice the abnormality.

To put [Kishinami Hakuno] in a deep sleep once more, BB reset the school building and tried to remake the dream, but [Kishinami Hakuno] escaped the reset as well and leaped into an even deeper part of the imaginary space.

It was a bottom deeper than the bottom of Id. "Death of the collective unconscious" beneath the unconscious. What saved [Kishinami Hakuno] who leaped into a region even BB cannot reach was the voice of the Servant whose fate was shared with theirs.

Thus, the contract was sealed, and [Kishinami Hakuno] woke up in the old school building left in the Far Side.

01 - 霊子虚構陥穽
霊子 虚構 陥穽。

この舞台の正式名称。
悪性情報を貯蔵するだけの虚数空間だった"ここ"は、BBがムーンセル中枢に到達した事実をもって、現在・過去・未来において実数空間として成立。
彼女の手によって、マスターたちでも存在できる"月の裏側"として再構築された。

             ◆

原初の女神の力を手に入れたBBは生命が生まれる前の『無』を数値化する事に成功。
時間も空間もあやふやな虚数空間の使い手に変革した。

どれほどの時間を要しようがハッキングできないムーンセルだが、BBは『無限の時間』の概念に自分を置く事で攻略した。

02 - 日々の名残
日々の名残:
予選中、キアラの手によって自由性を解放された彼女はそのステータス異常を制御できずに過負荷を起こした。

NPCたちはルーチンワークしかできないため、自壊しかけていた桜を"無い"ものとしてスルーし、予選ではムーンセルのチェックは一日の終わりにしか行われないため、桜は消滅の危機にあった。

その異常を目の当たりにした岸波白野は彼女に呼びかける。大丈夫か、と。

桜は"自分はここにいる"という他者からの観測を受けて消滅寸前だった無意識を持ち直し、その後の看病によって明確に"ここに在りたい"という自我を獲得。自己消滅から免れた。

             ◆

その後の事はもはや語るまでもない。
翌日になればすべてムーンセルの手によって消されてしまう。この、たった一日の奇蹟を続けたがった桜は上級AIの特権を使用して
"岸波白野と知り合った一日"を69日間、繰り返した。

しかし日が進むにつれ桜はAIとしての自己矛盾と、岸波白野を取り巻くある事実に苦しむ事になる。

"聖杯戦争に参加したマスターは、ひとりを除いてみな死亡する。いや、そもそも岸波白野は————"

桜は幸せな時間を永遠にループしていたという我欲と、岸波白野への思いに苦しみ続けた。
結論として、彼女は正常なAIに戻るため、69日に及ぶメモリー……獲得した"愛"を封印する道を選んだ。
AIには記録を消す事はできない。
そのため、バックアップの機体にメモリーを移動させる事で自らをリセットしたのだ。

それが岸波白野にとって、もっとも正しい選択と信じて。

             ◆

だが精神の記憶は失っても、肉体が記録した思い出は生き続ける。
すべてを忘れ正常なAIに戻ったはずの彼女は、岸波白野と話すたびに正体不明の感情値に揺れ動かされる事になる。

一方、メモリーを移植されたバックアップはそんな自分を許せず、ある目的のためムーンセルのシステムを破壊する反逆者・BBとして自らの方針を定め、行動を開始した。

彼女が月の裏側を掌握したタイミングは、現実時間で"聖杯戦争 五回戦終了~六回戦開始前"。
まだ敗退していなかった岸波白野、レオ、凛、ラニの四名、そしてイレギュラーのジナコは聖杯戦争の途中、生きている状態で月の裏側に拉致された。

間桐シンジ、ガトー、ユリウス、といったマスターは聖杯戦争で敗れた後、ファイヤーウォールによって消滅する"0.00001秒前"に虚数空間に移動させられ、一瞬の命を長らえていた。

どちらにせよ、C.C.C.はBBが見ていた夢である。
夢を見ていたものが消え去れば、世界はもとの、何事もなかった現実に戻るだろう。

             ◆

また、余談ではあるが岸波白野が悪夢として見た冒頭の日常風景は、捨てられた69日間をモデルにして作られた人工楽園である。
 
BBは岸波白野を月の裏側に引きずりこんだ後、旧校舎にその電脳体を安置させ、深い眠りに落とし、覚めない夢の中に閉じこめた。

通常ならループする日常の中で平和に過ごすのだが、サーヴァントとの強い繋がり、あるいは、安寧の日常を否定する岸波の意思によって人工楽園に綻びが生じ、岸波は異常に気がつくのだった。

BBはもう一度岸波白野を深い眠りに落とすため、校舎をリセットして夢をやり直そうとしたが、岸波はそのリセットからも逃れ、虚数空間の更なる深部に飛びこんでしまう。

そこはイドの底のさらに底。
無意識の下にある、"集合無意識の死"である。
BBでさえ手を出せない領域に飛びこんだ岸波白野を救ったのは、運命を共にするサーヴァントの声だった。

かくして契約は交わされ、岸波白野は月の裏側に残された旧校舎で目を覚ます事になる。

↑

Fate/EXTRA CCC VOID LOG BLOOM ECHO IV

- BB profile
↑ 7.0 7.1 7.2 7.3 7.4 7.5

[] Fate/EXTRA material - Encyclopedia: BB [☆], p.204 [T]

BB [☆]
BB is the underclassman (kouhai-kei) devil heroine that dashingly appears on the far side of the Moon.
She usually hides her devil tail, and holds a teacher's pointer in one hand. Always behaving with abandon, she thinks she is a god, and is always making illicit modifications to SE.RA.PH.
She is an out of control AI that brought about the events of CCC.
She was formerly a management AI of the same type as Sakura, but due to a bug her self-preservation system went wild, and for some reason she came to the conclusion that, "No matter the sacrifice, I must continue to exist." and turned into a continuously growing monster that absorbs NPCs, Servants and Masters.
She openly hates humans, and makes the protagonist and company suffer by dropping them on the far side of the Moon.
She calls the protagonist "senpai." She addresses humans by their family name and adds "-san" but she addresses servants with only their name.
BB assumes that she is normal, but if you look at things objectively she is clearly crazy. All of her speech and actions give off a yandere impression, but rather than explaining here, please refer to the game itself to find out the reasons behind them.

              ◆

BB is the true heroine of CCC.
In the first half of the game she is treated as a criminal who takes delight in people's reactions to her crimes.
In the second half of the game she is treated as an enemy of humanity that must be defeated.
Her actions thoroughly reflect her "misanthropic, innocently cruel Queen" character, but the road that led to be like that was brought about by a single trivial mistake.
For certain reasons, she decided to fight against the Moon Cell (the world), and with full understanding that it would mean her own destruction, she went crazy (out of control) of her own volition. Once the truth comes to light, the person who was the cause of it questions her, saying:

"It doesn't make sense. There's no reason for you to do that for me. I'm not worth that much."

This is probably the same question the player held throughout their playthrough.
If you were to use Fate/stay night as an example, Emiya Shirou's actions (heroic nature) are worthy to gain the affections of Saber, Rin, etc, but in CCC there is no chance for the protagonist to demonstrate their heroic nature.
However, the AI who was once just a puppet closed her eyes with a satisfied expression on her face.

"Rather than some special person offering special words and a helping hand, what made me happy was an average person like you doing their best to say special things to me with a smile."

Certainly everyone dreams of the "Prince Charming" image of a great hero saving a girl with his heroic deeds.
But that is just routine work that is to be expected.
It's nothing more than a character created to be a hero displaying the abilities derived from the stats they were given.
So instead of that, when "you", a mere background character (normal person), said something special to her even just once, she was happy.

Among other things, CCC is a story about the dignity of normal people.
To the AI Sakura, who could never be selected as a heroine, this is true beauty, and like a precious miracle to her.
That's why she ran. 38,000 light years into the darkness.
…Even if it was only a fleeting after-image that would disappear at the end of the Holy Grail War.

BB【☆】
月の裏側に颯爽と現れた後輩系デビルヒロイン。
悪魔の尻尾を隠しつつ教鞭片手に月の裏側を奔放自在、神さま気取りで今日もSE.RA.PHを違法改造しまくっている。
CCCを起こした暴走AI。
桜と同型機の管理AIだったが、バグにより自己保存の命令系統が暴走。ある理由から『何を犠牲にしても自己保存を続ける』結論に至り、NPCたちやサーヴァント、マスターたちを取り込み、成長し続ける怪物になってしまった。
「人間は嫌い」と公言し、主人公たちを月の裏側に引き込んで苦しめる。
一人称は「わたし」。
主人公はセンパイと呼ぶ。人間には名字にさん付けで、サーヴァントは呼び捨て。
本人は正常なつもりでいるが、客観的に見ると明らかに狂っている。言動のはしばしからヤンデレ臭を漂わせるが、それが何に起因するかはゲーム本編を参照のこと。

              ◆

CCCの真のヒロイン。
前半では「愉快犯」として、
後半では「倒すべき人類の敵」として扱われる。
徹底して「人間嫌いの無邪気で残酷な王女」といった振る舞いをするが、その発端は些細な、たった一度の過ちだった。
彼女はある理由からムーンセル(世界)を相手に戦う道を選び、最終的には消滅する事を理解した上で、自分から狂った(暴走した)のである。その真相が明らかに成った時、原因はこう問いかける。

「道理が合わない。それだけの事をしてもらう理由が、価値が、自分にはないからだ」

それは質問でもあり、プレイ中にプレイヤーが抱く共通の疑問だろう。
staynightで例えるなら、衛宮士郎はセイバーや凛に好意を持たれるに足る行動(ヒロイック性)を見せたが、CCCにおいてはヒロイック性を発揮する機会がなかったからだ。
しかし、人形だったAIは満足げに目を閉じた。

「特別な人間が、特別な言葉で手をさしのべてくれるより」
「どこにでもいる貴方が、せいいっぱいの特別な言葉で笑ってくれた事が、嬉しかった」

優れたヒーローがヒロイックな行動でヒロインを救うのは、確かに誰もが夢見る白馬の王子像だろう。
けれどそれは当たり前のルーチンワークだ。
ヒーローとして作られたものが、与えられた能力値通りの性能を発揮したにすぎない。
それよりもただのモブ(一般人)である『貴方』が、たった一度でも特別な言葉を口にしてくれた事が、彼女には嬉しかった。
CCCは一般人の衿侍の物語でもある。
『永遠にヒロインに選ばれない』AI(桜)にとって、それこそが美しいもの、貴い奇跡に見えた。
だから駆けた。38000光年の闇の中を。
……たとえそれが、聖杯戦争の終わりに消え去ってしまう、一時の残像だったとしても。

↑
↑ Fate/EXTRA CCC- "if there were a girl BB was based on, she probably would have longed after someone like [Archer]"
↑ 10.0 10.1 10.2 10.3 Fate/EXTRA CCC - Chapter 1: Subordination Garden -Backyard of Eden
↑ 11.0 11.1 11.2 11.3 11.4 11.5 11.6 11.7 11.8 11.9 Fate/EXTRA CCC - Chapter 2: Prison of Projections -Girl's Side Laboratory
↑ 12.0 12.1 12.2 12.3 12.4 12.5 Fate/EXTRA CCC - Chapter 3: The Lip of Love and Hate - Alter Ego / M
↑ 13.00 13.01 13.02 13.03 13.04 13.05 13.06 13.07 13.08 13.09 13.10 Fate/EXTRA CCC - Chapter 4: Anesthetic Castle of Obstruction - Sick, Home Sink
↑ 14.0 14.1 Fate/EXTRA CCC - Bad End
↑ 15.0 15.1 15.2 15.3 Fate/EXTRA CCC - Chapter 5: Bloody Purity - Iron Maiden Princess
↑ 16.0 16.1 16.2 16.3 16.4 16.5 16.6 16.7 16.8 16.9 Fate/EXTRA CCC - Chapter 6: Critical Pleasure - Alter Ego/S
↑ 18.0 18.1 18.2 Fate/EXTRA CCC Fox Tail - Chapter 47: Bug Space III
↑ 19.0 19.1 Fate/EXTRA CCC Fox Tail - Chapter 62: Comeback IV
↑ 21.0 21.1 21.2 21.3 Fate/EXTRA CCC Fox Tail - Chapter 64.5: Divergence Point III
↑ 22.0 22.1 22.2 Fate/Grand Order: Epic of Remnant - SE.RA.PH. - Deep-Sea Cyber-Nirvana, Bottom Black Encore!
↑ Fate/Grand Order: Epic of Remnant - SE.RA.PH. - Deep-Sea Cyber-Nirvana, Avant-Title
↑ 24.0 24.1 Fate/Grand Order: Epic of Remnant - SE.RA.PH. - Deep-Sea Cyber-Nirvana, Act I: Swan Lake Returns
↑ 25.0 25.1 25.2 Fate/Grand Order: Epic of Remnant - SE.RA.PH. - Deep-Sea Cyber-Nirvana, Act II: Coppélia of Avalanche
↑ 26.0 26.1 Fate/Grand Order: Epic of Remnant - SE.RA.PH. - Deep-Sea Cyber-Nirvana, Act III: The Nutcracker, Once More
↑ Fate/Grand Order: Epic of Remnant - SE.RA.PH. - Deep-Sea Cyber-Nirvana, Act IV: The Sinking Beauty
↑ 28.0 28.1 28.2 28.3 28.4 Fate/Grand Order: Epic of Remnant - SE.RA.PH. - Deep-Sea Cyber-Nirvana, -Finale-
↑ 29.0 29.1 29.2 29.3 Fate/Grand Order: Epic of Remnant - SE.RA.PH. - Deep-Sea Cyber-Nirvana, Epilogue: Palladion That Tears Through Time (1/2)
↑ 30.0 30.1 30.2 Fate/Grand Order: Epic of Remnant - SE.RA.PH. - Deep-Sea Cyber-Nirvana, Epilogue: Palladion That Tears Through Time (2/2)
↑ 31.0 31.1 Fate/Grand Order: Epic of Remnant - SE.RA.PH. - Deep-Sea Cyber-Nirvana, One Day, Let's Meet in the Digital Sea
↑

[] Fate/EXTRA material - Encyclopedia: Passionlip [Alter Ego], p.203

Passionlip [Alter Ego]
Passionlip is the Alter Ego of love and hate.
She leaves an impression with her excessively oversized chest and evil looking claws.
She is a High Level AI created from a plucked out piece of BB's heart.
Passionlip is a High Servant whose base model was cut and paste from a goddess type servant.
She does not enjoy fighting, but due to her skills like Masochistic Constitution she ends up being attacked, and so she reluctantly counter attacks [so she can survive].
She has an introverted personality and a tendency to assume things, but she always acts wholeheartedly.
By default she has a liking for the protagonist, and from early on she starts protecting him/her from the shadows.
However Passionlip doesn't want anyone else to get close to the protagonist, and even her ally Ryokucha becomes a target for extermination when the protagonist is under her yandere-like supervision.
One of her id_es skills is "Crash & Trash."
With this skill Passionlip can use her claws to crush any object, no matter how large, as long as it can be contained within her field of vision. This skill can only ever be used in an imaginary number space through the use of a compression codec with almost illusory properties.
Lip specializes in destruction, and as long as her target doesn't move, like terrain or a building, Lip exceeds BB in destructive power.
It must be added that Servants and Masters immediately sense danger and escape from her field of vision. The cumbersome Lip is unable to chase after them well, and the result is she ends up losing them.
In the game she appears as the most prominent power character.
She is the embodiment of blind courtship. She dandies up the target of her love in her mind, and shuts them away inside her heart in order to keep them all to herself.

There are three goddesses who have been inserted into Passionlip.
The first is the Indian goddess of beauty, Parvati.
She is a Goddess who blindly and devotedly loved her husband Shiva, who is the god of destruction.
The second is the Battle Goddess Durga.
Durga is a manifestation of Parvati, and carries 10 divine weapons. Passionlip's 10 giant claws are the embodiment of those weapons.
The third goddess is Brynhildr of Northern Europe.
The Queen Brynhildr failed to be bound to the hero she loved, and fell into ruin while wallowing in sorrow. The Brynhildr in Passionlip is said to be the Brynhildr from Wagner's opera cycle, and thus she appears as the warrior maiden (valkyrie) who guides the souls of the dead to heaven.
It goes without saying, depending on the circumstances even love can turn into despair, and Brynhildr tragically ends up guiding the soul of her loved one.

パッションリップ【アルターエゴ】
愛憎のアルターエゴ。
大きすぎる胸と凶悪な爪が印象的な少女。
BBの心の一部を摘出して作られた上級AI。
女神系のサーヴァントを切り貼りして作られたハイ・サーヴァント。
戦いは好まないが、スキル・被虐体質によって人々から襲われる事になり、仕方なく迎撃している。
内向的で、一途で、思い込みの激しい性格。
デフォルト状態から主人公に好意を持っており、早い段階から主人公を陰から見守っていた。
が、主人公に近づくものは何であれ邪魔者なのか、味方である緑茶ですら排除対象になるというヤンデレっぷりを発揮する。
イデススキルは『クラッシュ&トラッシュ』。
視界に収まる物体[もの]なら、どれほど巨大な容量だろうと握りつぶす、虚数空間ならではの騙し絵的な圧縮技法[コーディック])。
リップは破壊に特化しており、相手が動かないもの……地形や建物ならBB以上の破壊力を発揮する。
もっともサーヴァントやマスター相手だと、すぐに危険を察知されてリップの視界から離脱→のろまなリップは追いつけない、というオチになるのだが。
ゲーム中では屈指のパワーキャラとして登場。
相手を包み込み、ねじ切り、胸の中に仕舞って独り占めする盲目的な求愛の化身である。

パッションリップに組みこまれた女神は三体。
一神目はインドの美の女神パールヴァティー。
盲目的に、そして献身的に夫である破壊神シヴァを愛した女神。
二神目は戦いの女神ドゥルガー。
パールヴァティーの側面とされるドゥルガーは、十本の神授の武器を持っている。パッションリップの巨大な爪はその十の剣を具現化したもの。
三神目は北欧の戦いの女神ブリュンヒルト。
恋した勇者と結ばれず、哀しみから破滅を呼んだ女王。ワーグナーの楽劇においてはブリュンヒルデとされ、死者の魂を天界に送る戦乙女として登場する。
言うまでもなく、こちらの顛末も愛に絶望し、愛する者をその手にかける悲劇だった。

↑

[] Fate/EXTRA material - Encyclopedia: Meltlilith [Alter Ego]

Meltlilith [Alter Ego]
Meltlilith is the Alter Ego of pleasure.
She is a young girl that leaves a strong impression with her feet as sharp as swords and slender body.
She is a High Level AI created from a piece of BB's heart.
She is classified as a High Servant, and was created by cutting and pasting together pieces of Goddess type Servants.
Merciless, aggressive, and sadistic, she is CCC's leading Queen character.
She favors structural beauty, and refuses to forgive anything less.
To Meltlilith, anyone other than the protagonist is no more than rubbish in the gutter.
Meltlilith makes it her goal to bestow the greatest pleasure possible upon the protagonist, and she is even prepared to rebel against her creator BB if necessary to achieve this.
However, that "pleasure" she plans on bestowing amounts to a monumental disaster of greater proportions that BB, and is certainly not something the protagonist would ever want to experience.

Her id_es skill is "All Drain."
Although Meltlilith can't completely absorb enemies into herself the way that BB can, Meltlilith can melt enemies into a pure energy form and then absorb them as XP.
Meltlilith has used All Drain to increase her level to the maximum.
If she only has Kingprotea's "Huge Scale" skill (effectively removes level cap), she would have become the most terrible of monsters even surpassing BB.
Meltlilith refers to herself as "The Honey Queen," she has various skills to drain her opponents.
In the game she appears as a speedster that whizzes around using ballet as a motif for her combat style. She uses her dance to run the protagonist down.
She is an incarnation of maternal instinct that goes about melting and absorbing everything in the world in order to create a world where only she and the protagonist are left.

Meltlilith was made from three Goddesses.
The first is the pure-hearted Greek Goddess of virginity, Artemis.
The second is a Goddess that appears in the Old Testament, Leviathan. Or perhaps the Rod of Asclepius version that is based on Ugaritic (Semitic) mythology, where she is known as Litan.
The third is the Hindu Goddess of rivers, Saraswati.
She has the power to manipulate anything that "flows." Including natural phenomena, like wind or water, and also other things like music, speech, and prose.

◆

She is not usually on good terms with Passionlip.
While they don't hate each other, things just feel sour and out of place whenever they are together. They get irritated and it often seems like a fight could break out at any moment. Basically whenever then meet they just want to get their business done quickly so they can get away from each other.
This is completely instinctual, and the reasoning is the same as why BB dislikes the Alter Egos.
Despite this instinctual dislike, Meltlilith and Passionlip are conscious of the fact that they are sisters, and Meltlilith's final words are addressed to Passionlip, who shared the same fate.
(On the other hand it might be that the incredibly self-centered Passionlip just thinks of Meltlilith as a nuisance and one-sidedly rejects her.)
In the initial game concept there was a combination attack where Passionlip would act as a launching pad for Meltlilith by holding her in the grasp of her claws, and then she would shoot Meltlilith out like a laser beam…
It was called Virgin Laser Palladion.

Meltlilith: "Let's do it! Make sure you do it at the same time as me, Lip!"
Passionlip: "U-uhh…! One, two, three… Please, die (with Melt)…!"

Melth Lilith is pretty pumped up about doing a combo move with Passionlip, but Passionlip is reluctant and just wants to get things over with as soon as possible.
Meltlilith always seems gets into these half-baked situations.

メルトリリス【アルターエゴ】
快楽のアルターエゴ。
鋭利な刃のような両脚と、スレンダーな体が印象的な少女。
BBの心の一部を摘出して作られた上級AI。
女神系のサーヴァントを切り貼りして作られたハイ。サーヴァント。
好戦的で無慈悲。かつ加虐趣味を持つという、CCC屈指の女王キャラ。
構造的な美しさを好み、醜いものを許さない潔癖性。メルトリリスにとって主人公以外の生き物は道ばたの汚物にすぎない。
主人公に最大の快楽を与える事を目的とし、そのためなら創造主であるBBに反逆する覚悟さえある。
ただし、その『快楽』の正体はBB以上の災害であり、主人公とは決して相容れない。

イデススキルは『オールドレイン』。
BBのように相手を機能ごと取りこむ事はできないが、対象を純粋なエネルギー体まで熔解し、経験値として取りこむ事ができる。
メルトリリスはこのスキルを使って自らのレベルを限界まで上げている。
もし彼女にキングプロテアが持つ『成長制限解除』のスキルが備わっていたのなら、メルトリリスはBBをも越える最悪の怪物として現れていただろう。
自らを『蜜[どく]の女王』と名乗るだけあって、様々なドレインを扱う。
ゲーム中ではスピードスターとして登場。バレエをモチーフにした戦闘スタイルで主人公を追い詰める。
世界すべてを溶かし、取り込み、自分と主人公だけの世界を作ろうとする母性の化身。

メルトリリスに組みこまれた女神は三体。
一神目はギリシアの純潔の処女神アルテミス。
二神目は旧約聖書に登場するレヴィアタン、あるいはウガリット神話のリタンに由来する、蛇十字の杖。
三神目はインドにおける河の女神サラスヴァティー。
自然現象、中でも水や風、音楽や言葉、弁舌、詩文といった、流れるもの、を操る能力を持つ。

◆

リップとは普通に仲が悪い。
憎み合ってはいないものの、一緒にいると気まずい、イライラする、というかこのままだとケンカになりそうだから用件すませて早く別れたい、というレベル。
これはもう本能的なもので、BBがアルターエゴたちを嫌うのと同じ理由と思われる。
それでも姉妹として互いを意識しており、メルトの最期の台詞は自分と同じ運命にあったリップにあてたものだった。
(一方、自分しか見えていないリップはメルトを邪魔者として嫌っているだけ)
初期案ではリップが砲台役としてその手にメルトを乗せ、相手に向けて振りかぶり、メルトをレーザーのように射出する……というメルトとリップのコンビネーション技も考えられていた。
その名もヴァージンレイザー・パラディオン。

メルト「行くわよ!合わせなさい、リップ!」
リップ「う、うん……!せーのっ……
(メルトごと、)死んで、ください……!」

クールながらも姉妹協力技にノリノリなメルトと、ああやだ、早く終わらないかな、とイヤイヤなリップ。
この通り、微妙に損な役回りのメルトだった。

↑

[] Fate/EXTRA material - Encyclopedia: Berserker (White) [Servant?], p.202 [T]

Berserker (White) [Servant?]
Berserker is the second Servant you end up fighting during the fourth round.
Her master is Monji Gatou.
She is a Funny Vamp [localized as Temptress] with tousled blond hair and crimson eyes.
She is a fan service character.
Technically not a wizard, she is just some strange creature that Gatou brought along from Earth. Sometimes a cat, sometimes Yuzu-nee, sometimes a silicon creature, Berserker is a princess that doesn't seem to have a proper place in the game. She desperately awaits a redesign.
Incidentally, in the world of EXTRA where the information world (digital) takes precedence over the physical world, she is no longer the strongest.
This is because in the information world legend becomes reality, and natural phenomena that have been incarnated as "Gods" can often hold more power than their original natural existence does.
Well even with that being said, if Berserker regained her sanity she would easily be considered a cheat-tier Servant. Her power, "The stage is the Moon, so all targets have their power reduced to a sixth of their usual." would be extremely useful against other similar cheat-tier Servants.
It's a conceptual numerical alteration, so it is unavoidable when on the Moon. Even the Moon Cell transformed version of BB would be limited by it.
In EXTRA and CCC, she is about the only one who is "Capable of defeating Konjiki Hakumen (Golden White Face), no matter how small the chance might be."

パーサーカー(白)【サーヴァント?】
四回戦で戦う事になるサーヴァント、そのに。
マスターはガトーモンジ。
乱れた金髪と、深紅の凶眼を持つファニーヴァンプ。ファンサービスと人の言う。
正しくはサーヴァントではなく、ガトーが地球から連れてきた謎の存在。ネコだったり柚ねえだったり珪素生物になったりと、出番がないようで多忙なお姫さま。一刻も早いリメイクが待たれる。
ところで、物質世界より情報世界の方が主流となっているEXTRA世界においては、そう最強なワケでもない。
情報世界では伝説が真となるため、自然現象を擬神化したいわゆる"神様"が、元になった自然現象以上の力を持つ事が多々あるからだ。
そうはいっても正気に戻ればチート級になるのは間違いない。『舞台が月であるなら、あらゆる対象の能力を六分の一にする』権能は同じチート級の敵への有効な対抗手段だろう。
概念による数値変化なので、月にいるかぎり防ぐ手段は存在しない。ムーンセル化したBBですらこの制限を受けてしまう。
EXTRA、CCCだけの話なら、金色白面を『どれほど勝率が低くとも撃破できる状況にできる』のは彼女ぐらいである。

↑

[] Fate/EXTRA material - Encyclopedia: C.C.C. [Noble Phantasm], p.167-168 [T]

C.C.C. [Noble Phantasm]
Cursed Cutting Crater.
An anti-planetary Noble Phantasm. It's an attack that violates the world through BB's control over Moon Cell.
It's also a trap for artificial spiritron hackers.
By drawing out the maximum potential of BB's EX skill Potnia Theron, a world purge via rewriting of events is carried out.
The space that BB invades becomes an imaginary space and it becomes a curse that eclipses the world. Just like its name C.C.C. it causes huge damage from the curse cutting away at reality.
The name "Cursed" is based on the image of a giant spoon that scoops out the surface of the Moon and turns it into a cursed space (the imaginary space).
During development when the shape the game would take was still being decided we considered making it a Noble Phantasm that was homage to Black Sakura.

 1. Camera: Close up of BB followed by a rapid zoom out of the camera. The sky behind BB becomes black. BB, as if to welcome a man, spreads her arms wide and then melts into the darkness of the background.
 2. The camera is placed even farther away; the goal is not to show the characters, but to show the backdrop and scenery. The camera shows the ground which appears to be tilted diagonally. The tilted ground and horizon make the viewer feel uneasy. The camera is pulled far back, so the horizon can be seen more clearly. On the other side of the horizon is a phantasm of a giant BB (homage to Black Sakura).
 3. The giant Black Sakura, with a bewitching laugh, then reaches out and scoops up the ground that the protagonist is standing on. It looks as easy as if she just scooped out a bite of pudding.
 4. The giant phantasm closes her hand and crushes everything in her hand, protagonist and all. It's great if you can tell this is homage to the scene in Fate/stay night where Black Sakura crushes the insects of Matou Zouken.

…is what we wanted to do, but the cost to design and implement this Noble Phantasm and Black Sakura from scratch was high enough that we decided to use the money elsewhere. Hence it was axed.
Like BB says, money isn't unlimited. In order to get the Servants all dressed up in their swimsuits, there had to be some cuts in other areas of the game.

C.C.C.【宝具】
カースド・カッティング・クレーター。
対星宝具。ムーンセルを掌握したBBによる、世界を犯す攻撃。疑似霊子陥穽とも。
BBが獲得したEXスキル『百獣受胎』を最大限に活用した、事象書き換えによるワールド・パージ。
BBに侵食された空間は虚数空間となり、現実を蝕む呪いとなる。『C.C.C.』はその名の通り、現実をえぐり切り取る呪いの大穴なのだ。
カースド~という名前は、『月の表面を巨大なスプーンでえぐり取り、呪いの空間(虚数空間)にする』というイメージから。
まだゲームのイメージが固まっていない開発初期ではstaynightの黒桜をオマージュした宝具と考えられていた。

1.カメラ、BBにアップからロングに思いっきり引く。BBの背後の空間が黒くなる。BB、男性を迎え入れるような、両手を広げたポーズをして背後の黒領域に溶けていく。
2.カメラ、さらにロングに引く。人物を写すのではなく風景を映す絵に。地面を水平ではなく斜めに移すカメラ。地面と地平線が斜めに移ることにより、見ているユーザーの不安定さを演出する。
カメラをロングに引いたので地平線がより明確に見える。その地平線の向こうに巨大なBBのヴィジョン(黒桜オマージュ)が現れる。
3.巨大黒桜、妖艶に笑いながら手のひらで主人公が立つ地平ごと、ゴバッとすくいあげる。プリンをスプーンで切り取るような滑らかさ。
4.巨大黒桜のヴィジョン、主人公たちをすくい上げた空間ごと握りつぶす。Fate/staynightであった黒化した桜が間桐臓硯の虫を潰すシーンのオマージュだと分かるとグッド。

……というのをやりたくはあったが、この宝具のためにCCC版黒桜を一からデザインするコストを払うなら他にコストを払おう、という事で没に。
BBも言っているように、資源は無限ではない。サーヴァントたちに水着を着せるためには、やむなくカットされるものもある。
カースド・カッティング・クレーター

↑

[] Fate/EXTRA material - Encyclopedia: BBB [Other], p.205 [T]

BBB [Other]
BBB is an invincible anti-servant robot of annihilation that we planned on putting into chapter three.
It was supposed to have been made from parts and pieces of old arenas, but ended up just being an easy to make alternate color version of BB. To differentiate BBB from BB, we made BBB the size of a mech. She would have probably made for a pretty disappointing boss. However BBB was to be more honest about her feelings that BB, so that could've been pretty cute.
Passionlip said that "BBB's not cute" and supposedly crushed her for that reason, but perhaps it's best not to say the real reason.

BBB【その他】
三章で登場が予定されていた、対サーヴァント用無敵繊滅ロボ。
廃棄されたアリーナをまるごと部品として使ったというが、所詮はBBの色違いコンパチキャラか、差別化ができてガンダムサイズ、ぐらいのガッカリボスだったと予想される。でも本人より素直な分、きっと可愛い。
リップは「可愛くないから」という理由で潰したが、本当の理由は何だったかは言わぬが華か。