Appearances
Primary franchise:
Affiliations
Organization:
BedivereWP (ベディヴィエールWP, Bediviēru?) is one of the Knights of the Round Table.
Profile
[
]
Background
[
]
Bedivere was the first member of the Knights of the Round Table, serving as the steward of the royal court, the king's care-taker.[1] He was one of the few who remained loyal to King Arthur until the end and tended to her final moments.[1][2] Despite not being as popular as knights like Lancelot, PercivalWP, and Galahad, who embarked on the quest for the Holy Grail, he was one of the most senior knights along with Kay and Gawain, displaying a history even older than Arthur, whose name was thought to be derived from the ancient War God of the Celts, Bedwyr.[2] He eventually came to serve the young king out of admiration of her, entrusting his sword to her and working to become her personal guard. Seeing her indifference as her trying to be fair without allowing her personal feelings to interfere, he most wished to see her true face and expressions by being near her. Although he thought her true self would become apparent outside of her court duties, his eventual promotion to the rank of Imperial Guard proved him wrong. Although he guarded her more closely than the other knights and constantly watched her behavior, he was unable to see her smile even once.
In one of his adventures as a knight, he accompanied King Arthur and Sir Kay to Brittany, hunting the Giant of Mont Saint-Michel, who was wrecking havoc on Mont Saint-Michel in Brittany and who kidnapped Princess Helena, the niece of the King of Brittany. Bedivere could do nothing while King Arthur and Kay killed the Giant, and as a result the princess died. Her death would continue to wrack Bedivere with guilt, blaming himself for it and considering Princess Helena one of the two people he failed to save, the other one being his king at the Battle of Camlann.[3]
Appearance
[
]
Although Bedivere is missing his right arm, he had a blacksmith he knew craft him a prosthetic arm to use when he attended ceremonies. For Bedivere, actions taken by the Round Table required the utmost in respect and decorum. Whether the silver arm that appeared in a parallel world was modeled after this one or not, well...[4]
Personality
[
]
Bedivere is exceptionally loyal to his king, putting her well-being above his own and even her own orders on her deathbed. He does not see serving as a knight as serving his country, but only serving his king because of the sole reason that she is the king. Unlike those knights who had begun to drift away from her and those who saw her as inhuman due to her lack of emotion, he feels pride in her and remains loyal throughout Mordred's rebellion. He later begins to even feel some anger towards the situation, believing that she who has accomplished such great deeds should be granted the ability to show a peaceful face. Although he wants his king to be given "the light", he finds himself unable to grant her even that. He never found out about her true nature as a woman.[2]
Role
[
]
Fate/stay night
[
]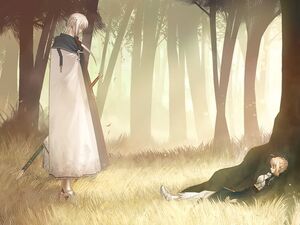 Saber obtains peace and annuls her contract at the end of the Fate route, but it is unknown if exactly the same situation plays out after the Unlimited Blade Works route and Heaven's Feel route. After the end of the Battle of Camlann where the battle between Mordred and Artoria ended in victory and a fatal wound for his king, Bedivere, the only other survivor, takes his king upon his own wounded white horse away from the battlefield. Despite being wounded, he expends all of his energy to futilely try to save his wounded king, possibly even believing his desperate thought that she may be able to be saved if they reach the forest. Clinging to the idea that her holy sword, Excalibur, and her immortality may save her if they reach a pure place, he refuses to accept the obvious fact that the wound is truly fatal. Not wishing to approve of her death while she is still isolated from others without even being rewarded for her accomplishments, he wishes to attempt to fetch help for her.
Laying her against a tree, he plans to hurry to the port where his army is stationed a half a day away, but she awakens and stops him. Mentioning that she had a dream, she says it was a valuable experience. Although he again prepares to depart, she is surprised that she is still "dreaming" while awake, asking if it is possible to see it again upon once again sleeping. Apologizing for the first and last act of dishonesty towards his king, he replies that a strong desire will allow her to experience it again. Praising his knowledge, she asks of him to take Excalibur back to the lake and return to recount his journey. Although he protests, she does not rescind it and he takes the holy sword while racked with indecision. He knows his king will disappear upon throwing it into the lake, so he is unable to throw it away due to being unwilling to depart from his king.
He returns to his king twice, each time lying that the sword has been thrown away and only met by the order to follow her command. Although it is a great sin for him as a knight to disobey his king, he proceeds to do so twice, but finds that he cannot change her decision and throws it into the lake upon coming to it for the third time. Upon returning it, it is taken by a white hand and vanishes from the world. Accepting the end of his king, he returns to her as dawn comes, recounting that it was accepted back by the Lady of the Lake. She tells him that he should be proud of following the king's command, and he nods silently to her fading voice as she apologizes that she will be taking a long sleep. As he watches over her until the end, he is able to see his wish come to fruition, a peaceful sleep that she had never been able to obtain. Happy about that fact and thanking the someone who has given her peace, he proudly watches over her and asks her if she's watching the continuation of her dream.

Garden of Avalon
[
]
Bedivere role is exactly the same as the Fate route ending, however the story is told from his point of view.[5]
Fate/Grand Order
[
]
Main article: Bedivere (Fate/Grand Order)
Bedivere appears in Fate/Grand Order as an alternate possibly, wherein he hasn't returned Excalibur before Artoria dies. This Bedivere lived as an "if that did not returned King Arthur's holy sword", and King Arthur died. As atonement, he kept on living during a long time for the sake of "returning the holy sword this time for sure", and eventually ran out of strength at Avalon.[1]
Other appearances
[
]
Bedivere appears with other Knights of the Round Table in episode 6 of the Fate/Apocrypha anime adaptation when Kairi Sisigou dreams of Mordred's past.
In Lord El-Melloi II's Case Files an image of Bedivere appears near Gray when she disables the Restraints of the Round Table on Rhongomyniad.
Abilities
[
]
Bedivere is a Heroic Spirit. It is said, if summoned, he would make an excellent Servant just like the other Knights.[6]
Development
[
]
When first designing Bedivere for Fate/stay night, Takashi Takeuchi intentionally drew him as moderate and plain, but paid special attention to his hairstyle so he didn't look like an extra.[7]
Bedivere's cameos in Lord El-Melloi II's Case Files and Fate/Apocrypha accidentally include Airgetlám from Fate/Grand Order even though he isn't supposed to have it outside of the world of Grand Order. Lord El-Melloi II Case Files material explained this retroactively by stating that Bedivere had a prosthetic arm which he wore for formal occasions and which Airgetlám's design was based on.
References
[
]
↑ 1.0 1.1 1.2 1.3 1.4

[] Fate/Grand Order - Saber Profile [T]

Bedivere - Saber

Illustrator and Voice actor
Illustrator: Sky Sphere
Voice Actor: Mamoru Miyano

Parameters
Strength: A
Endurance: B
Agility: A+
Mana: C
Luck: B
Noble Phantasm: A

Personal Skills
Military Tactics: C
Calm and Collected: B
Oath of the Protector: B

Class Skills
Magic Resistance: B
Riding: A

Noble Phantasm
Switch On・Airgetlam: Take Up A Sword, Silver-Colored Arm
Rank: C
Type: Anti-Unit Noble Phantasm

Profile
One of the Knights of the Round Table from Arthurian legends.
The first member of the Knights of the Round Table, he served as the steward of the royal court, the king's care-taker.
The individual who was present at the king's final moments.

Level 1 Bond
Height/Weight: 187cm・88kg
Source: Arthurian Legends
Region: England
Alignment: Lawful Good  Gender: Male
Over 10kg of his weight corresponds to the "silver arm".

Level 2 Bond
In the Round Table where heroes surpassing humans gathered, he served King Arthur as the "only normal human" among them. Despite being one-armed, he has being regarded as a knight possessing excellent sword skills and, at the same time, an outstanding general.
However, he is not a Heroic Spirit. Merely a human from the past.

Level 3 Bond
In this work, this Bedivere lived as an "if that did not returned King Arthur's holy sword", and King Arthur died without ascertaining the relinquishing of the holy sword. As atonement, he kept on living during a long time for the sake of "returning the holy sword this time for sure", and eventually ran out of strength at Avalon.

Level 4 Bond
Then, during the anthropic principle incineration and the holy city dominion by the Lion King seen this time, he once again stood up. Merlin gave him - a mere knight - the power to fight against the other Knights of the Round Table, but it was something that would shave off his life in the end. Still, said power was by no means inferior to that of the Knights of the Round Table.
In other words--- the holy sword that he failed to return.

Level 5 Bond
"Take Up A Sword, Silver-Colored Arm"
Rank: C   Type: Anti-Unit
Switch On・Airgetlam.
While it has the same name as the Divine Construct employed by the Celtic war god, its true identity is that of "the holy sword Excalibur that he failed to return".
A constantly active-type of Noble Phantasm. By releasing the True Name with the words "Flash, Silver-Colored Arm (Dead End・Airgetlam)", a anti-army extermination attack is performed.

Interlude
???

ベディヴィエール - セイバー

イラストレーター・声優
ILLUST:天空すふぃあ
CV:宮野真守

パラメータ
筋力:A
耐力:B
敏捷:A+
魔力:C
幸運:B
宝具:A

保有スキル
軍略 C
沈着冷静 B
守護の誓約 B

クラス別能力
対魔力 B
騎乗 A

宝具
剣を摂れ、銀色の腕
ランク:C
種別:対人宝具

キャラクター詳細
アーサー王に仕えた円卓の騎士のひとり。
最初の円卓の騎士のメンバーであり、宮廷の執事役、王の世話役を務めた。
王の最期に立ち会った人物でもある。

アンロック条件:絆レベルを1にすると開放
身長/体重:187cm・88kg
出典:アーサー王伝説
地域:イギリス
属性:秩序・善   性別:男性
体重のうち10kg以上が「銀の腕」によるもの。

アンロック条件:絆レベルを2にすると開放
人を超えた英雄たちの集う円卓の中にあって「ただひとりの人間」としてアーサー王に仕えた。隻腕ながら、優れた将軍であると同時に卓越した剣技を持つ騎士でもあったとされる。
だが、彼は英霊ではない。過去の人間にすぎない。

アンロック条件:絆レベルを3にすると開放
本作の彼は「アーサー王に聖剣を返せなかったif」を生きたベディヴィエールであり、アーサー王は聖剣の返上を見届けずに死亡した。彼は贖罪と、「今度こそ聖剣を返す」ために長い年月を生き続け、やがてアヴァロンで力尽きたのだった。

アンロック条件:絆レベルを4にすると開放
そして、今回の人理焼却と獅子王による聖都支配にあって、彼は再び立ち上がった。マーリンはただの騎士である彼に円卓の騎士たちと戦える力を与えるも、それは最後の命を削るもの。しかしその力は円卓の騎士たちに引けを取らないもの。
即ち―――返せなかった聖剣。

アンロック条件:絆レベルを5にすると開放
『剣を摂れ、銀色の腕』
ランク:C  種別:対人宝具
スイッチオン・アガートラム。
ケルトの戦神が用いたという神造兵装と同名だが、正体は「返せなかった聖剣エクスカリバー」。
常時発動型の宝具。真名解放「一閃せよ、銀色の腕(デッドエンド・アガートラム)」によって対軍殲滅攻撃を行う。

アンロック条件:「???」をクリアすると開放
???

↑ 2.0 2.1 2.2

[] Fate/side material - Encyclopedia: Sir Bedivere [Person's name], p.061 [T]

Sir Bedivere [Person's name].
The knight who tended the final moments of King Arthur.
He was the last remaining knight who returned the holy sword back to the lake according to the King's orders.
Lancelot, Percival, Galahad were some of the popular knights of King Arthur's who embarked on the quest for the Holy Grail, but they were actually junior knights who joined later for the quest.
The earliest and most famous knights who swore allegiance to King Arthur included Ser Kay, Ser Gawain, and Ser Bedivere. They had histories even older than King Arthur's.
Ser Bedivere's name was thought to be derived from the ancient War God of the Celts, Bedwyr.
By the way, Ser Bedivere was not aware that Artoria was a girl.

サー・ベディヴィエール【人名】
アーサー王の最期を看取った騎士。
王の命に従い、聖剣を湖に返却した最後の騎士。
アーサー王の騎士と言えば聖杯探索のランスロット、パーシヴァル、ガラハットが頭に浮かぶが、彼らはもともと聖杯探索の為に用意された新騎士である。
アーサー王より古い歴史を持ち、アーサー王に従う 最古参の騎士で最も有名なのがサー・ケイ、サー・ガウェイン、そしてこのサー・ベディヴィエールである。
ケルトの古い戦神ベドウィールがモデルとされる。
関係ないのであるが、サーはアルトリアが女の子だと気付いておりませんでしたとサー。

↑ Fate/Grand Order - Bedivere Interlude: Even at the Cost of My Life
↑

[] Lord El-Melloi II Case Files material - Encyclopedia: Thirteen Strictures [Other], p.102-103

Thirteen Strictures [Other]
Aware of the strictures placed upon the holy sword, thinking "such a form is beautiful," the holy spear accepted those same limits. Just as the holy sword, it carries within it the prayers of thirteen knights.
Furthermore, in the illustration of the Thirteen Strictures included in the Rail Zeppelin case, the image of Bedivere included his prosthetic arm. This arm was created for him by a blacksmith he knew, for use when he attended ceremonies. For him, actions taken by the Round Table required the utmost in respect and decorum. Whether the silver arm that appeared in a parallel world was modelled after this one or not, well…

十三拘束【そのほか】
聖剣に課された拘束を認識した聖槍が、「その力タチは美しい」と自らにも課したもの。聖剣と同様に、十三の騎士の祈りが宿っている。
なお、魔眼蒐集列車編挿絵における、十三拘束でのべディヴィエールのイメージで右腕が義腕になっているのは、生前、祭礼などに出席する際、知り合いの鍛治師に造ってもらったもの。彼にとっての円卓議決は最大限の礼を払うべき対象だった。並行世界の銀色の腕はこれをモデルにしたとかしなかったとか。

↑ Garden of Avalon - Chapter 05: Story of knights, p.094
↑

[] Fate/Apocrypha material - Encyclopedia: Knights of the Round Table [Organization], p.156-157 [T]

Knights of the Round Table [Organization]
The general term for the knights who left their names in King Arthur's legend. They are called the Knight of the Round Table because they gathered around a round table along with King Arthur. The knights sitting around the table were all regarded as equal to one another, including the King himself, and they were admired throughout the country. Though the number of them varies according to each story, the standard pattern of thirteen knights is accepted in "Fate/stay night".
In the "Apocrypha" world, the separate splinters from the Round Table serve as summoning catalysts for Heroic Spirits. From among eleven of the knights (with King Arthur and Galahad excluded), the one most compatible to the Master is summoned through it. Like an S-rare definite ticket. Whether it be someone like Lancelot, Gawain, Tristan or Percival, no matter who comes, you truly get the cream of the crop. During these current times where subspecies Holy Grail Wars are popular, they appear in the market at high prices. Naturally, there are many frauds and swindlers. It'd be nice if a certain oil magnate got swindled.

↑ Fate/Grand Order Divine Realm of the Round Table: Camelot Wandering;Agateram - Blu-ray Q&A