Bersac Blackmore (ベルサック・ブラックモア?) is one of the people involved in the Contract of Atlas incident of Lord El-Melloi II Case Files. He is a descendant of the Blackmore family, a magus family who took the name of Gransurg Blackmore out of respect for him, and the current gravekeeper of Blackmore Cemetery.
Profile
[
]
Background
[
]
Bersac is the gravekeeper of Blackmore Cemetery where the remains of King Arthur are housed, located at the hometown of Gray. Originally, the land was inhabited by a family of magi that manipulated spirits, and regarded birds as sacred. When a Dead Apostle connected to this family, Gransurg Blackmore, perished almost 2,000 years ago, the family took his name as a sign of respect for him. At this point, that family's original name is no longer known. Bersac is their descendant.[4] As the overseer of Blackmore Cemetery and a mage who was raised on that land, it is Bersac's duty to prioritize the peace of that land.[5]
Bersac's family has ties to the British government, and the government sometimes provides him with information because of the disagreements between Blackmore Cemetery and the Holy Church. Although he is not working directly for the government they do not give away information for free, and their goals do align with his. While he is not opposed to Blackmore Cemetery's plan to revive King Arthur and would celebrate the king's return, he doesn't think the time is right and wishes to delay it. That is why he had Gray leave the village.[5]
Personality
[
]
Bersac was the only person in Gray's hometown who did not revere her for her resemblance to Artoria Pendragon (besides her mother Magdalena, who was only acting the part). Though she was named to succeed him as gravekeeper, to have her life ended because she became the vessel for some past hero was too sad for him. He is very poor with speech.[6] He is surprisingly fond of books and has a large collection of detective and adventure novels, from which Gray found her own love for them.[7]
Appearance
[
]
Bersac is a man dressed in all black, with a scuffed hat sitting atop his messy, unkempt hair. Though he appears to be around 60 years old, he has a sturdy and muscular build.[3]
Role
[
]
Lord El-Melloi II Case Files
[
]
Two months prior to the start of Lord El-Melloi II Case Files, in summer, Bersac Blackmore meets Lord El-Melloi II and Reines El-Melloi Archisorte while they are en route to Blackmore Cemetery. After ascerting they are here to meet him personally, he guides them to the village.[3] After an impromptu meeting with Father Fernando Croze and Sister Ilumia, Bersac guides the two to the village's church to pray to the Black Madonna per the village's rules. They are eventually led to his cabin behind the church, where he questions them and learns that El-Melloi II sought him out to ask him to lend him one of his gravekeepers, unbeknownst to him for the Fifth Holy Grail War, though Bersac guesses it is for the Swirl of the Root. The talk is briefly interrupted by Gray, with Bersac dismissing her by telling her there is no training that day. Eventually, Bersac asks for some time to consider Lord El-Melloi's request, telling them of a hunting lodge where they can spend the night and instructing them in the four rules of the village.[8]
The corpse of someone who looked exactly like Gray was mysteriously found, which made Bersac tell her to leave the village.[9]
When the Corpse King died, Logos React began to malfunction and sucked all of the residents of Blackmore Cemetery inside of itself, including Bersac.[10]
case. Atlas Contract
[
]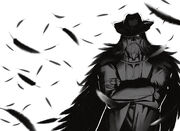 This arc takes place inside a simulation of the village created by Logos React, with a simulation of Bersac included.

Abilities
[
]
Bersac has knowledge of Gravekeeper secrets (墓守の秘法, Hakamori no Hihō?) passed down through his family, including certain kinds of Necromancy and techniques for carrying souls[2], having taught Gray these.
Most of Gray's combat ability was beaten into her by this man. If wondering why his own combat abilities were so high, though meaning behind it has more or less been lost at this point, he was the last descendent of the Blackmore bloodline.[6] He wields a large axe in combat, and is martially the equal of a skilled Executor such as Sister Ilumia. During his fight with her, he easily counters all of her attacks, able to anticipate them from tiny changes in her movements and match her in speed. His fighting style prioritizes efficient singular movements as opposed making many movements in rapid succession.[1]
The magecraft he used in his five minute exchange with Ilumia was also a product of his family, who were a family of Soul Carriers.[6] With the incantation "Quoth the Raven", he uses Spiritual Evocation to summon the spirit of a small raven. The raven's caw, though its cry of "■■■■■■■■■" is indiscernible to humans, unleashes a shockwave of magical energy powerful enough to topple the skeletal minions of the Corpse King. However the shockwave was canceled by a barrier from Ilumia, though it did crack her Ash Lock.[1]
References
[
]