BuddhaWP (覚者, Kakusha?, lit. "The Enlightened One"), Class Name Saver (セイヴァー, Seivā?), is the Saver-class Servant of Twice H. Pieceman in the Moon Holy Grail War of Fate/EXTRA.
Profile
[
]
Identity
[
]
Also known as Shakyamuni (釈尊, Shakanyorai?), a Messiah who led the path of enlightenment and Buddhahood.[3] He is a Bodhisattva, a DevaWP (天, Kami?, a class of Buddhist Divinity; as distinct from the word 神 (Kami), which is pronounced in the same manner, but indicates a god in the general sense) of cosmic proportions, easily capable of governing the Solar System.[4]
Enlightenment
[
]
Shakyamuni is the most famous Buddha who became Buddha through self-realization. He was released from all suffering and pain while alive. His "teachings to attain Buddhahood" are what makes up BuddhismWP; however, in Buddhism, it never said that "if you study this, you will be saved." Buddhism is a philosophy that came to Shakyamuni when he had reached Buddhahood, and Shakyamuni did not mention "This is the only teaching to the way of Buddhahood." The path to enlightenment varies from person to person. As far as Buddhism is concerned, the potential to become a Buddha is present within everyone. Every human will eventually attain enlightenment. Of course, this includes those who are good as well as those who are evil, those who are kind as well as those who are heartless; everyone is subject to the process of becoming a Buddha.[3]
Role
[
]
Fate/EXTRA
[
]
After Twice lost his original Servant, Caster, he prayed for salvation and he was given a new Servant. The reason for Twice to obtain this Servant is their shared philosophy on how good and evil can be opening one's eyes to the truth of "Humanity's salvation". Saver responded to be summoned as his Servant, for it was sinful to ignore his Master's anguish as it was too hard to be abandoned. Twice was a person who continued to confront war from his birth until his death. While he hated wars, even he cannot completely deny it: the last moments of a man who continued walking penance, like the flower of the Shorea robustaWP (沙羅雙樹?).[3]
« There is no salvation in any way to this soul. If at the very least, until the conclusion of the human race that he wished, let's continue together.[3] »
(Saver)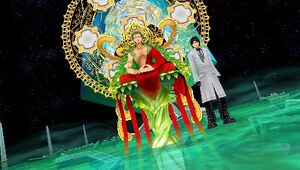 In the decisive King of the Battle between Hakuno Kishinami and Twice, Twice summons Saver. He is the last Servant, of whom has the form of a god. Twice refers to him as a Heroic Spirit of Salvation (救世の英霊, Kyusei no Eirei?, localized as "Legendary Soul of Salvation"). His Master states that he is an entity that lives to liberate humanity from its suffering. As he was summoned, he claims that for the sake of leading humanity to follow the path of TathatāWP and thus to enlightenment, he will grant salvation and guide them with the might of his Vajra (刄, Vuajura?).[5]
All of Hakuno's Servants have different responses to Saver's summoning. Saber acknowledges that Saver is a Heroic Spirit too much for her alone to handle as she only knows suffering. Archer was not expecting Twice to have an exalted Messiah-type Servant. Caster thinks it's cliché for Twice to be saved by a god. But nevertheless, they are all confident to take down Saver and Twice with Hakuno's support.
After Twice vanishes, Hakuno Kishinami expected Saver to fade away like Twice. Rather than Saver lending his power to his Master, he only showed mercy during the King of the Battle.[3] Saver, before vanishing, explains that all life will eventually perish and that all living things are trapped in SaṃsāraWP (輪廻, lit. endless cycle of rebirth?). He further says that Twice's salvation is in NirvanaWP where he will witness the end of the world.[6] Hakuno saw Saver's last expression much like his Master's, and as he fade away, Hakuno compares him to be like a Shorea robusta flower losing its petal. Hakuno deduces Saver as the messiah Buddha who was the only person to have escaped the cycle of suffering and that Saver allied himself with that Master not because he agreed with Twice's ideals, but out of compassion for his soul.
Last Encore
[
]
Saver appears in the first episode fighting Saber in a one-sided battle that ends with Saver striking Saber down using Chakravartin. Shortly after this, Saver left the world.[7]
Other appearances
[
]
The Buddha appears briefly in Xuanzang Sanzang's Noble Phantasm in Fate/Grand Order.
Abilities
[
]
As a Bodhisattva, Buddha is a Deva of universal scale and power, and can easily manage things on the scale of the Solar System. It is said that Kiara Sessyoin in her Heaven's Hole form, who reached the level of a True Demon, is a being close to Buddha.[4] Despite being an existance superior to that of Beast III/R, Kiara Sessyoin would be forced to withdraw when facing him without the skill Nega-Saver, being unable to nullify the effects of the Saver and Ruler class skills otherwise.[8] According to Xuanzang Sanzang, Buddha exists beyond space and time, and he would be capable of sending a messenger from the future to the past.[9]
The Noble Phantasm Five Elements Mountain - Buddha Palm borrows just a small portion of his power.[10] It was powerful enough to defeat Amun-Ra, a true Divine Spirit far exceeding a Demon God Pillar, and the strongest asset that Ozymandias had prepared for his final battle with the Lion King.[11] The "Final Buddha Palm" is the suicidal version of this Noble Phantasm. Its power was great enough to destroy the Lion King's Camelot Gate. Normally, the Camelot Gate, just like Lord Camelot, can repel any attack without taking a single scratch, as long as it has "malicious" intent. Xuanzang was able to destroy it because she used the power to "save" and not to "defeat".[12]
Despite of Buddha's power he's still not capable of defeating Amaterasu, as it is stated that out of the many characters appearing in Fate/EXTRA and CCC, Arcueid Brunestud (Berserker) with her sanity restored is about the only one who is "capable of bringing Golden White Face down to a level where it is possible to defeat her no matter how small the chance might be," thanks to being able to reduce the power of her opponents to a sixth of their usual.[13]
Skills
[
]
Class Skills
[
]
Counter Hero (B Rank): Reduces the parameters of any hero encountered. At Rank B, it reduces all of the opponent's parameters by two ranks. It's weaker against anti-heroes, reducing their parameters by one rank.[1]
Personal Skills
[
]
Enlightenment of the Sacred Fig (EX Rank): Protection covering only one who has arrived at the truth of the world, the answer of humanity. A testament of "protecting the world", called Anti-Purge Defense. Unconditionally reduces damage from physical attacks, conceptual attacks, inter-dimensional attacks by an amount equivalent to his own HP. Also shuts out mental interference 100%. If it's Saver who has attained the EX rank, it should be possible to tranquility receive even the seven desires of man.[1] However, those with the Divinity Skill ranked at a high level can break through and defend against this Skill.[14]
Kalaripayattu (EX Rank): Ancient Indian martial arts. The ancestor of martial arts based on rational thinking that does not rely only on power and talent. Specialized more toward defense than offense.[1] Utilizing this martial art, Buddha was able to effortlessly repel Neros attacks and punch a hole through her before striking her down with Chakravartin[7]
Noble Phantasms
[
]
Buddha's Noble Phantasms are Chakravartin and Amita Amitābha.
Gameplay
[
]
Development
[
]
Creation and Conception
[
]
Before his identity was announced, Takeuchi Takashi commented that he was inspired by reading Osamu TezukaWP's Buddha manga.[15]

Reception
[
]
References
[
]
↑ 1.00 1.01 1.02 1.03 1.04 1.05 1.06 1.07 1.08 1.09 1.10 1.11 1.12 1.13 1.14 1.15 1.16 1.17 1.18 1.19

[] Fate/EXTRA material - SERVANT Parameter and Skills: SERVANT SAVER, p.018

SERVANT SAVER


Master: Twice H. Pieceman

Identity: Buddha

Gender: Male

Height, Weight: Unknown

Alignment:Lawful Neutral

Strength: A

Endurance: A

Agility: C

Mana: B

Luck: B

Noble Phantasm: A++



Class Skills
■ Charisma A+
Natural talent for commanding armies. Charisma is a rare talent and it's said that B rank is enough for even a king.

■ Counter Hero B
Reduces the parameters of any hero encountered.
At Rank B, it reduces all of the opponent's parameters by two ranks.
It's weaker against anti-heroes, reducing their parameters by one rank.

Personal skills
■ Enlightenment of the Sacred Fig EX
Protection covering only one who has arrived at the truth of the world, the answer of humanity. A testament of "protecting the world", called anti-purge protection.
Unconditionally reduces damage from physical attacks, conceptual attacks, inter-dimensional attacks by an amount equivalent to his own HP. Also shuts out mental interference 100%. If it's Saver who has attained the EX rank, it should be possible to tranquilly receive even the seven desires of man.

■ Kalaripayattu EX
Ancient Indian martial arts. The ancestor of martial arts based on rational thinking that does not really only on power and talent.
Specialized more toward defense than offense.

Noble Phantasm
■ Amida Amitabha: Transmigration into One
Rank: EX
Type: Anti-Unit
Range: 0
Maximum number of targets: 1 person
The ultimate "anti-individual" Noble Phantasm.
A kind of teaching to achieve final Moksha, where energies rivaling the law of man's creation are made to converge on a single person and liberate him from suffering.
The longer human history is, that is, the wider its expanse is, the greater the damage.
Theoretically, the humanity of Earth has no way of withstanding this attack.
On the other hand, it's weaker against those humans who aren't quite human, and it can't completely save individuals of a scale of existence greater than the domain of humanity.

セイヴァー


マスター:トワイス・H・ピースマン

真名:覚者

性別:男性

身長・体重:不明

属性:秩序・中立

筋力:A

耐久:A

敏捷:C

魔力:B

幸運:B

宝具:A++



クラス別筋力
■ カリスマ:A+
軍団を指揮する天性の才能。カリスマは稀有な才能で、一国の王でさえBランクで十分と言われている。

■ 対英雄:B
英雄を相手にした際、そのパラメーターをダウンさせる。
ランクBの場合、相手のパラメーターをすべて2ランク下のものに変換する。
反英雄には効果が薄く、1ランクダウンとなる。

保有スキル
■ 菩提樹の悟り:EX
世の理、人の解答に至ったものだけが纏う守り。
対粛正防御と呼ばれる"世界を守る"証とも。
無条件で物理攻撃、概念攻撃、次元間攻撃のダメージを自身のHP数値分、削減する。また、精神干渉ならば100%シャットアウトする。
EXランクに至ったセイヴァーなら人の七欲さえ凪のように受け止めるだろう。

■ カラリパヤット:EX
古代インド武術。力、才覚のみに頼らない、合理的な思想に基づく武術の始祖。
攻撃より守りに特化している。

宝具
■ 一に還る転生
ランク:EX
種別:対人宝具
レンジ:零
最大補足:1人
究極の"対個人"宝具。
人類創世の理に匹敵するエネルギーを人間ひとりに収束させ、その苦しみから開放するという最終解脱脱法。
人類史が続けば続くほど、その版図が広がれば広がるほどダメージ数値は増していく。
理論上、地球人類ではこの攻撃には耐えられない。
反面、人でありながら人でないものには効果が薄く、その存在規模が人類の版図より上になってしまった個人も救いきれなくなるという。

↑ 2.0 2.1 2.2 2.3 2.4 2.5 2.6 2.7 2.8

[] Fate/EXTRA material - Character Profile: Buddha SAVER, p.098

Buddha SAVER


Height: Unknown

Weight: Unknown

Blood type: Unknown

Birthday: Unknown

Image colour: Green

Talents: Humanity salvation

Likes: Discipline, dialogue, entering nirvana

Dislike: Poisonous mushroom

Enemy: Different method of Salvation

覚者 SAVER


身長:不明

体重:不明

血液型:不明

誕生日:不明

イメージカラー:緑

特技:人類救済

好きな物:修行、対話、入滅

嫌いな物:毒茸

天敵:別の救世者

↑ 3.0 3.1 3.2 3.3 3.4

[] Fate/EXTRA material - Encyclopedia: Saver [Servant name], p.191

Saver [Servant name]
Buddha. A messiah type servant.
Being a Buddha means that one has attained enlightenment.
The Master who summons this servant, regardless if they are good or evil, must have awakened a strong desire to "save mankind."
The most famous Buddha, Shaka, achieved enlightenment on his own. While still alive he was liberated from so-called "suffering." His "teachings to attain Buddhahood" are what makes up Buddhism.
However, in Buddhism there is nothing that says, "If you study this you will be saved."
Buddhism is the collection of principles that Shaka followed to reach enlightenment, and Shaka never proclaimed that his teachings were the only path to attain Buddhahood. The path to enlightenment varies from person to person.
As far as Buddhism is concerned, the potential to become a Buddha is present within everyone. Every human will eventually attain enlightenment. Of course this includes those who are good as well as those who are evil, those who are kind and those who are heartless; everyone is subject to the process of becoming a Buddha.
The reason that Saver answers the summons to become a servant is that its Master's suffering is too great and cannot be ignored, and also burdened with sins that are too great.
"There is no way for this soul to be saved.
Well then at least until he has realized the result he desires for the human race,
I will walk alongside him."
Saver has no desire to lend his powers to the Master, he only cooperates out of mercy and benevolence he feels for the King of Conflict.
…For this person who has been constantly embroiled in battle from birth and till death. Savior will become a shield for the final chapter of this poor soul who despite resenting war, was unable to deny it, and forced to walk a pain-filled path. Like the flowers of a saul tree.

セイヴァー【サーヴァント名】
覚者。 救世主のサーヴァント。
覚者とは悟りに至ったものを示す。
このサーヴァントを獲得するマスターは、 善悪はどうあれ 『人類を救う』理念に開眼している。
もっ とも有名な覚者である釈尊は、 自ら悟って覚者となった。 彼は生きながらあらゆる苦悩から開放された。この 『覚者になる教え』が仏教である。
しかし仏教では「これを学べば救われる」とは一言も言っていない。
仏教とは釈尊が覚者にいたった理念であり、釈尊は「この教えだけが仏への道である」とは述ベていない。
覚者になる方法は人それぞれにある。
仏教において、人はみな仏になる可能性を秘めているとされる。人問は最終的にはみな悟りに至る。 善も悪も有情も無情も、すべてはその過程にすぎない。
セイヴァーがサーヴァントとして召喚に応じたのは、そのマスターの苦悩があまりにも見捨てがたく、また罪深かったからだ。
"この魂には一切の救いがない。
ならばせめて、彼が願った人類の結末まで、
ともに有り続けましょう————"
セイヴァーはマスターに力を貸したのではなく、
戦いの王に慈悲を示したにすぎない。
……その誕生から死去まで戦争と向き合い続けた人物。戦争を憎みながらも否定しきれず、苦行を歩み続けた男の最期を看取る、沙羅雙樹の花のように。

↑ 4.0 4.1

[] Fate/EXTRA material - Encyclopedia: All the World's Desire [Noble Phantasm], p.158-159 [T]

All the World's Desire [Noble Phantasm]
Angra Mainyu/CCC.
This is the anti-planetary Noble Phantasm Kiara gains after her reincarnation.
Angra Mainyu is the most self-serving heinous Noble Phantasm of them all where Kiara uses the world to masturbate.
Kiara offers her body in a sexual manner to all living things on Earth, including humans, animals, and plants. By completely accepting all people as is she gains the greatest possible mastery over their senses and carnality.
This Noble Phantasm is derided for being demonic and it's similar to the living sacrifices used for certain artificial magic ceremonies used the past in order to prove the evil of humans.
It is a vortex of pleasure that melts all sentient beings, and digests their "life" in an instant. While in reality it all happens in an instant, but it feels like an eternity of pleasure.
Regardless of how different the structure of a beings intelligence may be, this vortex affects all without exception. It is not a Noble Phantasm that is limited to affect only those on Earth.
The damage increases if certain conditions are met.
If the target is of the opposite sex, the damage increases.
The more intelligent a being is, the more damage it does.
As far as the setting and lore are concerned, the Servant who would be hit with the least damage would be Archer, and Gilgamesh would be damaged the most.
The reason why this attack's power, visuals, and scale are so huge is because reincarnated Kiara is a being similar to Saver.
People who devote their life to bringing salvation to Sattvas (living things) are referred to as Bodhisattvas. People who have attained moksha (libertation/release) and become Buddhas are also Bodhisattvas. A Bodhisattva is a god of universe scale and power, and can easily manage things on the scale of the Solar System.
Buddhism has a sense of scale of the universe that stands out from that of other religions. There are concepts like Nayuta (1060) and "The Infinitely Vast Number" (1068) which were created to represent the scale and size of a Buddha.
The entire universe is the domain of a Buddha. In Buddhism the universe in considered to be made up of three billion solar systems (a great trichiliocosm). A galaxy comprises of 3000 solar systems (a small trichiliocosm), and 1000 small trichiliocosms make up a trichiliocosm.
This actually aligns with the real scale of galaxies, galaxy clusters, and super clusters.
India had this stuff figured out over 2000 years ago? Holy crap!
In the initial design phase of the game I submitted some paperwork describing this Noble Phantasm. I thought there would be no way that this gets by CERO untouched, but surprisingly enough it did.
I still have no idea how this was able to make it past them.

この世全ての欲【宝具】
アンリマユ/CCC。
変生したキアラの対星宝具。
地球で自慰行為にふける最低最悪の宝具。
地球に残ったあらゆる生き物───人間、動物、植物に自分の体を捧げ、これを受け入れる事で最大の官能を会得し、成長する権能。
その在り方は、かつて人間の悪性を証明すめために悪魔と罵られ、生け贅に祭り上げられたある人工魔に類似する。
この快楽の渦は知性あるものを融かし、その『人生』を一瞬で昇華させる。わずか一瞬の、しかし永遠の極楽浄土の誕生である。
この快楽の渦はどれほど知性構造が異なっていようと、知性あるものには例外なく作用する。地球限定の宝具ではない。
条件によってダメージ数値は向とし、異性であるならダメージ増加、知性が高いほどダメージ増加、という特性を持っている。
設定上の話なら、もっともダメージが低いのはアーチャー、逆に最高ダメージを受けるのがギルガメッシュの予定だった。
性能、演出、ともにスケールが大きいのはキアラがセイヴァーのサーヴァントに近い存在だから。
衆生(生きとし生けるもの)を救うために奔走する人をおしなべて菩薩と呼び、また、解脱して仏になったものも菩薩である。そして菩薩とは宇宙レベルの存在規模を持つ天であり、太陽系ぐらいは軽く管理している。
仏教の世界観の広大さは他の宗教とはレベルが違う。ナユタだの無量大数といった数の概念があるのは、ひとえに仏の大きさを示すために作られた物だ。
仏教において宇宙は仏の国であり、その広さも三千大千世界と呼ばれる。
銀河系が三千世界、それが千あつまったものが三千大世界、さらにそれが千あつまったものが三千大千世界。
まさに銀河、銀河団、超銀河団の尺度と言える。二千年以上も前からこの解釈を持ってるって、インドどんだけー。
開発初期、「ラスボスにはこういう事をやらせたいです」と字コンテを作りはしたものの、セロ的に通るはずがない、と諦めていたらあっさり通ってしまった。なんでこれが通ったのかはいま以て謎である。

↑

Fate/EXTRA - Saver first dialogue

「————それが、人類が悟りを得て真如へと至る道であるならば。
我は衆生を救済すべく、刄を持ちてそれを導かん」

↑

Fate/EXTRA - Saver second dialogue

「命あるものは必ず滅びる。衆生は苦しみの輪廻にいる。
生存の強さをもって悟りへの道を拓こうとした彼もまた、心に神を宿している。
道は1つではない。人の善悪に価値がないように、人の認識では、世界の在り方は変わらない。
血塗られた戦いの王よ。涅槃にて共に世の末を見届けましょう。それが貴方の、最期の救いだ」

↑ 7.0 7.1 Fate/EXTRA Last Encore - Episode 01: The Present Lies at the Bottom of an Olden Limbo
↑ Fate/Grand Order material V - Kiara Sessyoin Profile, translated by Konchew at Reddit.
↑ Fate/Grand Order - Sanzang Coming to the West, Prologue: "Five Elements Mountain: The Buddha's Apprentice"
↑

[] Fate/Grand Order material IV - CHARACTER profile: Sanzang Fashi, p.018-027 [T]

Sanzang Fashi

Class: Caster  True Name: Xuanzang Sanzang
Gender: Female  Source: "Journey to the West", etc.  Region: China
Alignment: Lawful Good  Height: 160cm  Weight: 48kg

Strength: E  Endurance: D  Agility: B  Mana: A+  Luck: EX  Noble Phantasm: A++

Scenerio Writer: Hikaru Sakurai/Character Designer: Takeshi Okazaki
Voice Actor: Mikako Komatsu
Major Appearance Works: Fate/Grand Order

Class Skills
Territory Creation: A+
Creates a "Workshop" that is an advantageous position to oneself as a magus. Because she possesses A Rank in this, it is possible to create a "Temple", which is superior to a "Workshop". (Strictly speaking, because the orientation of her school of magecraft is different, the position created by Xuanzang Sanzang is not designated as a "Workshop". Also, it excels in timeliness in regards to its creation, so the practicability of creating a position immediately = a powerful Bounded Field.)

Item Construction: —
Xuanzang Sanzang does not own an Item Construction Skill.

Divinity: D
Xuanzang Sanzang, who is destined to eventually reach the Buddahood of the Buddha of Sandalwood Merit, is endowed with the Divinity Skill.

Personal Skills
High-Speed Sutra Chanting: A
The ability to speak magical incantations at an accelerated speed in regard to sutras. She is able to finish powerful High-Thaumaturgy incantations at the speed of a Single-Action spell.

Bewitching Rosy Cheeks: A
A natural beauty that greatly attracts demonic entities and evil spirits. The higher this Skill's rank, the more likely one is going to drag those with demonic qualities. Additionally, if one has the Divinity Skill, it becomes even more likely for that one to be targeted.

Teachings of Tripitaka: A
Xuanzang Sanzang's way of being, becoming a Skill that shows the way a Tripitaka Master ought to be. The Buddhist scriptures were promoted to be the "treasury" of Sanzang's; with this, the Buddhist scriptures took the name of the three branches of Buddhist sutras. It demonstrates a person having knowledge in the three branches of Buddhist sutras, or in other words, being a Tripitaka Master.

Noble Phantasm
Five Elements Mountain – Shaka Nyorai Palm
Rank: B  Type: Anti-Army~Anti-Fortress Noble Phantasm  Range: 0~40  Maximum Target: 1~100 people
Gogyōsan - Shiyakanyorai Shō.
Borrows a small portion of the power of Shakyamuni, who serves as the venerable Buddha and as her teacher (of a previous existence) in the heavens. The "edge of the world" that Sun Wukong once reached————that is, the very palm of a gigantic Shakyamuni, falls down from the skies and chastises the antagonists that shows contempt for Buddhism. An Anti-Army~Anti-Fortress Noble Phantasm. The heel of the Enlightened One's palm.

Prophecy of Future Enlightenment – Buddha of Sandalwood Merit
Rank: EX  Type: Prophecy of Future Enlightenment Noble Phantasm  Range: —  Maximum Target: Herself
Kibetsu - Sendan Kudoku.
It is "Xuanzang Sanzang as a kind of Buddha in the future" as prophesized in the final stage of "Journey to the West"; in other words, a Noble Phantasm derived from the Buddha of Sandalwood Merit. The whole body of Xuanzang is wrapped in an aureole, and she temporarily attains a limited Buddha Mode. Although her offensive ability is not that much, she has high resilience by being able to repel most attacks, as well as repel mental interferences, push aside abnormal status attacks, and on top of that, apply a large recovery ability continuously around her own position. However, after using this, her entire Saint Graph will be destroyed and Xuanzang will disappear.



---

Character
First Pronoun: atashi  Second Pronoun: anata / anta / **  Third Pronoun: kare / kanojo / ano hito

○Personality
A bundle of curiosity. She loves adventure! A figure brimming with the spirit of inquiry towards the unknown with an unwavering self-confidence. Although gracefully silent as a beautiful and faithful monk, her spirit overflowing for a desire to challenge herself decorates her facial expressions, and it truly does not conceal her nature of having an unyielding spirit. "As long as there are the chirpings of adorable songbirds that signals the morning's rise, and the guidance, compassion and divine protection of the honorable Buddha, my journey will not be hindered by anybody and everybody!"

She is confident in herself————or so it looks like with an open glance of her. As a matter of fact, the reason she is confident is in regard to the sacred Buddhism religion, so she does not believe even a little about herself as a great person and the likes. She is also not self-aware of herself as a talented student. Although she remembers only a faint bit concerning her experience of being kicked out of the heavens for having deceived Master Tathagata in the spur of the moment in the heavens, the root of her is humble given that it is permeated with the depths of her memories.

She appears strict, but her nature is gentle. Especially to the weak, she is earnestly kind, and if a person is troubled, she will not forsake them. Because she is not thoughtless, she is extremely positive thinking oriented since she has a belief that is unshakeable, called "being rewarded for persevering three times the hardship." Taking into consideration that she is never mistaken regarding the "Way of Man", she often becomes lost during her travels. And because she gets lonely when she becomes lost, she cries before long.

○Motivation · Attitude to the Master
She recognizes the Master as a "disciple". Frankly, she is strict to her companion that she deemed as a "disciple". Although, given that she expects a growth from them that progresses down the tough path of a "Buddhist disciple" sufficient to the point that they will receive the same reward like other disciples, when it sometimes come to it, Miss Tsundere Teacher here will be gentle either way.

○Dialogue Examples
"I'm Xuanzang Sanzang! I came into this world so I can guide you to the honorable Buddha. Ummm, my Class is Caster!"
"You have the honorable Buddha's divine protection. Everything's certainly alright!"
"Evvverything is as Buddha has foreseen!"
"Good thing. Listen. I am not mistaken. When I make a mistake, it is because I am a moron who cannot be helped. But the honorable Buddha, he does not make mistakes. Because weak people, foolish people, people who changed their ways, they equally all guide us the way."
"… Uuu, if only Goku was here, something like this…"
"Gone…"



---

○Character Image
A Buddhist priest of the Tang Dynasty in 7th Century AD. Travelling through the Silk Road in search of the original Buddhist scriptures, it resulted in Xuanzang heading to India from Central Asia, before bringing back to China from there sutras amounting up to 657 items and becoming the founder of the Chinese Faxiang Buddhist sect.

She is also known as a key character in the Chinese novel "Journey to the West". Receiving a command from Guanyin, this beautiful monk, while riding Bai Long (Yulong) – the son of the Dragon King of the West Sea that transformed into a white horse – had Qitiang Dasheng (Great Sage Equal to Heaven) Sun Wukong (Sun Xingzhe), Tianpeng Yuanshuai (Marshal Canopy) Zhu Bajie (Zhu Wuneng) and Juanlian Dajiang (Curtain-Lifting General) Sha Wujing (Sha Heshang) as her disciples, and she headed for India without ever losing heart in the face of the many monsters obstructing her path.

In "Journey to the West", it is said that she lived in the heavens originally as Jin Chanzi (Golden Cicada), a disciple of Shakyamuni, but she fell into secular life because of a "certain incident" being the impetus. In other words, Xuanzang Sanzang is the reincarnation of Jin Chanzi. (It is because of this that the Demon King and the monsters are enticed by and tried to eat Xuanzang's flesh again and again during the story of "Journey to the West". If one eats Xuanzang, one gets to acquire a tremendous power associated with eternal youth.)

Xuanzang Sanzang had a Prophecy of Future Enlightenment and became the Buddha of Sandalwood Merit, so she is originally not a being that can respond to a person's summoning, even with the one done by Chaldea's system. Materializing and being successfully summoned at this time is only because of these exceptional circumstances. That alone, the phenomenon called the Incineration of the Human Order, must be perceived as an extremely serious threat.

○General Armaments
She makes use of mainly bare-handed techniques that appears to be taught by her teacher in the heavens. Also, she uses the weapons and techniques associated with Sun Wukong and her disciples, although the person herself is not aware of this situation. Dr. Roman expressed jokingly that it may not be known that the fragmented thoughts of her disciples' worries for their great teacher lurks within her Saint Graph.

○Affiliated Characters
The Enlightened One
There is always the Shakyamuni Buddha's divine protection. Therefore, everything's alright!

Wukong
If you have time to come here, first add to your body a resourceful ability to find yourself a bride!

Touta (Tawara Touta)
It's Touta… hey, wait! It's not good if you are not training diligently!

Nezha
What? Lies. You, you are not Prince Nezha!
I wonder if Heavenly King Li Jing is in good health.
Eh, well, Wukong is not here… I'm telling you the truth. By some chance, did you lose to Wukong? Ahaha, you never change. You're cute.

Li Shuwen
You handle an excellent spear! I wonder if you can teach me your moves… eh? You want me to teach you? Gone?

Asterios
You… hmmm. Good good, you look okay.



---

Comment from Illustrator
Concerning the feminization of Xuanzang Sanzang, there is a drama masterpiece where Xuanzang was performed by Miss Masako Natsume, so it was difficult producing a character image and it resulted in us arguing back and forth, making me think up of 3 or 4 draft plans. Although there are some divine articles as well as even more young Chinese characters, the finish is as you see, and it was also when I drew this that I at last understood why this pattern was chosen when playing the scenario. Although I aimed to draw a character that wanted to be preaching, I certainly did not know that she would be preaching physically. (Takeshi Okazaki)

三藏法師

真名:キャスター  真名:玄奘三藏
性別:女性  出展:「西遊記」など  地域:中国
属性:秩序・善  身長:160cm  体重:48kg

筋力:E  耐力:D  敏捷:B  魔力:A+  幸運:EX  宝具:A++

設定作成:桜井光/キャラクターデザイナー:岡崎武士
CV:小松未可子
主な登場作品:Fate/Grand Order

クラス別能力
陣地作成:A+

道具作成:—

神性:D


保有スキル
陣地作成:A

妖惹の紅顔:A

三蔵の教え:A

宝具
五行山・釈迦如来掌
ランク:B  種別:対軍・対城宝具  レンジ:0〜40  最大捕捉:1〜100人
ごぎょうさん・しゃかにょらいしょう。
敬うべき仏にして天界に於ける(前世での)師、釈迦如来の力のごく一部を借り受ける。
かつて孫悟空が至ったという「世界の端」―――すなわち巨大な釈迦の掌そのものが空から落ちて、仏法を貶めんとする敵対者を懲らしめる。覚者掌底。
対軍・対城宝具。覚者掌底。

記別・旃檀功徳
ランク:EX  種別:記別宝具  レンジ:—  最大捕捉:自身
きベつ・せんだんくどく。
『西遊記』の終盤に於いて予言された「一種の未来仏としての玄奘三蔵」すなわち栴檀功仏に由来する宝具。
玄奘三蔵の全身が後光に包まれて、一時的&限定的な仏モードになる。
大抵の攻撃を弾き、攻撃力はそれほどでもないが高い回復力で自陣を継続的に大回復し続ける上に状態異常攻撃を跳ね除け、精神系干渉も弾く。
ただし、使用後は霊基が完全に破壊されて玄奘三蔵は消滅する。



---

人物
一人称:あたし  二人称:あなた/アンタ/○○  三人称:彼/彼女/あのひと

○性格

○動機・マスターへの態度

○台詞例

○人物像

○通常武器

○因縁キャラ
覚者

悟空

トータ(俵藤太)

哪吒

李書文

アステリオス



---

Comment from Illustrator

↑ Fate/Grand Order - Camelot: The Sacred Round Table Realm, Section 15: The God King Ozymandias (3/3)
↑ Fate/Grand Order - Camelot: The Sacred Round Table Realm, Section 17: Replica (1/5)
↑

[] Fate/EXTRA material - Encyclopedia: Berserker (White) [Servant?], p.202 [T]

Berserker (White) [Servant?]
Berserker is the second Servant you end up fighting during the fourth round.
Her master is Monji Gatou.
She is a Funny Vamp [localized as Temptress] with tousled blond hair and crimson eyes.
She is a fan service character.
Technically not a wizard, she is just some strange creature that Gatou brought along from Earth. Sometimes a cat, sometimes Yuzu-nee, sometimes a silicon creature, Berserker is a princess that doesn't seem to have a proper place in the game. She desperately awaits a redesign.
Incidentally, in the world of EXTRA where the information world (digital) takes precedence over the physical world, she is no longer the strongest.
This is because in the information world legend becomes reality, and natural phenomena that have been incarnated as "Gods" can often hold more power than their original natural existence does.
Well even with that being said, if Berserker regained her sanity she would easily be considered a cheat-tier Servant. Her power, "The stage is the Moon, so all targets have their power reduced to a sixth of their usual." would be extremely useful against other similar cheat-tier Servants.
It's a conceptual numerical alteration, so it is unavoidable when on the Moon. Even the Moon Cell transformed version of BB would be limited by it.
In EXTRA and CCC, she is about the only one who is "Capable of defeating Konjiki Hakumen (Golden White Face), no matter how small the chance might be."

パーサーカー(白)【サーヴァント?】
四回戦で戦う事になるサーヴァント、そのに。
マスターはガトーモンジ。
乱れた金髪と、深紅の凶眼を持つファニーヴァンプ。ファンサービスと人の言う。
正しくはサーヴァントではなく、ガトーが地球から連れてきた謎の存在。ネコだったり柚ねえだったり珪素生物になったりと、出番がないようで多忙なお姫さま。一刻も早いリメイクが待たれる。
ところで、物質世界より情報世界の方が主流となっているEXTRA世界においては、そう最強なワケでもない。
情報世界では伝説が真となるため、自然現象を擬神化したいわゆる"神様"が、元になった自然現象以上の力を持つ事が多々あるからだ。
そうはいっても正気に戻ればチート級になるのは間違いない。『舞台が月であるなら、あらゆる対象の能力を六分の一にする』権能は同じチート級の敵への有効な対抗手段だろう。
概念による数値変化なので、月にいるかぎり防ぐ手段は存在しない。ムーンセル化したBBですらこの制限を受けてしまう。
EXTRA、CCCだけの話なら、金色白面を『どれほど勝率が低くとも撃破できる状況にできる』のは彼女ぐらいである。

↑

[] Fate/EXTRA - Cu Chulainn (Lancer) Matrix [T]

Class: Lancer
Master: Rin Tousaka
True Name: Cu Chulainn
Noble Phantasm: Gae Bolg: Spear of Barbaric Impalement
Keyword: Wielder of Runes, Child of Light
Strength: B, Defense: A, Agility: A, Magic: C, Luck: D
Anti-Magic: C, Marshal: A→C, Divinity: B

Kewords

01 - Gae Bolg: Spear of Barbaric Impalement
A crimson spear that always finds its mark.
The truth of this weapon is far more sinister than legends says. In a strange reversal of causality, the target and ultimate effect of this weapon have already ordained. The only variable presence in a successful attack is whether it is used or not. Once used, it is not a question of if it will hit, but how long it will take for its target to die. Agility will not help one avoid Gae Bolg should it used, but instead it all depends on one's luck.
Gae Bolg is the most efficient and deadly of all the Noble Phantasms, as it has a very low magic cost and almost always results in a one-hit kill.

02 - Wielder of Runes
A form of thaumaturgy unique to Northern Europe.
The foundation of this craft is the engraving of words of power into stone to induce various mystical events. It is believed that this ability has been lost to time.

03 - Child of Light
A hero believed to be the offspring of a god and a human. Demigods are fairly common amongst the Legendary Souls drawn from human mythology, although few of them are considered more than second-tier heroes by their adherents. This one, however, is believed to have inherited the blood of the Absolute One, the main god of his nation's pantheon of immortal beings.

01 - 刺し穿つ死棘の槍
突けば必ず相手の心臓を貫く、と恐れられた呪いの朱槍。
その真相は、槍が「心臓に命中した」結果の後に槍を放つ、因果の逆転である。
槍を放つ前に、前提として槍は既に心臓に命中している。
放ったから当たった、ではなく、当たったから放った、という、運命そのものに対する攻撃と推測できる。
ゲイ・ボルクを回避するには敏捷性の高さではなく、ゲイ・ボルクの発動前に運命を逆転させる力……幸運値の高さが重要となる。

宝具発動に必要とする魔力量が少なく、しかも一撃一殺という、最も効率のいい宝具。

02 - ルーン使い
北欧に伝わる魔術系統。
力ある文字を石に刻むことにより、様々な神秘を引き起こす、と言われた。
現在では失われた古い魔術。

03 - 光の御子
神と人の間に生まれた半神半人の英雄。
神や精霊とのハーフは神話体系(マイソロジ)の英霊であるなら珍しい特性ではないが、光の御子、と呼ばれる英霊は多くない。
おそらく、その民族神話における絶対者、主神の血を引く英霊と推測される。

Skills

Anti-Magic [C]
Nullifies minor spells consisting of chants of two verses or less. Ineffective against high-level thaumaturgy and the greater rituals.

Marshal [A→C]
Increases vitality when in deadly peril. Makes it possible to fight even with fatal injuries and remain alive as long as a final decisive blow isn't struck. The ability rank of this skill has been temporarily reduced as his Master chose to boost his overall endurance at the expense of this ability.

Divinity [B]
This is a measure of one's Divine Spirit aptitude. At high levels, this ability allows one to break through and defend against otherwise invincible skills, such as Sri Maha Bodhiya.

対魔力[C]:
第二節以下の詠唱による魔術を無効化する。
大魔術、儀礼呪法など大掛かりな魔術は防げない。

戦闘続行[A→C]:
窮地における生命力の強さ。
瀕死の傷でも戦闘を可能とし、決定的な致命傷を受けない限り生き延びる。
マスターにより耐久値がブーストされているためか、一時的にランクが下がっている。

神性[B]:
神霊適性を持つかどうか。
高いほどより物質的な神霊との混血とされる。
粛清防御と呼ばれる特殊な防御値をランク分だけ削減する効果もある。
菩堤樹の悟り、信仰の加護、といったスキルを打ち破る。

Details

01 - Character Background
One of the great heroes of Ireland.

First appears as demigod in Ulster mythology and is said to be the sun of Lugh, the God of light, and Deichtine, the younger sister of Conchobar, King of Ulster. His birth name was Setanta and from an early age it was foretold that he would become a hero of renown.

He was christened Cu Chulainn (which means Culann's Hound) after accidently killing the watchdog of a wealthy merchant. He took the name with pride, vowing, "I will devote myself to the rearing of a watchdog worthy of replacing the one I have just slain and until such time as that dog is ready, I will personally watch over and guard your life with my own."

Upon becoming an adult, Cu Chulainn was enrolled into the order known as the Knight of the Red Branch and then sent to the warrior-woman Scathach in the Land of Shadows to train as a warrior, and, according to darker rumors, meet his death.
Fortunately, Scathach saw in him a worthy student and disciple and passed on all that she knew of both martial arts and the more powerful aspects of thaumaturgy. Upon the completion of his training, Cu Chulainn was given the mighty demonic spear Gae Bolg and told to depart from the Land of Shadows.

After returning to be beloved homeland, his triumphs were many...but that is a story for another time.

02 - "Knights of the Red Bough"
All of the stories that surround the legend of Cu Chulainn are universal in their praise for his loyalty, heroism and compassion. And although he was famous for his terrifying "battle spasms" while on the battle field, his seemingly blind rage never overcame his steadfast adherence to his moral code.

Unfortunately, it was this unwavering adherence to honor that in the end lead to Cu Chulainn's demise. As a Celtric warrior, he was bound by a number of geasa (taboos), the violation of which would greatly weaken him. As a youth, he single-handedly defended Ulster from the armies of Queen Medb of Connacht. To add to insult of a single man annihilating her army, Cu Chulainn came across her on the field of battle, but chose to spare her life as he thought it dishonorable to kill a woman. From that moment on, the desire to see him die became an all-consuming passion for the disgraced queen.

Medb eventually came up with a scheme to weaken Cu Chulainn by using his own code of honor against him. By forcing him to violate several of the geasa that bound him, Cu Chulainn was stripped of the divine protections and gifts that were his birthright. However, he still managed to die with honor, tying himself to a stone pillar even as his life faded, as he vowed to never fall in battle.

01 - 人物背景:
アイルランドの大英雄。
アルスター神話で登場する。
光の神ルーとアルスターの王コノールの妹デヒテラとの間に生まれた半神半人の英雄。
幼名をセタンタと言い、幼い頃から「この子は英雄として生きる」と予言されていた。

          ◆

クーフーリンとは「クランの猛犬」という意味である。
これは幼い頃、クランという豪商の番犬をあやまって殺してしまったセタンタが「この犬に子供があるのなら、自分が育て、同じように強く忠実な番犬にする。それまでは、この身が貴方を守り通そう」と誓った事からきている。
クーフーリンの二つ名は、名高いクランの猛犬を素手で殺めた力量もさることながら、子供でありながら飼い犬を失った主人を心遣ったセタンタの器量を称えたものである。

たくましく成人したクーフーリンは、アルスター王を守る「赤枝の騎士団」に入団。
ある女性と結ばれるための条件として影の国と呼ばれる魔境に向かう事になる。

クーフーリンは幾多の難関を越え、影の国に到着。
国の主・魔女スカサハに気に入られ、その元で修練を積み、数々の魔術と体術を会得した。
影の国には、彼の青春時代のすべてがあった。
尊敬できる師と、情熱を捧げるに相応しい武術と、切磋琢磨しあえる友人。
とくに、共にスカサハの一番弟子を狙うライバルであった剣士フェルグスとの間に生まれた友情は、対等に戦える相手がいなかった彼にとって唯一のものだっただろう。
クーフーリンは修行の末、スカサハの武術を全て習得し、その証として魔槍ゲイ・ボルクを手に入れ、影の国を後にした。

親友フェルグスからの惜しみない賞賛を受けながら、懐かしの故郷・アルスターに帰ったのだ。

02 - 『赤枝の騎士』
伝説では、クーフーリンは勇敢で慈悲深く、気持ちのいい青年と伝えられている。
戦場では容赦なく敵を倒したクーフーリンだが、信義を重んじ、一度交わした誓いは決して破らない高潔さを持っていた。

ケルトの戦士には"誓約(ゲッシュ)"と呼ばれる、各々の戒めを行う習慣があり、誓約を破った戦士には呪いがかかったという。

クーフーリンはその二つ名の通り、"生涯犬は食べない"という誓約を持っていたが、後に、そういった幾つかの誓約が彼の命を奪う要因になった。

          ◆

自国アルスターに侵攻してきた敵軍との戦い。
誓約によって国中の戦士が眠ってしまう窮地の中、誓約から逃れたクーフーリンはただ一人で敵軍を食い止めることになった。
敵軍の女王・メイヴは"たった一人の戦士に何ができる"と侮り、意気揚々とアルスターに進軍。
―――だが。
優れた戦車乗りでもあったクーフーリンはこの大軍を一人で撃退する。

厳密には、大軍が通る道を単身で守りきったのである。
幾度となく攻め入るメイヴ軍を撃退するクーフーリン。
アルスター中にかかった眠りの誓約が解けるまで、あと一年。

その一年間のうちにメイヴはアルスターを落とさなければならない。
だがクーフーリンの守りは鉄壁で、誰一人としてクーフーリンを破れなかった。

そんな戦いのおり、クーフーリンは争いの元凶であるメイヴを捕らえるが「女を殺すわけにはいかない」と彼女を釈放した。
女王であるメイヴにとって、それこそ最大の侮辱である。
私的な復讐者と化したメイヴは一計を案じ、実力でクーフーリンを倒すのではなく、誓約を破らせる事で彼の弱体化を狙った。

女王メイヴは「誓約を受け入れるのなら、必要以上にアルスターの領土を荒らさない」とクーフーリンに交渉し、多くの誓約、交渉をクーフーリンに持ちかけた。
……そこには無数の罠があったが、クーフーリンは自らの破滅を承知した上で、女王からの誓約を受けた。

メイヴの誓約は、たしかにアルスターを守るだろう。

だが。その誓約はすべて、クーフーリンを陥れるために働くものだった。

          ◆

クーフーリンが交わした制約の中でも有名なのは、メイヴと交わした「一日に一人の戦士とのみ戦う」と、旧友フェルグスとの間に交わした「一勝一敗」の、ふたつの誓いである。
数多くの策略の果てに、クーフーリンは己に課した誓約を一つずつ破らされていく。

野戦の最中、羊の肉と騙されて犬の肉を口にし。
友と自国と欧の名誉のため、すべての加護を投げ捨て。
最後には、無二の親友であったフェルグスとさえ戦わされ。

……そうして。完全に力を失った英雄は、防衛の要になる川瀬において、ついに、致命傷となる槍を、その脇腹に受けたのだ。
誇り高いクーフーリンは倒れたまま果てる事をよしとせず、柱に自らの体を縛り付け、絶命するまで戦い続けた。
これが四枝(アトゴウラ)の川瀬。
後に、赤枝の騎士たちに不退転の証とされたルーンである。

↑