Also known as:
Sétanta
Blue Spearman of the Wind
Child of Light
Hound of Culann
Portrayals
Japanese VA:
English VA:
Appearances
Primary franchise:
Affiliations
Organization:
Family members
Uncle(s):
Conchobar mac Nessa
(Maternal Uncle)
Son(s):
Cú Chulainn (クー・フーリン), Class Name Lancer (ランサー, Ransā?), is the Lancer-class Servant of Bazett Fraga McRemitz in the Fifth Holy Grail War of Fate/stay night. He becomes the Servant of Kirei Kotomine after Kirei fatally wounds Bazett, and remains under his command for the duration of the War. Caren Hortensia acts as his Master during the events of Fate/hollow ataraxia.
He is the Servant of Rin Tohsaka in the Moon Cell Holy Grail War of Fate/EXTRA. While he is always featured in the story, he is only fought as an enemy in the Rani route, while another Lancer is fought in the Rin route.
He is one of the Servants of Ritsuka Fujimaru of Grand Orders conflicts of Fate/Grand Order.
Profile
[
]
Identity
[
]
The Child of Light (光の御子, Hikari no miko?), a hero from the Ulster CycleWP of Irish mythology. He was a demigod, the offspring of a mortal woman, Deichtine, the younger sister of King Conchobar mac Nessa, and the deity, Lugh, the god who governed over the sun and a member of the Tuatha Dé Danann, the gods of Irish mythology. Deichtine, the daughter of a druid, Conchobar's father, and Maga, the widow of Ross the Red, disappeared in the Land of the Young without marrying anyone. There, she bore Sétanta (セタンタ, Setanta?), the child of the sun god.[1][10]
Hound of Culann
[
]
Sétanta was born in IrelandWP when it was still a land named after its abundant greenery, ErinWP, meaning "green" in Gaelic. Receiving great divinity from his father, who possessed every skill such as knowledge, techniques, and magic, he exhibited superior talent from birth and boasted supernatural ability that separated him from ordinary people from a young age. The land was split into five countries, and he was sent with his uncle, Fergus mac Róich, to King Conchobar's army under the Northern kingdom of UlsterWP. He was to have a life that would follow the destiny to "one day become a shield of Ulster."
He took up the name Cú Chulainn after accidentally killing the guard dogWP protecting the house of master blacksmith CulannWP. The guard dog was well-known to have the strength of ten men.[1] The King was to take Sétanta with him after receiving an invitation to Culann's home, but Sétanta was in the middle of a hurling match with his friends. He would have lost the match had he withdrawn at that point, so he said, "I'll catch up after I win, so go right ahead." The King was humored the reply, and, allowing him to come late, went to the house first. Tragedy began after one of Culann's servants accidentally closed the gate.
Arriving late, Sétanta was attacked by "Culann's savage dog", well known as having the strength of ten men. He alone strangled it to death with his bare hands, and the people inside gathered at the gate after hearing the commotion. Upon learning that Sétanta defeated the guard dog, they were full of shock and admiration. There was some sadness in Culann's eyes at losing his prized guard dog, so Sétanta, ashamed of his actions told him "Does this dog have children? If he does, could you allow me to take care of them? I will raise them to be guard dogs just as strong as their father. Until then, I will be your guard dog."[1][3][9][10]
Culann, impressed with the boy's offer responded to him with assurance that "I have no need of that. I will be the one to raise the dogs that will protect my manor. You, on the other hand, must train yourself. After all, you will one day be the guard dog of all of Ulster." All of the warriors at the scene nodded in agreement. Consequently, all began to call the boy "Culann's savage dog", Cú Chulainn in Irish Gaelic. The name praises not only his strength for killing the famous savage dog unarmed in his first battle and first time taking a life, but also for his character that thought of the owner of the lost dog even as a child.
He was still an apprentice warrior at the time, one in the training group for children wishing to become Knights of the Red Branch. He was around twelve or thirteen, though he claims it was just the adrenaline rush that allowed him to perform the feat. Honoring the noble declaration, he took up a Geis that says he must never eat dog. It was prophesied that "this child will live as a hero" at a young age, and it could be said that he was predestined to become a hero due to his divine parentage.[1] After his name changed, the group of apprentices gathered around a druid, CathbadWP, asking in an uproar which of them would become famed warriors.
Cathbad was powerful, with his divinations being strong enough to "determine the future" rather than simply "see the future." Not knowing how to handle the situation, he decided that he would tell it to only those who would take up arms on that day. The divination was bad enough that none of them attempted to go through the rites of warriorhood, though Cú Chulainn was fishing while leaning against a hazel tree due to his disinterest. He went through the rites of warriorhood on that same day, and received the prophecy that said "in exchange for glorious deeds of valor, his life would be short." He readily accepted such a fate, smiling and laughing.[1]
Land of Shadows
[
]
King Conchobar was enraged at him for becoming a warrior at his young age, causing Cú Chulainn's temper to also flare up. He smashed the spears of the castle and wrecked a chariot, responding with "Now try telling me one more time that I'm not strong enough to be a warrior." He was accepted into the Red Branch, but he claims there was not much in the title. He could do as he wished as long as he was not disloyal, allowing him to pick a fight with another land and then have a party the same night and forget all about it. There were many people causing trouble within the knights, so he would keep any eye on his own country more often than others.
He was often fighting as a warrior, and he fell in love with a princess, EmerWP, the daughter of King Forgall MonachWP, at first sight. He was enamored enough that he went to her castle to kidnap her, but she complained about not wanting to be with some nameless child. Only sixteen at the time, he went on a journey in search of fame. He journeyed to the "Land of Shadows" upon hearing of a powerful sorceress named Scáthach who had many warriors searching to be her apprentices.[1][10] There were many warriors under her, and one, FerdiadWP, a warrior of the neighboring country of ConnachtWP, was his equal in competing for the demonic spear, Gáe Bolg.
They passed the vow of brotherhood, and though he has three priceless friends, Ferdiad held a special place in his heart as an older brother. With his incredible magic and unrivaled demonic spearmanship, he acquired the secrets of leaping, Gáe Bolg, and the original runes from her at the age of sixteen. She had said at the time he received the spear, "Perhaps, I wanted to be killed by your hands", while smiling with a serene voice like a prayer. She had been given a fate where even death was no longer in her hands. She then said, "I give up. Better die before that happens", laughing her same hearty laugh of which he had grown so fond.
Though he had arrived at the castle by the shortest route, she reflected, saying "If only you were born a little earlier... Young, still young..." He could only plan to leave as a lone man lamenting the woman he loved. He stayed there for a long time, feeling at home with his teacher and good rival. AífeWP, a lord of a neighboring country and in some versions of the legend, Scáthach's sister, started a war with them, and Scáthach did not allow him to take the battlefield. After arguing, he was eventually allowed to fight alongside them, and managed to capture Aífe after a duel.
While they were hated enemies, he realized that he found her appealing, so he pursued her and was beaten by Scáthach for it. They eventually parted ways, and he asked that if she bore his child to name him ConnlaWP and send him to Ulster. He was to be given three vows to follow: "To not answer his name when asked", "To not change course", and "To not back down from a fight", the worst possible rules that could be given to his son. He and Ferdiad left the Land of Shadows on the same day, and he did not see Scáthach when they left because she had passed down everything to him and had nothing more to tell him.
He and Ferdiad each asked "How about coming to my country?" as they left the castle, each laughing at the realization that neither would budge from their position. He returned to Ulster, starting dramatic battles and becoming known throughout Ireland in an instant. With exploits unrepeatable by anyone else, he came for the princess as promised. He was opposed by King Forgall and his troops, but he annihilated them and also achieved victory for Ulster's knights. These battles mark the youth of Cú Chulainn, and his subsequent battles bear a heavy shadow.
War with Connacht
[
]
The neighboring country of Connacht eventually took up arms against Ulster. Queen Medb, part of a long line of warmongering ruling queens, was the type of person who hated to give up, so she marched forces after a number of events transpired around her. She invaded irrationally simply to steal Donn CuailngeWP, Ulster's golden bull, simply to beat her husband in a comparison contest. It started with Fergus defecting after the king had killed Fergus' sons out of lusting for young women. The pride of the Red Branch Knights began to serve Connacht out of hatred for Ulster's King, and that influenced Medb's aggressiveness.
There was also the factor of the curse affecting the people of Ulster that rendered men around the country too feeble to fight whenever they were invaded. Due to being born in a fairy mound rather than truly being born of Ulster, he was unaffected by the curse, allowing him to make part of his brilliant war record during the battles. He supported the weaker Ulster against her forces, an allied army of three countries. He spent every day slaying Medb's forces, and it eventually came to the point where they came to an agreement to change the war to a one-on-one fight as they began to lose.
Accepting several geas that would make him accept even his own ruin, one of which consisted of "fighting just one warrior a day", he forced the opposing country to take up geas unfavorable to them as well. It was set that they could only advance while he dueled one of their soldiers in the fords of the Ulster gorge. It was either lose five thousand men in one day, or only slightly advance at the cost of a single man, so Medb reluctantly agreed to it and started his series of duels. It began with Cú Chulainn's rune of vows, Ath nGabla, guaranteeing one-on-one combat with honor at stake.
Medb broke the conditions of the treaty and advanced. It was still a public vow, so it was only one unit that would not be noticed. It was still the best way of holding them back, but he had to deal with a number of issues. He had to fight a number of fine warriors and beings like the Calatin Clan monster, and he had to deal with other issues. He is ashamed that he had to sleep for an entire day due to fatigue at one point, so the training group of the Red Branch had to save him and was slaughtered because of it. He blamed himself for their deaths. Morrígan, the goddess who governed death and destruction, also appeared before him to offer her protection. He declined and she was insulted, so she transformed into many animals to go after his life. He was able to repel every attack, and he even went as far as treating the wounded Morrígan. She came to admire that nobility from the bottom of her heart, deciding to support him without his knowledge. She did not want to destroy his pride, so she decided not to help him when he was in his greatest perils and simply observed the way of a hero.
The fords were a land of death, and the conclusion to the war was likely the greatest of living hells in his life. It eventually came down to the strongest of the warriors of Connacht, the one man he never wanted to fight, Ferdiad. Their battle was not of Ferdiad's own will, but rather a scheme laid down by Queen Medb. Both had to serve their lords, so one life had to be discard to defend honor far more worthless than their friendship. They were equal in battle, resulting in the cornered Cú Chulainn having to utilize Gáe Bolg to pierce the heart of the man he loved as a brother.
Taking Ferdiad's life was the first time the demonic spear had seen battle since leaving the Land of Shadows, and it was released on his most precious friend. Holding his fallen brother in his arms, Ferdiad said his final farewell to Cú Chulainn, "Gáe Bolg is a glory given to only the most gifted of warriors. In that brilliant hall of learning, you were our pride." The battle ended with the defeat of Connacht, allowing the recuperated warriors of Ulster to pursue their army and add a great blow to the defeat. He had managed to hold out against them for seven years, and finally succeeded in making them retreat.
Final days
[
]
Though he captured Medb, he returned her to Connacht, not killing her or shaming her, but instead treating her as a Queen. Though it was not something he had planned, he never once killed a lord or a woman. He did not like killing women on the battlefield, and loving or hating them made no difference.[10] There were no major battles after that point other than a strange young man coming down to the coast to stir up trouble. He beat any warrior who would speak to him, so the King declared that "Only Cú Chulain can beat this boy."
Other than before his own death, that event marked the only time his wife stopped him, crying that "you mustn't go." There was nothing he could do to avoid a royal order, so the two met in battle at the coast. He was a strong opponent that forced him to utilize Gáe Bolg. The warrior said "She didn't teach me that" before dying, revealing his tutelage under Scáthach. It was then that it was revealed that his name had been Connla, Cú Chulain's son. That marked the end of his golden years, as though he had become invincible, the sun still set for him.
Queen Medb had perceived her release as the greatest insult, vowing vengeance against him. As Celtic warriors had the custom of making geas, with those warriors who broke them being cursed, she utilized those of Cú Chulain against him.[10] She assembled warriors from the lands with grudges against him, and cornered him with many plots. He was forced to break his geas one by one, resulting in him losing his abilities. Ulster was once again beset by sickness, so he challenged the army of Medb single-handedly. Acting as the shield of Ulster and committing many deeds of valor, he had a life unexpectedly short in comparison to that valor.
He fell into scores of traps during the battle, and, battling furiously, he was eventually brutally killed and died pierced by his own magical spear.[1] He would not allow himself to die lying down, and tied himself to up to a post.[10] He saw an otter drinking the blood that had spilled into the river, and he died standing while laughing at its greediness. There landed a crow on the shoulder of his standing corpse in his death, said to have been the incarnation of Morrigan who continued to give him her unrequited love.[1] Poetry and statues praising Cú Chulainn still remain to this day in Ireland.
Appearance
[
]
Cú Chulainn is a blue-haired, red-eyed man whose primary outfit is a deep ultramarine full body tights covered in Runic protections, grey metalic pauldrons, and a metal plate over his lowest abdominal section. He wears his hair in a rattail that reaches his mid-back. He also wears a pair of silver earrings. Lancer gives off the impression of a beast, even carrying a bestial smell.
In Fate/hollow ataraxia, Lancer usually wears a yellow Hawaiian shirt and black pants when he's not working one of his part-time jobs. In Today's Menu for Emiya Family, Lancer's casual outfit consists of a white T-shirt, black pants and a black jacket. Shirou found it a mystery that Lancer could wear an apron and look good in it.
In the Fate/EXTRA series, Lancer's outfit covers his entire body with light blue lined design, with some black sections, grey metalic pauldrons like his original design, and a light flame design on his left arm.

Personality
[
]
Lancer is a fierce, but balanced warrior who enjoys combating a worthy opponent, but at his core he believes in justice and is easy to get along with. He is an agreeable youth acting out the role of one gentle in disposition yet strong in body.[11] He has a playful attitude and takes a very carefree approach to life, but is quick to work himself into a frenzy during a heated battle. He was known as a brave, compassionate, and likeable young man in the legends. He mercilessly killed his enemies on the battlefield, but he respected faith and had the nobility to never once break a promise he had made.
He enjoys fishing, hunting, and hitting on cute girls. He is a proud warrior, someone who can't abandon a fight just because he's losing. He's ready to fight until the end, for the sake of his fighting will and also for his Master. He easily loses his cool, especially to insults calling him a dog.
He's not interested in killing innocent people, though he still strictly follows the rules of the war to kill bystanders like Shirou. He's very keen on his mission and somehow professional in his "work". He's noble and he can't really stand people who're joking with him or simply betraying his trust. He's also easily touched by others problems and if he chooses to protect someone, he will do his best till the very end. He really enjoys dating women or simply to spend his time in relaxing hobbies like fishing.
He regretted nothing in his life, though it was one full of wrong turns. There may have been disappointment, but he does not regret his life one bit. His spear only took away the lives of his loved ones, his close friend and son, but its only regret was that it had been meant to murder a single woman that he was unable to kill. Though it is impossible to swap one's life for another, he thinks saving Bazett from the looping world may allow him to leave the regrets of his youth behind. He only has a complaint about his fate as he tries to save her, that he never has any luck with good women.
Relationships
[
]
Cu Chulainn likes to mock his Caster counterpart for being a "spearless me." He also believes he is superior to both Caster and Alter Cu.
As a long-time veteran of SE.RA.PH's Holy Grail Wars, he is acquainted with Archimedes from past encounters. Although it seems like they wouldn't get along -- Cu Chulainn being something of a jock-type to Archimedes' studious-type -- the two have a good relationship. As a warrior, Cu Chulainn recognizes and respects Archimedes' ruthless side. Due to the nature of their relationship, if he were to discover that Archimedes had plotted against humanity, Cu Chulainn would accept it with a passing remark like, "Oh...yeah. He'd probably do something like that."[12]
Cu Chulainn despises EMIYA for being a fake hero who does not take pride in his achievements, and thus doesn't deserve to fight on the front lines like a warrior. Part of his motivation for helping Shirou in the Unlimited Blade Works (route) was out of spite towards EMIYA. In Fate/hollow ataraxia, the two spend considerable time together almost like friends. The Cu Chulainn of Fate/EXTRA is also acquaintances with No Name.
Cu Chulainn had been forced to serve as Kirei's Servant upon the murder of his original Master. Under the control of several Command Spells, Lancer had no choice but to obediently follow orders - even ones he did not agree with. At least two instances occur where Lancer openly defied Kirei: one time, he chose to fight Gilgamesh instead of killing Shirou, and another instance, he killed Kirei in order to save Rin.
Medb is responsible for Cu Chulainn's death but he does not appear to hold a grudge against her. He is more unhappy with failing to save a bunch of kids who fought against her in his stead, thus leading to their deaths.
Cu Chulainn admires Rin and enjoys teasing her whenever he can. In the Unlimited Blade Works route, Cu Chulainn is tasked by Kotomine to keep her safe, a task he openly enjoys until he discovers Kotomine wants Rin kept alive so he can kill her later. Cu Chulainn immediately rescues Rin from both Kotomine and Shinji. He also expresses a desire for her to become his Master. This wish is fulfilled in Fate/EXTRA, in which Cu Chulainn is the Servant of another Rin Tohsaka.
Cu Chulainn respects his teacher, Scáthach, as demonstrated in his max bond quote in Fate/Grand Order. He also feels inferior to her and will tell his Master that he is not needed with Scáthach around, given that she can now wield three Gáe Bolg.
Role
[
]
Fate/Stay Night
[
]
Lancer was originally summoned by Bazett Fraga McRemitz, an Irish representative of the Mage's Association. She used Cú Chulainn's rune stone earrings as the catalyst and he responded to the summoning solely because he wanted to engage in a valiant fight to the death but this simple wish was never granted to him.[11] However, Kirei Kotomine betrayed Bazett and severed her left arm to obtain her Command Spell, leaving her almost dead. He then used her stolen Command Seals to gain the allegiance of Lancer and enter into the 5th Holy Grail War. Despite his wishes to avenge his fallen master, Lancer was forced to bend to Kotomine's will. Lancer is disgruntled at having to serve a Master who uses such cowardly tactics, but he is forced to obey Kirei's wishes.
Kirei chooses to employ a passive strategy regarding Lancer. He has Lancer go out on reconnaissance, and scout the locations and identities of other Masters and gauge how dangerous their Servants are. During his fight with Archer, Lancer noticed that Shirou Emiya had witnessed his entire battle. Believing Shirou to be an ordinary human, to preserve the secrecy of the Holy Grail War, Lancer silences Shirou by stabbing him through his heart.
Later, Lancer realizes that Shirou has recovered from his mortal wound, so he tracks and corners the young mage within the shed of his home estate. Before Lancer is able to strike a mortal blow, Shirou is rescued by the recently summoned Servant, Saber, who then engages Lancer in combat. Outmatched, Lancer flees the scene just before the arrival of Archer and his Master.
After this, for the majority of the story, Lancer is generally inactive.
Fate
[
]
In Fate, Shirou is lured to Kotomine's church, and once again wounded by Lancer. Saber eventually arrives to rescue Shirou. After events unfold, Kotomine reveals his other Servant, Gilgamesh, the Archer from the previous war. Kotomine orders both of them to kill Saber and Shirou, and leaves. Lancer, disgusted by Kotomine keeping Gilgamesh's existence a secret from him, and by Gilgamesh himself, decides to rebel against Kotomine. Though he claims he is doing it out of hatred for Gilgamesh and Kotomine, and not to help them, Lancer chooses to fight Gilgamesh and thereby aids Shirou and Saber in escaping. He survives against Gilgamesh for half a day, but is ultimately defeated.[4]
In the anime version of the Fate route, Gilgamesh quickly binds Lancer using the Chains of Heaven and kills him using Caladbolg.
Unlimited Blade Works
[
]
In Unlimited Blade Works, after being driven out of his church by Caster, and faking his death, Kotomine orders Lancer to cooperate with Shirou and Rin. Lancer helps them with their plan to defeat Caster by fighting Archer to distract him, so that Rin and Shirou are able to enter the church. Ostensibly defeating Archer, but choosing not to conclude their battle, he later reappears to offer his aid again to Shirou and Saber after Rin is captured. Upon rescuing Rin, Kotomine suddenly appears and orders Lancer to kill Rin. In addition to his previous disgust with Kotomine, Lancer has come to admire Rin, and therefore refuses his order. In response to this, Kotomine uses a Command Seal to force Lancer to commit suicide. Lancer manages to get back up and survive long enough to kill Kotomine, stop Shinji from harassing Rin, free Rin from her restraints and set the Einzbern castle on fire.
Heaven's Feel
[
]
In Heaven's Feel, upon sensing a disturbance at the Ryuudou Temple, Lancer investigates it as per his orders by Kotomine to scout the competition. He discovers and engages in battle with True Assassin, but during the battle, he is attacked and killed while his heart is consumed by the True Assassin; then his body is absorbed by the black shadow of Avenger and Sakura Matou.
In Fate/stay night - Heaven's Feel I. presage flower, he becomes the third Servant after Assassin and Caster respectively to be killed by True Assassin and absorbed into the Shadow.
Fate/Hollow Ataraxia
[
]
In Fate/hollow ataraxia, Lancer's role is expanded far beyond Fate/stay night. He is normally spotted fishing at the Fuyuki docks, but he is frequently seen wandering the city or at his part-time job as a grocer. He is quite amiable, chatting with many of the former Holy Grail War participants, and is well liked. Nearly every female character in the game is subject to a pick-up attempt (or in Shirou's words, "harassment"). These attempts tend to work out well, thanks to not downplaying his Servant qualities. However, in the end things generally turn out differently, leaving Lancer annoyed and/or embarrassed and the girl(s) in question safe from the grasp of the Blue Panther. He makes no attempt to combat the Shadow Wolf Beasts during the Fuyuki eclipse, instead quietly presiding over Avenger's ascent into Heaven's Feel from a distance.

Fate/Unlimited Codes
[
]
In Fate/Unlimited Codes, he is known as the Blue Spearman of the Wind (疾風の蒼き槍兵, Shuppu no Aokisouhei?).
In his story Lancer rushed back to protect Bazett but he finds her murdered by Kirei. Kirei has stolen Bazett's command spells and became Lancer's new Master. Lancer was disgusted with the idea of working together with Kirei and suggested him to use a Command Spell to force him to submit to him.
He encounters Caster at Ryuudou temple, Caster observed Lancer earlier and she can tell that Lancer is displeased with his new master Kirei. She suggested to work together so she can break Lancer's contract with Kirei. Lancer rejected the idea because of his loyalty of a knight, he claims that by changing sides, it is hard to maintain respect of others. Caster insults lancer by calling him the "Hound of Culan" and the battle starts. Before Lancer kills Caster, they had a deal and Caster used Rule Breaker to cancel the contract.
His final opponent is Kotomine. Kotomine was confused about how his command spells are not working on Lancer. Lancer revealed the truth to Kotomine about his reason for him to continue the Holy Grail War without a master, to avenge Bazett who believed in Lancer and his abilities. Kotomine finds this absurd for doing this for a dead woman and he can tell Lancer that he's going to fade away soon. Lancer confirms that his body can stay for a few minutes and killing him will only take that amount of time. Lancer doesn't have a wish for the Holy Grail and revenge is all he needs and kills Kotomine. In the end, he starts to fade and recounts his time in the Holy Grail War. He admits that Kotomine is strong and regrets not fighting alongside Bazett in the war but he is content with avenging her death. He announce he doesn't have a wish for the Holy Grail and he's happy enough to fight in flesh once more. He thanks Bazett for summoning him before fading away.
Fate/tiger colosseum series
[
]
Fate/Grand Order
[
]
GUDAGUDA Honnouji
[
]
Cù Chulain appears in the singularity under the name Shimazu Setanta, wondering why he's teamed up with Chousokabe Emichika and Mouri Medinari. Calling the situation a pain, Shimazu senses Ritsuka's group coming, and asks Mouri if she has a plan. He agrees with her plan to lure the group, but he's irritated that he's only there with a childhood name. After Mouri tells Chousokabe to ambush the group when Shimazu lures them, he asks what she is going to do. Hearing Mouri's answer that she won't be fighting, Shimazu merely answers that he wants to get started. Encountering the group, he lures them to where Chousokabe is able ambush them with his arrows. Delighted by the success of her plan, Mouri tells Shimazu that she'll buy him some bread later, but he complains that he wants something with yakisoba in it. He then tells the group that they were careless since the ambush was obvious when he ran away earlier. However, when Shimuza says his given name along with his allies, he and the others are defeated by an enraged Okita after she donned her Coat of Oaths. After he is defeated, Shimuza apologizes to his mentor before disappearing.
Summer Event: Chaldea Summer Memories
[
]
Cú Chulainn and several other of Ritsuka's Servants are accidentally rayshifted to a remote island where they're unable to contact Chaldea. While everyone waits for Blackbeard's observation report of the island, Scáthach offers to spare with Cú Chulainn to pass the time. He declines, believing he will only be killed. Furthermore, he reminds his mentor that the island isn't the Land of Shadows, where violence rules, and she should adapt to the situation. After Scáthach accepts he is right, Cú Chulainn goes fishing.
Eventually, everyone learns from a near-dead Blackbeard that their location is still unknown, and it's nearly impossible to leave by ship. After Scáthach alters the girls' Spirit Origins to give them swimsuits to accommodate their current environment, Cú Chulainn agrees with Fionn mac Cumhaill that the men should do their best not to stand out. He then looks over to Scáthach in her swimsuit, noting how she pretends to be calm while excited more than anyone. He also says she didn't need to change as her combat outfit was already water-resistant. He then decides to stay away from the beach and go into the mountain.
At some point, he, Fionn, and Diarmuid Ua Duibhne founded a secret village for the men.
Cú Chulainn later goes fishing joined by Ritsuka, Mash, Marie Antoinette, and Tamamo-no-Mae. He notices Marie catching fish and throwing them back in. It is as if the fish come willingly to get caught, which makes Cú Chulainn wonder if being unselfish is the secret to fishing after all. He and the others then help Marie reel in what turns out to be a monster, which they promptly slay.
Afterward, Cú Chulainn takes Ritsuka and Mash hunting, joined by Anne Bonny, Mary Read, and Artoria Pendragon. Cú Chulainn spots a deer on the lee of a nearby mountain. Artoria tries to use Excalibur to get it until Ritsuka stops her. Reprimanded by Cú Chulainn, she explains destroying the surroundings as one way to get at prey when they hide in difficult places. She assures though she only does so when needed and asks Cú Chulainn if she is somehow breaking Celtic hunting etiquette. Cú Chulainn answers her method goes beyond simple etiquette. Banning the usage of Noble Phantasms, the group continues with their hunt. Cú Chulainn didn't take part, though, because he sniffed out some wyverns.
Cú Chulainn later learns that Fionn and Diarmuid were killed by a boar. But, instead of joining the hunt for the boar, he decides to protect the home base. Mary felt his eyes were saying it would bring great shame to Diarmuid and Fionn if a fellow Celtic male were to defeat the boar.
If the zen garden is built, Cú Chulainn finds Ritska, Mash, Scáthach, and Saski sitting around drinking tea and staring at the garden. Scáthach tells him to stare at it until he sees what it isn't seen, saying it could be a way to kill her.
When Sasaki Kojirou brings Ritsuka, Mash, Martha, Kiyohime, and Tamamo-no-Mae to the men's secret village after he was defeated, Cú Chulainn accepts it was only a matter of time before it was discovered. He then explains how the village was founded as a secret place for men since they get nervous seeing the girls in swimsuits all the time. Ritsuka asks if the village has a name. Cú Chulainn answers it is called Backspear Village in honor of Fionn and Diarmuid. Ritsuka realizes the name is a twist on a similarly named boy band, to which Cú Chulainn jokes they'll make great tunes if Karna were to go wild on the bass. He then spouts some nonsense about how they're the summer edition of Backspear and that they'll be burning the charts all summer long.
If the samurai residence is built, Cú Chulainn feels like it is a good place to ready his spear for some reason. If the iron fortress is built, a giant iron sphere rolls toward him.
He later helps defeat the giant demon boar when it appears as construction for the escape ship is nearly complete. After the giant demon boar returns and is seemingly killed, everyone boards the ship and sets sail. Cú Chulainn decides to join Sasaki in a game of hanafuda in his cabin, feeling he played it before.
Summer Event: Chaldea Heat Odyssey
[
]
During a storm, however, the men are thrown overboard. Cú Chulainn eventually washes back on the island after 2,000 years had passed there. He then made his way to the city ruins, where he reunited with Ritsuka and the girls. Impressed by his survivability, Scáthach tells him to kill a hundred demon boars, which Ritsuka and Mash will help with.
Along the way, Mash informs Cú Chulainn that they're on the same island as before 2,000 years into the future. Cú Chulainn asks what the island was like originally, but Mash isn't able to answer. Eventually, the three encounter and slay many demon boars, but they have trouble with the giant one. Beowulf appears, though, and easily kills it. He apologizes for stealing their kill, but he needs the meat for his underlings. Said underlings are demon boars he managed to tame with his fists. Cú Chulainn asks him if he's their enemy, to which Beowulf replies that he isn't their ally. He then leaves with giant demon boar after declaring he wants to take over the world. Ritsuka, Mash, and Cú Chulainn then return to the others and inform them about Beowulf.
If the red bridge is built, Cú Chulainn and Artoria will both find it familiar.
Later, Thomas Edison, who gave the boar piglets electricity 2000 years ago, is woken from cryosleep by Ritsuka, Mash, Scáthach, Artoria, and Mordred. The group learns he needs the Holy Grail to build an escape device to contact Chaldea.
Completing more construction projects, the group goes to the demon boars' lair as they likely have the Grail. As they near their destination, they notice many demon boars guarding the cave. Since the demon boars outnumber them, the group goes with Mordred's plan to break through the enemy line and hold them off so Ritsuka, Mash, Scáthach, and Edison can enter the cave.
After the escape device is built, the group leaves the island. As they do, they're contacted by Romani Archaman. They learn they were only gone for an hour before rayshifting back to Chaldea.
GUDAGUDA Meiji Restoration
[
]
He appears under the name Gotou Setanta as one of the Servants summoned by Andras to serve Oda Nobukatsu. He is annoyed that he is again partnered with EMIYA and Medea, who appear under the names Sanada Emiyamaru and Mouri Medinaga, respectively. Though he dislikes they have to let Chacha be sacrificed, he does feel a sense of pride in defending the Sun Fortress. Ritsuka's party defeats him and Andras' other Servants.[13]
Valentine Event The Bountiful Chocolate Gardens of Valentine
[
]
Cú Chulainn helps plant cacao trees to produce more chocolate. Though he doesn't care for chocolate or Valentine traditions, he understands it is best to get chocolate for those women who become unwound during Valentine's. He worries what the possible replacement for chocolate could be, particularly when it comes to Medb. Medb appears and thinks Cú Chulainn was saying that her trying to entice him with chocolates is annoying and futile. She, therefore, changes her method to smacking him in the face with her chocolates, so he'll physically get the message. Annoyed, Cú Chulainn decides to leave and orders Diarmuid to make scarecrows with the materials he got from the warehouse
Later, he, Diarmuid, Vlad, and Karna find themselves unable to harvest cacao plants crossbred with mandrakes thanks to its scream. Semiramis told them the plants must be harvested today, as they'll likely wilt by tomorrow. Cú Chulainn go gets Nero Claudius and convinces her to sing by saying music helps plants produce a greater yield. With Nero's song countering the screams of the cacao mandrakes, and their ears protected by runes, the Lancers are able to her harvest the plants. Everyone soon finishes and Nero leaves, satisfied that she could help. Karna however points out that they have another field to harvest. Cú Chulainn leaves to go get Elizabeth Bathory..
Summer Event: Servant Summer Festival!
[
]
While doing handicrafts, Cú Chulainn is suddenly summoned to the beach by Medb to her partner in her volleyball match against Ritsuka's party. She loses and gets upset at Cú Chulainn for not playing dirty. Cú Chulainn asks her why he'd ruin sports by cheating. Medb concedes that he's right, admitting that she hates losing. Cú Chulainn tells her that losing every now and then is good since it keeps one focused. He then leaves, saying he'd like to try baseball next time.
In the final loop, he, Astolfo, and Ibaraki-douji hold off Medb's chariot so Ritsuka and Jeanne Alter can get to the convention center unimpeded.
Interlude
[
]
The Taboo
[
]
Cú Chulain is brought to a forest in Britannia to kill a demonic boar, which he believes someone more suited should kill. He agrees to take on the task, then after killing stray homoculi, he tracks down the boar. However, the group discovers that the boar had already been killed by a chimera. After killing the chimera, the group discovers a poorly concealed mage's workshop, which was the source of the homunculi and the chimera. Cù Chulain then cooks the remains of the boar and the chimera, but he leaves when he believes that a dog was used to create the chimera.
Fate/EXTRA
[
]
He is the Servant of Rin Tohsaka, and he is fought as an opponent during the Rani VIII route.
He is first encountered in the Elimination Round against Berserker. When the battle turns in favor for Lancer and Rin, Rani VIII decides to commit kamikazeWP by overloading her magic circuits and explode the whole arena. Lancer is impressed with her commitment but Rin orders Lancer to impale her heart before she explodes. Hakuno Kishinami teleports to the arena thanks to a Command Spell. In the Rin route, as Rani was about to explode, Lancer sacrifices himself to save Hakuno and Rin. In the Rani route, as Hakuno's Servant fights against Berserker, Lancer uses Gáe Bolg to impale Rani's heart.
Rin and Lancer would be Hakuno's opponent in the sixth round, however, they hacked the notice board so that Hakuno wouldn't know the opponent. In the arena, an unknown enemy later revealed to be Lancer was following Hakuno and the Servant with killing intention till Lancer retreated to avoid cofrontation. The next day, Lancer once again tries to kill Hakuno by luring them to the arena and use a combination of his Runes and his Noble Phantasm to kill them from a distance at the school. However Rin stop him and a large detonation was found in the arena entrance. In the second level, Rin uploads Lancer's data into an effigy. Once Rani transfer the Anti-Lancer Firewall Bypass, the effigy is easier to defeat. By defeating it, they learnt both the class and noble phantasm of Lancer. After the elimination battle with Hakuno, Lancer apologizes to Rin for failing her, though Rin blames herself for being a weaker master.
In the manga adaption, he fought against Lancer in the preliminaries round. When Hakuno ask Rin for help, Alice and Caster sent both of the master and servant to a different environment. Alice and Caster summons Jabberwock to fight, Saber and Lancer temporary join forces. No matter how much they damage Jabberwock, it regenerates causing them to think of retreat. Rin uses one of her Command Spells to force Lancer out of his limits to break a hole in the barrier to escape.
Last Encore
[
]
Lancer is first mentioned, albeit not by name, when his Master Rin Tohsaka informs Hakuno and Saber that she is a former Master who has "lost her Servant", meaning Lancer. Despite this, Rin still possesses her Command Spells, leaving Lancer's fate ambiguous.
It isn't until Hakuno and Saber finally reach the sixth floor where Rin and Rani are that they discover Lancer had died in a mutual kill with Berserker long ago, right before the Moon Cell shut down, leaving no winner for the sixth floor.
Rin, or copies of Rin, were subsequently turned into a Demi-Servant that possessed Lancer's power and could use Gae Bolg.
Fate/EXTRA CCC
[
]
Lancer is one of the bonus bosses of the game, paired with Kotomine as his master.
Fate/EXTELLA
[
]
Cú Chulainn returns as a selectable playable character for Hakuno Kishinami. He is in Nero Claudius's party along with Nero, No Name, Gawain and Li Shuwen.
Flame Poem
[
]
Cú Chulainn is introduced by Nero as one of her generals. He recognizes Hakuno from the Holy Grail War, and asks they rely on each other despite formerly being enemies. When Nero orders him and others to return to their posts, he asks her why Hakuno sits on the throne even though she wears the Regalia. Satisfied with her answer, Cú Chulainn leaves asking Hakuno to call him if they need anything. He later helps repel the invasion of Mare Aurum. Next day, he joins in conquering Mare Mellum.
A couple days later, as Nero prepares to wage war against Altera, Cú Chulainn warns her to be overly confident given Altera's strength. He explains he briefly fought Altera, but retreated when he realizes how powerful she was. He reports that while Hakuno and Nero were resting from their victory over Tamamo no Mae, Altera's forces conquered 80% of SE.RA.PH in half a day. He continues that he and the other generals sealed off the remaining 20% from the rest to prevent Altera's forces from invading Mare Aurum. He also reports that Iskandar is one of Altera's generals.
When Hakuno and Nero prepare for their final battle against Altera, Cú Chulainn states he'll fight whatever enemy Nero commands him to.
Orchid Words
[
]
Cú Chulainn aids Nero and Nameless in conquering Mare Mellum against Tamamo's army, but they're ultimately defeated.
Dawn
[
]
Cú Chulainn is ordered by Nero to fight Altera in Mare Mellum in order to weaken her. He later aids in defending Mare Aurum, but he's defeated.
Golden Poem
[
]
Cú Chulainn repeats his introduction from the first timeline but omits any mention of the Grail War. When Nero reveals Velber and Archimedes are the true enemy, he says it doesn't make sense to waste time fighting Tamamo's forces. He also knows though that they would conquer Nero's territories rather than negotiate, which Li Shuwen and Gawain agree with. He is impressed by the Regalia's seach function's ability to identify the enemy Servants, but he also knows it make the battle any easier.
After Nero and Tamamo ally with each other, Cú Chulainn and Li Shuwen scouted out Altera's forces. During the meeting between the generals, he isn't concerned about the lack of Attack Programs on their side since he and others can easily destroy any enemy programs. He talks about how he and Li Shuwen scouted Altera's forces, and reports Top Servants are among Altera's forces. He agrees with Nameless that the Altera's forces are protecting something in the Zero Dark if they have a base there. He also finds it strange they didn't reveal themselves until Nero and Tamamo stopped being enemies. Late into the meeting, Cú Chulainn demands to know what Hakuno's plan is since negotiation isn't possible. He later joins in defeating Altera's forces in Mare Origio.
The next day, Cú Chulainn takes part in assaulting Mare Carer. He is last seen fighting Velber corrupted Attack Programs alongside Li Shuwen. The two stop though when the programs cease to function with the Ark of the Star's destruction. Cú Chulainn is disappointed the fighting stopped though, as it was just getting good. Though he understands how he feels, Li Shuwen tells Cú Chulainn to not complain since Nero has been victorious.
Side Story
[
]
In his side story, Cú Chulainn is eager to charge into battle for the fun of it. In his first mission, he is assisted by Nameless, much to his own disgust. He is further disgusted by Elizabeth Báthory's singing, and is in complete disbelief that she was actually singing and not intentionally grating his ears. After defeating Elizabeth and recapturing Nero's territories, Cú Chulainn reprimands Elizabeth harshly and gives her a bit of advice on what singing really is.
In the next battle, Cú Chulainn excitedly enters the battlefield with Nameless at his side again. He successfully disables Medusa's Blood Fort Andromeda and defeats Medusa herself, but he chooses to spare her because he doesn't like hitting women. He promises that he will spear Medusa in the heart if they cross paths on the battlefield again. When Medusa asks why Cú Chulainn chose to side with Nero, he admits that it's partly because Tamamo-no-Mae reminds him of Medb.
After the revelation of a "Force of Destruction" threatening the stability of the whole of SE.RA.PH, Cú Chulainn expresses eagerness to find out what kind of Servants the Force possesses. He tells Nameless that he himself is the best choice for taking part against this new enemy and Nameless, surprisingly, agrees. This disturbs Cú Chulainn somewhat, who expected a sarcastic comment. The lack of one prompts him to realize that the situation is really dire. However, he succeeds in defeating Jeanne d'Arc and reclaiming the territories she had taken.
Cú Chulainn tries to get Jeanne to speak afterwards but Jeanne remains silent. Gilgamesh then shows up to reprimand Jeanne for losing to the "mongrel." He gets offended by the nickname, and starts exchanging insults with Gilgamesh. His side story ends with him and Gilgamesh initiating a battle off-screen.
Fate/KOHA-ACE
[
]
Within Fate/KOHA-ACE, Lancer is one of the summoned Heroic Spirit Soldiers summoned by the German Third Reich. He is a test soldier operated by an unnamed soldier. Hunting down Akiha and Kohaku, he is killed by the newly summoned Saber while monologuing. In the adaptation Fate/type Redline, he is replaced by Lancer.
Carnival Phantasm
[
]
Lancer has prevalent role in the Fate segments of Carnival Phantasm and also acts as part of a running gagWP involving his death. He is constantly "killed" within a segment in each episode aside from the second. While he dies without mention during Tsukihime segments, characters comment on it during the Fate segments with "Lancer died!" (ランサーが死んだ!?), "You bastards!" (この人でなし!?, "You are not human!") in a reference to Kenny McCormick's similar constant deaths in South ParkWP. He has an episode based on the concept called "Final Dead Lancer", parodying the Final DestinationWP film series, where he manages to avoid his deaths from the previous episodes. He ends up being retroactively killed in the events from the second episode, and he's revived from his grave at the end of the episode as a horror movie reference. He drives a GaeBolCar (ゲイボルカー?). He is also able to be used as a thrown weapon by Berserker.
Today's Menu for Emiya Family
[
]
Lancer is a recurring character in Today's Menu for Emiya Family and first appears in Episode 2, peddling fish as a part-time job. Inspired by talks of Shirou's amazing cooking from Rider and Sakura Matou, Lancer convinces Shirou to let him come over for dinner that day. Lancer surprises Shirou and Saber when he arrives at the house, bringing with him a bag of booze. Taiga arrives soon after and Lancer joyfully greets her with a secret handshake. After dinner, Lancer helps Shirou clean the dishes.
Lancer appears again in Episode 7 alongside Archer. The two take part in a volleyball match against Shirou and Saber and easily defeat the pair by going all out on them, ignoring the fact that Shirou isn't a Servant.
Lancer appears briefly in Episode 9 when Shirou and Caster come to buy some fish. To their annoyance, Lancer makes the assumption that Shirou is Caster's "young giglio" and refuses to believe that Caster actually plans to cook food herself.
In Episode 10, Lancer helps a flower shop deliver flowers to Homurahara Academy for Ayako Mitsuzuri. Issei is not amused and gets into a fight with Ayako, who is promptly cheered up by Lancer.
In Episode 11, Lancer has a new part-time as a waiter at a cafe but requires a temporary cook, so he convinces Archer to help him out. A prior attempt to ask for Shirou's assistance failed, and offering to ask Shirou again is what convinces Archer to help Lancer, despite Archer's promise to meet Rin at the park soon. Lancer repeatedly praises Archer for his cooking skills and later tells Rin what Archer is doing. The episode ends with a scene of Lancer closing the cafe.
In Episode 13, Lancer briefly appears as a fish salesman as he watches the snow fall.

Capsule Servant
[
]
All Around TYPE-MOON
[
]
Lancer appears as a waiter in the manga series All Around Type-Moon, working at Ahnenerbe under its manager, George. Because the manga is set inside the restaurant, Lancer appears in several chapters.
Other appearances
[
]
\
In Type-Moon's April Fools' Day 2009, moon.cinemas.jp is a fake movie theater site listing a number of parody films:
He was featured in Fishing fetish Sanpei (釣りフェチ三平, Tsuri fechi Sanpei

?

).
He was featured in Dog Fate -DooGSDAY- (いぬふぇいと ―DooGSDAY―, Inu fu ~eito ― DooGSDAY ―

?

).
He was featured in the animated film Papillon Shin-chan ~I call for sleepiness! Spicy shaggy Kingdom~ (パピヨンしんちゃん〜眠気を呼ぶ!激辛モジャモジャ王国〜, Papiyon Shin-chan ~nemuke o yobu! Gekikara mojamoja ōkoku~

?

), a parody film of Crayon Shin-chanWP.
In Type-Moon's April Fools' Day 2015, Lancer is in a group called YARIO and is part of the Imperial Roma talent agency, his class is Farm idol unit (牧歌的アイドルニット, Bokukateki aidorunitto?).

Abilities
[
]
As a demigod whose father was an almighty god who possessed every skill such as knowledge, techniques and magic, and whose mother was Deichtine, the younger sister of King Conchobar, Cú Chulainn exhibited superior talent from birth. Boasting supernatural ability that separated him from ordinary people from a young age, in time, the grown Cú Chulainn was accepted as a member of the famous Akaeda Knights. His actions after that rendered him unmatched.[1] Having seen in him a worthy student and disciple, Scáthach later taught him all that she knew about martial arts and the more powerful aspects of thaumaturgy.[10] In his training in the Land of Shadows, he was taught incredible magic and unrivaled demonic spearmanship and received the original Runes and the terrible magic spear Gaé Bolg.[1]
Other than Lancer, Cú Chulainn also qualifies for the Berserker and Caster classes. He had gone berserk several times in life, however, there is no doubt that the Lancer class suits him best.[11] He also takes great pride in having the ability and knowledge enough to qualify for the Caster Class due to his knowledge on Runes.[1][14] Thanks to not just being a reckless warrior, he can see through Medusa's Blood Fort Andromeda from just a glance, consider the situation, and make a decision not to destroy it. He is able to tell the quality of a Bounded Field and decide it does not belong to Caster due to not being at the same level as her Bounded Fields.[1] As a Lancer, he possesses supreme agility, as well as excellent close combat skills. Although they tend to be less flashy than the other classes, they are a very reliable type of Servant.[11]
Cú obtains no geographical boosts from the cultural sphere around Japan,[15] since those of Celtic mythology are not well known in that country.[16] However, if the stage of the Holy Grail War were anywhere but Japan, he would be a shining existence on par with Heracles and King Arthur.[11] In western Europe, he would receive a general boost in power similar to other European Heroic Spirits, and he would display a much sharper increase in power in Ireland.[17] There, he is a great hero that surpasses in fame even King Arthur,[16] due to poetry and statues praising him still remain to this day.[1] He is without a doubt one of the greatest heroes of that country.[10] While Diarmuid Ua Duibhne is stronger than him in terms of pure firepower due to his Master giving him a greater mana supply, should both of them fight in Ireland, Cú Chulainn would gain an edge over him.[15]
Combat
[
]
Lancer fights with a two-meter spear, allowing him to only need to attack when an opponent enters his range. Such a distance as three meters between him and the opponent matters little, so while it is easier to thrust at an approaching enemy instead of moving out, he will still quickly close the distance between an opponent instead. All of his thrusts are enough to be called a final blow to strike the opponent down. The main strength of the weapon is in its swings rather than thrusting as its shape would indicate. Its wide swing utilizes its long range to not allow the enemy to dodge by stepping back. Partial retreat from a strike will not allow for escape, attempting a counterattack would result in receiving a slashed stomach, and simply going forward will result in a smashed rib from the long shaft of the lance. Thrusts are still dangerous, but it is possible to avoid an attack that targets a specific point once it has been seen through to allow for the strike to be redirected to create an opening.
He fights with intensity, and it would normally be that closing in on an opponent in such a matter would be suicidal with such a long weapon. Lances are effective against swords because there is no effective way of parrying them with a sword. Strong rebuffs from a sword only results in a counterattack, while weak rebuffs do not create any openings. The most important part of a battle between the two is defeating the enemy while they are at the wrong range. Spearmen normally use their length and freedom of range to win a battle, and discarding such an advantage by closing in should mean defeat. Such by the book tactics mean little to him, as his ability with the lance shows no vulnerabilities due to not having to follow the general rule on lances. His strikes that are fast enough that even the afterimages are blurred allow him to easily remove any possible openings, and he can constantly increase the speed of his thrusts and make continuous attacks without allowing the slightest pause in between.
Cú Chulainn specializes in survival, and his capable of returning alive no matter how hopeless the situation.[11] He usually prefers to fight with his full power as a warrior. However, contrary to his legendary battle prowess, his fighting in the Fifth Holy Grail War is extremely limited.[1] Thus, this time luck wasn't on his side.[11] Due to the Command Spell of his Master Kirei Kotomine "Fight with everyone, then withdraw," he was commanded to involuntarily perform reconnaissance missions.[1] Fighting several Servants to a draw, he will never start a fight on his own. Even if he gains a full chance to kill an opponent, he is to merely observe and is given no authority to attack. Even in the middle of his first battle with EMIYA, he showed decisive action by leaving the battle to kill Shirou Emiya whom he recognized to have witnessed it. The withdrawal was also very skilled, giving the appearance of realizing that the situation was unfavorable.[1] He can only go all out against an opponent during their second encounter due to the Command Spell, so his first true "battle without any binds" is against Archer. Without anything binding him, his strikes are much faster and harder to see than in the previous battle. The only way Archer is able to keep up with him in direct combat compared to the previous fight is due to the experience of previously fighting him.
Lancer is able to easily put distance between him and his opponent at any point in a battle, and using his lance to vault thirty meters is not a difficult feat, Lancer's speed is extraordinary. Archer claims his speed is extraordinary among even the fastest heroes that would normally be chosen as Lancer. He far surpasses all of them, not even three in the world being at his level, and he is the only one with such "beast-like agility." In fact, both Medusa and him boast the most outstanding speed in the Fifth Holy Grail War. In average speed, Rider is faster, being able to move like a bullet and race around the battle field. Lancer on the other hand, surpasses her in immediate maximum output, as he is able to counter attacks with a lance with the speed of gods, while standing still. If the two of them were to fight each other, Medusa would display greater versatility thanks to having several different types of Noble Phantasms, however, having protective ability from Rune Magecraft, he'd be able to counter her Mystic Eyes. Being an expert monster exterminator, one who has a monster alignment such as Medusa would find a battle against him rather tough,[18] although not impossible. As implied in Hollow Ataraxia, Cú hinted that they had fought before and that he was now afraid of her because of it. Stating that "She's dangerous, she is. Not an ounce of mercy for her enemies." He even declared his fear for her Noble Phantasm Bellerophon calling it "A missile!" with Child-Gil adding "With a nuclear warhead to boot."
Skills
[
]
Class Skills
[
]
Magic Resistance (C Rank): Cú Chulainn holds a Magic Resistance of Rank C. Aria of two verses and below are cancelled.[1][2][7][10] Although this skill is ineffective against greater magecraft and Greater Rituals,[1][2][7][10] thanks to possessing A rank Agility, utilizing large-scale magecraft while confronting a Servant with such superior speed is nearly impossible. The skill required to successfully hit him with such invoked magecraft is considerable, so it can be said that he has a "necessary and sufficient" rank of Magic Resistance in terms of close combat.[1]
Personal Skills
[
]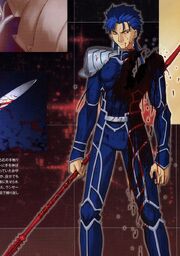 Battle Continuation (A Rank): Legend tells that the dying Cú Chulainn tied himself to a tree before taking his last breath. For he who possesses such a legend, the dying struggle is particularly fierce.[1] When it comes to defense, his excellent agility and great experience make him an "impregnable wall", allowing him to be confident in fighting both Archer and Saber at once if the goal is occupying them.[19] He doesn't know when to give up.[2][3] This is not a method to preserve one's own dominance, but simply the karma that induces the pride of Celt warriors who does not stop fighting until their last breath.[2] It's possible for him to fight even on the verge of death, surviving as long as his injury is not decisively lethal.[2][3][7][10] Even in a hopeless battle, Cú Chulainn was still able to demonstrate astonishing tenacity, delaying Gilgamesh for half a day. Against EMIYA who dextrously fended off his spear thrusts, Cú Chulainn countered with an unyielding fighting spirit.[1] He counters his opponents with an unyielding fighting spirit, and unlike Saber who will fade away instantly from a decisive strike to the heart from Fragarach, he is able to last for a period of time afterward. Even without an active heart or Master, he is able to hold his rapidly fading form through the use of his "dirty survival tricks." After being forced to stab himself in the heart in Unlimited Blade Works, he has enough energy to get up, remove the spear from his chest, retaliate against Kirei, free Rin, ward off Shinji, and utilize the Ansuz Rune to burn his body along with the entire room. It is noted that he is definitively dying the entire time, and the simple act of standing up in the first place is amazing in itself. Although this skill is usually ranked A, in the Moon Cell, it is temporarily decreased due to his Master boosting his Endurance at the expense of this ability.[7][10]
Disengage (C Rank): Lancer possesses the ability to withdraw from the battlefield in the midst of combat.[1][2][3] It also returns disadvantageous battle to the turn it began (turn 1) and skill conditions to its initial values.[2] Due to simultaneously having this skill along with Battle Continuation, Cú Chulainn displays better his real worth in skirmishes than in one-on-one duels. However, since he likes duels vso much, this fact does not really stand out.[3] It is only when having been commanded to go on reconnaissance missions by his Master Kirei Kotomine, that this ability was fully demonstrated. From the start, Cú Chulainn excelled in seeing through battle situations, and had the responsibility to wage war and withdraw repeatedly from all the Servants.[1]
Divinity (B Rank): This skill defines whether or not a servant possesses Divine Spirit aptitude.[2][10] The higher it is, the more one is a mixed race of a physical divine spirit.[2] Demigods are fairly common amongst the Legendary Souls drawn from human mythology, although few of them are considered more than second-tier heroes by their adherents. Cú Chulainn, however, inherited the blood of the Absolute One, the main god of his nation's pantheon of immortal beings.[10] His father was Lugh, the god who governed over the sun, a member of the Danann divine family in Celtic Mythology.[1][2] At his ranking, this ability allows one to break through and defend against otherwise invincible skills, such as Enlightenment of the Sacred Fig and Protection of the Faith.[7][10]
Rune Magecraft (B Rank): As depicted in his legend, obtained 18 Original Runes, Norse Runes, after studying magecraft under Scáthach in the Land of Shadows.[1] The Runes are a form of thaumaturgy unique to Northern Europe. The foundation of this craft is the engraving of words of power into stone to induce various mystical events.[11] Having learned an ability that is believed to have been lost to time,[11] Cú naturally boasts skill and knowledge to qualify for the Caster class.[1] Although he is a nearly first-rate master, since he himself sees them as a hindrance he doesn't usually employ them in combat.[3] He appropriately utilizes them to respond to different situations. One such rune, one with the purpose of searching, helps support his elusive actions during the Holy Grail War.[1] Holding the Ansuz rune allows him to set a blaze to reduce an entire room to ashes, causing a continuing conflagration that seeps into the rest of the Einzbern Castle and causes it to crumble. He can use them as a counter measure against Mystic Eyes, even those as potent as Mystic Eyes of Petrification.[18] He inscribes his armor with runic protections, and he is able to set up a powerful Bounded Field in an instant by carving all of his runes onto the ground. It is able to block a great Noble Phantasm, but it is unable to stop the encroachment of the Shadow.


Another use of multiple Runes is Ath nGabla (アトゴウラ, Ato Goura

?

), a seal formed by pointing his spear at the ground and carving four runes, Algiz, Nauthiz, Ansuz, and Ingwaz, in four corners around him. It is a curse of one-on-one combat passed down to the Knights of the Red Branch, and it does not carry any inherent magical energy. It is an arena formed from four branches, guaranteeing one-on-one combat with honor at stake. Warriors having set the seal no longer have retreat as an option, and all warriors who see the seal are not allowed to refuse combat.
Protection from Arrows (B Rank): Cu Chulainn was born with the special ability to deal with projectiles. It's said that it's possible for him to avoid any long range attack as long as he has made visual confirmation of his opponent.[1][2] He can deal with most projectiles even in conditions where the opponent cannot be visually seen, as shown in his battle against Hassan of the Cursed Arm, where he cancelled the throwing swords hurled from the darkness.[1] He reads the course of the projectile attack by using the sound of cutting air and the enemy's murderous intent. He easily repels all of True Assassin's Dirks despite having precision rivaling that of Archer able to accurately fire between Lancer's swings, and even those that cannot be perceived coming from the darkness and those that come while he is surrounded by obstacles are easily repelled with a slight swing of his lance. As long as the attack is a thrown type, he can avoid even Noble Phantasms,[1] but he can't gain the effects of this protection with respect to wide range attack types where the attack range of the weapon explodes on impact, or a direct attack by a weapon that has simply long reach.[1][2]
Noble Phantasms
[
]
Lancer's weapon is the Gáe Bolg, the spear of causation which carries a curse that reverses causality. The wounds inflicted by the spear cannot be healed as the curse of the spear renders them incapable of altering their fate, as long as the spear remains in the world. The weapon has two main techniques which can be classified as separate Noble Phantasms, the first of which reverses causality to always strike the heart, and the second of which unleashes the full potential of the curse to strike the enemy by hurling the spear with overwhelming power.[18] Cú Chulainn would never be able to harm Heracles due to God Hand nullifying all attacks ranked B or lower. However, by using his Runes in conjunction with his Noble Phantasm he'd be able to increase its rank to A temporarily, allowing him to fight against Berserker's God Hand. It would be a very disadvantageous fight, but it would still be "one with some chances."[20]
Due to Gae Bolg being a Noble Phantasm with a conceptual effect, it could kill Arcueid Brunestud even though she is superior to Lancer in pure numbers.[21]
If he were to be summoned in Ireland, he would have had potential access to a castle Noble Phantasm, a rare fortress Noble Phantasm that can only be used in Ireland, a chariot, a Blessing of Wakefulness (不眠の加護?), and the like due to being in the land where his legend took place.[22][23]
Gameplay
[
]
In the Extra series, he possesses the following skills:
Fate/EXTELLA LINK - Lancer Skills list
Magic Spear Throw - Long-Range Attack Skill - Throw the spear forward.

Spear Craft: Fangs of Earth - Rush Attack Skill/Class Skill (Lancer) - Dash around freely at high speeds and repeatedly attack the enmies aroud you.

Spear Craft: Claws of Sky - Close-Range Skill Attack - Stab the spear into the ground, jump up, and then come down in a strong slamming attack.

Ath nGabla - Four Branches of the Shallows (Ath nGabla) - Strengthing Skill - Greatly increase your attack power for a breif time, at the cost of a drop in defense.

Spear Craft: Punishment of Thorns - Action Restriction Skill - Rush forward and stab. Enemies hit by the resulting shockwave will be stunned.

Reduced Earth - Special Move Skill - Teleport forward (towards the enemy is locked on). Apon arriveing, you will knock back nearby enemies.

Gae Bolg - Peircing Spear of Death Barbs (Gae Bolg) - Rush Attack Skill/Class SKill (Lancer) - Your spear extends zigzagging towards the opponent's heart.
Development
[
]
He is a tragic Servant, who embodies the cynical notion that "wishes don't come true".[11]
Reception
[
]
In the first Popularity polls of Fate/stay night in 2004, Lancer was ranked 8th and the third most voted male character.
In the second Popularity polls of Fate/stay night in 2006, Lancer was ranked 6th and the second most voted male character.
In the Type-Moon's 10th Anniversary Character Poll, Lancer from Fate/stay night was ranked 20th and the seventh most voted male character. Lancer from Fate/EXTRA was ranked 156th. Lancer from Fate/hollow ataraxia was ranked 232nd.
References
[
]
↑ 1.00 1.01 1.02 1.03 1.04 1.05 1.06 1.07 1.08 1.09 1.10 1.11 1.12 1.13 1.14 1.15 1.16 1.17 1.18 1.19 1.20 1.21 1.22 1.23 1.24 1.25 1.26 1.27 1.28 1.29 1.30 1.31 1.32 1.33 1.34 1.35 1.36 1.37 1.38 1.39 1.40 1.41 1.42 1.43 1.44 1.45 1.46 1.47 1.48 1.49 1.50

[] Fate/complete material III: World Material - The Servants of the Fifth Holy Grail War: Lancer, p.022-023 [T]

Cu Chulainn
Class: Lancer
Master: Kirei Kotomine
Alignment: Lawful Neutral
Sex: Male
Height: 185cm
Weight: 70kg
Weapon: Armour, Spear

STR: B
CON: C
AGI: A
MGI: C
LCK: E
Noble Phantasm: B

Legend
Once Ireland was called Erin, which means "green" in Gaelic. In this land named after its abundant greenery, there was a boy with great talent. His name was Sétanta. It is said that his father was the sun god Lugh and his mother was royalty. One day, he accidentally killed the guard dog protecting the house of master blacksmith Culann. Sétanta alone strangled to death "Culann's savage dog" that was well-known to have the strength of ten men. In order to compensate for this deed, for a while he himself would carry out the duties of a guard dog. Consequently, all began to call the boy "Culann's savage dog" i.e. Cú Chulainn.

In time, the grown Cú Chulainn was accepted as a member of the famous Akaeda Knights. His actions after that rendered him unmatched. He went to the "Land of Shadows" to fulfill his own love; there with incredible magic and unrivaled demonic spearmanship, he acquired Gáe Bolg. Cú Chulainn had become invincible but the sun still set. At a young age, a close Druid's prophecy said "in exchange for glorious deeds of valor, his life would be short" and accepting such a fate, he smiled and laughed.

In his final battle Cú Chulainn battled furiously and died pierced by his own magical spear. A crow landed on the shoulder of his standing corpse in his death. It is said that it was the incarnation of the witch Morrigan who continued to give him her unrequited love.

Tactics
Naturally by his own beliefs, he prefers to fight with his full power as a warrior. However, due to the Command Spell of his Master Kotomine "Fight with everyone, then withdraw," he was commanded to involuntarily perform reconnaissance missions. Even in the middle of his first battle with EMIYA, he showed decisive action by leaving the battle to kill Emiya Shirou whom he recognized to have witnessed it. The withdrawal was also very skilled, giving the appearance of realizing that the situation was unfavorable. Contrary to his legendary battle prowess, Cú Chulainn's fighting in the Fifth Holy Grail War was extremely limited.

Class Abilities
Magic Resistance: C
Cú Chulainn holds a Magic Resistance of Rank C. Aria of two verses and below are cancelled, but beyond that High Thaumaturgy and Greater Rituals cannot even be defended against. That said, confronting a Servant of his superior speed (Agility A), finding the opportunity to use large-scale magecraft is next to impossible. Also, considerable skill is required to successfully "hit" him with the invoked magecraft. Judging from these factors, in situations of close combat, Cú Chulainn may have a "necessary and sufficient" rank of Magic Resistance.

In addition, as depicted in legend, he himself learned magecraft (18 Original Runes) in the "Land of Shadows", taking pride in having the skill and knowledge to qualify for Caster class. Even in a scene of the story, he sees through the presence of Medusa's Blood Fort Andromeda at a glance, considers the situation, and makes the decision not to destroy it. Cú Chulainn is not just a reckless warrior.

Personal Abilities
Battle Continuation: A
Legend tells that the dying Cú Chulainn tied himself to a tree before taking his last breath. For he who possesses such a legend, the dying struggle is particularly fierce. Even in a hopeless battle, Cú Chulainn was still able to demonstrate astonishing tenacity, delaying Gilgamesh for half a day.
Against Emiya who dextrously fended off his spear thrusts, Cú Chulainn countered with an unyielding fighting spirit.

Disengage: C
The ability to withdraw from the battlefield in the midst of combat. Having been commanded to go on reconnaissance missions by his Master Kotomine, it can be said that this ability was fully demonstrated. From the start, Cú Chulainn excelled in seeing through battle situations, and had the responsibility to wage war and withdraw repeatedly from all the Servants.

Runes: B
Cú Chulainn obtained 18 Runes from his studies with Scáthach (Norse Runes), appropriately using them to respond in different situations. It is said that among these runes, one with the purpose of searching existed. It was the ability that supported his elusive actions during the Holy Grail War.

Protection from Arrows: B
Ability to deal with projectiles. This is a power Cu Chulainn was born with. It's said that it's possible for him to avoid any long range attack if he has made visual confirmation of his opponent. He can deal with most projectiles even in conditions where the opponent cannot be visually seen. Even if the battle with Hasan Sabbaha, he cancelled the throwing swords hurled from the darkness. As long as the attack is a thrown type, he can avoid even Noble Phantasms, but he can't gain the effects of this protection with respect to wide range attack types where the attack range of the weapon explodes on impact, or a direct attack by a weapon that has simply long reach.

Divinity: B
The circumstances behind Cú Chulainn's great divinity is his father's existence. His father was Lugh, the god who governed over the sun, a member of the Danann divine family in Celtic Mythology. As a demigod whose father was an almighty god who possessed every skill such as knowledge, techniques and magic, and whose mother was Deichtine, younger sister of King Conchobar, he exhibited superior talent from birth. Boasting supernatural ability that separated him from ordinary people from a young age, in his training in the Land of Shadows, he received the original runes and terrible magic spear Gaé Bolg from Scáthach. Truly, he was a man predestined to become a hero. In Ireland, poetry and statues praising Cú Chulainn still remain to this day.

Noble Phantasm
Gáe Bolg: Spear of Piercing Barbed Death
Rank: B
Type: Anti-Unit
Range: 2~4
Maximum targets: 1

While this is a technique employing Gáe Bolg as a melee attack, it is originally a magic spear for throwing. With a technique that reverses the meaning of "cause and effect" in the order of things, the "result" that "the heart of the opponent has been pierced" is created earlier than the moment it is thrust. Accordingly, the "cause" that "the lance has pierced through the heart" is generated from it later. Without a great deal of luck (like Artoria), it can be said that this is a technique that determines "if it is released, the opponent is dead." However, against Servants like Heracles who can move even when their heart is destroyed, there is a small disadvantage. Compared to the Spear of Striking Death Flight, both the range of effectiveness and the destructive power are weakened. However, it is worth mentioning that "the magical energy cost is low." For having such a strong effect as "almost certainly will destroy the enemy's heart," without the need of a terrible amount of magical power, it becomes an excellent Noble Phantasm of extraordinary usability.

Gae Bolg: Striking Death Flight
Rank: B+
Type: Anti-Army
Range: 5~40
Maximum Targets: 50 People

The largest and most powerful attack delivered using Gae Bolg. The "attack that unleashes countless darts at the enemy" which legends speak of is Gae Bolg – Striking Death Flight. After accelerating through an approach run, Cú Chulainn takes to the skies and activates Striking Death Flight by hurling it towards the ground with all his might.
Different from Gae Bolg – Piercing Death Thorn, Striking Death Flight does not carry the property or concept of "always pierces the opponent's heart", but compared to Piercing Death Thorn, both power and area of effect are increased (intense consumption of Magic Energy). It is a technique that attacks the enemies together with the surrounding area, in a carpet bombing fashion. Even resilient bulwark or agile body are not immune to the power of Striking Death Flight; Gae Bolg will send the enemy horde flying. In legend, the demonic spear is said to split into 30 and pour down over the enemy, but it seems the number has increased after Cú Chulainn became a Heroic Spirit. During the battle with Emiya, Emiya spoke of Striking Death Flight "exceeding the original, Gungnir – Declaration of the Great God".

↑ 2.00 2.01 2.02 2.03 2.04 2.05 2.06 2.07 2.08 2.09 2.10 2.11 2.12 2.13 2.14 2.15 2.16 2.17 2.18 2.19 2.20 2.21 2.22 2.23 2.24 2.25 2.26 2.27 2.28 2.29 Fate/Grand Order material I - Cu Chulainn, p.156-163 translated by castor212
↑ 3.00 3.01 3.02 3.03 3.04 3.05 3.06 3.07 3.08 3.09 3.10 3.11 3.12 3.13 3.14 3.15 3.16 3.17 3.18 3.19 3.20 3.21 3.22 3.23

[] Fate/Grand Order - Lancer Profile [T]

Cú Chulainn - Lancer

Illustrator and Voice actor
Illustrator: Takeuchi Takashi
Voice Actor: Nobutoshi Canna

Parameters
Strength: B
Endurance: C
Agility: A
Mana: C
Luck: E
Noble Phantasm: B

Personal Skills
Rune Magic B
Protection from Arrows A
Disengage C

Class Skills
Magic Resistance C
Divinity B

Noble Phantasm
Gáe Bolg: Barbed Spear of Piercing Death
Rank: B
Type: Anti-Unit Noble Phantasm

Profile
A spearman who does not likes ornaments and prefers to fight as his wild nature dictates.
A heartless individual who would even murder commoners to silence them if that is part of his job, but on the other hand has a refreshing temperament when not on work. A helpful older brother-type of character.

Level 1 Bond
Height/Weight: 185cm・72kg
Source: Celtic Myth, Ulster Cycle
Region: Ireland
Alignment: Lawful Neutral  Gender: Male
His rune magecraft is being sealed away (for is too tiresome).

Level 2 Bond
"Barbed Spear of Piercing Death"
Rank: B  Type: Anti-Unit Noble Phantasm
Gáe Bolg.
A cursed spear that will surely pierce through the opponent's heart once thrust.
Its true identity is that of a reversal of causality, in which the spear is released after the outcome of the spear hitting the heart.
Since it is an attack based on the outcome, it is considered impossible to be evaded.

Level 3 Bond


Not knowing when to give up. Makes possible to fight even with an injury that puts him on the verge of death, and he will survive so long a decisively fatal wound is not received.



The ability to break away from combat.
Due to simultaneously having this two Skills, Cú Chulainn displays his real worth more in skirmishes than in one-on-one duels. But since he likes duels very much, this fact does not really stands out.

Level 4 Bond


Possession of runes - the magic crest of Northern Europe.
The warriors of the Land of Shadows must be proficients in every martial arts, a warrior that just swing a spear shall not be raised - maybe because his teacher Scáthach had such policy, Cú Chulainn is also well versed in magecraft.
A nearly first-rate master, but since he himself sees it as a hindrance it is not employed much.

Level 5 Bond
His childhood name is Setanta.
Cú Chulainn holds the meaning of "Culann's savage dog".
It derives from the incident when, as a child, Setanta killed the watchdog of the wealthy merchant Culann by mistake and vowed "if this dog has a child, I'll raise it into a similarly strong, faithful watchdog. Until then, I shall devote myself to protect you".

Interlude
The matured Cú Chulainn enrolled into the "Knights of the Red Branch" that protected the king of Ulster.
It was arranged so that he would proceed to a mystic region called Land of Shadows as a condition for marrying with a certain woman.
Cú Chulainn overcame many obstacles and reached the Land of Shadows. Falling into the good graces of the lord of that Land - the witch Scáthach - he trained under her and mastered many magecrafts and martial arts.

クー・フーリン - ランサー

イラストレーター・声優
ILLUST:武内崇
CV:神奈延年

パラメータ
筋力:B
耐力:C
敏捷:A
魔力:C
幸運:E
宝具:B

保有スキル
戦闘続行 A
矢避けの加護 B
仕切り直し C

クラス別能力
対魔力 C
神性 B

宝具
刺し穿つ死棘の槍
ランク:B
種別:対人宝具

キャラクター詳細
装飾を好まず、野生のままの戦いを好む槍兵。
仕事とあらば口封じとして一般人でも殺害する非情な人物だが、反面、仕事抜きならさっぱりした気質をしている。面倒見のよい兄貴肌。

アンロック条件:絆レベルを1にすると開放
身長/体重:185cm・72kg
出典:ケルト神話、アルスター神話
地域:アイルランド
属性:秩序・中庸  性別:男性
ルーン魔術は(面倒くさいので)封印している。

アンロック条件:絆レベルを2にすると開放
『刺し穿つ死棘の槍』
ランク:B  種別:対人宝具
ゲイ・ボルク。
突けば必ず相手の心臓を貫く呪いの槍。
その正体は、槍が相手の心臓に命中したという結果の後に槍を放つ因果逆転の一刺。
結果ありきの一撃なので回避は不可能とされる。

アンロック条件:絆レベルを3にすると開放
○戦闘続行:A
往生際が悪い。瀕死の傷でも戦闘を可能にし、決定的な致命傷を受けないかぎり生き延びる。

○仕切り直し:C
戦闘から離脱する能力。
この二つのスキルを併せ持つため、クー・フーリンは一騎打ちより合戦においてその真価を発揮する。
本人は一騎打ち大好きなのであまり目立たない事実ではあるが。

アンロック条件:絆レベルを4にすると開放
○ルーン:B
北欧の魔術刻印・ルーンの所持。
影の国の戦士は武芸百般、ただ槍をふるうだけの戦士は育てない―――
師匠であるスカサハはそんな方針だったのか、クー・フーリンはルーン魔術にも精通している。
一流に近い使い手だが、本人は邪魔なのであまり使用しない。

アンロック条件:絆レベルを5にすると開放
幼名はセタンタ。
クーフーリンとは「クランの猛犬」という意味である。
これは幼い頃、クランという豪商の番犬をあやまって殺してしまったセタンタが「この犬に子供があるのなら、自分が育て、同じように強く忠実な番犬にする。それまでは、この身が貴方を守り通そう。」と誓った事からきている。

アンロック条件:「ゲッシュ」をクリアすると開放
成人したクーフーリンはアルスター王を守る「赤枝の騎士団」に入団。
ある女性と結ばれるための条件として影の国と呼ばれる魔境に向かう事となる。
クーフーリンは数多の難関を越え、影の国に到達。国の主・スカサハに気に入られ、その元で鍛錬を積み、数々の魔術と体術を会得した。

↑ 4.0 4.1 4.2 4.3 4.4 4.5 4.6 4.7 4.8 4.9

[] Fate/complete material II: Character Material - Characters: Lancer, p.070-073

Lancer

Character Data 010
Affiliation: Kirei Kotomine's Servant
True Identity: Cu Chulainn (Childhood name: Sétanta)
Gender: Male
Height: 185cm
Weight: 70kg
Image Color: Blue
Talents: Fishing, diving, mountain climbing
Likes: Women with strong will, irrational promises
Dislike: Other than your himself, irrational promises
Natural enemy: Gilgamesh, Archer
Origin: Ireland

Nasu Kinoko & Takeuchi Takashi • Character Discussion

>The catalyst for Lancer's birth

Nasu: As with Berserker, Lancer's concept did not change much from old "Fate".

Takeuchi: I feel like Lancer was more tragic in old "Fate"... though I suppose he was quite tragic in this one as well.

Nasu: In old "Fate", Lancer had a Master who was more like Rin, so his role as the rival was a bit easier to grasp.

Takeuchi: Old "Fate" didn't have a character like Archer (Emiya), so Lancer filled the rival role instead. In old "Fate", Lancer was basically used as a gopher by a high-maintenance girl. I guess you could say he's had bad luck with women since those days.

Nasu: True enough.

Takeuchi: Who was Cu Chulainn's Master?

Nasu: He trained under Scathach, known for being as cool-headed and beautiful as she was aloof. She definitely didn't coddle him. By persistently challenging her to a fight, Cu Chulainn earned his place as her apprentice and was granted the use of Gae Bolg.

Takeuchi: I believe his Master in old "Fate" was based on Scathach. She left an impression on me because I felt bad for Cu Chulainn finding himself under the influence of another woman like that, even after death.

>Regarding Lancer's character design

Takeuchi: As Nasu mentioned earlier, Lancer's design concept hasn't changed much since the early days. His face in particular remains quite familiar.

Nasu: Especially his hairstyle, slicked back bangs hanging loose, and a ponytail.

Takeuchi: When I was designing Lancer's outfit, I asked Nasu about his concept and thought a bodysuit would go well with his character.

Nasu: Yeah, I think I asked for a bodysuit reminiscent of "Vampire Hunter D".

Takeuchi: I took that direction and ran with it. The final design does have a touch of sci-fi flavour to it, but my initial drafts were even more sci-fi.

Nasu: We had to tone down that sci-fi aspect to make him fit in better with the other characters. We couldn't have "Space Lancer 2004" running around.(laughs) Now that I think about it, Lancer's not the only blue character.

Takeuchi: Yeah, Saber's blue too... Why did we make Lancer blue, then?

Nasu: Blue's really the only colour that suits his concept, don't you think?

Takeuchi: Come to think about it, I've never seen a non-blue variation of Lancer. I guess it was also because he was clearly positioned as Archer's rival.

Nasu: The ancient rivalry between red and blue... As a side note, Gae Bolg was Lancer's Noble Phantasm in old "Fate" as well. When I was coming up with the abilities for it, I thought the notion of a battle between the "rules" laid out by Noble Phantasms would be a new and fun idea.

Takeuchi: Though it didn't work on Saber. (laughs)

Nasu: Haha, yeah. The sure-kill spear that didn't kill. That's the good old Gae Bolg for you. But that was the stage at which I figured out the true direction of "Fate". It wouldn't be about values and numbers, but a battle between concepts.

>The Noble Phantasm Gae Bolg

Nasu: A weapon that strikes with guaranteed fatal blows sounds like a total cheat, but I guess it doesn't sound as bad now since we were just talking about Berserker earlier. (laughs)

Takeuchi: Are there any limitations to the use of Gae Bolg, or is the True Name the only requirement?

Nasu: The Noble Phantasm will activate if Lancer is within spear-striking distance of his opponent. If his opponent has a high luck stat, the attack can still miss, though that is quite rare.

Takeuchi: So luck is the only way to dodge it?

Nasu: Yeah, I'd say so. Even if your agility was EX level, it wouldn't matter. The only reason why Saber survived Gae Bolg's strike was because her luck stat was high.

Takeuchi: I guess her precog ability helped too.

Nasu: I like to call it intuition. Add to that her B-level luck, and she was able to avoid fatal injury even though she still couldn't dodge the attack completely.

Takeuchi: Do you think it would hit Archer?

Nasu: Without a doubt. Archer knows that too, which is why he stays as far away from Lancer as possible. If Lancer ever got that look in his eyes and took the stance, Archer would backpedal like his life depended on it, because it would.

Takeuchi: I see... well, they do say discretion is the better part of valor. What about throwing Gae Bolg?

Nasu: Gae Bolg: Soaring Spear that Strikes with Death is purely destructive power.

Takeuchi: I guess it would be too much if Gae Bolg could strike the target's heart without fail when thrown as well.

Nasu: That would be an ability worthy of Lugh, Lancer's father... it might even be more powerful that Fragarach.

Takeuchi: Eternal Force Blizzard! Instant death. Something like that, right?

Nasu: Sounds about right. The legendary battles of ancient mythology were quite literally played out in god mode, after all.

>The message Lancer carries as a character

Nasu: I imagine most of us want to feel like we've lived a good life. That thought was at the forefront of my mind when I was writing for Lancer. In "hollow" he has a line where he questions the necessity of hating one's enemy. I feel like that sentiment sums up Lancer's personality. I guess you could say it's my version of the manga "Haguregumo", just not as... unique. (laughs)

Takeuchi: Or even Josuke Higashikata.

Nasu: I don't know... Josuke's a bit silly.

Takeuchi: What about Juuza of the Clouds, then?

Nasu: Juuza is supposed to be like the clouds, but in reality he's totally paralyzed. He's just forever dragging his feelings for Yuria around.

Takeuchi: His death was admirable, though.

Nasu: To elaborate further on Lancer, he's always been portrayed as a slender warrior. The design concept for him was a panther, with tight groupings of solid muscles.

Takeuchi: I always imagined Lancer with softer eyes, which may be why I always drew him with slightly heavy eyes that were angled downward. But then I saw that other artists always drew Lancer with extremely sharp eyes. I would never have realised my mistake if I hadn't noticed that.

Nasu: ...You're terrible (laughs)

Takeuchi: Yeah, I angled Lancer's eyes down for "Zero" before I checked the main game and remembered that his eyes were in fact angled skyward.

Nasu: Lancer's a truly hopeless character, isn't he? I mean, he died in an accident in Sakura's route... (laughs)

Takeuchi: How did he meet his end in Saber's route?

Nasu: He was defeated by Gil in the church basement. We didn't elaborate on this in the game, but Lancer was actually battling against Gil for half a day before he lost, so I think it's safe to say that Gil sustained some serious injuries in that encounter.

Takeuchi: I doubt many of the people who played the game spent much time thinking about that particular fight.

Nasu: Cu Chulainn is probably one of the top two greatest heroes in Irish Mythology. This may seem contrary to what I was saying about Berserker, but Lancer's agility and combat experience are enough to keep him alive even without some overwhelming super ability. Lancer is definitely a character based on the survivor archetype.

Takeuchi: Regardless of concept, as far as the story is concerned, Lancer was basically the bait in a giant dog fighting ring. Even the thrown Bolg was just there to make Aegis seem more impressive.

Nasu: Hey! Are you dissing Lancer!?

Takeuchi: I just think he was a very unfortunate character, all things considered. But I guess that's why the impression he left on me was something akin to clouds.

ランサー - 魔槍を操る蒼き光の御子

Character Data 010
所属:言峰綺礼に仕えるサーヴァント
真名:クー・フーリン(幼名セタンタ)
性別:男性
身長:185cm
体重:70kg
イメージカラー:青
特技:魚釣り、素潜り、山登り
好きな物:気の強い女、無茶な約束
苦手な物:回りくどい方針、無茶な約束
天敵:ギルガメッシュ、アーチャー
出身:アイルランド

奈須 きのこ&武内崇 • キャラクター別対談

宝具であるゲイ・ボルクについて
奈須:相手のヒットポイント分のダメージを与える必中武器だなんて、どう考えてもチートです(笑)。 先にバーサーカーを語った後だからチート度が低いと錯覚してしまいますが。

武内:"ゲイ・ボルク"の使用に制限ってある?真名さえ開示すればかならず当たるんだっけ?

奈須:槍が届く距離の戦闘でタイミングさえ合ってれば、宝具(ゲイ・ボルク)は必ず発動する。でも相手の幸運の数値が高かったら、まれに外れる。

武内:ラックでしか回避できない?

奈須:あれはラックでしか避けられません。たとえ敏捷度がEXだったとしても無理です。"ゲイ・ボルク"の一撃に対してセイバーがギリギリで致命傷を避けられたのは、彼女の幸運が高かったからです。

武内:セイバーには先読みの能力もあるか。

奈須:"直感"ですね。彼女はそれにプラスして"幸運値"がBだから、完全には避けられなくても致命傷を免れることができた。

武内:アーチャーには当たる?

奈須:確実に当たる。アーチャーはそれを知っているから近づかない。もし目の前でランサーが本気で放つ気になって"ゲイ・ボルク"の構えに入ったら、もう必死で下がる下がる。

↑ 5.00 5.01 5.02 5.03 5.04 5.05 5.06 5.07 5.08 5.09 5.10 5.11 5.12 5.13 5.14

[] Fate/EXTRA material - SERVANT Parameter and Skills: SERVANT LANCER, p.016

SERVANT LANCER


Master: Rin Tohsaka

Identity: Cú Chulainn

Gender: Male

Height, Weight: 185cm/70kg

Alignment:Lawful Neutral

Strength: B

Endurance: A

Agility: A

Mana: C

Luck: E

Noble Phantasm: B



Class Skills



Personal skills






Noble Phantasm


Gae Borg: Barbed Spear that Pierces with Death


Rank: B
Type: Anti-Unit
Range: 2 ~ 4
Maximum number of targets: 1 person

ランサー


マスター:遠坂凛

真名:クー・フーリン

性別:男性

身長・体重:185cm/70kg

属性:秩序・中庸

筋力:B

耐久:B

敏捷:A

魔力:C

幸運:E

宝具:B



クラス別筋力
■ 対魔力:C
第二節以下の詠唱による魔術行使を無効化する。
大魔術、儀礼呪法など大掛かりな魔術は防げない。

保有スキル
■ 戦闘続行:A→C
窮地における生命力の強さ。
瀕死の傷でも戦闘を可能とし、決定的な致命傷を受けない限り生き延びる。
マスターにより耐久値がブーストされたためか、一時的にランクが下がっている。

■ 神性:B
神霊適性を持つかどうか。
高いほどより物質的な神霊との混血とされる。粛清防御と呼ばれる特殊な防御値をランク分だけ削減する効果もある。菩堤樹の悟り、信仰の加護、といったスキルを打ち破る。

宝具
■ 刺し穿つ死棘の槍
ランク:B
種別:対人宝具
レンジ:2~4
最大補足:1人
突けば必ず相手の心臓を貫く、と恐れられた呪いの朱槍。
連命そのものに対し攻撃。
ゲイ・ボルクを回避するには敏捷性の高さではなく、ゲイ・ボルクの発動前に運命を逆転させる力……幸運値の高さが重要となる。
宝具発動に必要とする魔力量が少なく、しかも一撃一殺という、最も効率のいい宝具。

↑ 6.0 6.1 6.2 6.3 6.4 6.5 6.6 6.7 6.8

[] Fate/EXTRA material - Character Profile: Cu Chulainn, p.062

Cu Chulainn


Height: 185cm

Weight: 75kg

Blood type: Unknown

Birthday: Unknown

Image Color: Blue

Talent: Fishing, diving, mountain climbing

Likes: Women with strong will, irrational promises

Dislikes: Devious methods, betrayal

Natural enemy: Julius, Leo

クー・フーリン


身長: 185cm

体重: 75kg

血液型: 不明

誕生日: 不明

イメージカラー: 青 

特技: 魚釣り、素潜り、山登り

好きなもの: 気の強い女、無茶な約束

嫌いなもの: 回りくどい方針、裏切り

天敵: ユリウス、レオ

↑ 7.00 7.01 7.02 7.03 7.04 7.05 7.06 7.07 7.08 7.09 7.10 7.11 7.12 7.13 7.14 7.15 7.16 7.17 7.18 7.19 Fate/EXTELLA material - Lancer Servant English, p.017
↑ 9.0 9.1

[] Fate/Grand Order - Caster Profile [T]

Cú Chulainn - Caster

Illustrator and Voice actor
Illustrator: Mata
Voice Actor: Nobutoshi Canna

Parameters
Strength: E
Endurance: D
Agility: C
Mana: B
Luck: D
Noble Phantasm: B

Personal Skills
Rune Magic A
Protection from Arrows A
Disengage C

Class Skills
Territory Creation B
Divinity B

Noble Phantasm
Wickerman: Cage of Scorching Flames
Rank: B
Type: Anti-Army

Profile
A brave warrior from Celtic, Ulster mythology.
A member of the Knights of the Red Branch and the strongest warrior in Ulster, at the same time that he is a hero that employs the magic spear received from the leader of the underworld Scáthach, he is also said to be a practitioner of runes - the magecraft of Northern Europe that was inherited from his mentor.

Level 1 Bond
Height/Weight: 185cm・70kg
Source: Celtic mythology
Region: Europe
Alignment: Lawful Neutral  Gender: Male
When a Caster, he does not put on any metallic equipment.

Level 2 Bond
Having manifested as a Caster, he underwent a sudden change from when manifesting as a Lancer and now torments his opponents as a user of diverse magecrafts.
Has powerful heat・flame attacks as his specialty. Apparently, the "ansuz" rune is being employed in this.

Level 3 Bond


Possession of the Magic Crest of Northern Europe - the runes. By making proper use of this, powerful and varied effects are mastered.
However, simultaneously employing multiple effects (joint use) is inadvisable.

Level 4 Bond
"Cage of Scorching Flames"
Rank: B  Type: Anti-Army
A giant composed by countless tree branches makes his appearance. Said giant wears flames on his body and applies intense heat・flames damage by rushing on the target.

Level 5 Bond
The cage on the torso of the giant that appeared as a Noble Phantasm is empty, hence the giant rages while seeking the offerings to the gods.
This is not a secret art of the runes, but a Noble Phantasm of the Celtic druids, given to the Child of Light who manifested as a "Celt magus" that manipulates sweltering heat.

Interlude
Having manifested as a Caster, he apparently has imposed upon himself the role as one who guides.
Not as a true druid, but as a temporary one--
So long they continue together, he shall illuminate the path that the Master walks on.

クー・フーリン - キャスター

イラストレーター・声優
ILLUST:また
CV:神奈延年

パラメータ
筋力:E
耐力:D
敏捷:C
魔力:B
幸運:D
宝具:B

保有スキル
ルーン魔術 A
矢避けの加護 A
仕切り直し C

クラス別能力
陣地作成 B
神性 B

宝具
灼き尽くす炎の檻
ランク:B
種別:対軍宝具

キャラクター詳細
ケルト、アルスター伝説の勇士。
赤枝騎士団の一員にしてアルスター最強の戦士であり、異界の盟主スカハサから授かった魔槍を駆使した英雄であると同時に、師から継いだ北欧の魔術――ルーンの術者でもあったという。

アンロック条件:絆レベルを1にすると開放
身長/体重:185cm・70kg
出典:ケルト神話
地域:欧州
属性:秩序・中庸  性別:男性
キャスター時は金属類の装備を身に付けない。

アンロック条件:絆レベルを2にすると開放
キャスターとして現界した彼はランサーとしての現界時とはうって変わり、多彩な魔術の使い手として敵対者を苦しめる。
強力な熱・火炎攻撃を得意とする。これには「アンサズ」のルーンを使用していると思しい。

アンロック条件:絆レベルを3にすると開放
○ルーン魔術:A
スカサハから与えられた北欧の魔術刻印、ルーンの所持。これを使い分けることにより、強力かつ多様な効果を使いこなす。
ただし、効果の同時複数使用(併用)は不可。

アンロック条件:絆レベルを4にすると開放
『焼き尽くす炎の檻』
ランク:B  種別:対軍宝具
ウィッカーマン。無数の細木の枝で構成された巨人が出現。
巨人は火炎を身に纏い、対象に襲い掛かって強烈な熱・火炎ダメージを与える。

アンロック条件:絆レベルを5にすると開放
宝具として出現した巨人の胴部の檻は空であり、そのため、巨人は神々への贄を求めて荒れ狂う。
これはルーンの奥義ではなく、炎熱を操る「ケルトの魔術師」として現界した光の御子に与えられた、ケルトのドルイドたちの宝具である。

アンロック条件:「森の賢者」をクリアすると開放
キャスターとして現界した彼は、導く者としての役割を自らに課していると思しい。
真のドルイドではなく、仮初めのそれとして――
共に在り続ける限り、彼はマスターの行く道を照らしてくれるだろう。

↑ 10.00 10.01 10.02 10.03 10.04 10.05 10.06 10.07 10.08 10.09 10.10 10.11 10.12 10.13 10.14 10.15 10.16 10.17 10.18 10.19 10.20 10.21 10.22

[] Fate/EXTRA - Cu Chulainn (Lancer) Matrix [T]

Class: Lancer
Master: Rin Tousaka
True Name: Cu Chulainn
Noble Phantasm: Gae Bolg: Spear of Barbaric Impalement
Keyword: Wielder of Runes, Child of Light
Strength: B, Defense: A, Agility: A, Magic: C, Luck: D
Anti-Magic: C, Marshal: A→C, Divinity: B

Kewords

01 - Gae Bolg: Spear of Barbaric Impalement
A crimson spear that always finds its mark.
The truth of this weapon is far more sinister than legends says. In a strange reversal of causality, the target and ultimate effect of this weapon have already ordained. The only variable presence in a successful attack is whether it is used or not. Once used, it is not a question of if it will hit, but how long it will take for its target to die. Agility will not help one avoid Gae Bolg should it used, but instead it all depends on one's luck.
Gae Bolg is the most efficient and deadly of all the Noble Phantasms, as it has a very low magic cost and almost always results in a one-hit kill.

02 - Wielder of Runes
A form of thaumaturgy unique to Northern Europe.
The foundation of this craft is the engraving of words of power into stone to induce various mystical events. It is believed that this ability has been lost to time.

03 - Child of Light
A hero believed to be the offspring of a god and a human. Demigods are fairly common amongst the Legendary Souls drawn from human mythology, although few of them are considered more than second-tier heroes by their adherents. This one, however, is believed to have inherited the blood of the Absolute One, the main god of his nation's pantheon of immortal beings.

01 - 刺し穿つ死棘の槍
突けば必ず相手の心臓を貫く、と恐れられた呪いの朱槍。
その真相は、槍が「心臓に命中した」結果の後に槍を放つ、因果の逆転である。
槍を放つ前に、前提として槍は既に心臓に命中している。
放ったから当たった、ではなく、当たったから放った、という、運命そのものに対する攻撃と推測できる。
ゲイ・ボルクを回避するには敏捷性の高さではなく、ゲイ・ボルクの発動前に運命を逆転させる力……幸運値の高さが重要となる。

宝具発動に必要とする魔力量が少なく、しかも一撃一殺という、最も効率のいい宝具。

02 - ルーン使い
北欧に伝わる魔術系統。
力ある文字を石に刻むことにより、様々な神秘を引き起こす、と言われた。
現在では失われた古い魔術。

03 - 光の御子
神と人の間に生まれた半神半人の英雄。
神や精霊とのハーフは神話体系(マイソロジ)の英霊であるなら珍しい特性ではないが、光の御子、と呼ばれる英霊は多くない。
おそらく、その民族神話における絶対者、主神の血を引く英霊と推測される。

Skills

Anti-Magic [C]
Nullifies minor spells consisting of chants of two verses or less. Ineffective against high-level thaumaturgy and the greater rituals.

Marshal [A→C]
Increases vitality when in deadly peril. Makes it possible to fight even with fatal injuries and remain alive as long as a final decisive blow isn't struck. The ability rank of this skill has been temporarily reduced as his Master chose to boost his overall endurance at the expense of this ability.

Divinity [B]
This is a measure of one's Divine Spirit aptitude. At high levels, this ability allows one to break through and defend against otherwise invincible skills, such as Sri Maha Bodhiya.

対魔力[C]:
第二節以下の詠唱による魔術を無効化する。
大魔術、儀礼呪法など大掛かりな魔術は防げない。

戦闘続行[A→C]:
窮地における生命力の強さ。
瀕死の傷でも戦闘を可能とし、決定的な致命傷を受けない限り生き延びる。
マスターにより耐久値がブーストされているためか、一時的にランクが下がっている。

神性[B]:
神霊適性を持つかどうか。
高いほどより物質的な神霊との混血とされる。
粛清防御と呼ばれる特殊な防御値をランク分だけ削減する効果もある。
菩堤樹の悟り、信仰の加護、といったスキルを打ち破る。

Details

01 - Character Background
One of the great heroes of Ireland.

First appears as demigod in Ulster mythology and is said to be the sun of Lugh, the God of light, and Deichtine, the younger sister of Conchobar, King of Ulster. His birth name was Setanta and from an early age it was foretold that he would become a hero of renown.

He was christened Cu Chulainn (which means Culann's Hound) after accidently killing the watchdog of a wealthy merchant. He took the name with pride, vowing, "I will devote myself to the rearing of a watchdog worthy of replacing the one I have just slain and until such time as that dog is ready, I will personally watch over and guard your life with my own."

Upon becoming an adult, Cu Chulainn was enrolled into the order known as the Knight of the Red Branch and then sent to the warrior-woman Scathach in the Land of Shadows to train as a warrior, and, according to darker rumors, meet his death.
Fortunately, Scathach saw in him a worthy student and disciple and passed on all that she knew of both martial arts and the more powerful aspects of thaumaturgy. Upon the completion of his training, Cu Chulainn was given the mighty demonic spear Gae Bolg and told to depart from the Land of Shadows.

After returning to be beloved homeland, his triumphs were many...but that is a story for another time.

02 - "Knights of the Red Bough"
All of the stories that surround the legend of Cu Chulainn are universal in their praise for his loyalty, heroism and compassion. And although he was famous for his terrifying "battle spasms" while on the battle field, his seemingly blind rage never overcame his steadfast adherence to his moral code.

Unfortunately, it was this unwavering adherence to honor that in the end lead to Cu Chulainn's demise. As a Celtric warrior, he was bound by a number of geasa (taboos), the violation of which would greatly weaken him. As a youth, he single-handedly defended Ulster from the armies of Queen Medb of Connacht. To add to insult of a single man annihilating her army, Cu Chulainn came across her on the field of battle, but chose to spare her life as he thought it dishonorable to kill a woman. From that moment on, the desire to see him die became an all-consuming passion for the disgraced queen.

Medb eventually came up with a scheme to weaken Cu Chulainn by using his own code of honor against him. By forcing him to violate several of the geasa that bound him, Cu Chulainn was stripped of the divine protections and gifts that were his birthright. However, he still managed to die with honor, tying himself to a stone pillar even as his life faded, as he vowed to never fall in battle.

01 - 人物背景:
アイルランドの大英雄。
アルスター神話で登場する。
光の神ルーとアルスターの王コノールの妹デヒテラとの間に生まれた半神半人の英雄。
幼名をセタンタと言い、幼い頃から「この子は英雄として生きる」と予言されていた。

          ◆

クーフーリンとは「クランの猛犬」という意味である。
これは幼い頃、クランという豪商の番犬をあやまって殺してしまったセタンタが「この犬に子供があるのなら、自分が育て、同じように強く忠実な番犬にする。それまでは、この身が貴方を守り通そう」と誓った事からきている。
クーフーリンの二つ名は、名高いクランの猛犬を素手で殺めた力量もさることながら、子供でありながら飼い犬を失った主人を心遣ったセタンタの器量を称えたものである。

たくましく成人したクーフーリンは、アルスター王を守る「赤枝の騎士団」に入団。
ある女性と結ばれるための条件として影の国と呼ばれる魔境に向かう事になる。

クーフーリンは幾多の難関を越え、影の国に到着。
国の主・魔女スカサハに気に入られ、その元で修練を積み、数々の魔術と体術を会得した。
影の国には、彼の青春時代のすべてがあった。
尊敬できる師と、情熱を捧げるに相応しい武術と、切磋琢磨しあえる友人。
とくに、共にスカサハの一番弟子を狙うライバルであった剣士フェルグスとの間に生まれた友情は、対等に戦える相手がいなかった彼にとって唯一のものだっただろう。
クーフーリンは修行の末、スカサハの武術を全て習得し、その証として魔槍ゲイ・ボルクを手に入れ、影の国を後にした。

親友フェルグスからの惜しみない賞賛を受けながら、懐かしの故郷・アルスターに帰ったのだ。

02 - 『赤枝の騎士』
伝説では、クーフーリンは勇敢で慈悲深く、気持ちのいい青年と伝えられている。
戦場では容赦なく敵を倒したクーフーリンだが、信義を重んじ、一度交わした誓いは決して破らない高潔さを持っていた。

ケルトの戦士には"誓約(ゲッシュ)"と呼ばれる、各々の戒めを行う習慣があり、誓約を破った戦士には呪いがかかったという。

クーフーリンはその二つ名の通り、"生涯犬は食べない"という誓約を持っていたが、後に、そういった幾つかの誓約が彼の命を奪う要因になった。

          ◆

自国アルスターに侵攻してきた敵軍との戦い。
誓約によって国中の戦士が眠ってしまう窮地の中、誓約から逃れたクーフーリンはただ一人で敵軍を食い止めることになった。
敵軍の女王・メイヴは"たった一人の戦士に何ができる"と侮り、意気揚々とアルスターに進軍。
―――だが。
優れた戦車乗りでもあったクーフーリンはこの大軍を一人で撃退する。

厳密には、大軍が通る道を単身で守りきったのである。
幾度となく攻め入るメイヴ軍を撃退するクーフーリン。
アルスター中にかかった眠りの誓約が解けるまで、あと一年。

その一年間のうちにメイヴはアルスターを落とさなければならない。
だがクーフーリンの守りは鉄壁で、誰一人としてクーフーリンを破れなかった。

そんな戦いのおり、クーフーリンは争いの元凶であるメイヴを捕らえるが「女を殺すわけにはいかない」と彼女を釈放した。
女王であるメイヴにとって、それこそ最大の侮辱である。
私的な復讐者と化したメイヴは一計を案じ、実力でクーフーリンを倒すのではなく、誓約を破らせる事で彼の弱体化を狙った。

女王メイヴは「誓約を受け入れるのなら、必要以上にアルスターの領土を荒らさない」とクーフーリンに交渉し、多くの誓約、交渉をクーフーリンに持ちかけた。
……そこには無数の罠があったが、クーフーリンは自らの破滅を承知した上で、女王からの誓約を受けた。

メイヴの誓約は、たしかにアルスターを守るだろう。

だが。その誓約はすべて、クーフーリンを陥れるために働くものだった。

          ◆

クーフーリンが交わした制約の中でも有名なのは、メイヴと交わした「一日に一人の戦士とのみ戦う」と、旧友フェルグスとの間に交わした「一勝一敗」の、ふたつの誓いである。
数多くの策略の果てに、クーフーリンは己に課した誓約を一つずつ破らされていく。

野戦の最中、羊の肉と騙されて犬の肉を口にし。
友と自国と欧の名誉のため、すべての加護を投げ捨て。
最後には、無二の親友であったフェルグスとさえ戦わされ。

……そうして。完全に力を失った英雄は、防衛の要になる川瀬において、ついに、致命傷となる槍を、その脇腹に受けたのだ。
誇り高いクーフーリンは倒れたまま果てる事をよしとせず、柱に自らの体を縛り付け、絶命するまで戦い続けた。
これが四枝(アトゴウラ)の川瀬。
後に、赤枝の騎士たちに不退転の証とされたルーンである。

↑ 11.0 11.1 11.2 11.3 11.4 11.5 11.6 11.7 11.8 11.9

[] Fate/Side Material - Encyclopedia: Lancer [Servant], p.077 [T]

Lancer [Servant]
Heroic Spirit of the lance. Requires supreme agility, as well as excellent close combat skills. Though they tend to be less flashy than the other classes, they are a very reliable type of Servant.
The Lancer in the story has a rough and tumble personality, but at his core he believes in justice and is easy to get along with. He is an agreeable youth acting out the role of one gentle in disposition yet strong in body.
His true identity is the great Celtic hero, Cu Chulainn.
If the stage of this Holy Grail War were anywhere but Japan, he would be a shining existence on par with Heracles and King Arthur.
As was mentioned in the story, he is a Heroic Spirit that specializes in survival, capable of returning alive no matter how hopeless the situation. Unfortunately, this time luck wasn't on his side.
It is said that in the midst of battle he would unleash a fearsome war cry, and at the same time his body would swell and bulge with muscle as his behavior became like that of a demon.
However, though he possesses the qualifications to be a Berserker there is no doubt that the Lancer class suits him best.
He responded to the summoning solely because he wanted to engage in a valiant fight to the death, but this simple wish was never granted to him.
He is a tragic Servant, who embodies the cynical notion that "wishes don't come true".

ランサー【サーヴアント】
槍兵の英霊。最高の敏捷性を求められ、白兵戦にも優れた能力が求められる。華やかさはないが堅実なサーヴァントタイプ。
粗野で暴力的な性格だが、根は正義の人で人懐っこい。気は優しくて力持ち,を地で行く好青年である。
正体はケルトの大英雄クーフーリン。
この聖杯戦争の舞台が日本でなければ、ヘラクレスやアーサー王に並ぶ光り輝く存在だったろう。
本編でも述べられた通り、生き延びる事に特化した英霊。どのような死地からも生還するが、今回は運が無かった、と言わざるを得ない。
曰く、"戦闘時では雄叫びと共に体が盛り上がり、悪鬼の如く振舞った"とか。
パーサーカーの条件も備えた人物だが、やはり彼に はランサーが似合っていよう。
"死力を尽くした闘い"を求め、それを代償として召喚に応じたランサーだが、願いが葉えられた事は一度も無かった。
願いとは葉えられないもの、という皮肉さを体現した悲運のサーヴァントである。

↑ Fate/EXTELLA material - Encyclopedia: Cu Chulainn, p.106
↑ Fate/Grand Order - GUDAGUDA Meiji Restoration, Section 5: The Secret Emiyamaru
↑ Fate/hollow ataraxia - "According to Saber, he would also fit in the Berserker class, but I didn't believe it."
↑ 15.0 15.1

[] Comptiq 2007-06 issue - Fate Dojo Q & A:
Q: Cu Chulainn and Diarmuid are both Lancers, but who will win in an honourble battle?

Q: Cu Chulainn and Diarmuid are both Lancers, but who will win in an honourble battle? In their first engagement with Saber, Cu Chulainn was being pressed hard, but Diarmuid was able to pressure Saber. So... Diarmuid is stronger

A: Diarmuid received more backup from his Master (magical energy supply), thus in terms of pure firepower, Diarmuid was stronger. In Japan, both of them received 0 geographical boost (from the cultural sphere), but if the stage was in Ireland --- Cu Chulainn would have an edge.


Q:同じランサーであるクーフーリンとディルムッドがガチンコで戦ったら、 どっちが勝ちますか?初登場時のクーフーリンはセイバーに押しまくられ ましたが、ディルムッドは逆に押してましたよね?ということは ディルムッドのほうが強い……? (三重県/高原の清水)

A:ディルムッドはマスターからのバックアップ(魔力供給量)が 優れているので、単純な火力勝負ならディルムッドに軍配が上がるかと。 日本ではどちらも地形効果はゼロですが、舞台がアイルランドなら ―――クーフーリンに一本かと。

↑ 16.0 16.1 Fate/hollow ataraxia - 10/08 - Streets - That past is already
↑

[] Fate/complete material III: World material - FAQ with Nasu: Servants, p.132


Q: If the Holy Grail War were set in Europe, would Cu chulainn (Lancer), King Arthur (Saber), and Heracles (Berserker) be roughly equal in power?

Q: If the Holy Grail War were set in Europe, would Cu chulainn (Lancer), King Arthur (Saber), and Heracles (Berserker) be roughly equal in power?

A: ...Well, if we're talking western Europe in general I'd say the first two would be powered up to an equal degree... though England and Ireland, the odds would be sharply in the respective hero's favor. Heracles would display excellent power in all of western Europe.

Q:もし聖杯戦争の舞台はヨーロッパ圏であった場合、クー・フーリン(ランサー)はアーサー王(セイバー)やヘラクレス(バーサーカー)と互角以上の性能を持つことができたのでしょうか?

A:......いや、西欧圏でいうならふたりとも同じぐらいパワーアップするかと......イングランドやアイルランドならぐるっと逆転しますが。ヘラクレスは西欧圏でも十全の力を発揮するかと。

↑ 18.0 18.1 18.2

[] Dengeki Hime 02/2006, Type-Moon Double Maniax - [Fate] Dream Battle - Rider vs. Lancer

Nasu-san CHECK!
The two boasting the most outstanding speed in the game. Rider, able to move like a bullet and race around the battle field vs Lancer, able to counter attackers with a lance with the speed of gods, while standing still. In average speed, Rider is faster, but in immediate maximum output, Lancer will win. While Rider has several different types of Noble Phantasms, Lancer also has protective ability from rune sorcery, hence counter measures from her mystic eyes. Against an expert monster exterminator like Lancer, one who has a monster alignment such as Rider might seem to be in for a tough fight....!?

○騎vs槍
編集部(予測)
接近戦では能力に劣るライダーが撃破されるのはほぼ確実。得意の愛馬を駆るヒット&
アウェイ戦法も、体当たりなのでランサーに宝具を投げられたら終わりの可能性も。
対するランサーの弱点は、戦闘を楽しむその性格。宝具を出すのを邪魔するとは考え難い。
加えて女好きの彼が暗黒神殿の下の素顔を露そうとする彼女を制止する筈もなく……合掌。
魔眼を前に魔力Cの彼ではひとたまりもないだろう。よって、ライダーの勝利か?

奈須さ~んCHECK!
本編でも屈指のスピードを誇る両者。自身を弾丸と化し戦場を駆け回るライダーと、
不動のまま神速の槍捌きで迎撃するランサー。平均速度ではライダーが上回っていますが、
瞬間的な最大速度ではランサーに分があります。多種多様な宝具を持つライダーですが、
ランサーもルーン魔術による加護で魔眼対策はバッチリ。怪物退治はお手の物であるラン
サー相手に、魔物としての属性を持つライダーは苦戦を強いられそうですが……!?

↑ Fate/stay night - Unlimited Blade Works route - Day 13: VS berserker - Rin-sama embarrassed
↑

[] Comptiq 2006-03 issue - Fate Dojo Q & A:
Q: Lancer, Caster, Assassin, and True Assassins; all with normal attack and Noble Phantasms of B or lower. If they fought against Berserker, wouldn't it be a one-sided fight? Or are there any of them that can match up against him?

Q. Lancer, Caster, Assassin, and True Assassins; all with normal attack and Noble Phantasms of B or lower. If they fought against Berserker, wouldn't it be a one-sided fight? Or are there any of them that can match up against him?

A: Assassin and True Assassin by themselves wouldn't even be a fight. Lancer can use his runes and Noble Phantasm together to temporarily raise the rank to A, but it'd still be a very disadvantageous fight but "one with some chances". Caster has two front-line Saber-class defenders, so if she uses her high sorcery then she'd be able to deal damage, but that would be limited to 2 to 3 times. Also, in the game, Assassin was able to push Berserker back because of the terrain advantage and support from Caster (weighing down Berserker's body). ...Well, since the compatibility of Assassin and Berserker is horrible, the fact that Berserker was even pushed back is enough to say "whoah, Kojirou's amazing".

Q:通常攻撃、宝具共にBランク以下であるランサー、キャスター、アサシン、真アサシン。バーサーカーと戦った場合、やっぱり一方的な展開になるんでしょうか?それとも中には渡り合える者がいたりするのでしょうか?(愛知県/フラウボウ)

A:アサシン、真アサシンは単体では勝負になりません。ランサーはルーン魔術と宝具の組み合わせで一時的にAランクに届くので、かなり不利な戦いになりますが「いくらか勝ち目のある」戦いを展開できます。キャスターはセイバークラスの前衛が2人ほどいるのなら大魔術でダメージを与えられますが、それも2回か3 回が限度でしょう。ちなみに、本編でアサシンがバーサーカを撃退しているのは地形の有利とキャスターの援護(バーサーカー本体への重圧)があったおかげです。……いやまあ、それでもアサシンとバーサーカーの相性は最悪なので、撃退したこと自体、小次郎スゲーということになるのですが。

↑

[] Comptiq 2005-10 issue - Fate Dojo Q & A:
Q: I have a question about the Servants vs. other character answer in the 9th issue of Comptiq. About a Servant with an average Noble Phantasm, who would have one and what rank would that have been?

Q. I have a question about the Servants vs. other character answer in the 9th issue of Comptiq. About a Servant with an average Noble Phantasm, who would have one and what rank would that have been?

A: That's a serious question. The level of the Noble Phantasm would be B, and ability being represented by numbers would be called an average Noble Phantasm. Broken Phantasm, Barrier of the Wind King (C), Gae Bolg (thrown) (B), that sort.
On the other hand, those with conceptual effects, destiny interference types fall into a special category. With Gae Bolg (regular), no matter how much Arcueid might be superior to Lancer in numbers, she will be killed depending on her luck, you see.

Q:9月号のサーヴァントと他作品キャラ比較についての質問です。対象は平均的な宝具を持ったサーヴァントとのことでしたが、本編でいうとどのくらいのランクの宝具を持った、誰がそれに近いのでしょうか?

A:まじめな質問です。宝具のレベルはB、能力が数値で表せるものが平均的な宝具
といえます。ブロークンファンタズム(不明)、風王結界(C)、ゲイボルグ(投げ)(B+)、といったものでしょうか。逆に効果が概念的なもの、運命干渉系が特殊な部類です。ゲイボルグ(通常)はいかにアルクェイドが能力値的にランサーを凌駕していようと、運次第でコロっと殺されますから。

↑

[] Fate/complete material III: World material - Records of Heavens Feel - Servant System: Factors Affecting Servant Status, p.014

Land

Recognition

Magic energy of Master



The three factors that affect the status of a Servant are land, recognition, and Master.
With respect to land and recognition, the closer one is to the land (cultural sphere) that was the stage of the legend of the Heroic Spirit and the more that spirit is known, the stronger he is.
The meaning of "strong" here is the Servant becoming closer to the strength, equipment of that of the legend. Through this blessing, the addition of another NP is also possible.
If Chu Chulainn had been summoned in his homeland Ireland, a castle, chariot, protection of sleeplessness, and the like would have been added probably. Also, if the magic energy of the Master is powerful, the Servant will become closer to his strength as in the legend.



Saber - Master: Emiya Shirou

Saber - Master: Emiya Kiritsugu

• STR: B
• STR: B

• CON: C
• CON: A

• AGI: C
• AGI: A

• MGI: B
• MGI: A

• LCK: B
• LCK: D

• Noble Phantasm: C
• Noble Phantasm: A++

Class Skills:
• Magic Resistance: A
• Riding: B
Class Skills::
• Magic Resistance: A
• Riding: A

Because Artoria has served under several Masters, she is a good example for demonstrating the effect that the Master's magical energy has on Servant Status. Because Shirou's Magical Paths were obstructed, Artoria's ability cannot be called that of the best Servant while having Shirou as her Master.
Artoria's abilities rose when having Kiritsugu as Master. Her LCK status decreased since even Kiritsugu still could not provide sufficient magical energy, as a result the status was affected by the Master's way of life. When having Rin as a Master, Artoria was able to unleash her original abilities without being affected by the Master.


↑ Fate/Apocrypha Volume 3: Triumphal Return of the Saint - Chapter 03, p.420