Ciel (シエル, Shieru?) is the seventh member of the Burial Agency of the Holy Church. Formerly an incarnation of Michael Roa Valdamjong, she goes undercover at Souya's high school, acting as Shiki Tohno's senior. She is one of the six heroines of Tsukihime -A piece of blue glass moon-, Tsukihime -The other side of red garden-, and the Tsukihime Remake series.
Profile
[
]
Background
[
]
Birth name: Elesia (エレイシア, Ereishia?). A girl born in the French countryside. Being chosen as Roa's new body caused her to awaken at age 12, become a vampire, take over her village, and eventually become a center figure of what would be called the French Incident. But after being defeated by Arcueid, Roa transferred to the next incarnation and the corpse taken to Curia revived as Elesia. The girl, now immortal for as long as Roa is alive, discarded her name, was baptized as Ciel, and joined the Church as a vampire hunter. In order to one day die as a human.[1] She became an Executor at the age of only 13 due to her unique form of immortality and knowledge obtained from Roa. According to Noel, she once spent an entire year lurking in the sewer of a European city just to kill a single vampire. The vampire had the ability to monitor the entire city as if it was its own body, allowing it to monitor for any intruders, but had trouble locating people in the sewers due to how filthy they were. Ciel waited until she had an opportunity to attack it, managing to make the kill after the vampire had eliminated a group of other Executors who were sent to kill it, then attacking it from below when it wasn't expecting it. Killing vampires is all she is good at, and all she has done for every single day since she joined the Church.[4]
Ciel holds the seventh seat in the Burial Agency, along with the codename "Bow" (弓, yumi?).[5] Ciel defeated and killed three of the Twenty-seven Dead Apostle Ancestors; the 22nd Chromclay Petastructure, the 25th Be'ze, and an unknown Dead Apostle Ancestor with the Principle of Forest (森?). She currently possesses Be'ze and Chromclay's Idea Blood, and utilizing them to facilitate unique magecraft.
Sensing Roa's reincarnation, Ciel assigned herself alone to Souya town to punish him. She lives a double life, steadily getting rid of the constantly proliferating vampires by night, and infiltrating a school by day to investigate and observe her Roa body candidate, Shiki Tohno, eldest son of the Tohno family. Despite her suspicions about the assignment of her pupil Noel, she tries to use Shiki to seal and/or destroy Roa, but things don't go as planned.[1]
Appearance
[
]
She looks about 16-18.[1]
Personality
[
]
She's poses as upperclassman in Shiki's school but is actually a Holy Church Executor who came to Souya after Roa. The people of the Church call her by the pejorative name Quinze. Although she explains their secrets to Shiki as he gets involved in the situation, the mystery woman doesn't tell him a thing about herself. She's Lawful Good. Extroverted, timid, and active. Has a generally quiet and caring personality. However she's also nosy and curious, and can't leave lazy or depressed people alone.
The character whose personality best fits the big sister archetype. She takes cares of people and does anything they ask. She's satisfied with her class representative-like position... but, things get different if she grows affectionate to the person she's helping. Her teasing can get mean-spirited. Maybe she just likes troubling her loved ones.
However, that's all just the base Ciel. She uses a different persona as an Executor, so she can become a cold-blooded machine to fulfill her objectives if necessary.[1]
Role
[
]
Tsukihime
[
]
Arcueid Route
[
]
Ciel Route
[
]
In the Normal Ending of Ciel's route, when Shiki stabs himself to kill Roa, Ciel sacrifices her own life to keep Shiki from dying from his suicide attempt. It ultimately ends with Shiki training to becoming an Executor in hopes that he can find a way to bring Ciel back to life before he himself dies as well.[6]
In the True Ending of Ciel's route, Ciel pulls out all the stops to defeat Red Arcueid before she kills Shiki and consumes the city entirely. She first uses up all her magical energy utilizing the Seventh Scripture to snipe Arcueid from afar from minute one. When that fails, now out of juice and having lost one form of the Seventh Scripture, Ciel consumes Vlov's Idea Blood to replenishes her Magical Energy, knowing she would lose some of her humanity in the process, and continues the assault, with both weapons and magecraft, the latter of which she detests using. Finally, she unleashes Calvaria's Star, the apex of human magecraft, which finally destroys Arcueid's body and splits the city in half.[7]
Melty Blood
[
]
Abilities
[
]
Ciel is a member of the Burial Agency, special Executors meant for the slaying of Dead Apostles. She became an Executor at the age of only 13 due to her unique form of immortality and knowledge obtained from Roa. Her body has extremely high physical and magical potential, allowing her to jump to and from the tops of lamp posts, leap from buildings and between rooftops, and carry a person at full sprint without breaking a sweat.
Ciel is a master of disguise, being able to play both the parts of an upper high school student and an executer. All the more impressively, she can inherit differing personalities traits of each role distinctively.
Combat
[
]
She can be called almighty in any weapon she uses. She has no true favorites, but guns are the only ones she likes overall. While preferring to utilize combat weapons like swords and guns, she is quite strong as a magus, as it is her actual nature, but she doesn't normally utilize it because of her dislike for resorting to Roa's knowledge. Ciel was taught swordplay by Be'ze, being his last disciple. Ciel's technique is superior to Vlov Arkhangel's, however, she loses their fight as a result of Vlov's Principle continually eating into her.[8] In Type Lumina, Ciel uses a variety of martial arts moves, from kicks and punches to throws and jabs, along with her Black Keys
Black Keys
[
]
Ciel's primary weapon as an Executor are the Black Keys, one of the standard Scriptural Weapons of the Church created from pages of the Bible through thaumaturgy. While seen as an archaic weapon inferior to modern firearms and more difficult to use than Ash Locks by most Executors, Ciel holds the Black Keys to be one of the most effective tools at her disposal, saying they belong among the "conclusive weapons" that Noi Seonator Granfatima speaks of. She prefers the use of them due to their convenience, with her being able to create as many as she needs on the spot so long as she has the magical energy and carry them around wherever she wants. She also finds them convenient due to being easy to sneak them past airport and border security, and not requiring the heavy maintenance the Seventh Holy Scripture does. They are also more useful during her duties rescuing the victims of vampire attacks, as she can hide them beneath her clothing as to not intimidate scared civilians in the way that carrying a large weapon like the Seventh would.[9]
Ciel utilizes her Black Keys as a primary weapon in conjunction with the Burial Agency's secret martial arts technique known as the Iron Plate Effect, but also makes use of them as a channel for her magecraft, using them to demarcate the boundaries of her barriers and channel spells such as the Cremation Rite (火葬式典, Kasō Shikiten?) and Internment Rite (土葬式典, Dosō Shikiten?) into them in combat. She also shows the ability to both create and control large numbers of Black Keys telekinetically. During her fight with Noel, she manifests hundreds of them in midair and commands them to fall like rain in order to destroy the vampirized Noel's undead minions. Her degree of control over them is such that not one weapon missed its target.[10]
Seventh Holy Scripture
[
]
A treasured holy relic created by the Holy Church to demonstrate the Lord's power, though for a long time there was no one to use it. The embodiment of a miracle crafted by human hands. A conceptual weapon structured into a scripture a thousand years ago by luring a rare phantasmal species still lingering on the surface and forging divine iron by casting the girl who served as a lure into the fires of the furnace.[11]
Soul-smashing ー that is, starting with execution, all the possible causes of death that may befall a human are inscribed, while the divine iron's natural frequency chants a baptismal admonition against them.[11]
As an anti-vampire weapons platform it can assume six basic weapon forms, using the horn of a unicorn as the backbone. It can operate as a gunblade form, a bayonetted-form, a greatsword form, and an armour form, while it can also be deployed as a ballista form.[11]
Each form of the Seventh Holy Scripture is associated with a specific cause of death, with the seven in question being immolation, illness, blood loss, collision, insanity, torture, and conviction. Its form as a sword is associated with blood loss, its form as a rifle is associated with immolation, and its form as a pile bunker is associated with conviction. Ciel is able to combine the different forms together to use the weapon in more unorthodox ways, being seen to combine the rifle, sword, and an unknown weapon associated with collision into a single multi-purpose weapon. When changing the form of the weapon into a sword, Ciel uses the incantation "In the name of our Lord, come forth, O' third cause of death", and when changing the weapon into a pile bunker, the incantation instead mentions the seventh cause of death. The other forms presumably use a similar incantation.[8]
The weapon is fed with ammunition using pages of sacred scripture, and its output varies depending on which texts are used. When fighting against Roa, Ciel is seen to use scriptures which make reference to the denial of reincarnation, and later changes the scriptures to those from the New Testament relevant to the study of angelology. The weapon can also change the type of physical projectiles it fires, with the options including both "reactive light" manifested by the horn of the unicorn that forms its backbone and depleted uranium shells.
Torture Instrument: Virgin Pain
[
]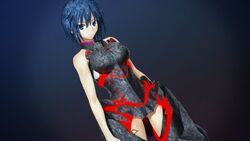 A conceptual device repurposed into an armour, it is modelled on an Iron Maiden, a torture instrument made for identifying witches. All those who wear the armour cannot take it off until they die, but at the same time they can't die until the armor has affirmed whether they're a witch or not either. Ciel can make great use of this armour as her curse will cause her to revive when she dies from the armour's affirmations, and also will revive her when she dies by removing the armour, thus allowing her to reuse it. At the same time, the armour itself would stop her dying from any attacks while it affirms whether she's a witch or not, minimising the number of brief lapses between her dying and reviving. She used this armour in the battle against Vlov Arkhangel, the device preventing her from dying against his Principle's near-Absolute Zero temperatures. Although she would have been able survive against his Principle in the end, the temperatures would constantly be killing her over and over again and preventing her from moving or fighting.[8]
Magecraft
[
]
Ciel is extremely gifted at Magecraft, having by sheer random chance mutated to be born with very powerful magic circuits. It is stated that if the average magi's mana generation was 20, then Ciel's is 5000. Ciel has over twice the amount of magical energy than Clock Tower's record holder McDonell Trambellio Elrod, even if his magical energy regeneration is unparalleled. She also has inherited a variety of spells from Roa's knowledge, such as his Numerology, High Speed Incantation, Simplified Repetitive Incantation, Suggestion, and Necromancy. Due to her past with Roa, she refuses to use any of his magecraft unless absolutely necessary, such as when fighting against Dead Apostle Ancestors and True Ancestors, relying instead on the Sacraments and weaponry she obtained from the Church in normal fights. During Dead Apostle Noel's Arcade Mode ending in Type Lumina, Ciel uses Baptism Rite to kill her.
She is highly skilled in the use of Sacraments, having invented a spell known as Tower Ring: Tower of Imprisonment (幽閉塔?) in order to contain Arcueid. It is a powerful Bounded Field, similar in nature to those used by Noel, that is strong enough to temporarily restrain a Dead Apostle Ancestor. It is conceptually based on the Holy Church's Strasbourg Cathedral that stood for centuries as the tallest building in the world. It was insufficient to hold back Arcueid, however, forcing Ciel to instead try and use Chromclay's Gothic Fort: Cathedral Idea Blood instead.[4]
Ciel is also capable of altering and erasing the memories of others, as seen when she takes away Shiki's memories of her.[12] Noel explains that Ciel used her suggestion magecraft to trick Shiki and everyone at school.[10] According to Noel, the amount of magical energy needed to constantly cast suggestion magecraft on as many people as she did at the school is so immense that only she could've done so.[4]
Idea Blood
[
]
During her fight with Arcueid, Ciel is revealed to be in possession of three Idea Bloods of the Dead Apostle Ancestors she has killed, Be'ze, Vlov Arkhangel, and Chromclay Petastructure, located in her chest, abdomen, and right hand respectively. The Idea Bloods can be temporarily transformed into Magical Energy Reactors in order to replenish her own mana, though the cost comes at her own humanity. She can also only use them for a short time; Vlov's Idea Blood is estimated to only last three minutes before it becomes exhausted. While powered by the Idea Blood's, by chanting "Set — Code Galgalim", Ciel is able to complete a ten-count incantation spell repeatedly within a single breath. The result of that spell each time released bolts of lightning with 2 million volts.
She can use one of them, Chromclay's Gothic Fort: Cathedral, to create a variant of the original's Idea Blood usage, though she cannot do the same with the other two; in the case of Vlov's, it is because the foundation of his Idea Blood is not mature enough to create a grand thaumaturgy from it, let alone weave a new one. However, she is able to work around Be'ze's by using the Idea Blood to initiate a separate magecraft that Ciel created.
Calvaria Galgalim: Calvaria's Star (カルヴァリアの星?):
An angelic wheel deployed in the stratosphere, blazing with focused sunlight.[13]
A reflector created with magecraft. The 50km long, 10km wide blade of light beaming towards the surface can be compared to an aurora possessing mass, or a guillotine of light. It is High Thaumaturgy that Ciel came up with after defeating the Ancestor who was her sword mentor; apparently she uses his Idea Blood to initiate it.[13]
After firing at full power against Arcueid the remaining magical energy was used to fire one last shot, and it was this move that turned the tables in the endgame.[13]
Gothic Fort: Cathedral (大聖堂?):
A phase-transforming, isolation-type Bounded Field developed to contain Rank IX Dead Apostles.[15]
On the other hand, it possesses a space distortion function that the original lacked, allowing the user to alter the size of the space within at will. As this High Thaumaturgy demands a special sort of magical energy to be used, it cannot easily be used repeatedly.[15]
Ciel is able to use it twice before she needs to replenish the "restricted magical energy" from the idea blood, which isn't easily done.
Immortality
[
]
Ciel possess a unique form of immortality that has her live as long as Roa is alive. However, she requires to kill a Dead Apostle to sustain herself.
Development
[
]
Conception and creation
[
]
Takashi Takeuchi states that while Ciel is the Tsukihime heroine with the biggest variety of outfits, she isn't particularly fashionable, which fits with her unaffected and sincere personality. She doesn't stop getting into battle after battle, to the point it feels like all of her CGs are fight scenes. He made her more sprites in cute poses to compensate that.[1]
Takeuchi states that Ciel-sensei is mostly identical to the Ciel in the main story, but he drew her a bit older. He also made a military instructor outfit for the more rigorous lessons.[2]
References
[
]
↑ 1.00 1.01 1.02 1.03 1.04 1.05 1.06 1.07 1.08 1.09 1.10 1.11 1.12 1.13 1.14

[] Tsukihime Material I - CHARACTER Profile: Ciel, p.14-21

Ciel


Gender: Female

Age: 18 (estimated)

Blood type: O

Height: 165cm

Weight: 52kg

Birthday: May 3rd

Alignment: Lawful Evil (Good from an objective perspective, but Ciel considers herself evil)

Likes: Spicy food, volunteer work, tinkering, puppies

Dislikes: Lazy lifestyles, vampires

Natural enemy: None in particular (she's an all-rounder)



Comment from the illustrator: One of the main heroines in this game. Arc's narrative foil. While she's the Tsukihime heroine with the biggest variety of outfits, she isn't particularly fashionable, which fits with her unaffected and sincere personality. She doesn't stop getting into battle after battle, to the point it feels like all of her CGs are fight scenes. I made her more sprites in cute poses to compensate that.

Explanation: Birth name: Elesia. A girl born in the French countryside. Being chosen as Roa's new body caused her to awaken at age 12, become a vampire, take over her village, and eventually become a center figure of what would be called the French Incident. But after being defeated by Arcueid, Roa transferred to the next incarnation and the corpse taken to the Curia revived as Elesia. The girl, now immortal for as long as Roa is alive, discarded her name, was baptized as Ciel, and joined the Church as a vampire hunter. In order to one day die as a human.

Sensing Roa's reincarnation, Ciel assigned herself alone to Souya town to punish him. She lives a double life, steadily getting rid of the constantly proliferating vampires by night, and infiltrating a school by day to investigate and observe her Roa body candidate, Toono Shiki, eldest son of the Toono family. Despite her suspicions about the assignment of her pupil Noel, she tries to use Shiki to seal and/or destroy Roa, but things don't go as planned.

One of the story's heroines. She looks about 16-18. She's poses as upperclassman in Shiki's school but is actually a Holy Church Executor who came to Souya after Roa. The people of the Church call her by the pejorative name Quinze. Although she explains their secrets to Shiki as he gets involved in the situation, the mystery woman doesn't tell him a thing about herself. She's Lawful Good. Extroverted, timid, and active. Has a generally quiet and caring personality. However she's also nosy and curious, and can't leave lazy or depressed people alone.

The character whose personality best fits the big sister archetype. She takes cares of people and does anything they ask. She's satisfied with her class representative-like position... but, things get different if she grows affectionate to the person she's helping. Her teasing can get mean-spirited. Maybe she just likes troubling her loved ones.

However, that's all just the base Ciel. She uses a different persona as an Executor, so she can become a cold-blooded machine to fulfill her objectives if necessary.

シエル


性別:女性

年齢:18歳 (推定)

血液型:O

身長:167cm

体重:52kg

生日: 5月3日

属性:秩序・悪 (客観的には善だが、本人は悪だと思っている)

好きな物: 香辛料の効いた料理、ボランティア、道具いじり、仔犬

嫌いな物: だらしのない生き方、吸血鬼

天敵: とくになし (オールラウンダー)



COMMENT from STAFF
本作で描かれるもう一人のヒロインであり、アルクと対を成すフションのメインヒロイン。
当分のは1月中一番ながら、決してファッショナブルというわけではない所も、な女らしい。とにかくバトルにつドバトルで、イベントカットのほとんどがシーンではないかと思う。その分、立ちぬは可愛いポーズをしてやしました。(武内崇)


EXPLANATION
本名をエレイシア。フランスの片田舎に生まれた少女。転生体としてロアに選ばれたことで12歳の頃に覚醒、吸血鬼となって町の住人を支配下におき、後にフランス事変と呼ばれる戦いの中心人物となる。
だが、アルクェイドに倒されたロアは次の転生先に移り、法王庁に連ばれた遺体はエレイシアとして蘇生をはたした。
ロアが生きている限り死なない存在になった少女はその名を捨て、シエルという洗礼名をもって吸血鬼狩りの一員に加わる事となる。いつか人間として死ぬために。

ロアの転生を感知したシエルは、処罰を行うため単独で総耶の街へと赴任してくる。夜は着々と増え続けている吸血鬼たちの処理をこなし、昼はロアの転生体候補である遠野家の長男、遠野志貴の調査と監視の為、生徒として学校に潜り込むという二重生活を送る事となった。
弟子であるノエルが赴任してきた事に違和感を覚えつつ、ロアを封する為、志貴を利用しようとするが・・・・・・。

本編のヒロイン。外見年齢は16〜18才ほど。志貴の通う高校の上級生だが、正体はロアを追って総耶にやってきた聖堂教会の代行者。教会の人間からは戒めをこめて「キャーンズ」とも呼ばれている。事態に巻き込まれた志貴に裏事情を説明してくれるものの、彼女自身については何ひとつ教えてくれない謎の人物。
秩序・善。外向的、弱気、能動的。基本は穏やかでおとなしい性格。が、世話好きで、だらしない人や落ち込んでいる人を放っておけず、つい口をはさんでしまう。

性格的には一番のお姉さんキャラ。なんでもしてくれるし、面倒をみてくれる。シエル本人もそういう委員長的な位置付けに満足している・・・・
のだが、その相手に愛情を持ってしまうと話は違ってくる。また、いたずら心からちょっとしたイジワルをする事も。好きな相手を困らせるのが好きなだけかもしれない。

ただし、それはあくまで"素"のシエルの性格。
今の彼女は代行者としての自分を作っているので、必要とあらば冷徹な機械となって目的を遂行する。

↑ 2.00 2.01 2.02 2.03 2.04 2.05 2.06 2.07 2.08 2.09 2.10

[] Tsukihime Material I - CHARACTER Profile: Ciel-sensei, p.90-91

Ciel-sensei


Gender: Female

Age: 20 (estimated)

Blood type: O

Height: 165cm

Weight: 52kg

Birthday: May 3rd

Alignment: Lawful Good

Likes: Spicy food, volunteer work, tinkering, puppies

Dislikes: Lazy lifestyles, vampires

Natural enemy: Neco



Comment from the illustrator: Our reliable instructor from the hint segment. The bonus segments were produced all in one go after the main product was complete… True Type-Moon style right there. This makes this design my most recent work. She's mostly identical to the Ciel in the main story, but I drew her a bit older. I also made a military instructor outfit for the more rigorous lessons.

知得留先生


性別:女性

年齢:20歳 (推定)

血液型:O

身長:167cm

体重:52kg

生日: 5月3日

属性:秩序・善

好きな物: 香辛料の効いた料理、ボランティア、道具いじり、仔犬

嫌いな物: だらしのない生き方、吸血鬼

天敵: 猫アルク



COMMENT from STAFF
我らがお助けコーナーの頼れる教官。
おまけコーナーは、一通りの制作が完了してから、ノリでー気に制作する・・・というのがTYPE-MOONの流腹であり、しかるに絵やデザインとしては本作の中で一番新しいものとなります。本編のシエルとほぼ変わっていないですが、すこしだけ歳を重ねたイメージで描いています。軍隊の女性教官みたいな服装でスパルタ指導を行うシエル先生も見てみたかった。(武内崇)

↑ Tsukihime -A piece of blue glass moon- - Rainbow in the Night route - Day 8: "Reverse Hatching II"
↑ 4.0 4.1 4.2 Tsukihime -A piece of blue glass moon- - Rainbow in the Night route - Day 9: "Bow of the Skies I"
↑

[] Tsukihime Material I - GLOSSARY: Burial Agency, p.98

Burial Agency
A secret division of the Holy Church, an organisation of Europe's prominent religion whose name means "universal".

It comprises seven militants called 'executors' after their intended role to "execute the Lord's teachings as His proxy". Its extraterritoriality within the Church precludes the attainment of power and in return affords it freedom from authority. A walking armoury; a security force consisting of a mere handful of people. They are in charge of exterminating the "inhuman things" that never show themselves, which the Church condemned as heresies — vampires.

Ciel holds the seventh seat in the Burial Agency, along with the codename "Bow".

埋葬機関
普遍的という名を掲げた欧州の一大宗教組織^聖堂教会、が擁する機密部門。
七人の戦闘員によって構成されており、『主の教えを人の手で代行する』という役割を与えられた彼らは代行者と呼称される。
権力に近寄れないかわりに権力に縛られない、教会の中の治外法権。動く武器庫。ごく少数で組織された公安警察。決して表に出てくる事はなく、教会から異端と認定された人間でないモノ⸺吸血鬼の殲滅を主務としている。
シエルはこの埋葬機関の第七位であ弓、の称号を持つ。

↑ Tsukihime -A piece of blue glass moon- - Rainbow in the Night route - Normal End - Day 15: "Rainbow at Night"
↑ Tsukihime -A piece of blue glass moon- - Rainbow in the Night route - True End - Day 15: "The Blue of a Bright Day"
↑ 8.0 8.1 8.2 Tsukihime -A piece of blue glass moon- - Rainbow in the Night route - Day 5: "Distant Ocean of Frost"
↑ Tsukihime -A piece of blue glass moon- - Rainbow in the Night route - Day 10: "Bow of the Skies II"
↑ 10.0 10.1 Tsukihime -A piece of blue glass moon- - Rainbow in the Night route - Day 9: "Bow of the Skies II"
↑ 11.0 11.1 11.2

[] Tsukihime Material I - GLOSSARY: Seventh Holy Scripture, p.98-99

Seventh Holy Scripture
A treasured holy relic created by the Holy Church to demonstrate the Lord's power, though for a long time there was no one to use it. The embodiment of a miracle crafted by human hands. A conceptual weapon structured into a scripture a thousand years ago by luring a rare phantasmal species still lingering on the surface and forging divine iron by casting the girl who served as a lure into the fires of the furnace.

Soul-smashing ー that is, starting with execution, all the possible causes of death that may befall a human are inscribed, while the divine iron's natural frequency chants a baptismal admonition against them.

The combined form of the six armaments - dual guns, bayonet, great sword, armor, and the core - assembled onto the horn of a unicorn is operated as a mobile anti-vampire weapons platform, and when further deployed it can also transform into a ballista.

第七聖典
聖堂教会が主の威光を示す為に作りあげ、長らく使い手が不在だった門外不出の聖遺物。
人為的に作りあ れた奇跡の具現。
千年前、地上に残っていた稀少な幻想種をおびき寄せ、呼び水となった少女ごと電にくべる事で神鉄を錬成し、教典として組み上げた概念武装。
魂砕き⸺すなわち断罪死をはじめとした、人間が背負うであろう死の要因があまねく記され、神鉄はその固有震動でこれを戒める洗礼を詠唱し続けている。
一角馬の角を基本骨子に双銃、銃剣、大剣、甲冑、コアの六つの武装を組み上げた形態は対吸血鬼武装車両として扱われ、更に展開す事によって破城弩弓形態へと変形可能。

↑ Tsukihime -A piece of blue glass moon- - Moon Princess route - Day 11: "Vermillion, Crimson Moon I"
↑ 13.0 13.1 13.2

[] Tsukihime Material I - GLOSSARY: Calvaria's Star, p.99

Calvaria's Star
A halo deployed in the stratosphere, blazing with focused sunlight.

A reflector created with magecraft. The 50km long, 10km wide blade of light beaming towards the surface can be compared to an aurora possessing mass, or a guillotine of light. It is High Thaumaturgy that Ciel came up with after defeating the Ancestor who was her sword mentor; apparently she uses his Idea Blood to initiate it.

After firing at full power against Arcueid the remaining magical energy was used to launch one last shot, and it was this move that turned the tables in the endgame.

カルヴァリアの星
成層圏に展開し、太陽の光を集束して燃え盛る天使の車輪。魔術によって作られた反射鏡。地上に向けて照射される長さ五十キロ、幅十キロに及ぶ光の刃は質量を持ったオーロラとも、光のギロチンとも例えられる。
シエルが剣の師匠でもあった祖を倒して編み出した大魔術であり、起動にはそのイデアブラッドが使用されている模様。
アルクェイドに対してフルパワーで照射された後、残された魔力を用いた一射が行われており、これが最終局面における逆転の一手となった。

↑ 15.0 15.1 15.2

[] Tsukihime Material I - GLOSSARY: Cathedral (Bounded Field), p.98

Cathedral (Bounded Field)
A phase-transforming, isolation-type bounded field developed to contain Rank Ⅸ Dead Apostles.

It originally belonged to the Ancestor signifying kingdom, and was a wall with a 30km diameter that isolated everything it enclosed from the outside world. Compared to the original, Ciel's version is a conceptual barrier that can only contain a single instance or kind of object.

On the other hand, it possesses a space distortion function that the original lacked, allowing the user to alter the size of the space within at will. As this High Thaumaturgy demands a special sort of magical energy to be used, it cannot easily be used repeatedly.

大聖堂(結界)
IX階梯の死徒を封じ込めるために開発された相転移式隔絶型結界。
本来は王国を現す祖が所有していたモノで、直径三十キロメー もの壁で囲った内部を外界と遮断するが、シエルの物はオリジナルに対し、対象物を一個ないし一種封じ込める概念的な結界となっている。
一方でオリジナルにはない空間歪曲の機能が備わっており、内側の空間サイズを任意に変更させる事を可能とする。この大魔術の使用には特殊な魔力が必要となるため、たやすく連発する事はできない。