Ciel (シエル, Shieru?) is the seventh member of the Burial Agency of the Holy Church. Formerly an incarnation of Michael Roa Valdamjong, she goes undercover at Souya's high school, acting as Shiki Tohno's senior. She is one of the five heroines of Tsukihime -A piece of blue glass moon- and the Tsukihime Remake series.
Profile
[
]
Background
[
]
Birth name: Elesia (エレイシア, Ereishia?). A girl born in the French countryside. Being chosen as Roa's new body caused her to awaken at age 12, become a vampire, take over her village, and eventually become a center figure of what would be called the French Incident. But after being defeated by Arcueid, Roa transferred to the next incarnation and the corpse taken to Curia revived as Elesia. The girl, now immortal for as long as Roa is alive, discarded her name, was baptized as Ciel, and joined the Church as a vampire hunter. In order to one day die as a human.[1]
Ciel holds the seventh seat in the Burial Agency, along with the codename "Bow" (弓, yumi?).[3] Ciel defeated and killed three of the Twenty-seven Dead Apostle Ancestors; the 22nd Chromclay Petastructure, the 25th Be'ze, and an unknown Dead Apostle Ancestor with the Principle of Forest (森?). She currently possesses their Idea Blood, and utilizes them to facilitate magecraft.
Sensing Roa's reincarnation, Ciel assigned herself alone to Souya town to punish him. She lives a double life, steadily getting rid of the constantly proliferating vampires by night, and infiltrating a school by day to investigate and observe her Roa body candidate, Shiki Tohno, eldest son of the Tohno family. Despite her suspicions about the assignment of her pupil Noel, she tries to use Shiki to seal and/or destroy Roa, but things don't go as planned.[1]
Appearance
[
]
She looks about 16-18.[1]
Personality
[
]
She's poses as upperclassman in Shiki's school but is actually a Holy Church Executor who came to Souya after Roa. The people of the Church call her by the pejorative name Quinze. Although she explains their secrets to Shiki as he gets involved in the situation, the mystery woman doesn't tell him a thing about herself. She's Lawful Good. Extroverted, timid, and active. Has a generally quiet and caring personality. However she's also nosy and curious, and can't leave lazy or depressed people alone.
The character whose personality best fits the big sister archetype. She takes cares of people and does anything they ask. She's satisfied with her class representative-like position... but, things get different if she grows affectionate to the person she's helping. Her teasing can get mean-spirited. Maybe she just likes troubling her loved ones.
However, that's all just the base Ciel. She uses a different persona as an Executor, so she can become a cold-blooded machine to fulfill her objectives if necessary.[1]
Role
[
]
Tsukihime
[
]
Arcueid Route
[
]
Ciel Route
[
]
Melty Blood
[
]
Abilities
[
]
Combat
[
]
Ciel was taught swordplay by Be'ze.
Black Keys
[
]
Ciel's primary weapon as an Executor are the Black Keys, one of the standard Scriptural Weapons of the Church created from pages of the Bible through thaumaturgy. While seen as an archaic weapon inferior to modern firearms and more difficult to use than Ash Locks by most Executors, Ciel holds the Black Keys to be one of the most effective tools at her disposal, saying they belong among the "conclusive weapons" that Noi Seonator Granfatima speaks of. She prefers the use of them due to their convenience, with her being able to create as many as she needs on the spot so long as she has the magical energy and carry them around wherever she wants. She also finds them convenient due to being easy to sneak them past airport and border security, and not requiring the heavy maintenance the Seventh Holy Scripture does. They are also more useful during her duties rescuing the victims of vampire attacks, as she can hide them beneath her clothing as to not intimidate scared civilians in the way that carrying a large weapon like the Seventh would.[4]
Ciel utilizes her Black Keys as a primary weapon in conjunction with the Burial Agency's secret martial arts technique known as the Iron Plate Effect, but also makes use of them as a channel for her magecraft, using them to demarcate the boundaries of her barriers and channel spells such as the Cremation Rite (火葬式典, Kasō Shikiten?) and Internment Rite (土葬式典, Dosō Shikiten?) into them in combat.
Seventh Holy Scripture
[
]
A treasured holy relic created by the Holy Church to demonstrate the Lord's power, though for a long time there was no one to use it. The embodiment of a miracle crafted by human hands. A conceptual weapon structured into a scripture a thousand years ago by luring a rare phantasmal species still lingering on the surface and forging divine iron by casting the girl who served as a lure into the fires of the furnace.[5]
Soul-smashing ー that is, starting with execution, all the possible causes of death that may befall a human are inscribed, while the divine iron's natural frequency chants a baptismal admonition against them.[5]
As an anti-vampire weapons platform it can assume six basic weapon forms, using the horn of a unicorn as the backbone. It can operate as a gunblade form, a bayonetted-form, a greatsword form, and an armour form, while it can also be deployed as a ballista form.[5]
Each form of the Seventh Holy Scripture is associated with a specific cause of death, with the seven in question being immolation, illness, blood loss, collision, insanity, torture, and conviction. Its form as a sword is associated with blood loss, its form as a rifle is associated with immolation, and its form as a pile bunker is associated with conviction. Ciel is able to combine the different forms together to use the weapon in more unorthodox ways, being seen to combine the rifle, sword, and an unknown weapon associated with collision into a single multi-purpose weapon. When changing the form of the weapon into a sword, Ciel uses the incantation "In the name of our Lord, come forth, O third cause of death." The other forms presumably use a similar incantation.
The weapon is fed with ammunition using pages of sacred scripture, and its output varies depending on which texts are used. When fighting against Roa, Ciel is seen to use scriptures which make reference to the denial of reincarnation, and later changes the scriptures to those from the New Testament relevant to the study of angelology. The weapon can also change the type of physical projectiles it fires, with the options including both "reactive light" manifested by the horn of the unicorn that forms its backbone and depleted uranium shells.
Torture Instrument: Virgin Pain
[
]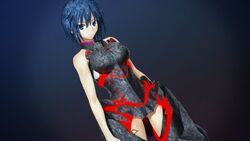 A conceptual device repurposed into an armour, it is modelled on an Iron Maiden, a torture instrument made for identifying witches. All those who wear the armour cannot take it off until they die, but at the same time they can't die until the armor has affirmed whether they're a witch or not either. Ciel can make great use of this armour as her curse will cause her to revive when she dies from the armour's affirmations, and also will revive her when she dies by removing the armour, thus allowing her to reuse it. At the same time, the armour itself would stop her dying from any attacks while it affirms whether she's a witch or not, minimising the number of brief lapses between her dying and reviving. She used this armour in the battle against Vlov Arkhangel, the device preventing her from dying against his Principle's near-Absolute Zero temperatures. Although she would have been able survive against his Principle in the end, the temperatures would constantly be killing her over and over again and preventing her from moving or fighting.
Magecraft
[
]
Ciel is extremely gifted at Magecraft, having by sheer random chance mutated to be born with very powerful magic circuit. It is stated that if the average magi's mana generation was 20, then Ciel's is 5000. She also has inherited a variety of Roa's knowledge such as Numerology. In addition, during her fight with Arcueid near the end of Ciel's route, she was in possession of three Idea Bloods of the Dead Apostle Ancestors Be'ze, Vlov Arkhangel, and Chromclay Petastructure, located in her chest, abdomen, and right hand. She can use one of them, Cathedral, to create a variant of the original's Idea Blood usage, though she cannot do the same with the other two; In the case of Vlov's, it is because the foundation of his Idea Blood is not mature enough to create a grand thaumaturgy from it, let alone weave a new one. However, she is able to work around Be'ze's Idea Blood by using the Idea Blood to initiate a separate magecraft that Ciel created.
She is also able to temporarily use the Idea Bloods into Magical Energy Reactors in order to replenish her own mana, though the cost comes at her own humanity. She can also only use them for a short time; Vlov's Idea Blood is estimated to only last three minutes before it becomes exhausted.
While powered by the Idea Blood's, by chanting Set — Code Galgalim, Ciel is able to complete a ten-count incantation spell repeatedly within a single breath. The result of that spell each time released bolts of lightning with 2 million volts.
Calvaria's Star (カルヴァリアの星?)
An angelic wheel deployed in the stratosphere, blazing with focused sunlight. A reflector created with magecraft. The 50km long, 10km wide blade of light beaming towards the surface can be compared to an aurora possessing mass, or a guillotine of light. It is High Thaumaturgy that Ciel came up with in order to defeat an Ancestor who was her sword mentor; apparently she uses his Idea Blood to initiate it. After firing at full power against Arcueid the remaining magical energy was used to fire one last shot, and it was this move that turned the tables in the endgame.[6]
Cathedral (Bounded Field) (大聖堂(結界)?)
A phase-transforming, isolation-type Bounded Field developed to contain Rank IX Dead Apostles. It originally belonged to the Ancestor signifying kingdom, and was a wall with a 30km diameter that isolated everything it enclosed from the outside world. Compared to the original, Ciel's version is a conceptual barrier that can only contain a single instance or kind of object. On the other hand, it possesses a space distortion function that the original lacked, allowing the user to alter the size of the space within at will. As this High Thaumaturgy demands a special sort of magical energy to be used, it cannot easily be used repeatedly.[7]
Immortality
[
]
Ciel possess a unique form of immortality that has her live as long as Roa is alive.
Development
[
]
Conception and creation
[
]
Takashi Takeuchi states that while Ciel the Tsukihime heroine with the biggest variety of outfits, she isn't particularly fashionable, which fits with her unaffected and sincere personality. She doesn't stop getting into battle after battle, to the point it feels like all of her CGs are fight scenes. He made her more sprites in cute poses to compensate that.[1]
References
[
]