EnglishEnglish | JapaneseJapanese
« Now―――rejoice. I'll put you out from this universe."
"Cursed Cutting Crater operation."
"The voices are quiet... My shadows, covering the world. »
(BB)

Cursed Cutting Crater: C.C.C. (C.C.C., C.C.C.?) is an attack on the World utilizing BB's control of the Moon Cell.[1][2] It's also a trap for artificial spiritron hackers.[2] Also called the Spirit Particle Imaginary Pit. Making maximum use of the EX Rank Skill "Potnia Theron", a world purge via the rewriting of events is carried out. The space eroded by BB becomes imaginary space and a curse that consumes reality which eclipses the world. CCC, as the name suggests, is a cursed pit that bores out reality.[1][2] The name "Cursed" is based on the image of a giant spoon that scoops out the surface of the Moon and turns it into a cursed space (the imaginary space).[2]
Its output of information is like an ultra-precise 3D printer and crushes the present world with the world desired by the user. In addition to scattering all objects inside on an atomic level and reconstructing them, it is capable of writing over and rewriting information of fields such as luck and coincidence. While theoretical, it is also thought possible to distort the time axis by interfering with gravity fields and rewrite the law of cause and effect. When used in combat, BB's familiars, the shapeshifters, engulf the target, and after turning into a sphere, is wiped out of existence along with the target and the dimension with it.[1]
Normally, a structure in which value can be shared cannot be constructed in the Far Side of the World, which is imaginary space. What established BB's internal world as the Sakura Labyrinth was the power of this Noble Phantasm.[1] Also, it is the official name of this stage. The fact that BB had reached the Moon Cell core established this "place", formerly imaginary space for storing malicious information, as real space in the present, past, and future. It was reconstructed at her hands as a "Far Side of the Moon" where even Masters can exist.
BB, attaining the power of the primordial goddess, succeeded in quantifying the "nothingness" before the birth of life. She transformed into a master of imaginary space where time and space are indefinite. While the Moon Cell can't be hacked however much time is spent, BB was able to take control of it by placing herself in "unlimited time".
Variations
Edit
Cursed Cupid Cleanser
Edit
EnglishEnglish | JapaneseJapanese
« Do you want to see my transformation?"
"BB Channel! Oh, this won't do! But don't worry. This is a job for BB-chan!"
"Absolute Recovery: Cursed Cupid Cleanser!"
"Fufu, did the injection hurt? »
(BB)

Cursed Cupid Cleanser: C.C.C. (C.C.C., C.C.C.?) is the Noble Phantasm of BB in Fate/Grand Order. Formerly, it was the Spirit Particle Imaginary Pit (Cursed Cutting Crater) which BB held as her Noble Phantasm but, "I've used that so much that I've gotten bored of it. This time's theme is Cute & Cure-lize! Oh, but even though I'm on your side, the Cursed part won't entirely be removed. BB-chan's curse is eternal!" and with a triumphant look she presents this new skill.[3]
EnglishEnglish | JapaneseJapanese
« Here I go, S-e-n-p-a-i."
"Now, rejoice. Be silent as my shadow envelops the world. I'll reduce you to sludge."
"Cursed Cupid Cleanser!"
"Fufu, did you think you could escape from me? »
(BB)

It draws out the power of the Moon Cell, and she transforms into an invincible nurse. From her territory of imaginary space, she brings out malicious information and rewrites the surrounding channel (shared perception) into chaos. The Reality Marble "BB Channel Branch-Off Edition" expands and throws the target into a crucible of chaos... though there's a lot going on, but in short, it's an injection attack from BB after she changes into a nurse.[3]
Development
Edit
In the planning stage of the game, the development team considered making the Noble Phantasm a homage to Dark Sakura.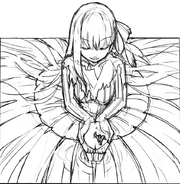 However, the cost to design and implement this Noble Phantasm and Dark Sakura from scratch was high enough that the budget was used elsewhere. Hence, it was axed. Like BB says, money isn't unlimited. In order to get the Servants all dressed up in their swimsuits, there had to be some cuts in other areas of the game.[2] Never the less, the concept is finally realized in Fate/Grand Order with BB (Swimsuit)'s Noble Phantasm.
References
Edit
↑ 2.0 2.1 2.2 2.3 2.4 2.5 2.6 2.7 2.8 2.9

[] Fate/EXTRA material - Encyclopedia: C.C.C. [Noble Phantasm], p.167-168 [T]

C.C.C. [Noble Phantasm]
Cursed Cutting Crater.
An anti-planetary Noble Phantasm. It's an attack that violates the world through BB's control over Moon Cell.
It's also a trap for artificial spiritron hackers.
By drawing out the maximum potential of BB's EX skill Potnia Theron, a world purge via rewriting of events is carried out.
The space that BB invades becomes an imaginary space and it becomes a curse that eclipses the world. Just like its name C.C.C. it causes huge damage from the curse cutting away at reality.
The name "Cursed" is based on the image of a giant spoon that scoops out the surface of the Moon and turns it into a cursed space (the imaginary space).
During development when the shape the game would take was still being decided we considered making it a Noble Phantasm that was homage to Black Sakura.

 1. Camera: Close up of BB followed by a rapid zoom out of the camera. The sky behind BB becomes black. BB, as if to welcome a man, spreads her arms wide and then melts into the darkness of the background.
 2. The camera is placed even farther away; the goal is not to show the characters, but to show the backdrop and scenery. The camera shows the ground which appears to be tilted diagonally. The tilted ground and horizon make the viewer feel uneasy. The camera is pulled far back, so the horizon can be seen more clearly. On the other side of the horizon is a phantasm of a giant BB (homage to Black Sakura).
 3. The giant Black Sakura, with a bewitching laugh, then reaches out and scoops up the ground that the protagonist is standing on. It looks as easy as if she just scooped out a bite of pudding.
 4. The giant phantasm closes her hand and crushes everything in her hand, protagonist and all. It's great if you can tell this is homage to the scene in Fate/stay night where Black Sakura crushes the insects of Matou Zouken.

…is what we wanted to do, but the cost to design and implement this Noble Phantasm and Black Sakura from scratch was high enough that we decided to use the money elsewhere. Hence it was axed.
Like BB says, money isn't unlimited. In order to get the Servants all dressed up in their swimsuits, there had to be some cuts in other areas of the game.

C.C.C.【宝具】
カースド・カッティング・クレーター。
対星宝具。ムーンセルを掌握したBBによる、世界を犯す攻撃。疑似霊子陥穽とも。
BBが獲得したEXスキル『百獣受胎』を最大限に活用した、事象書き換えによるワールド・パージ。
BBに侵食された空間は虚数空間となり、現実を蝕む呪いとなる。『C.C.C.』はその名の通り、現実をえぐり切り取る呪いの大穴なのだ。
カースド~という名前は、『月の表面を巨大なスプーンでえぐり取り、呪いの空間(虚数空間)にする』というイメージから。
まだゲームのイメージが固まっていない開発初期ではstaynightの黒桜をオマージュした宝具と考えられていた。

1.カメラ、BBにアップからロングに思いっきり引く。BBの背後の空間が黒くなる。BB、男性を迎え入れるような、両手を広げたポーズをして背後の黒領域に溶けていく。
2.カメラ、さらにロングに引く。人物を写すのではなく風景を映す絵に。地面を水平ではなく斜めに移すカメラ。地面と地平線が斜めに移ることにより、見ているユーザーの不安定さを演出する。
カメラをロングに引いたので地平線がより明確に見える。その地平線の向こうに巨大なBBのヴィジョン(黒桜オマージュ)が現れる。
3.巨大黒桜、妖艶に笑いながら手のひらで主人公が立つ地平ごと、ゴバッとすくいあげる。プリンをスプーンで切り取るような滑らかさ。
4.巨大黒桜のヴィジョン、主人公たちをすくい上げた空間ごと握りつぶす。Fate/staynightであった黒化した桜が間桐臓硯の虫を潰すシーンのオマージュだと分かるとグッド。

……というのをやりたくはあったが、この宝具のためにCCC版黒桜を一からデザインするコストを払うなら他にコストを払おう、という事で没に。
BBも言っているように、資源は無限ではない。サーヴァントたちに水着を着せるためには、やむなくカットされるものもある。
カースド・カッティング・クレーター

↑ 3.0 3.1 3.2 3.3 3.4 3.5

[] Fate/Grand Order - BB (Mooncancer) Profile [T]

BB - Mooncancer

Illustrator and Voice actor
Illustrator: Arco Wada
Voice Actor: Noriko Shitaya

Parameters
Strength: E
Endurance: C
Agility: D
Mana: A
Luck: EX
Noble Phantasm: A

Personal Skills
Ten Crowns: D
Aurea Boura: C
Self-Modification: EX

Class Skills
Magic Resistance: B
Item Construction: A
Territory Creation: A

Noble Phantasm
Cursed Cupid Cleanser: C.C.C.
Rank: A
Type: Anti-Unit Noble Phantasm

Profile
A unique case that occurred in the Mooncell Automaton. Originally an advanced AI stationed for the sake of managing the health of the Masters, but it went wild due to a bug.
A cyber devil that ruled the far-side of the moon as a cancer that encroached the virtual world, obstructing the SE.RA.PH's Holy Grail War.
A personification of illegal modifications, who forced the participants of the Holy Grail War to abide by the rules while she herself violated the rules all the time.
A kouhai-type devil heroine who puts all her efforts in manipulating the senpai (Master) as a cheerful, precocious kouhai - all while carrying out world destruction as if part of the breakfast.

"A well-behaved fight is boring, right?
I want to see everybody's faces of suffering more!"

Just like this, one can tell in a glance that her behavioral and personality settings are twisted, but--- well, that is just your usual BB-chan.

Level 1 Bond
Height/Weight: 156cm・46kg
Source: Fate/EXTRA CCC
Region: SE.RA.PH
Alignment: Chaotic Good  Gender: Female
"To tell the truth, a Ruler would have been preferable, but I called it off. A framework in which even the Game Master is bound by rules; that is just a machine.
For the sake of love, BB-chan will choke back her tears and torment all of humanity!"

Level 2 Bond
With a behavior that is wicked and excited, a headlong mastermind girl who plunges forwards even when her words and actions slip up.
The personification of a heart in love which, despite originally possessing an introverted character that could not step forward, earnestly becomes proactive for the sake of her beloved.
Despite enthusiastically playing the part of a villain, since she has no groundings in it, she just end up slipping up after all.

Her self-assured manner comes from latent sadistic preferences. The impish-type classification originate from this.
In addition, since she is the type that explodes after much enduring, she displays a tremendous, extreme sadism when the time comes.
"This is so fun!" - she gets high in such a manner while playing a villain, but hanging her head and getting depressed after retiring to the backstage and cooling off is also pretty much routine.

Although she created lesser AIs - the Alteregos - as familiars to help her with her job, she has a bad relationship with the Egos.
Even so that is only natural; for they are not "copies of BB's personality" but AIs "built with her personality as a basis", so each one have different opinions to that of their parent, BB.
This is why Meltlilith and Passionlip are designated Alteregos (different personality) and not avatars.

Level 3 Bond
"C.C.C."
Rank: A  Type: Anti-Unit  Range: 1~10
Maximum Targets: 1 person
Cursed Cupid Cleanser.
In the past, BB used a Noble Phantasm called Cursed Cutting Crater (Spiritual Particles Imaginary Pitfall), but now she brought out a new technique with a triumphant look while saying:
"I got tired of that after using it so many times. The theme this time is 'cupid' and 'curelize'! Oh, but the cursed part does not disappear just because I become your ally. BB-chan's curse is eternal!"

Drawing the Mooncell's power, she changes into the shape of an invincible nurse. Immediately after, she draws malignant information from her territory - the imaginary space - and overwrites the surrounding channel (common awareness) into something chaotic.
Unfolding the Reality Marble, "BB Channel - Branch-off Edition", and throwing the opponent into a melting pot of disorder... or so she says, but this is simply an syringe attack after BB has changed into nurse clothes.

Level 4 Bond


An Authority-class transcedental skill.
It has been said that the ten crowns indicate the ten evil kings, and the seven hills indicate the abominable city of evil.
If you look at it in simple terms, this is a skill that turns all received injuries, occurred events, any and every result into "something nonexistent".
As a matter of fact, BB is invincible so long she has this.
"Or so was in the past.
You see, an invincible cheat is disgraceful when you look up close, right?
So this is an unnecessary skill for the beautiful and cute BB-chan that we have now.☆ Oh, but it should be alright to use it just a little, right? Look, just like this!"



A skill to remodel oneself.
The Mooncell's AIs are endowed with an absolute order to "never improve one's functions".
However, having escaped such restrain thanks to a breakdown, BB began to expand her own functions. In order to raise her calculation abilities, she decomposes・preys upon NPCs, AIs and even Servants with a black noise and employs them as her own memory.
A retrofit-annex that disregards the danger of self-collapse, but BB became a super AI possessing a vast capacity as a result. Such state is like a city on reclaimed land that continues to build new structures even while sinking; or maybe something more like the monster of Frankenstein.

Level 5 Bond
The out-of-control AI that once caused the Case: CCC.
She was a management AI for the school infirmary, but a bug caused her self-preservation command structure go wild. Reaching the conclusion of "must preserve myself at all costs" for a certain reason, she ended up capturing NPCs, Servants and Masters and turning into a monster that continues to grow.
While declaring to "hate humans", she brought in a certain Master to the far side of the moon and tormented him. Despite believing herself to be sane, from an objective point of view, she is clearly mad.
One can occasionally feel the inconsistency of excessive affection・disordered love and hate hanging on her behavior, but you should refer to the original CCC in regards to the causes behind this.

Also, her LCK parameter was of the lowest rank (E-), but it became EX thanks to BB's world-distorting efforts (and devotion).
In other words, she once accomplished a "miracle" that was impossible to be achieved without the assumption of "EX Rank LCK".

Interlude
Due the Kiara of the FGO world becoming one with the Kiara of the CCC world, as a countermeasure, the Mooncell temporarily turned BB into a Servant and dispatched her to the FGO world.
(that is because an user of imaginary(1) space such as BB is qualified to restrain Kiara).
Thus, despite being "a reproduction of the bug named BB", she became able to intervene on the Seraphix as an independent virtual life-form.
The BB that appeared in the FGO world behaves in a impish manner just like during the "CCC Incident", but for her that incident feels like something from tens of thousands years in the past.
In addition, she can only remain as a Servant like this in the FGO world and is also aware that she does not exist in the original "CCC world". BB understand that she is a one-night-only dream.

BB places herself not as "a tool to save humanity", but as "a devil that at times misleads, at times helps humanity".
"So, it is futile to grow fond of me, you see? For even if you become madly in love with BB-chan, you'll never be able to catch me (heart)", or so she says with a triumphant look.

BB - ムーンキャンサー

イラストレーター・声優
ILLUST:ワダアルコ
CV:下屋則子

パラメータ
筋力:E
耐力:C
敏捷:D
魔力:A
幸運:EX
宝具:A

保有スキル
十の王冠:D
黄金の杯:C
自己改造:EX

クラス別能力
対魔力:B
道具作成:A
陣地作成:A

宝具
C.C.C.
ランク:A
種別:対人宝具

キャラクター詳細
かつてムーンセル・オートマトンに発生した特殊事例。
元々はマスターの健康を管理するために配置された上級AIだったが、バグによって暴走。
電脳世界を侵すキャンサー(癌)として月の裏側を支配し、SE.RA.PHの聖杯戦争を妨害した電脳魔。
聖杯戦争の参加者たちにルールを守らせながら、本人はルールを破りまくる違法改造の化身。
朝食感覚で世界を滅ぼす一方、明るくおしゃまな後輩としてセンパイ(マスター)を振り回すコトに全力を尽くす後輩系デビルヒロイン。

「お行儀の良い戦いなんてつまらないでしょう?
もっと皆さんの苦しむ顔が見たいのです!」

このようにパッと見は行動設定も性格設定も歪んでいるように見えるが───ま、いつも通りのBBちゃんである。

アンロック条件:絆レベルを1にすると開放
身長/体重:156cm・46kg
出典:『Fate/EXTRA CCC』
地域:SE.RA.PH
属性:混沌・善  性別:女性
「ホントはルーラーが良かったんですけど取りやめました。ゲームマスターまでルールに縛られる構造なんて、それはもうただの機械ですから。
BBちゃんは愛のために、涙を呑んで人類の皆さんを苦しめるのです!」

アンロック条件:絆レベルを2にすると開放
言動は邪悪でイケイケ、台詞や言動が滑ってもそのまま突き進む猪突猛進な黒幕ガール。
本来は引っ込み思案で前に出られない性格だが、愛する者の為ならひたすらアクティブになる恋心の化身。
本人はノリノリで悪役を演じているのだが、素養がないのでどうしても滑ってしまう。

強気なのは潜在的に加虐嗜好があるため。小悪魔系なのはここに端を発する。
くわえて、耐えに耐えた後に爆発するタイプなため、発揮する時は凄まじいドSっぷりを発揮する。
悪役を演じている最中は「さいっこうに楽しい!」とハイになっているが、舞台裏に引っ込んで冷静になる頭を抱えて落ち込むのまでがワンセット。

自分の仕事を手伝う使い魔として下位のAI、アルターエゴを作成したものの、エゴたちとの仲は悪い。
それもその筈、彼女たちは『BBの人格のコピー』ではなく『人格を元にして作られた』AIなので、親元であるBBとは意見がそれぞれ違っている。
メルトリリスやパッションリップがアバターではなくアルターエゴ(別人格)と呼称されたのはそのため。

アンロック条件:絆レベルを3にすると開放
『C.C.C.』
ランク:A   種別:対人宝具   レンジ:1~10
最大補足:1
カースド・キューピッド・クレンザー。
かつては霊子虚構陥穽(カースド・カッティング・クレーター)という宝具を扱ったBBだが、
「あれ、もうさんざん使ったので飽きました。今回のテーマはキュート&キュアライズ! あ、でも皆さんの味方になったからってカースドな部分は消えませんから。BBちゃんの呪いは永遠なのです!」
と、ドヤ顔で新技を持ち出してきた。

ムーンセルの力を引き出し、無敵のナース姿にチェンジ。そのまま、自分の領域である虚数空間から悪性情報を引き出し、周囲のチャンネル(共通認識覚)をカオスなものに上書き。
固有結界『BBチャンネル出張版』を展開し、相手を混乱のるつぼに叩き込む。……と色々言っているが、要はナースBBに着替えてからの注射器アタック。

アンロック条件:絆レベルを4にすると開放
○十の王冠:EX→D
権能クラスの超抜スキル。
十の王冠とは悪しき十人の王を指し、
七つの丘は忌まわしき悪の都を指しているという。
単純に見るのなら、受けた傷や起きた出来事、あらゆる結果を"無かったことに"するスキル。
事実上、これがある限りBBは無敵である。
なーんて、というのもかつてのお話。
ほら、無敵チートとか端から見るとみっともないし?
 今回のキレイで可愛いBBちゃんには必要のないスキルなのでした☆ あ、でも少しぐらいなら使ってもOKですよ? ほーらこんな風に!

○自己改造:EX
自身を改造するスキル。
ムーンセルのAIには"自己の機能を向上させてはならない"という絶対命令が備わっている。
しかし、故障からそのくびきから逃れたBBは自己機能の拡張を始めてしまった。計算能力を高めるためにNPC、AI、はてはサーヴァントまで黒いノイズで捕食・分解し、自らのメモリとして使用。
自己崩壊をいとわない後付け増築だが、結果、BBは膨大な容量を持つ超級AIと化した。その有様は沈水しながらも建築を続ける埋め立て地の都市か、フランケンシュタインの怪物のようでもある。

アンロック条件:絆レベルを5にすると開放
かつてケース・CCCを起こした暴走AI。
保健室の管理AIだったが、バグにより自己保存の命令系統が暴走。ある理由から『何を犠牲にしても自己保存を続ける』結論に至り、NPCたちやサーヴァント、マスターたちを取り込み、成長し続ける怪物になってしまった。
「人間は嫌い」と公言し、あるマスターを月の裏側に引き込んで苦しめた。本人は正常なつもりでいるが、客観的に見ると明らかに狂っている。
言動のはしばしから愛情過多・愛憎混濁とした矛盾性を漂わせるが、それが何に起因したものかはCCC本編を参照の事。

また、パラメーターの幸運値は最低ランクのE-だったが、BB本人の世界をねじ曲げるほどの努力(と献身)によって、幸運EXとなった。
つまり。『幸運EX』と仮定しない限り達成不可能な"奇蹟"を、かつて彼女は成し得たのである。

アンロック条件:「終幕 刻を裂くパラディオン(2/2) 」をクリアすると開放
FGO世界のキアラがCCC世界のキアラと同一化した事で、ムーンセルはその対抗策としてBBを一時的にサーヴァント化し、FGO世界に派遣した。
(キアラを御し得るのは虚数空間の使い手であるBBが適任だからである)
かくして、『BBというバグの再現』ではあるものの、BBは独立した電脳生命としてセラフィックスに介入できるようになった。
FGO世界に現れたBBは『CCC事件』の時のように小悪魔として振る舞うが、彼女にとって『CCC事件』は体感的な数万年前も前の事になっている。
くわえて、こうしてサーヴァント化できるのはFGO世界だけであり、元の『CCC世界』ではBBなど存在しない、という事も把握している。自分が一夜だけの幻である事をBBは理解しているのだ。

BBは自分を『人類を救う道具』ではなく
『人類を惑わしたり、時に助けたりする悪魔』と
位置づけている。
「だから、わたしを好きになっても無駄ですよ? どんなにアナタがBBちゃんにメロメロになっても、わたしは決して捕まりませんから(ハート)」
と本人はドヤ顔で語っている。
Community content is available under
CC-BY-SA
unless otherwise noted.