Fate/stay night (フェイト/ステイナイト, Feito/sutei naito?) is a 24 episodes anime TV series by Studio DeenWP released in January 7, 2006 to June 17, 2006. The story is primarily based on the Fate storyline in the Fate/stay night visual novel, although certain elements of the other two storylines, Unlimited Blade Works and Heaven's Feel, are incorporated into the series.
Story
[
]
There was a catastrophe that burned down the city. The young Shirou Emiya, who lost everything in the flames, was helped by the magus, Kiritsugu Emiya. After that, he was adopted by the same man.
It's been ten years since this event. Shirou Emiya now promises his late father, Kiritsugu. Every day he will act as a "Hero of Justice", and still practicec magecraft.
One day, he suddenly gets involved in a battle between magus called the Holy Grail War and signs a contract with one of the servants, Saber.
The Holy Grail War, a battle to achieve the Holy Grail to fulfill the wishes of those who have it, together with the seven familiars (servants) given by seven magi (masters), to obtain miracles. Shirou Emiya learns that the catastrophe ten years ago was due to the Holy Grail War, and he decides to put himself into battle so that tragedy will not repeat.[1]
Characters
[
]
Episodes
[
]
Main article: List of Fate/stay night episodes
Adaptation Differences
[
]
Music
[
]
The soundtrack was composed by Kenji KawaiWP. A set of Image Songs was released with the voices of Saber, Rin, Sakura, Illya, Caster, Rider, Shirou and Archer.[2]
"disillusion" by Sachi Tainaka (eps 1-14)
"Kirameku namida wa hoshi ni" (きらめく涙は星に) by Sachi Tainaka (eps 15-23)
"disillusion -2010-" by Sachi Tainaka (TV Reproduction I & II)
"Anata ga ita mori" (あなたがいた森) by Jyukai (eps 01-13, 15-23)
"Hikari" (ヒカリ) by Jyukai (ep 14)
"Kimi to no ashita" (君との明日) by Sachi Tainaka (ep 24)
"With..." by Jyukai feat. Sachi Tainaka (TV Reproduction I)
"Kumo no Kakera" by Jyukai feat. Sachi Tainaka (TV Reproduction II)
Gallery
[
]
Staff
[
]
Staff of Fate/stay night
Role
Director
Yuji Yamaguchi
Series Composition
Takuya Satō
Script
Fumihiko Shimo, Jukki Hanada, Mari Okada, Takuya Satō
Storyboard
Takashi Takeuchi, Takashi Yamana, Tetsuya Yanagisawa, Yuji Yamaguchi
Episode Director
Kōsuke Kobayashi, Kunitoshi Okajima, Masami Furukawa, Noriaki Akitaya, Shigeru Ueda, Shunji Yoshida, Takashi Yamana, Yuji Yamaguchi
Music
Kenji Kawai
Character Design
Megumi Ishihara
Art Director
Toshihisa Koyama
Chief Animation Director
Megumi Ishihara, Toshimitsu Kobayashi
Animation Director
Asako Nishida

Hiroshi Yamamoto, Mariko Emori, Megumi Ishihara

Sound Director
Kouji Tsujitani
Director of Photography
Shinyo Kondo
Producer
Masaaki Saito, Mitsutoshi Ogura (Geneon), Takayuki Matsunaga (Frontier Works Inc.), Tetsuo Gensho, Tomotaka Takeuchi (Notes)
Assistant producer
Junichiro Tanaka
Chief Producer
Jun Nishimura
Color design
Shinji Matsumoto
Editing
Masahiro Matsumura
Music Production
Naoki Ninomiya
Paint
Kozue Arai
Photography
Miyuki Hayashi, Takayasu Ishii
Planning
Akihiro Kawamura
Planning Assistant
Tsutomu Ishikawa
Special Effects
Shouichi Uehara
Recording
Yoshio Obara
Supervision
Takashi Yamana
Video Editing
Kunihiro Saito, Yuichi Mori
Development
[
]
In January 17, 2010, the series was given a special summary released in two episodes called Fate/stay night TV reproduction. Studio Deen went on to make a movie adaptation of the Unlimited Blade Works route, released in Japanese theaters on January 23, 2010. The staff from the anime television series returned to work on the film, including director Yuji Yamaguchi, with most of the voice cast also reprising their roles. The film earned 280 million yen at the Japanese Box Office. Sentai Filmworks has licensed the Unlimited Blade Works film and released it on DVD and Blu-ray on June 12, 2012 featuring an English dub produced at Bang Zoom!
A prequel 4 minutes special named Fate/stay night curtain raiser was also made, with alternative animation, being a small prologue to the main story. This special was released as a DVD in November 23, 2005 for ¥ 2,500 by Geneon.[4] A second special named Rider`s Shinji Observation Diary (ライダーの慎二観察日記, Rider no Shinji Kansatsu Nikki?) was included in the fourth DVD volume as a bonus. It showcases in a diary format, a commentary of Shinji Matou by his servant, Rider. It follows Shinji's actions in their active days of the Holy Grail War. Both specials were included in the 2009 BD box alongside another bonus material. [5]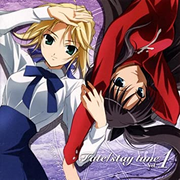 A radio show named Fate/stay tune (フェイト/ステイ チューン?) was distributed on AnimateTV and the Internet radio station <Otoizumi> was hosted by Ayako Kawasumi and Kana Ueda and other guests, it was broadcasted from February 22, 2007 to September 6, 2007. The shows were later compiled and released as two volumes and more special albums. In late 2009 to early 2010, a new show named Fate/stay tune UNLIMITED RADIO WORKS was also broadcasted in conjunction with the Fate/stay night: Unlimited Blade Works (movie) movie.[6]
Trailers
[
]
See Also
[
]
References
[
]
External links
[
]