FragarachWP: Gouging Sword of the War God (斬り抉る戦神の剣, Kiri Eguru Senjin no Ken?), also called Freagarthach (フラガラッハ?), The Answerer: That Which Comes Later Cuts First (後より出でて先に断つもの, Ato yori Idete Saki ni Tatsu mono?) and The Retaliator (逆光剣?), is a Noble Phantasm and Mystic Code with the ultimate form of counterattack. It is the "Sword of Retrograde" and an indefeasible weapon of the gods, divinely protected by some malicious will, that works by using a conceptual curse to warp destiny and a divine trick that uses time as its blade. It warps causality to always strike the opponent in the heart with a needle thin concentrated blast right before they unleash their ultimate attack. The condition for its use is that the opponent must use their strongest attack, and Fragarach must be used directly after the enemy's strike.[1] It would normally be that Fragarach would kill the enemy, and the opponent's attack would also simultaneously destroy Bazett.
Despite being released afterwards and no matter how fast the opposing attack is cast, Fragarach always strikes first by changing the flow of time to rewrite events so that it makes its own strike against the enemy before the opposing move was ever made in the course of the world. Rather than just rewriting events to gouge out the heart of the enemy, it is severing the fate of the combatants, reversing and changing the flow of destiny of both the user and the enemy simultaneously killing each other with their attacks. The attack of the enemy, returned to a point where it "couldn't happen" due to the user being struck down by Fragarach, is wiped out by the laws of the world and the absolute system of time. No matter the power or speed of the ability, it is impossible to use if the enemy is defeated and has all of their later actions voided before they even have a chance to attack. It is an ability using one's life as bait to counter a one-turn-kill to win the battle that both kills the enemy and nullifies their attack, creating a perfect balance between offensive and defensive capabilities.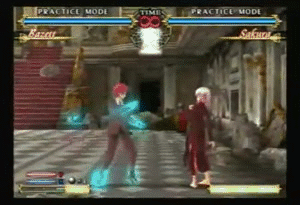 Fragarach is an "Ace-Killing Joker" and the "ultimate counter code" that responds to the "trump card" of the enemy, such as the Noble Phantasm of a Servant. Against Servants, Bazett, as a human, would be hard pressed to force them to use their full abilities against her, so she makes use of Avenger's Verg Avesta to allow the enemy to be weakened to the point where they feel pressed to use their strongest attack in order to quickly finish the fight. Against passive trump card abilities that are constantly activated, such as God Hand, it can be used against them at any time, and against an attack used by a mount, like Bellerophon, it kills the Pegasus rather than the rider.[2] If used in the proper conditions with the "Answerer effect", it activates as an A Rank attack after calling out both of its names. One major weakness is that it is useless against enemies without a special ability, such as an all-rounded magus like Caster.[3] It can be used as a normal attack with the "non-Answerer effect" called Fragarach: Gouging Dagger of the War God (斬り抉る戦神の小剣, Kiri Eguru Senjin no Shōken?) in Fate/unlimited codes, but its attack power is effectively halved and only has the power of a low ranked Noble Phantasm with a C or D ranked attack. It is essentially just the equivalent of a bolt of light in that state, and it would lack any real power against most enemies. It limits the use of Noble Phantasms for those who know of it, and Lancer states she would have to keep hitting him with the low level version a number of times before the "no Noble Phantasm policy" would start to annoy him. She also has the ability Toole Fragarach: Gouging Great Sword of the War God (斬り抉る戦神の大剣, Kiri Eguru Senjin no Daiken?) in Fate/unlimited codes that uses three successive strikes of Fragarach without its countering ability against the enemy.
After the attack is executed, the opponent's attack is dissipated as if it were being rewound, and the opponent is left in a state of mid-attack when they are killed, such as with the light from Excalibur being canceled out and Saber still being left in mid-swing for the attack. It is only guaranteed to gouge the heart, so it may not immediately kill the enemy if they are a Servant like Lancer with Battle Continuation. Its natural enemy is "something that remains alive after it has been killed", such as enemies with auto-resurrecting Noble Phantasms or those with more than one life. The damage done by the attack is normally a small, minimum-sized fatal wound the size of a pebble that pierces the heart due to the focused energy of the laser. Against Lancer, it takes out a large chunk of his body between his heart and his left shoulder because she swung wide with the laser after Gáe Bolg strikes her.[4] Against other abilities, it may often come down to a battle between two concepts. Fragarach, a curse that switches the order of attack, going against Gáe Bolg, a cursed spear that reverses causality, causes both Bazett and Lancer to be killed. While the event of Gáe Bolg being hurled first is rewritten, the curse of the spear just winds itself back. It had already pierced the heart the moment its name was chanted, so the user no longer needs to be alive for it to reach its target even if he is killed before he uses the attack. Against a curse where Bazett would die at the same time as the enemy, such as the "Death Agony Slavery" seal, it would render Fragarach useless. It would create a causality conflict to say "Bazett fires Fragarach after she is killed by Fragarach."[5]
Fragarach is a short sword in Celtic Mythology which originally belonged to Manannán, the God of the Sea and Otherworld, who gifted it to the Sun and War God Lugh.[6][1] It would launch from its sheath without its user having to touch it and cut down those who would oppose it before they could draw their swords. It is one of the few remaining Noble Phantasms left in the world, and it is one of the few remaining relics not yet attached to a Heroic Spirit. It is a unique case as it is wielded by a living human as a Mystic Code. Maintained by the Fraga bloodline, the ability to use it has been passed down to a single successor from generation to generation through a pathogen in their bloodline, a Sorcery Trait known as God's Holder. Due to their faithful servitude shown to ancient deities since the Age of Gods, they were rewarded with the knowledge of mystic runes and rights over the use of Fragarach.[7][1] It is created by pouring Bazett's blood on a ball of lead roughly the size of a track and field shot, conducting a ritual, and leaving it in the basement for one month. She can create around ten per year utilizing this method. She carries them around in a container that can hold up to five, and during Fate/hollow ataraxia, she only has three shots remaining.[8] Before using it, she lets a metal ball float in a diagonal rear movement a few meters behind her in anticipation of the enemy's trump card, and once the attack has begun, the ball glows and begins to be electrically charged. It generates a blade followed by Bazett punching it towards the enemy for the strike. After the attack, her glove and hand are burned as an aftereffect. The sphere, as a one-use weapon, loses its grey color as well. She has yet to completely master Fragarach, and once she does, she'd be able to have an even fight against a person of Ciel's level.[9]
Variations
[
]
Fragarach Énbarr
[
]
Fragarach ÉnbarrWP: Wildly Running Sword of the War God (奔り猛る戦神の剣?) is the Noble Phantasm of Manannán mac Lir.
Whilst it took a month long ritual to produce a single Fragarach for Bazett, with Manannán himself present, he has vastly simplified this, allowing for the creation of multiple Fragarachs with ease.[1]
This Noble Phantasm is particularly special due to Manannán's Property of being the Sea God. As the original owner, it takes a form of Énbarr, Magic White Steed that Gallops across Seas. Currently, Manannan has transformed the White Steed Énbarr, said to be the incarnation of ocean waves and foam, instilling them into the form of the Retaliator. Or, in simpler terms, it is the Sea God-made bubble-formed Fragarach.[1]
Énbarr is the legendary white horse owned by Manannán mac Lir, said to be able to run on both land and water. It is sometimes seen pulling a chariot too. As Manannán is the God of the Sea, this white horse is thought to represent the white foam created by the billowing waters.[10]
Manannán states that Fragarach is both a sword and a concept, so it lacks a definitive form. Bazett's Fragarach is the one handed down by the Fraga clan, whilst Manannán's is the White Foam Steed Énbarr, merged and used with it, as all are Fragarach. Manannán also states there may even be other forms that he could change it at whim if he was his full self.[11]
She can turn the metallic sphere containers of Fragarach into various different forms: It can take on a much longer, more detailed version of the blade, the head of a metal warhammer that can be dropped or punched from above to crush enemies and crater the ground with its weight, in it can project three short blades at different points of the ball at once so it can act as a spinning projectile, or act in parallel with multiple Fragarachs to act like a buzzsaw; it can project thick spikes across almost the entirety of its surface in order to crush and impale its target like a spiked-mace, especially when used with other Fragarachs at once to surround an opponent from all sides; a sharp-edged small shield to protect against attacks defensively, and finally it can transform into a silvery javelin when a more powerful projectile than the sword form is needed, with the blade becoming the oversized-head and a thin shaft growing from the opposite end. The energy emitted by Fragarach can also be used directly to attack enemies with magical beams of blue light.[12]

References
[
]
↑ 1.00 1.01 1.02 1.03 1.04 1.05 1.06 1.07 1.08 1.09 1.10 1.11 1.12 Fate/Grand Order - Manannán mac Lir (Bazett), Profile translated by PKFreezeAlpha
↑ Fate/kaleid liner PRISMA☆ILLYA2wei! - Chapter 15
↑

[] Dengeki Hime 08/2006 - Fate Dream Battle Round 4 - Bazett vs. Caster

Nasu: As has been speculated (by the editors), the battle would proceed with Caster winning overwhelmingly. As Caster doesn't have a trump card to use against Bazett, she's quite the difficult opponent for Bazett to handle. While lady Bazett is at times able to dodge, deflect, or nullify high thaumaturgy, she'd be fatigued before she could grab a chance at getting the upper hand.
.....Oh and you see. Caster-san. She's merciless against mature women.

『Fate』Dream Battle Round 4 です。

とりあえず、電撃の編集さんの予想は、
・バゼットは近距離の格闘戦が主体だが、キャスターは接近を許さないだろう
・したがって中距離での魔術戦になるがこの分野ではキャスターが有利
・そこでバゼットにはフラガラックがあるが、キャスターの切り札は
ルールブレイカーなのでフラガラックは真価を発揮できない
という流れでキャスターの勝利では?といった感じでした。

それに対して奈須さんは
考察通りキャスターの圧倒的有利で戦いは進みます。
バゼットにとって戦闘における切り札を持たないキャスターは
実にやりにくい相手。大魔術を時にかわし、弾き、相殺する
ゼット女史ですが、チャンスを掴めないまま体力切れかと。
……あとほら。キャスターさん、成熟した女性には
容赦のない人ですから。

↑ Fate/kaleid liner PRISMA☆ILLYA 2wei! - Chapter 16
↑ Fate/Grand Order - Profile of Diarmuid Ua Duibhne (Saber), translated by Kinalvin on Reddit
↑ Fate/hollow ataraxia - Heaven's Feel - 3/ Dialogue Mobiuslink
↑ Fate/hollow ataraxia - Heaven's Feel - 2/ Heaven Feel's Backnight II
↑ Q: Who'd win if the Servants and the 27 Ancestors fought each other? Also, who'd win in a fight between Bazett, a renowned powerhouse of the Association, and Ciel, top class even in the Association?
Oh, and regarding Bazett-san and Lady Ciel, Ciel'd still win at the point Bazett was in Hollow. Once Bazett awakens and masters Fragarach, it'll turn into a good match.
↑ Fate/Grand Order — Énbarr, Max Bond Craft Essence
↑ Fate/Grand Order - Manannán mac Lir (Bazett), Voice Lines
↑ Fate/Grand Order - Manannán mac Lir (Bazett), Battle Animations
Fate/stay night




Fate/hollow ataraxia

Argon Coin • Avalon • Avesta • Bellerophon • Blood Fort Andromeda • Breaker Gorgon • Caladbolg II • Caliburn • Dainsleif • Durandal • Ea • Enkidu • Excalibur • Excalibur Morgan • Fragarach • Gáe Bolg • Gate of Babylon • God Hand • Gram • Harpe • Houtengeki • Hrunting • Invisible Air • Kanshou and Bakuya • Nine Lives • Nine Lives Blade Works • Potion of Youth • Rho Aias • Rule Breaker • Tsubame Gaeshi • Unlimited Blade Works • Verg Avesta • Vajra • Zabaniya: Delusional Heartbeat • Zabaniya: Cyber Phantasy

Fate/Zero

Arondight • Avalon • Ea • Enkidu • For Someone's Glory • Gáe Buidhe • Gáe Dearg • Gate of Babylon • Gordius Wheel • Ionioi Hetairoi • Knight of Owner • Prelati's Spellbook • Vimana • Zabaniya: Delusional Illusion

Fate/EXTRA

Agni Gandiva • Amalavijñāna - Boundary of Emptiness • Amita Amitabha • Angra Mainyu/CCC • Aestus Domus Aurea • Athanaton Ten Thousand • Báthory Erzsébet • Bellerophon • Blessing of Wisdom • Blood Fort Andromeda • Blut die Schwester • Brahmastra#O' Brahma, Cover the Earth • Brahmastra Kundala • Brynhild Romantia • Carolus Patricius • Carolus Patricius Auctoritas • Carolus Patricius Dimitte • Charles Patricius • Chakravartin • Cursed Cutting Crater • Daishintou • Eightfold Blessing of Amaterasu • Excalibur Galatine • Excalibur Image • Fairy Snow Photon Ray • Fierce Tiger Forcibly Climbs a Mountain • Gate of Skye • God Force • Golden Hind • Golden Wild Hunt • Joyeuse • Joyeuse Ordre • Kavacha and Kundala • Kazikli Bey • Kilenc Sárkány • Katoptron Katho Phlegon • Märchen Meines Lebens • No Face May King • No Second Strike • Nursery Rhyme • Photon Ray • Saraswati Meltout • Teardrop Photon Ray • The Queen's Glass Game • Vasavi Shakti • Yew Bow

Fate/Apocrypha

Akhilleus Kosmos • Agrius Metamorphosis • Andreias Amarantos • Antares Snipe • Armor of Fafnir • Balmung • Blasted Tree • Bridal Chest • Casseur de Logistille • Clarent • Clarent Blood Arthur • Crying Warmonger • Diatrekhōn Astēr Lonkhē • Dromeus Komētēs • First Folio • Golem Keter Malkuth • Hanging Gardens of Babylon • Hippogriff • Kavacha and Kundala • Kazıklı Bei • La Black Luna • La Pucelle • Left Hand - Xanadu Matrix • Legend of Dracula • Luminosité Eternelle • Maria the Ripper • Phoebus Catastrophe • Right Hand - Evil Eater • Secret of Pedigree • Sikera Ušum • The Mist • Trap of Argalia • Troias Tragōidia • Vasavi Shakti
Unused: Abyssus Draconis • Benkei Butsu • Eighth Implement • Interfectum Dracones • Sacrifice • The Disputed Spoils of War • The Globe • The Seven Arrows of the Big Dipper

Fate/Grand Order

A

Absolute Sword - Endless Flash • Absolute Sword - Endless Three-Stage • Aigis • Agni Gandiva • Airavata King Size • Akafiloga All-Grið • Alf Layla wa-Layla • All Things Must Pass - To Flourish is To Fall • Ama-no-Sakahoko • Amalavijñāna - Boundary of Emptiness • America's Sweetheart of Darkness • Ambushed from Ten Sides - As If There Was No Shadow • An Gal Tā Kigal Shē • An Gal Tā - Seven Colors • Angelica Cathay • Anpu Neb Ta Djeser • Antares Snipe • Anti-fling Rondo • Apfel Schiessen • Arc de Triomphe de l'Étoile • Ark • Arondight Overload • Around Caliburn • Ars Almadel Salomonis • Ars Nova • Ars Paulina • Artemis Hagnós • Ascalon • Assault Medicine Full-Burst Party • Astrapste Argo • Asurashreshtha • Athanaton Ten Thousand • Attendre, Espérer • Authentic Triumph • Autumn Leaf Viewing • Avidya, Three-Stage Thrust • Azamaru • Azrael

B

Balmung Kriemhild • Báthory Brave Erzsébet • Báthory Halloween Erzsébet • Bayard • Beagalltach • Beautiful Journey • Bishamonten's Eight Phases Wheel Charge Formation • Black Arts Decapitation Method - Moonflower • Black Dirty Barty Howling • Black Dog Galatine • Blasted Tree • Bloodbath Crown • Blue Summer Palladion • Brahmastra#Rakshasa-Piercing Immortal (Rama) • Brahmashirastra • Breaker Gorgon • Bölverk Gram • Bone Collector • Boneless Man • Bouclier de Atlante • Breast Zero Erzsébet • Bright Ehangwen • Brynhildr Sigurtein • Bucephalus

C

Caledfwlch Caladbolg • Caladbolg • Caliburn • Candy Star Photon Ray • Caress of the Medusa • Caribbean Free Bird • Caribbean Free Bird - Act 2 • Channeling - Omen of the Great God Ibuki • Chaos Labyrinthos • Chariot My Love • Chariot of Boudica • Chionis Tauros • Christine, Christine • Chronos Rose • Chyornyj Oprichniki • Chu Shi Biao • Chyornyj Oprichniki • Clarent Blood Arthur • Crazy Trip Drive Idol • Crocea Mors • Cross-Calibur • Cruaidín Sétanta • Crying Warmonger • Crystal Dress • Crystal Palace • Curruid Coinchenn • Cursed Cupid Cleanser • Custos Morum

D

Das Rheingold • Dazzling Castle of the Sun in the Demonic Realm • Dead End - Airgetlám • Demon King of the Sixth Heaven • Demon King Turns the Heavens - Red Spider Lily • De Sterrennacht • Des Océans d'Allégresse • Dharmapala Girl - Nine-headed Dragon Massacre • Dimension of Steam • Dinosaur Summer Goodbye • Dio Santissimo Misericordia de mi • Dioscures Tyndaridae • Distihia Milya • Divine Sword - Kusanagi-no-Tachi • Dojo-ji Bell Form 108 - Fire Dragon Mow Down • Duria Antiquior • Durindana

E

Edin Shugra Quasar • Elementary, My Dear • Emotional Engine - Full Drive • Emotional Engine - Vivid Full Sensation • Encomium Moriae • Enfer Château d'If • Eternal Lament • Eternal Mirror that Models the Celestial Bodies • Etherspace, Howbeit the Order • Everlasting Summer Sunlight • Excalibur Vivian • Eye of the Euryale

F

Failnaught • Fairy Tale Erzsébet • Fax Caelestis • Femme Fatale Baiser • Fergus My Love • Fergus, My Good-Looking Brave • Fetch Failnaught • Fintan Finegas • First Folio • Five Elements Mountain - Buddha Palm • Flawless Masterpiece - The Crane's Fate, A Teary Farewell • Fleur de Lys • Flucticulus Diana • Flying Bright Spirit - Fire-Tipped Spear • Formlessness • Fragarach Énbarr • Frieren Scharfrichter

G

Gae Bolg Alternative • Gáe Bolg: Gouging Piercing Spear of Carnage • Ganesh Impact • Ganesha Vighneshvara • Ganryuu-jima • Garden of Avalon • Gate of Skye • God Spear, No Second Strike • God-Striking Whip • God Force • Gohou Shoujo-Kuzuryu Ousatsu • Golden Drive • Golden Eater • Golden Spark • Golden Wild Hunt • Great Death Claw • Great Flame of Mount Ooe • Great Grudge of Rashoumon • Great Ram Nautilus • Grendel Buster • Guillotine Breaker • Gugalanna Strike

H-K

Hachiman Prayer - Shooting Through a Great Demon • Half-dead Blood Axe • Hamesh Avanim • Haradhanu Janaka • Hazy Inverted Moon - Eleven Forms • Heavenly Demon Rain • Heaven's Hole • Het Gele Huis • Hollow Heart Albion • Hope of Avalon • Hört Glut Rachegötter • Iam Redit et Virgo • Imitation God Force • Immortal Chaos Brigade • Inexhaustible Bale • Innocence Arondight • Invisible Air • Ira Lupus • Iz Tula Seven Drive • Jaguar in the Black • Jet, Three-Stage Thrust • Judgment of the Ten Rulers of Afterlife - Journey of the Wicker Basket • Kama Rūpāstra • Kama Sammohana • Kazikli Bey (Berserker) • Kazikli Bey (Lancer) • Knight of Owner • Kur Kigal Irkalla

L

Laevatein • La Féerie d'une Nuit • La Grâce Fille Noël • La Grondement Du Haine • La Grosse Tour • Lapithai Caeneus • Lauda Lentum Domus Illustrius • La Mort Espoir • Laus Saint Claudius • Le Rêve Ensoleillé • Let Us Walk Together Through Our Land • Leviathan Melt Purge • Lie Like Vortigern • Like a Soaring Dragon • Longinus Count Zero • Loptr Laegjarn • Lord Camelot • Lord Chaldeas • Lord Hachitendo of Hakuro Castle's Hundred Demons • Lordless Camelot • Lumino-Calibur

M

Mac an Luin • Maelstrom - Evil Spirit Left Minister • Magna Voluisse Magnum • Mahāpralaya • Mahākāla Shakti • Manual of Accusation • Märchen Meines Lebens • Mara Śūnyatā • Marital Vows of Rainbow Skirts and Feather Robes • Marvelous Exploits • Mata Hari • Mathematical Malignant Annihilate • Mechanical Illusionary Method - Bull Swallowing • Melammu Dingir • Metabole Piglets • Meteor Snegurochka • Mikotto • Mold Camelot • Moles Necessrie • Monte Cristo Mythologie • Moralltach • Mountainous Power and Matchless Valor • Mount Ooe - Enlightened Oni Slayer • Multitude of Colors - Providential Oni Poison • My Red Mead

N-O

Nahin Denge • Namaḥ Samantavajrānāṃ Hāṃ • Nammu Duranki • Nightingale Pledge • Nine Lives • Nine Lives - Roma • Nirmānnarati - Heaven's Foam • Nobunaga THE Rock 'n' Roll • No Second Strike • Nursery Rhyme • O' Dragon, Conquer the Expanses of Wadatsumi • Oar Wooden Sword • Ochd Deug Odin • Ogre Trance • Okuni Repertoire - Kabuki of the Izumo Wild God • Oṃ Ālolik Svāhā • One Shot, My Love • Onikiri Yasutsuna • Only For Killing • Onyx Tauros • Optateshke Okimunpe • Opulence of Sunlight and Catnap • Orchid Rounds X • Orion Hórkos • Ortygia Amore Mio • Outrage Amazon • Ox-King Storm Call - The Inescapable Net of Heaven

P

Pain Breaker • Pale Blue Dot • Pandemonium Cetus • Pāpīyas Metamorphosis • Pashupata • Peerless in Swordsmanship - Zen and the Sword As One • Pèlerinage du Temple • Per Aspera Ad Astra • Phantasm Punishment • Phantom Maiden • Photon Ray • Phoebus Catastrophe • Piedra Del Sol • Pohjola Fimbul • Poseidon Maelstrom • Poseidon Blessing • Prelati's Spellbook • Prince Lanling in Battle • Prisma☆Splash Rainbow! • Prydwen Tube Riding • Pure Land of Mice • Pygmalion Chisel Out • Pygmalion Chisel Out

Q-R

Qliphoth Rhizome • Quetzalcoatl • Queen Anne's Revenge • Quintett Feuer • Ragnarök Lífþrasir • Ramesseum Tentyris • Rapid-fire Ortygia • Red Form • Requiem for Death • Resurrection Fraught Hades • Rêve de Durandal • Rhongomyniad • Roadless Camelot • Roncevaux Olifant • Round of Avalon • Rule Breaker

S

Saint War Order • Samadhi Through Transforming Flames • Sanat Kumara • Sanat Kumara Wheel • Santa Maria - Drop Anchor • Saraswati Meltout • Sea Serpent Storm Blue • Secace • Secace Morgan • Secret-Calibur • Secret-Myniad • Sentinel Stellaris • Serment de Durandal • Settlement Sword • Sfyrí tou Tálos • Sha Nagba Imuru • Shimabara Hell • Shinsengumi • Śakra's Vajra • Shooting Star Ortygia • Sibuxiang • Six Realms Five Rings - The Divine Figure of Kurikara • Six Secret Teachings and Three Strategies - Noble Demon King's Great Feather Fan • Skewered Plasma Blade • Smile of the Stheno • Sneferu Iteru Nile • Snegleta Snegurochka • Song of Grail • Song of Selfless Loyalty • Sotoori Hime - Spider's Demeanour • Space Dead Man's Hand • Spinster Habetrot • Star of Calamity • Sudarshan Chakra Yamaraj • Sumerki Kremlin • Suzume Gaeshi • Svanhvít • Switch On - Airgetlám • Sword of Boudica • Sword of Paracelsus • System Keraunos

T

Taisu Awaken • The Tale of Genji - Aoi - Mononoke • The Tale of Genji - Kiritsubo - Parting • Tarasque • Tauropolos Skia Thermokrasia • Teardrop Photon Ray • Tengu's Feather Fan - Sudden Gale • Testarossa Maiden • Theodosios Constantinos • Thermopylae Enomotia • The Domination Beginning • The Dynamics of an Asteroid • The Greatest Hits - "Calling Agape" • The Pilgrimage of the Five Hundred Arhat • Thirty-six Views of Mount Fuji • Three Enigmas • Thunderer • Ticktock Bomb • A Tour of the Waterfalls of the Provinces • Trichiliocosm • Triple-Linked Crane Wings • Trishula Shakti • Tri-star Amore Mio • Triste Suave Alonso Quijano • Troias Tragōidia • Troia Hippos • Troia Velos • Trojan Reinforce • Tsago Degi Naleya • Tsubame Gaeshi • Tsumukari Muramasa • Tunguska Nine Drive • Twin Arm - Big Crunch • Two-Pronged Formation

U-V

Uisce Beatha • Underthrow Freeze Sinker • Unlimited Lost Works • Unspeakable Formation • Unreturning Formation • Uomo Universale • Uraeus Astrape • Valiente Asalto Dedicado a la Princesa • Vendredi Treize • Vijñaptimātratā: Mystic Eyes of Death Perception • Vijñaptimātratā: Mystic Eyes of Distortion • Vishnu Bhuja • Viy Viy Viy • VR Shinkage-ryuu Hidden Art - Tomoe's Abyssal Solar Blade • Völkermord Feuerdrache • Vulcano Caligorante • Vyākaraṇa - Buddha of Glorious Sandalwood

W-Z

Wandering Tales of Shana-oh (Eye of Shiva - Detecting the Six Secret Teachings • Usumidori - Short Steps With The Heavenly Blade • Benkei - Steadfast Position • Dan-no-Ura - Eight-Boat Leap • Hoemaru - Spider Slayer • Kikenjō - Icicle Cutting) • White Shaft Spear • Wicker Man • Winning Arkaputra • Wish Upon a Star • World Faith Domination • Wry Rhyme Goodfellow • Xiuhcoatl • Yew Bow • Yucatán Regalo de Navidad • Zabaniya(Delusional Heartbeat • Zeus Funder • Zmei Gorynych • Zveri - Krestnyy Khod • Zweite Schiessen

Fate/Prototype




Fragments

Abu el-Hol Sphinx • Bab-ilu • Brynhild Komedia • Brynhild Romantia • Dangerous Game • Enki • Excalibur Proto • Gae Bolg Origin • Kibisis • Mantle • Mesektet • Mirror shield • Ramesseum Tentyris • Stella • Winged sandals • Zabaniya: Delusional Poison Body

Fate/strange Fake

Age of Babylon • Excalibur • From Hell • Grand Dictionnaire de Cuisine • Grand Illusion • Goddess of War • King's Order • Musketeers' Masquerade • Natural Born Killers • Nine Lives • Reincarnation Pandora • Rounds of Lionheart • Unknown‎ (Gilgamesh) • Unknown (Hippolyta) • Zabaniya: Phantasmal Pedigree (Febrile Inspiration • Ichor of Reverie • Meditative Sensitivity • Raving Shadow Flash)

Fate/kaleid

Apneic Beauty • Arrow Protection Amulet • Authoritarian Personalism • Crown Undertaker • Fake Nine Lives • Hades's Cap of Invisibility • Ig-Alima • Mjölnir • Nameless Class Cards • Ninth Prayer • Sul-sagana • The Heavens are Born from the Earth • True Nine Lives • Shadow Hand of Code • Zabaniya: Dead Heartbeat Melody

Capsule Servant

Curly Hair Sword Antenna • Laser Excalibur • Starlight Champs-Élysées

Fate/KOHA-ACE

Boneless Man • Child of the Sun • Coat of Oaths • Demon King of the Sixth Heaven • Fierce Tiger Forcibly Climbs a Mountain • Flag of Sincerity • God Spear, No Second Strike • Golden Demon Realm ZIPANG • Lightless, Three-Stage Thrust • Like A Soaring Dragon • Maxwell's Demon • Sunomata Castle • Sword Hunt • Three Line Formation • Transcendent Dazzling Castle of the Sun

Fate/Requiem

Autumn Leaf Viewing • Flying Dutchman • Galahad Alter's Second Sword • Hannibal Barca's Noble Phantasm • La Grosse Tour • Longinus • Pale Blue Dot • Sword of the Strange Hangings

Other

Brionac • Boomelancer • Cú Chulainn's Castle • Hazanken • Hecatic Wheel • Holy Grail • Gungnir • Unlimited Bla Gáe Bolg Gandr Works Excalibur