Gate of Babylon: The King's Treasure
 (王の財宝,
Ō no Zaihō
?
) is the "
Golden Capital
" that the "
King's Treasury
" of
Gilgamesh
, and moreover the golden key connected to it.
[3]
His main
Noble Phantasm
, it is the storehouse that Gilgamesh built to store all the world's treasures he claimed in life, referred to as the "
Divine Gate
".
[4]
It connects the space of reality to the vault, opening an "
invisible door
" between dimensions that allows for the contents to pass through upon their owner's command.
[5]
[6]
Allowing for easy access to the items of the treasury, he is able to pick and utilize them as he pleases.
[1]
[2]
The rank of the Noble Phantasm changes from "
E~A++
" due to it reflecting the ranks of the contents of the treasury. It is a Noble Phantasm that becomes more powerful with the user's wealth, but would accordingly not be useful without a wealth of valuables.
[2]
[5]
It is also once referred to as an EX-ranked Noble Phantasm by
Tokiomi Tohsaka
due to containing
Ea
.
[7]
The items passing through the gate form gold-glowing energy ripples in the empty air as they appear instantly.
[7]
He can summon items directly into his hand, pull out weapons from directly behind him, or prepare numerous weapons midair, loaded like bullets.
[6]
[7]
[8]
This Noble Phantasm is named as such because Babylon has become synonymous with the "
Capital of Sin
" and the "
Golden Capital
".
[9]
There are probably imitations like the
Road of Babylon
 (ロード·オブ·バビロン,
Rōdo obu Babiron
?
) as well.
[9]
Although he possessed the treasury in life, he never thought about utilizing the treasures as projectiles until his first battle with Enkidu. Forced to draw out the treasures he had carefully stored away was initially humiliating for him, but eventually came to enjoy it and brought them out without regret. He later commented that his treasury was in disarray since meeting Enkidu, calling it a "harebrained habit" that Enkidu instilled upon him.[10] Its usage is why Gilgamesh is of the Archer class, firing the Noble Phantasms like bullets to make him the Archer with the strongest arrows.[2][8] While most Servants view their Noble Phantasms as treasured possessions, Gilgamesh freely launches them with the same carelessness as throwing a handful of stones.[11] Producing an excellent ratio of destructive power to magical energy efficiency, the real cost is not within the Noble Phantasms acting as bullets but rather the mere activation cost of the Gate of Babylon.[2] Compared to Heracles, the indomitable "ultimate expression of human perseverance", the treasury is the exact opposite as the infinite "ultimate expression of overwhelming force."[12] He can ready numerous weapons, letting their hilts stick out when he is waiting and instantly showing the blades when about to fight.[8] They move and take aim at the target according to Gilgamesh's will, allowing him to fire without having to even touch them.[8][11]
Gilgamesh can send out as little as one or two weapons or enough at a single time that it becomes comparable to a torrent of "gushing water" directed at the opponent.[11][13] He will increase the amount depending on the situation, opening the Gate wider (as in, generating more portals) to reflect his anger or when forced to become more serious.[11][14] He will generally use weak treasures unless the situation should call for his highest class of treasures, such as in the case of Heracles' God Hand.[12] He can prepare and launch dozens, hundreds, even thousands if he is serious.[8][15][16] Possessing an inexhaustible supply, he can fight multiple battles without a single repeat Noble Phantasm being witnessed.[11] Upon firing them, he can allow them to pierce the ground after striking the target, causing a large amount of destruction with each weapon that is comparable to something being blown up by an explosive blast, or he can instantly return them to the vault before they hit the ground at such a speed that they appear to have been illusionary.[11][17] He utilizes a Noble Phantasm to retrieve any weapons left on the battlefield, instantly dissipating and returning them to the vault.[18][19] He can also leave them out if he wishes, such as when they have been "stained" by striking Caster's summoned creature.[20]
Upon snapping his fingers or without even a gesture, the weapons can be continuously launched at the opponent without a break.[8][17] Each weapon has the ability to cause certain death to an opponent, and they are shot with enough force to repel a swing from Berserker's large axe-sword.[13] While it is possible to block many of the strikes, to do so without knowing the abilities of the weapons can be seen as suicidal.[8] He will generally fight at long range while shooting projectiles from behind him directly at the opponent, but he can also freely move with the portals also moving with him.[12] He can freely deploy the portals mid-air while piloting Vimana as well.[20] When fighting at extremely close range, he shows the ability to loose weapons from above, below, and to the side of the opponent.[21] He can also summon weapons completely around the target for a full 360 degree barrage that should generally leave not even a single trace of flesh from the opponent.[16] When closed upon by a target, or simply to play with the opponent, he can freely draw weapons into his hands for melee combat.[6][22] The ability to handle them depends upon the user's capability.[3] Gilgamesh makes use of the many unknown abilities of the weapons, and constantly switches them to keep his opponent off-guard.[6]
Knight of Owner is considered to be a natural counter to the Gate of Babylon, but Lancelot is only able to keep up with Gilgamesh to such a degree because of his Mad Enhancement.[20][23] While capable of playing around with Saber in close combat in the Fate route, he would be outclassed in a sword fight with Assassin, so he would not even attempt it.[6][24] As he is a "king who possesses over a thousand weapons" rather than a "warrior who chose the path of taking a single Noble Phantasm to its ultimate limit", Shirou Emiya declares Gilgamesh to possess only one ability like himself. As an "owner" like Shirou, Gilgamesh is not a "wielder" able to use a weapon to its maximum potential in melee combat. Within Unlimited Blade Works, Shirou's swords are always ready and waiting, allowing him to be one step ahead of Gilgamesh who possesses the same ability. While Gilgamesh can defeat one who has mastered their weapon with his infinite weapons, Shirou is unable to accomplish that same feat because he lacks the skill, so Gilgamesh is the only enemy he can defeat.[14][22]
Characteristics
Edit
Key (Bab-ilu)
Edit
Key of the King's Law, Bab-ilu (王律鍵, バヴ=イル, Ō Ritsu Ken, Bavu-iru?) is a golden key-shaped sword that connects to the treasury.[6] Possessing a divine aura, Tiné Chelc describes it as the "purest magical element she had ever seen in her life." While similar in appearance to the spare key, Gilgamesh says, "do not speak of this in the same terms as the key" and describes it as "something like a contract I bound myself, given form."[25] It is implied to be able to open any door so long as it has a lock.[26]
While he first uses it to open the Gate of Babylon by saying the name of the Noble Phantasm in the Fate route and opens it once in the Fate/Zero novel to retrieve Ea, all other usages have not been shown to require it.[6][15] When first bringing forth Ea in the Fate/Zero anime and the Unlimited Blade Works anime, he begins by holding it vertically in the air and turning it so that the parts around its grip begin to rotate, start to glow, and then settle. It releases a large, labyrinth-like, red pattern, seemingly crimson cuneiform lettering, that can be seen covering the sky from a great distance away, and then it recedes into a small orb from which he pulls Ea.[27][28]
This key to the storehouse of treasures can only be handled by its king, Gilgamesh. The mould of the key is constantly changing. The moment the ability to understand that wisdom is lost upon Gilgamesh's death, the key to the treasury will not open. That "storehouse" in turn was stored as a result, and that treasure became a mystery to exceed mysteries.[4]

Key (Spare)
Edit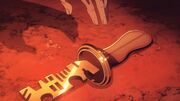 In life, Gilgamesh ordered a key to be created for his treasury, said in legend to be able to open the gates deep in the Golden Capital. Deciding that none would dare to ever lay claim upon his treasures, he tossed it away as a trifle. It is an ornate key around the length and weight of a small survival knife, decorated with jewels valuable in both the magical and monetary sense. It is saturated in magical energy of an unknown origin.[25] It is also depicted as being similar to Bab-ilu.[29] It was later found by the ancestor of an unnamed magus, who managed to determine that it was the genuine key without it ever being able to find the treasury. After it was passed down in the family, the magus uses it as a catalyst to summon Gilgamesh in the False Holy Grail War, and Gilgamesh once again tosses it away upon seeing it.[25]
Ishtar is able to make use of it to forcibly close the Gate of Babylon.

Divine Gate
Edit
The Divine Gate (神の門?), the Door of Babylon (バビロンの扉?), is the physical gate housing the treasury.
Within Babylonia, Gilgamesh possesses various underground treasuries the size of a city, many of which were traps developed for Ishtar. Taking her personality into account, he empties an entire treasury and fills it with precise traps, taking into account how Ishtar would break into it.[30]

Gilgamesh is renowned for having collected all the treasures in the world in his lifetime, amassing a perfect treasury that lacked nothing.[6] As there was nothing he was unable to collect, Gilgamesh was a collector of treasures, whose favorite phrase, "I collected all the treasures of the earth", is not a metaphor.[6][19] As anything can be found within the vault, the amount of wealth within exceeds even his own knowledge; it is said that its inventory of treasure continues to increase even now.[4][31][32] He collected and stored away samples of all the technology that was developed during his age. The desires of ancient humans were similar to those of the current age, so their technology, bolstered by the powerful magic of his era, was not inferior to that of the modern age. The "Instruments of Hope" that people dreamed of were all realized, and because every single case was requisitioned by the King's hand, his collection is even furnished with airplanes and submarines.[19]
It also contains all of the original bases for all intellectual properties produced by mankind that originated in his kingdom, making board games and the works of the Library of Alexandria no more than imitations.[33] It is still sought out by some magi, believed to hold all things in the world and enshrine every possible magical artifact.[25] That within are not merely riches, but his collection is the very "origin of human wisdom."[19] It is the proof of human wisdom and human ingenuity.[4] That which is missing from the vault would be items produced with completely new concepts by a new human race and items produced with extraterrestrial intelligence and technology.[19] He is the original hero, so all heroes of various myths are derived from his legend. It may be a paradox, but he, as the original, must possess that which can be handed down as the Noble Phantasms possessed by those later heroes for they are derived from him for that very reason.[19] These weapons are technically nameless, the original Prototypes of the Noble Phantasms (すべての宝具の原型, Subete no Hōgu no Genkei?) and merely common items before they became objects of faith that act as the foundations for their legends.[2][5]
Each treasured weapon is decorated with dazzling ornaments and polished to a mirror-like shine, all clearly sporting the magical energy to define them as Divine Mysteries without exception.[11] They are the original models of every legend, myth, and folklore. He says God Hand, a Noble Phantasm formed from Heracles' life and legends, is the one type of asset he lacks.[12] He says he wishes to obtain Kavacha and Kundala, and he is surprised by Avalon's existence. It is also possible, such as with Vasavi Shakti, that he cannot tell if something corresponds to one of the treasures in his vault. Karna's legend records that he "has" the spear, but there is no description of it "being used". It does not exist in his eyes due to never having been described, so he wishes to obtain it.[34]
The weaponry contained within includes swords, pole-arms, lances, hammers, shields, demonic swords that later made their way to Europe and South America, and a number of weapons unidentifiable to Shirou from sight, all of which form a perfect treasury of masses of unused weapons that simply went to sleep with the king. He owns the treasured swords that saved later heroes and the cursed swords that stole the lives of later heroes, and their numbers are approximately infinite.[19] After Gilgamesh's death, the contents were spread all over the world after being passed on or stolen, and the treasures, valued because they were to become splendid swords and eventually Noble Phantasms. The Craft Essence Door of Babylon suggests that it was Darius III's ancestor, Darius I, who initially found and opened the gateway into the Vault, followed by the Assyrian Queen Nitocris, and then later Darius III himself.
Shirou states that the quality of the weapons makes the Noble Phantasms used by others look like fakes themselves. While Cú Chulainn has the Gáe Bolg that became famous, Gilgamesh possesses a weapon that later became the Gáe Bolg, but was not famous at the time Gilgamesh owned it. The only item contained in the vault that was not passed on to another user than Gilgamesh is Ea, a sword unique to only Gilgamesh. Shirou claims that even though he cannot see them all, he can feel that their numbers are infinite. If weapons of a previous incarnation meet those that descended from them, such as Gram facing Caliburn or copies facing originals, the deteriorated newer model will always lose.
It contains numerous A ranked weapons, capable of piercing God Hand dozens of times to take eleven of Berserker's lives and then piercing him with twenty-three more weapons afterward. Just a single weapon is enough to pierce Caster's strongest shield and keep any other Servant on the defensive. The numerous weapons contain various different effects and abilities, allowing him to assault the weaknesses of any Servant. This places him at an advantage over most Servants in combat, such as attacking with a weapon strong against a certain attribute or assaulting a Servant with a weapon they were specifically weak against during life.
The Gate can also carry living beings, as shown when Gilgamesh uses the Gate to transport Shinji Matou to the Einzbern Castle, as well as deployed in an area when he is genuinely serious, as shown during his fight against Avenger's Shadows.
EnglishEnglish | JapaneseJapanese

As a child, although the amount of contents emitted is lower than what the adult Gilgamesh in his normal state has, it seems that he is picking and shooting Noble Phantasms that are intended to observe and test the opponent's capabilities in order to identify and "strike their weak points."[35]
As a Caster, it is fundamentally the same Noble Phantasm he possesses as an Archer. By connecting the space around him with Babylon's, Gilgamesh pulls out an innumerable amount of magic wands and Mystic Codes and utilize magic. In the magic wands and mystic codes, the great thaumathurgy of the Age of Gods are loaded. Due to the display of effects and invocations that mostly does not consume the user's magical energy, it is a Noble Phantasm that excels in its extraordinary cost performance.[36]
Named Items
Edit
Bullworker: Really Plain Test (全く簡素な試練, Mattaku Kansona Shiren

?

) is a device used to train muscles.
Command Spells of an unknown number have been collected by Gilgamesh in the Moon Cell. They are the lifeline of Masters in the Moon Cell Holy Grail War, so it is unimaginable that a Servant would be able to provide a new set to his own Master. While such a thing would shake the foundations of the Holy Grail War, Hakuno Kishinami rationalizes that Gilgamesh is simply such a Heroic Spirit, proving why he is sealed within the Far Side of the Moon.[37]
Dáinsleif (ダインスレフ, Dainsurefu

?

) is a demonic sword from the Nibelungen. It is a sword that has been in two myths, with both versions showing its frightening nature. Within the Völsunga Saga, it is a sword that was part of Fafnir's collection of treasures, taken by the clan that killed the Northern European hero, Sigurd. It is a cursed Noble Phantasm that contains a powerful curse of "reparation" to be used on its target, and it also drives the fate of its possessor to ruin and causes them to surely die. Within the Skáldskaparmál, it is possessed by the Danish King, Hogni. He became locked in eternal combat with the King of Serkland, Hedinn, due to the sword's curse, which requires it to always kill a man once drawn and does not allow it to return to its sheath until such is accomplished.[38] While demonic and holy swords carry with them both glory and destruction, Dáinsleif is said to only bring the latter onto its master.
Ea - Ea is the most powerful weapon inside the Gate of Babylon, and it is the one favored by Gilgamesh.
Enkidu - Enkidu is Gilgamesh's most trusted item in the Gate of Babylon and is used for chaining the divine.
Houtengeki (方天戟, Hōtengeki

?

) is one kind of halberd passed down in Chinese culture and the only type of halberd out of many to attain the rank of Noble Phantasm, probably due to the use of Houtengageki (方天画戟

?

, lit. "The Decrated Halberd that Matches the Heavens") by a famous military commander. It is a polearm with many different uses such as thrusting, swiping, pulling, parrying, and various others. Chinese halberds have a spearhead at the tip of the shaft and a blade attached to the side, and the distinguishing characteristic of a Houtengeki is a unique crescent-moon shaped side blade, the "Moon Fang".[39] Weapons with only one of these blades are called Seiryugeki. It is said that a great deal of skill is needed to handle this weapon, though its versatility and ease of use once mastering it allows for it to be used to serve the appropriate role for any type of combatant. Its use eventually went out of favor as different dynasties rose and fell until it was revived during the Song Dynasty as Houtengeki.
Unnamed Items
Edit
Anti-Spirit Incense (反魂の香, Hankon no Ka

?

) - When facing Avenger's corpses, Child-Gil spreads a silver ash around himself. Forming a mist with a peculiar scent, it attracts the corpses to him.[40]
Armor
Axes

An Axe with the ability to change its path after being avoided by the target, allowing it to turn around in mid-air towards the target at a speed that allows it to match the pace of a jet.[20]
Golden Axe - One of the few melee weapons Gilgamesh uses in the Moon Cell, the golden axe is used to slash the opponent and hit them with a heavy overhead chop. When used with the "Clear the Storm" Skill, he shatters space with a spinning chop.[21] He also uses a similar Golden Axe while in the Caster class.

Cooking Items and Food
Curtain of Night (夜の帳, Yoru no Tobari

?

) is mentioned as something that could be used to counter Gawain, possibly affecting his Numeral of the Saint Skill by blotting out the sun.[45]
A curved Golden Dagger allowing Ritsuka Fujimaru to enter the mental landscape of Tiamat.
Golden Drill - One of the few weapons Gilgamesh uses in the Moon Cell, the golden drill-like weapon is used to jab at the opponent and damage them with the spinning sword-blades, as well as with machine gun and cannon fire.[21]
Hotspring Noble Phantasm
Lens - He possesses a golden ring with a single, strangely-warped lens fit inside of it, able to show a distant landscape like a telescope. Gilgamesh uses it to see True Archer twenty kilometers away.[16]
Lightning - Gilgamesh launches "lightning without form" as a projectile.[16]
Levitation - Gilgamesh possesses a treasure that grants some form of levitation.
Machine guns, nuclear warheads, and other weaponry from ancient India that were previously equipped to Vimana. They were removed and stored within the vault.
Mystic Codes

A stone tablet acting as his "spellbook", able to cast runes from it.[46]
Countless Magical Staves that can manipulate magic from the Age of Gods.[47]

A Retrieval Noble Phantasm that returns weapons to the vault no matter how far they travel.[19]
A Ring that wards the gazes of normal people away from the wearer so as not to notice them. It is not powerful enough to affect magi.[16]
Sickles
Spears
Swords

Golden Swords - One of the few melee weapons Gilgamesh uses in the Moon Cell, the golden swords are similar to Enki used by Gilgamesh of Fate/Prototype, but it is unknown if they are the same swords. He uses the single right-hand sword for a regular downward swing and a powerful, quick backhand swing with the "Loose the Winds" Skill. He uses both swords in a jumping overhead X-shaped slash.[21]
Invisible Swords like those clad in Invisible Air.[6]
Long Sword - Gilgamesh launches a "long sword that slayed an oriental dragon" as a projectile.[16]
A Scimitar with the ability to change its path after being avoided by the target, allowing it to turn around in mid-air towards the target at a speed that allows it to match the pace of a jet.[20]
Swords capable of piercing through mountains.[51]
A Sword of Ice that freezes the space that it cuts, allowing it to cover the target in ice even if they managed to dodge the actual strike.[6]
A Three-Edged Sword able to arc behind the opponent to attack them from an unguarded position.[8]

Vehicles

Airplanes were created in Uruk due to the desires of humans being the same as those of modern-day, and with the magecraft of his time, it meant that the ancient crafts were not inferior to those of modern times.[19]
Ship of Light (光の船, Hikari no Fune

?

) that allows him to travel faster than the speed of light. It allows him to instantly return after he is sent to the edge of the Moon Cell's Imaginary Space hundreds of lightyears away. When the feat is questioned, he mentions that it is obvious that he would have a Noble Phantasm corresponding to a technique that sends the target to the edge of space as his vault holds the origin of human wisdom.[52]
Submarines were created in Uruk due to the desires of humans being the same as those of modern-day, and with the magecraft of his time, it meant that the ancient crafts were not inferior to those of modern times.[19]
Fate/kaleid liner PRISMA☆ILLYA
Edit
The Gilgamesh of the Fate/kaleid liner PRISMA☆ILLYA world possesses a number of Noble Phantasms not shown to be present in the vault of the regular Gilgamesh. It is unknown if the contents overlap between the two.
References
Edit
↑ 1.0 1.1 1.2 1.3

[] Fate/Zero material - Servant Status: Archer, p.014-015

Class: Archer
Master: Tokiomi Tohsaka
True Name: Gilgamesh
Gender: Male
Height/Weight: 182cm/68kg
Alignment: Chaotic Good

Strength: B
Endurance: B
Agility: B
Mana: A
Luck: A
Noble Phantasm: EX

Class Skills
■ Magic Resistance: C

■ Independent Action: A

Personal Skills
■ Golden Rule: A

■ Charisma: A+

■ Divinity: B

Noble Phantasm
■ The Gate of Babylon: King's Treasure
Rank: E~A++
Type: Anti-Unit Noble Phantasm
Range: -

■ Enuma Elish: The Star of Creation that Split Heaven and Earth
Rank: EX
Type: Anti-World Noble Phantasm
Range: 1 ~ 99
Maximum number of targets:1000 people

CLASS アーチャー
マスター:遠坂時臣
真名:キルガミッシュ
性別:男性
身長・体重:182cm/68kg
属性:混沌・善

筋力:B
耐力:B
敏捷:B
魔力:A
幸運:A
宝具:EX

クラス別能力
■ 対魔力:C
二節以下の詠唱による魔術を無効化する。大魔術、儀礼呪法など大掛かりな魔術は防げない。

■ 単独行動:A
マスター不在でも行動できる。
ただし宝具の使用をど膨大を魔力を必要とする場合はマスターのバックアップが必要。

保有スキル
■ 黄金律:A
人生において金銭がどれほどついて回るかの宿命。

■ カリスマ:A+
大軍団を指揮・統率する才能。ここまでくると人望ではなく魔力、呪いの類である。

■ 神性:B
最大の神霊適性を持つのだが、ギルガメッシュ本人が神を嫌っているのでランクダウンしている。

宝具


■

王の財宝

ランク:E~A++ 
種別:対人宝具 
レンジ:-
黄金の都へ繋がる鍵剣。
空間を繋げ、宝物庫の中にある道具を自由に取り出せるようになる。
使用者の財があればあるほど強力を宝具にをるのは言うまでもない。



■

天地乖離す開闢の星

ランク:EX
種別:対界宝具
レンジ:1~99
最大捕捉:1000人
乖離剣・エアによる空間切断。
圧縮され絡み合う風圧の断層は、擬似的な時空断層となって敵対する全てを粉砕する。
対粛正ACか同レベルのダメージにようる相殺でなければ防げない。
宝物庫にある宝具のバックアップによってはさらに威力が跳ね上がる。
セイバーのエクスカリバーと同等か、それ以上の出力を持つ"世界を切り裂いた"剣である。

↑ 2.0 2.1 2.2 2.3 2.4 2.5 2.6 2.7

[] Fate/complete material III: World Material - The Servants of the Fifth Holy Grail War: Gilgamesh, p.024-025 [T]

Gilgamesh
Class: Archer
Master: Kotomine Kirei
Alignment: Chaotic Good
Sex: Male
Height: 182cm
Weight: 68kg
Armament: Armour

STR: B
CON: C
AGI: C
MGI: B
LCK: A
Noble Phantasm: EX

Legend
The great king depicted in mankind's oldest epic – "The Epic of Gilgamesh". He was an actual king who ruled Uruk, the capital city of ancient Mesopotamia during the Sumer Dynasty 5000 years ago.
A despot who possesses high divinity with 2/3 being God and 1/3 being human, and believed he was invincible. However, answering the call of people who were oppressed by Gilgamesh's tyrannical policies, Enkidu, a man created by the goddess Aruru, was released to fight against Gilgamesh. Gilgamesh and Enkidu met and battled as enemies, but soon they began to recognise each other and rule the nation together. Gilgamesh gradually began to change after finding a friend who he considered to be an equal, and Uruk became unprecedentedly prosperous. Gilgamesh, as the greatest king, eventually acquired all the treasure on the earth.
The goddess Ishtar wooed Gilgamesh, but was rejected bluntly. As a result, Ishtar unleashed the Bull of Heaven in a fit of rage, wrecking havoc on earth. After her failure, Ishtar complained before the Gods and caused the weakening and eventual death of Enkidu, who could not resist the will of the Gods that created him. The death of Enkidu significantly impacted Gilgamesh, and as a result he set out for the underworld in order to acquire the potion of immortality. However, the potion was drunk by a snake, and Gilgamesh died in despair.

Tactics
Gilgamesh battles by shooting the originals of all Noble Phantasms like bullets via Gate of Babylon. The tactic yields excellent destructive power to magic energy efficiency. Since every Noble Phantasm is a bullet, the real magical energy used is merely the activation cost of Gate of Babylon. Because he possesses the originals of all Noble Phantasms, he can assault the weakness of any Servants. As a result, Gilgamesh has the advantage over most of the Servants in combat.
Because he has absolute self-confidence, he is able to calmly show himself before his opponents. However, depending on mood, he is also fine with scoring kills by raining Noble Phantasms behind the enemies' back. The will of the king cannot be simply gauged by the concept of tactic.

Class Abilities

Magic Resistance: E
Magic resistance gained through the class ability of Archer. However, since Gilgamesh did not have any abilities that can resist magecraft, it remains at the minimum level of E. Its effect is merely light damage mitigation against sorcery rather than full neutralisation. The cause of his low Magic Resistance is probably related to his Master, Kotomine Kirei's lack of magical energy. In reality, during the Fourth Holy Grail War, Gilgamesh's Magic Resistance was elevated to C with Tohsaka Tokiomi as his Master.
Although his Magic Resistance is low, Gilgamesh is able to neutralise most sorceries due to having many items that defend against sorcery, such as the golden armour. The defensive powers of these items are quite high, as Rin's sorcery was completely repelled.
If magi attempt to use large-scale sorceries and act as "mongrels" that impede the king, Gilgamesh will simply unleash a raging wave of Noble Phantasms and completely crush them without giving them the time to cast spells. (Translator's Note: Gate of Babylon and Sword Spam are now officially categorised as a form of Magic Resistance.)

Independent Action: A+
With an Independent Action rank that sets him completely apart from the rest, Gilgamesh is able to operate without a Master. With a rank of A+ that exceeds even A, the support of a Master is unnecessary even while unleashing a large amount of magical power. It is an ability that bends the rules and allows for the continued materialisation of Servants even after the conclusion of the Holy Grail War. After being summoned as Archer during the Fourth Holy Grail War, Gilgamesh remained materialised for 10 years until the Fifth.
Since the Fourth Holy Grail War, the ability to freely operate without regard for the Master remained unchanged. However, the ability to remain materialised after the Holy Grail War was not gained until he was showered by the content of the Holy Grail. At the end of the Fourth Holy Grail War, Gilgamesh was absorbed for a while after being showered by the black mud spilled from the broken vessel of the Holy Grail. However, Gilgamesh could not even be digested by the mud that was filled with "All the World's Evil – Angra Mainyu". On the contrary, he was given a flesh body and regurgitated back into the present world. As a result, Gilgamesh was completely incarnated and continued to survive as an existence with a physical body. Also worth mentioning is that, thanks to the changed shape and personality granted by the potion of youth, the super egotistical Gilgamesh was able to live in the human society for 10 years without much trouble.

Personal Skills

Golden Rule: A
Being fated a life that is filled with riches. Gilgamesh lives the life of a nabob and has no money troubles. In the legend, he claimed all the world's treasure as his own. The originals of Noble Phantasms preserved in his treasury were collected during this period. Although this ability seems unrelated to battle, it plays a great role in arming Gilgamesh.
Upon seeing Gilgamesh's golden figure, Rin half-jealously called him "Gin-Pika" (Gold-glitter).

Charisma: A+
Often praised as the greatest king, Gilgamesh's ability to command and lead great armies is excellent. Charisma is a rare talent, and a B rank is sufficient to lead a nation, but Gilgamesh has a rank of A+. At this level, it is not a matter of popularity or skill, but closer to something like sorcery or curse. An army led by Gilgamesh will have a tremendous increase in abilities.
An egotistical Gilgamesh radiating with self-confidence will sure boost the morale of his army to an extremely high level.

Divinity: B (A+)
Due to being 2/3 God, Gilgamesh possesses the highest level of divinity among the many Heroic Spirits. His level exceeds even Herakles, who is the son of Zeus and ascended to the Pantheon after death. However, Gilgamesh despises the Gods because they killed his friend Enkidu, unleashed the Bull of Heaven onto the earth, and caused him much trouble. As a result, his Divinity decreased.
He is the half-man-half-God King of Heroes born from the union of King of Uruk, Lugalbanda, and goddess Rimat-Ninsun. (Translator's Note: Wait what? Half and half?)

Noble Phantasms

The Star of Genesis which Separates the Heaven and Earth – Enuma Elish
Rank: EX
Type: Anti-World
Range: 1~99
Maximum Targets: 1000 Persons

The sword that cuts and divides the World, with output matching or even exceeds Artoria's Excalibur. Its power will further increase given the support of Noble Phantasms within Gate of Babylon. More correctly speaking, "Sword of Rupture – Ea" is the Noble Phantasm, "Enuma Elish" is the state under which Sword of Rupture – Ea unleashes its maximum output. By generating wind pressure strata, the attack crushes the enemies by simulating spatial rends. In addition, the names "Sword of Rupture – Ea" and "Enuma Elish" are all given by Gilgamesh. They are thought to be references to the Great God Ea (Enki) of the Mesopotamian and Babylonian myths, and the Genesis Epic of the Babylonian myth, Enuma Elish.
The most powerful sword that cannot be duplicated by Unlimited Blade Work. Gilgamesh calls it "something that knows the hellish planet before genesis".
The three cylindrical blades spin in different directions, generating air pressure strata. Its power will not be neutralised even when colliding with Excalibur.

Gate of Babylon
Rank: E~A++
Type: Anti-Personnel
Range: -

A key-like sword that connects to the "Golden Capital". The spatial connection with the treasury allows for easy access to the items within. The rank changes to E~A++ because Gilgamesh put all the originals of Noble Phantasms into the treasury. In other words, E~A++ reflects the rank of the items in the treasury. If the treasury does not contain a wealth of valuables, then it will not be a useful Noble Phantasm.
The favourite Noble Phantasm within the Gate of Babylon is the chain which has captured the Bull of Heaven – Enkidu. It is an anti-deity Noble Phantasm that increases in strength as the target's Divinity increases. It was able to completely seal Herakles.

↑ 3.0 3.1

[] Fate/strange Fake - Volume 1 - Servant status: Archer

Class: Archer
Master: Tine Chelc
True name: Gilgamesh
Gender: Male
Height/Weight: 182cm/68kg
Alignment: Chaotic Good

Strength: B
Endurance: B
Agility: B
Magic: A
Luck: A
Noble Phantasm: EX

Class Skills
■ Magic Resistance: C

■ Independent Action: A

Personal Skills
■ Golden Rule: A
Fate which revolves around how much riches one acquires in life.

■ Divinity: B(A+)
Skill that shows how much Divine Spirit aptitude, how related one is to a god, one has. He was suitable for the highest rank but since he loathes gods it is Rank-Downed.

Noble Phantasms
■ Enuma Elish: The Star of Creation that Split the Heaven and Earth
Rank: EX
Type: Anti-World Noble Phantasm
Range: 1~99
Maximum Targets: 1000 People
Using the Sword of Rupture Ea to cut space. It is a power used by the gods when they separated the heaven and earth. As for power it is possible to say it is an attack close to the very top of all Noble Phantasms. By receiving the support of Noble Phantasms in the treasury, damage is further increase

■ (Obscured in volume 2)
Rank: ???
Type: ???
Range: ???
Max Targets: ???

■ Gate of Babylon: King's Treasures
Rank: E~A++
Type: Anti-Unit Noble Phantasm
Range: -
The Golden City that is the King's Treasury, moreover the golden key connected to it. Treasures such as many Noble Phantasm prototypes, or the models of humanity's inventions from all times and places, these rare items were stored. They can be taken out freely. Naturally whether or not they can be handled depends on the user.

CLASS アーチャー
マスター:ティーネ・チェルク
真名:ギルガメッシュ
性別:男
身長・体重: 182cm 68kg
属性:混沌・善

筋力:B
耐力:B
敏捷:B
魔力:A
幸運:A
宝具:EX

クラス別能力:
■ 対魔力: C

■ 単独行動: A

固有スキル
■ 黄金律:A
人生において金銭がどれほどついて回るかの宿命。

■ 神性: B(A+)
神との交わりの深度、「神霊適性」の高さを表すスキル。最高ランクの適正を持っていたが、神を忌み嫌うがゆ えにランクダウンしている。

宝具


■

天地乖離す開闢の星

ランク:EX
種別:対界宝具
レンジ:1〜99
最大捕捉:1000人
乖離剣・エアによる空間切断。神が天地を開く時に使用した力であり、威力としては有りと凡ゆる宝具の中で最 も頂点に近いと言える一撃である。宝物庫にある宝具の支援を受けることにより、ダメージの値が更に上昇する 。



■

???

ランク:???
種別:???
レンジ:???
最大捕捉:???人



■

王の財宝

ランク:E〜A++
種別:対人宝具
レンジ: -
黄金郷である王の宝物庫と、それに繋がる鍵剣。数多の宝具の原典、あるいは人類の発明のひな形や古今東西の 財宝、珍品が収納されており、自由にそれを取り出す事ができる。当然ながら、扱えるかどうかは使う者の技量 に左右される。

↑ 4.0 4.1 4.2 4.3 Fate/Grand Order - Gilgamesh's (Archer) Bond Craft Essence: Key of the King's Law
↑ 5.0 5.1 5.2 Fate/stay night - Gilgamesh's Status Screen
↑ 6.00 6.01 6.02 6.03 6.04 6.05 6.06 6.07 6.08 6.09 6.10 6.11 Fate/stay night Fate route: Day 14 - Oldest King
↑ 9.0 9.1

[] Fate/side material - Encyclopedia: The King's Treasure [Noble Phantasm], p.057 [T]

The King's Treasure [Noble Phantasm]
Gate of Babylon.
The key-shaped sword that connected to the golden capital.
Items in the treasury can be freely remove through the spatial link.
Needless to say, the more material wealth the user had, the more powerful this Noble Phantasm became.
The rationale for the English name was that "Babylon" had become synonymous with "capital of sin" and "the golden capital".
Similar items included Road of Babylon.

王の財宝【宝具】
ゲート・オブ・バビロン
黄金の都へ繋がる键状の剣。
空間を繋げ、宝物库の中にある道具を自由に取り出 せるようになる。
使用者の财があればあるほど強力な宝具となるのは言うまでもない。
なぜこれだけ英語名なのかっつーと、もうパビロンっていったら悪の都で黄金の都の代名詞だからである。
類似品でロード·オブ·バビロンとかありそうだ。

↑ 12.0 12.1 12.2 12.3 Fate/stay night Unlimited Blade Works - Episode 15
↑ 13.0 13.1 Fate/stay night Unlimited Blade Works: Day 15 - VS Berserker
↑ 14.0 14.1 Fate/stay night Unlimited Blade Works - Episode 24
↑ 17.0 17.1 17.2 Fate/stay night Fate route: Day 13 - The Eighth Servant
↑ 19.0 19.1 19.2 19.3 19.4 19.5 19.6 19.7 19.8 19.9

[] Fate/EXTRA CCC - Gilgamesh Matrix

Class: None
Name: Gilgamesh
Master: [PC]
Noble Phantasm: Enuma Elish (The Star of Creation That Split Heaven and Earth)
Keyword: King of Heroes, friend
Strength: B, Endurance: C, Agility: C, Magic: A, Luck: A
Divinity: B (A+), Golden Rule: A, Collector: EX

Keywords

Enuma Elish (The Star of Creation That Split Heaven and Earth)
Gilgamesh's final Noble Phantasm which reveals creation--the beginning of everything.
The severing of space which comes from the Sword of Rupture, Ea, the sword crowned with the name of a god from Mesopotamian mythology.
The god, Ea, is believed to be the quasi-deification of the power of the planet which turned, smashed, and stabilized the surface of the earth when it was still covered in gas and seas of magma, during the primordial stage of the earth.
Many gods began building nations after the the primordial earth was stabilized into a world where living creatures could live, but Ea is a god who performed the act of building of planet before that.
Gilgamesh's sword, which is crowned with Ea's name, changes space itself by agitating space-time through the rotation of three layers of giant power fields.
It's true power is not something to be used against a single living creature but against the world. Even among the many Noble Phantasms possessed by Servants, it is one considered to be at the top, the sword "which tore apart the world."

King of Heroes
Another name for Gilgamesh. It does not mean a king who is a hero but is used with the implication that he is the king over heroes.
The story of Gilgamesh, is who mankind's oldest hero, is copied within the mythologies of all the countries of the world. The origin of all myths, the model on which heroes are based...calling him such would not be an exaggeration.
More or less, the heroes of various myths are derived from Gilgamesh's legend. As such, Gilgamesh possesses the prototypes of the Noble Phantasms that heroes carry... the original treasures from before every legend was arranged. Though it may be a paradox, unless the original, Gilgamesh, possesses it, it cannot be handed down as the Noble Phantasm possessed by the later heroes who were derived from him.
When humanity was still small. Within the treasury of the king, who governed his kingdom and lived in as much luxury as he desired, was collected every single treasure in the world.
Inside that treasury, there is the treasured swords that saved later heroes, and there is preserved the cursed swords that stole the lives of heroes.
The reason that Gilgamesh is called the King of Heroes is here. Noble Phantasms are primarily one to a any single hero. Not only does he possess an approximately infinite amount of them, he also owns the "legends" that other heroes are wake against, as if it were natural. It should be impossible for an average hero to cross swords with him.
As a Heroic Spirit, he is an absolute warrior in battles against Heroic Spirits. While there are several heroes who hold the title of king, such as the King of Knights and the King of Conquerors, but in regards to being crowned with the title "King of All Heroes," in all of heaven and earth, he is the only one.

Friend
As he became a young man, Gilgamesh's violent disposition only grew. Of course the people of Uruk, but even the gods who dispatched him, were greatly perplexed by his violence.
"Gilgamesh is not fulfilling his original role." "That insolent creature needs someone to admonish him."
Having come to that conclusion, the gods sent a single life to the surface. Its name was Enkidu. It was a person made by a god and given her blood, the same as Gilgamesh.
It had neither a sex nor a fixed form. Enkidu, being made from clay by a god, was "Uruk's greatest weapon," able to change its shape at will. According to the god which was its mother's will, Enkidu confronted Gilgamesh before the temple of Uruk. With their exchanging of blows like a storm, their battle occurred within the city.
After that fierce fighting, they both collapsed to the ground without consideration for where, praised each other's valor, and became peerless friends.
Gilgamesh, who had been without equal, for the first time found someone he could call "a friend."
After that, while his vainglorious attitude did not change, Gilgamesh, remonstrated by Enkidu, softened his tyranny.
Gilgamesh, who had acquired someone who understood him in Enkidu, defeated the guardian of the forest and beast of the gods, Humbaba, and, as the most excellent king on the earth, took possession of every single treasure.
At this time, the dazzlingly powerful Gilgamesh was an existence that not even the gods could avert their eyes from.
A goddess fell in LOVE with this Gilgamesh. It was the goddess of fertility Ishtar. She proposed to Gilgamesh, but he quickly refused. Because he knew that how whimsical and cruel a witch who rendered men useless Ishtar was.
Ishtar, enraged by Gilgamesh's insults, as her revenge, clung to her father, the god Anu, in tears and released the greatest of divine beasts, "the Bull of Heaven," onto the earth.
"The Bull of Heaven" is a disaster of extreme magnitude clad in storms. When it appeared, a seven-year famine and destruction occurred on earth. In other words, the downfall of Uruk.
Against this divine beast which none could match, Gilgamesh and Enkidu worked together to stand against it and repelled it splendidly. Once again, the goddess lost face. Naturally, Isthar's rage had not lessened, and she requested death for either of the two of them from the gods. Because for one with a human body to kill the beast of the gods was a sin.
Ishtar's wish was granted, and one of the two, Enkidu, who was created by the gods, unable to defy that decree, slowly weakened and died.
...The sole person who understood the king, Enkidu. Just how large a shadow his loss cast over Gilgamesh is told in his lifetime afterward.
Enkidu is an autonomous weapon created from the clay of the gods. In SE.RA.PH. terms, he is close to an AI. As a result of being complete from birth, he neither grows nor evolves. He could take various forms as needed, but it is said his usual appearance was that of a 16-year-old person who could be seen as a girl or a boy with long hair which faintly shines a light-green color.

01 - 『天地乖離す開闢の星』


開闢―――すべての始まりを示す、ギルガメッシュの最終宝具。
メソポタミア神話における神の名を冠した剣、乖離剣エアによる空間切断。
エア神はまだ地球が原始状態だった頃、マグマの海とガスとに覆われた地表を回し、砕き、
安定させた星の力が擬神化したものとされる。
多くの神は原始地球が安定し生命が住まう世界となった後で国造りを始めるが、
エアはその以前、星造りを行った一神とされる。
エアの名を冠したギルガメッシュの剣は、三層の巨大な力場を回転させる事で時空流を起こし、
空間そのものを変動させる。
その真の威力は一個の生命相手に用いるものではなく、世界を相手に用いるものだ。
サーヴァントたちが持つ数ある宝具の中でも頂点の一つとされる、"世界を切り裂いた"剣である。

02 - 英雄王
ギルガメッシュの異名。
英雄の王、という意味ではなく、英雄たちの王、という意味合いで用いられる。
人類最古の英雄であるギルガメッシュの物語は、世界各国の神話に模倣された。
あらゆる神話の原典、英雄たちのモデル……と言っても過言ではないだろう。
大なり小なり、様々な神話の英雄たちはギルガメッシュ伝説から派生したものだ。
であるなら、ギルガメッシュは英雄たちが持つ宝具の原型……各神話ごとにアレンジされる前の、
大本の宝を所持している事になる。
逆説ではあるが、原典であるギルガメッシュが持っていなければ、発展系であるその後の英雄たちの手に
宝具は伝わらないからである。

まだ人類が少なかった頃。王国を治め、贅沢を欲しいままにした王の蔵には
世界中のありとあらゆる財宝が集められた。
その蔵には後の英雄たちを助けた宝剣の原典があり、英雄たちの命を奪った魔剣の原典も貯蔵されている。
ギルガメッシュが英雄王と呼ばれる由縁はここにある。
宝具とは本来、ひとりの英雄にひとつのもの。
それをほぼ無限に所持しているばかりか、彼は英雄たちが苦手とする"伝説"さえ当然のように所持しているのだ。
並の英霊に太刀打ちできる筈がない。
英霊にして、対英霊戦における絶対強者。
騎士たちの王、征服する王、と王の称号を持つ英雄は数あれど、"全ての英雄たちの王"の名をいただくのは
天地においてこの男だけである。

03 - 友人
青年になったギルガメッシュの暴力性は増すばかりだった。
ウルクの民はもちろん、彼を遣わせた神々でさえ、ギルガメッシュの横暴さに困り果てていた。
"ギルガメッシュは本来の役割を果たせていない"
"あの不埒者を戒めるモノが必要だ―――"
そう結論した神々は、ひとつの生命を地上に送りこんだ。
名をエルキドゥ。
ギルガメッシュと同じく、神の血を与えられた神造の人である。

ソレには性別はなく、また定まったカタチもない。
神に作られた粘土であるエルキドゥは自在に姿を変える"ウルク最強の兵器"だった。
エルキドゥは母である神に従い、ウルクの神殿の前でギルガメッシュと対峙した。
両者は嵐のように刃を交え、戦いは都市中におよんだ。
激闘の末、両者はどちらともなく地に倒れ、相手の武勇を褒め称え、無二の友人となった。
対等の存在がいなかったギルガメッシュにとって、はじめて"友"と呼べるものが出来たのである。

以後、ギルガメッシュはその独尊ぶりは変わらずとも、エルキドゥに諫められ圧政を軟化させた。
エルキドゥという理解者を得たギルガメッシュは森の番人、神の獣フンババを下し、
地上で最も優れた王としてあらゆる財を手中に収める。
この時、ギルガメッシュは眩しく強大で、神々でさえ目を逸らせない存在だった。
そのギルガメッシュに、一人の女神が恋をした。
豊穣の女神イシュタルである。
彼女はギルガメッシュに求婚するが、ギルガメッシュはこれをあっさりと跳ね除ける。
イシュタルがどれほど移り気で残忍で、男を駄目にする魔女かを知っていたが故だった。
イシュタルはギルガメッシュに侮辱されたと激怒し、報復として父であるアヌ神に泣きつき、
最強の神獣"天の牡牛"を地上に放ってしまった。
"天の牡牛"は嵐をまとう超高層の災害である。
これが現れた時、地上には七年間の飢饉と破壊が訪れる。
即ち、ウルクの滅亡である。
この、敵う者のいない神の獣にギルガメッシュとエルキドゥは協力して立ち向かい、見事撃退する。
女神の面目は再度丸つぶれにされたのだ。
イシュタルの怒りは当然収まらず、彼女は両名どちらかの死を神々に求めた。
人の身で神の獣を殺した事が罪だからである。
イシュタルの願いは聞き届けられ、両名のうち一人、神に作られたエルキドゥは
その命に逆らう事が出来ずゆっくりと衰弱死した。
……王のただ一人の理解者、エルキドゥ。
彼を失った事がギルガメッシュにどれほどの影を落としたのかは、後の彼の生涯が語っている。

エルキドゥは神の粘土で作られた自律型兵器だ。
SE.RA.PHで言うのならAIに近い。
生まれた時から完成していたため、成長も進化もしない。
必要に応じて様々な姿に変化したが、基本は緑色に淡く輝く髪を長く伸ばした、
少女とも少年とも取れぬ十六歳ほどのヒト型だったという。

Skills

01 - Divinity [B (A+)]
A judgement regarding whether or not one's body possess the property of being divine.
Though he possesses the greatest rank of divine spirit aptitude, Gilgamesh himself hates the gods, so the rank has gone down.

02 - Golden Rule [A]
Not the bodily golden ratio, but one's destiny in regard to how much money follows one around in life.
At rank A, it's possible to call it a soul of gold. With this Goldy attitude, even while living like a multimillionaire, he won't have any money troubles during his life.

03 - Collector [EX]
The ability to acquire items of higher quality. It's the good luck of frequently obtaining even rare items, but because it only applies to Gilgamesh himself, it does not bless the Master.
Gilgamesh is a collector of treasure. "I collected all the treasures of the earth," is Gilgamesh's favorite phrase, but that is not a metaphor. He collected and stored away a sample of all the technology that was developed during his age and sealed them.
That which Gilgamesh stored, rather than being treasure, is "the origin of the intelligence of mankind" itself. If it does not exist in Gilgamesh's treasury, then it is "something produced by a new breed of humanity, according a completely new concept," "something made from the technology of the culture born from the intelligent life from another heavenly body," one of the two.
For that reason, of course he has airplanes and submarines. The desires of the people from before Christ are not different, and it would not do for the crafts of ancient times when magic was in good health to be inferior to the crafts of the modern age. People generally realize the "tools of hope" that they dream of, and each time that occurs, it ended with them being confiscated by the king's hand.
The offensive skill Gilgamesh uses, "Gate of Babylon," shoots the treasure he collected like this like arrows. The gate to the golden capital opens, and his treasures are shot out from his treasure cellar.
This is a digression, but after the Noble Phantasms that are shot out are used, regardless of how far it has gone, it turns to Gilgamesh's treasure cellar. "Hah. I possess a Noble Phantasm which excels at the task of retrieval," says the person himself.

01 - 神性 [B(A+)]
その体に神性属性があるかないかの判定。
最大の神霊適正を持つのだが、ギルガメッシュ本人が神を嫌っているのでランクダウンしている。

02 - 黄金律 [A]
身体の黄金比ではなく、人生において金銭がどれほどついて回るかの宿命。
ランクAともなれば黄金の魂と言える。
大富豪でもやっていける金ピカぶりで、一生金銭には困らない。

03 - コレクター [EX]
より品質の良いアイテムを取得する才能。
レアアイテムすら頻繁に手に入れる幸運だが、ギルガメッシュ本人にしか適用されない為、
マスターに恩恵はない。

ギルガメッシュは財宝のコレクターでもある。
"地上の宝はすべて集めた"がギルガメッシュの口癖だが、それは比喩でも何でもない。
彼は彼の時代において発生した、あらゆる技術の雛形を集め、納め、これを封印した。
ギルガメッシュが貯蔵したものは財宝というより、"人類の知恵の原典"そのものである。
英雄王の蔵にないものがあるとすれば、それは"新人類が生み出す、まったく新しい概念によるもの"
"他天体の知的生命体による文明技術によるもの"のどちらかとなる。
なので飛行機も潜水艦も当然完備。
西暦以前であれ人の欲望は変わらず、また、魔力が健在だった頃の古代の技術は
近代の技術に劣ってはいなかった。
人が夢見る"希望の道具"はたいてい実現し、その都度、王の手によって接収されていた訳だ。
ギルガメッシュが用いる攻撃スキル、『ゲートオブバビロン』はこうして集めた財宝を
矢として射出するもの。
黄金の都に通じる扉を開き、彼の宝物庫から財宝を撃ちだしているのである。
余談ではあるが、撃ち出された宝具は使用後、ほどなくしてギルガメッシュの宝物庫に戻っていく。
「フッ。回収用の優れた宝具があるのだ」
とは本人の弁。

Setting

Source
The demigod king who ruled over the Sumerian city-state of Uruk in the time before Christ. Not just a legend but also a real person, the king written of in mankind's oldest epic, "The Epic of Gilgamesh."
Possessing great divinity as two-thirds god and one-third human, without anyone to match him in this world, he was perfected as a transcendent being who attained everything in the world.
In his childhood, he was adored by the people as the ideal ruler, but as he grew, possible due to being treated as almighty, his consideration for the people waned, and he came to rule Uruk with absolute power.
However, simply being oppressive does not make one a tyrant, he made Uruk prosper properly, found a friend he could speak with, and in personally subjugating the phenomena that would harm the people, that heroic quality cannot be doubted.
He is the heroic figure who defeated the bull so large it was cloaked in the heavens and rendered the civilization of this fortified Sumerian city unshakeable.
The following is historical fact, which differs from "The Epic of Gilgamesh." According to a fragment of an inscription found in an archaeological excavation of the historical ruins of this Sumerian city, Uruk was a city-state that existed on the shore of Persian south of Mesopotamia, and he was the fifth king of that city's first dynasty. It obtained assets through ocean trade and subjugated the region of southern Mesopotamia. He was victorious in the fight against Aga, king of the Kish who controlled the north made strong the city-states of Sumer. However, as a result the reckless deforestation of the woods due to the building of ships, their agricultural land was destroyed.
For that reason, Gilgamesh, seeking the giant tree, the Lebanon Cedar, launched an expedition all the way to far-away Phoenicia (modern day Lebanon), fought against the people of woods, called Humbaba, gained victory against them, and brought that massive tree back with him.

Source
According to "The Epic of Gilgamesh," it seems that Gilgamesh, after the loss of Enkidu, fell into depression, his previous vigor gone.
The fact that Enkidu, whose strength had not been inferior to Gilgamesh's own, could die, was the shock that Gilgamesh received.
Gilgamesh, who was tormented over anxiety of death, finally set off on a trip to the realm of the death in search of perpetual youth and eternal life.
It was said that there lived a sage who had lived since placing a large amount of animals upon an ark before the coming of a deluge that assailed the earth.
This sage was said to be the only one of the earth escape from death and live until the present. Seeking him, Gilgamesh set across wilderness alone.
At the end of that long journey and many hardships, Gilgamesh finally managed to reach the realm of the dead. There, he met the sage, Utnapishtim, spoke with him, and in the end, Gilgamesh attained the spirit herb of perpetual youth and eternal life.
Gilgamesh came to rise above the "death" that had taken even Enkidu.
His heart's desire fulfilled, during his triumphant return to Uruk, Gilgamesh stopped by a spring. He cleansed himself; it seems he wanted to test the fruits of his labor while in perfect condition.
However. While he was bathing, unexpectedly, a snake with an empty stomach sniffed out the smell of the spirit herb of perpetual youth and eternal life.
By the time he noticed, it was too late. Panicked, Gilgamesh emerged from the spring, all that remained there was the skin that snake had shed.
Having lost the spirit herb of perpetual youth and eternal life in this way, Gilgamesh was irritated for a long interval, but afterwards, he made his way back to his own castle, Uruk.
While the Gilgamesh after this was severe, he ruled his state quietly, entrusted to to the next king, and went to his eternal rest.
Without telling anyone of the whereabouts of the spirit herb of perpetual youth and eternal life.
Mankind's oldest king of heroes, Gilgamesh. Discord with the gods, the journey for the perpetual youth and eternal life, a deluge which covered the world. In that epic is the basis of every legend.
The truth of his epic poem, which has many uncertain points concerning fine details exists on the other side of the veil of romance placed upon it by the present day.
This is another digression, but the snake is reborn with a new body every time it sheds its skin because it stole and ate Gilgamesh's spirit herb... is what is said. It seems that the way the snake goes about its life appeared to the ancient people as a kind of perpetual youth and eternal life that was not available to humans.

01 - 出典
紀元前、シュメールの都市国家ウルクを治めていた半神半人の王。
伝説だけではなく実在したとされる、人類最古の叙事詩『ギルガメシュ叙事詩』に記された王。
三分の二が神、三分の一が人という高い神格を持ち、この世で彼に敵う存在はなく、
この世の全てを手に入れた超越者として完成されていた。

幼年期は理想の統治者として人々を心酔させたが、万能のおごりからか成長すると共に民を省みなくなり、
ウルクを絶対的な力で支配した。
しかし横暴なだけで暴君という訳でもなく、ウルクを正しく繁栄させ、語り合える友を見いだし、
民の害となる魔物たちを自ら討伐するなど、その英雄性には疑いようがない。
天を覆うほどの巨大な牡牛さえ倒し、シュメールの城塞都市文明を確固たる物にした傑物でもある。

              ◆

以下は『叙事詩』とは違い、史実のもの。
シュメール都市の遺跡より出土した碑文の欠片によると、ウルクはメソポタミア南方ペルシア沿岸に存在した都市国家であり、
彼はその第1王朝第5番目の王とされる。
海洋貿易により財力を得、メソポタミア南方地域を征服。
北方を制したキシュの王アカとの戦いに勝利し、シュメール都市国家群を堅固なものとした。
だが船建築の材料として森林を乱伐した結果、農地を荒廃させてしまう。

そのため、ギルガメシュは巨木のレバノン杉を求め遠くフェニキア(現在のレバノン)にまで遠征し、
 フンババと呼ばれる森の民と戦いこれに勝利を収め、大量の木を持ち帰ったとされる。

02 - 出典
『叙事詩』によると、エルキドゥを失った後のギルガメッシュは暗く落ちこみ、かつての勢いは無くなったとされる。
自分に勝るとも劣らない力を持つエルキドゥですら死ぬ、という事実にギルガメッシュは衝撃を受けた。

"死"の不安に苛まれたギルガメッシュは、ついには不老不死を求めて冥界へと旅立つ事になった。
そこにはかつて、地上を襲った大津波を前に多くの動物たちを箱船に乗せて生き延びた老人がいるという。
地上でただひとり死から逃れ、また、今も生き続けるという賢人。
彼を求めて、ギルガメッシュは単身で荒野に旅立った。

長い旅路、数多の苦難の末、ギルガメッシュはついに冥界に辿り着く。
そこでナピュシテムという老人と出会い、語り、彼はついに不老不死の霊草を手に入れた。
エルキドゥを奪った"死"すら、ギルガメッシュは超越する事になったのだ。

              ◆

念願叶い、ウルクに凱旋する途中、ギルガメッシュは泉に立ち寄った。
身を清め、己が成果を万全の状態で試そうとしたのだろう。

しかし。
その水浴びをしている最中、たまたま腹を空かせていた蛇が不老不死の霊草の匂いをかぎつけた。
気がついた時にはすべてが手遅れ。
あわてて泉から出るギルガメッシュだが、そこには脱皮した蛇の抜け殻だけが残されていた。

 こうして不老不死の霊草を失い、ギルガメッシュは長く焦燥したあと、己が居城であるウルクへの帰路についた。
  その後のギルガメッシュは苛烈さこそあるものの穏やかに国を治め、次の王に都市を委ねて永眠した。
  不老不死の霊草の在処を、誰にも話さないままで。

              ◆

人類最古の英雄王、ギルガメッシュ。
神との確執、不老不死を求める旅、世界を覆う大洪水。
その叙事詩にはあらゆる神話の原形がある。

こまかなところで疑問点の多い彼の叙事詩の真相は、いま以て浪漫のベールの向こう側にある。

また余談だが、蛇が脱皮する度に新しい体に生まれ変わるのはギルガメッシュの霊草をかすめ飲んだから……とも言われている。
古代人は蛇の在り方に、人間にはない不老不死を見たという事だろう。

↑ 22.0 22.1 Fate/stay night Unlimited Blade Works: Day 16 - Last Fight
↑

[] Fate/Zero material - Encyclopedia: Matou Kariya [Person's name], p.103-104

Kariya Matou [Person's name]
The little brother of Matou Shinji's father, Byakuya.
The gutsiest, most rebellious person in the history of the Matou family – against that monstrous old man, just standing up to him and running away was a heroic act of valor. Of course, from Zouken's point of view, no matter how much better Kariya's magic circuits were than his older brother's, they weren't worth the effort it would take to break his will and train him into a proper family head. In fact, at that point he had probably already decided that he had no choice but to bet everything on Byakuya conceiving an heir that would turn everything around. Unfortunately, in the end his longshot gamble backfired spectacularly, and instead of a miracle that would save his lineage, he got Shinji.
By the way, even Kariya's childhood friendship with Aoi was set up by Zouken, who had become aware of the Zenjou family's excellent hereditary trait long before the Tohsaka. However, due to Kariya turning his back on sorcery and getting cockblocked by Tokiomi, the old man's plans once more came to nothing.
…Well, Kariya bringing his beloved Aoi back to some horrid worm pit was never going to happen in the first place. Maybe if the Matou sorcery was a little more normal, he would have been willing to obediently accept his inheritance and become Tokiomi's rival for Aoi's affections.
For a makeshift magus, Kariya's suitability as a Master was exceptional. The fact that he was able to endure the maddened Lancelot's outrageous magical energy consumption for as long as he did is a feat truly deserving of praise. While he might have been better off if Zouken hadn't punished him by forcing him to summon a Berserker, well… I hate to say it, but the only reason Lancelot was able to fight Gilgamesh as well as he did was due to the parameter boost from being maddened. And given the single-minded devotion with which Kariya was pursuing Tokiomi, there's no way you could expect him to have the prudence to avoid that powerhouse team and survive to the very end. When all's said and done, as long as he carried the Matou spirit of putting grudges before everything else, he was probably doomed to failure no matter what.

間桐雁夜【人名】
間桐慎二の父、鶴野の弟。
歴代問桐の一族において屈指のガッツと反骨精神を備えた男。あの怪物爺を相手にして、一度は家督の継承を拒み出奔したというだけでも快挙である。とはいえ臓硯からしてみれば、いかに雁夜の魔術回路が長男よりマシなものだったにせよ、自由意志を奪ってまで次代頭首に仕立て上げるほどの手間には釣り合わない程度の素養だった、というのが実際のところであり、その時点では鶴野が妻に孕ませる次代の子供に一発逆転の万馬券を賭けるべし、という判断だったのだろうだが結果、生まれた慎二はあの体たらくで、お爺ちゃんのギャンブルは見事に裏口に出たのである。
幼少期から禅城家と交流を持ち、葵と幼馴染みになったのも、実は臓硯のセッティングである。間桐は遠坂より先に禅城家の優秀な遺伝特質に気付いていたわけだが、雁夜が魔道そのものを嫌悪したことと、横から割り込んだ時臣による葵ラブハート狙い撃ちによって、やっぱり爺の企ては水泡に帰したのであった。
まぁ雁夜としては愛しい葵を蟲蔵に連れ込むなんて断固NGであっただろうし、せめてもう少し間桐の魔術形態がまともなものであったなら、彼も大人しく継承者になって時臣と恋の鞘当てを演じる気になったかもしれない。
しかし俄仕立ての魔術師としては雁夜のマスター適正は大したもので、狂化ランスロットの法外な魔力消費にあそこまで耐え抜いたことは賞賛にすら値する。そもそも臓硯が雁夜への制裁などという余計な遊び心をおこさず、狂化を強要したりしなはれ、ば良かったのに……なんて悔やむにしても、やはりランスロットがギルガメッシュを相手にあそこまで健闘できたのは狂化による能力増幅の賜物だったわけで、おそらく脇目もふらずに時臣に突っかかっていったであろう雁夜には、強豪を避けて勝ち残るなどという思慮を期待するわけにもいかず……結局のところ、恨み節を万事に優先させてしまう間桐スピリットある限り、敗北は必定だったのだろう。

↑ 24.0 24.1

[] Comptiq 2007-11 issue - Fate Dojo Q & A:
Q: Gilgamesh has no skills in swordsmanship, would Assassin win if Gilgamesh is caught in the range of Tsubame Gaeshi?

Q: Gilgamesh has no skills in swordsmanship, would Assassin win if Gilgamesh is caught in the range of Tsubame Gaeshi?

A: Most likely, he will just defend with his armour, or take out some really unfair defensive armament that protects against Multidimensional Refraction Phenomenon, from the Gate of Babylon. However, Gilgamesh is capable of accurately assessing his opponents' abilities, so he would not consider having a battle of swordsmanship with Assassin the first place.

Q:ギルガメッシュに剣技のスキルはないとのことですが、ならば燕返しの間合いに捕らえさえすればアサシン*でもギルに勝てるのですか? (愛媛県/緑三閃)

A:あの鎧で防がれるor王の財宝から、またサギ臭い対多重次元屈折防具とか出てくる可能性大。ただ、ギルはあれはあれで相手の力量を正しく把握するので、アサシン相手に剣技での戦いはしないと思われます。

↑ 25.0 25.1 25.2 25.3 Fate/strange Fake - Volume 1
↑ Fate/stay night Unlimited Blade Works - Episode 23
↑ Fate/strange Fake Manga - Volume 1, p.34
↑

Fate/Grand Order - Ishtar Interlude 1

↑ Fate/Zero - "It is something that should be in my possession to start with. All the treasures in the world originate from my collection. However, because much time has passed, it disappeared from my treasury. But I am still its owner." "It's not something you can understand. The total amount of my wealth even exceeded my knowledge, but as long as it's a 'treasure', then it'd obviously belongs to me. You should have more sense then trying to rob my treasure away."
↑ 32.0 32.1

[] Fate/complete material III: World material - FAQ with Nasu: Noble Phantasms, p.134


Q: Does "King's Treasure: Gate of Babylon" contain things such as rare but weak Noble Phantasms?

Q: Does "King's Treasure: Gate of Babylon" contain things such as rare but weak Noble Phantasms? I noticed he kept wine in there in Fate/Zero, so I was wondering if Gilgamesh's everyday meals were in there as well.

A: Anything can be found in there. Like a meat that multiplies in proportion to how much is eaten. He's definitely the "NEET of Babylon."

Q:"王の財宝"には、稀少だけどとっても弱い宝具とかも入っているのでしょうか?『ZERO』ではお酒も入っていましたが、もしかしてギルガメッシュの非常食も入っていたりするのかも。


A:あそこには何でも入っているのです。食べた分だけ増殖する肉とかね。まさにニート・オフ・バビロン。

↑ Fate/EXTRA CCC - "Did we have board games in Uruk? An obvious question. The original basis of all of the intellectual properties produced by mankind has its origin in my territories, and is stored in my treasury. Things like that library of the 'King of Conquerors' are nothing but my imitators."
↑ Fate/Grand Order material III - Child-Gil, p.198-203
↑ Fate/Grand Order material IV - Gilgamesh (Caster), p.332-341, translated by castor212 at Beast's Lair.
↑

[] Fate/complete material II: Character material - Weapons: Dáinsleif, p.136

User: Gilgamesh
One of the many, many Noble Phantasms owned by Gilgamesh. It appears in two different stories in Norse mythology. Whichever one you go by, it is a frightening cursed demonic sword.
In the "Völsunga Saga", it was taken from Fafnir's treasures by the clan that killed Sigurd. Its curse causes all who possess it to surely die.
In the "Skáldskaparmál", it is possessed by the Danish king Hogni. It is cursed to always kill a man once it is drawn, and cannot be returned to its sheathe until it does. It is due to this curse that Hogni is locked in eternal combat with the king of Serkland, Hedinn.

ダインスレフ
使用者:ギルガメッシュ
 ギルガメッシュが所蔵する幾多の宝具のひとつであるダインスレフは、北欧神話においてふたつの物語で伝え られている。どちらの物語でも共通なのは、この武器が恐ろしい呪いの魔剣であることだ。
 "ヴォルスンガ·サガ"では、英雄シグルドを殺した一族が、ファフニールの黄金から手に入れた魔剣とされ ている。この剣には破滅をもたらす強力な呪いがかかっており、持つ者はすべて死に至ることにな る。
 女神フレイヤを巡る物語では、この剣をデンマーク王ホグニが所有している。"一度抜かれると人の命を奪う まで鞘には収まらない"という呪われし魔剣であり、この剣の呪いによりホグニはサラセン王ヘジンと永遠の戦 いを繰り広げることになる。

↑

[] Fate/complete material II: Character material - Weapons: Houtengeki, p.136

User: Gilgamesh
A weapon used chiefly during China's Song Dynasty, even this is owned by Gilgamesh.
A Houtengeki is a variation of the Chinese halberd, which is a type of weapon with both a spearhead at the tip of the shaft, and a blade attached to the side.
The distinguishing characteristic of a Houtengeki is the unique crescent shape of the side blade, called the "Moon Fang". It is a versatile weapon capable of performing piercing, chopping, and slicing attacks. However, because of its extreme versatility a high level of skill is required to master it.
The "Houtengageki" used by Lu Bu in "Romance of the Three Kingdoms" is this kind of weapon.

方天戟
使用者:ギルガメッシュ
 主に中国の宋代に使われていた武器であり、これもギルガメッシュが所蔵している。
 "戟"とは穂先を柄の先に付ける"矛"と、柄に対して垂直に付ける"戈"の両方を備えた武器のことを言う 。この方天戟は、その"戟"の一種という位置付けになる。
 方天戟の特徴は矛の外側に付いた三日月状の刃"月牙"である。これにより方天戟は"刺す"ことも"切る" ことも"払う"ことも可能な万能武器に進化した。ただし、それゆえに使いこなすには高い技量が 必要となる。
 『三国志演義』において呂布が使っていた武器"方天画戟"もこの一種にあたる。

↑ Fate/hollow ataraxia - Broad Bridge
↑ Fate/Grand Order - Gilgamesh Buster Attack Animation
↑ 42.0 42.1 42.2 Fate/hollow ataraxia Drama CD - "あるいは怪物という名の食卓"
↑ Fate/EXTRA CCC - "Wait. If all you require is that it be completely eaten, then you will not mind if I do so, yes? I have a poison-tasting Noble Phantasm perfectly suited for this."
↑

Fate/EXTRA CCC - Cooking competition

......Hakuno.
Unfortunately, there is no seasoning in my vault that can make this palatable.
There is, however, an herb that can ready your stomach,
though it has the drawback of causing permanent ageusia upon consumption...
Well?"
Gilgamesh...
Thank you. Your thoughtfulness stills my trembling.
But I must vanquish this by my own hand...I mean mouth.
After all, Elizabeth prepared these dishes for Kishinami Hakuno.
I understand that an arduous battle awaits me.
That's why, when the day comes that I finish this meal―――
won't you come home with me to the countryside
and marry me?


"I applaud your resolve. Now best that fate of death that you have set up yourself."

↑

Fate/EXTRA CCC - Conversation with Saber

ガウェイン:だがーー彼の君への中傷は、
その身を三度燃やし尽くしても
なお飽きたらぬ失言と知れ。
ギルガメッシュ:それは恐ろしいな。
夜の帳は貯蔵っているが、
そこな雑種を守る盾は取り出せぬ。

↑ Fate/Grand Order - Gilgamesh (Caster) Battle Animations
↑ Fate/Grand Order - Gilgamesh (Caster)'s My Room Lines, Bond 3
↑ 48.0 48.1 Fate/Grand Order - Gilgamesh (Caster)'s Arts Attack Animation
↑ Fate/Grand Order - Gilgamesh (Caster)'s Buster Attack Animation
↑ Cite error: Invalid <ref> tag; no text was provided for refs named .5B.5BFate.2Fstay_night.5D.5D_anime_episode_21
↑ 51.0 51.1 Fate/Zero - Volume 3: the power to pierce through even mountains (四本の剣と槍はことごとく直撃し、山をも穿つその威力によって, shitai no ken to yari wa kotogotoku chokugekishi, yama wo mo ugatsu sono iryoku ni yotte

?

)
↑

Fate/EXTRA CCC

Kiara Sessyoin: That's...! Even though you were flung to the edge of the galaxy......! Even if this is a conceptual space, you shouldn't have been able to cross that distance in an instant! How were you able to fly faster than light?
Gilgamesh: You idiot, did you think I wouldn't have a ship of light among my treasures? Just because I like the classics doesn't mean I don't keep up with recent developments. If there is a technique that sends somebody to the edges of space, then there will be a Noble Phantasm corresponding to it.

殺生院キアラ「っ―――!
そんな、あなたは確かに、
銀河の果てに飛ばしたのに・・・・・・!
概念宇宙であれ、一瞬で
詰められる距離ではありません!
光より早く飛んできたとでも!?」
ギルガメッシュ「馬鹿め、我が宝物に
光の船がないとでも思ったのか?
我は古典も愛でるが最新にも理解はある。
果てに飛ばす術があるのなら、
これに相当する宝具があるは人の理。
地上すべての―――
いや、人類全ての原型を
納めてこその英雄王よ」
Community content is available under
CC-BY-SA
unless otherwise noted.