Also known as:
King of Heroes
The Oldest King
Wedge of Heaven
Appearances
Primary franchise:
Appears in:
Gilgamesh (ギルガメッシュ, Girugamesshu?) is a non-classed Servant available to be chosen by Hakuno Kishinami in Fate/EXTRA CCC. When traversing to the Near Side in Fate/EXTELLA, he gains the same Archer-class classification as his counterpart that appears in Fate/stay night.
Profile
[
]
Identity
[
]
Main article: History
Gilgamesh, whose True Name is not concealed by a class designation, is unable to exist on the Near Side of the Moon Cell due to his strength, so he is only able to exist within the Far Side. He simply passes away the time sleeping due to nothing being able to exist there, but his physical body awakens with BB's restructuring of the Far Side.[6][7]
Appearance
[
]
He is offended when people think his height is more normal than expected. He believes that there is no excessive flesh and weight, ever since he was born.[4]
His response to his three sizes, he claims to possess a golden body; befitting the golden king. It is far too beautiful for others to see, but if you desire him to cast off, bring forth a command seal.[4]
He likes wearing golden color underwear.[4]
Golden Armor (黄金の甲冑, Kogane no Katchū

?

): Default attire for CCC. Same design as that of Fate/Stay Night. He claims that he does not need it while playing around, and that it is only crucial for guarding against evil spirits like petrifying serpentsWP, due to it being anti-petrification equipment, and gigantic bulls.[8] He describes it as a Masterwork, however it is a hindrance, which is why he is an Archer.
Modern Costume of Volupté (愉悦の現代衣装, Yuetsu no Gendai Ishō

?

): After being called the Lord of the Night by Hakuno while in these clothes, he is at first, offended, then takes a liking to the phrase and forgives them.
Excited Swimmer (わくわくすいまー, Wakuwaku Suimā

?

): The clothes that the child Gilgamesh wore in Fate/Hollow Ataraxia. Even though he himself seems to prefer Speedos, this swimsuit is unique in that it is the most "normal" of those that the Servants in CCC wear.
Mythological Mystic Code of Genesis (原初の神話礼装, Gensho no Shinwa Reisō

?

): The clothes that Gilgamesh wore in Fate/Hollow Ataraxia after unleashing his full power.
Beautiful Body of Attraction and Adoration (賛美せよ魅惑の肉美

?

)
Immoral Rider Jacket (背徳のライダージャケット

?

) - His clothing in Unlimited Blade Works (route).
Personality
[
]
Gilgamesh's personality is heavily influenced by the era into which he is summoned. The world, his property, of Fate/stay night was sullied by the consumption society of the early 2000s, so he was in a worse mood overall. He has taken a liking to the virtual world of 2032, so his personality is more stable and closer to how it was during life. Arco Wada says he reminds her of Gilgamesh in Fate/hollow ataraxia.[9] He still displays his normal self-centered traits, but Nasu wished to show that there is more to his character than that.[10] He has no particular interest in the events within SE.RA.PH, and decides to simply do as he pleases. This later changes when he personally declared that the fight against BB has also become his battle.
Gilgamesh likes to tease his Master, and he even goes as far to ask the female version "Who is the man you want to be held by?" for entertainment. He believes that there can be nothing else between a man and a woman. He restricts it to the Student Council members, but he will be annoyed if he is chosen instead. He takes it as a given that he is already the obvious choice, so it is useless in staving off boredom. He says it was unavoidable due to being exposed to his aura at such proximity and forgives her, but also completely rejects her, mentioning that she is four thousand years too early for him. He prefers "a noble maiden", "a virgin", and "a flower that blooms in the plain" was his type during his childhood.[4] He is often referred to as AUO, based on the Japanese pronunciation of King of Heroes (英雄王, Eiyū-Ō?).
He believes that he has no weakness and has no faults. He likes to take pleasure trips, no matter what kind of age it is. He cannot cease wandering around the land. Well, he did sleep until I returned to level one though.[4]
Role
[
]
Can You Chat with the King of Heroes?
[
]
Can You Chat with the King of Heroes? (英雄王と、お話できるかな?, Eiyū-Ō to, Ohanashi dekiru ka na??) is a game on the Fate/EXTRA CCC site that involves speaking with Gilgamesh. The player is an unknown presence that has caused the spirit particles to become restless and disturb Gilgamesh's peace in the Chimeric Lunar Sea in the Far Side of the Moon Cell. After being awoken, he mentions that the area should be the territory of nil, meaning that none should be able to trespass. The player has choices to pick different dialogue options to attempt to converse with him, but, depending on his mood, he may simply repeatedly kill the nuisance instead.
He does not acknowledge the player at first, simply calling them a noise and killing them for three days. They resurrect and return each time, so he eventually acknowledges their apparent desire to be killed by him and decides to play along with them. Finally acknowledging them as a "mongrel", he attempts to have them establish a better connection, but they fail, leaving him to do it himself and kill them in the process. He begins to enjoy the process of killing and letting them revive, but the player's lack of knowledge of him angers him.
After finally learning about him, he is pleased that the player has "learned their place." If he is called the King of Knights, he is angered, but also says it has a resonance about it that makes him want to be introduced to the one who holds the title. Their daily talks continue, bringing up the Holy Grail War and having the player humiliate themselves trying to appease him. He tells the player to serve him tea as a favor of finding a task for them, but there is a disruption in the Moon Cell the next day after he prepares his golden tea set.
He attempt to have them resume the task the next day, but cuts the conversation short after realizing that the player is not a magus. He takes an interest in the happenings with the player, noting that such a thing is normally impossible. He tries to establish a connection, but he can only test the receptive capacity and kill the player. After they resurrect, he notes that they are connected even though the player's soul cannot be etherized. The connection between them starts to break, causing him to realize the cause of the situation.
After finding out about the Far Side being restructured, he reveals that the eighteen days of transmissions only took less than a microsecond from the Moon Cell's perspective. That restructuring is responsible for the player interacting with him, feeling human corruption and appetition from the malignant information invading the area. The final day arrives, and Gilgamesh almost draws Enkidu on the player while musing over the possibility of their immortality stemming from being a god. He praises their earnestness, despite their denseness, by recognizing them as one of his subjects.
He becomes able to foresee events yet to pass due to the scattering of spirit particles by the Moon Cell as the Far Side goes through cycles through disintegration and reconstruction. He sees the end of the player being swallowed into nothingness and vanishing without a trace. He says that they are not a magus, but the desire to withstand the deep may allow their voice to reach him on the Far Side of the Moon.
Fate/EXTRA CCC
[
]
Unlike the other Servants that travel with Hakuno to the Far Side after having contracted with them in the Holy Grail War, Gilgamesh cannot travel to the Near Side to participate and resides only within the Far Side. Hakuno had been contracted with a Berserker-class Servant beforehand, but the contract was severed somehow before emerging on the Far Side and encountering Gilgamesh.
While drifting in the space of imaginary numbers in the Far Side of the Moon, Hakuno encounters Gilgamesh in a weakened state. Gilgamesh tells Hakuno, who was frightened by the presence of an "absolute being", that he/she does not have the permission to look upon, question, or speak with him. He is, however, impressed by Hakuno's desire to survive despite having nothing left, and tells Hakuno to "offer him his/her wisdom" as a second chance to life. Being completely forbidden to interact with Gilgamesh in every way, Hakuno uses all of his/her command seals to allow each of the above. Amused with his seemingly illogical actions, Gilgamesh decides to become Hakuno's Servant; however, he proclaims himself to be merely an observer in Hakuno's journey, and not an ally who would risk himself for his Master.
In Chapter Sakura: Bad End, Gilgamesh's amnesic half protects Hakuno from BB's program despite having no memories of him/her. He is pleased by Hakuno's pure, brazen desire to reclaim Gilgamesh at the cost of his/her own life, asking who would save such a wretched being if not himself. After he is released from his seal, Gilgamesh easily dispatches the program with his Noble Phantasm and declares Hakuno's fight to now be his own.
Gilgamesh's ending features Hakuno returning to the Near Side of the Moon to take part in the Holy Grail War of Fate/EXTRA, forgetting the preceding events with Gilgamesh and being unable to recall the Servant they have contracted. They find Gilgamesh sitting nude in their room, remembering the Far Side and filled with surprise at his existence because he was supposed to be limited only to the Far Side. He simply says "I broke that rule." It then proceeds to the deletion of Hakuno's data at the end of the Holy Grail War, but Gilgamesh instead insults the Moon Cell, takes Hakuno, and decides to head out for "any planet with intelligent life and an emphasis on consumption and progress." They end up on a planet 1,500 light years away from Earth.
Fate/EXTELLA
[
]
Gilgamesh returns as a selectable playable character. He is the self-declared second in command of Altera's party fighting alongside Altera, Jeanne d'Arc, and Iskandar. He appears from the Far Side and, after testing Altera's strength, joins her supposedly to repay a debt his father owes her for sparing his life during the descent of Sefar. However, he is implied to have memories of Hakuno from the events that transpired in Fate/EXTRA CCC and his true reason for joining Altera is to protect Hakuno.
Flame Poem
[
]
Gilgamesh defends Mare Carcer against Nero Claudius's forces, but Nero defeats him.
Orchid Words
[
]
During Altera's invasion of SE.RA.PH, Gilgamesh destroyed one of Tamamo-no-Mae's territories guarded by Karna. Afterwards, he returned to his base in Mare Origo where he bombarded Mare Luxuria. However his base is soon invaded by Tamamo's forces, and he is defeated by Tamamo. He later helps defend Mare Carcer, where he's again defeated.
Dawn
[
]
Gilgamesh appears from the Far Side upon sensing an instability in the Zero Dark. Arriving in Mare Carcer, he interrupts Altera and Jeanne's duel with his Gate of Babylon. He mocks Jeanne for being too weak to fight while commending Altera for still being able to fight. He reveals how he crossed the Far Side's boundary into the Zero Dark upon sensing an instability there. Altera deduces his True Name, recognizing his scent being from an ancient civilization. Gilgamesh reveals he knows Altera's former identity as Sefar, and demands she prove to him her legend, older than his, are true. He fights Altera, but he becomes bored that she is holding back by not transforming into Sefar. Altera answers she refuses to let go a memory of her walking the earth in her current form, who fight to leave something behind, instead of being of pure destruction. Seeing she refuses to transform, Gilgamesh launches a poisonous sword to force her to. Hakuno cures the poison though, and Gilgamesh and Altera fight once again, which ends in a standstill. Gilgamesh reveals to Altera how she, as Sefar, spared his father before he was born, and made the gods swear a debt to her. He decides to join her to repay that debt, and confirms Hakuno's suspicions he has merely testing Altera. He declares himself as Altera's second-in command, though he refuses to follow her orders. He then leaves telling Altera to find her own path if she wishes to continue being a hero. Jeanne asks him why he chose to work under Velber to destroy the world. He leaves her to contemplate whether to follow her duty to Moon Cell, or her own passions.
After Altera returns to the cavern upon returning from defending Mare Origo from Tamamo's army, Gilgamesh confronts Hakuno in the throne room. He asks them how they feel about now knowing that they're merely the Body of the original Hakuno, without a Mind or a Soul. He notes the revelation doesn't faze them given their situation. He continues Hakuno always prioritized what's currently happening before them, and took what they thought was the best path towards that priority no matter how difficult. He then leaves after telling Hakuno to always remain resolute.
After Altera returns to the cavern upon returning from conquering Mare Mellum, Hakuno finds Gilgamesh sitting on the Altera's throne. He inquires if they were intimidated by Altera after witnessing her true power as Sefar. Seeing they now understand Altera's true power, he mocks them for believing they were the Master of a Heroic Spirit. Pointing out Altera's absence, Gilgamesh tells Hakuno to seize the opportunity to run away and beg Nero for help; Something he states the original Hakuno would do. Hakuno however refuses to leave, so Gilgamesh tells them to dismiss his words. He continues he would've never appointed himself second-in-command if they were the type to run away. He then explains he didn't become second-in-command to help Altera, but to watch over Hakuno's actions for his amusement. He tells Hakuno all their fates will be up to them before leaving.
When Altera invades Mare Aurum, Gilgamesh reports the Zero Dark's core is being interfering with. He realizes Nero's forces are preparing to invade Mare Carcer, and tells Altera to stop Gawain. Later, when Altera arrives in Mare Carcer to stop Nero's invasion, Gilgamesh reports Nero and Archimedes are currently in the throne room with the intent to seize Hakuno. Altera asks him how long it'll take for them to hack into the cavern, to which he answers it won't be long given they have both the Regalia and an engineer.
Gilgamesh later ambushes Archimedes when he tries to extort the Regalia from Altera by torturing Hakuno after she killed Nero. He mocks Archimedes for his arrogance, and calls him the greatest of fools. He attacks him again, which Archimedes failes to block completely. Archimedes reminds Gilgamesh of his people's debt to Altera, but Gilgamesh replies he only joined Altera for Hakuno's sake. That being the case, he is thus still technically under Altera's contract, since he's yet to save her. Archimedes calls his argument illogical, but Gilgamesh calls it royal whimsy that Archimedes will never understand. Ignoring Altera's attempts to thank him, Gilgamesh leaves her and Hakuno to finish things.
Golden Poem
[
]
Gilgamesh with Jeanne helps Iskandar fight against Nero's forces in Mare Origo, but they're both defeated. Gilgamesh later watches the fight between Nero and Iskandar from a distance. He contemplates killing both Hakuno and Nero if the fight fails to amuse. Jeanne contacts him to ask if he's serious, but he ignores her. She then asks him why he joined Altera, as he wasn't summoned by Moon Cell, so she cannot perceive a reason for him to intervene with Velber. Gilgamesh thinks she's joking, but she insists she isn't. He then explains how he came from the Far Side after sensing an awakening in the Zero Dark to intervene in the battle against Sefar. Sensing the battle against Sefar will come to an end, he wonders what will come afterwards, as neither he nor Jeanne can perceive it. The next day, Jeanne and Gilgamesh help defend Mare Carcer, but they're defeated again.
Abilities
[
]
In all heaven and earth, Gilgamesh is the one and only "King of All Heroes". Despite having his standard powers and abilities tuned a bit to fit into the EXTRA world, he is more or less the same as his counterpart.[6] Here, Gilgamesh is different from regular Heroic Spirits in that he is not confined to a single class. He was manifested as a Servant like other Heroic Spirit but his power was too great for the goal of "participate in the Holy Grail War held by the Moon Cell."[11] The Moon Cell reincarnated Gilgamesh after reconstructing him, but Gilgamesh was still unable to be controlled, so the Moon Cell sealed him away by sending him to the far side of the Moon.[6] The Moon Cell does not want the "strongest Master", but rather the "last surviving Master."[11] It considered that the winner would have been decided from the beginning if he had participated, so he was not allowed to enter and sealed away.[11] He personally claims to have entered the Far Side willingly due to finding the tournament format too diluted and sculpted compared to the seven magi melee on which it was based, lacking betrayal, artifice, or fruitless exertions.[11] Despite that claim, he cannot actually leave through his own will without many constraints being placed upon him. During his ending, he "shatters the rule" of not existing on the Near Side, but it costs him ninety percent of his treasury.[12]
Due to the long time he spent sleeping on the Far Side, citing it as "a time approaching eternity" due to the Far Side's nature, he "returned to level one." While his soul was unaffected, his abilities and strength were dulled and tarnished through his peaceful sleep, unlike other Servants who would lose themselves while only being able to desperately cling to consciousness to prevent deletion.[11] All of his stats are E rank, but unlike Hakuno's other Servants, his Noble Phantasm is not sealed.[13] He claims that Ea, considered to be his main Noble Phantasm under the Moon Cell system, is always available to him, but that he will not use it due to Hakuno not being able to handle it and the lack of worthy opponents.[13] Only when he decides that Hakuno's battle is his own does he allow for it to be used, though he would have unsealed it instantly had any of the Alter Egos been derived from the hated Ishtar. He does claim that his Potion of youth could potentially restore his power but decides that Hakuno must rehabilitate his body.[13]
He normally wears Golden Armor (黄金の甲冑, Kogane no Katchū?) materialized from magical energy much like Artoria's armor. It has a strong innate Magic Resistance. He claims that he does not need it while playing around, and that it is only crucial for guarding against evil spirits like petrifying serpentsWP, due to it being anti-petrification equipment, and gigantic bulls.[8] He describes it as a Masterwork, however it is a hindrance, which is why he is an Archer.
Skills
[
]
Class Skills
[
]
Personal skills
[
]
Divinity (B (A+) Rank): The measure of one's Divine Spirit aptitude. AThough he possesses the greatest rank of divine spirit aptitude, Gilgamesh himself hates the gods, so the rank has gone down.[2][7]
Golden Rule (A Rank): A skill that measures one's fortune in amassing wealth throughout their lifetime. (It has nothing to do with having an actual body made of gold. Honestly.)[2] At rank A, it's possible to call it a soul of gold.[7] With this Goldy attitude, even while living like a multimillionaire, he won't have any money troubles during his life.[7] He's no Hassan-i-Sabbah, that's for sure.[2]
Collector (EX Rank): The ability to acquire high-quality items. It's the good luck of frequently obtaining even rare items, but because it only applies to Gilgamesh himself, his Master cannot benefit from this skill.[2][7] At Rank EX, even the rarest articles find their way into Gilgamesh's hands.[2] Gilgamesh is a collector of treasure. "I collected all the treasures of the earth," is Gilgamesh's favorite phrase, but that is not a metaphor. In life, he gathered the prototypes of every existing technological wonder, put them in his vault, and sealed them away. That which Gilgamesh stored, rather than being treasure, is "the origin of the intelligence of mankind" itself. The only things missing from the great King of Heroes' treasury are completely alien technologies and conceptualizations of posthuman design.[2][7]
Noble Phantasms
[
]
He is the origin of all myths, and calling him the model on which heroes are based would not be an exaggeration.[7] Because the heroes of various myths are derived from his legend, his Gate of Babylon possesses all the prototypes of the Noble Phantasms that heroes carry, the original treasures from before every legend was arranged.[7] Though it may be a paradox, unless Gilgamesh possesses the original, it cannot be handed down as the Noble Phantasm possessed by the later heroes who were derived from him.[7] Noble Phantasms are primarily one to any single hero. Not only does he possess an approximately infinite amount of them, he also owns the "legends" that other heroes are weak against as if it were natural. As such, it should be impossible for an average hero to cross swords with him. In fact, as a Heroic Spirit, Gilgamesh is an absolute warrior in battles against Heroic Spirits.[7]
His final Noble Phantasm is Ea#Enuma Elish wich reveals creation, the beginning of everything. And even among the many Noble Phantasms possessed by Servants, it is one considered to be at the top, the sword "which tore apart the world."[7] In fact, it is the utmost secret Noble Phantasm of the King of Heroes, the one crowned as the strongest and oldest Noble Phantasm that humanity ever possessed.[14] It's the name of the severing of space which comes from the Sword of Rupture, Ea, crowned with the name of a god from Mesopotamian mythology.[7] The god, Ea, is believed to be the quasi-deification of the power of the planet which turned, smashed, and stabilized the surface of the earth when it was still covered in gas and seas of magma, during the primordial stage of the earth.[7] Many gods began building nations after the the primordial earth was stabilized into a world where living creatures could live, but Ea is a god who performed the act of building of planet before that.[7] In Fate Extra CCC, Gilgamesh's sword, which is crowned with Ea's name, changes space itself by agitating space-time through the rotation of three layers of giant power fields.[7] It's true power is not something to be used against a single living creature but against the world.[7]
Other Capabilities
[
]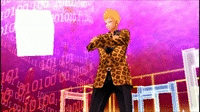 Gilgamesh's technique to expose Lancer's third SG is A.U.O. Cast Off (英雄王・キャストオフ, Eiyū-Ō Kyasuto Ofu?), a way for him to cut loose and hear the "lovely voices of miserable girls" that are "an instrument to be played by the king." Removing his clothing, he exposes his naked body, a thing of supreme beauty surpassing the most perfect diamonds in the world and having great effect upon virginal young girls like her. As he poses provocatively and calls for her to stare fervently at him if she is truly accustomed to such, it is super effective against her and allows for her SG to be captured. Though his plan was for her to be entranced by his glory and surrender herself, she instead runs away, possibly because he was too beautiful even for one who pursues beauty and showed too great a difference between them. Rani decides to delete the last five minutes from the council room's records, and Hakuno decides to forever ignore whether it was a serious ploy or just to tease Lancer.
Gameplay
[
]
Gilgamesh displays the use of Gate of Babylon in battle, and along with raining down swords, he draws a number of different weapons in close combat, including swords similar in shape to Enki, a golden axe, and a black and gold drill-shaped weapon. He uses Enkidu, to stun opponents, and a minor usage of Ea as skills.[7]
Fate/EXTELLA LINK - Archer Active Skills List
Gate of Babylon - Treasures of the King (Gate of Babylon) - Long Range Attack Skill/Class Skill Archer - Launch a massive amount of weapons from the treasury.

Enurta's War Cry - Close-Range Attack Skill - Stab with a drill shaped lance, creating a whilwind. Has a high chance to break through an enemy servant's gaurd.

Enkidu Modification -Long Range Attack Skill/Class Skill Archer - A long rage attack where the "Chains of Heaven" shoot out in a straight line. No stun effects.

Enkidu - Chains of Heaven (Enkidu) - Action Restriction Skill - Shoot forth the "Chains of Heaven", tying down any enemies they hit and stunnig them.

"I see you, idiot!" - Long Range Attack Skill/Class Skill Archer - Open a gate ad shoot out weapons from the teasury like a gatling gun.

He Who Saw All - Counter Skill - Enter a special Guard state, which nullfies enemey attacks and automatically counterattacks, for a breif time.

Anu's Covered Eyes - Area Attack Skills - Ecircle the area in front of you, sooting summoned weapons and causing explosions.
Forms and Alternate Versions
[
]
Mythological Mystic Code of Genesis
[
]
In the final arc of Fate/EXTRA CCC, Gilgamesh unlocks his Origin in order to fight BB, just like Hakuno's other servants (Nero Claudius, No Name or Tamamo-no-Mae depending on the player's preferences) do in their respective paths.[15]
Appearance
[
]
In this form Gilgamesh has the same appearance as when he battled his friend Enkidu for supremacy the first time they met.[15]
Abilities
[
]
The moment BB gained complete control over the core of the Moon Cell, there was nothing Gilgamesh and Hakuno Kishinami could do against her, and they were forced to retreat immediately the moment she started erasing the space they were on.[16] Although they didn't find a way to seal BB's "Ten Crowns", the student council was able to devise countermeasures. As a result of analyizing the data from the Ten Crowns they gained from Robin Hood, Rani VIII and Rin Tohsaka acquired rights to access "original power" from the Moon Cell. The Ten Crowns is the beginning of human history, the dawning of the light of civilization. To summarize, it is the power of the Origin that began the human genome. It is something all human beings hold within them. By entering Gilgamesh's virtual mind/body to access the Heroic Spirit core directly, Hakuno was able to reach the heroic spirit's root that the Moon Cell had sealed away, and release the Mythological Mystic Code. This is an origin that even the person themselves, in this case, Gilgamesh, can never know. The farthest point that became the cause of the birth of the entity known as Gilgamesh. In other words, zero.[15]
By removing the limiter placed on him, Gilgamesh would be able to acquire the same level of "fundamental truth" as BB due to now being able to raise his spiritual rank according to his will. Because this is a very powerful engine, this power places much burden on the Servant. Sakura claims that the basic Servant frame is not capable of withstanding the power output of the Mythological Mystic Code, and she asks Hakuno to limit its use to one time only. With this power alone, the student council estimated that Gilgamesh and Hakuno would have a 0.9999% chance of victory against BB. In order to help Gilgamesh and Hakuno in the final battle, even if just a little, Rin Tohsaka redirected all the power that had been previously protecting the school building to stop BB and the Alter Egos from entering, and all the resources that comprised the building were transferred to Gilgamesh, to further empower him. By the point Gilgamesh finally faces BB, his power is increased to the same rank as hers. Being able to match BB in capability and rank of powers wielded, the battle between the two becomes rather competitive. In the Bad Ending, where BB gets to use her Noble Phantasm Cursed Cutting Crater, Gilgamesh loses and is vanquished. Hakuno blames herself, saying they were just one step short, and that she's sure that if they were given another chance, they'd definitely be able to corner BB. In the good ending, Hakuno and Gilgamesh are successful in preventing BB from using her Noble Phantasm by severing her connection with the Moon Cell, defeating her in the process.[15]
After defeating BB, Gilgamesh and Hakuno face Kiara Sessyoin, who by absorbing Passionlip, Meltryllis, BB, and Sakura Matou to form her core, taking complete control of the Moon Cell, and Hans Christian Andersen pouring all his Noble Phantasm into her, metamorphosed into a divine Daemon, becoming a similar existence to a True Daemon and Buddha. Although Kiara Sessyoin had ascended to the position of a god after gaining complete control of the Moon Cell, she ended up defeated by Hakuno Kishinami, a mere human, and Gilgamesh. Being regarded by Andersen as an omnipotent being, there surely was no reason for her to lose against them. Surprisingly, Hakuno just happened to be the only person she couldn't use her "omnipotence" against. Kiara had not only based her powers in BB and Sakura, but the Alter Egos as well. It was because those girls whom she had taken as her core kept opposing her desperately inside her to protect their own love that Kiara lost. She fought head-on all confidently while being unaware of her own weak points. Had she know this beforehand, Kiara claims that she would have just blown them away to some random realm, just to later destroy that realm alongside them.[15]
Noble Phantasms:
Gate of Babylon: In this form, Gilgamesh still has access to his treasury, as seen both in gameplay and when Kiara Sessyoin blasted him away to the ends of the galaxy, only for him to return short after. Although the world inside the Moon Cell may be a conceptual space, it's not a distance Gilgamesh on his own should be able to close off in a single instant. To do so, he would have had to fly faster than the speed of light. If there's a method to blast something to the ends, then it is in the laws of humans that Gilgamesh must possess a Noble Phantasm able to counter it. It is because Gilgamesh possesses all the Earth's... no, all the prototypes of humanity, that he is the King of Heroes. Although Gilgamesh is fond of the classics, he also has some understanding of the new models. As such, he summoned a "Ship of Light" with which he was able to return to aid Hakuno.[15]
Development
[
]
Creation and Conception
[
]
Kinoko Nasu felt that, while pondering what class to place Gilgamesh in, he didn't require a class because "there's no need to constrain [Gil] like that anymore." The original test version he played of the game made the character extremely "broken" gameplay-wise, causing him to be described as "hax mode" on the Servant selection screen. He doesn't know if that will be the final design choice, or if they will adjust the power balance.[17]
AUO Cast-Off was created for fun while during scenario production, and they had originally planned to use his swimsuit model to accomplish the task by focusing the camera on his upper torso and revealing only a bit of skin. It turned out Kunimitsu of the modeling team had, "off the clock, spontaneously", made several models including a nude Gilgamesh model to Nasu's surprise.[18]
References
[
]
↑ 1.00 1.01 1.02 1.03 1.04 1.05 1.06 1.07 1.08 1.09 1.10 1.11 1.12 1.13 1.14 1.15 1.16

[] Fate/EXTRA material - SERVANT Parameter and Skills: SERVANT GILGAMESH, p.019

SERVANT GILGAMESH


Master: Main protagonist

Identity: Gilgamesh

Gender: Male

Height, Weight: 182cm/68kg

Alignment:Chaotic Good

Strength: B

Endurance: B

Agility: B

Mana: A

Luck: A

Noble Phantasm: EX



Class Skills
■ Independent Action: EX

Personal skills
■ Golden Rule : A

■ Divinity: B (A+)

■ Collector: EX

Noble Phantasm
■ Enuma Elish: The Star of Creation that Split Heaven and Earth
Rank: EX
Type: Anti-World
Range: 1 ~ 999
Maximum number of targets: 1000 people

ギルガメッシュ


マスター:主人公

真名:ギルガメッシュ

性別:男性

身長・体重:182cm/68kg

属性:渾沌・善

筋力:B

耐久:B

敏捷:B

魔力:A

幸運:A

宝具:EX



クラス別筋力
■ 単独行動:EX
マスター不在でも行動できる。
ただし宝具の使用等、多大な魔力を必要とする行為にはマスターのバックアップが必要となる。

保有スキル
■ 黄金律:A
身体の黄金比ではなく、人生において金銭がどれほどついて回るかの宿命。
ラソクAともなれば黄金の魂と言える。
大富豪でもやっていける金ピカぶり。一生金には困らない。ハサンとは違うのである。

■ 神性:B(A+)
その体に神性属性があるかないかの判定。
最大の神霊適正を持つのだが、ギルガメッシュ本人が神を嫌っているのでランクダウンしている。

■ コレクター:EX
より品質の良いアイテムを取得する才能。
レアアイテムすら頻繁に手に入れる幸運だが、ギルガメッシュ本人にしか適用されない為、マスターに恩恵はない。
ギルガメッシュは財宝のコレクターでもある。
"地上の宝はすべて集めた"がギルガメッシュの口癖だが、それは比喩でも何でもない。彼は彼の時代において発生した、あらゆる技術の雛形を集め、納め、これを封印した。
ギルガメッシュが貯蔵したものは財宝というより、"人類の知恵の原典"そのものである。
英雄王の蔵にないものがあるとすれば、それは"新人類が生み出す、まったく新しい概念によるもの" "他天体の知的生命体による文明技術によるもの" のどちらかとなる。

宝具
■ 天地乖離す開闢の星
ランク:EX
種別:対界宝具
レンジ: 1~999
最大補足:1000人
開闢————すべての始まりを示す、ギルガメッシュの最終宝具。
メソポタミア神話における神の名を冠した剣、乖離剣エアによる空間切断。
エア神はまだ地球が原始状態だった頃、マグマの海とガスとに覆われた地表を回し、砕き、安定させた星の力が擬神化したものとされる。多くの神は原始地球が安定し生命が住まう世界となった後で国造りを始めるが、エアはその以前、星造りを行った一神とされる。

↑ 2.00 2.01 2.02 2.03 2.04 2.05 2.06 2.07 2.08 2.09 2.10 2.11 2.12 2.13 2.14 2.15 2.16 2.17 2.18 2.19 2.20 2.21 2.22 2.23

Fate/EXTELLA Material

- Gilgamesh, p.8
↑ 4.0 4.1 4.2 4.3 4.4 4.5 4.6 4.7 4.8 4.9

[] Fate/EXTRA CCC - Gilgamesh Secret Garden

Profile
Name: Gilgamesh (I am the absolute first king. The king of heroes among heroes. As such, that is what you should call me.)
Height: (If I must say, then) 182 cm (What? More normal than you expected? Fool! Are you telling me to become a meat puppet!?)
Weight: (Again, if I must say, then) 68 kg (approximately. Just so you know, there is no excess flesh. Again, since I was born, there has been no time when this body gained excess weight. It has been of use, mongrel.)
3 Sizes: B94/W73/H93 (A golden body is befitting the golden king. It is far too beautiful for your eyes, but if you desire me to cast off, bring forth a command seal.)
Home: (Let's see. If I were to answer as a human, then it would be my capital,) Uruk
Birthday: Unknown (The beginning or end of the land, choose whichever you prefer.)
Weak Point: Do not ask of what you already know. (It is obvious that my weakness is that I have no faults.)
Fetishism: (Let's see..) That their molding be beautiful is natural, there is no need to speak of it. (That which appeals to my heart is the sound of a heart breaking, and when beautiful objects are washed away, that even more beautiful drop of liquid. When you lick it, it is sweet.)
What do you seek from your partner?
............ (That answer is one you should search for yourself.)
Favorite underwear color?
(You, are you now an incorrigible fool?) What is there besides gold!!!
How do you spend your free time?
Pleasure trips. (No matter what kind of age it is, I cannot cease wandering around the land. Well, I did sleep until I returned to level one though.)

Lynchpin of Heaven
That which exemplifies Gilgamesh's way of life. That which expresses how the gods of ancient times lived and his birthplace.
In history, the gods of the universe are split into two categories. When things that were already there become gods, and when things are reborn as gods.
Things that were already there are when things such as heavenly bodies, like the sun and moon, or natural phenomena, like storms or earthquakes, become the objects of worship.
Things that are reborn as gods is when they were human in the beginning, but due to various factors, they deviated from being human and became the objects of worship. Heroes and messiahs and systems necessary to thrive fall under this category.
The gods of Mesopotamia are of the former category. Natural phenomena possess intentions and personalities and reigned as the laws of heaven. That which those gods sent out in order to remonstrate the people of the earth was Gilgamesh.
The lynchpin of heaven. The king who was brought forth by the hands of the gods in order to secure the the surface which was leaving the age of the gods.
However, he did not fulfill that role. Considering his own desires first, controlling his kingdom as a person, he rejected how the gods lived as something from a past age.
"I will obey the gods. And respect them. However, be destroyed. On the occasion that you brought me forth, you lost your positions by your own actions."
Thus, ancient Uruk began, and the king who parted ways from the gods was born. The King of Heroes, Gilgamesh. The king that was desired as a lynchpin, in truth, became the tip of the spear that put an end to the old age.

Chains of Heaven
That which exemplifies Gilgamesh's childhood. It expresses his battle with the friend that was his equal and their adventures.
The one and only tale of a merit that will not change for all eternity in the world.

Poison of Death
That which exemplifies Gilgamesh's youth. It expresses his pursuit of perpetual youth and eternal life and its circumstances.
Thus, that childhood time of his came to an end. The tyrant with neither blood nor tears.
The hero who enjoyed himself, mastering every treasure, every pleasure.
The king with the conviction to treat good and evil equally. As the absolute basis is "himself," there is no need for other ideologies and ways of life. Though on the point of vaingloriousness, he is the same as the Macedonian King of Conquerors, but the largest difference between the King of Heroes and the King of Conquerors is the point of "not needing retainers."
This hero, from the beginning to the end dictated only "himself." His loves are treasures, tools; people were only things that would disappear.
...Even if he recognizes how much it deserves to be loved.
Considering the theme of "CCC," it's impossible to avoid questions regarding women. This is a digression, but Gilgamesh's preferred type is "a noble maiden (virgin)". (It seems that "a flower that blooms in the plain" was his type during his childhood.) It seems he hates women who, while relying on men, have using men as their interior face.

↑ Fate/EXTRA CCC - Chapter 1: Subordination Garden -Backyard of Eden-
↑ 6.0 6.1 6.2

[] Fate/EXTRA material - Encyclopedia: Gilgamesh [Servant], p.175-176

Gilgamesh [Servant]
A main Servant who was added for CCC.
Humanity's most ancient hero, and a demigod who, B.C., ruled the Sumerian city-state of Uruk.
Ruthless and unfeeling. A tyrant who heeds not the opinions of others and lives by his standards alone.
Like Red Archer, I've expounded exhaustively on this guy in plenty already, so there's nothing in particular that needs to be said.
Though some details were tweaked slightly for Extra, he's basically the same Gil we all know.
An extraordinary Heroic Spirit who flaunts his ornate golden armor and throws around his superabundant wealth of treasures like they grow on trees or something.

[pronoun stuff]

His nature is Chaotic Good.
A cold-blooded tyrant, and a hero who had sought and enjoyed all manners of treasures and pleasures.
Though capricious and temperamental, he does not (generally) kill someone simply because he is in a foul temper.
When he kills a person, it is either because that someone's soul is abominable, or because that person has become an enemy of his.

King and sentencer who weighs both good and evil equally.
To him, a life is only "that which will die this moment" or "that which will one day die."
A being who is recognized by Gilgamesh as "a life that must die this moment" will be slain, even if a sage.

"So in the end it has nothing to do with rules or conditions and just depends on what he feels like that day?!"
This kind of reaction is understandable, but that is what a king is.
Whether astute judgment synonymous to the truth of the universe,
or misrule during a drunken stupor,
if he is the one to implement it, it would become the indisputable adjudication of the king.
Such is the absolute sovereign.

Though some see him as similar to Iskandar in their egocentricity, the greatest difference between the two is that Gilgamesh has no need of vassals.
Gilgamesh is a king who, from start to end, reigns by means of only "himself." What he loves are "treasures" and "tools," while a "person" is no more than that which must one day perish.
……No matter how worthy of love he may acknowledge that to be.

Considering CCC's themes, women's issues can't be avoided. Gil's type is a "noble maiden." (Ko-Gil's is a "wildflower.")
He dislikes women who are dependent on men and yet would make use of men. In other words, he dislikes "womanlike" women.

Though the Moon Cell had reconstructed and manifested him as a Servant, unable to control him, it sealed him in the Far Side of the Moon.
As Gilgamesh himself hadn't seen much point in the Holy Grail War, he made himself a bedchamber in the darkness (malevolent information), and dozed to dreams of degeneration.
Although he'd been lazily savoring his splendid isolation of aiding none and needing none, since he found the ramblings of the fool (the protagonist) who fell into Hell kind of amusing,
he woke and stuck his nose into the protagonist's affairs for a little bit, thus setting off the chain of events for his route.

Because he'd been napping in Hell for a near infinite amount of time, both his mind and body have completely rusted.
Just when you think he finally won't be so cocksure of himself this time around, it turns out that that's his default status to begin with. ←new!
But his Noble Phantasm wreaks an insane amount of damage, so I'm honestly kind of worried about the game balance of the latter half of the game right now.
The battle flow might turn into something terrible like Gil-sama attacks → the enemy dies!

Though such is the AUO, being an allied Servant, surely he will someday come to mutual trust with the protagonist and, along with light conversation, unlock his SGs.
Additionally, because he is not incarnated in Extraverse, he is not affected by the nature of the era's civilization. In CCC, one may occasionally catch glimpses of the more personal sides of a neutral Gilgamesh from the era of the epic.

↑ 7.00 7.01 7.02 7.03 7.04 7.05 7.06 7.07 7.08 7.09 7.10 7.11 7.12 7.13 7.14 7.15 7.16

[] Fate/EXTRA CCC - Gilgamesh Matrix

Class: None
Name: Gilgamesh
Master: [PC]
Noble Phantasm: Enuma Elish (The Star of Creation That Split Heaven and Earth)
Keyword: King of Heroes, friend
Strength: B, Endurance: C, Agility: C, Magic: A, Luck: A
Divinity: B (A+), Golden Rule: A, Collector: EX

Keywords

Enuma Elish (The Star of Creation That Split Heaven and Earth)
Gilgamesh's final Noble Phantasm which reveals creation--the beginning of everything.
The severing of space which comes from the Sword of Rupture, Ea, the sword crowned with the name of a god from Mesopotamian mythology.
The god, Ea, is believed to be the quasi-deification of the power of the planet which turned, smashed, and stabilized the surface of the earth when it was still covered in gas and seas of magma, during the primordial stage of the earth.
Many gods began building nations after the the primordial earth was stabilized into a world where living creatures could live, but Ea is a god who performed the act of building of planet before that.
Gilgamesh's sword, which is crowned with Ea's name, changes space itself by agitating space-time through the rotation of three layers of giant power fields.
It's true power is not something to be used against a single living creature but against the world. Even among the many Noble Phantasms possessed by Servants, it is one considered to be at the top, the sword "which tore apart the world."

King of Heroes
Another name for Gilgamesh. It does not mean a king who is a hero but is used with the implication that he is the king over heroes.
The story of Gilgamesh, is who mankind's oldest hero, is copied within the mythologies of all the countries of the world. The origin of all myths, the model on which heroes are based...calling him such would not be an exaggeration.
More or less, the heroes of various myths are derived from Gilgamesh's legend. As such, Gilgamesh possesses the prototypes of the Noble Phantasms that heroes carry... the original treasures from before every legend was arranged. Though it may be a paradox, unless the original, Gilgamesh, possesses it, it cannot be handed down as the Noble Phantasm possessed by the later heroes who were derived from him.
When humanity was still small. Within the treasury of the king, who governed his kingdom and lived in as much luxury as he desired, was collected every single treasure in the world.
Inside that treasury, there is the treasured swords that saved later heroes, and there is preserved the cursed swords that stole the lives of heroes.
The reason that Gilgamesh is called the King of Heroes is here. Noble Phantasms are primarily one to a any single hero. Not only does he possess an approximately infinite amount of them, he also owns the "legends" that other heroes are wake against, as if it were natural. It should be impossible for an average hero to cross swords with him.
As a Heroic Spirit, he is an absolute warrior in battles against Heroic Spirits. While there are several heroes who hold the title of king, such as the King of Knights and the King of Conquerors, but in regards to being crowned with the title "King of All Heroes," in all of heaven and earth, he is the only one.

Friend
As he became a young man, Gilgamesh's violent disposition only grew. Of course the people of Uruk, but even the gods who dispatched him, were greatly perplexed by his violence.
"Gilgamesh is not fulfilling his original role." "That insolent creature needs someone to admonish him."
Having come to that conclusion, the gods sent a single life to the surface. Its name was Enkidu. It was a person made by a god and given her blood, the same as Gilgamesh.
It had neither a sex nor a fixed form. Enkidu, being made from clay by a god, was "Uruk's greatest weapon," able to change its shape at will. According to the god which was its mother's will, Enkidu confronted Gilgamesh before the temple of Uruk. With their exchanging of blows like a storm, their battle occurred within the city.
After that fierce fighting, they both collapsed to the ground without consideration for where, praised each other's valor, and became peerless friends.
Gilgamesh, who had been without equal, for the first time found someone he could call "a friend."
After that, while his vainglorious attitude did not change, Gilgamesh, remonstrated by Enkidu, softened his tyranny.
Gilgamesh, who had acquired someone who understood him in Enkidu, defeated the guardian of the forest and beast of the gods, Humbaba, and, as the most excellent king on the earth, took possession of every single treasure.
At this time, the dazzlingly powerful Gilgamesh was an existence that not even the gods could avert their eyes from.
A goddess fell in LOVE with this Gilgamesh. It was the goddess of fertility Ishtar. She proposed to Gilgamesh, but he quickly refused. Because he knew that how whimsical and cruel a witch who rendered men useless Ishtar was.
Ishtar, enraged by Gilgamesh's insults, as her revenge, clung to her father, the god Anu, in tears and released the greatest of divine beasts, "the Bull of Heaven," onto the earth.
"The Bull of Heaven" is a disaster of extreme magnitude clad in storms. When it appeared, a seven-year famine and destruction occurred on earth. In other words, the downfall of Uruk.
Against this divine beast which none could match, Gilgamesh and Enkidu worked together to stand against it and repelled it splendidly. Once again, the goddess lost face. Naturally, Isthar's rage had not lessened, and she requested death for either of the two of them from the gods. Because for one with a human body to kill the beast of the gods was a sin.
Ishtar's wish was granted, and one of the two, Enkidu, who was created by the gods, unable to defy that decree, slowly weakened and died.
...The sole person who understood the king, Enkidu. Just how large a shadow his loss cast over Gilgamesh is told in his lifetime afterward.
Enkidu is an autonomous weapon created from the clay of the gods. In SE.RA.PH. terms, he is close to an AI. As a result of being complete from birth, he neither grows nor evolves. He could take various forms as needed, but it is said his usual appearance was that of a 16-year-old person who could be seen as a girl or a boy with long hair which faintly shines a light-green color.

01 - 『天地乖離す開闢の星』
開闢―――すべての始まりを示す、ギルガメッシュの最終宝具。
メソポタミア神話における神の名を冠した剣、乖離剣エアによる空間切断。
エア神はまだ地球が原始状態だった頃、マグマの海とガスとに覆われた地表を回し、砕き、
安定させた星の力が擬神化したものとされる。
多くの神は原始地球が安定し生命が住まう世界となった後で国造りを始めるが、
エアはその以前、星造りを行った一神とされる。
エアの名を冠したギルガメッシュの剣は、三層の巨大な力場を回転させる事で時空流を起こし、
空間そのものを変動させる。
その真の威力は一個の生命相手に用いるものではなく、世界を相手に用いるものだ。
サーヴァントたちが持つ数ある宝具の中でも頂点の一つとされる、"世界を切り裂いた"剣である。

02 - 英雄王
ギルガメッシュの異名。
英雄の王、という意味ではなく、英雄たちの王、という意味合いで用いられる。
人類最古の英雄であるギルガメッシュの物語は、世界各国の神話に模倣された。
あらゆる神話の原典、英雄たちのモデル……と言っても過言ではないだろう。
大なり小なり、様々な神話の英雄たちはギルガメッシュ伝説から派生したものだ。
であるなら、ギルガメッシュは英雄たちが持つ宝具の原型……各神話ごとにアレンジされる前の、
大本の宝を所持している事になる。
逆説ではあるが、原典であるギルガメッシュが持っていなければ、発展系であるその後の英雄たちの手に
宝具は伝わらないからである。

まだ人類が少なかった頃。王国を治め、贅沢を欲しいままにした王の蔵には
世界中のありとあらゆる財宝が集められた。
その蔵には後の英雄たちを助けた宝剣の原典があり、英雄たちの命を奪った魔剣の原典も貯蔵されている。
ギルガメッシュが英雄王と呼ばれる由縁はここにある。
宝具とは本来、ひとりの英雄にひとつのもの。
それをほぼ無限に所持しているばかりか、彼は英雄たちが苦手とする"伝説"さえ当然のように所持しているのだ。
並の英霊に太刀打ちできる筈がない。
英霊にして、対英霊戦における絶対強者。
騎士たちの王、征服する王、と王の称号を持つ英雄は数あれど、"全ての英雄たちの王"の名をいただくのは
天地においてこの男だけである。

03 - 友人
青年になったギルガメッシュの暴力性は増すばかりだった。
ウルクの民はもちろん、彼を遣わせた神々でさえ、ギルガメッシュの横暴さに困り果てていた。
"ギルガメッシュは本来の役割を果たせていない"
"あの不埒者を戒めるモノが必要だ―――"
そう結論した神々は、ひとつの生命を地上に送りこんだ。
名をエルキドゥ。
ギルガメッシュと同じく、神の血を与えられた神造の人である。

ソレには性別はなく、また定まったカタチもない。
神に作られた粘土であるエルキドゥは自在に姿を変える"ウルク最強の兵器"だった。
エルキドゥは母である神に従い、ウルクの神殿の前でギルガメッシュと対峙した。
両者は嵐のように刃を交え、戦いは都市中におよんだ。
激闘の末、両者はどちらともなく地に倒れ、相手の武勇を褒め称え、無二の友人となった。
対等の存在がいなかったギルガメッシュにとって、はじめて"友"と呼べるものが出来たのである。

以後、ギルガメッシュはその独尊ぶりは変わらずとも、エルキドゥに諫められ圧政を軟化させた。
エルキドゥという理解者を得たギルガメッシュは森の番人、神の獣フンババを下し、
地上で最も優れた王としてあらゆる財を手中に収める。
この時、ギルガメッシュは眩しく強大で、神々でさえ目を逸らせない存在だった。
そのギルガメッシュに、一人の女神が恋をした。
豊穣の女神イシュタルである。
彼女はギルガメッシュに求婚するが、ギルガメッシュはこれをあっさりと跳ね除ける。
イシュタルがどれほど移り気で残忍で、男を駄目にする魔女かを知っていたが故だった。
イシュタルはギルガメッシュに侮辱されたと激怒し、報復として父であるアヌ神に泣きつき、
最強の神獣"天の牡牛"を地上に放ってしまった。
"天の牡牛"は嵐をまとう超高層の災害である。
これが現れた時、地上には七年間の飢饉と破壊が訪れる。
即ち、ウルクの滅亡である。
この、敵う者のいない神の獣にギルガメッシュとエルキドゥは協力して立ち向かい、見事撃退する。
女神の面目は再度丸つぶれにされたのだ。
イシュタルの怒りは当然収まらず、彼女は両名どちらかの死を神々に求めた。
人の身で神の獣を殺した事が罪だからである。
イシュタルの願いは聞き届けられ、両名のうち一人、神に作られたエルキドゥは
その命に逆らう事が出来ずゆっくりと衰弱死した。
……王のただ一人の理解者、エルキドゥ。
彼を失った事がギルガメッシュにどれほどの影を落としたのかは、後の彼の生涯が語っている。

エルキドゥは神の粘土で作られた自律型兵器だ。
SE.RA.PHで言うのならAIに近い。
生まれた時から完成していたため、成長も進化もしない。
必要に応じて様々な姿に変化したが、基本は緑色に淡く輝く髪を長く伸ばした、
少女とも少年とも取れぬ十六歳ほどのヒト型だったという。

Skills

01 - Divinity [B (A+)]
A judgement regarding whether or not one's body possess the property of being divine.
Though he possesses the greatest rank of divine spirit aptitude, Gilgamesh himself hates the gods, so the rank has gone down.

02 - Golden Rule [A]
Not the bodily golden ratio, but one's destiny in regard to how much money follows one around in life.
At rank A, it's possible to call it a soul of gold. With this Goldy attitude, even while living like a multimillionaire, he won't have any money troubles during his life.

03 - Collector [EX]
The ability to acquire items of higher quality. It's the good luck of frequently obtaining even rare items, but because it only applies to Gilgamesh himself, it does not bless the Master.
Gilgamesh is a collector of treasure. "I collected all the treasures of the earth," is Gilgamesh's favorite phrase, but that is not a metaphor. He collected and stored away a sample of all the technology that was developed during his age and sealed them.
That which Gilgamesh stored, rather than being treasure, is "the origin of the intelligence of mankind" itself. If it does not exist in Gilgamesh's treasury, then it is "something produced by a new breed of humanity, according a completely new concept," "something made from the technology of the culture born from the intelligent life from another heavenly body," one of the two.
For that reason, of course he has airplanes and submarines. The desires of the people from before Christ are not different, and it would not do for the crafts of ancient times when magic was in good health to be inferior to the crafts of the modern age. People generally realize the "tools of hope" that they dream of, and each time that occurs, it ended with them being confiscated by the king's hand.
The offensive skill Gilgamesh uses, "Gate of Babylon," shoots the treasure he collected like this like arrows. The gate to the golden capital opens, and his treasures are shot out from his treasure cellar.
This is a digression, but after the Noble Phantasms that are shot out are used, regardless of how far it has gone, it turns to Gilgamesh's treasure cellar. "Hah. I possess a Noble Phantasm which excels at the task of retrieval," says the person himself.

01 - 神性 [B(A+)]
その体に神性属性があるかないかの判定。
最大の神霊適正を持つのだが、ギルガメッシュ本人が神を嫌っているのでランクダウンしている。

02 - 黄金律 [A]
身体の黄金比ではなく、人生において金銭がどれほどついて回るかの宿命。
ランクAともなれば黄金の魂と言える。
大富豪でもやっていける金ピカぶりで、一生金銭には困らない。

03 - コレクター [EX]
より品質の良いアイテムを取得する才能。
レアアイテムすら頻繁に手に入れる幸運だが、ギルガメッシュ本人にしか適用されない為、
マスターに恩恵はない。

ギルガメッシュは財宝のコレクターでもある。
"地上の宝はすべて集めた"がギルガメッシュの口癖だが、それは比喩でも何でもない。
彼は彼の時代において発生した、あらゆる技術の雛形を集め、納め、これを封印した。
ギルガメッシュが貯蔵したものは財宝というより、"人類の知恵の原典"そのものである。
英雄王の蔵にないものがあるとすれば、それは"新人類が生み出す、まったく新しい概念によるもの"
"他天体の知的生命体による文明技術によるもの"のどちらかとなる。
なので飛行機も潜水艦も当然完備。
西暦以前であれ人の欲望は変わらず、また、魔力が健在だった頃の古代の技術は
近代の技術に劣ってはいなかった。
人が夢見る"希望の道具"はたいてい実現し、その都度、王の手によって接収されていた訳だ。
ギルガメッシュが用いる攻撃スキル、『ゲートオブバビロン』はこうして集めた財宝を
矢として射出するもの。
黄金の都に通じる扉を開き、彼の宝物庫から財宝を撃ちだしているのである。
余談ではあるが、撃ち出された宝具は使用後、ほどなくしてギルガメッシュの宝物庫に戻っていく。
「フッ。回収用の優れた宝具があるのだ」
とは本人の弁。

Setting

Source
The demigod king who ruled over the Sumerian city-state of Uruk in the time before Christ. Not just a legend but also a real person, the king written of in mankind's oldest epic, "The Epic of Gilgamesh."
Possessing great divinity as two-thirds god and one-third human, without anyone to match him in this world, he was perfected as a transcendent being who attained everything in the world.
In his childhood, he was adored by the people as the ideal ruler, but as he grew, possible due to being treated as almighty, his consideration for the people waned, and he came to rule Uruk with absolute power.
However, simply being oppressive does not make one a tyrant, he made Uruk prosper properly, found a friend he could speak with, and in personally subjugating the phenomena that would harm the people, that heroic quality cannot be doubted.
He is the heroic figure who defeated the bull so large it was cloaked in the heavens and rendered the civilization of this fortified Sumerian city unshakeable.
The following is historical fact, which differs from "The Epic of Gilgamesh." According to a fragment of an inscription found in an archaeological excavation of the historical ruins of this Sumerian city, Uruk was a city-state that existed on the shore of Persian south of Mesopotamia, and he was the fifth king of that city's first dynasty. It obtained assets through ocean trade and subjugated the region of southern Mesopotamia. He was victorious in the fight against Aga, king of the Kish who controlled the north made strong the city-states of Sumer. However, as a result the reckless deforestation of the woods due to the building of ships, their agricultural land was destroyed.
For that reason, Gilgamesh, seeking the giant tree, the Lebanon Cedar, launched an expedition all the way to far-away Phoenicia (modern day Lebanon), fought against the people of woods, called Humbaba, gained victory against them, and brought that massive tree back with him.

Source
According to "The Epic of Gilgamesh," it seems that Gilgamesh, after the loss of Enkidu, fell into depression, his previous vigor gone.
The fact that Enkidu, whose strength had not been inferior to Gilgamesh's own, could die, was the shock that Gilgamesh received.
Gilgamesh, who was tormented over anxiety of death, finally set off on a trip to the realm of the death in search of perpetual youth and eternal life.
It was said that there lived a sage who had lived since placing a large amount of animals upon an ark before the coming of a deluge that assailed the earth.
This sage was said to be the only one of the earth escape from death and live until the present. Seeking him, Gilgamesh set across wilderness alone.
At the end of that long journey and many hardships, Gilgamesh finally managed to reach the realm of the dead. There, he met the sage, Utnapishtim, spoke with him, and in the end, Gilgamesh attained the spirit herb of perpetual youth and eternal life.
Gilgamesh came to rise above the "death" that had taken even Enkidu.
His heart's desire fulfilled, during his triumphant return to Uruk, Gilgamesh stopped by a spring. He cleansed himself; it seems he wanted to test the fruits of his labor while in perfect condition.
However. While he was bathing, unexpectedly, a snake with an empty stomach sniffed out the smell of the spirit herb of perpetual youth and eternal life.
By the time he noticed, it was too late. Panicked, Gilgamesh emerged from the spring, all that remained there was the skin that snake had shed.
Having lost the spirit herb of perpetual youth and eternal life in this way, Gilgamesh was irritated for a long interval, but afterwards, he made his way back to his own castle, Uruk.
While the Gilgamesh after this was severe, he ruled his state quietly, entrusted to to the next king, and went to his eternal rest.
Without telling anyone of the whereabouts of the spirit herb of perpetual youth and eternal life.
Mankind's oldest king of heroes, Gilgamesh. Discord with the gods, the journey for the perpetual youth and eternal life, a deluge which covered the world. In that epic is the basis of every legend.
The truth of his epic poem, which has many uncertain points concerning fine details exists on the other side of the veil of romance placed upon it by the present day.
This is another digression, but the snake is reborn with a new body every time it sheds its skin because it stole and ate Gilgamesh's spirit herb... is what is said. It seems that the way the snake goes about its life appeared to the ancient people as a kind of perpetual youth and eternal life that was not available to humans.

01 - 出典
紀元前、シュメールの都市国家ウルクを治めていた半神半人の王。
伝説だけではなく実在したとされる、人類最古の叙事詩『ギルガメシュ叙事詩』に記された王。
三分の二が神、三分の一が人という高い神格を持ち、この世で彼に敵う存在はなく、
この世の全てを手に入れた超越者として完成されていた。

幼年期は理想の統治者として人々を心酔させたが、万能のおごりからか成長すると共に民を省みなくなり、
ウルクを絶対的な力で支配した。
しかし横暴なだけで暴君という訳でもなく、ウルクを正しく繁栄させ、語り合える友を見いだし、
民の害となる魔物たちを自ら討伐するなど、その英雄性には疑いようがない。
天を覆うほどの巨大な牡牛さえ倒し、シュメールの城塞都市文明を確固たる物にした傑物でもある。

              ◆

以下は『叙事詩』とは違い、史実のもの。
シュメール都市の遺跡より出土した碑文の欠片によると、ウルクはメソポタミア南方ペルシア沿岸に存在した都市国家であり、
彼はその第1王朝第5番目の王とされる。
海洋貿易により財力を得、メソポタミア南方地域を征服。
北方を制したキシュの王アカとの戦いに勝利し、シュメール都市国家群を堅固なものとした。
だが船建築の材料として森林を乱伐した結果、農地を荒廃させてしまう。

そのため、ギルガメシュは巨木のレバノン杉を求め遠くフェニキア(現在のレバノン)にまで遠征し、
 フンババと呼ばれる森の民と戦いこれに勝利を収め、大量の木を持ち帰ったとされる。

02 - 出典
『叙事詩』によると、エルキドゥを失った後のギルガメッシュは暗く落ちこみ、かつての勢いは無くなったとされる。
自分に勝るとも劣らない力を持つエルキドゥですら死ぬ、という事実にギルガメッシュは衝撃を受けた。

"死"の不安に苛まれたギルガメッシュは、ついには不老不死を求めて冥界へと旅立つ事になった。
そこにはかつて、地上を襲った大津波を前に多くの動物たちを箱船に乗せて生き延びた老人がいるという。
地上でただひとり死から逃れ、また、今も生き続けるという賢人。
彼を求めて、ギルガメッシュは単身で荒野に旅立った。

長い旅路、数多の苦難の末、ギルガメッシュはついに冥界に辿り着く。
そこでナピュシテムという老人と出会い、語り、彼はついに不老不死の霊草を手に入れた。
エルキドゥを奪った"死"すら、ギルガメッシュは超越する事になったのだ。

              ◆

念願叶い、ウルクに凱旋する途中、ギルガメッシュは泉に立ち寄った。
身を清め、己が成果を万全の状態で試そうとしたのだろう。

しかし。
その水浴びをしている最中、たまたま腹を空かせていた蛇が不老不死の霊草の匂いをかぎつけた。
気がついた時にはすべてが手遅れ。
あわてて泉から出るギルガメッシュだが、そこには脱皮した蛇の抜け殻だけが残されていた。

 こうして不老不死の霊草を失い、ギルガメッシュは長く焦燥したあと、己が居城であるウルクへの帰路についた。
  その後のギルガメッシュは苛烈さこそあるものの穏やかに国を治め、次の王に都市を委ねて永眠した。
  不老不死の霊草の在処を、誰にも話さないままで。

              ◆

人類最古の英雄王、ギルガメッシュ。
神との確執、不老不死を求める旅、世界を覆う大洪水。
その叙事詩にはあらゆる神話の原形がある。

こまかなところで疑問点の多い彼の叙事詩の真相は、いま以て浪漫のベールの向こう側にある。

また余談だが、蛇が脱皮する度に新しい体に生まれ変わるのはギルガメッシュの霊草をかすめ飲んだから……とも言われている。
古代人は蛇の在り方に、人間にはない不老不死を見たという事だろう。

↑

Interview summary: "Apparently Gil's personality is heavily influenced by the era he's summoned into. He was a jerk in FSN because the world (his property) was being sullied by the consumption society of the early 2000s, which rubbed him the wrong way. He's taken a liking to the virtual world of 2032, though, so his personality is more stable and closer to how he actually was in life. Wada says he reminds her a little of Hollow Ataraxia Gil."

↑

もちろん冷酷で、"我様" なところはそのままですが、「こいつはひどいヤツだけど、同時にすごいヤツなんだ」というノリで突き進んで います。

↑ 11.0 11.1 11.2 11.3 11.4 https://tsukinoura.wordpress.com/2013/07/11/entry-29-rooming-with-the-king-of-heroes/
↑ 13.0 13.1 13.2 https://tsukinoura.wordpress.com/2013/07/09/entry-27-we-have-a-problem-and-it-is-mostly-gilgamesh/
↑ FGO 4* command code : The Reason of Creation. Translated by WaifuHunter : https://www.reddit.com/r/grandorder/comments/d5xshx/ea_lore_from_4_command_code/
↑ 15.0 15.1 15.2 15.3 15.4 15.5 Fate/EXTRA CCC - Chapter 7: The Depths of Holy Maiden - Anima Ataraxia
↑ Fate/EXTRA CCC - Chapter 6: Critical Pleasure - Alter Ego/S
↑ TYPE-MOON Ace 8 Fate/EXTRA CCC Nasu and Takeuchi interviews - Pages 11-12, 39-43
↑

[] Fate/EXTRA material - Encyclopedia: AUO Cast-Off [Other], p.163 [T]

AUO Cast-Off [Other]
This is the thing of supreme beauty that Gilgamesh exposes in the fifth chapter.
While writing the script I got excited about the prospect of including a cast-off (nude) scene in the game. One of the staff suggested, "For this scene let's have Gil in his swimsuit, and then keep the camera directed up high so we only show bare skin in order to trick the players."
But then another staffer piped up, "Huh? You need a nude shot of Gil right? We already have one done you know." It made me feel like I was late to the party.
After that we discovered that some staff had randomly made some extra costumes for the female protagonist outside of work hours including a swimsuit version, gym uniform and even tights. Of course we happily put them all into the game. I want to give a big thanks to Kunimitsu-san from the 3D modeling team. Thanks to you, from the second week onwards in game the protagonist is undoubtedly qualified as a pervert.

AUOキャストオフ【その他】
五章においてギルガメッシュが晒す至高の美。
シナリオ制作時つい興が乗ってキャストオフさせてしまい、スタッフさんには「ここはギルの水着で代用。カメラをアップでうまく肌の部分だけ映す事で誤魔化す」と注釈をいれたところ、「え?ギルのヌードでしょ?ありますよ?」
と、あたかも我の方が空気読めてないライターのように返答された。なぜだ。
後に、ギルの裸ばかりか女主人公の水着、体操服、はてはタイツまで『労働時間外で、自発的に』作っていたスタッフが発見され、めでたく採用となった。モデル班の国光さん、本当にありがとうございました。おかげで二週目以降の主人公はどう見ても変態です。
External links
[
]