EnglishEnglish | JapaneseJapanese
« Huh? Say, it's a giant. Well, I guess then..."
"You have the right to reform..."
"Then, it can't be helped."
"Hamesh Avanim! »
(Archer)

Hamesh Avanim: The Five Stones (五つの石, Itsutsu no Ishi?) is the sling of David that he used to defeat GoliathWP, consisting of five decorated stones bound by the line of a sling and normally carried around his waist. The sling is the true Noble Phantasm, and the projectiles are merely normal stones that have undergone transfiguration, allowing them to be replenished unendingly.[2] The stones can be called an expression of David's tolerance, the first four stones acting as projectile "warning shots" to attempt to persuade the opponent to lay down their arms.[1][2]
Should the opponent fail to comply with the warnings, he will be able to launch the fifth stone, "a rapid, nonlethal attack that is extremely difficult to evade", that is said to certainly hit a vital spot and defeat the opponent.[2][3] In the case of a Servant, they will temporarily lose consciousness and suffer severe damage, although it is something insignificant in a typical war situation where the unconscious person can be rescued. Afterwards, the opponent's main armament will either become David's or it will become unusable. David will mightily shout in Hebrew gematriaWP a countdown when using this Noble Phantasm, starting with "He (5)", "Dalet (4)", "Gimel (3)", "Bet (2)" and "Alef (1)". He will make the threat obvious towards his opponent on the count of one with a stronger shout.[3]

Within the Final Singularity film, it is shown to have the ability to encircle an individual, such as Ritsuka Fujimaru and grant the ability of flight, as well as protect him from incoming attacks like the Demon God Pillar's blast.
Development
[
]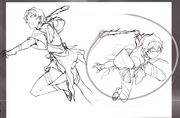 The original design for the Fate/Apocrypha game describes the fifth shot rendering normal Heroic Spirits unconscious on impact, causing their belongings to be "redesignated" as the possessions of David. Even if the Servant should take hold of their former Noble Phantasm, its usage will be disallowed to them by divine authority.[2] This function has been slightly modified as of the Fate/Grand Order design.
Hamesh AvanimWP is the name of an Israeli game consisting of throwing one stone upward and picking up four stones before catching the first as it comes down, like the ancient Greek game KnucklebonesWP.

References
[
]
↑ 1.0 1.1 1.2 1.3

[] Fate/Grand Order - Archer Profile [T]

David - Archer

Illustrator and Voice actor
Illustrator: Ginka
Voice Actor: Yūichi Nakamura

Parameters
Strength: C
Endurance: D
Agility: B
Mana: C
Luck: A
Noble Phantasm: B

Personal Skills
Divine Protection: A
Harp of Healing: B
Charisma: B

Class Skills
Magic Resistance: A
Independent Action: A

Noble Phantasm
Hamesh Avanim: The Five Stones
Rank: C-→C
Type: Anti-Unit

Profile
David is a king of Israel that appears in the Old Testament.
Originally a shepherd, he announced his candidacy to the one-on-one duel with the giant Goliath and defeated him. It has been said that afterwards - although there were a few quarrels with the king of that time - upon being splendidly enthroned as king, he carried out an excellent reign.

Level 1 Bond
Height/Weight: 171cm・62kg
Source: Old Testament
Region: Israel
Alignment: Lawful Neutral  Gender: Male
Michelangelo's "David" is the most famous statue about him.

Level 2 Bond
David was a shepherd and a harpist. In order to play the harp to the king of Israel, who was fighting the Philistines at the time, he often visited the army. At that occasion, the Philistine giant Goliath demanded for a one-on-one duel with everything on the line.

Level 3 Bond
Scared from the giant's excessive strength, nobody from the Israel army was able to oppose him, but David alone accepted that duel. Goliath made light of David, who challenged him without carrying a sword, David threw a rock that made Goliath faint and decapitated him with his own sword.

Level 4 Bond


David's harp (kinnor) - which cleansed the evil spirits from the king of Israel, Saul - possesses effects of exorcism and preserves the tranquility of the listeners' minds. In ancient society, the harp was highly regarded as appeasing evil spirits.

Level 5 Bond
"Five Stones"
Rank: C  Type: Anti-Unit
The sling that knocked down the giant Goliath. The five stones express David's tolerance; he misses up to four of the attacks, but the fifth attack will certainly hit and defeat the opponent.

Interlude
A king and also a shepherd who is used to waiting upon people, he also grew accustomed serving others from his experience as a harpist. A friendly, sincere Servant, but he is absurdly weak towards women, so care is required in regards to that point.

ダビデ - アーチャー

イラストレーター・声優
ILLUST:ギンカ
CV:中村悠一

パラメータ
筋力:C
耐力:D
敏捷:B
魔力:C
幸運:A
宝具:B

保有スキル
神の加護 A
治癒の竪琴 B
カリスマ B

クラス別能力
対魔力 A
単独行動 A

宝具
五つの石
ランク: C-→C
種別:対人宝具

キャラクター詳細
ダビデは旧約聖書に登場する、イスラエルの王。
元羊飼いであり、巨人ゴリアテの一騎打ちに名乗りを上げ、打ち倒した。その後、当時の王といざこざがあったものの、見事王に即位してからは見事な政治を行ったという。

アンロック条件:絆レベルを1にすると開放
身長/体重:171cm・62kg
出典:旧約聖書
地域:イスラエル
属性:秩序・中庸  性別:男性
ミケランジェロの「ダビデ像」が最も有名。

アンロック条件:絆レベルを2にすると開放
ダビデは羊飼いであり、竪琴弾きでもあった。当時、ペリシテ人と戦っていたイスラエルの王に竪琴を弾くため、軍を度々訪れていた。
その際、ペリシテ人の巨人ゴリアテが全てを懸けた一騎討ちを要望した。

アンロック条件:絆レベルを3にすると開放
巨人のあまりの強さに恐れをなしたイスラエル軍は誰一人立ち向かうことができなかったが、唯一ダビデがその一騎討ちに応じた。
剣も持たずに挑むダビデを侮るゴリアテだが、ダビデは石を投げてゴリアテを昏倒させ、彼の剣で首を刎ねた。

アンロック条件:絆レベルを4にすると開放
○治癒の竪琴:B
イスラエル王国の王・サウルの悪霊を祓ったダビデの竪琴(キヌュラ)には破魔の効力があり、 聴く者の精神を平穏に保つ。
古代社会における竪琴は悪霊を鎮めるとして重要視されていた。

アンロック条件:絆レベルを5にすると開放
『五つの石』
ランク:C  種別:対人宝具
巨人ゴリアテを打ち倒した投石器。五つの石はダビデの寛容を表しており、攻撃は四度まで外されるが五度目の攻撃は必ず命中し、相手を倒す。

アンロック条件:「???」をクリアすると開放
???

↑ 2.0 2.1 2.2 2.3

[] Fate/complete material IV: Extra material - Fate/Apocrypha - David, p.308-309

David
King of Israel
David is based on the king of ancient Israel who appears in the Old Testament. Placing his duty as an agent of God first and foremost, he possesses the strength of will to maintain an extreme calm in the face of utter desperation, clear-mindedly evaluating his situation in a realistic manner. To his view, "All humans upon this earth have a place within God's plan," and should be regarded with appropriate respect. Typical of many heroes, however, he has a weakness for women with nice bodies, occasionally muttering, "I wish to take a wife for myself ..." Though he is considered an unparalleled genius in his talent with a harp, he possesses little skill in dancing. However, he favors both as his pastimes.



Class:Archer

Source:Old Testament

Location:Judeo-Christian cultural sphere

Alignment:Lawful Neutral

Gender:Male

Height:171cm

Weight:62kg

Armament: Sling



Illustrations: Ginka
Creator: Hoshizora Meteo (TYPE-MOON)

Legend
As a shepherd, he was told by the prophet Samuel that he had been given a special role from God. He is famous for episodes such as performing with a harp in front of Saul, king of Israel, to exorcise him from an evil spirit, and defeating the Philistine giant Goliath. Saul soon became jealous of David's glory in battle, and he became the target of assassination attempts. However, after Saul dies in battle with the Philistines, David ascends the throne and conquers Jerusalem. David's only disgrace is his disregarding the law to pursue the married woman Bathsheba. He murders his vassal to obtain her, and he endures God's punishment for it in his last years.

Status


STR: C

CON: D

AGI: B

MGI: C

LCK: A

Noble Phantasm: B



Skills


The form and flesh of a man prophecized to be king, bearing the quick-wittedness and brute strength to defeat beasts unaided. Though he has been resurrected by the power of the Grail, Servant does not regard himself as a vessel to the soul of his original -- merely as an instrument of God. He does not terribly mind this existence, content merely to feel the grace of his Lord.



In life, the Servant is said to have exorcized evil spirits on the behalf of King Saul of Israel with use of his harp alone. His skill with the instrument is such that he is capable of purging mental interference and restoring psychological stability to those who listen to his music. However, the accuracy of projectiles and polearms suffer a large Rank Down within hearing range. The Servant's act of exorcism may have a modern analogue in musical therapy.



Though the Servant was originally a mere shepherd in life, as an ancestor of Christ, he qualified weakly as a being of divine nature -- perhaps equivalent in rank to Joseph of Nazareth. He possesses some defense against the action of conceptual relics and Noble Phantasms based in the divinity of Christ (though not those based in the divinity of God) -- for example, "holy shrouds," "the stakes of the Crucifixion," and "the Lancea Longini"; possibly even "the Holy Grail."



A prodigy of military tactics and command in life, the Servant called to arms a force of 320 thousand men to seize the city of Jerusalem. For the long path of bloodshed that he wrought as a military leader, he later deemed to seek the forgiveness of God by building a place of worship in his capital. (Due to certain circumstances, it was not built until the reign of his son, Solomon.)

Noble Phantasms


Hamesh Avanim: The Five Stones


The slingshot that defeated the giant Goliath. A Noble Phantasm that consists of five decorated stones bound by the line of a sling, normally carried behind the Servant's waist. Hamesh Avanim expresses David's generosity: As projectiles, the first four stones are used as warning shots as the Servant attempts to persuade his opponent to lay down arms. If said opponent fails to comply, the fifth stone may be launched -- a rapid, nonlethal attack that is extremely difficult to evade. Normal Heroic Spirits are rendered unconscious on impact, and their belongings are "redesignated" to the possession of the user of the Hamesh Avanim; that is, even if they take hold of their former Noble Phantasms, usage is disallowed by divine authority. The sling itself is the true Hamesh Avanim, and the five projectiles are merely normal stones that have undergone transfiguration; they may be unendingly replenished.



Sacrifice: Flames Upon the Altar


The "flame that carries the hottest heat, shinning brightly, which flared up by God's commands" which appears in the Book of Numbers of the Old Testament. A phantasmal incense burner in deactivation. Ketoret is burned within, and when the violet fumes that issue have enveloped the target, thunderclouds and mist gather overhead -- giving the impression of Mount Sinai; from them, a fire descends from the heavens, incinerating without a trace all those who would oppose the will of God. The flames are shaped like an altar.



Ark: The Chest of the Covenant


A wooden box that contains the original engravings of the Ten Commandments issued to Moses by God. As a Noble Phantasm, its effect is narrow but absolute; besides the Servant that carries them, all those who would deem to touch the box without authorization are drained of their magical energy unto death. Upon seizure of Jerusalem and the removal of the Philistines, King David of Israel appointed the city as his capital, and situated within it the Ark of the Covenant.

イスラエル王
ダビデ
旧約聖書に登場する古代イスラエルの王。神を第一とし、常に涼やかで切羽詰まることがない。状況を冷静に分析し、現実的な判断を下すリアリストでもある。他者に対しては「誰しも神に与えられた役割がある」と敬意をもって接する。彼は英雄らしく、ナイスバディーな女性が弱点。ふた言めには「妻に迎えたい」と言いだす。そして彼は竪琴の演奏は天才的ながら踊りの才能は皆無なのだが、そのどちらもが大好きである。



クラス:アーチャー

出典:旧約聖書

地域:ユダヤ・キリスト教文化圏

属性:秩序・中庸

性別:男

身長:171cm

体重:62kg

武装:スリング



イラスト:ギンカ
設定制作:星空めてお(TYPE-MOON)

伝説
羊飼いをしていた少年時代に預言者・サムエルを通じ、神より特別な役割を与えられた彼は、その後、竪琴の演奏でイスラエル国王・サウルに宿る悪霊を祓い、ペリシテ人の巨人戦士・ゴリアテを投石で倒すなどのエピソードで名を揚げていく。やがて順調に戦功を立てたダビデは恩のあるはずのサウルに妬まれ、命を狙われるようになる。しかしサウルがペリシテ人との戦いで戦死すると、その跡を継いで王になり、エルサレムを掌握する。そんなダビデの唯一の汚点が、律法を無視し、人妻・バテシパを求めた罪だ。彼はバテシパを手に入れるために家臣を謀殺し、晩年は神の与えた罰に苦しむことになる。

筋力値


筋力:C

耐久:D

敏捷:B

魔力:C

幸運:A

宝具:B



固有スキル


王者になると預言された、優れた肉体と容姿。ライオンや熊の尻尾を掴んで叩き殺す俊敏さと腕力がある。彼は自分が復活せし者、ダビデ本人の魂を持つ者とは考えてはいないが、生前も今も神の使者であることに変わりはなく、神の恩寵を感じられればそれでよいと思っている。



イスラエル王国の王・サウルの悪霊を祓ったダビデの竪琴(キヌュラ)には破魔の効力があり、聴く者の精神を平穏に保つ。ダビデが竪琴を弾くあいだ、敵味方を問わず槍の命中率が極端に下がる。この竪琴による悪霊祓いのエピソードは、現代でいう音楽療法と解釈されることもある。



キリストの祖としての弱い神霊適性。ナザレのヨセフとほぼ同格にあたる。ダビデ自身はただの羊飼いにすぎない。しかしキリストの威光(神の威光ではなく)を背景とする宝具、例えば"聖骸布"、"聖釘"、"聖槍"あるいは"聖杯"などに対しては、それなりの耐性を発揮する。



軍団を指揮する天性の才能。ダビデは2代目イスラエル王として全部族を従え、32万を超える兵を率いてエルサレムを制圧した。彼の人生は戦争に次ぐ戦争であり、あまりに血塗られていたため、神が神殿の建築を許さなかったほどである(神殿建築の役割は息子・ソロモンに譲られた)。

宝具


巨人ゴリアテを打ち倒した投石器。五つの石はダビデの寛容さを表し、4発目まではあえて外すことで警告を発するが、5射目は急所に必中する。サーヴァントならば一時的に意識を喪失し、その後、相手の主装備はダビデのものとなる(もしくは使用不可になる)。投射するものは単なる石が変容したものなので、無制限に補充が可能である。



旧約聖書・民数記にいう「神の命令によって燃え上がった、明るく輝く、もっともあつい熱をおびた火焔」。使用すると幻の香炉から立ち上った紫の煙が相手を取り巻く。じきにシナイ山を思わせる雷雲と霧が立ちこめ、天より遣わされた業火が、神の意に沿わぬ者を一滴の血も残すことなく焼き尽くす。炎は全体で祭壇を形成する。



モーゼが授かった十戒が刻まれた石板を収めた木箱。ペリシテ人を退けてエルサレムを掌握したイスラエル王ダビデは、そこを都と定めこの契約の箱を運び上げた。宝具としての効果範囲は狭いが絶対的であり、箱に触れた者の魔力を問答無用で奪い、殺す。

↑ 3.0 3.1 Fate/Grand Order material II - David, p.214-223
Fate/stay night




Fate/hollow ataraxia

Argon Coin • Avalon • Avesta • Bellerophon • Blood Fort Andromeda • Breaker Gorgon • Caladbolg II • Caliburn • Dainsleif • Durandal • Ea • Enkidu • Excalibur • Excalibur Morgan • Fragarach • Gáe Bolg • Gate of Babylon • God Hand • Gram • Harpe • Houtengeki • Hrunting • Invisible Air • Kanshou and Bakuya • Nine Lives • Nine Lives Blade Works • Potion of Youth • Rho Aias • Rule Breaker • Tsubame Gaeshi • Unlimited Blade Works • Verg Avesta • Vajra • Zabaniya: Delusional Heartbeat • Zabaniya: Cyber Phantasy

Fate/Zero

Arondight • Avalon • Ea • Enkidu • For Someone's Glory • Gáe Buidhe • Gáe Dearg • Gate of Babylon • Gordius Wheel • Ionioi Hetairoi • Knight of Owner • Prelati's Spellbook • Vimana • Zabaniya: Delusional Illusion

Fate/EXTRA

Agni Gandiva • Amalavijñāna - Boundary of Emptiness • Amita Amitabha • Angra Mainyu/CCC • Aestus Domus Aurea • Athanaton Ten Thousand • Báthory Erzsébet • Bellerophon • Blessing of Wisdom • Blood Fort Andromeda • Blut die Schwester • Brahmastra#O' Brahma, Cover the Earth • Brahmastra Kundala • Brynhild Romantia • Carolus Patricius • Carolus Patricius Auctoritas • Carolus Patricius Dimitte • Charles Patricius • Chakravartin • Cursed Cutting Crater • Daishintou • Eightfold Blessing of Amaterasu • Excalibur Galatine • Excalibur Image • Fairy Snow Photon Ray • Fierce Tiger Forcibly Climbs a Mountain • Gate of Skye • God Force • Golden Hind • Golden Wild Hunt • Joyeuse • Joyeuse Ordre • Kavacha and Kundala • Kazikli Bey • Kilenc Sárkány • Katoptron Katho Phlegon • Märchen Meines Lebens • No Face May King • No Second Strike • Nursery Rhyme • Photon Ray • Saraswati Meltout • Teardrop Photon Ray • The Queen's Glass Game • Vasavi Shakti • Yew Bow

Fate/Apocrypha

Akhilleus Kosmos • Agrius Metamorphosis • Andreias Amarantos • Antares Snipe • Armor of Fafnir • Balmung • Blasted Tree • Bridal Chest • Casseur de Logistille • Clarent • Clarent Blood Arthur • Crying Warmonger • Diatrekhōn Astēr Lonkhē • Dromeus Komētēs • First Folio • Golem Keter Malkuth • Hanging Gardens of Babylon • Hippogriff • Kavacha and Kundala • Kazıklı Bei • La Black Luna • La Pucelle • Left Hand - Xanadu Matrix • Legend of Dracula • Luminosité Eternelle • Maria the Ripper • Phoebus Catastrophe • Right Hand - Evil Eater • Secret of Pedigree • Sikera Ušum • The Mist • Trap of Argalia • Troias Tragōidia • Vasavi Shakti
Unused: Abyssus Draconis • Benkei Butsu • Eighth Implement • Interfectum Dracones • Sacrifice • The Disputed Spoils of War • The Globe • The Seven Arrows of the Big Dipper

Fate/Grand Order

A

Absolute Sword - Endless Flash • Absolute Sword - Endless Three-Stage • Aigis • Agni Gandiva • Airavata King Size • Akafiloga All-Grið • Alf Layla wa-Layla • All Things Must Pass - To Flourish is To Fall • Ama-no-Sakahoko • Amalavijñāna - Boundary of Emptiness • America's Sweetheart of Darkness • Ambushed from Ten Sides - As If There Was No Shadow • An Gal Tā Kigal Shē • An Gal Tā - Seven Colors • Angelica Cathay • Anpu Neb Ta Djeser • Antares Snipe • Anti-fling Rondo • Apfel Schiessen • Arc de Triomphe de l'Étoile • Ark • Arondight Overload • Around Caliburn • Ars Almadel Salomonis • Ars Nova • Ars Paulina • Artemis Hagnós • Ascalon • Assault Medicine Full-Burst Party • Astrapste Argo • Asurashreshtha • Athanaton Ten Thousand • Attendre, Espérer • Authentic Triumph • Autumn Leaf Viewing • Avidya, Three-Stage Thrust • Azamaru • Azrael

B

Balmung Kriemhild • Báthory Brave Erzsébet • Báthory Halloween Erzsébet • Bayard • Beagalltach • Beautiful Journey • Bishamonten's Eight Phases Wheel Charge Formation • Black Arts Decapitation Method - Moonflower • Black Dirty Barty Howling • Black Dog Galatine • Blasted Tree • Bloodbath Crown • Blue Summer Palladion • Brahmastra#Rakshasa-Piercing Immortal (Rama) • Brahmashirastra • Breaker Gorgon • Bölverk Gram • Bone Collector • Boneless Man • Bouclier de Atlante • Breast Zero Erzsébet • Bright Ehangwen • Brynhildr Sigurtein • Bucephalus

C

Caledfwlch Caladbolg • Caladbolg • Caliburn • Candy Star Photon Ray • Caress of the Medusa • Caribbean Free Bird • Caribbean Free Bird - Act 2 • Channeling - Omen of the Great God Ibuki • Chaos Labyrinthos • Chariot My Love • Chariot of Boudica • Chionis Tauros • Christine, Christine • Chronos Rose • Chyornyj Oprichniki • Chu Shi Biao • Chyornyj Oprichniki • Clarent Blood Arthur • Crazy Trip Drive Idol • Crocea Mors • Cross-Calibur • Cruaidín Sétanta • Crying Warmonger • Crystal Dress • Crystal Palace • Curruid Coinchenn • Cursed Cupid Cleanser • Custos Morum

D

Das Rheingold • Dazzling Castle of the Sun in the Demonic Realm • Dead End - Airgetlám • Demon King of the Sixth Heaven • Demon King Turns the Heavens - Red Spider Lily • De Sterrennacht • Des Océans d'Allégresse • Dharmapala Girl - Nine-headed Dragon Massacre • Dimension of Steam • Dinosaur Summer Goodbye • Dio Santissimo Misericordia de mi • Dioscures Tyndaridae • Distihia Milya • Divine Sword - Kusanagi-no-Tachi • Dojo-ji Bell Form 108 - Fire Dragon Mow Down • Duria Antiquior • Durindana

E

Edin Shugra Quasar • Elementary, My Dear • Emotional Engine - Full Drive • Emotional Engine - Vivid Full Sensation • Encomium Moriae • Enfer Château d'If • Eternal Lament • Eternal Mirror that Models the Celestial Bodies • Etherspace, Howbeit the Order • Everlasting Summer Sunlight • Excalibur Vivian • Eye of the Euryale

F

Failnaught • Fairy Tale Erzsébet • Fax Caelestis • Femme Fatale Baiser • Fergus My Love • Fergus, My Good-Looking Brave • Fetch Failnaught • Fintan Finegas • First Folio • Five Elements Mountain - Buddha Palm • Flawless Masterpiece - The Crane's Fate, A Teary Farewell • Fleur de Lys • Flucticulus Diana • Flying Bright Spirit - Fire-Tipped Spear • Formlessness • Fragarach Énbarr • Frieren Scharfrichter

G

Gae Bolg Alternative • Gáe Bolg: Gouging Piercing Spear of Carnage • Ganesh Impact • Ganesha Vighneshvara • Ganryuu-jima • Garden of Avalon • Gate of Skye • God Spear, No Second Strike • God-Striking Whip • God Force • Gohou Shoujo-Kuzuryu Ousatsu • Golden Drive • Golden Eater • Golden Spark • Golden Wild Hunt • Great Death Claw • Great Flame of Mount Ooe • Great Grudge of Rashoumon • Great Ram Nautilus • Grendel Buster • Guillotine Breaker • Gugalanna Strike

H-K

Hachiman Prayer - Shooting Through a Great Demon • Half-dead Blood Axe • Hamesh Avanim • Haradhanu Janaka • Hazy Inverted Moon - Eleven Forms • Heavenly Demon Rain • Heaven's Hole • Het Gele Huis • Hollow Heart Albion • Hope of Avalon • Hört Glut Rachegötter • Iam Redit et Virgo • Imitation God Force • Immortal Chaos Brigade • Inexhaustible Bale • Innocence Arondight • Invisible Air • Ira Lupus • Iz Tula Seven Drive • Jaguar in the Black • Jet, Three-Stage Thrust • Judgment of the Ten Rulers of Afterlife - Journey of the Wicker Basket • Kama Rūpāstra • Kama Sammohana • Kazikli Bey (Berserker) • Kazikli Bey (Lancer) • Knight of Owner • Kur Kigal Irkalla

L

Laevatein • La Féerie d'une Nuit • La Grâce Fille Noël • La Grondement Du Haine • La Grosse Tour • Lapithai Caeneus • Lauda Lentum Domus Illustrius • La Mort Espoir • Laus Saint Claudius • Le Rêve Ensoleillé • Let Us Walk Together Through Our Land • Leviathan Melt Purge • Lie Like Vortigern • Like a Soaring Dragon • Longinus Count Zero • Loptr Laegjarn • Lord Camelot • Lord Chaldeas • Lord Hachitendo of Hakuro Castle's Hundred Demons • Lordless Camelot • Lumino-Calibur

M

Mac an Luin • Maelstrom - Evil Spirit Left Minister • Magna Voluisse Magnum • Mahāpralaya • Mahākāla Shakti • Manual of Accusation • Märchen Meines Lebens • Mara Śūnyatā • Marital Vows of Rainbow Skirts and Feather Robes • Marvelous Exploits • Mata Hari • Mathematical Malignant Annihilate • Mechanical Illusionary Method - Bull Swallowing • Melammu Dingir • Metabole Piglets • Meteor Snegurochka • Mikotto • Mold Camelot • Moles Necessrie • Monte Cristo Mythologie • Moralltach • Mountainous Power and Matchless Valor • Mount Ooe - Enlightened Oni Slayer • Multitude of Colors - Providential Oni Poison • My Red Mead

N-O

Nahin Denge • Namaḥ Samantavajrānāṃ Hāṃ • Nammu Duranki • Nightingale Pledge • Nine Lives • Nine Lives - Roma • Nirmānnarati - Heaven's Foam • Nobunaga THE Rock 'n' Roll • No Second Strike • Nursery Rhyme • O' Dragon, Conquer the Expanses of Wadatsumi • Oar Wooden Sword • Ochd Deug Odin • Ogre Trance • Okuni Repertoire - Kabuki of the Izumo Wild God • Oṃ Ālolik Svāhā • One Shot, My Love • Onikiri Yasutsuna • Only For Killing • Onyx Tauros • Optateshke Okimunpe • Opulence of Sunlight and Catnap • Orchid Rounds X • Orion Hórkos • Ortygia Amore Mio • Outrage Amazon • Ox-King Storm Call - The Inescapable Net of Heaven

P

Pain Breaker • Pale Blue Dot • Pandemonium Cetus • Pāpīyas Metamorphosis • Pashupata • Peerless in Swordsmanship - Zen and the Sword As One • Pèlerinage du Temple • Per Aspera Ad Astra • Phantasm Punishment • Phantom Maiden • Photon Ray • Phoebus Catastrophe • Piedra Del Sol • Pohjola Fimbul • Poseidon Maelstrom • Poseidon Blessing • Prelati's Spellbook • Prince Lanling in Battle • Prisma☆Splash Rainbow! • Prydwen Tube Riding • Pure Land of Mice • Pygmalion Chisel Out • Pygmalion Chisel Out

Q-R

Qliphoth Rhizome • Quetzalcoatl • Queen Anne's Revenge • Quintett Feuer • Ragnarök Lífþrasir • Ramesseum Tentyris • Rapid-fire Ortygia • Red Form • Requiem for Death • Resurrection Fraught Hades • Rêve de Durandal • Rhongomyniad • Roadless Camelot • Roncevaux Olifant • Round of Avalon • Rule Breaker

S

Saint War Order • Samadhi Through Transforming Flames • Sanat Kumara • Sanat Kumara Wheel • Santa Maria - Drop Anchor • Saraswati Meltout • Sea Serpent Storm Blue • Secace • Secace Morgan • Secret-Calibur • Secret-Myniad • Sentinel Stellaris • Serment de Durandal • Settlement Sword • Sfyrí tou Tálos • Sha Nagba Imuru • Shimabara Hell • Shinsengumi • Śakra's Vajra • Shooting Star Ortygia • Sibuxiang • Six Realms Five Rings - The Divine Figure of Kurikara • Six Secret Teachings and Three Strategies - Noble Demon King's Great Feather Fan • Skewered Plasma Blade • Smile of the Stheno • Sneferu Iteru Nile • Snegleta Snegurochka • Song of Grail • Song of Selfless Loyalty • Sotoori Hime - Spider's Demeanour • Space Dead Man's Hand • Spinster Habetrot • Star of Calamity • Sudarshan Chakra Yamaraj • Sumerki Kremlin • Suzume Gaeshi • Svanhvít • Switch On - Airgetlám • Sword of Boudica • Sword of Paracelsus • System Keraunos

T

Taisu Awaken • The Tale of Genji - Aoi - Mononoke • The Tale of Genji - Kiritsubo - Parting • Tarasque • Tauropolos Skia Thermokrasia • Teardrop Photon Ray • Tengu's Feather Fan - Sudden Gale • Testarossa Maiden • Theodosios Constantinos • Thermopylae Enomotia • The Domination Beginning • The Dynamics of an Asteroid • The Greatest Hits - "Calling Agape" • The Pilgrimage of the Five Hundred Arhat • Thirty-six Views of Mount Fuji • Three Enigmas • Thunderer • Ticktock Bomb • A Tour of the Waterfalls of the Provinces • Trichiliocosm • Triple-Linked Crane Wings • Trishula Shakti • Tri-star Amore Mio • Triste Suave Alonso Quijano • Troias Tragōidia • Troia Hippos • Troia Velos • Trojan Reinforce • Tsago Degi Naleya • Tsubame Gaeshi • Tsumukari Muramasa • Tunguska Nine Drive • Twin Arm - Big Crunch • Two-Pronged Formation

U-V

Uisce Beatha • Underthrow Freeze Sinker • Unlimited Lost Works • Unspeakable Formation • Unreturning Formation • Uomo Universale • Uraeus Astrape • Valiente Asalto Dedicado a la Princesa • Vendredi Treize • Vijñaptimātratā: Mystic Eyes of Death Perception • Vijñaptimātratā: Mystic Eyes of Distortion • Vishnu Bhuja • Viy Viy Viy • VR Shinkage-ryuu Hidden Art - Tomoe's Abyssal Solar Blade • Völkermord Feuerdrache • Vulcano Caligorante • Vyākaraṇa - Buddha of Glorious Sandalwood

W-Z

Wandering Tales of Shana-oh (Eye of Shiva - Detecting the Six Secret Teachings • Usumidori - Short Steps With The Heavenly Blade • Benkei - Steadfast Position • Dan-no-Ura - Eight-Boat Leap • Hoemaru - Spider Slayer • Kikenjō - Icicle Cutting) • White Shaft Spear • Wicker Man • Winning Arkaputra • Wish Upon a Star • World Faith Domination • Wry Rhyme Goodfellow • Xiuhcoatl • Yew Bow • Yucatán Regalo de Navidad • Zabaniya(Delusional Heartbeat • Zeus Funder • Zmei Gorynych • Zveri - Krestnyy Khod • Zweite Schiessen

Fate/Prototype




Fragments

Abu el-Hol Sphinx • Bab-ilu • Brynhild Komedia • Brynhild Romantia • Dangerous Game • Enki • Excalibur Proto • Gae Bolg Origin • Kibisis • Mantle • Mesektet • Mirror shield • Ramesseum Tentyris • Stella • Winged sandals • Zabaniya: Delusional Poison Body

Fate/strange Fake

Age of Babylon • Excalibur • From Hell • Grand Dictionnaire de Cuisine • Grand Illusion • Goddess of War • King's Order • Musketeers' Masquerade • Natural Born Killers • Nine Lives • Reincarnation Pandora • Rounds of Lionheart • Unknown‎ (Gilgamesh) • Unknown (Hippolyta) • Zabaniya: Phantasmal Pedigree (Febrile Inspiration • Ichor of Reverie • Meditative Sensitivity • Raving Shadow Flash)

Fate/kaleid

Apneic Beauty • Arrow Protection Amulet • Authoritarian Personalism • Crown Undertaker • Fake Nine Lives • Hades's Cap of Invisibility • Ig-Alima • Mjölnir • Nameless Class Cards • Ninth Prayer • Sul-sagana • The Heavens are Born from the Earth • True Nine Lives • Shadow Hand of Code • Zabaniya: Dead Heartbeat Melody

Capsule Servant

Curly Hair Sword Antenna • Laser Excalibur • Starlight Champs-Élysées

Fate/KOHA-ACE

Boneless Man • Child of the Sun • Coat of Oaths • Demon King of the Sixth Heaven • Fierce Tiger Forcibly Climbs a Mountain • Flag of Sincerity • God Spear, No Second Strike • Golden Demon Realm ZIPANG • Lightless, Three-Stage Thrust • Like A Soaring Dragon • Maxwell's Demon • Sunomata Castle • Sword Hunt • Three Line Formation • Transcendent Dazzling Castle of the Sun

Fate/Requiem

Autumn Leaf Viewing • Flying Dutchman • Galahad Alter's Second Sword • Hannibal Barca's Noble Phantasm • La Grosse Tour • Longinus • Pale Blue Dot • Sword of the Strange Hangings

Other

Brionac • Boomelancer • Cú Chulainn's Castle • Hazanken • Hecatic Wheel • Holy Grail • Gungnir • Unlimited Bla Gáe Bolg Gandr Works Excalibur