Hassan of Serenity (静謐のハサン, Seihitsu no Hasan?), Class Name Assassin (アサシン, Asashin?), is the Assassin-class Servant of Seiji Jinga in the First Holy Grail War of Fate/Prototype: Fragments of Sky Silver. She later forms a new contract with Manaka Sajyou. She is summoned by Ritsuka Fujimaru in the Grand Orders of Fate/Grand Order.
Assassin's True Name is Hassan-i-Sabbah, one of the successive Hassan-i-Sabbah who served as the "Old Man of the Mountain", the founder of the Assassins; during her lifetime, it is said that she is a master of poison who possessed the alias of the "Hassan of Serenity" (静謐のハサン, Seihitsu no Hasan?).[1][2] She has become the source of the urban legend by the name of Mary (メアリーさん, Mearī-san?).
The legendary "Poison Girl (Visha Kanya)" spoken of in every era all over the world, the narration beginning first with India of the BC era, put together by the Assassins as a weapon, a tool of assassination, in real life.[1][2] That is her identity.[2] The outward appearance of a beautiful girl is a purely trifling matter. Her body resists every single poison, while simultaneously, it is a lump of poison too. Not only her nails, but even her skin and bodily fluids would act as deadly poison as well, quietly and completely snatching away the lives of kings, nobles and generals in their sleeping quarters––––[1][2]
Although she killed many people, she would also frequently establish a relationship with her assassination target(s), such as a lover or a fiancée. That is to say, she continually repeated the deed of constructing with her own hands a "false happiness" that could not be realized, only to steal that happiness away with her own hands. Gradually, her mind creaked.[1][2] Her mind was expected to be tempered and toughened thoroughly, seeing that she was employed and made use of as a "Poison Girl" built up by the Assassins, but…[1]
In her last moments, maybe her head was decapitated by a general from a certain army who suspected her behaviour of not even holding hands, or maybe she exposed her true character as an assassin and begged the general to "please, kill me"–––––or maybe, she was put to the sword by someone's hand during the gap where the general incidentally took his eyes off her.[1][2]
An assassin who wears a skull mask.[1][2] Serenity's appearance is typical of those in her Assassin Order. Like all of the other Hassans, she wears a black, form-fitting outfit and the traditional Hassan's skull mask. Her outfit is very similar to the one worn by Asako of the Hundred-Faced Hassan, her violet-colored hair being another trait they share.
Unlike the Cursed Arm Hassan, Serenity never actually carved out her face as it was one of her greatest tools. Her "face" during infiltration missions is basically something created through the Shapeshift Skill, but the "face" in her third stage Ascension is her natural looks. Due to the nature of her assassination methods, she has natural looks.[2] Her shapeshifting allows her to better refine her features to lure in her targets.
As her name implies––––– a calm female assassin. Obedient, and lacking self-assertion. While she was alive, she was merely a girl who conducted assassinations very mechanically. Even now where she became a Heroic Spirit, those characteristics have not changed as much. However, towards people who does not die even if they had touched her, she is quietly fanatical, and she shows devotion to them.[1]
Would one live if they touch her, or would they die? This is the point she views as the most important.[1][2] For example, if the Master has a strong resistance to poison, it would be something serious to her. She will cuddle up.[2] If it is the former, it seems she would dedicate her unconditional loyalty. If it is for the sake of her master, she will do literally anything. For example, even if a genocide comes about, her facial expression does not even change, and she displays obedience without even talking back. Concerning her, who naturally accepts that "everyone will die if they touch me", the existence of "a master who does not die even if they touch me" becomes her best delight.[1]
As an assassin, Serenity is very pragmatic with her methods. After losing her first Master, she took to killing other men to maintain her existence by luring them to her thanks to her appearance.
As natural of her previous profession, Serenity is quite skilled at deception, particularly in lying to others. She was able to quickly come up with a believable lie to explain to Ayaka for her presence in the Sajyou's home upon their encounter, while also analyzing her own words for any potential holes and finding ways to cover them up.
If Serenity had a wish, it would likely be able to love and touch another without killing them. It was for this reason that she likely did not stop Seiji from trying to kiss her, which resulted in his death, and why she chose to follow Manaka as she was unaffected by Serenity's poisonous body.
As a strange quirk of her Spirit Origin, Serenity is incapable of remembering any point of time in which she fell in love. Should a version of her experience love and then perish, she will not return to the Throne of Heroes but cease to exist entirely. Even if the Holy Grail itself were used to resummon her, it would only be able to summon a different Serenity with a new Spirit Origin. The purpose of such an elaborate set of checks and balances is unknown.
Although, even if by any chance he died once due to her poison, if it is with the effect of that hero's Noble Phantasm, he should be "unable to die a second time to the same poison"–––––In other words, he truly…?[1]
Unexpectedly, a companion who would not die even if he had touched her. Poison is ineffective against him…[1]
Since the Hassan of Serenity's Saint Graph in "Fate/Grand Order" is a "different person" of sorts who possesses absolutely no information about a "particular Holy Grail War", she cannot completely understand Arash's motive of why he comes to talk to her as if they are indeed familiar with one another.[1]
A person who worries for her by keeping an eye on something about her. During Valentine's, he was a great help.[1]
Towards her rivals, she turns her gaze at them with a clammy atmosphere. Given that she has no assertiveness, she only stares at them in silence.[1]
A peerless brave warrior of the Celts who, having heard about those who would die from touching her, was far from faltering at that news, and he is in a state of having a curiosity for this person, saying "that person is great!" "Oh, there was no man who can endure you for more than a single night?" "That is even more amazing!"[1]
Someone to consult with for a Fergus Countermeasure.[1]
Fate/Prototype: Fragments of Sky Silver
[
edit
|
edit source
]
On the first day of the Holy Grail War, Assassin is summoned by her Master, Seiji Jinga, in an abandoned warehouse in the Tokyo Port area. Going up to Assassin, Seiji instantly gets captivated by her allure and despite Assassin being not very conscious, makes the mistake of kissing her.
Seiji then dies by Assassin's Zabaniya: Delusional Poison Body, making him the first Master to be killed in the 1991 Tokyo Holy Grail War, albeit accidentally.
After she loses her Master, Assassin takes on a human appearance in order to lure men to their deaths. She then consumes their souls in order to maintain her existence, which lead to the spread of the "Miss Mary" rumors. It is during one of these acts that she meets Manaka, who then becomes her new Master.
Assassin is responsible for the deaths of Tatsumi Kitano and the Isemi Clan, using her Noble Phantasm to kill them. She killed many men; however, after the act, she finds that she cannot stop thinking about Tatsumi, whose peculiar behavior of trying to protect her while knowing that she would kill him had left her with confused emotions.
Caster would later retrieve Tatsumi's corpse and revive it as a Living Dead, before presenting him to Assassin as a gift in order to divert her attention away from Manaka. While initially horrified, she came to cherish her time with Tatsumi and fell in love with the boy, who she could now embrace and kiss as she desired without killing him again. She later assists in the battle with Rider, as well as the one against a maddened Lancer, losing an arm to Lancer in the battle. Later on, when Tatsumi's reanimated corpse has developed enough sentience to attempt to stop Manaka from sacrificing the lives of innocent girls and Manaka prepares to kill him, Assassin unthinkingly wraps her arms around Tatsumi, crying hysterically as she desperately pleaded for her Master to spare him.
Afterwards, knowing everything would soon be coming to its end, Assassin came to understand that what she was doing was a mere mockery of the life she had wished for, so in an act of mercy, Assassin tearfully apologizes for keeping Tatsumi with her for so long, confesses her love she felt for him since the moment she killed him, and finally put the boy to rest.
During the last part of the war, Assassin faces Saber to give Manaka more time and to prevent him from reaching the Greater Grail in a final act of duty and loyalty to her. She winds up being defeated by Saber's blade. As she fades away, she battles against herself between her devotion to Manaka and her feelings of wanting to protect Tatsumi's younger sister, who was also in the town. Her last thoughts were of Manaka who, like her, also came to love someone.
During Saber's battle with the Beast, Assassin appears again in Saber's mind. She encourages Saber to fight and then becomes one of the Servants who lends Saber her power when Saber activates Excalibur.
8 years later, a shadow of Assassin is seen again as one of Manaka's Grail corrupted Servants.
Sixth Singularity: Camelot
[
edit
|
edit source
]
Serenity is captured and imprisoned at a fort belonging to the Knights of the Round Table. There she is tortured for information about the Hassans' plot against the Holy City of Camelot, and for the location of the First Hassan.
She is eventually found by Ritsuka's party chained to the wall by Agravain's Iron Punishment in his torture chamber. Ritsuka undoes the chains since they have adverse effects on Servants. Serenity falls on Ritsuka after being freed, accidentally kissing them. She tells the others that Ritsuka will die, as her Zabaniya: Delusional Poison Body kills any who touches her body. To her surprise though, Ritsuka shows that they're very much alive. Mash tells her that they have Temporary Poison Resistance through their contract with her. Agravain soon arrives, and repeatedly sends knights towards the group. He eventually sends special knights modeled after the enraged Lancelot, but the group are able to kill them. Serenity activates Zabaniya: Delusional Poison Body, forcing Agravain to retreat. With the knights knocked out by the poison, the group escape the fort.[3][3]
Returning to the village, the group realize they're seriously outmatched in terms of power and numbers. Their solders number 7000, while Camelot have 10,000 soldiers who each equal three Saracen soldiers. The Knights of the Round are greater than three Servants with their Gifts. Hundred-Faced Hassan realizes they need more soldiers, and they need to kill the Knights of the Round. The group recognize they need someone to fight Gawain since their assault on Camelot will always fail as long as he's at the front gate. Serenity suggests going to the Shrine of Azrael to ask for Hassan, whose location she was tortured for. Hassan of the Cursed Arm agrees with the idea and tells the others to return to the eastern village. There he will show them the secrets of the Hassan sect.[4]
As the group travel back to the eastern village, Hundred Faced parts ways with them to gather more troops. Two days later, they return to the village, and leave for the Shrine after resting some. They reach the Shrine after a day, and enter after defeating its ghost guardians. Hassan agrees to help against the Lion King, but he decides to punish the group for entering the Shrine. He'll forgive their transgression if they pass his trial. He then takes control of Serenity to fight the group as part of the trial, which they pass. Serenity falls unconscious. The group then leave after being told by Hassan to go to the Atlas Institute in the the desert to learn the truth.[5]
The group return to the eastern village, only to find it besieged by forces led by Tristan and Lancelot. Ritsuka, Mash, and Serenity fight off the attack, while the others take the villagers to safety. They eventually encounter Tristan. He tells them he already killed the men left in the village, and he'll kill those who fled for the cave after he kills the group. He then blames Serenity as the reason for the attack, though it isn't revenge for her poisoning the knights at the fort. Instead, it is because she joined Ritsuka's party, and he reveals his bow tracked her to the village. He claims the massacre wouldn't have happened if she left on her own way. He tells her that she should have told them everything at the prison and died. Serenity becomes distraught believing the massacre is her fault, but Mash tells her they all share in the blame. The group then fight Tristan, but he easily overwhelms them. Bedivere arrives, but they're still overcome. Xuanzang Sanzang, Tawara Touta, and Cursed Arm then arrive to help. However, they all bear witness as Rhongomyniad destroys the western village. Tristan then leaves, warning Rhongomyniad will strike the eastern village in five minutes. While the others evacuate, Arash successfully counters Rhongomyniad with Stella.[6]
The following day, the village holds a funeral for those lost, including Arash. Cursed Arm reveals Hundred-Faced evacuated the majority of the western village before it was destroyed. He implores Ritsuka to head for the Atlas Institute before Camelot attacks the village again. In the meantime, he and the other Hassans will gather their forces for the assault on Camelot, and spread word of Ritsuka to the other Saracens. He agrees with Romani to rendezvous in the village for final confirmation on the assault once Ritsuka returns. Ritsuka, Mash, Bedivere, Sanzang, and Touta then leave for the desert.[6]
After Ritsuka's party return to the village having gained Ozymandias's cooperation, Serenity confirms they've gather 17, 000 followers. Hundred Faced says there are 2,000 people in Camelot secretly supporting their rebellion. The rebellion had difficulty growing at first, but it grew exponentially after Ritsuka and Mash saved the refugees from the Holy Execution. Later, Cursed Arm reviews their strategy with Ritsuka. The group will join the forces positioned at the wasteland, then march towards Camelot. Lancelot offers to lead the army since he knows all the blind spots to avoid the patrol. However, there will be no blind spots once they reach Camelot's territory. Cursed Arm continues they'll march onto Camelot during the night. The army will breakthrough Goddess Rhongomyniad's forces and force their way into the city. After they capture the city and its castle, Ritsuka's group will kill Goddess Rhongomyniad. With discussions over, Ritsuka, Mash, and Bedivere prove their resolve to the Hassans through combat. Afterwards, everyone takes time to rest.[7]
In the wastelands near Camelot, the group review their strategy once more when Romani reports the city is prepared for them. Ritsuka, Mash, Da Vinci, and Bedivere will head for the main gates with the infantry. Lancelot will lead his unit while Sanzang and Touta travel together. Once Cursed Arm reaches the castle wall, he'll thin out the archers placed there by Agravain. Ozymandias' sphinxes will create a diversion on the west side of Camelot, which the allied forces will use as an opportunity to attack. Lancelot's knights will advanced before Ritsuka's group, though Lancelot suspects heavy losses before they even reach the front gate. He orders the allied forces to advance when a sandstorm created by Hassan suddenly appears from the north to envelop Camelot. With the storm making both sides' archers useless, the allied forces advance onto Camelot as fast as possible.[8]
As Ritsuka's party struggle against Tristan in Camelot, the Hassans arrive to fight him instead. After Ritsuka's party leave, the Hassans fight Tristan. While Hundred Faced and Cursed Arm are fighting him, Serenity prepares her Noble Phantasm. She then releases it after Tristan reduces Hundred Faced's manifested personas are reduced to less than five, knowing he has a conceptual weakness to poison. However, it is ineffective due to his Gift, Reversal. Serenity and Hundred Faced are then killed by him.[8]
Final Singularity: Solomon
[
edit
|
edit source
]
The Hassan of Serenity is amongst the "Camelot" Singularity Servants to aid Chaldea against the Demon Gods Pillars.[9]
The Hassan of Serenity is briefly mentioned in Fate/strange Fake by False Assassin.
In Type-Moon's April Fools' Day 2015, the Hassan of Serenity is in a female group called Momoiro Hassan Z (ももいろハサンZ, Momoiro Hasan Z?) and is part of the Imperial Roma talent agency. Her Class is Stealth Idol (ステルスアイドル, Suterusu Aidou?).

The Hassan of Serenity's most notable trait is her Noble Phantasm, Zabaniya: Delusional Poison Body. Her body resists every single poison, while simultaneously, it is a lump of poison too. Not only her nails, but even her skin and bodily fluids would act as deadly poison as well.[1][2] It makes the entirety of her body poisonous to the touch, and even the sweet aroma that emanates from her is poison in and of itself. She prefers embracing her victims and kissing them on the lips, using the poison of her mucous membrane to fry their brains in a few seconds, but any form of contact with her is fatal, no matter how small. When she was Blackened by Manaka and became an Alter, she gained the abiltiy to control the Grail Mud as if it were water of a poisonous sea. Whether this was made an extension of her Noble Phantasm or a seperate, related ability is unknown.
The Hassan of Serenity possesses the Skill of Independent Action. It is high enough for her to be able to survive for a week after she kills her Master, all while still consuming human souls.
The Hassan of Serenity's Shapeshift Skill allows her to disguise herself. She usually takes on the guise of a pure and innocent looking maiden, and her appearance is extremely bewitching to men, of which they look at her with full of lust and with a disregard to caution, just to go to her. Even in her Servant form, she is still shown to be extremely alluring.
Just like the other Hassans, the Hassan of Serenity also wields dirks for both short-range and long-range combat, slicing up her opponents in an instant with dance-like movements. However, unlike the dirks wielded by the Hassan of the Cursed Arm or the Hassan of the Hundred Faces, her personal dirks are white kunai-shaped daggers.
Door to Paradise (楽園への扉, Rakuen e no Tobira?) is a Skill the Hassan of Serenity possesses that is fundamentally not used in "Fate/Grand Order".[1]
Forms and Alternate Versions
[
edit
|
edit source
]
Assassin is revived by Manaka Sajyou in the Second Tokyo Holy Grail War in a blackened form.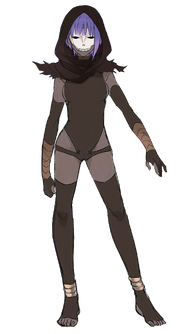 Nakahara is the character illustrator for Hassan of Serenity.[1][2] Hikaru Sakurai is the scenario writer for her character.[1]
"I drew her with the feeling of reallyyy wanting to make her happy. Above all, it is because it seems fun for one being at Chaldea. It is good, isn't it? In relation to her design, I used elder sister Asako of the Hundred Faces as her base. She is similar to an imp, to a black cat. Since she is a child who likes cute things, it is satisfying to give her cute items as well as accessories too."[1]

↑ 1.00 1.01 1.02 1.03 1.04 1.05 1.06 1.07 1.08 1.09 1.10 1.11 1.12 1.13 1.14 1.15 1.16 1.17 1.18 1.19 1.20 1.21 1.22 1.23 1.24 1.25 1.26 1.27 1.28 1.29 1.30 1.31 1.32 1.33 1.34 1.35 1.36 1.37 1.38 1.39 1.40 1.41 1.42 Fate/Grand Order material IV - Hassan of the Serenity, p.130-137, translated by Clyton at Beast's Lair.
↑ 2.00 2.01 2.02 2.03 2.04 2.05 2.06 2.07 2.08 2.09 2.10 2.11 2.12 2.13 2.14 2.15 2.16 2.17 2.18 2.19 2.20 2.21 2.22 2.23 2.24 2.25 2.26 2.27 2.28 2.29 2.30 2.31 2.32

[] Fate/Grand Order - Assassin Profile [T]

Hassan of Tranquility - Assassin

Illustrator and Voice actor
Illustrator: Nakahara
Voice Actor: Sayaka Senbongi

Parameters
Strength: D
Endurance: D
Agility: A+
Mana: C
Luck: A
Noble Phantasm: C

Personal Skills
Shapeshift (Inflitration Specialization): C
Projectile (Daggers): C
Silent Dance: B

Class Skills
Presence Concealment: A+
Independent Action: A

Noble Phantasm
Zabaniya: Delusional Poison Body
Rank: C
Type: Anti-Unit Noble Phantasm

Profile
An assassin that wears a skull mask.
One of the successive Hassan Sabbah that played the role of "Old Man of the Mountain" - the leader of the assassination cult - it has been said that while alive she an expert in poisoning endowed with the alias "Hassan of Tranquility".

Level 1 Bond
Height/Weight: 161cm・42kg
Source: Historical fact
Region: Middle East
Alignment: Lawful Evil  Gender: Female
 Her "face" during infiltration missions is basically something created through the Shapeshifting Skill, but the "face" in the third stage is her natural looks. Due the nature of her assassination methods, she has natural looks.

Level 2 Bond
The legendary "poison girl" - told in many ages, many parts of the world starting from India of the BC era - fabricated by the assassination cult as a weapon, a tool for assassinations in real life. That is her identity.

Level 3 Bond
The outward appearance of a beautiful girl is purely makeshift. Her body resists all sorts of poisons and, at the same time, is a lump of poison. Let alone her nails, even her skin and body fluids would act as deadly poisons and silently take away the lives of kings, nobles and military generals in their sleeping quarters---

Level 4 Bond
In many cases, she would establish a relationship of lover or fiancee with her assassination target. In other words, she kept repeating the deed of building with her own hands an "artificial happiness" that would not be fulfilled, just to steal it away with her own hands.
Gradually, her mind creaked.

Level 5 Bond
As for her final moments, maybe a general from a certain army took her head due feeling suspicious of her behavior of not even holding hands, or maybe she herself revealed her identity as an assassin and pestered the general "please, kill me"---
Or maybe, she was put to the sword while the general has taken his eyes off her.

Interlude

静謐のハサン - アサシン

イラストレーター・声優
ILLUST:中原
CV:千本木彩花

パラメータ
筋力:D
耐力:D
敏捷:A+
魔力:C
幸運:A
宝具:C

保有スキル
変化(潜入特化) C
投擲(短刀) C
静寂の舞踏 B

クラス別能力
気配遮断 A+
単独行動 A

宝具
妄想毒身
ランク:C
種別:対人宝具

キャラクター詳細
髑髏の仮面の被った暗殺者。
暗殺教団の教主「山の翁」を務めた歴代のハサン・サッバーハのひとりであり、生前には「静謐のハサン」の異名を有した毒殺の名手であったという。

アンロック条件:絆レベルを1にすると開放
身長/体重:161cm・42kg
出典:史実
地域:中東
属性:秩序・悪   性別:女性
潜入活動時の「顔」は基本的に変化スキルで作成するが、第三段階時の「顔」は素顔。
暗殺手段の性質上、彼女には素顔がある。

アンロック条件:絆レベルを2にすると開放
紀元前のインドをはじめ世界各地の各時代で語られた伝説の「毒の娘」を、暗殺教団は現実に於ける暗殺の道具、兵器として作り上げていた。それこそが彼女である。

アンロック条件:絆レベルを3にすると開放
美しき娘の外見は、あくまで仮初め。その肉体はありとあらゆる毒に耐え、同時に毒の塊でもある。自らの爪はおろか肌や体液さえをも猛毒として、王や貴族、将軍の命を閨(ねや)で音もなく奪い去る───

アンロック条件:絆レベルを4にすると開放
恋人や婚約者といった関係を暗殺対象者と結ぶ事も多かった。つまり、成就しない「擬似的な幸せ」を自らの手で構築しながら自らの手で奪う、という行為を繰り返し続けたのである。
徐々に、彼女の精神は軋んでいった。

アンロック条件:絆レベルを5にすると開放
最期は、手さえ触らせない彼女の振るまいを怪しんだ某軍の将軍に首を撥ねられたとも、暗殺者という正体を自ら明かして「殺してください」と将軍にせがんだとも───
あるいは、将軍がふと目を離した隙に何者かの手で斬殺されていた、とも。

アンロック条件:「???」をクリアすると開放

↑ 3.0 3.1 Fate/Grand Order - Camelot: The Sacred Round Table Realm, Section 9: Flower of Poison, Blade of Iron
↑ Fate/Grand Order - Camelot: The Sacred Round Table Realm, Section 10: Feast, West Village
↑ Fate/Grand Order - Camelot: The Sacred Round Table Realm, Section 11: The Evening Bell of Death
↑ 6.0 6.1 Fate/Grand Order - Camelot: The Sacred Round Table Realm, Section 12: Village in Flames
↑ Fate/Grand Order - Camelot: The Sacred Round Table Realm, Section 16: The Eve of the Decisive Battle
↑ 8.0 8.1 Fate/Grand Order - Camelot: The Sacred Round Table Realm, Section 17: Replica
↑ Fate/Grand Order - Salomon: The Grand Time Temple - Act 07: VI / Spy Satellite Amon
Community content is available under
CC-BY-SA
unless otherwise noted.