Hydra (ヒュドラー, Hyudorā?) are serpents with nine heads in Greek mythology.
History
[
]
Characteristics
[
]
Possessing both a deadly poison said to instantly kill all humans it touches and an abnormally high regeneration capable of immediately regenerating two new heads every time one is cut off, the Hydra is a Monstrous Beast with top class fame even among the other Twelve Labors.[1]
Hydra breathe a potent poison, and their entire bodies are filled with it. Simply standing near an adult one will make a human's lungs begin to rot. Even a deceased juvenile is great enough to harm someone with direct contact, and though not enough to kill a Servant, could still prove harmful to one. Being poisoned was not enough to kill a Divine Spirit like Chiron, but the constant pain was enough to make him give up his Divinity and immortality to cease his torment.[1][2][3]
Role
[
]
Variations
[
]
Lernaean Hydra
[
]
The Lernaean HydraWP was battled by Heracles. It was an immortal hydra which would grow back its heads no matter how many times they were cut down. He utilized Nine Lives to simultaneously annihilate one hundred heads with a bow in order to slay it.[1][4][5][6] It was the son of Typhon.[3]

Juvenile Hydra
[
]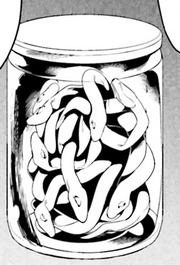 Rocco Belfaban owns a juvenile Hydra preserved in formalin, a small snake with its head split in nine. It is a one-of-a-kind item in the entire world according to Kairi Sisigou, and even one-third of its selling price would surpass his house's combined estate. He is able to process it into a potent poison for use in the Great Holy Grail War.[1]

References
[
]
↑ 1.0 1.1 1.2 1.3

[] Fate/Apocrypha material - Encyclopedia: Hydra [Magical Beast], p.181 [T]

Hydra [Monstrous Beast]
Among Heracles' Twelve Labors, the monster he exterminated at Lake Lerna was the Hydra, a giant swamp snake said to possess either nine or a hundred heads.
Possessing both a deadly poison said to instantly kill all humans it touches and an abnormally high regeneration capable of immediately regenerating two new heads every time one is cut off, the Hydra is a Monstrous Beast with top class fame even among the other Twelve Labors. Shishigou Kairi accepted a young-born Hydra as prepayment and processed it. At first, he processed it into a knife as a final weapon that could kill even a Servant, but later he used it to make an antidote serum out of wariness towards Semiramis.
Though Mordred blocked herself out from it with her armor, it still wasn't enough to completely block the air itself which was contaminated with the poison. The rank of the Hydra's poison is undoubtedly top A rank. It might even reach A+ rank against heroes of Greek myth.

↑

[] Fate/Apocrypha material - Encyclopedia: Archer of "Black" [Servant], p.159-160 [T]

Archer of "Black" [Servant]
One of the Servants of the Black camp. His true name is Chiron. He is a centaur—a half-human-half-horse race, and he is a famous great sage in Greek myth.
 He has a calm and gentle personality, but though he treats his Master with respect, he won't hold back on advice if it's for the sake of his Master. He never scorns or despises others regardless of whether they are enemy or ally, and he is exceptionally calm among the intense and passionate heroes of Greek myth. He acted as the strategist of the Black camp and continued to support his camp day and night right until he took part in the final battle.
Usually, centaurs are considered both as great huntsmen who effortlessly use bows and arrows while running with their horse legs and as savage monsters who would steal anything and everything. It seems Chiron alone is regarded as a "sage" that stands out as an exception among them.
Chiron was born from Cronus, father of the head god Zeus, and Philyra, the goddess of a certain island. However, because Cronus had copulated with her while she was turned her into a horse, Chiron was born as a half-human-half-horse centaur. (There is also the theory that they were attacked by Cronus' wife Rhea while they were in the middle of copulating and Philyra turned into a stallion in order to run away.) Balking at the idea of giving milk to a monster like Chiron, Philyra changed her form into that of a linden tree.
Though he was never loved by his mother and father, Chiron became a sage that excelled in all forms of knowledge as he grew up. This is not necessarily unrelated to the fact that his mother's name "Philyra" means linden tree. The leaves of linden trees can be used as restoratives, and the tree bark can be used in divination or as written boards.
After becoming an adult, Chiron began to rear the "future heroes" who implored for his tutelage from all over Greece. Besides Heracles and Achilles, the heroes who received his teaching include those like Asclepius, who later became the god of medicine, and Castor, who was sublimated as the Gemini constellation. Jason, the leader of the Argonauts who enticed Medea, is also one of his students.
On a certain day, someone shot a poison arrow at him while trying to stop a dispute between centaurs, and the poison continued to endlessly make him suffer due to his immortality, until he became the Sagittarius constellation by returning his immortality to the gods and finally received salvation. His wish for the Holy Grail while participating in the Holy Grail War is to regain his immortality. To him, it is the only gift he received from his parents.
As a Servant, his stats have received a slight rank down due to giving up his immortality and transforming his legs into those of a human, but even then he boasts of specks high enough for him to be called a first-rate Servant—to an extremely abnormal extent in a certain sense. In the first place, it appears that he taught not only swordsmanship, archery and horse-riding, but also wrestling techniques, so he is relatively experienced in moving with human feet.
With the combined effects of his skills, he can even utilize a pseudo-form of future sight, making him truly all-purpose in his abilities. If he has a weakness, it is that he lacks a decisive trump card. Against the brute force approach that throws away all wisdom or intelligence, his strong points fade away.
He deeply loves how weak and insufficient humans struggle despite their insufficiency and still try to move forward, so even if he was summoned as part of the Red camp, he would have definitely rebelled against them with the resolve to die.
Though if he were to describe it himself, he would merely answer, "This is my arrogance as a teacher, as embarrassing as it is".
In the novels, he was mainly focused on his fight with Achilles outside of his light skirmish with Mordred. After all, Chiron was the only one capable of harming Achilles. That battle was such a great joy to him that he even forgot his true nature as a Servant, but he stood back up as a Servant again at the moment of his death and accurately dealt a fatal wound to Achilles.

↑ 3.0 3.1 The Adventures of Lord El-Melloi II Volume 3: The Devil of the Wandering Sea (Lower) - Chapter 6
↑

[] Fate/complete material III: World material - FAQ with Nasu: Noble Phantasms, p.134


Q: Berserker's NP, "Nine Lives" has the form of a bow and arrow set it seems, but is there something special about it's form as a NP? Also, does "Nine Lives" as a skill simultaneously release 9 strikes?

Q: Berserker's NP, "Nine Lives" has the form of a bow and arrow set it seems, but is there something special about it's form as a NP? Also, does "Nine Lives" as a skill simultaneously release 9 strikes?

A: Nine Lives is more like one style rather than one armament. There's the Nine Lives using a bow, the Nine Lives using a sword, the Nine Lives using a shield, and so on. And what led to the making of that style was the killing of the Hydra, and like that, he simultaneously annihilated 100 heads with a bow.

Q:バーサーカーの宝具、"射殺す百頭"は弓矢の形をしているようですが、宝具としての姿には何か特徴はあるのでしょうか?また、技としての"射殺す百頭"は、強力の9連撃を同時に放つ技なのでしょうか?

A:"射殺す百頭"は1個の兵装というより、ひとつの流派なのです。弓を用いた"射殺す百頭"、剣を用いた"射殺す百頭"、盾を用いた"射殺す百頭"と。
で、そもそもこの流派を編み出すきっかけになったのがヒュドラ殺しで、そのおり、弓による100頭同時殲滅を行った、と。

↑

[] Fate/complete material III: World Material - The Servants of the Fifth Holy Grail War: Berserker, p.036-037 [T]

Hercules
Class: Berserker
Master: Illyasviel von Einzbern
Alignment: Chaotic Mad
Sex: Male
Height: 253cm
Weight: 311kg
Weapon: Axe-Sword

STR: A+
CON: A
AGI: A
MGI: A
LCK: B
Noble Phantasm: A

Legend
A demigod hero of Greek Mythology, he was born between the King of Gods Zeus and a human girl. He received the violent hatred of Zeus' wife Hera because of his origins and was tormented by the goddess at every turn. However, he entirely overcame the difficulties he had been given, and was enshrined as a god in the end.

Heracles had an extremely violent temperament as an infant, and grew up as a shepherd in order to obtain a gentle heart. Having grown into a fine adult, Heracles was recognized for several feats, and gained two children as well as the right of succession to the throne. However, Hera made Heracles go temporarily insane and he killed his wife and children, ending up in the role of a slave to the king to atone for his sins. Here the jealous king gave him a challenge, the famous Twelve Labors. The Labors were all things that a human could not achieve but Heracles completed them safely, and at the same time he was freed from slavery, he received an immortal body.

However, the adventures of Heracles and Hera's hatred did not end there. Hera's numerous artifices resulted in Heracles' poisoning by his own wife from his second marriage. In his final moments, Heracles cremated himself, surrendering to Zeus's judgment. The gods after consulting recognize Heracles' feats, and he was recruited as a god like his father, becoming a constellation.

Tactics
An excellent warrior, he possesses the qualifications corresponding to six classes excluding Caster. Other than specializing with the bow, he has mastered every weapon. However, all that is talk about times when he is not Berserker. Heracles as a Berserker has lost his rationality, and exists only to utterly defeat the enemy from the front as directed by Illya. Naturally, there is no such thing as detailed tactics, leaving it to physical ability and brandishing an axe-sword to strike. Astonishingly, with just that, it is a fact that he demonstrates hand-to-hand combat abilities superior to every Servant. Without breaking to even think about defense, he leaves it to his Noble Phantasm "God Hand."

Class Abilities
Mad Enhancements: B
The Class Skill that characterizes Berserker, it reinforces ability at the cost of reason. As Heracles' possesses the skill at Rank B, in compensation for losing most of his sanity, the levels of all his abilities rise. Heracles beat his harp instructor to death when he was a child, and had many episodes when he killed people in his rage without even hearing them speak. It seems that for Heracles, Berserker that receives "Mad Enhancement" was an easy class to adapt to. Focusing on controllability when out of combat, the rank of "Mad Enhancement" is suppressed by Illya.

Being close to the strongest Heroic Spirit, even restricted to simple direct melee as consequence of Mad Enhancement, Heracles was undoubtedly the strongest among the Servants. However, because of Mad Enhancement, a variety of sword techniques and skills, and a part of his Noble Phantasms was lost. Having his emotions also sealed off and not able to perform any personally motivated actions, only the reason within his core was not lost, having occasions when he felt something like the will to protect Illya.

Personal Abilities
Battle Continuation: A
A skill that allows for the continuation of combat after sustaining mortal wounds. It will also reduce mortality rate from injury. Cú Chulainn's Battle Continuation represents "never give up no matter what", while Hercules' represents the ability to survive. The Noble Phantasm that allows for resurrection after death, God Hand, has exceptional compatibility with the "will not die easily" skill Battle Continuation.
The best result is achieved when a resilient body is combined with this skill.

Eye of the Mind (False): B
A danger avoidance ability based on Intuition/Sixth Sense, gained through many ordeals and adventures. Even though Hercules' sanity was lost due to Mad Enhancement, this skill remained effective as it is nearly an instinct. When crossing swords with a seasoned swordsman like Artoria, he would not fall for half-hearted feints. It is such a troublesome ability for Hercules' opponents.

Although monstrous in size, Hercules has the highest rank in Agility. As a result, it is very difficult to corner him.

Bravery: A+
With his brave and daring spirit, Herakles is able to neutralise mental interference such as suppression, confusion and charm. However, under the influence of Mad Enhancement, this skill is unable to take effect. While operating correctly, Bravery also increases the damage inflicted upon the opponent during melee combat. This skill allowed Herakles to defeat several monsters empty-handed.

Even the brave warrior's heart was painted over by the insanity of Mad Enhancement.

Divinity: A
Being a mixed-race child of the King of Gods Zeus and a human, and becoming a god after death, Herakles naturally possessed the highest level of the Divinity skill. However, this matter became a disaster, ending with his complete entrapment in Gilgamesh's Noble Phantasm "Chains of Heaven" that grows in strength proportionate to the enemy's Divinity.

Noble Phantasm
God Hand: Twelve Labors
Rank: B
Type: Anti-Unit
Range: -
Maximum Targets:

A blessing of Gods, as well as a curse. It is a Noble Phantasm given to Heracles, representing immortality. This Noble Phantasm does not have an overt external manifestation such as a weapon or armour, but if you hazard to put a shape to it, the body itself can be called the Noble Phantasm. God Hand turns one's body into a tough suit of armour and nullifies all attacks Rank B or lower, regardless the attack being physical or magical. It also has the effect of automatic resurrection after death. Because the resurrection effect has 11 uses, Heracles cannot perish unless killed 12 times. In addition, due to Illya's immense magical energy, given enough time, the lives lost can also be regenerated.

Resurrection as well as attack-nullification. Besides these two effects, God Hand also possesses a third effect: rendering an attack that it has experienced before useless. Regardless how powerful is the Noble Phantasm that defeated Heracles, it would be completely nullified after he resurrects.

Nine Lives: The Shooting Hundred Heads
Rank: -
Type: -
Range: -
Maximum Targets: -

Among Hercules'Noble Phantasms, he trusted this one the most. It was the Noble Phantasm which Hercules used to slay the immortal nine-headed serpent Hydra once upon a time, taking the form of bow and arrow. After killing the Hydra, Hercules could even utilise techniques that emulate the ability of this Noble Phantasm when wielding other weapons. In essence, it is "a high speed attack consisting of nine consecutive strikes, as swift as if the attacks are overlapping". Even when delivered via sword, spear, or axe, this technique still boasts power on the level of Noble Phantasms. Also, just like Cú Chulainn's demonic spear Gae Bolg has a technique called "Gae Bolg – Piercing Death Thorn", Hercules' technique shares the "Nine Lives – Shooting of Hundred Heads" name with the Noble Phantasm.

Shirou projected this secret sword technique while projecting Hercules' Axe Sword, thus annihilating the Blackened Hercules. While summoned as a Berserker, Hercules could not use Nine Lives.

↑

[] Fate/side material - Encyclopedia: Nine Lives [Noble Phantasm], p.068 [T]

Nine Lives [Noble Phantasm]
"The Shooting Hundred Heads".
Heroic Spirit Heracles' most trusted Noble Phantasm.
It was the bow used to slay the Lernaean Hydra, whose nine heads would always regenerate no matter how many times they were cut off. Afterward, Heracles perfected a method of attacking that emulated the abilities of the bow, that could even be used with great swords. If Heracles' class was Saber, that glorious, exquisite swordplay would have definitely made its return.
…By the way, what cut down the blackened Berserker in the Sakura route was this secret sword technique, projected from Berserker together with the axe sword.

ナインライブズ【宝具】
"射殺す百頭"。
英霊ヘラクレスが最も信頼する宝具。
何度首を断ち切ろうが蘇生する九頭の大蛇を殲滅した弓矢で、以後、この弓矢の能力を模した攻撃方法を大剣でも使用するに至った。
ヘラクレスのクラスがセイパーであったのなら、その豪快にして精巧な剣技が再現されていたたろう。
ちなみに、黒化したパーサーカーを斬り崩したものも、斧剣と共にパーサーヵーから投影したこの秘剣である。