Illyasviel von Einzbern (イリヤスフィール・フォン・アインツベルン, Iriyasufīru fon Aintsuberun?), often referred to as Illya, is the Master of Berserker in the Fifth Holy Grail War of Fate/stay night. She is the daughter of Kiritsugu Emiya and Irisviel von Einzbern, both whom participated in the Fourth Holy Grail War, and the adoptive older sister of Shirou Emiya.
Profile
Background
The Einzbern, one of three families of sorcerers involved in the Holy Grail War (the others being the Tohsaka and the Makiri/Matou), were responsible for creation of the vessel which the souls of the defeated Servants would go into, while the Makiri created the system of Masters and Servants and the Tohsaka supplied the land which became Fuyuki City. As such, Illya was prepared by her family to act as a living vessel for the Grail.
Early Years
Illyasviel is a homunculus, an artificial human given life by applying sorcery to sperm cells, originally created and raised by the Einzbern family.[3] During the Heaven's Feel scenario, it is insinuated that the sperm used to create her was donated by Kiritsugu Emiya, a fact that is confirmed in Fate/hollow ataraxia and Fate/Zero. She is the biological daughter of Kiritsugu Emiya and Irisviel von Einzbern, Irisviel was gifted a working womb so she gave natural birth to Illya. In the Fate/Zero Drama CD, she was born out of love between Kiritsugu and Irisviel. She will be Kiritsugu's reason for living when he comes back from the war. She is actually slightly older than Shirou, her childlike appearance being a result of a distorted growth rate. Because the head of the family Jubstacheit von Einzbern anticipated the possibility that Kiritsugu and Irisviel would fail to win the Fourth Holy Grail War, he allowed Illyasviel to be born with modifications to allow her to become the Holy Grail should a Fifth Holy Grail War occur.
Before the Fifth Grail War
With her father abandoning her after the Fourth Holy Grail War, she became angry with Kiritsugu, and consequently, Shirou.
Angra Mainyu appeared to her in form of her mother and was turning Illyasviel against her father & adoptive brother.
The Einzberns then trained Illya harshly in order to groom her as the next vessel for the Grail and as a Master who would finally bring the Grail to the Einzbern family.
Two months before the Fifth Grail war, Jubstacheit von Einzbern threw Illya into the wilderness. Illya was able to summon the Heracles with a slab of rock from a temple as a catalyst. The Einzbern cheated by gathering materials from the Greater Grail which allowed Illya to successfully summon a Servant a full 2 months in advance. Even old man Acht was surprised by this result.[4] Berserker protected Illya from a pack of wolves and the two bonded together.
Appearance
Much like the other Einzbern homunculi, Illyasviel has crimson eyes and long white hair. Similar to her mother, Irisviel, Illya also bears a genetic resemblance to her ancestor, Justeaze Lizrich von Einzbern, who was responsible for the formation of the core of the Holy Grail. She wears a collared, purple long-sleeved shirt with a light purple scarf to match, a long white skirt and purple boots.
Though Illya was born through natural means, her body has been heavily modified before and after her birth to maximize the magical circuits in her body, making her the ultimate homunculus and a refined vessel for the Holy Grail. As a result of the modifications to her body, her physical body develops slowly and her father, Kiritsugu Emiya, correctly assesses that her physical body will not develop secondary sexual characteristics. By the time she is eight years old, Kiritsugu notes that his Walther rifle is heavier than Illya is. A decade later, when Illya meets Shirou Emiya, she still looks as though she's a young girl rather than a young woman.
Personality
Illya is cheerful and outgoing, upbeat and generally exhibits a positive attitude. Possessing a friendly demeanor, she is easy to talk to and tends to be playful and mischievous. Deep inside, however, Illya is lonely as she has no friends her own age to play with and is often stuck inside the Einzbern castle honing her magecraft. She asks those she feels comfortable around to call her "Illya".
Illya's personal interest in Shirou is conflicted due to the fact that Kiritsugu, whom she loved for he was her father, remained in Japan as Shirou's adoptive father after betraying her family by destroying the long-sought Grail. She feels that Kiritsugu abandoned her for Shirou, and is jealous of Shirou for that. When she first meets Shirou, she considers him as something of an older brother. Though he is distrustful of her at first, he comes to like Illya, seeing her as a little sister. However at the same time, she also feels very close to Shirou for his relationship with Kiritsugu. As such, she becomes very affectionate and clingy towards him (like a younger sibling would) when Berserker is defeated, much to Saber and Rin's annoyance.
It can be said that Illya gets her outward personality from her mother. Like her mother, she is kind and has the qualities of a child. However, she also has a measure of her father in her, as she can be callous and kill others without remorse.
Role
Fate/Zero
She has a minor role in Fate/Zero, she first appeared in the beginning when she was born. As she grows up, she was very fond of her father which surprises Saber as Saber thought Kiritsugu was a cold person. Kiritsugu while carrying her realizes that she stopped growing. Before he leaves for the war, Kiritsugu promises to return to Illya, who promises to wait until he returns.
Illya does not remain far from Kiritsugu and Irisviel's thoughts during the war. During a brief moment of respite, Kiritsugu expresses his despair to his wife and his desire to take their daughter and flee. However, Irisviel assures him that he must continue. During the final days of the war, Irisviel's consciousness is consumed by the Grail, Irisviel requests Kiritsugu bring Illya to Japan and to make their daughter happy. However, as Irisviel becomes the Grail, she witnesses a vision of Illya fearing her own fate of becoming the Grail one day. Kiritsugu's own vision in the Grail eventually shows him destroying everyone he wants to protect, including all his loved ones, until he is finally forced to murder Illya.
Though Kiritsugu survives the Fourth Grail War, his choice to destroy the Grail rather than realize the Third Magic is perceived as a betrayal by the Einzbern. He makes multiple attempts to retrieve Illya, but he is prevented from succeeding by Jubstacheit refusing to open the bounded barrier around the Einzbern castle. With his deteriorating body, he could not find the entrance of the bounded field and he died regretting the thought of not being able to save her. Illya never knew that her father had repeatedly tried to save her and she was groomed to despise Kiritsugu for his betrayal.
Fate/stay night
Illya travels to Japan to participate in the Fifth Holy Grail War as the master of Berserker. During the initial stages of the war, she lives in the Einzbern Castle on the outskirts of Fuyuki City, accompanied only by her Servant and two maids Leysritt and Sella.[5]
The reason Saber never mentioned Illya in the Fifth Holy Grail War was that she had never asked Irisviel about her daughter's name, and Illya's appearance seemed physically too young for her to be Irisviel's daughter. So, she viewed Illya as an Einzbern homunculus completely unrelated to Irisviel.[3]
Fate
In the Fate route, Illya initially appears as an enemy to Shirou Emiya. Unbeknownst to Shirou, his adopted father had been the Master for the previous War, representing the Einzbern family. Kiritsugu's decision to destroy the Holy Grail had been regarded as a betrayal and is the apparent reason for why Illya has decided to specifically target Shirou. After Saber is weakened after her fight against Rider, Shirou is captured by Illya, who gives him the proposition to become her servant, which he refuses. Frustrated with his response, she orders Berserker to attack Rin, Saber and Archer, who had come to save Shirou.
Archer sacrifices himself in order to allow Rin, Saber, and Shirou to escape, by staying behind to fight Berserker despite knowing he is outmatched. He manages to take six of Berserker's twelve lives (five in the anime) before he is ultimately defeated. In order to replenish Saber's mana, Shirou gives a part of his magical circuit to her in Réalta Nua and they go fight against Illya and Berserker. Berserker is defeated by Saber and Shirou after the latter traces Caliburn, Saber's original sword. Without the protection of her Servant, Illya joins Shirou's household.
Illya attacks Gilgamesh after he kills Caster due to her confusion of the existence of a eighth Servant. However, he merely reflects at her, but she defended by Rin and soon collapses after taking in Caster's soul. She is later kidnapped by Kirei Kotomine when he invades the Emiya Residence to use her to summon the Holy Grail. After Kirei's death, She is freed from the Grail before it is destroyed by Shirou and Saber. Two months later, Illya becomes good friends with Sakura, and lives at Fujimura residence.
She lives peacefully with Shirou and winds up being by Taiga. Notably, she is somewhat attached to Shirou, and believing Taiga to be an annoyance, she is often at odds with her. However, according to Zouken Matou, she has less than a year to live due to being an Einzbern homunculi. Though a Tiger Dojo hints that Illya ended up living a full, natural lifespan somehow.
Unlimited Blade Works
In the Unlimited Blade Works route, she has a lesser role. She introduces herself as a Master to Shirou and Rin, but since the most dangerous servant in the route is Caster, she doesn't attack them. In order to defeat Caster, Shirou and Rin decide to form an alliance with Illya. However, they arrive too late at her castle and Illya is defeated and killed by Gilgamesh after the latter rips her heart out of her body. Before dying, her past together with Berserker is fully expanded, revealing that after Kiritsugu left her, Illya went through a cruel training by the Einzberns so she could be able to control Berserker and be their representative in the Grail War.

Heaven's Feel
During Heaven's Feel, Illya does the same thing that she did in Fate: upon realizing that Kiritsugu is dead, she decides to take revenge on Shirou. She attacks Rin and Shirou by surprise and Shirou gets injured after protecting Saber. When they meet again in the park, she forms a friendly relationship with Shirou and they chat frequently in the park. She tells him about her past and about the Dress of Heaven. She also appears to be aware of the relationship between Shirou and Archer.
Illya is later attacked by Zouken Matou after Berserker is defeated by Saber Alter and corrupted into becoming one of Sakura Matou's Servants. Once Berserker is destroyed, Illya reveals the truth regarding Heaven's Feel, the Holy Grail, and Angra Mainyu, the corruption in the Grail. Together with Rin, they work together to replicate the Jeweled Sword of Zelretch, which Rin intends to wield against Sakura, who has become a second vessel for the corrupted contents of the Grail. Illya remains behind while Shirou and Rin confront Sakura, extracting a promise that they will return alive.
During Shirou's battle with Saber Alter, Illya locates the Dress of Heaven, a Mystic Code passed down by the Einzberns.[6] Realizing that even if Shirou manages to defeat and retrieve Sakura it would be insufficient to save everyone from the Grail's destructive power, Illya intends to utilize the Dress of Heaven to protect Shirou.
If the affection score for her is high enough, it results in Sakura's True Ending (if the affection score is low, she regretfully kills Shirou resulting in a Bad End). Illya wearing the Dress of Heaven appears in front of Zouken Matou and asks him why he must keep himself alive. Meanwhile, Shirou cancelled the connection between Sakura and Angra Mainyu, so she starts retrieving the defeated Servants' soul. And she stops Shirou who is about to sacrifice himself to destroy the Greater Grail. Illya reveals to Shirou that she is his older sister and tells him that her duty is to protect him because of it. By the use of the Dress of Heaven, she materializes his soul incompletely[6] and gives him a portion of her body as his soul's temporary container.[7] Now then she closes Gates of Heaven as a Grail.
Manga
In the manga version of Fate/stay night (which follows the Fate and Unlimited Blade Works scenarios), the events involving her character follow the Fate route. After kidnapping Shirou, losing Berserker and ultimately being defeated by Shirou and Saber, she ends up living happily at Shirou's house.
Fate/hollow ataraxia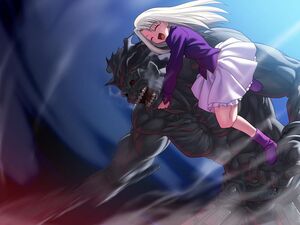 Illya plays a small role throughout the four day loop. She tends to show up wherever she pleases, but usually seeks out Shirou to do things. On the third day of one of the loops, Shirou attempts to visit the Einzbern Manor in the woods, but is stopped by Illya and Berserker. In a future loop after that encounter, she sets up a "castle siege" utilizing her Servant and Homunculi maids to make reaching her castle a "grand experience". After conquering the "siege", Shirou is able to visit the manor without issue in subsequent loops. Illya talks to Shirou about her history with Kiritsugu and Irisviel before the Fourth Grail War. During the assault of the dog-shadows, Illya and Berserker are also involved in the fight to exterminate them, much like the other Servants.

Fate/Unlimited Codes
Fate/tiger colosseum series
Fate/kaleid liner PRISMA☆ILLYA
Main article: Illyasviel von Einzbern (Fate/kaleid)
Illya is the main character of the Magical Girl spin-off, Fate/kaleid liner PRISMA☆ILLYA.
Carnival Phantasm
Illya has a number of small roles in Carnival Phantasm, often as a commentator in the parody versions of the Holy Grail War with Kirei Kotomine.
Capsule Servant
Other appearances
In the "Apocrypha" universe, Illyasviel wasn't born as the Fuyuki Holy Grail War ended in the third. Therefore, Kiritsugu won't end up becoming involved with the Einzberns.[8]
Abilities
Illya has unsurpassed potential as a Master amongst all Masters past and present. 70% of her body is composed of Magic Circuits.[9] They are also her Command Spell and show themselves as a red pattern all over her body when she generates magical energy.[10] The power of her Command Spell is strong enough to control Berserker who can disobey normal Command Spells.[11] Her Command Spell is carved all over her body, and the number of her Magic Circuits overwhelms that of a typical magus. These factors and many more make her almost a vessel that exists to win the Holy Grail War.[12] Illya has an unlimited supply of mana, thus allowing her to control Berserker without too much difficulty. Still, she suppresses the rank of Mad Enhancements to make it easy to control him when out of combat.[13]
As a Mage, she is a top mage in Fuyuki, if it's at the land that houses the Greater Grail.[14][15] Still, first-class mages would follow the "since she's a child of nature, just cut her off from the land first" plan, so it's not like she's invincible. Kayneth El-Melloi Archibald and Tokiomi Tohsaka may be able to best her in a magic duel.[15]
Similar to the wire construct wielded by her mother, she is able to make a familiar from her hair. The name of the technique is
Engel Note: Angel's Poem
 (天使の詩,
Tenshi no uta
?
). The bird's name is
Storch Ritter: Knight of Stork
 (コウノトリの騎士,
Kōnotori no kishi
?
). The Ibis that shoots bullets is
Zelle
 (ツエ—レ,
Tsuere
?
, German for "cell"), and she can also transform them into a
Degen
 (デーゲン,
Dēgen
?
, German for "épée").
[14]
They are autonomous beings that defend her and pursue targets automatically, strong enough to defend against Rin's
Gandr
shots, fast enough to dodge them, and shown to be able to fire small blasts of magical energy capable of easily shooting through them. They each generate a considerable amount of magical energy, and Rin compares each to a "miniature magus." She can easily create up to four without any issue, and she can change their shape into swords.
[16]
She has the mystic eye of binding capable of binding Shirou.

Vessel of the Grail
In Fate/Zero, the process of the Grail's creation was detailed. As each servant dies, its energy would flow into her artificial body. When six servants die, her body would be destroyed and give birth to the Holy Grail. Thus, by having Homunculus participate in the war, the Einzbern master would never be able to make a wish even when they win. The Einzbern family is fixated on victory alone because they are the family that came up with the Holy Grail War, but never won a single war.
As a vessel of the Grail, Illya's body can only take up to 4 servants and if she absorbs the fifth servant, she wouldn't function as a human any longer.[5]
Being the vessel of the Grail, Illya is able to wear the Dress of Heaven. The garment allows for the materialization of the soul and is the pinnacle of the Third Magic the Einzbern family seeks to recover through the Holy Grail Wars. She dons the Dress of Heaven during the Heaven's Feel scenario, albeit in an incomplete form of the Third Magic, to assist Shirou in completing their father's mission to stop Angra Mainyu and obliterate the Holy Grail.
Development
Creation and Conception
Originally Illya was planned to be one of the heroines, however if that were made then the release date of Fate/Stay Night would be delayed by another half a year.[12] Her route would have been part of Sakura story. Rather than only choosing to become Sakura's hero or fulfill his ideals as an Ally of Justice on the ninth day of Heaven's Feel, Shirou would have also had an option to become Illya's hero instead. However, due to the length, they thought to release Saber and Rin as Fate/stay night and Sakura and Illya in a separate release titled "Fate/other night", but they thought it would have been too expensive. Illya's route was instead combined with Heaven's Feel because they decided to include Sakura's route in Fate/stay night.
Nasu Kinoko jokingly commented that the Illya route is the "Prisma☆Illya" because Hiroshi Hiroyama was able to finish what he couldn't do.[17]
Reception
References
↑ 1.00 1.01 1.02 1.03 1.04 1.05 1.06 1.07 1.08 1.09 1.10

[] Fate/complete material II: Character Material - Characters: Illyasviel von Einzbern, p.054-063

↑ 2.0 2.1 Fate/Zero Anime Visual Guide I - Illyasviel von Einzbern entry, p.035
↑ 3.0 3.1

[] Fate/Zero material - Encyclopedia: Illyasviel von Einzbern [Person's name], p.091

Illyasviel von Einzbern [Person's name]
The daughter of Irisviel and Kiritsugu, and one of the heroines of the future Fifth Holy Grail War – this isn't a lie! Illya's route exists in everyone's hearts!
The original story of Fate had events hinting at this, but in Zero her shocking age issue is very quickly revealed.
Incidentally, the reason Saber didn't speak her feelings during the Fifth War was because she had never asked Iri about her daughter's name, and Illya's appearance seemed far too young for her to be Iri's daughter (after 10 years, the child that used to sit on Kiritsugu's shoulders should already have developed a voluptuous body, that was the reasoning). So, she viewed Illya as an Einzbern homunculus completely unrelated to Iri – it's definitely not a lame excuse.

イリヤスフィール・フォン・アインツベルン【人名】
アイリスフィールと衛宮切嗣の娘であり、後の第五次聖杯戦争におけるヒロインの一人。――嘘じゃないよ!イリヤルートは皆の心の中にあるんだよ!
Fate本編においてもそれとなく思わせぶりな記述はあったものの、Zeroにおいてその衝撃の年齢設定が至極あっさりと露見した。
ちなみに第五次においてセイバーがイリヤに対し容赦なかったのは、アイリから娘の名前をちゃんと聞いていなかったことと、イリヤの外見年齢がアイリの娘にしては幼すぎること(あれから10年経ってんなら切嗣に肩車されてた子供はムチムチバディになってる筈っしょ、という推察)から、イリヤをアイリとは無縁のアインツベルン謹製ホムンクルスと認識したためである。――苦しいとか言っちゃ駄目なんだからツ。

↑

[] Fate/complete material III: World material - FAQ with Nasu: Holy Grail War, p.131
Q: Was Berserker summoned without the aid of the Greater Grail, using Illya's uncommonly high mana capacity?
Q: I thought that Servants can materialize in physical form because of the Holy Grail, but how was Berserker summoned 2 months before the Greater Grail was active? Was he summoned without the aid of the Greater Grail, using Illya's uncommonly high mana capacity?



A: It was due to the ease of requesting material gathered at the Greater Grail, and some cheating, characteristic of the Einzbern. Although, Old Man Acht did not expect Illya to successfully summon a Servant a full 2 months in advance

↑ 5.0 5.1

[] Fate/complete material III: World material - FAQ with Nasu: Holy Grail War, p.131
Q: What is Illya's capacity as a Grail?
Q: What is Illya's capacity as a Grail? Hypothetically, if the Einzbern won the War, Illya absorbed the other 6 Servants besides Berserker, and had some shred of human will left, could she still don the Dress of Heaven and initiate the Grail ritual?



A: That's what Liz and Sella are for. Illya can only take up to 4 - I would think that absorbing a fifth Servant wouldn't allow her to function as a human any longer.

↑ 6.0 6.1

[] Fate/side material - Encyclopedia: Dress of Heaven [Armament], p.067 [T]

Dress of Heaven [Armament]
A magical artifact passed down by the Einzberns.
As the heart that governs the Great Holy Grail, it is imbued with sorcery that can materialize the soul for just a few seconds.
Though the dress is pure white, it is actually made of gold. It is inlaid with seven "rings" said to control creation, and the souls of others.
The seven holes in the dress are the seven transformed rings, and they are designed to light up one by one every time a Servant's soul is harvested.
Since any human who touches the dress will be turned to gold, its management must be handled by elementals, demi-humans, or homunculi.

天のドレス【武装】
アインツベルンに伝わる魔術兵装。
大聖杯を製御する心臓にして、魂を数秒だけ物質化させる魔術を帯びている。
純白のドレスだが、材質は黄金。万物・他人の魂を支配するといわれる"指輪"を七つはめ込んでいる。
七つの孔は指輪が変形したもので、サーヴァントの 魂が収納される度に一つずつ光を帯びていく仕掛け。
人間が触ると黄金になってしまう為、運営は精霊や小人、ホムンクルスでなければならない。

↑

[] Fate/complete material III: World material - FAQ with Nasu: General Questions about Fate, p.130-131
Q: At the end of Sakura Route, the shape of the Shirou resurrected by the Third Magic was not human, correct?
Q: At the end of Sakura Route, the shape of the Shirou resurrected by the Third Magic was not human, correct? If his shape was not human, how did they know which object was Shirou?

A: Rider used Rin's pendant as a landmark. As to the state that Shirou was in, I will leave it up to your imagination. Since Shirou was reconstructed from a portion of Illya's body, in terms of size, you would not expect him to be the same as the original. That was my thought process.

↑

[] Fate/Apocrypha material - Encyclopedia: The Three Families [Others], p.166 [T]

The Three Families [Others]
In "Apocrypha", the Three Families are the magi who constructed the Fuyuki Holy Grail War… in other words, the Einzberns, Tohsaka and Makiri.
Just as alluded in the light novels, Makiri (Matou) Zouken fought fiercely against Darnic during the Third Holy Grail War, but became practically crippled due to the shock of the Greater Grail being stolen. The family wasn't blessed with a successor either, so their future as magi has been completely shut.
The Tohsaka gave up on the Greater Grail, and now seek a new path in becoming one with the universe with Chinese Kenpou while learning magecraft. The twin-tail daughter of the family might also end up becoming the founder of a "completely new martial arts that combines magecraft and Chinse Kenpou" by the time she becomes a high school student. However, she never imagined that her younger sister who was adopted by distant relatives would come visit her in Japan after becoming a pro-wrestler with unimaginably nice proportions and forming a tag team with a drill-roll-haired girl…!
The Einzberns are in the midst of struggling to make a new Greater Grail under the excuse "It was stolen, so we'll just make a new Holy Grail". Fortunately, in the "Apocrypha" world, a certain dead fish-eyed mercenary won't end up becoming involved with the Einzberns, so their greatest work Illyasviel will never be born—therefore, as long as she isn't born, the Einzberns will never despair… Is that really fortunate?

↑ Unlimited Blade Works anime episode 15
↑

[] Fate/complete material III: World material - FAQ with Nasu: Command Spells, p.132
Q: In Saber's route, there was a scene where Illya was frightened by Gil's appearance, and her Command Seal was described as "glowing." Is this because Illya's Command Seals are different than those of other Masters? Are the Seals her Thaumaturgical Crest or something?

Q: In Saber's route, there was a scene where Illya was frightened by Gil's appearance, and her Command Seal was described as "glowing." Is this because Illya's Command Seals are different than those of other Masters? Are the Seals her Thaumaturgical Crest or something?

A: Illya's Command Seals are also her Magic Circuits, so the generation of mana causes it to appear as if she is activating her Seals.

↑

[] Fate/side material - Encyclopedia: Berserker [Servant], p.069

Berserker [Servant]
The mad warrior Heroic Spirit.
Regardless of basic abilities, Berserkers are a type of Servant that specialise in destruction through "going berserk".
The Berserker in this story was an exceptional Heroic Spirit, but due to his "Mad Enhancement", he became an untouchable monster.
In the case of a normal Master, Berserker can cancel the control of Command Spells. However, Illyasviel, who was acting as the Holy Grail, was able to control Berserker due to her Command Spells being special.
His true identity is the great Grecian hero Hercules.
For Hercules, who had gone berserk numerous times in legend, the Berserker Class probably feels quite familiar.
Of course, Hercules is exceptional in body, mind, and skills. Since Hercules had mastered every weapon, he can even qualify for the Sabre Class without difficulty.
If Hercules had been summoned in the Saber Class, he would be able to fully display his phenomenal sword play.
Hercules was the earliest Servant to be summoned. He was summoned more than one, no, more than two months prior to the Holy Grail War.
Berserker cannot act independently as his emotions have been sealed.
However, no matter how strong the bondage of Command Spells, Berserker never lost the sense at the core of his being.
After being Blackened in the Sakura Route, Berserker was able to halt the last strike of his Axe Sword before he died. He was able to do so due to the strength of his heart; a heart which suffered the pain of berserking since his early days as a hero.
In the story of Fate, Berserker is the most manly character.

パーサーカー【サーヴァント】
狂戦士の英霊。
基本能力は問わず、ただ"狂う"事で破壊のみを特化したサーヴァントタイプ。
本編のパーサーカーはたたでさえ優れた英霊だというのに、その"狂化"の為手のつけられない怪物と化してい る。
通常のマスターなら令呪そのものをキャンセルされかねないパーサーヵーだが、聖杯たるイリヤスフィールの令 呪も特別なので製御を可能としている。
正体はギリシャの大英雄ヘラクレス。
神話において幾度となく発狂するへラクレスにとって、パーサーカーというクラスは馴染み易いものだったのだ ろう。
尤も、心技体全てに優れ、あらゆる武具を使いこなすへラクレスならセイパーのクラスも難なく該 当する。
セイバーになっていたのであれば、その卓絶した剣 技を存分に披露していただろう。
聖杯戦争ではもっとも早く、一ヶ月......否、二ヶ月 前から召喚された。
感情が封印されている為、自ら行動する事はない。
が、どれほど令呪の縛りが強力でも、その芯にある理性は失われていない。
桜ルー卜で黒化した後、最後の最期で斧剣を止めたのも、英雄時代から"狂化"に苦しんできた彼の心の強さ故 だろう。
「Fate」本編中、もっとも漢度が高い方。

↑ 12.0 12.1

[] Fate/side material - Encyclopedia: Illyasviel von Einzbern [Person's name], p.055 [T]

Illyasviel von Einzbern [Person's name]
Semi-heroine.
Berserker's Master.
The mysterious lolita who approached the clueless Shirou at the beginning of the story and called him "big bro".
The girl who possessed both innocence and brutality, and was somehow deeply interested in Shirou.
It was truly fortunate to behold someone who was simultaneously an angel and a demon.
As a Master, her aptitude was the greatest amongst all Masters past and present.
Command Spells were carved all over her body. The number of her Magic Circuits overwhelmed that of a typical magus. These factors and many more made her almost a vessel that existed to win the Holy Grail War.
She became a key character in all routes, but her true identity and nature were only revealed in the final route.
Ilya got along well with Shirou and had trouble deciding whether or not to kill him.
She had a personal route during development. However, if that were made, then the release date of Fate/Stay Night would be delayed by another half a year. Thank God.

イリヤスフィール·フォン·アインツベルン【人名】
準ヒロイン。
パーサーカーのマスター。
本騙において、まだなーんにも知らない士郎に接近 し、「お兄ちゃん」呼ばわりする謎のロリっ娘。
無邪気さと残酷さを兼ね備えた少女で、なぜか士郎 に兴味を持っている。
天使と悪魔は同じなんだなー、と実感して貰えれば幸いです。
マスターとしての能力は歴代のマスター中最高。
全身に刻まれた令呪、通常の魔術師を圧倒する魔術回路の数等、まさに聖杯戦争に勝つ為だけに生まれた存在と言える。
あらゆるルートでキーパーソンとなる少女だが、その正体·本質が明らかになるのは最终ルートのみ。
それまでは仲良く楽しく、士郎を殺しにくる困ったちゃんである。
プロット段階では専用ルートがあったとか。が、もし作っていたら「Fate」完成はさらに半年延びていたであろう、南無。

↑

[] Fate/complete material III: World Material - The Servants of the Fifth Holy Grail War: Berserker, p.036-037 [T]

Hercules
Class: Berserker
Master: Illyasviel von Einzbern
Alignment: Chaotic Mad
Sex: Male
Height: 253cm
Weight: 311kg
Weapon: Axe-Sword

STR: A+
CON: A
AGI: A
MGI: A
LCK: B
Noble Phantasm: A

Legend
A demigod hero of Greek Mythology, he was born between the King of Gods Zeus and a human girl. He received the violent hatred of Zeus' wife Hera because of his origins and was tormented by the goddess at every turn. However, he entirely overcame the difficulties he had been given, and was enshrined as a god in the end.

Heracles had an extremely violent temperament as an infant, and grew up as a shepherd in order to obtain a gentle heart. Having grown into a fine adult, Heracles was recognized for several feats, and gained two children as well as the right of succession to the throne. However, Hera made Heracles go temporarily insane and he killed his wife and children, ending up in the role of a slave to the king to atone for his sins. Here the jealous king gave him a challenge, the famous Twelve Labors. The Labors were all things that a human could not achieve but Heracles completed them safely, and at the same time he was freed from slavery, he received an immortal body.

However, the adventures of Heracles and Hera's hatred did not end there. Hera's numerous artifices resulted in Heracles' poisoning by his own wife from his second marriage. In his final moments, Heracles cremated himself, surrendering to Zeus's judgment. The gods after consulting recognize Heracles' feats, and he was recruited as a god like his father, becoming a constellation.

Tactics
An excellent warrior, he possesses the qualifications corresponding to six classes excluding Caster. Other than specializing with the bow, he has mastered every weapon. However, all that is talk about times when he is not Berserker. Heracles as a Berserker has lost his rationality, and exists only to utterly defeat the enemy from the front as directed by Illya. Naturally, there is no such thing as detailed tactics, leaving it to physical ability and brandishing an axe-sword to strike. Astonishingly, with just that, it is a fact that he demonstrates hand-to-hand combat abilities superior to every Servant. Without breaking to even think about defense, he leaves it to his Noble Phantasm "God Hand."

Class Abilities
Mad Enhancements: B
The Class Skill that characterizes Berserker, it reinforces ability at the cost of reason. As Heracles' possesses the skill at Rank B, in compensation for losing most of his sanity, the levels of all his abilities rise. Heracles beat his harp instructor to death when he was a child, and had many episodes when he killed people in his rage without even hearing them speak. It seems that for Heracles, Berserker that receives "Mad Enhancement" was an easy class to adapt to. Focusing on controllability when out of combat, the rank of "Mad Enhancement" is suppressed by Illya.

Being close to the strongest Heroic Spirit, even restricted to simple direct melee as consequence of Mad Enhancement, Heracles was undoubtedly the strongest among the Servants. However, because of Mad Enhancement, a variety of sword techniques and skills, and a part of his Noble Phantasms was lost. Having his emotions also sealed off and not able to perform any personally motivated actions, only the reason within his core was not lost, having occasions when he felt something like the will to protect Illya.

Personal Abilities
Battle Continuation: A
A skill that allows for the continuation of combat after sustaining mortal wounds. It will also reduce mortality rate from injury. Cú Chulainn's Battle Continuation represents "never give up no matter what", while Hercules' represents the ability to survive. The Noble Phantasm that allows for resurrection after death, God Hand, has exceptional compatibility with the "will not die easily" skill Battle Continuation.
The best result is achieved when a resilient body is combined with this skill.

Eye of the Mind (False): B
A danger avoidance ability based on Intuition/Sixth Sense, gained through many ordeals and adventures. Even though Hercules' sanity was lost due to Mad Enhancement, this skill remained effective as it is nearly an instinct. When crossing swords with a seasoned swordsman like Artoria, he would not fall for half-hearted feints. It is such a troublesome ability for Hercules' opponents.

Although monstrous in size, Hercules has the highest rank in Agility. As a result, it is very difficult to corner him.

Bravery: A+
With his brave and daring spirit, Herakles is able to neutralise mental interference such as suppression, confusion and charm. However, under the influence of Mad Enhancement, this skill is unable to take effect. While operating correctly, Bravery also increases the damage inflicted upon the opponent during melee combat. This skill allowed Herakles to defeat several monsters empty-handed.

Even the brave warrior's heart was painted over by the insanity of Mad Enhancement.

Divinity: A
Being a mixed-race child of the King of Gods Zeus and a human, and becoming a god after death, Herakles naturally possessed the highest level of the Divinity skill. However, this matter became a disaster, ending with his complete entrapment in Gilgamesh's Noble Phantasm "Chains of Heaven" that grows in strength proportionate to the enemy's Divinity.

Noble Phantasm
God Hand: Twelve Labors
Rank: B
Type: Anti-Unit
Range: -
Maximum Targets:

A blessing of Gods, as well as a curse. It is a Noble Phantasm given to Heracles, representing immortality. This Noble Phantasm does not have an overt external manifestation such as a weapon or armour, but if you hazard to put a shape to it, the body itself can be called the Noble Phantasm. God Hand turns one's body into a tough suit of armour and nullifies all attacks Rank B or lower, regardless the attack being physical or magical. It also has the effect of automatic resurrection after death. Because the resurrection effect has 11 uses, Heracles cannot perish unless killed 12 times. In addition, due to Illya's immense magical energy, given enough time, the lives lost can also be regenerated.

Resurrection as well as attack-nullification. Besides these two effects, God Hand also possesses a third effect: rendering an attack that it has experienced before useless. Regardless how powerful is the Noble Phantasm that defeated Heracles, it would be completely nullified after he resurrects.

Nine Lives: The Shooting Hundred Heads
Rank: -
Type: -
Range: -
Maximum Targets: -

Among Hercules'Noble Phantasms, he trusted this one the most. It was the Noble Phantasm which Hercules used to slay the immortal nine-headed serpent Hydra once upon a time, taking the form of bow and arrow. After killing the Hydra, Hercules could even utilise techniques that emulate the ability of this Noble Phantasm when wielding other weapons. In essence, it is "a high speed attack consisting of nine consecutive strikes, as swift as if the attacks are overlapping". Even when delivered via sword, spear, or axe, this technique still boasts power on the level of Noble Phantasms. Also, just like Cú Chulainn's demonic spear Gae Bolg has a technique called "Gae Bolg – Piercing Death Thorn", Hercules' technique shares the "Nine Lives – Shooting of Hundred Heads" name with the Noble Phantasm.

Shirou projected this secret sword technique while projecting Hercules' Axe Sword, thus annihilating the Blackened Hercules. While summoned as a Berserker, Hercules could not use Nine Lives.

↑ 14.0 14.1

[] Fate/stay night [Unlimited Blade Works] Animation Material I - Kinoko and Takashi Q & A, p.040-041 [T]
Q: For the battle scene between Rin and Ilya in the anime, did Ilya just get way stronger?! Was her strength based on 「Fate/Zero」?

Q: For the battle scene between Rin and Ilya in the anime, did Ilya just get way stronger?! Was her strength based on 「Fate/Zero」? <UMA>

Nasu: If it's at the land that houses the Holy Grail, then Ilya is indeed that strong. And being able to make a familiar from her hair was in the original draft. The work this time around was especially hard, so I ended up using an "Iri's replacement" approach. By the way, the name of the technique is Elfen Lied [German for Elves' Song, 天使の詩 - Angel's Poem]. The bird's name is Storch Fieseler [German term for a type of plane]. The Ibis that shoots bullets is Zahre (tear), and she can also transform them into an Épée (a sword).
Takeuchi: Woah, that's the first I heard of that.
Nasu: Yea, and it all sounded rather neat when I submitted it. Director Miura can create good results as long as I force everything upon him. Kinoko, remember this.

今回アニメで出てきた凜とイリヤの戦闊シ—ンについて、イリヤが無茶苦茶強くなってる!? 『Fate/Zero』を意識して作った能力なのでしょうか? <UMA>

奈:大聖杯のある土地ならイリヤは無茶苦茶強い。あと髮の毛で使い魔を作るのは前から草案 がありましたが、 今回はせっかくなので「アイリの上位互換」として表現してもらいました。ちなみに術式は天使の詩。鳥の名前はシュトルヒリッたー。コウノトリが撃ち出す弹がツエ—レ(涙)、変形しての特攻がデーゲン(剣)。
武:ほ、ほう。初耳ですよ、それ。
奈:うむ。そういう設定を提出したらあんなに格好よくなったのだ。三浦監督にはとにかく無茶振りすればいいものができる。きのこ、覚えた。

↑ 15.0 15.1

[] Fate/stay night [Unlimited Blade Works] Animation Material I - Kinoko and Takashi Q & A, p.041 [T]
Q: In the anime, there is a fight scene between Rin and Ilya, but are there any mages who could even win against Ilya in a magic fight in the actual 「Fate/stay night」, 「Fate/Zero」, or 「Fate/hollow ataraxia」 games?

Q: In the anime, there is a fight scene between Rin and Ilya, but are there any mages who could even win against Ilya in a magic fight in the actual 「Fate/stay night」, 「Fate/Zero」, or 「Fate/hollow ataraxia」 games? <ukw>

Nasu: Frankly, she is the top mage in Fuyuki. Still, first-class mages would follow the "since she's a child of nature, just cut her off from the land first" plan, so it's not like she's invincible. Kayneth and Tokiomi may be able to best her in a magic duel. Rin is just relentless. But if we're talking about the dark girl who contaminates the land itself...
Takeuchi: ...Sakura's magecraft skills are really fit for a boss, aren't they.

アニメの中で、凜とイリヤが魔術戦を行うシー ンがありましたが、実際のところ『Fate/stay night』や『Fate/Zero』、『Fate/hollow ataraxia』などに登場する魔術師で、イリヤと魔術戦で勝つことができる魔術師はいるのですか? <ukw>

奈:真面目な話をすると、冬木ではトップランクの魔術師。それでも一流の魔術師なら「自然の嬰児であれば、まずは地脈と個人を切り離そう」と方針を立てると思われるので、敵無し、というワケではありません。ケイネスや時臣なら魔術戦で撃破可能です。凛はちよつと厳しい。逆に土地 そのものを汚染していくどこかの黒い娘なら……
武:つくづくボス向きの魔術特性なんだな、桜は……。

↑ Fate/stay night [Unlimited Blade Works] - Episode 03
↑

[] Fate/stay night [Unlimited Blade Works] Animation Material I - Kinoko and Takashi Q & A, p.041 [T]
Q: When will I finally get my own route?

Q: When will I finally get my own route? <Ilya>

Nasu: There already is one! Say hello to 「Prisma☆Ilya」!
Takeuchi: You really gonna let it go with just that?
Nasu: Of course. Someone was bound to finish what I can't do myself. Humans are amazing beings!

私のル—卜はいつ放送するのかしら? <イリヤ>

奈:もうしてるっててばよ。『プリズマ☆イリヤ』をよろしくね!
武:おまえはそれでいいのか。
奈:いいとも。自分にできないコトを誰かがやっ てくれる。人間って素晴らしい!