Ionioi Hetairoi: Army of the King (王の軍勢, Ō no Gunzei?) ("IonianWP CompanionsWP"; phonetically "Eternal Companions") is the Noble Phantasm of Iskandar. Through the usage of her For He Is Another Iskandar (Fake) Skill and burning out her Saint Graph, Iskandar's Shadow (Hephaestion Mnemosyne) can forcibly manifest the Noble Phantasm.
Characteristics
[
]
Iskandar
[
]
It is described as the ultimate Noble Phantasm of Rider, a "super Noble Phantasm" as described by Tokiomi Tohsaka with the same rank EX-rank as Gilgamesh's Gate of Babylon.[4][5] The trump card of the King of Conquerors, it summons a Reality Marble that embodies Alexander the Great's dreams and philosophies as a king and the bond formed with his subjects, his life sublimated as a Noble Phantasm.[6] Like how Saber's Excalibur can be called the physical actualization of her ideals as a king, Ionioi Hetairoi is the actualization of Alexander's commanding abilities and his kingship. It is an irregular Reality Marble compared to those used by others. Normally, only a magus or something beyond normal reality like Daemons are capable of materializing the environment inside their minds, and as Alexander is neither, reproducing it alone is impossible for him. It comes about through the combined efforts of his personal guard who all shared his dreams and pledged allegiance to him after many victories and defeats, even after death and becoming Heroic Spirits on their own as well. They and their king recreate the land in which they once marched and shared many joys and sorrows, as it is imprinted upon the heart of each soldier, allowing them to bring about a sand-filled expanse roaring with hot and dry desert winds under the scorching sun and cloudless, clear skies without anything to obscure the everlasting horizon. This Noble Phantasm drags the enemies into a terrain that has no obstacles on the desert battlefield. It also maximizes the Charisma of the King of Conquerors Iskandar.[2]
Once fully materialized, the heavily armed cavalry of soldiers slowly appears as mirage-like images and completely manifests as a diverse fighting force with the fierceness of a true army. The entire fighting force is fully composed of a peerless array of famed and legendary warriors only heard reverently in legends, all of whom personally fought with Alexander on the battlefield. They swept across continents during life, and no matter what they faced, enemy or fortress, it was powerless before them. As a leader who only desired to become stronger and more magnificent, live more fully, and become a man more real than any other, he inspired them enough to leave upon them an impression of never-ending loyalty that not even death can conquer. They are able to break the rules of space and time to fight once more at the side of their king, and like him, they wager everything that they are on the king's dream. They are his greatest treasure within treasures that make up his right to rule, and more than mere followers and soldiers, they are his true friends. They display the violence that reveals Alexander's method of tyrannical kingship without restraint, and he only takes pride in it. Their thunderous cries and their spirit could split oceans, and even someone as proud and haughty as Gilgamesh is left silent upon seeing such a radiant army.
The members that make up his army include the Lord of War, the Maharaorajah, the founders of many dynasties, and even his horse, the legendary charger Bucephalus. The Fate/Zero Drama CD introduced an illustration with a number of unique designs that were also given specific details upon Ionioi Hetairoi's deployment in the anime adaptation. Known names for members of the Hetairoi are Ptolemy, Eumenes, and Mithrenes. It is unknown if someone like Waver Velvet, who pledged his eternal allegiance to Alexander during the Fourth Holy Grail War, will join its ranks after his death, or if it is limited only to those who pledged their allegiance during Alexander's lifetime.[7] The nature of the Reality Marble is not something like simply summoning the soldiers as familiars, but rather the EX Rank of the ability comes from the fact that it is the consecutive summoning of multiple independent Servants.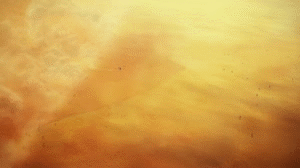 They are all Master-less Servants, but they each have the Rank E- equivalent of the "Independent Action" Skill, meaning that they cannot leave the Reality Marble under normal circumstances and can only remain materialized for "thirty turns." They lack Skills and Class designations due to being summoned through Rider's ability, making it unnecessary to assign them anything based on the rules of the Holy Grail War, and, due to the limit of Rider's abilities, their Noble Phantasms cannot be materialized. There are also some Heroic Spirits that are stronger than the summoner himself, as while his deeds were great, it is not a testament of his personal martial prowess. Aside from the several people who are stronger than Rider himself, there are also those summoned that has greater military power than Rider and there are those who has Charisma equivalent to Rank B for being the kings of their own countries. They come to Rider's aid regardless because during his lifetime, Iskandar is not a hero who made particular deeds of arms as an individual, but is a hero who fought by commanding armies.[2] The army numbers in the tens of thousands, allowing them to easily overwhelm the less than one hundred Assassins without the bulk of them having to act.[8]
The generated land is Alexander's preferred battlefield due to the wide plains allowing him to best display his numerical superiority and his preference of facing enemies directly. He generally leads the army at the front of the vanguard while atop Bucephalus, but he can also freely use Gordius Wheel within the confines of the Reality Marble if he wishes. Their battlefield, sublimed into eternity, can be actualized anywhere, and if he were to again set forth in tyranny, all of his servants would hasten to him no matter his location. He believes that equipped with weapons from the Gate of Babylon, it would become the most powerful army capable of easily conquering the modern world. Tens of thousands of soldiers paired up with unlimited Noble Phantasms would produce a most ideal result.[8] It's a powerful Noble Phantasm that even Excalibur would not have guaranteed victory against.[9] Rider is prepared to face any threat that may come against them, whether it is an Anti-Unit attack directed at destroying only him at the head of the army, or something large like an Anti-Army or Anti-Fortress attack, and overcome it so that they can easily trample the enemy before they can launch the next attack. He can freely organize the positions of those that enter Ionioi Hetairoi, grouping them to keep allies safe and align enemies directly before his army.[5] He can also choose where to deposit them after releasing it, though only within one hundred meters. It takes a great deal of energy to maintain it, and like most Reality Marbles, it can only be utilized for a few minutes at a time. Both the activation cost and the summoning of the Servants are taxing, but he claims that it wouldn't cost as much if most of the army isn't brought out. Due to Waver Velvet being unable to provide enough mana for its maintenance, he has to rely on his own reserves. Using it two nights in a row brings him to the point where he is forced to take spiritual form to conserve as much energy as possible, and even after receiving boosts in energy from three Command Spells, he still can only use it one more time. Once activated, it is maintained by the collective magical energy of the entire army, which means that it will not remain stable if a large portion of the army is destroyed in a single attack.

Iskandar's Shadow
[
]
While normally rejecting the army in its entirety, the experiences Iskandar's Shadow gains through her summoning under the Faker and Pretender classes and the ability to keep those memories due to the unique circumstances of the summonings give her mental fortitude to manifest the Noble Phantasm via her For He Is Another Iskandar (Fake) Skill.
The total time it can be manifested is only a few minutes, and only a fraction of the full army is manifested. Notable figures such as Hephaestion, Eumenes, and Ptolemy cannot be found within the army, but she does summon Iskandar himself. As she is forcibly manifesting it, it burns out her Saint Graph.
Summoning
[
]
The Heroic Spirits of Ionioi Hetairoi are called to the aid of Iskandar, granted fundamental knowledge needed for existing by the world itself, are then given a chance to accept or reject the summoning, and manifest as Servants upon accepting. In the case of Iskandar's Shadow, the knowledge gained of the Wars of the DiadochiWP causes her to reject the summoning.
It is within the boundaries of ordinary space to summon a single soldier into the normal world without them being crushed by its corrective impulses. This allows Rider to summon Bucephalus without needing to deploy the Reality Marble, and if he needs to communicate with the outside after it has been deployed, he can send a single soldier, such as Mithrenes, outside of it briefly to receive and relay messages.
Known soldiers
[
]
Iskandar
[
]
Soldiers that reject the summoning
Iskandar's Shadow
[
]
References
[
]
↑ 1.0 1.1 1.2 1.3

[] Fate/Zero material - Servant Status: Rider, p.018-019

Class: Rider
Master: Waver Velvet
True Name: Alexander
Gender: Male
Height/Weight: 212cm/130kg
Alignment: Neutral good

Strength: B
Endurance: A
Agility: D
Mana: C
Luck: A+
Noble Phantasm: A++

Class Skills
■ Magic Resistance: D
Cancel Single-Action spells. Magic Resistance of the same degree of an amulet that rejects magical energy.

■ Riding: A+
The skill of riding animals and vehicles. Creatures on the level of Phantasmal Beast and Divine Beast can be used as mounts. However, that does not apply to members of the Dragon Kind.

Personal Skills
■ Charisma: A
Natural talent to command an army. Can be said to have achieved the greatest popularity as a human being

■ Military Tactics: B
Tactical knowledge used not for one-on-one combat situations, but for battles where many are mobilized. Bonus modifiers are provided during use of one's own Anti-Army Noble Phantasm or when dealing against an enemy Anti-Army Noble Phantasm.

■ Divinity: C
Despite the absence of clear evidence, according to many stories it is said he is the son of Zeus, the greatest of gods.

Noble Phantasm
■ Via Expungito: Distant Trampling Domination
Rank: A+
Type: Anti-Army Noble Phantasm
Range: 2~50
Maximum number of targets: 100 persons
The trampling attack performed with Noble Phantasm "Gordius Wheel." The damage is decided twice, first by the hooves, then the wheels of the chariot. Along with all physical damage, there is also the effects of lightnings, the manifestation of Zeus. Should the target fail its STR check, additional damage will be dealt.

■ Ionioi Hetairoi: Army of the King
Rank: EX
Type: Anti Army Noble Phantasm
Range: 1~99
Maximum number of targets: 1000 people
Having sworn loyalty to Alexander even after their deaths, his personal guards who had turned into spirits, manifest into Servants together with the ruler. The summoned ones are Servants without Masters, however each have the rank E- equivalent of the "Independent Action" skill, allowing materialization possible for a maximum of 30 turns.

CLASS ライダー
マスター:ウエイバー・ベルベット
真名:キルガミッシュ
性別:男性
身長・体重:212cm/130kg
属性:中立・善

筋力:B
耐力:A
敏捷:D
魔力:C
幸運:A+
宝具:A++

クラス別能力
■ 対魔力:D
一工程(シングルアクション)による魔術行使を無効化する。
魔力避けのアミュレット程度の対魔力。

■ 騎乗: A+
騎乗の才能。
獣であるのならば幻獣・神獣のものまで乗りただし、竜種は該当しない。

保有スキル
■ カリスマ:A
大軍団を指揮する天性の才能。
Aランクはおよそ人間として獲得しうる最高峰の人望としえる。

■ 軍略:B
一対一の戦闘ではなく、多人数を動員した戦場における戦術的直感力。
自らの対軍宝具の行使や、逆に相手の対軍宝具に対処する場合に有利な補正が与えられる。

■ 神性:C
明確な証拠こそないものの、多くの伝承によって最高神ゼウスの息子であると伝えられている。

宝具
■ 神威の車輪
ランク:A+ 
種別:対軍宝具 
レンジ:2~50 
最大捕捉:100人
————宝具『神威の車輪(ゴルディアス・ホイール)』による蹂躙走法。
神牛の蹄と戦車の車輪による2回のダメージ判定がある。
いずれも物理ダメージの他にゼウスの顕現である雷撃の効果があり、ST判定に失敗すると追加ダメージが課される。

■ 王の軍勢
ランク:EX 
種別:対軍宝具 
レンジ:1~99 
最大捕捉:1000人
————死してなおイスカンダルに忠誠を誓い、君主とともに英霊化した衛兵団をサーヴァントとして現界させる。
召喚されるのはいずれもマスター不在のサーヴァントだが、それぞれがE-ランク相当の『単独行動』スキルを保有し、最大30ターンに及ぶ現界が可能。

↑ 3.0 3.1 3.2 3.3 Fate/EXTELLA material - Iskandar, p.015
↑

[] Fate/side material - Encyclopedia: Iskandar, King of Conquerors [Servant], p.065

Iskandar, King of Conquerors [Servant]
Saber's rival in the Fourth Holy Grail War.
He possesses a Noble Phantasm that rivals that of the King of Heroes.
In the fourth war, he was weakened from fighting Saber, then subsequently defeated during a battle with Gilgamesh.

征服王イスカンダル【サーヴァント】
第四回の聖杯戦争における、セイパーのライバル。
彼の英雄王ギルガメッシュと拮抗する宝具を持つ。
前回ではセイバーとの戦いで弱った後、ギルガメッシュとの連戦によって敗北した。

↑ 5.0 5.1 Fate/Zero - Volume 2: Act 8 -102:54:10, p.369-375
↑

[] Interview de Gen UROBUCHI à l'Épitanime 2013

TMF: Is Waver, who swore fealty to Alexander, going to rejoin Ionian Hetairoi after his death? Or is it only people who followed Alexander while he was still living who can rejoin him?
U: It's an important question to ask, given it makes Waver immortal. And as it wasn't directly addressed in the story, I can't say here. [laughs]

TMF : Est-­ce que Waver, qui a juré fidélité à Alexandre, va rejoindre Ionioi Hetaroi après sa mort ? Ou est-­ce que ce sont seulement les personnes qui ont suivi Alexandre lorsqu'il était encore vivant qui peuvent le rejoindre ?
U : C'est une question importante à poser, par rapport à l'immortalité de Waver. Et comme ça n'a pas été directement dit dans l'histoire, je ne peux pas en parler. [rires]

↑ 8.0 8.1

Fate/Zero Anime Visual Guide I pg.134

Narita: Here it is, the deployment of the King's Army at the midpoint of the War! Using an army of tens of thousands to crush less than a hundred Assassins is too much of an over-kill (laughs).
Haganeya: There were way too many people. It was great that so many showed up, but most of them went home without doing anything (laughs).
Nasu: The scary part is, some heroes in this army were stronger than the summoner Rider himself. Although Rider's deeds were great, it was not a testament of his personal martial prowess.
Sanda: So do they have basic Skills and Noble Phantasm as Servants?
Nasu: No, since they were summoned via Rider's skill, it was not necessary to assign them Class based on the rules of the Holy Grail War. However, since there is a limit to Rider's abilities, their Noble Phantasms could not be materialized. If Iskander's army of tens of thousands could pair up with Gilgamesh, who had unlimited Noble Phantasms, the result would be most ideal.

成田:出た、中盤の見せ場「王の軍勢」召喚シーン!100人に満たないアサシンを数万の軍勢で蹂躙するって、オーバーキルすぎる(笑)。
鋼屋:人数多すぎでしょ。出てきたはいいけど、何もしないで帰るやつがほとんどなのでは(笑)。
奈須:おそろしいことに、この軍勢の中には召喚したライダー本人より強い英霊がチラホラいるんだよ。ライダーの功績は巨大だけど、彼個人の武力が秀でていたわけではないから。
三田:彼らはサーヴァントとしての基本スキルや宝具はもっているの?
奈須:いや、彼らはライダーの能力で召喚されるから、「聖杯戦争」のルールにそって特定のクラスに割り振られることはない。そしてライダーの能力にも限界があるから、宝具まで具現化することはできない。だから、数万の軍勢と無尽蔵の宝具をもつギルが組むと、最高に相性がいいんだよね
Fate/stay night




Fate/hollow ataraxia

Argon Coin • Avalon • Avesta • Bellerophon • Blood Fort Andromeda • Breaker Gorgon • Caladbolg II • Caliburn • Dainsleif • Durandal • Ea • Enkidu • Excalibur • Excalibur Morgan • Fragarach • Gáe Bolg • Gate of Babylon • God Hand • Gram • Harpe • Houtengeki • Hrunting • Invisible Air • Kanshou and Bakuya • Nine Lives • Nine Lives Blade Works • Potion of Youth • Rho Aias • Rule Breaker • Tsubame Gaeshi • Unlimited Blade Works • Verg Avesta • Vajra • Zabaniya: Delusional Heartbeat • Zabaniya: Cyber Phantasy

Fate/Zero

Arondight • Avalon • Ea • Enkidu • For Someone's Glory • Gáe Buidhe • Gáe Dearg • Gate of Babylon • Gordius Wheel • Ionioi Hetairoi • Knight of Owner • Prelati's Spellbook • Vimana • Zabaniya: Delusional Illusion

Fate/EXTRA

Agni Gandiva • Amalavijñāna - Boundary of Emptiness • Amita Amitabha • Angra Mainyu/CCC • Aestus Domus Aurea • Athanaton Ten Thousand • Báthory Erzsébet • Bellerophon • Blessing of Wisdom • Blood Fort Andromeda • Blut die Schwester • Brahmastra#O' Brahma, Cover the Earth • Brahmastra Kundala • Brynhild Romantia • Carolus Patricius • Carolus Patricius Auctoritas • Carolus Patricius Dimitte • Charles Patricius • Chakravartin • Cursed Cutting Crater • Daishintou • Eightfold Blessing of Amaterasu • Excalibur Galatine • Excalibur Image • Fairy Snow Photon Ray • Fierce Tiger Forcibly Climbs a Mountain • Gate of Skye • God Force • Golden Hind • Golden Wild Hunt • Joyeuse • Joyeuse Ordre • Kavacha and Kundala • Kazikli Bey • Kilenc Sárkány • Katoptron Katho Phlegon • Märchen Meines Lebens • No Face May King • No Second Strike • Nursery Rhyme • Photon Ray • Saraswati Meltout • Teardrop Photon Ray • The Queen's Glass Game • Vasavi Shakti • Yew Bow

Fate/Apocrypha

Akhilleus Kosmos • Agrius Metamorphosis • Andreias Amarantos • Antares Snipe • Armor of Fafnir • Balmung • Blasted Tree • Bridal Chest • Casseur de Logistille • Clarent • Clarent Blood Arthur • Crying Warmonger • Diatrekhōn Astēr Lonkhē • Dromeus Komētēs • First Folio • Golem Keter Malkuth • Hanging Gardens of Babylon • Hippogriff • Kavacha and Kundala • Kazıklı Bei • La Black Luna • La Pucelle • Left Hand - Xanadu Matrix • Legend of Dracula • Luminosité Eternelle • Maria the Ripper • Phoebus Catastrophe • Right Hand - Evil Eater • Secret of Pedigree • Sikera Ušum • The Mist • Trap of Argalia • Troias Tragōidia • Vasavi Shakti
Unused: Abyssus Draconis • Benkei Butsu • Eighth Implement • Interfectum Dracones • Sacrifice • The Disputed Spoils of War • The Globe • The Seven Arrows of the Big Dipper

Fate/Grand Order

A

Absolute Sword - Endless Flash • Absolute Sword - Endless Three-Stage • Aigis • Agni Gandiva • Airavata King Size • Akafiloga All-Grið • Alf Layla wa-Layla • All Things Must Pass - To Flourish is To Fall • Ama-no-Sakahoko • Amalavijñāna - Boundary of Emptiness • America's Sweetheart of Darkness • Ambushed from Ten Sides - As If There Was No Shadow • An Gal Tā Kigal Shē • An Gal Tā - Seven Colors • Angelica Cathay • Anpu Neb Ta Djeser • Antares Snipe • Anti-fling Rondo • Apfel Schiessen • Arc de Triomphe de l'Étoile • Ark • Arondight Overload • Around Caliburn • Ars Almadel Salomonis • Ars Nova • Ars Paulina • Artemis Hagnós • Ascalon • Assault Medicine Full-Burst Party • Astrapste Argo • Asurashreshtha • Athanaton Ten Thousand • Attendre, Espérer • Authentic Triumph • Autumn Leaf Viewing • Avidya, Three-Stage Thrust • Azamaru • Azrael

B

Balmung Kriemhild • Báthory Brave Erzsébet • Báthory Halloween Erzsébet • Bayard • Beagalltach • Beautiful Journey • Bishamonten's Eight Phases Wheel Charge Formation • Black Arts Decapitation Method - Moonflower • Black Dirty Barty Howling • Black Dog Galatine • Blasted Tree • Bloodbath Crown • Blue Summer Palladion • Brahmastra#Rakshasa-Piercing Immortal (Rama) • Brahmashirastra • Breaker Gorgon • Bölverk Gram • Bone Collector • Boneless Man • Bouclier de Atlante • Breast Zero Erzsébet • Bright Ehangwen • Brynhildr Sigurtein • Bucephalus

C

Caledfwlch Caladbolg • Caladbolg • Caliburn • Candy Star Photon Ray • Caress of the Medusa • Caribbean Free Bird • Caribbean Free Bird - Act 2 • Channeling - Omen of the Great God Ibuki • Chaos Labyrinthos • Chariot My Love • Chariot of Boudica • Chionis Tauros • Christine, Christine • Chronos Rose • Chyornyj Oprichniki • Chu Shi Biao • Chyornyj Oprichniki • Clarent Blood Arthur • Crazy Trip Drive Idol • Crocea Mors • Cross-Calibur • Cruaidín Sétanta • Crying Warmonger • Crystal Dress • Crystal Palace • Curruid Coinchenn • Cursed Cupid Cleanser • Custos Morum

D

Das Rheingold • Dazzling Castle of the Sun in the Demonic Realm • Dead End - Airgetlám • Demon King of the Sixth Heaven • Demon King Turns the Heavens - Red Spider Lily • De Sterrennacht • Des Océans d'Allégresse • Dharmapala Girl - Nine-headed Dragon Massacre • Dimension of Steam • Dinosaur Summer Goodbye • Dio Santissimo Misericordia de mi • Dioscures Tyndaridae • Distihia Milya • Divine Sword - Kusanagi-no-Tachi • Dojo-ji Bell Form 108 - Fire Dragon Mow Down • Duria Antiquior • Durindana

E

Edin Shugra Quasar • Elementary, My Dear • Emotional Engine - Full Drive • Emotional Engine - Vivid Full Sensation • Encomium Moriae • Enfer Château d'If • Eternal Lament • Eternal Mirror that Models the Celestial Bodies • Etherspace, Howbeit the Order • Everlasting Summer Sunlight • Excalibur Vivian • Eye of the Euryale

F

Failnaught • Fairy Tale Erzsébet • Fax Caelestis • Femme Fatale Baiser • Fergus My Love • Fergus, My Good-Looking Brave • Fetch Failnaught • Fintan Finegas • First Folio • Five Elements Mountain - Buddha Palm • Flawless Masterpiece - The Crane's Fate, A Teary Farewell • Fleur de Lys • Flucticulus Diana • Flying Bright Spirit - Fire-Tipped Spear • Formlessness • Fragarach Énbarr • Frieren Scharfrichter

G

Gae Bolg Alternative • Gáe Bolg: Gouging Piercing Spear of Carnage • Ganesh Impact • Ganesha Vighneshvara • Ganryuu-jima • Garden of Avalon • Gate of Skye • God Spear, No Second Strike • God-Striking Whip • God Force • Gohou Shoujo-Kuzuryu Ousatsu • Golden Drive • Golden Eater • Golden Spark • Golden Wild Hunt • Great Death Claw • Great Flame of Mount Ooe • Great Grudge of Rashoumon • Great Ram Nautilus • Grendel Buster • Guillotine Breaker • Gugalanna Strike

H-K

Hachiman Prayer - Shooting Through a Great Demon • Half-dead Blood Axe • Hamesh Avanim • Haradhanu Janaka • Hazy Inverted Moon - Eleven Forms • Heavenly Demon Rain • Heaven's Hole • Het Gele Huis • Hollow Heart Albion • Hope of Avalon • Hört Glut Rachegötter • Iam Redit et Virgo • Imitation God Force • Immortal Chaos Brigade • Inexhaustible Bale • Innocence Arondight • Invisible Air • Ira Lupus • Iz Tula Seven Drive • Jaguar in the Black • Jet, Three-Stage Thrust • Judgment of the Ten Rulers of Afterlife - Journey of the Wicker Basket • Kama Rūpāstra • Kama Sammohana • Kazikli Bey (Berserker) • Kazikli Bey (Lancer) • Knight of Owner • Kur Kigal Irkalla

L

Laevatein • La Féerie d'une Nuit • La Grâce Fille Noël • La Grondement Du Haine • La Grosse Tour • Lapithai Caeneus • Lauda Lentum Domus Illustrius • La Mort Espoir • Laus Saint Claudius • Le Rêve Ensoleillé • Let Us Walk Together Through Our Land • Leviathan Melt Purge • Lie Like Vortigern • Like a Soaring Dragon • Longinus Count Zero • Loptr Laegjarn • Lord Camelot • Lord Chaldeas • Lord Hachitendo of Hakuro Castle's Hundred Demons • Lordless Camelot • Lumino-Calibur

M

Mac an Luin • Maelstrom - Evil Spirit Left Minister • Magna Voluisse Magnum • Mahāpralaya • Mahākāla Shakti • Manual of Accusation • Märchen Meines Lebens • Mara Śūnyatā • Marital Vows of Rainbow Skirts and Feather Robes • Marvelous Exploits • Mata Hari • Mathematical Malignant Annihilate • Mechanical Illusionary Method - Bull Swallowing • Melammu Dingir • Metabole Piglets • Meteor Snegurochka • Mikotto • Mold Camelot • Moles Necessrie • Monte Cristo Mythologie • Moralltach • Mountainous Power and Matchless Valor • Mount Ooe - Enlightened Oni Slayer • Multitude of Colors - Providential Oni Poison • My Red Mead

N-O

Nahin Denge • Namaḥ Samantavajrānāṃ Hāṃ • Nammu Duranki • Nightingale Pledge • Nine Lives • Nine Lives - Roma • Nirmānnarati - Heaven's Foam • Nobunaga THE Rock 'n' Roll • No Second Strike • Nursery Rhyme • O' Dragon, Conquer the Expanses of Wadatsumi • Oar Wooden Sword • Ochd Deug Odin • Ogre Trance • Okuni Repertoire - Kabuki of the Izumo Wild God • Oṃ Ālolik Svāhā • One Shot, My Love • Onikiri Yasutsuna • Only For Killing • Onyx Tauros • Optateshke Okimunpe • Opulence of Sunlight and Catnap • Orchid Rounds X • Orion Hórkos • Ortygia Amore Mio • Outrage Amazon • Ox-King Storm Call - The Inescapable Net of Heaven

P

Pain Breaker • Pale Blue Dot • Pandemonium Cetus • Pāpīyas Metamorphosis • Pashupata • Peerless in Swordsmanship - Zen and the Sword As One • Pèlerinage du Temple • Per Aspera Ad Astra • Phantasm Punishment • Phantom Maiden • Photon Ray • Phoebus Catastrophe • Piedra Del Sol • Pohjola Fimbul • Poseidon Maelstrom • Poseidon Blessing • Prelati's Spellbook • Prince Lanling in Battle • Prisma☆Splash Rainbow! • Prydwen Tube Riding • Pure Land of Mice • Pygmalion Chisel Out • Pygmalion Chisel Out

Q-R

Qliphoth Rhizome • Quetzalcoatl • Queen Anne's Revenge • Quintett Feuer • Ragnarök Lífþrasir • Ramesseum Tentyris • Rapid-fire Ortygia • Red Form • Requiem for Death • Resurrection Fraught Hades • Rêve de Durandal • Rhongomyniad • Roadless Camelot • Roncevaux Olifant • Round of Avalon • Rule Breaker

S

Saint War Order • Samadhi Through Transforming Flames • Sanat Kumara • Sanat Kumara Wheel • Santa Maria - Drop Anchor • Saraswati Meltout • Sea Serpent Storm Blue • Secace • Secace Morgan • Secret-Calibur • Secret-Myniad • Sentinel Stellaris • Serment de Durandal • Settlement Sword • Sfyrí tou Tálos • Sha Nagba Imuru • Shimabara Hell • Shinsengumi • Śakra's Vajra • Shooting Star Ortygia • Sibuxiang • Six Realms Five Rings - The Divine Figure of Kurikara • Six Secret Teachings and Three Strategies - Noble Demon King's Great Feather Fan • Skewered Plasma Blade • Smile of the Stheno • Sneferu Iteru Nile • Snegleta Snegurochka • Song of Grail • Song of Selfless Loyalty • Sotoori Hime - Spider's Demeanour • Space Dead Man's Hand • Spinster Habetrot • Star of Calamity • Sudarshan Chakra Yamaraj • Sumerki Kremlin • Suzume Gaeshi • Svanhvít • Switch On - Airgetlám • Sword of Boudica • Sword of Paracelsus • System Keraunos

T

Taisu Awaken • The Tale of Genji - Aoi - Mononoke • The Tale of Genji - Kiritsubo - Parting • Tarasque • Tauropolos Skia Thermokrasia • Teardrop Photon Ray • Tengu's Feather Fan - Sudden Gale • Testarossa Maiden • Theodosios Constantinos • Thermopylae Enomotia • The Domination Beginning • The Dynamics of an Asteroid • The Greatest Hits - "Calling Agape" • The Pilgrimage of the Five Hundred Arhat • Thirty-six Views of Mount Fuji • Three Enigmas • Thunderer • Ticktock Bomb • A Tour of the Waterfalls of the Provinces • Trichiliocosm • Triple-Linked Crane Wings • Trishula Shakti • Tri-star Amore Mio • Triste Suave Alonso Quijano • Troias Tragōidia • Troia Hippos • Troia Velos • Trojan Reinforce • Tsago Degi Naleya • Tsubame Gaeshi • Tsumukari Muramasa • Tunguska Nine Drive • Twin Arm - Big Crunch • Two-Pronged Formation

U-V

Uisce Beatha • Underthrow Freeze Sinker • Unlimited Lost Works • Unspeakable Formation • Unreturning Formation • Uomo Universale • Uraeus Astrape • Valiente Asalto Dedicado a la Princesa • Vendredi Treize • Vijñaptimātratā: Mystic Eyes of Death Perception • Vijñaptimātratā: Mystic Eyes of Distortion • Vishnu Bhuja • Viy Viy Viy • VR Shinkage-ryuu Hidden Art - Tomoe's Abyssal Solar Blade • Völkermord Feuerdrache • Vulcano Caligorante • Vyākaraṇa - Buddha of Glorious Sandalwood

W-Z

Wandering Tales of Shana-oh (Eye of Shiva - Detecting the Six Secret Teachings • Usumidori - Short Steps With The Heavenly Blade • Benkei - Steadfast Position • Dan-no-Ura - Eight-Boat Leap • Hoemaru - Spider Slayer • Kikenjō - Icicle Cutting) • White Shaft Spear • Wicker Man • Winning Arkaputra • Wish Upon a Star • World Faith Domination • Wry Rhyme Goodfellow • Xiuhcoatl • Yew Bow • Yucatán Regalo de Navidad • Zabaniya(Delusional Heartbeat • Zeus Funder • Zmei Gorynych • Zveri - Krestnyy Khod • Zweite Schiessen

Fate/Prototype




Fragments

Abu el-Hol Sphinx • Bab-ilu • Brynhild Komedia • Brynhild Romantia • Dangerous Game • Enki • Excalibur Proto • Gae Bolg Origin • Kibisis • Mantle • Mesektet • Mirror shield • Ramesseum Tentyris • Stella • Winged sandals • Zabaniya: Delusional Poison Body

Fate/strange Fake

Age of Babylon • Excalibur • From Hell • Grand Dictionnaire de Cuisine • Grand Illusion • Goddess of War • King's Order • Musketeers' Masquerade • Natural Born Killers • Nine Lives • Reincarnation Pandora • Rounds of Lionheart • Unknown‎ (Gilgamesh) • Unknown (Hippolyta) • Zabaniya: Phantasmal Pedigree (Febrile Inspiration • Ichor of Reverie • Meditative Sensitivity • Raving Shadow Flash)

Fate/kaleid

Apneic Beauty • Arrow Protection Amulet • Authoritarian Personalism • Crown Undertaker • Fake Nine Lives • Hades's Cap of Invisibility • Ig-Alima • Mjölnir • Nameless Class Cards • Ninth Prayer • Sul-sagana • The Heavens are Born from the Earth • True Nine Lives • Shadow Hand of Code • Zabaniya: Dead Heartbeat Melody

Capsule Servant

Curly Hair Sword Antenna • Laser Excalibur • Starlight Champs-Élysées

Fate/KOHA-ACE

Boneless Man • Child of the Sun • Coat of Oaths • Demon King of the Sixth Heaven • Fierce Tiger Forcibly Climbs a Mountain • Flag of Sincerity • God Spear, No Second Strike • Golden Demon Realm ZIPANG • Lightless, Three-Stage Thrust • Like A Soaring Dragon • Maxwell's Demon • Sunomata Castle • Sword Hunt • Three Line Formation • Transcendent Dazzling Castle of the Sun

Fate/Requiem

Autumn Leaf Viewing • Flying Dutchman • Galahad Alter's Second Sword • Hannibal Barca's Noble Phantasm • La Grosse Tour • Longinus • Pale Blue Dot • Sword of the Strange Hangings

Other

Brionac • Boomelancer • Cú Chulainn's Castle • Hazanken • Hecatic Wheel • Holy Grail • Gungnir • Unlimited Bla Gáe Bolg Gandr Works Excalibur