Irisviel von Einzbern (アイリスフィール・フォン・アインツベルン, Airisufīru fon Aintsuberun?) is a homunculus. She is the wife of Kiritsugu Emiya and the mother of Illyasviel von Einzbern.
Profile
[
]
Background
[
]
For the Fourth War, Jubstacheit von Einzbern decided to create a humanoid shape as the Grail vessel that has a consciousness and can be independent to defend itself from harm. He used the archetype base of Justeaze Lizrich von Einzbern to create Irisviel, thus referred to as a Justeaze-late model. The one who became the mother body of the ultimate homunculus among all Einzbern homunculi in the past, she is the only one who experienced motherhood and gave birth to a successor.
Kiritsugu Emiya first met Irisviel when she was created inside a tube. Through his interactions with her, he found her to be useless and Kiritsugu expressed his frustration to Jubstacheit regarding Irisviel's lack of understanding towards protecting herself and interacting in society. In response, Jubstacheit decided to prove Irisviel's durability by casting her into the wastes of the Einzbern forests. Disgusted with Jubstacheit's actions, Kiritsugu rescued her and personally began educating Irisviel about the current society and the modern world so that she could develop a sense of self. Her rapid development and unexpected insights toward mankind surprised Kiritsugu and they gradually fell in love with one another. However, Kiritsugu knew that their love would end in tragedy as he would have to sacrifice her for his ideals. For his sake, Irisviel wanted to conceive a child for him so that he would have a new hope after the war.
Because the plan of conceiving Illyasviel was decided after Irisviel was coined, her pregnancy of Illyasviel was not much of a natural development since it was an additional role imposed onto her that she originally was not supposed to have. An exception among Einzbern homunculi whose functions are determined when they are designed. It was due to Jubstacheit's judgement that it would be more efficient to nurse a child rather than produce a homunculus.
Thus, despite being a homunculus, Irisviel had a human woman's experience of giving birth to and raising a child (similar to herself) as a mother, and this had a greater influence over her feelings than Jubstacheit expected. Made to be a puppet with no desires, she managed to find happiness in her existence when she gave birth to Illyasviel.[3]
Furthermore, nine years is a long time to maintain a relationship with a human. Before her, there were no precedents of an Einzbern-made homunculus with such a colorful and eccentric personality. She was the first Einzbern homunculus to be treated like a human being and learn human emotions to such an extent. Originally an existence that surpassed humans solely through the functions of mind and body, her personality did not collapse even after going through an uncommon development, and she managed to attain self-consciousness without any feelings of inferiority just like any human being.
Appearance
[
]
As a homunculus of the Einzbern, Irisviel possesses a genetic resemblance to her ancestor, Justeaze Lizrich von Einzbern, who formed the core of the Holy Grail when the Holy Grail Wars began. Her long silver hair and red eyes are distinctive traits of Einzbern homunculi, such that Tohsaka Tokiomi recognizes right away that she is a member of the Einzbern family.
Because of her striking appearance, she tends to stand out, despite her attempts to dress informally. Irisviel dresses in long white gowns trimmed in gold in the Einzbern castle, but wears more functional clothing when she goes to Japan. Her clothing choice, though considerably less formal than her usual garb, is still considered by ordinary people to be high-end fashion. Irisviel wears a burgundy blouse with a brooch, a white skirt, thigh-high white boots, and black tights; in cold weather, she also wears an elegant fur-trimmed white coat and a white fur cap.
Personality
[
]
Irisviel is quite peculiar compared to other Einzbern homunculi. She was the first to have received the same treatment as a human and the first to have human emotions. Furthermore, she has interacted with humans for nine years and developed such colorful and eccentric mental activity. She was originally a blank slate that did not possess any human qualities. Her physical and mental capabilities surpasses those of a human, so they did not fail her during her exceptional growth, allowing her to gain self-awareness and emotions.
Her knowledge of human emotion and human experiences is limited due to having lived for only nine years without ever leaving the Einzbern castle and only having Kiritsugu to teach her about the world. This is in contrast with her inherent knowledge and reason, the crystallization of the Einzbern's wisdom accumulated over millennia, that comes with the format of a homunculus. The result is her having both the elegance of an upper-class lady and the innocent nature of a child.
Homunculi usually have their functions determined during their design process, but Irisviel developed the plan to conceive Illya after she was created. Jubstacheit decided to allow a special case in that she was to hold multiple "functions different from the plan", allowing her to both give birth and rear Illya. This allowed Irisviel to experience raising a child like a human mother, affecting her character in a way that Jubstacheit could not have predicted.[4]
Before meeting Kiritsugu, Irisviel had no emotion nor any sense of self-preservation beyond ensuring that she would survive as the Holy Grail. After Kiritsugu taught her about the modern world, she developed a sense of self. She loves Kiritsugu Emiya, her husband, and Illyasviel von Einzbern, her daughter. Despite his typically restrained attitude, Kiritsugu calls her "Iri" out of affection.
Though she acts as one who is sheltered and innocent, Irisviel displays a mature attitude and understanding towards Kiritsugu and the agony he suffers, as well as the knowledge that she will likely die in the war because of his actions. She also tries to present Saber with a better impression of Kiritsugu since Saber feels her Master's cold nature derives from his belief she is unsatisfactory as a Servant because she is female.
She approved of Kiritsugu's ideal and vowed to sacrifice herself for its sake, but the truth is that she never actually understood that ideal. She simply wanted to walk the same path together with the person she loved, but – in order not to burden Kiritsugu – she decided to behave as a woman who would die for that same ideal rather than just a woman that would die for her husband. Although she wished for Kiritsugu and Saber to keep winning and end the fighting, she had little desire towards achieving the Third Magic, which was the Einzbern family's ambition.
She enjoys driving, but she is not very skilled. Kiritsugu bought her a "toy", a Mercedes-Benz 300SL, famous for being Japan's Yujiro IshiharaWP's favorite car, to educate her about modern science. It is a bit classical in terms of education because part of the reason it was chosen was Irisviel's own taste. While it was a custom model ordered by Kiritsugu, it lacked any substantial modifications. It was later stored in the Einzbern mansion after the Fourth War, happily becoming Illya's toy.[5]
Role
[
]
Fate/Zero
[
]
During the 4th Holy Grail War, Irisviel became the provisional Master of Saber while relying not on the Servant System, but simply through the vows of chivalry. Saber's actual Master is Kiritsugu Emiya, the Einzbern family's representative in that war who decided to act independently from his Servant and arrived in Fuyuki City without her. After Kiritsugu summoned Saber, he made Irisviel hide Avalon – which served as the catalyst to the summoning of Saber – inside her body so to serve as insurance while she performed her act of proxy Master. Irisviel's and Saber's role at the time was to openly take action and serve as a decoy in order to lure out enemies, while Kiritsugu worked in the shadows with his assistant, Maiya Hisau.
Due to her secluded and isolated upbringing, she is fascinated with Fuyuki City and openly explores the city with Saber as her escort during her first day. Incidentally, the fact that Saber, who could not dematerialize her spiritual body, disguised herself as a man at that time was mainly due to Irisviel's tastes, proof of how her carefree nature extended itself to her relationship with Saber. The two got along well and became close enough friends for Saber to be willing to tell the story of her past to Irisviel.
Like the Einzbern Masters of the past, Irisviel is skilled in Magecraft but is not suited for combat, making her generally left to be an observer whenever Saber entered in battle. At the same time, she also relays information to Kiritsugu through technological methods, such as tracking devices and mobile phones, which remained undetected by other Masters. She and Saber meet with Kiritsugu and Maiya a limited number of times during the war to decide which Masters and Servants to focus their attacks on, but rarely worked together.
After Assassin, Caster and Lancer are defeated, she agrees to a ceasefire proposed by Tokiomi Tohsaka under the stipulations of "offering information about Rider and Waver Velvet's hideout" and "Kirei Kotomine's deportation overseas".
As the vessel of the Holy Grail, Irisviel grew increasingly weaker as the Heaven's Feel progressed since as the Servants were being defeated, her functions as a human being had to be suppressed so that her body could act as a Holy Grail. However, due to Kiritsugu implanting Avalon inside of her, it was possible to preserve her human functions to an extent by remaining at Saber's side though Saber was not made aware of this. Nonetheless, even Avalon's protection had its limitations and eventually she became physically incapacitated and was unable to do anything but lie inside a magic circle and talk. When Kiritsugu came to say goodbye before she became incapable of remaining conscious, she entrusted Avalon to him.
During the final days of the war, Kiritsugu and Saber searched for the remaining Servants and Masters while Maiya was left to protect Irisviel. They are confronted by Berserker, in the guise of Rider, who abducted Irisviel and mortally wounded Maiya. Following her abduction, she is taken to Kirei Kotomine, who asked her what Kiritsugu's wish for the Holy Grail was due his personal interest in the man. Displeased with her answer that Kiritsugu wanted to create a world without conflict and that Kotomine would never understand her husband, she was killed by Kotomine by strangling her and breaking her neck (in the anime; she is rendered unconscious in the light novel).
With the war drawing to a close, Irisviel's consciousness begins observing visions induced by the Holy Grail, including one with piles of homunculi bodies with her form. When Irisviel begins dreaming of Illya asking when her father will return, Irisviel tries to comfort her daughter when she spoke of her frightening dream of becoming a "cup" being filled with "seven big lumps". However, Irisviel soon realizes that her consciousness has merged with the Holy Grail; the tainted artifact adopted Irisviel's personality.
When Kiritsugu is submerged in the contents of the Grail during his battle with Kotomine, he encounters the spirit of the Grail in the form of Irisviel, who goes on to show him how his wish would be granted by the tainted Grail. After seeing all his loved ones massacred in order to fulfill his wish, Kiritsugu realizes his true wish was to revive Irisviel and be with Illya. Unfortunately, he found that he could not accept the Grail, stating that the cost far outweighed any benefit it could give. Destroying the illusions of his wife and daughter, he awakens from the vision presented by the Holy Grail and decides to destroy it.
Einzbern Consultation Room
[
]
The Einzbern Consultation Room takes place in the same continuity as Tiger Dojo, separate from the actual events of the story. After Irisviel's consciousness merged with the Grail, she saved a young girl who was chased by a pack of Shades and a void-like male figure. After saving the young girl, she took her back to an abandoned school and used a room to establish Einzbern Consultation Room. She found out that the young girl had amnesia and nicknamed her as Zecchan. Iri thought the young girl to be a Master who had lost her memories prior the Fourth Holy Grail War and died in the process. However it turns out, Zecchan was from the future who accidentally stumbled inside the Grail.
Fate/tiger colosseum Upper
[
]
In Irisviel's story, Irisviel is from a different parallel world and she was brought by accident through Zelretch chest by Avenger and Neco-Arc. They took the chest from the Tohsaka residence at the beginning of Irisviel's story and made it quite close to the Fuyuki Bridge in Shinto. She answered Magical Caren phone call, she revealed that she is at a different time.
Irisviel enters the Einzbern mansion where she finds Berserker strangling Shirou Emiya. Irisviel communicates to Berserker and she calls him as Berserker-chan. She understood that he was panicking over the disappearance of Illya and she believes that Shirou is withholding the information. Irisviel comforted him and she decided to help him because he is Illya's friend. Irisviel decided to punish Shirou as she believes him bullying Berserker. After she and Berserker defeated Shirou, Irisviel tells Shirou that she is looking for Illya. Shirou decided to help her to which Berserker hits him with cheerfully. Irisviel was delighted with them becoming friends.
She finds Illya in Waku Waku Splash swimming pool. Illya was confused with her sudden appearance and Irisviel explains her situation. Although she is from a different world, she still considers Illya to be her daughter and there is a heartwarming embrace from the mother and daughter. Illya tells Irisviel that Shirou is the son of Kiritsugu. With Sakura Matou, Rider, Bazett Fraga McRemitz, Caren, Rin Tohsaka and Taiga Fujimura sudden appearance. Illya tells Irisviel that Shirou is normally surrounded by girls and she complains about Kiritsugu parenting. Irisviel decided to "lecture" Shirou as his mother.
Archer and Avenger were seen in the Emiya residence. Irisviel identifies Avenger as someone she once known. With Archer, Avenger and Shirou arguing, Magical Caren told Irisviel that they are all Kiritsugu's sons. Irisviel shocked with this revelations, she decided to take action as a mother. She lectures them about brothers should take care of each other. She greets Avenger and calls him Angra Mainyu. Avenger replies back "It's been a while", although they have not met in his current state. Irisviel was surprised to see Angra Mainyu as her son in this world and she is glad to see Avenger finally happy. Avenger claims that his body is of a hopeless ordinary man, but he is grateful to him.
Fate/kaleid liner PRISMA☆ILLYA
[
]
Main article: Irisviel von Einzbern (Fate/kaleid)
Fate/Grand Order
[
]
Main article: Irisviel (Dress of Heaven)
Fate/Accel Zero Order
[
]
In this timeline, Irisviel has never met Kiritsugu and she is Artoria Pendragon's Master in the 4th Grail War.[6]
Before the arrival of Chaldea, Diarmuid Ua Duibhne invited Artoria to the wharf for a duel. Unfortunately, Artoria and Irisviel arrive there to find Ritsuka's party instead. El-Melloi II reveals Artoria's True Name to her shock and has Ritsuka and Mash force her and Irisviel to retreat.[7]
The pair later confront the group after Mash establishes a summoning circle near the Fuyuki River.[8] However, during the ensuing fight, Irisviel is ambushed by EMIYA, but Mash quickly defends her. EMIYA tells Irisviel that her death is the quickest way to dismantle the Grail. Hearing this, Artoria fights EMIYA to defend Irisviel, prompting the group to join forces with her so El-Melloi II's plan isn't ruined. After EMIYA retreats, Artoria and Irisviel learn that the group only wishes to keep her safe to achieve their goal, which El-Melloi II doesn't divulge. El-Melloi II asks Irisviel if she knows EMIYA. She doesn't but she has a vague feeling she was meant to be killed by him. Artoria refuses to believe this and vows to protect her. Irisviel thanks Mash for her support.[9]
She and Artoria meet Ritsuka's party again when they disrupt Artoria's discussion with Gilgamesh and Iskandar to kill Gilgamesh with Lancelot's help.[10] However, after Gilgamesh perishes, Artoria is suddenly attacked by Lancelot due to his Master, Kariya Matou, passing out. The group helps her fight Lancelot, but Iskandar soon stops the fight. After he leaves with Lancelot and Kariya[11], EMIYA returns to kill Irisviel. When El-Melloi II states Kiritsug is Artoria's true Master, Artoria reveals Irisviel is her Master, with Irisviel showing her Command Spells as proof. After EMIYA is defeated, Artoria and Irisviel learn he is a Counter Guardian from El-Melloi II. They further learn that the activation of the Greater Grail will end the world and that the Einzbern's highly certain victory in this 4th Grail War prompted the Counter Force's activation. They, along with EMIYA, then join the group and go with them to the Grail's cavern.[12]
There, Artoria and Irisviel learn of the Grail's corruption from El-Melloi II and his initial plan to safely dismantle the Grail. However, the plan was changed to destroying the Grail directly with the failure to recruit Iskandar. After defeating Hassan of the Hundred Faces, the group moves on to Grail's chamber,[13]
Upon seeing the corrupted Grail, Irisviel finds it ironic what the Einzberns sought for so long and nearly obtained has already been destroyed. Iskandar then appears, and the group defeats him.[14]After he disappears, though, El-Melloi II is ambushed and rendered unconscious by Lancelot, now Zouken Matou's Servant. Because she is helping to dismantle the Grail, Zouken accuses Irsviel of having forgotten the wish of the Three Founders. Irisviel responds that it's obvious the ritual failed long ago, adding Heaven's Feel will never be achieved with the Grail corrupted. Zouken doesn't care as long as he can witness the fruits of his and the other Founders' labor after 500 years. He then sends Lancelot to kill the group.[15]
The group kills Lancelot, but that, unfortunately, begins the Grail's activation. Zouken uses Irisviel's magical energy to hasten the process. A figure resembling Irisviel called Black Iri then emerges from the Greater Grail and proceeds to devour Zouken. She then goes to devour the group, saying five Heroic Spirits aren't enough to fill her. Artoria and Diarmuid hold her off while the others escape.[16]
After El-Melloi II transfers Zhuge Liang's powers to Waver Velvet, the others return to help Artoria and Diarmuid. Black Iri is destroyed along with the Grail, so Artoria and Diarmuid disappear without its support. Irisviel recognizes the purpose of her existence is now gone and assumes the Einzberns will never accept since she helped destroy the Grail. She then accepts Mash's offer to return with them to Chaldea. She and EMIYA confess to each other that they thought only death would separate them, finding what happened to be pleasant. EMIYA thanks Irisviel for him being able to protect something. Irisviel bids him farewell, glad that she met him. She then returns to Chaldea with Ritsuka's party.[16]
Other appearances
[
]
She has a brief appearance in Carnival Phantasm, celebrating with her family Kiritsugu and Illya in Ahnenerbe at the end of the carnival.
She does not appear in Capsule Servant game. Kiritsugu saved her from the Einzbern and married her, Kirtsugu adopted Shirou during in his business trip and she loves him dearly. In the events of Capsule Servant, she is on an overseas business trip with Kiritsugu.
In the Fate/stay night Heaven's Feel movie adaptation, Irisviel appears inside the Greater Grail when Illya enters it to shut it down. Illya happily runs to her and the two embrace, finally reunited.[17]

Abilities
[
]
The Magecraft that she inherited involves the creation and forging of matter, as well as its applications. Her grade as a magus surpasses that of Kiritsugu, with magic circuits that far outclass a normal magus. She was branded with a "standardized reverse-type Magic Crest."[18] Because of her nature as a homunculus, she does not require food so long as she has a supply of Magical Energy and she has the ability to shut down any of her five senses at will. However, her abilities are ill-suited for the direct combat required in the Holy Grail War, as the Einzbern's methodology involves avoiding conflict rather than self-defense; to survive than to fight. They would normally prioritize escape, disguise and negotiations over fighting back.[19] She is also proficient at Healing Magecraft,[20] although she is also able to use simple healing spells by sending out her Magical Energy.[21][22] She can also scry through a crystal ball.[23]
Her weapons are thin, long, and flexible metallic wires which she can shape however she wants through Einzbern alchemy, which forge, create, and use matter. Chanting the incantation Shape ist Leben!, Irisviel pours Magical Energy through the wires, which transmutes them into a giant wiremesh eagle as a makeshift homunculus, capable of attacking targets.[24][25] She may also use her weapon to immobilize her target.[24]
Irisviel's other skills include driving a car, which she learned from Kiritsugu. Though she is capable of operating a car, she tends to drive in a haphazard fashion as a result of failing to understand traffic laws and street signs and from treating a car as a toy rather than a vehicle. Furthermore, she initially learned to drive only in the confined grounds of the Einzbern castle in Germany, thus she finds driving on the long stretches of highway in Fuyuki City to be exciting, which increases her dangerous driving habits.[26] She displayed inability to operate modern technology such as cellular phones to communicate information to Kiritsugu while he was remotely monitoring a situation. This may be due to her cutting off her sense of touch in order to control her powers, making it difficult for her to perform everyday tasks such as getting dressed or holding keys.[27]
Vessel of the Grail
[
]
Irisviel was developed as a vessel of the Holy Grail capable of defending the Grail from harm. Although Irisviel's homunculus body is unmistakably organic, the inorganic Holy Grail was broken down and fused with her organs.[28] Compared to Illyasviel, she is a less-refined model. As each Servant dies, its energy would flow into her artificial body. When four Servants have died, her body would be destroyed and give birth to the Holy Grail. With Avalon stored inside her, it delayed the effects of her losing her functions as a human being.
Development
[
]
Creation and Conception
[
]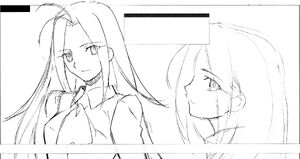 Takashi Takeuchi discarded Iri's initial design because she was being called too cute.[1]

Reception
[
]
References
[
]
↑ 1.00 1.01 1.02 1.03 1.04 1.05 1.06 1.07 1.08 1.09 1.10

[] Fate/Zero material - Characters: Irisviel von Einzbern, p.030-033

Irisviel von Einzbern

Height: 158cm
Weight: 52kg
Blood type: Unknown
Birthday: February 1
Image color: Silver
Three sizes: B85/W56/H84
Talents: Forging Magecraft
Things she likes: Her husband and daughter
Things she hates: Frugality, traffic safety
Worst enemy: Kirei Kotomine

Urobuchi's comment
In a certain way, the rough draft that gave the character her direction in the series. Tights! And then boots! [Gen Urobuchi]

Comment for Irisviel
Takeuchi: Mama heroine. I was thinking of a concept that would try to express the combination of the two sides of mother and maiden, but her causal clothing was too adorable, so I regret it just a little.
Urobuchi: No, rather, that gap is the very best! The world's mother should all be more adorable! Like parent-teacher conferences! Or field day!
Takeuchi: I also kind of wanted to use the contents of the working of her wires a little more. During her villain turn at the end, allowing Iri to develop into a different character might have been fun.
Urobuchi:Black Iri, well, in terms of the truth, is more like "Angri" with the appearance of Iri, so she's something completely different. For some reason, I thought of her being in the same costume as Black Sakura.

Takeuchi's comment
Using her wires. It's a legendarily hot method of attack. [Takeuchi]

Takeuchi's comment
Iri's initial design. It was discarded for being called too cute. In truth, I put into her motifs of heroines from the manga I drew in the past. [Takeuchi]

Urobuchi's comment

Comment for Irisviel
武内:
虚淵:
武内:
虚淵:'

Takeuchi's comment

Takeuchi's comment

↑ Fate/Zero Volume 1: The Untold Story of the Fourth Holy Grail War - Prologue: 8 years ago
↑

[] Fate/Zero material - Encyclopedia: Irisviel von Einzbern [Person's name], p.090

Irisviel von Einzbern [Person's name]
A homunculus modeled after Justizia Lizleihi.
Although the Einzbern homunculi have their functions determined during the design process, Irisviel only developed the plan to conceive Illyasviel after she was created. Thus, as a special case, she was allowed to hold multiple "functions different from the plan". That is, not only did she give birth, but she was also given the role of rearing Illyasviel. Although Justabcheit determined that this method would be more efficient than using a newly-constructed homunculus as a wet nurse, it was still a special case when it came to the Einzberns' standard. Anyhow, the result was that although a homunculus, Irisviel obtained the experiences of raising a child as a "mother" just like a human would, and it produced an effect on her character that even Acht could not predict.
Even compared to other Einzbern homunculi, there had never been an example of one who had interacted with humans for as long as 9 years, or had such colorful and irregular mental activity. In other words, for the Einzbern, Irisviel was the first to receive the same treatment as a human, and the first to have emotions like a human. Because her physical and mental capabilities originally surpassed those of a human, those mental processes did not fail her after her exceptional growth, and she finally possessed self-awareness and emotions equal to those of a normal human.
Even so, compared with the inherent knowledge and reason, the crystallization of the Einzbern's wisdom accumulated over millennia, that comes with the format of homunculus, her emotions and human experiences have only accumulated over a mere 9 years, which results in her having both the elegance of an upper-class lady and the innocent nature of a child, making her a troublesome princess.
Some additional information: during the time when Zero's plot was being set, apparently the setup of Angra Mainyu in Hollow wasn't well-known yet. How in the world the author came up with "that ending", even for us, couldn't be scarier.

アイリスフィール・フォン・アインツベルン【人名】
ユスティーツァ・リズライヒな鋳型として錬成されたホムンクルスの一人。
設計段階から用途を特定され、肉体も精神もその目的に最適化された状態で産み落とされるのがアインツベルンのホムンクルスだが、アイリスフィールについては鋳造された後からイリヤスフィール受胎の計画が発案されたため、特例的に「本来とは違う役割」を兼任させられることとなった。即ちイリヤスフィールの出産のみならず育成までも任されたのである。乳母役のホムンクルスな新造するよりも効率的であろうというユーブスタクハイトの判断だったのだが、これはアインツベルンの基準に照らせば異例のことである。ともあれ結果としてアイリスフィールは、ホムンクルスでありながら人間の女性と同様に子な産み育てるという「母親」として経験を積むこととなった。これが彼女の情操面において、アハト翁が予想だにしたかった影響を及ぼすことになる。
他のアインツベルン製ホムンクルスと比べても、九年の長きに渡って人間と交渉し、多彩で変則的な精神活動を行った個体は過去に例がない。言い方を変えるなら、アイリスフィールほどに人間同等の扱いを受け、人間的な情緒を身につけたホムンクルスはアインツベルンにおいては初だった。もとより心身の機能においては人間をむしろ凄駕する存在だけに、異例の成長を遂げた後もその精神構造は破綻せず、ついには一般的な人間と何ら遜色のない自意識と感情を備えるに至った。
とはいえ、ホムンクルスのフォーマットとして生まれつき持ら合わせている知識と理性がアインツベルン千年の英知の結晶であるのに対し、情動面を育んだ人生経験はたったの九年に過ぎず、結果として彼女は貴婦人としての風雅と幼児的な稚気を兼ね備えるという、ちょっと困ったお姫様になってしまった。
余談ながら、Zeroのプロットが確定した段階では、ホロウにおけるアンリマユの設定をまだ聞かされていなかったんだよなぁと思い返してみると、いったい筆者は〝あの結末″に至るまでをどういう経緯として書く気だったのか、我ながら空恐ろしいことこの上ない。

↑

[] Fate/Zero material - Encyclopedia: Mercedes-Benz 300SL [Other], p.105

Mercedes-Benz 300SL [Other]
A toy that Kiritsugu bought for his wife to educate her about modern science. Although the choice was a bit classical in terms of education, part of the reason was Irisviel's own taste. Since it was Kiritsugu's custom model, you would expect it to have options like machine guns or missiles or passenger-seat ejection or a gasoline atomizer, but there probably aren't any.
After the Fourth War ended it was stored in the Einzbern mansion situated in the forests near the outskirts of Fuyuki, and happily became Illya's toy. Incidentally, it is famous for being Japan's Ishihara Yujiro's favorite car.

メルセデス・ベンツ300SL【その他】
切嗣が妻の近代科学啓蒙のために買い与えた玩具。なんか啓蒙にしてはクラシカルなチョイスだが、おそらくアイリスフィールの好みもあったのだろう。切嗣カスタムである以上は機開銃やミサイルや射出式助手席やオイル噴霧器といったオプション装備も期待したいところだが、たぶんない。
第四次戦の後は冬木郊外の森のアインツベルン城に保管され、めでたくイリヤの玩具として継承される。ちなみに日本では石原裕次郎の愛車として有名。

↑ Fate/Grand Order - Fate/Accel Zero Order - ACT-14: The Shadow Chasing Irisviel
↑ Fate/Grand Order - Fate/Accel Zero Order, ACT-2: Military Intervention
↑ Fate/Grand Order - Fate/Accel Zero Order, ACT-9: The King of Knights Returns
↑ Fate/Grand Order - Fate/Accel Zero Order, ACT-10: The Mysterious Assassin
↑ Fate/Grand Order - Fate/Accel Zero Order, ACT-12: Discussing the Holy Grail
↑ Fate/Grand Order - Fate/Accel Zero Order, ACT-13: Battle Royale
↑ Fate/Grand Order - Fate/Accel Zero Order, ACT-14: The Shadow Chasing Irisviel
↑ Fate/Grand Order - Fate/Accel Zero Order, ACT-15: To the Greater Grail
↑ Fate/Grand Order - Fate/Accel Zero Order, ACT-16: King's Pride
↑ Fate/Grand Order - Fate/Accel Zero Order, ACT-17: Wish of the Three Founding Families
↑ 16.0 16.1 Fate/Grand Order - Fate/Accel Zero Order, ACT-18: The Fallen Grail
↑

[] Fate/Zero Season 1 Boxset - Drama CD 1

Track 1

Kiritsugu: So this is the Grail vessel. It collects the souls of Heroic Spirits anchored to this world as Servants, and is then presented as an offering for the Great Grail summoning. A container for that purpose. If it's just a vessel, it should look like one. But why does it have the appearance of a human? Damn it, this makes things difficult.

Kiritsugu: Ah, can you hear me? Do you understand what I'm saying?

Irisviel: Yes, Emiya Kiritsugu.

Kiritsugu: Ah, so you can speak too. I'm surprised.

Irisviel: You seem to have extremely low expectations for Einzbern homunculi.

Kiritsugu: Not at all. I doubt anyone can match the descendants of Justica Lizleihi, Master of Northern Alchemy and the Saint of Winter, in creating artificial humans.

Irisviel: That's right, I come with all the functions of a complete human body. I also have magic circuits that far surpass that of a normal person and was branded with a standardized reverse-type magic crest as the starting default. My potential as a Mage should be greater than yours.

Kiritsugu: Right, that's really great. But I have no need for those functions of yours. You'll be… Damn it, why must I explain these things?

Irisviel: If you aren't satisfied with my functions, you need to make yourself clear or I won't be able to do anything about them.

Kiritsugu: Are you properly aware of the reason you were created?

Irisviel: Yes. I am the Grail vessel. I will function as the key that will activate the Great Grail in the coming 4th Holy Grail War.

Kiritsugu: Exactly. You're just a container. Regardless of your purpose, you're really no different from a beer mug. Why does the thing have limbs, talk so much, and even lecture its master? I don't get it.

Irisviel: In that case, please allow me to explain. On top of protecting the Grail vessel, as the most effective method, I have also been given a psyche so I can act independently and evaluate situations. That's what I am.

Kiritsugu: So you're saying I don't need to worry about protecting the Grail vessel because it can make its own decisions and keep itself safe?

Irisviel: That would be correct.

Kiritsugu: Let me ask you, then. Do you really have the ability to defend yourself in battle?

Irisviel: That's how I was designed.

Kiritsugu: Looking at you, I find that hard to believe.

Irisviel: Are you judging me by my appearance?

Kiritsugu: Very well. All I need to do is put it to the test.

Kiritsugu strikes Irisviel

Kiritsugu: Hey. Are you playing the fool? How could you not even counter such a simple attack? Do you not even have basic self-defense skills?

Irisviel: I had no need to counter it. You are Emiya Kiritsugu, and therefore can't possibly want to destroy the Grail vessel.

Kiritsugu: I'm not playing around. If you're a defect that only knows how to talk and can't defend itself, then it's better for me if I destroy you right away and ask the family head to prepare another vessel.

Irisviel: Is returning the blow and fighting with the intent to harm what you define as self-defense?

Kiritsugu: That's right. Got a problem with that?

Irisviel: That's the worst decision I could make to ensure my survival. I should be avoiding dangerous situations as my greatest priority. In the event I make a strategic mistake that puts me in a situation where danger is unavoidable, escape, disguise, deceitful negotiations and so forth would be the next best options.

Kiritsugu: I'll give it to you straight. Battle strength is what I need, not sophistry. I need agility that kills before being killed, accuracy, and destructive power.

Irisviel: That's not a strategy for survival. If we compare you and me in terms of self-defense… Emiya Kiritsugu, you're weaker than I am.

Kiritsugu: You're unbelievable.

                            ———————————————————————–
Track 2

Kiritsugu: What do you think you're doing, forcing a homunculus like that onto me?

Jubstacheit: You aren't satisfied with her? She is among the best of my creations in recent years.

Kiritsugu: As a doll, she is indeed very well-made. But I'll have absolutely no use for her in the Grail War. You gave the Grail vessel a humanoid body and a sense of self capable of self-defense, apparently, but she's completely useless. If she encounters a drunk on the streets, she'll most likely get hurt. I'd have better uses for it if you gave it the body of a crow or a Doberman.

Jubstacheit: You live up to your name of Mage Killer, Emiya Kiritsugu. The savagery of the way you think is far beyond our ability to understand.

Kiritsugu: Isn't that why you sent for me? The methodology you Einzberns employ couldn't be any less suitable in battle.

Jubstacheit: Whether or not an instrument's functions can be put to good use depends on its owner. Regarding that, it's clear that debating with you would just be a waste of time. Anyway, on that point, it'll be enough to simply prove her tenacity to you. Constructed to be harder to break than a typical Grail vessel, she's even been designed to prevent herself from being broken. You'll witness that function of hers directly. Let's see, we'll have the results in two or three days.

Kiritsugu: What are you talking about?

Jubstacheit: It's just a little experiment. You can think of it as a test of her durability. I left her at the disposal yard for failed creations in the forest depths last night.

Kiritsugu: Wha-?!

Jubstacheit: I threw her, naked, right into the middle of hungry wolves and evil spirits in the frigid blizzard. It's a trial where even the most robust of warriors either die of cold or are killed and eaten within the night. If she manages to return to this castle alive, then you'll have to acknowledge her strength.

Kiritsugu: You can't be serious. She may be a homunculus, but she's a girl you created with your very own hands!

Jubstacheit: All I ask of that thing is that it doesn't break and maintains itself until the Great Grail ritual. If it cannot even endure a trial as trivial as this, then, in line with your complaint, I'II acknowledge the defects in my design and prepare a new vessel.

                           ———————————————————————–
Track 3

Irisviel: Where am… I?

Kiritsugu: There's no need to worry. Get some more rest and don't speak.

Irisviel: Why am I… in the castle?

Kiritsugu: I brought you back to put an end to that ridiculous test Acht sent you.

Irisviel: Ah… You can't do that.

Irisviel: I still haven't finished the trial. I still haven't proved my durability to you.

Kiritsugu: Don't be ridiculous. Does that body of yours not feel pain?

Irisviel: It does. In order to properly grasp the state of my body, pain is a neccesary sensation.

Kiritsugu: Then why? Is putting up a bold front even though your body's been so brutally battered what you call strength?

Irisviel: Exactly. My mission is to survive. It is to live through any extreme situation. Any bodily damage that does not go beyond permitted levels is fine.

Kiritsugu: You're wrong.

Irisviel: Why?

Kiritsugu: Strength isn't measured by how much pain you can endure. If you don't feel anger towards pain and have the will to retaliate against whatever caused you pain, you won't ever win. Don't you feel anger towards the family head? Towards Jubstacheit, the one who did this to you?

Irisviel: Anger? But why? Greatgrandpa didn't do anything wrong.

Kiritsugu: He hurt you badly just to clear the humiliation I gave him. He values his pride as a designer more than your pain. Ah… I suppose I also hold responsibility for thinking light of you. That's why you should be feeling anger towards Acht and me, because we're both the reason why you were hurt.

Irisviel: Even in my current condition of damage, my body can still more than fulfill its function as the Grail vessel. Therefore, my greatgrandfather's pride and clearing up your misunderstanding are far more important than my pain.

Kiritsugu: You're wrong. You're wrong! In order to become strong, you must learn what anger is.

Irisviel: Why?

Kiritsugu: Because it's the very basis of the act of fighting. No matter how you are, you must resist anything that results in your being hurt.

Irisviel: I don't understand what you're saying.

Kiritsugu: You seem to be aware of your value and the meaning of your existence, at least in theory. But do you feel happiness and pride in your being born to this world and in the mission you have been given? I'm slighting that very aspect of you this time.

Irisviel: Ah…

Kiritsugu: If you really do think your mission is to protect yourself, wouldn't you want to become stronger? Wouldn't you want to broaden your fighting repertoire so you could win battles?

Irisviel: Yes. If it really is possible, it would be very profitable learning.

Kiritsugu: Then start by having more concern for yourself. Find happiness in your life and its stage, the world. Then you won't allow any of these things to be damaged. That way, you should be able to acquire the emotion we call anger.

Irisviel: Happiness… Concern… It's difficult for me to embrace emotions with no basis.

Kiritsugu: Damn it, must I really go to such lengths for you? Okay. I'll teach you about them. All right, let's start with your-

 Ah, I shouldn't keep referring to you like that. Do you have a name? Not "vessel", not "homunculus", but a name of your very own?

Irisviel: I'm… Irisviel, Irisviel von Einzbern.

                           ———————————————————————–
Track 4

Maiya: How has the homunculus been doing since?

Kiritsugu: She's becoming a different person day by day. She must've been given a great thirst for knowledge. She greedily absorbs any information I give her, and her general knowledge is becoming abundant.

Kiritsugu: Already, she can hold casual conversations like any typical person. But is there a point in educating her so much? Sometimes, I wonder if it's all a big mistake. Maiya, you mentioned… how you used to think of yourself as a machine, didn't you?

Maiya: Yes. What about it?

Kiritsugu: I'm just puzzled as to how you manage to firmly keep your sanity in battle when you think of yourself like that.

Maiya: That's a strange question coming from you, Kiritsugu. I thought it'd be second nature to you as to how one stays sane in the battlefield.

Kiritsugu: It appears I've gotten confused on many things since I began training Irisviel. It's true that, since she doesn't think of herself as anything more than a machine, she probably isn't suited for the battlefield. I thought there'd be room for improvement if l could instill battle instincts in her by strengthening her sense of self, but I might've gotten the premise itself wrong.

Maiya: Being a tool, she was never made for battle to begin with. Even so, while the homunculus may have forgotten she is a tool, her aptitude for battle won't immediately awaken.

Kiritsugu: A human and a machine… which of the two would be better in battle, I wonder?

Maiya: While machines are tougher than humans, they do have their limits. On the other hand, while humans are incredibly weak, they sometimes surpass their limits and become experts of slaughtering. In other words, exceptional entities we call Heroes appear from time to time. We can perhaps overlook these rare irregularities. For the remaining majority of fighters, it is of greatest priority that they overcome their weaknesses in order to survive. That is why people abandon their souls in battle and become machines. I am one of those many people.

Kiritsugu: Maybe I really am wasting my time.

Maiya: Kiritsugu. You're like someone who was given a hammer when you needed a pair of scissors. Since it didn't serve its purpose, you melted it back into a lump of iron. If you wish to use it again as a sharp blade, you'll have to reforge it. Is that not so?

                           ———————————————————————–
Track 5

Irisviel: Hey, Kiritsugu, what are you showing me today? A movie? Photos? Or some music?

Kiritsugu: You seem excited, Irisviel.

Irisviel: Yes! It's true that the knowledge you're giving me has nothing to do with the Holy Grail War, but it all amazes me so much. I had no idea the world was so plentiful and diverse. With just my basic education, I never would've even imagined that.

Kiritsugu: Do you want to know even more about the world?

Irisviel: Of course! But don't worry. My mission of greatest importance is to complete the third true magic. My interests are ultimately of lower priority, and I haven't lost sight of our wish.

Kiritsugu: If it's what you want, you can walk away from fate.

Irisviel: Huh?

Kiritsugu: If you really admire humanity with all your heart. If you really do wish to spend your remaining years living a peaceful life… you just need to run. If you leave the castle in the dead of the night, nobody will come after you. The Grail vessel can simply be recreated. Acht won't be very happy about having to do it again, but that'd be all. He holds no expectations for you other than that of a tool. That's nothing compared to your sense of self.

Irisviel: Ah…

Kiritsugu: This was why I opposed Acht's idea to give the Grail vessel a sense of self. A tool cannot fight on its own will, and an object with a will isn't a tool. And objects that are no longer tools must start by asking themselves if they wish to fight on their own will. That's why you should take everything you've learned so far into account and ask yourself once again. Is the mission you were given really worth the fighting and the spilling of blood?

Irisviel: Are you asking me to abandon everything that I have?

Kiritsugu: That's right. By abandoning everything, you can redo it all from square one. If that's what you wish.

Irisviel: Ah… I see what you're saying. Kiritsugu, I now understand why you've been educating me.

Kiritsugu: What?

Irisviel: The knowledge you've presented to me until now, the way the world is, how people live…they're all things you've forsaken and walked away from, aren't they?

Kiritsugu: Well-

Irisviel: Did you once prioritize your mission over your happy life and choose to fight battles worth the spilling of blood? … No… that's not it. If you had already determined which is more valuable, you wouldn't be letting me choose. If you really do strongly believe in your justice, you wouldn't have prepared these two options for me. Did you have no choice?

Kiritsugu tries to say something but cannot

Irisviel: Emiya Kiritsugu, aren't you the one who's been living like a machine with just one function? It's strange. You're human, but live like a machine. I'm a doll, but you're giving me a choice meant for humans.

Kiritsugu: You have defects as a tool to be brought to the battlefield. I'm adjusting you because you'll burden me otherwise. That's all there is to it. Don't get any strange ideas.

Irisviel: I see. You think that I shouldn't blindly follow my mission as a homunculus, but acquire an impulse of wanting to fight based on thought. Is that why you're trying to elicit anger, happiness, and pride within me?

Kiritsugu: It's only been a few months since you emerged from the cultivating tank, but you've become quite eloquent.

Irisviel: I hope you aren't underestimating my ability to think and analyze, inherited from Justeaze's designs. From the learning materials you've given me, I've already derived a different opinion from the one you have.

Kiritsugu: What?

Irisviel: You said that anger is the source of the will to fight, and that the basis for anger is one's dignity. But according to my analysis, anger merely runs from another simpler and more comprehensive impulse. That impulse is… love.

lrisviel's words catch Kiritsugu off guard

Irisviel: People don't get angry at their enemies for no reason. I've identified many examples of people steadfastly spilling blood for their family, their compatriots, and their country. Even animals show hostility and fight seriously to protect their newborn offspring. Even the concept you call dignity is but love towards oneself. In order for me to acquire the emotion of anger, I must first learn about love.

Kiritsugu breathes heavily

Irisviel: Because I've grasped my own construction and function, I'm unable to feel newly-found concern and interest in myself. However, in becoming strong, there's no need for me to restrict my love to just myself. The more I learn about people different from me, the more amazed I am, the more I discover… the happiness is incredible. For example… Emiya Kiritsugu. I find you very interesting. The complex internal thoughts you hide arouse my curiosity to no end.

Kiritsugu: Huh? What are you saying, Irisviel?

Irisviel: So that I can acquire the strength you ask of me, the will to fight, as soon as possible, I will start by judging whether it is appropriate for me to love you. What do you think?

Kiritsugu: That's enough joking around!

Irisviel: No, I'm simply trying to fulfill what you ask of me. You're the one who wants me to become strong. I definitely won't allow anyone to take away what you've given me. I'll be able to feel anger and show hostility towards anyone who seeks to hurt you. Is there a… problem with that?

Kiritsugu: No, uh… It wouldn't be very convenient for me…

Irisviel: No, don't worry. I won't burden you at all. It'll just be what I'm thinking inside.

Kiritsugu: The love between man and woman isn't that simple! Ah, damn it… I can't believe I have to explain all this… Okay. I'll teach you for now. You'll soon realize just how wrong everything you were talking about was.

Irisviel: That sounds interesting. I'm really looking forward to it.

                           ———————————————————————–
Track 6

Kiritsugu: This is nothing more than an act. Irisviel, I cannot love you, and you cannot love me.

Irisviel: But why?

Kiritsugu: To begin with, look at what our aim is. After we win the Holy Grail War and defeat all the other Servants, you will cease to exist. I will cause your death.

Just how big of a fool am I? I'm trying to teach someone I'll be forced to kill the insistence and desire to live. If I had only so much as thought about it, I would've realized just how cruel it is.

Irisviel: Kiritsugu…

Kiritsugu: If there was a way to save you, then I could continue to love you. But if I do that, everything I've sacrificed up until now would be for naught. The many lives I've taken would become completely meaningless. Your death is the only way I can make up for all the sins I've committed. Do I have any right to receive your love?!

Irisviel: Why is it wrong to love something that will be destroyed? Kiritsugu, it doesn't look like you've thought about your life after the Grail War. You intend to burn yourself out and perish in the coming battles, don't you?

Kiritsugu breathes out heavily

Irisviel: Even so, I find myself holding feelings of love for you. We only have nine more years together in this world. Is there anything wrong with loving each other during that time?

Kiritsugu: We have no salvation, no hope. The two of us have no future.

Irisviel: Future?

Kiritsugu: You see, love is about wishing for the salvation and hopes of your partner and entrusting those prayers. I'm unable to save you, and there is no hope for you, so we can't possibly love each other. Even now, by saying you love me, it means you're still unable to love yourself. The fact that you feel no sadness for your eventual demise is proof enough.

Irisviel: Anger is needed for strength… Love is needed for anger… And a future is needed for love. Is that it?

Kiritsugu: Great, not only have we wasted much of our time, we've come straight to a dead end. I'm sorry. If I knew it'd all be in vain, you'd have it so much easier if you had just remained the emotionless tool that you were.

Irisviel: No. I have no regrets. Everything I've received from you is very precious to me. If we don't have a future now, we just need to create a new one. A blank sheet, a new life, that isn't yet bound by anything…

Kiritsugu: What?

Irisviel: I'm a woman. You're a man. Together, we can create new life.  As a complete homunculus, I have a womb that functions no differently from that of a normal person. It should be entirely possible.

Kiritsugu: That's just…

Irisviel: If I can carry your hopes inside my body, and if I can one day give birth to an individual that will give you hope… As the one who made it possible, I'll be able to feel proud of and love myself. Without needing how others think, I'll be able to fight for my life and the fate of the future it leads to, entrusting my prayers…

Kiritsugu: Iri, why would you go to such lengths?

Irisviel: That's because I'm stronger than you are. I think I've said so before.

Kiritsugu: Heh…

Irisviel: Having won and survived many battles, you probably think you're stronger than everyone else, but you've simply chosen to make your enemies die before you do. That's not the same as wanting to live longer. The strength you've acquired is nothing more than the ability to hasten the deaths of others as you all rush towards your doom. You've simply arranging the order in which you and others die. That's not true strength.

Kiritsugu sighs

Irisviel: To never give up… to be able to find a way out and execute it no matter the predicament… to carry out the will to live until the moment of your demise… That's the strength of the perfect Einzbern homunculus. That's the power of the souls of the truly strong, something you don't yet have.

Kiritsugu: Ah, I see… It appears I'm no match for you. I have no further worries, I can truly believe now. Together, the two of us will yield to no enemy and surely reach the Grail.

Irisviel: Yes.

Kiritsugu: Please bear me a strong child. A child who'll give me new hope once the war is over.

Irisviel: Yes, please come up with a wonderful name for the child… my love.



↑

[] Fate/Zero Anime Visual Guide I: The Fourth Holy Grail War Glossary: shape ist Leben [Magecraft Term]

shape ist Leben [Magecraft]
Manipulation and transmutation of matter. Magecraft handed down in the Einzbern family to shape precious metals. Irisviel uses it when fighting Kirei. By passing magical energy through wires it is used to transmute a giant wiremesh falcon as a makeshift homunculus.

shape ist Leben【魔術】
物質の錬成と創製、応用というアインツベルン伝来の魔術による貴金属の形状操作。アイリスフィールが綺礼との戦闘において使用。針金に魔力を通わせて、巨大な鷹を模した針金細工、即席のホムンクルスを錬成する。

↑

[] Fate/Zero material - Encyclopedia: Vessel of the Holy Grail [Other], p.098

Vessel of the Holy Grail [Other]
The substitute prepared to facilitate the descent of the Holy Grail. In the first three Grail Wars it was merely an object, but in the fourth war the Einzberns sought to gain an advantage in the struggle for possession of the vessel by implanting it with a will of its own and a sense of identification with the Einzbern family.
Although Irisviel's homunculus body is unmistakably organic, the inorganic Holy Grail was broken down and fused with her organs.
While it's certainly true that making the vessel required to win the war a member of their own faction is a reprehensible act of cheating, technically their only obligation is to "deliver a vessel to Fuyuki", which they did. Besides, it's a war. Is there really that big of a difference between stealing somebody's possessions and killing them then taking the body?

聖杯の器【その他】
四度目に用意された聖杯降臨のための憑代となる器は、それそのものに自衛のための自我とアインツベルン家への帰属意識を植え付はて、器の争奪戦を優位に運ぼうという発想のもとに作られた。
ホムンクルスとしての肉体は行機物に違いないが、その内臓に無機物の聖杯が分解された状態で血合しているのがアイリスフィールである。
その所有権が勝判条件のひとつとなる器を、勝手に自分たちの戦力となる駒として改造してしまったわけだから、卑怯極まるチート行為ではあるのだが、そもそもアインツベルンの義務は「器の役目を果たすものを冬木に持ち込む」ことだけなので、これはぺつたん白眼視されるはどの逸脱ではない。所持品を奪うか、殺して死体を持ち去るかの違いは、聖杯戦争において大した落差ではないのである。