Jack the Ripper, Class Name False Berserker (偽バーサーカー, Bāsākā?), is the "False" Berserker-class Servant summoned by Flat Escardos in the True and False Holy Grail Wars of Fate/strange Fake.
Profile
[
]
Identity
[
]
He lacks a true identity, instead acting as the embodiment of the mystery behind the legend of Jack the Ripper in the form of an "emblem of madness." Brought forth by a toy knife from Night Wars of the British Empire, he is not the soul of an actual person, and he only knows he is "Jack the Ripper" and has no knowledge about the true identity behind his legend. He claims that only the true him, rather than the him of legend, or someone who put a stop to his murders would know his true name. This aberration is due to the fact that he is summoned with an imitation of a real relic, but it did draw a much more powerful spirit because it was an imitation designed for public use.
It is known that Jack the Ripper existed without a doubt due to the five corpses of prostitutes found in the Whitechapel district of London. There is no name associated with it other than that which was written in the letters, Jack the Ripper, but it is certain that he had to exist in some form. There is no physical description, associated gender, true name, or even the certainty that he was a single person or even human. This makes him a being with an appearance and manner of all varieties, while at the same time having none at all.
He became a symbol of fear that terrified the world, causing people to imagine him in countless ways. The legend became a topic of many tales and theories, including him being a doctor, teacher, aristocrat, prostitute, butcher, devil, faerie, some sort of conspiracy, or even just madness. People's fear was exploited to create many different stories about him that became united into a single legend. Even in modern times, he is among the most popular of legends in England.
There is another incarnation of Jack the Ripper that can be summoned, and though that version also qualifies for the Berserker class, it is suggested that version is summoned under the Assassin class, while this version is summoned under the Berserker class.[2] It seems that, when he attempted to take on the appearance of an "inconspicuous young girl", he appeared with his Other Incarnation's appearance, although the reason for such is unknown to him, though he does remark that he has a strange urge to dissect things. He also comments that he feels appearing as identities connected to his legend are reassuring or put him at ease.
Personality
[
]
Berserker speaks in a friendly, refined, and polite manner with a crisp tone unbeffiting a mad warrior due to the unique circumstances behind his existence. He is constantly surprised by Flat's ineptitude and lack of decorum, but handles it in a calm manner.[3]
His reason for seeking the Holy Grail is to learn of his identity. He is only a fable without presence, but the idea of people inventing stories and hypotheses about his true identity frightens him. He is without a body, name, or past to call his own, so he wishes to know himself. He knows that he was a serial killer no matter his current form, so he must be as true to reality as possible in order to match the person who existed. It is a strange wish, but it is likely the only thing he desires.[3]
He has the potential to ally with the Player, but he may not be as trustworthy as he seems.
Role
[
]
Fate/strange Fake
[
]
Day 0
[
]
Berserker is summoned by Flat Escardos during broad daylight in an inadvertent manner, surprising Flat with the question to complete their contract. He is amazed by his Master's ability in performing the ritual without a magic circle or incantation. Flat is confused by his identity, having used what he believed to be one of Jack the Ripper's knives as the catalyst, due to it not matching his preconceived idea of a Heroic Spirit. Berserker displays his nature by becoming a police officer and accosting Flat for his suspicious nature. He reveals himself to the flustered Flat, transforms into a woman, and then returns to his spiritual form.[3]
He explains his nature in that he does not know his true self and the contradiction behind his personality and class. He then asks Flat about his reason for not handling the supposed police officer in a way that required only the most basic of magecraft because he is worried about his Master's competence, but Flat simply downplays it in embarrassment. Flat questions him about his wish, which he embarrassedly admits is finding his identity. Flat blatantly says that there should be no real Jack the Ripper, shocking Berserker. He then ruminates on Flat's choice of a serial killer who is neither a hero or someone of morality, but is once again shocked by Flat's bluntness.[3]
His Master should be hesitant of even being in the presence of one such as him, let alone deciding to summon him, but Flat simply finds the mystery behind the legend to be interesting without any other thought behind the choice. He then prepares himself for the upcoming conflicts with optimism and high spirits, wishing to plan a course of action. Flat once again shocks him by wishing to enjoy the weather, and they later leave the park after avoiding one of the Police Chief's agents.[3]
Later, when Richard I is arrested for blowing up an opera house and gives an impassioned speach to news reporters promising to make amends for the damage, Flat is enthralled by the speech and says they should find him and make him an ally, to Berserker's annoyance.
Day 1
[
]
False Berserker transforms into a watch which Flat can wear, to better hide himself. Flat continues to be very carefree about the War, joyfully touring the city. At one point, they spot False Archer and his Master Tine Chelc. Flat doesn't immediately inform Berserker of Archer, which annoys him, but Flat explains that if Archer would notice them, he could easily kill them both without issues.[4]
While they are staying in a motel, Flat is called by his professor, Lord El-Melloi II, who furiously reprimands him for leaving to America and participating in the Holy Grail War; Berserker apparently enters into a state of shock after learning that the catalyst Flat had used to summon the False Servant was nothing more than a modern made bauble that was given as a prize from a video game company. El-Melloi also speaks to Berserker, quickly understanding his nature and asking him to take care of Flat. After the call, Flat senses a strange fog of magical energy that has spread throughout the whole city. Worried about the mysterious presence Flat decides to look into the matter, being unusually driven.[5] Flat traces this presence to a hospital, that Berserker then infiltrates, disguised as nurses and doctors. He manages to find out that the mysterious entity is, in fact, a Servant, False Rider, whose Master is a young girl who is currently in a comatose state, named Tsubaki Kuruoka. After this discovery, Flat and Berserker decide to contact the police force that is controlled by Orlando Reeve, another Master in the Holy Grail War.[6]
Day 2
[
]
Before they leave to the police department, Flat and Berserker's base is attacked by Zugzwang, a group of strong mages who want to take Flat's Command Seals. Berserker, however, easily deals with them, leaving them tied up in a room with many other mages who have tried to attack them throughout the War, including Carl Lexarm, Silvelt Kotcheff, Avi Dikhail and Hyouma Sagara.
Flat and Berserker easily infiltrate the police department, despite its many defenses, confronting Orlando alone in his room. Orlando is at first confused and threatened by the sudden appearance of another Master and a Servant, attempting to use the security measures that have been implemented in the office to fend them off. However, Flat easily counters the security measures, while Berserker tells Orlando that he has multiplied throughout the whole deparment and is currently forty percent of the whole population inside. This gets Orlando to calm down, with Flat telling him that he wants to form an alliance with him. Flat explains to him about the young Master of False Rider, who has been spreading disease in the city. Due to this information, Orlando decides to help Flat and Berserker on the issue, sending his police force, called Clan Calatin who are all armed with imitations of Noble Phantasms, to the hospital to secure the young Master, along with Berserker. However, this information about Rider and its Master is also transferred to Bazdilot Cordelion, the Master of True Archer, through spies in the police force, who decides to send his own Servant to kill the girl.[7]
When the Clan Calatin and Berserker arrive to the hospital, they are shortly after encountered by True Archer, who has also summoned Cerberus, the three-headed hound of the Underworld, with his Noble Phantasm, King's Order. Clan Calatin is overwhelmed by the fearsome beast, but Berserker manages to match it by continually multiplying himself with his Noble Phantasm, Natural Born Killers. Berserker then confronts True Archer himself, recognizing him as a powerful hero who once had the blood of the gods in his veins, but has now abandoned his godly nature. Because of this decision to become human, however, even a mighty hero like him can be hunted down and killed by a killer like Berserker. Berserker then activates his other Noble Phantasm, From Hell, which turns him and all his duplicates into demonic beings. Berseker then easily rips apart Cerberus and overwhelms Archer. Despite the battle having seemingly turned around, Archer calmly gets back up after Berserker's assault. He recognizes that Berserker's power is great enough to be stolen, and uses another Noble Phantasm, Reincarnation Pandora, which allows him to steal Berserker's From Hell and use it himself, turning him into a demonic form. Archer acknowledges Berserker as a worthy opponent and promises to remember their battle. As Archer is about to finish off Berserker, he is luckily teleported away by Flat with a Command Seal.[8]
Berserker returns to his watch form to conserve energy as he and Flat observe True Archer's battle with Clan Calatin and False Archer's battle with Saber. Noting that with the loss of From Hell, Berserker has become weakened, Flat asks if he will get From Hell back if True Archer is killed, but Berserker senses that From Hell has become too intregrated with True Archer's Spirit Origin, so the only way he can get From Hell back is if he were killed, then summoned again. Flat whines that he doesn't want that because then Berserker would not remember him. Flat then proposes that they rescue False Rider's Master from the hospital while everybody is distracted, but Berserker points out that with her illness, she is probably not safe to transport. False Caster walks up to them. Sensing that he is a Servant, Berserker transforms into a wolf to defend Flat, but False Caster explains that he is Orlando's Servant and on their side. After revealing he knows Berserker is Jack the Ripper, he reveals his own name, Alexandre Dumas. Berserker listens to Flat and Dumas' conversation, and after being satisfied that he is truly on their side, turns back into a watch. Dumas offers to help them take on True Archer.
False Caster uses his Noble Phantasm, Musketeers' Masquerade, to blend Flat and False Berserker's traits together, allowing them to nearly perfectly imitate each other. While True Archer is battling John Wingard, Berserker takes the form of a squad of police officers and tries to attack True Archer from behind, only for him to slash through them with his demonic wings without having to turn around. Berserker turns into an assortment of ordinary people (young and old, men and women) and rushes him. Seeing how sluggish they are, True Archer calls it absurd, but is shocked when countless black arms form out of the people's shadows and wrap around his body. Flat is hidden among the people while Berserker creates a duplicate of Flat who is casting the shadow Magecraft.
While True Archer is distracted killing the duplicate, Flat uses a spell combined with his second Command Spell to disrupt the Servant's flow of magical energy by targeting From Hell, nearly causing his body to fall apart. John then stabs True Archer with a dagger coated with Hydra venom. As True Archer's body is slowly eaten away by the venom, he asks False Berserker why he risked his Master on the battlefield, so they explain how they needed that second Command Spell for their plan to work. True Archer congratulates all three of them for doing all this damage to him without divine aid, but then says it is not enough. To their horror, Black Mud erupts from his wound and absorbs the venom before flowing back inside him and healing the wound. A tornado of magical energy erupts from him, knocking them back. He suddenly decides they are beneath his notice and leaps away to attack False Archer instead. Later, a wave of blackness washes over the street. When it passes, False Berserker and all the other combatants have vanished, to the shock of those observing.
Abilities
[
]
Jester Karture regards False Berserker as a scrap of folklore that filled the night with terror despite being a powerless Anti-Hero. He further describes him as a personification of viciousness that spread fear through the world at speeds that even the Night of Wallachia can't match.[8] Jack the Ripper was enshrined in legend as a symbol of madness, thus, "Jack" states that the Berserker class is the only one that really fits him. Jack is a unique Servant unaware of his true identity. Because of this, he lacks a regular form, only communicating with his Master through telepathy. Flat Escardos is able to feel the Magical Energy flowing through the Command Spells to an unknown location. It is a voice lacking any sort of unique characteristics, making it impossible to distinguish gender, age, or any traits about occupation normally given away by details in the voice. He has the ability to possess his Master, and retaining his madness under any other Class, he likely would have possessed Flat and slaughtered everyone within the area in a maddened rampage. Jack reveals that he is surprised that someone would see fit to summon him, as they could expect neither the might of a Hero nor the morality of a man from him.[3]
In any country where British films and novels are popular, there can't be many who have not heard of Jack the Ripper. Granted, in terms of notoriety, he isn't quite on par with Sherlock Holmes or Arsène Lupin.[3]
Skills
[
]
Class Skills
[
]
Mad Enhancement (— Rank): Normally, Servants of the Berserker class would gain power in exchange for losing their sanity, but in Jack's case, he seemed to be overlooked by the Holy Grail during the summoning. Similar to how "negative times a negative makes a positive," Jack the Ripper, who is an emblem of madness, was able to retain his sanity while summoned as a mad warrior. Jack the Ripper claims that this is quite the miracle, and that if he were the Soul of an actual person, this probably would not have happened. Then again, perhaps it was fruit of the False Holy Grail War itself being unique.[3] Because Jack's fundamental attribute is madness, an inversion occurred and this skill was sealed. That seal, however, is extremely unstable.[1]
Personal Skills
[
]
Thousand Faces (A Rank): Due to the identity of Jack the Ripper having never been discovered, he is "nobody", so he is able to transform into a myriad of different people with the ability to "become anybody."[3] This skill represents that ability to transform oneself into any human occupation, animal or object that has been presented as the true identity of Jack the Ripper, and to make use of any skills the target possesses, weakened to rank E.[1] He is able to instantly manifest out of view, quickly change form while someone is distracted, and stopping the ability causes him to instantly disappear and return to his insubstantial form.[3] He also takes the form of a watch that Flat Escardos wears during the day. He usually keeps himself in the form of a steampunk-style watch worn by Flat, due to some legends saying that Jack the Ripper was a person possessed by a cursed item.[9] The ability is one that allows him to infiltrate anywhere he pleases to kill Masters in close quarters. He can manifest tools associated with the identity, such as a police officer's baton, and they will fade away instantly upon changing identities. He can act the part of an angry officer or a feminine woman in a lascivious dress, though his voice still carries some of the same neutrality as his regular voice.[3]
Noble Phantasms
[
]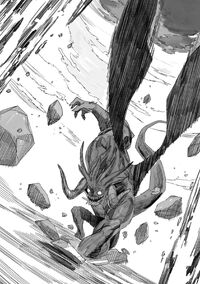 Jack the Ripper's trump card is From Hell. Based on the theory that Jack the Ripper was a Demon, this Noble Phantasm transforms Jack into a pseudo-demon of the Phantasmal Species. Because it is rooted in the latent fear and unease of nearby people, its power changes in proportion to the population density within a radius of 5 km. In a desert wasteland, its strength is only equal to that of a large beast of prey. In an urban area, it displays a power equivalent to that of a marshal Servant.[1] When used in the Snowfield city, he turns into a 5 meter tall monster with poisonous skin that manifests "hell on earth." He can also fire beams with his eyes, which were powerful enough to kill Alcides' Cerberus summoned through King's Order. Alcides comments that he was able to achieve this since Cerberus doesn't possess its former divine beasthood without Hades' blessing. Hansa Cervantes claims that if he didn't know Jack was a Heroic Spirit he would call the Burial Agency right after seeing him.[8] Because it takes the form of a demon that Humans envision as their own natural enemy, it inflicts particularly effective damage on humans.[1]
Jack the Ripper's second Noble Phantasm is Natural Born Killers, which enables the creation of multiple bodies. The maximum number depends on the quantity of the Master's Magical Energy. The number of bodies decreases in proportion to the strength of the entity transformed into.[1][8] Paired with Flat Escardos, it was confirmed to be capable of "dispersing" into a maximum of five hundred and twenty at one time.[8]
Such numbers were of course impossible with both Noble Phantasms deployed simultaneously… but it easily reached over two hundred demons, all attacking the "human" Alcides. When the multitude attacked Alcides, they assailed him, before he could even begin to act. They hit hard, most importantly because, as they were not delivered with weapons, the power of the Nemean lion's pelt had no effect on them. Its inherent toughness prevented it from being torn to shreds, but a portion of the attacks still pierced it, so that the claws and heat reached even Alcides' guts. The ceaseless rain of blows no longer permitted him to so much as stand. If there was such a thing as the pains of hell, it was certainly his current predicament. Alcides spoke words of heartfelt praise, acknowledging him as a worthy foe. Although Alcides claims that he could have countered with Nine Lives, he said that his power is too valuable to merely defeat. He instead chose to steal From Hell with Reincarnation Pandora, defeating Jack in the proccess.[8]
Development
[
]
Due to Berserker's unique nature, Narita contemplated how he could be implemented into Fate/Grand Order if he were to be added, wondering if he would be something like an invisible man or a floating watch.[10]
References
[
]
↑ 1.00 1.01 1.02 1.03 1.04 1.05 1.06 1.07 1.08 1.09 1.10 1.11 1.12 1.13 1.14 1.15 1.16 1.17 1.18 1.19 1.20 1.21 1.22

[] Fate/strange Fake - Volume 4 - Servant status: Berserker [T]

Class: Berserker
Master: Flat Escardos
True name: Jack the Ripper
Gender: Varies based on transformation
Height/Weight: Varies based on transformation
Alignment: Neutral Evil

Strength: — (All except Noble Phantasm tuned by transformation)
Endurance: — (All except Noble Phantasm tuned by transformation)
Agility: — (All except Noble Phantasm tuned by transformation)
Magic: — (All except Noble Phantasm tuned by transformation)
Luck: — (All except Noble Phantasm tuned by transformation)
Noble Phantasm: B

Class Skills
■ Mad Enhancement: —
Because Jack's fundamental attribute is madness, an inversion occurred and this skill was sealed. That seal, however, is extremely unstable.

Personal Skills
■ Thousand Faces: A
The ability to transform oneself into any human occupation, animal or object that has been presented as the true identity of Jack the Ripper, and to make use of any skills the target possesses, weakened to rank E.

■ Walker of Foggy Nights: B
An altered form of the skill Murder on a Foggy Night, which Jack would possess if manifested as another Class.
Grants an equal rank of Block Presence as long as it is night.

Noble Phantasms
■ From Hell: Evil Fog Perishes With the London Dawn
Rank: A+-E-
Type: Anti-Personnel Noble Phantasm
Range: 1~80
Maximum Targets: —
Based on the theory that Jack the Ripper was a demon, this Noble Phantasm transforms Jack into a demon in the sense of a phantasmal species. Because it is rooted in the latent fear and unease of nearby people, its power changes in proportion to the population density within a radius of 5 km. In a desert wasteland, its strength is only equal to that of a large beast of prey. In an urban area, it displays a power equivalent to that of a marshal Servant.
Because it takes the form of a demon that humans envision as their own natural enemy, it inflicts particularly effective damage on humans.

■ Natural Born Killers: That Is Not Worth the End of Tragedy
Rank: B
Type: Anti-Army Noble Phantasm
Range: —
Maximum Supplement: —
A Noble Phantasm based on the theory that Jack the Ripper was a group. Enables the creation of multiple bodies according to the Master's magical energy. The last remaining body automatically becomes the main body. It can also be said that every body is the main one. The maximum number depends on the quantity of the Master's magical energy. The number of bodies decreases in proportion to the strength of the entity transformed into.

CLASS バーサーカー
マスター:フラット・エスカルドス
真名:ジャック・ザ・リッパー
性別:変身対象によって変動
身長・体重:変身対象によって変動
属性:中立・悪

筋力:(宝具以外の変身対象に調律さわる)—
耐力:(宝具以外の変身対象に調律さわる)—
敏捷:(宝具以外の変身対象に調律さわる)—
魔力:(宝具以外の変身対象に調律さわる)—
幸運:(宝具以外の変身対象に調律さわる)—
宝具:B

クラス別能力:
■ 狂化: —
基本属性が狂気の為に反転が起こり封印されている。
しかしその封印は非常に危ういものである。

固有スキル
■ 千貌:A
切り裂きジャックの正体であるとされた職種の人間、物質、物質などに己を変じさせる事ができ、その対象が持つスキルをEランクまで弱体化した状態で行使できる。

■ 霧夜の散歩者: B
他のクラスで顕現した場合に付随する『霧夜の殺人』が変化したもの。
夜間に限り同ランクの気配遮断の効力を得る。

宝具
■ 悪霧は倫敦の暁と共に滅び逝きて
ランク:A+〜E
種別:対軍宝具
レンジ:1〜80
最大捕捉:—
「切り裂きジャックは悪魔だった」という説に基づき、その姿を幻想種としての悪魔の姿な変じさせる。
周囲の人々の持つ潜在的な恐怖や不安を基盤とするため、半径5kmの人口密度の高さによって威力が変わり、無人の荒野では大型の猛獣程度の強さにしかならない。都市部では武闘派サーヴァント並みの力を発揮する。
人が自らの天敵として想像した悪魔の姿を取るゆえに、人間に対して特攻ダメージが入る。

■ 其は惨劇の終焉に値せず
ランク:B
種別:対軍宝具
レンジ: —
最大捕捉:—
「切り裂きジャックは集団だった」という説に基づいた宝具。マスターの魔力量によって、多数の分身を造ることができる。
分身はどれもが本体であるともいえ最後に残った一体が自動的に本体になる。
最大数はマスターの魔力量に依存し、強力な存在に変じるとその分だけ分身の数は減少する。

↑

[] TYPE-MOON Ace 9 - Narita, Higashide, and Hikaru discussion, p.070

Higashide:
Hikaru:
Higashide:
Narita:

東出:なるほど。ただ僕は最初、「Apocrypha]でジャック・ザ・リッパーの設定を考えるように言われたんですけどキャラクターデザインはすでにあがってたんですよ。
桜井:そうか。絵が先だったんだ。
東出:絵が先だったんです。あと2008年だから、すでに成田さんの「Fake]が書かれた後だったんですけど。
成田:そうそう。だから設定的にはバーサーカーのクラスで召喚すると「Fake]のほうのジャックが出てきて、アサシンで召喚すると東出さんのほうのジャックが出てくるっていうことになりました(笑)。

↑ 3.00 3.01 3.02 3.03 3.04 3.05 3.06 3.07 3.08 3.09 3.10 Fate/strange Fake - Volume 1 - Prologue II: "Berserker", p.059-091
↑ Fate/strange Fake - Volume 2, Chapter 6: "Two Archers and..."
↑ Fate/strange Fake - Volume 3, Chapter 7: "The Canon of the Demigods"
↑ Fate/strange Fake - Volume 3, Chapter 8: "A Horse Not Yet Pale; Mud Yet Firm"
↑ Fate/strange Fake - Volume 4, Chapter 12: "Genius Was Not Built in a Day; All Magecraft Leads to Disaster"
↑ 8.0 8.1 8.2 8.3 8.4 8.5 Fate/strange Fake - Volume 4, Chapter 13: "At Last, a Second, and a Third"
↑

Waiting for a source