Also known as:
Hero of Charity
Son of the Sun God
Portrayals
Japanese VA:
English VA:
Appearances
Primary franchise:
Family members
Father:
Brother(s):
Arjuna
(maternal half-brother)
KarnaWP (カルナWP, Karuna?), Class Name Lancer (ランサー, Ransā?), also known as Lancer of "Red" ("赤"のランサー, "Aka" no Ransā?), is the Lancer-class Servant of Feend vor Sembren of the Red Faction in the Great Holy Grail War of Fate/Apocrypha. Shirou Kotomine assumes command over him before he even meets his Master, and through his machinations he later officially becomes Lancer's Master.
He is also the Servant of Jinako Carigiri in the Moon Cell Holy Grail War of Fate/EXTRA CCC. Under Jinako, he is called Launcher (ランチャー, Ranchā?) due to Jinako having had modified his status to a made up Servant class based on Brahmastra being a beam-like attack.
He is summoned by Ritsuka Fujimaru in the Grand Orders of Fate/Grand Order.
Profile
[
]
Identity
[
]
The Son of the Sun God (太陽神の子, Taiyōshin no Ko?), the invulnerable hero of the Indian epic MahabharataWP, as a hero on the vanquished side. The central conflict of The Mahabharata is the war over influence between the PandavaWP royal family and KauravaWP royal family. Karna became famous as the rival of Arjuna, the great hero of Hindu mythology.[3][4][10]
Childhood
[
]
Karna was born from the daughter of a human king, KuntiWP, and the sun god, Surya.[4][10] Kunti was the wife of the Kuru king PanduWP, but he was under a curse that prevented him from producing children, so his queens each had no choice but other methods to bear children. Kunti was a woman who had a MantraWP that allowed her to copulate with and bear the child of any god and, by those means, gave Pandu children, but before she became the king's wife, she tested the mantra and bore a single child. That child was Karna, the golden hero who was born from relations with the sun god Surya. Kunti was a determined woman and, afraid of her first birth and anxiety over whether the god would acknowledge his own child.[10]
« I want proof that this child is your son. »
(Kunti prayed to Surya.)
Surya heard Kunti's words and gave until the child, as he was born, his own power and attributes. As proof of being the son of Surya, he was given a golden armor and this is the source of the golden armor that made Karna invulnerable. Karna was born to become a great hero. Though she was shown such grace and faithfulness, Kunti abandoned her first son. For her, who was to become the queen of Kuru king Pandu, the existence of her son was nothing but unnecessary. This is how Karna, who was thrown away by his own mother, came to be ignorant of his own birth, but he lived with only the things he had been given by his father, the sun god Surya, held in his chest. Karna grew up with a low social status.[4][10]
The form of Karna, who didn't know his own mother's face and who questioned whether his mother was motivated by dishonesty, couldn't be called beautiful. Though he possessed his father's brilliant authority, his form was stained black. His countenance was cruel, and his every action was violent. Because of his lack of human mother, he didn't learn the subtleties of human emotion and spent his days being considered a nuisance by the people around him. That was how Karna was raised, but he didn't hate his mother or his surroundings. Instead, he accepted everything. His mother and father were the ones who gave him life so he thought that no matter what kind of person his mother was, he did not hold contempt for her, as if there is anything he had to hate was himself alone. In contrast to his appearance, Karna was an exceedingly virtuous and perceptive child. Possibly the cause of that was because, while he was the child of a god, he was also a child without a single relative. Karna was blessed with the opportunity to question the poor, their lives, and their value. As a result, he chose, of his own free will, the path where he persisted in his own fastidiousness. He believed that as he was born with more than people should display a 'proof of my life' greater than those of people, if he doesn't do so, the people without power will not be rewarded. What Karna had was simply the conviction to live without bringing dishonor to his father's authority and without shaming the people who compensated him. "Though he may be relentless and ruthless, he is also full of majesty," is Karna's stance given form.[10]
Adolescence
[
]
And Karna, who had grown to be a young man, participated in a conference of the KuruWP family. At this conference, the five Pandava brothers indulged themselves in the martial arts they were so proud of and so famous for. The third son Arjuna's skill at the bow was especially magnificent, to the point that he was praised as having no equal. When the grounds were united as one voice looking for someone to equal the Pandavas, Karna leapt up to participate and displayed martial arts of the same rank as Arjuna's. Karna challenged Arjuna to determine which of them was superior. But to challenge Arjuna, a member of the royal family, one must be higher than a KshatriyaWP (military or royalty) and Karna seemed to be a VaishyaWP (merchant class) or a ShudraWP (a servant). Karna, whose challenge was refused due to the difference in status, became a laughingstock.[10] The one who saved Karna in this situation was the eldest of the one hundred princes of the Kaurava clan, who opposed the Pandavas, DuryodhanaWP.[4][10] He became interested in Karna and made him a king at that place.[10]
This is how Karna was saved from disgrace, but his foster father, who had heard of his promotion, appeared and established his origins. The five Pandava brothers further ridiculed Karna, who displayed martial arts superior to their own, saying, "The son of a charioteer should have a sense of shame." These words enraged Karna. If it were about himself, he would accept and be resigned to anything, but he would not allow insults toward his foster father. Even if it was a foster father who announced himself out of greed, to Karna, he was the father who raised him, who Karna should take pride in. The antagonism between Karna and the five Pandava brothers had become something he could not step back from, but sunset had come and the curtain was drawn on the conference.[10] From then on, Karna, as the friend of Duryodhana, who saved him and treated him as a king, lived as a guest of honor of the one hundred princes of the Kaurava clan.[4][10]
Kurukshetra War
[
]
What awaited him beyond that was a cruel battle against the five Pandava brothers, and more specifically, against the great hero Arjuna. The antagonism between the Kauravas whom Karna entrusted his bow as a soldier and the Pandavas that Arjuna led intensified and finally became a war with their territory in the balance. That war is called the Kurukshetra WarWP, and that is where Karna's life came to an end. Karna continued to wield his strength so that the one hundred Kaurava princes, and consequently Duryodhana, would be victorious. On the Pandava side, the only one who could oppose Karna was Arjuna, but even Arjuna could only be resigned to the fact that facing Karna directly was death.[10]
Through several conflicts, pretexts, and mutual hatred, the war between this two camps arrived at KurukshetraWP. Things having reached this point, Karna's mother, Kunti, wagered one last gamble: to reveal his lineage to Karna and draw him to the Pandava camp. Kunti told only KrishnaWP, who was a friend of Arjuna in the guise of a normal person, of this situation, and the two of them went alone to meet Karna. Kunti revealed that she was Karna's mother, spoke how fighting with the five Pandava brothers would yield no benefits whilst weeping, and persuaded him that by fighting together with Arjuna, he would attain glory. Karna, without failing to show the friend of his arch-enemy Arjuna, Krishna, quietly listened to his mother's arguments.[10]
Afterwards he said: "I understand your words. To join hands with the five brothers and return to my proper form. That would be a story filled with light, without a single fault." Then, facing the rejoicing Kunti, Karna continued speaking in an even softer voice: "But I wish for you to answer one thing. Do you not feel that those words of yours were too late?" She was too late in declaring she was his mother. She was too late in looking back upon Karna. "If you do not feel that this is a shame, then please answer. You, who declare yourself my mother, if you yourself have done no wrong, then accept the past without feeling ashamed of yourself."[10]
While Kunti was a selfish woman, that was due to her natural innocence and simple-mindedness; she was most definitely not a shameless woman. She knew her own deeds, throwing away Karna, who had just been born, for her own sake, were full of selfishness and reproached herself for that. And for that reason, she possessed a minimum amount of pride. She could not tell to Karna, who had been raised alone until now, who was grateful to his foster family, who had never once embraced hatred toward another, a horrible lie. Kunti broke off the negotiation without answering.[10]
« That is a deception, a complacent love. The only one your love can save is you. Your love is directed at no one but yourself. But I shall answer that feeling. From here on, during the war, I will not kill any of the brothers who come to match me. I will only use all my power against my arch-enemy Arjuna. »
(Karna said this to Kunti, who stood with her head hanging.)
Karna swore not to lay a hand on the brothers of the Pandava family who were inferior to him in strength. The countless times Karna allowed the five brothers to go after this was due to this pledge. After that he concluded: "Return to the place that you obtained with your own hands. ...Though it was only once, I am grateful that you called me your son." Karna opened the castle gate and escorted Kunti out. That was the love that Karna bore for his mother, Kunti. It was not love for his mother at this late point in time but Kunti's resolution to raise "her feelings as mother" in the end... even if it wasn't genuine... That is what he answered. Kunti risked the danger of having her past come to light. To the hero of generosity Karna, such determination is worthy of compensation.[10]
And so, just before the final battle. Arjuna's father, Indra the Thunder God, who understood that Karna could not be persuaded, took the form of a BrahminWP, contacts Karna, and takes his golden armor. Though Karna had lost the property of being unkillable that he received from his father, he never said he would stop proceeding to the battlefield. He did not care that when he had lost his golden armor he had hastened his own death. Indra, who was touched by how gallant a figure Karna struck, asked why. Why did he continue to the battlefield, having lost his armor, but without reproaching Indra, who had hatched this scheme out of love for Arjuna?[10]
« There is no need to hate you. It is simply a matter of being a step ahead. In fact--yes. Though you are a god, you are also a father. Such a thing brings me joy. »
(Karna answered to Indra.)
Then why do you advance toward the battlefield, asked Indra, to which he was responded: "To me, defeat is bringing shame upon my father. Even though death awaits me, I cannot run away." That was how Karna always lived. To him, who lived his life with pride in those who gave him life and raised him, his life was not his own.[10]
« I owe Duryodhana a debt. For some reason, that impudent and timid man is so bright to me. It may be blasphemy against my father but, occasionally, I feel that sweet light is the warmth of the sun. »
(Karna)
It was not the fire of the sun that Karna carried nor the absolute brilliance of Surya; to Karna, the sun was the imperfect charm that humans displayed. Indra, who saw the divinity of Surya himself in that form, gave Karna his spear. He had taken from this noble hero something greater than his life. Unless he gave something as compensation, his honor would be stained; above all—he was charmed with him: if it were this man, he could wield the greatest spear, that Indra had not given even to his own son. After Karna sent off the Brahmin and having lost his armor (flesh), he headed to the battlefield, as thin as a ghost.[10]
Death
[
]
The final battle with Arjuna. Karna was already without allies; his charioteer, whom he trusted with his body, was already an enemy, in collusion with the Pandavas. He had a large number of heavy burdens, his feelings towards his younger half-brothers. Due to his curse, the wheel of Karna's chariot was stuck in a rut. The string of Arjuna's bow was drawn back to its limits. These brothers who, for a long time, were manipulated by an unseen destiny to compete for supremacy, could only in this moment strike one another with all their might and sure enough, Arjuna's bow shot down the sun.[10] However, Karna did not hate anyone and accepted his death.[4]
It is said that after his death, Karna became one with his father Surya. Called "the Hero of Generosity," he was a saint with the creed of not refusing when people came to ask or rely on him. The hero who, while possessing exceedingly high abilities, was within a tragedy where he was the enemy of his brothers by blood, received various curses, and lost his life without showing his true worth—that is Karna.
Appearance
[
]
He is described as a young man with long and white unkempt hair that almost appear transparent. His gaze is said to be sharp like a steel blade with the red stone buried in his chest similarly projecting an enthralling lustrousness. It is also specified that what draws the eye more than anything else is the set of golden armor that he has become fused with, giving off a divine radiance. While every single part is said to be beautiful in its own right, once combined with Lancer they exude far more ferocity than attractiveness.
Flower Coordinator (フラワーコーディネーター

?

) - Costume in Extella
Personality
[
]
His personality is cold and unforgiving. Although conversing with him may give the impression that he is indecisive and somewhat boring, in reality he is always deep in thought and has a loyal heart. He gives an impression of being cold and cruel because he believes that most things and events are "normal", and therefore he does not interfere. Due to this characteristic, he does not really have negative emotions such as hatred and jealousy. Because his behaviors target people's "true nature that should not be put to words", he is disliked by many.[4]
Karna's strongest weapon was his 'will'. Possessing a strong will and a strong heart, he was the Hero of Charity who had never resented a single person despite experiencing all kinds of misfortune. He was a man who had given things special than anyone else, but never once was treated special himself. Neither proud nor arrogant, he was a hero who merely carried out a way of life that would not shame the name of his father from the moment he was born to when he was finally shot down.
Karna would follow the orders of his Master with no particular objections. On the other hand, Karna is to put in the simplest term: a soldier. When commanded, he behaves as though the very concept of defiance does not exist. To the Lancer of Red, there is no liking or disliking to an order that has been given to him, to the point he will just ignore to consider how said order relates to the situation, as only the fact that he serves the Master who summoned him is what is really important. In other words, he does not raise objections about orders, as those thoughts have already been removed from his mind. Even so, he shows some small doubts regarding the elimination of Jeanne given her task to preside over the war, but he convinces himself that as defeating a Ruler would be a very difficult endeavor, that makes all the more reason why would be worth fighting her.
He has no wish for the Holy Grail, but he desires to battle Siegfried once more and to save his Master.
Relationships
[
]
Karna and Arjuna were brothers, then turned enemies.
Karna holds a mutual admiration with Saber of Black. Through their fight, they both realized that they're both very similar and experienced many trials. When Karna saw Saber's facial expression, he was suddenly filled with reminiscences. He compares Saber's gaze to someone he fought and acknowledged their battle was simply inevitable. Karna saw in Siegfried in the face of a pure warrior trying to carry out his duty even while feeling anguished by something. It seems it was similar to what he saw in the legendary bowman who he fought in the past.[11] In their duel, Karna experienced a feeling of exaltation was drawn, something Lancer had not felt in a very long time. Though Lancer talked mostly, he sensed that both he and Saber were enjoying this battle. Lancer felt he was lucky to encounter his first battle with Saber.
« We are both Heroic Spirits... madmen who walked our respective paths unto the bitter end even as we continued to fight. Not even gaining a second life and taking form in the present era will change our faith! »
(Lancer of Red thoughts while fighting Saber of Black.)
Role
[
]
Fate/Apocrypha
[
]
Beginning Stages of the War
[
]
Lancer is summoned by Feend vor Sembren as one of the Servants of the Red Faction. His Master, however, doesn't show himself, instead, acting through one of the other Masters, Shirou Kotomine. Shirou orders Lancer to eliminate Ruler as he views her to be his biggest obstacle to his plans. Lancer then faces Ruler on a highway, heading towards Trifas, where the Grail War will take place. Ruler is able to easily discern Lancer's identity, and also understand quite well that he possesses a pure and noble character. Lancer without hesitation draws out his spear, intending to kill Ruler in a single attack. However, he is stopped by Saber of Black and his Master, Gordes Musik Yggdmillennia. While Gordes attempts to have both Ruler and Saber to fight Lancer fail, Lancer declares that he had no issue with facing both Servants simultaneously.
« Hmph... so you were attempting to tilt the situation by having me face two opponents? Is victory the only thing you care for? How despicable - though I suppose that is also one form of warfare. It makes little difference to me. »
(Lancer of Red)
Ruler however refuses to participate in the battle, due to her role as the Ruler, leaving Saber of Black and Lancer to face each other alone. However, Saber is able to keep up with Lancer, due to his Noble Phantasm negating many of his attacks. Lancer and Saber to realize their similarities and recognize each other as worthy opponents. They battle until dawn and when they leave, they promise to battle once more. After returning from his battle with Saber of Black, Lancer unusually whispered with some slight emotion, "I'd like to fight with him again." Shirou had decided to respect his wish, as, in the first place, the only ones who could fight more than an even match against a formidable enemy like Saber were Lancer or Rider.[12][13][14]
Battle At Castle Yggdmillennia
[
]
Lancer later participates in the first large battle between the Red and Black Factions. He faces Lancer of Black, the commander of Servants of Black. Lancer of Black is able to match Lancer of Red's abilities with the advantage he gets from being in his territory and using his Noble Phantasm, Kazikli Bey, to an extremely dangerous degree.[15] Later in their fight, Lancer of Black even manages to pierce Lancer of Red from the inside with this Noble Phantasm. Lancer of Red, however, manages to keep up, utilizing both his armor and Mana Bursts to combat Lancer of Black. Towards the end of their battle, Lancer almost uses one of his other Noble Phantasms, Brahmastra Kundala, but ceases the battle once the Red Faction acquires the Holy Grail, returning to Assassin of Red's Hanging Gardens of Babylon.[16]
Confronting Lancer of Black & Shirou's True Identity
[
]
There, he, along with Rider and Archer of Red, face the Sevants of Black: Lancer, Archer, and Caster. Lancer of Red battles Lancer of Black, this time being far superior due to Lancer of Black no longer being in his own territory. However, the battle is changed when Lancer of Black's Master, Darnic Prestone Yggdmillennia, forces Lancer of Black to utilize his Noble Phantasm, Legend of Dracula and fuses himself with his Servant to form the Nameless Vampire. The Servants of both factions temporarily unite to eliminate this new threat, with their abilities boosted by the recently arrived Ruler's Command Spell. However, just when victory seems to near, all of the Servants of Red suddenly collapse, due to their contracts transferred from their original Masters to Shirou, who made the Masters of Red give him their Command Spells. Shirou also destroys the Nameless Vampire and reveals himself to be the Ruler of the previous war.[15] Unlike the Rider and Archer of Red, who are angry towards Shirou, Lancer is far calmer and agrees to listen to him. Caster of Black also joins them, believing the Red Faction to be far more helpful to his goals, while Archer of Black and Ruler leave.[17]
Joining Amakusa Shirou's Camp
[
]
Lancer is later shown alongside the other Servants of Red, discussing with Shirou about the contracts of their alliance. Lancer agrees to help Shirou and do as he commands, on the condition of being allowed to face Saber of Black, now residing in the body of a homunculus named Sieg, again, which Shirou agrees with.[18]
The Final Battle
[
]
During the assault on the Hanging Gardens by the Black Faction and Ruler, Lancer is seen defending the Gardens, engaging Rider of Black and his Master, Sieg. In order to give Rider the opportunity to destroy the defenses of the Gardens, Sieg engages Lancer alone, transforming into the Saber of Black. During their battle, Lancer notices Caules Forvedge Yggdmillennia and interrupts the battle to talk with him. He asks Caules to take the former Masters of Red to safety, wanting to protect them out of honor. Caules agrees in return of Lancer promising to not kill Sieg if he defeats him. After this, Lancer and Sieg continue their battle, with the former telling the latter that he will give his all due to his promise to Saber of Black. In their battle, Lancer utilizes his full abilities, using all of his Noble Phantasms. In the end, he finally uses his strongest Noble Phantasm, Vasavi Shakti, that forces him to give up his armor in return for gaining the incredibly powerful spear used by Indra, the King of Gods himself. However, the attack is blocked by Rider of Black, who uses Akhilleus Kosmos, a Noble Phantasm given by Rider of Red, that creates an entire world as a shield. Using this opportunity, Sieg attacks Lancer of Red and delivers the final blow to him. Sieg shows his respect by saying that it wasn't his victory alone and that even if they were enemies, Karna treated him as a person. Karna responds that's normal for a Heroic Spirit, showing his considerate character and saying to Sieg that he won because he is a living person with a goal, unlike a shadow from the past like him.
« That's a given for Heroic Spirits. We are no more than shadows from the past, you people living in the future, no matter the Heroic Spirit... you're all a treasure. We fought in the past for the sake of this future. »
(Lancer of Red)
Lancer then warns Sieg about Jeanne being in danger as she is about to face her worst possible matchup, Caster of Red. Once Karna starts to fade, Astolfo pays Lancer his respects, as he was the Hero of Charity who behaved like a true Servant until the very end. Despite being defeated, Lancer is satisfied by his fate, having been given a chance to face a worthy opponent and fulfill his promise to Saber of Black and save his original Master in the process, so he dissapears with a smile asking Astolfo to take care of Sieg.
Fate/EXTRA CCC
[
]
Karna formed a contract with Jinako Carigiri during the Moon Cell Holy Grail War on the Near Side. Though she was technically disqualified during the early rounds, Jinako stayed within her room and avoided deletion because the system would not delete participants in that location. She was still ultimately doomed once the Holy Grail War would be completed and everything besides the winner was to be deleted, so Karna gave her his armor to allow her to return to the real world due to the nature of the sun overwhelming that of the moon. They were brought into the Far Side by BB along with the other remaining Masters but Jinako is one of the few masters who retained their servants. It was generally thought by others that Karna is a Lancer class. Hakuno Kishinami can interact with Karna only when Hakuno enters Jinako's room.[19]
When Hakuno Kishinami picked up the fragment data, a confused Jinako ran away somewhere in Sakura's Labyrinth. She recovered parts of her memories and complained about Karna's late rescue. Karna could not fully materialize himself due to lack of mana.[20]
Julius B. Harwey also appears but he distracts Jinako and Karna while BB's shadow devours Jinako. Karna helplessly watches as Jinako is devoured by BB shadow and is forced to help BB's cause.[20]
When Hakuno and the servant faced Karna for the first time in the 10th floor, Karna overpowers them. Jinako reveals that Karna has been placed under a special class known as Launcher. After Hakuno collected Jinako's first SG, Karna teleported away.[21]
After collecting all of Jinako's SG, Hakuno must dive into her mind to face her and Karna. Karna expressed that he is grateful of Monji Gatou when he sacrifice himself to save Jinako. As a loyal servant, he fight Hakuno's servant. After his defeat, he can be encounter in Jinako's room.[21]
Before the school was deleted, Jinako was hiding in her room with Karna. Jinako screams as she thinks she is about to die again. Karna revealed to Jinako that she didn't die in the Moon Cell Holy Grail War and she was saved thanks to his golden armour. Surprised with this statement, Jinako asked why he didn't say anything. Karna said he was waiting for the right timing and asked if Jinako wants to return to the real world. Jinako cries out saying she wants to return. Listening to her answer, Karna was happy that he interfered for her sake. Karna draws out his spear and cuts the space leading them to a different area, an exit for Jinako.[22]
Jinako notices Karna's body to fade and he says to Jinako that regardless of breaking Moon Cell's rule, this would be his fate. Jinako ask why he is willing to save her and Karna replies that he serves her regardless of what kind of person she is. As Jinako cries, Karna ask if he did anything wrong and Jinako says nothing is wrong but she claims Karna to be an over protective father. Jinako thanks Karna for what he done for her and bids farewell before she made Karna depressed.[22]
Karna starts flying away and wishes Jinako to live and he believes that there is someone waiting for her out there before disappearing.[22]
Fate/EXTRA CCC Foxtail
[
]
Gawain fought against Meltryllis and Passionlip when they invaded the school. When the fight appears at a disadvantage, Karna helps Gawain. They teamed up and cut down Passionlip.[23] Karna was present in Jinako's room when Hakuno first went there to ask for her help.[24] Karna was later defeated by Gawain.[25][26][27]
Fate/EXTELLA
[
]
Karna returns as a playable character. He is second in command of Tamamo-no-Mae's party, with the members being Tamamo herself, Elizabeth Báthory, Medusa and Lu Bu. He is a Top Servant that Tamamo recruited after finding SE.RA.PH summoned him. If questioned by others regarding Tamamo's cruel personality as a ruler, he see through her, and claims she is just a girl in love. So long as she is with Hakuno, her path will be the right one.
Flame Poem
[
]
When Nero Claudius invades Mare Luxuria, Karna challenges her to combat, though Elizabeth interrupts him. He eventually does fight Nero, but she defeats him.[28]
Orchid Words
[
]
Karna enters the throne room, having heard Hakuno has awoken, and wished introduce himself. Tamamo introduces him as one of her generals, praising him highly. The next day, Karna reports Nero's forces have yet to conquer Mare Mellum entirely. He calls the unclaimed sectors, Neutral Sectors, and advises seizing them before the enemy does.
When Alter's forces arrive, Karna, Medusa, and Lu Bu struggle against them to prevent conquering more of Tamamo's territories. He later reports to Tamamo that an enemy Servant destroy territory he was guarding. Reaffirming the enemy Servant will destroy everything, he reveals they've established a base in Mare Origo. He continues that so long as that Servant is there, the enemy will have the advantage in firepower. He puts their chances of defeating the Servant at fifty-fifty if they can get to him. He then reveals the enemy Servant to be Gilgamesh.
After Tamamo returns from defeating Gilgamesh, Karna reports Gilgamesh's defeat saved a portion of Mare Luxuria from his bombardments. He advises Tamamo to use the Regalia to see all of SE.RA.PH, where upon she realizes Altera's forces are attacking on two fronts. He confirms that while Gilgamesh was bombarding Mare Luxuria, another force was attacking Tamamo's territories. He continues Lu Bu is currently pursuing that other force. After Tamamo tells him and Medusa to rest, Karna praises Mare Luxuria for its flowers and revelry, and says he's honestly had wonderful time before leaving.
Dawn
[
]
Karna, along with Tamamo and Medusa, invades Mare Origo. He later fights Altera, and his defeat forces Tamamo's remaining forces to retreat. The next day, he helps defend Mare Luxuria against Altera's forces, but he's defeated again.
Golden Poem
[
]
Karna, along with Medusa and Lu Bu, invades Mare Aurum. During the invasion, he faces off against Gawain, but he's forced to retreat when Nero helps Gawain. Later he fights Nero again, but she forces him to flee once again. After Medusa and Lu Bu leaves, Karna tells Hakuno and Nero that Tamamo refuses to let any close enough to her to negotiate. He reveals the invasion was to test the strength of Nero's forces, and also to stop Lu Bu's rampage. He then gives Nero Mare Luxuria's coordinates and reveals Tamamo also possesses the Regalia. He also tells Hakuno that there's another of them at Tamamo's side, and realizes they aren't surprised by his words. Karna then decides to stay in Mare Aurum to watch Nero's deeds.[29]
During the meeting between Nero and Tammamo and their generals, Karna is surprised by the speed by which Altera's forces are conquering SE.RA.PH. He also commends Gawain's combat prowess during their battle.
After Nero destroys the Ark of the Stars, Karna explains to Medusa that Nero's actions not only ceased the activity of Velber's forces but also stopped the Zero Dark. He is impressed Nero was able to get the gods to alongside her.
Fate/EXTELLA LINK
[
]
Karna is now a member of Karl der Große's party. He fights Charlemagne and then retreats.[30] On day 2 he fights Hakuno's party again. This time buffed by Gilles de Rais.[31] He is defeated by the combined efforts of Arjuna and Charlemagne.[32][33]
Fate/Grand Order
[
]
Arjuna & Karna Trial Quest
[
]
Karna confronts Arjuna, whose amnesiac, after the latter told Ritsuka he lost his thirst for battle. He tells him that he isn't unafraid of death, rather he accumulated so much glory so easily that he grew tired of life. He refuses to let Arjuna to take such a path, calling him the only person he cannot accept. Arjuna fires at Karna, unable to stand his presence. Karna is elated to see such a reaction, saying such righteous anger is more fitting for Arjuna.
After the two battle, Karna asks Ritsuka to guide Arjuna. He warns he will be their enemy if Arjuna remains at their side. The reverse is also true. Karna notes how a hated enemy is a necessary ingredient of myth. He leaves saying he's truly used to playing that part.
Fifth Singularity: E Pluribus Unum
[
]
Karna is part of the American forces serving under Thomas Edison that oppose the Celtic army. Edison asked for his help, which he accepted because the former reminded him of his friend.[34]
He attacks Ritsuka's party after they destroyed Helena Blavatsky's robot entourage. Mash blocks it, but the resulting shockwave knocks her and the others out.[35] Karna joins Helena as she transports the group to Denver so Edison can convince them to join him. The group eventually reaches Denver, where a castle was built when the Celts took the White House. Karna stops Florence Nightingale from charging inside with her gun ready. He warns that temporarily defeating an enemy here may cause a greater evil to prosper. She lies she won't use her gun, so Karna monitors her. He tells Helena to do the same for Ritsuka and Mash.[36]
Inside the castle, Edison asks for Ritsuka's aid in defeating the Celts. Before he took command, the Celts outnumbered the Americans. But he also reveals he will use the Grail to create his ideal America on a different timeline. This act could destroy the other eras. Nightingale tries to attack Edison, but Karna restrains her. Edison then gives Ristuka three minutes to decide. Ritsuka refuses to join, so Edison has his robots subdue the group. Overwhelmed by the sheer number of robots, the group is sent to the underground prison.[36]
Karna later appears to stop the group from escaping with Geronimo. Neither of them wished to meet each other under these circumstances. Karna then fights the group, not letting the mechanized infantry interfere. He is defeated, and the group escapes. He stays with Edison since he asked for his help, but he wonders what can be done to avoid a catastrophe.[37]
When the group return to Denver to confront Edison, Karna bars them from going any further. After explaining his loyalty to Edison, he fights the group. Edison soon orders him to return to the throne room.[34]
There he fights the group again with Edison and Helena. They're defeated, but Edison refuses to give up and tries to drink an elixir to transform himself. Karna throws it on the floor, however, refusing to let Edison continue on his current path. Nightingale informs Edison that the Celtic army is infinite while his is limited. It is then revealed that Edison's tyranny resulted from his mind being affected by accumulated thoughts of the presidents entrusting him with America's future. As Edison struggles about what to do now, Karna tells him he was heading towards the correct location even when lost. He calls him a light shining onto the world for using inventions to save others, unlike other heroes who saved others by slaying something. Edison apologizes to Karna and Helena for his behavior and joins the group.[34]
Later, the group strategizes on how to defeat the Celts. The Celts will be invading Denver via the northern and southern routes. If they conquer any more of America, then the era will no longer withstand its separation from reality and collapse. The group decides with a two-prong attack with two armies to attack along the northern and southern routes. One to hold off the Celts while the other breaks through to the White House. The group leave the decision of what Servants will go with what army to Ritsuka.[38]
Ritsuka announces their decision the next day. The north army will have Elizabeth, Robin, Edison, and Helena, while the south army will have the others. The north army then departs to await the battle three days from now at dusk. Before leaving, though, Edison thanks Karna for his help. Karna asks Ritsuka to let him lead the vanguard so he can get Arjuna's attention. He then leaves with the vanguard before the others.[38]
As the south army arrives in Montgomery, Karna informs them through Mash that his vanguard defeated an enemy vanguard yet a few broke through.[39] His unit comes to the south army's aid when they're confronted by Arjuna's forces. Before their fight, Karna asks Arjuna to save the world if he is victorious in their battle. The half-brothers fight until Cú Chulainn Alter suddenly impales Karna with Gáe Bolg. He uses the last of his strength to launch Vasavi Shakti at Cú Chulainn Alter while he's distracted by Merlin's illusion. It wasn't strong enough to kill him though, and Karna disappears bidding Ritsuka farewell.[40][41]
Event: Sanzang Coming to the West
[
]
Karna and Arjuna are underworld guardians meant to be Xuanzang Sanang's final trial to restore her lost enlightenment.
Summer Event: Chaldea Summer Memories
[
]
Karna and several other of Ritsuka's Servants are accidentally rayshifted to a remote island where they're unable to contact Chaldea. He laments how crabs can only walk sideways, yet admires how they look their opponents in the eye as something all martial artists should learn from. He then calls hermit crabs mobile shut-ins for carrying their homes on their backs, believing Jinako should learn from them.
As everyone waits for Blackbeard's observation report of the island, Karna tells a bored Tamamo-no-Mae that all her dreams are about to come true, directing her to look at the shore. Tamamo is disappointed when it turns to be more giants crabs. After the crabs are killed, the group learns from a near-dead Blackbeard that their location is still unknown, and it's nearly impossible to leave by ship.
At the group barbecue, Sasaki Kojirou whispers to Karna, asking him to use his eye beams on the meat. Karna does as asked, but the meat is charred. He apologizes for miscalculating the temperature.
If Marie Land is built, Karna stops on top of the elephant slide. He doesn't know why he finds it calming.
When the men's secret village is discovered, Karna declares he'll shred the bassline like a wild beast and shred Ritsuka's enemies after Cú Chulainn says they'll make great tunes if he were to go wild on the bass. He doesn't understand it was a joke Cú Chulainn made in response to Ritsuka pointing out the village's name, Backspear Village, is similar to a certain band.
If the iron fortress is built, Karna stops a ceiling trap by propping it up with his spear, but he can't move
He later helps defeat the giant demon boar when it appears as construction for the escape ship is nearly complete. He compares the intimidation of its body to that of Varaha. After the giant demon boar returns and is seemingly killed, everyone boards the ship and sets sail.
Summer Event: Chaldea Heat Odyssey
[
]
During a storm, however, the men are thrown overboard. Karna and Sasaki eventually washed back on the island after 2,000 years passed there. Beowulf saves them from being nearly eaten by demon boars. To thank him for his hospitality, Karna and Sasaki agree to be his subordinates.
When Ritsuka, Mash, and Martha come to his ruins lair, Beowulf has Karna and Sasaki bar the group's way to him. Karna explains his and Sasaki's orders to the group, suspecting Beowulf wants to test the group's abilities. After the fight, Karna and Sasaki bring the group before Beowulf. Martha defeats Beowulf and frees the boar piglet he held hostage.
Later, Karna, Sasaki, and Beowulf join the others as they prepare to escape the island. As they do, they're contacted by Romani Archaman. They learn they were only gone for an hour before rayshifting back to Chaldea.
Final Singularity: Solomon
[
]
Karna is amongst the "E Pluribus Unum" Singularity Servants to aid Chaldea against the Demon Gods Pillar.[42]
Valentine Event The Bountiful Chocolate Gardens of Valentine
[
]
Karna helps plant cacao trees to produce more chocolate. He feels as if he, Cú Chulainn, Diarmuid Ua Duibhne, Vlad III, and Bazett Fraga McRemitz were once together in a different world upon seeing the materials that Cú Chulainn provided Diarmuid to build scarecrows with are Craft Essences depicting Bazett.
Later, he, Cú Chulainn, Vlad, and Diarmuid find themselves unable to harvest cacao plants crossbred with mandrakes thanks to its scream. Semiramis told them the plants must be harvested today, as they'll likely wilt by tomorrow. Cú Chulainn go gets Nero Claudius and convinces her to sing by saying music helps plants produce a greater yield. With Nero's song countering the screams of the cacao mandrakes, and their ears protected by runes, the Lancers are able to her harvest the plants. Everyone soon finishes and Nero leaves, satisfied that she could help. Karna however points out that they have another field to harvest. Cú Chulainn leaves to go get Elizabeth Bathory.
Event: inheritance of Glory
[
]
Following the conclusion of the Great Holy Grail War, Darnic Prestone Yggdmillennia, still fused with Vlad III, remained in the Greater Grail. Stilling wishing to acquire the Grail, he manifested mindless replicas of the war's participating Servants (except the Rulers) to fight endlessly in a recreation of the war inside a recreation of Trifas.[43][44]
Karna defends the Hanging Gardens of Babylon when Ritsuka's party comes to assault it at night. He effortlessly breaks Avicebron's shield protecting Fafnir (Sieg) and keeps blowing away Jack the Ripper's mist. Fortunately for them, Karna is struck into the Gardens by Mordred and Frankenstein, who launched themselves from the ground with an amplified Mana Burst. Inside, Karna joins Semiramis in fighting Ritsuka's party. The two are defeated and rematerialize with a sense of will thanks to Sieg's influence when morning comes. Semiramis then guides everyone to where the enemy resides, the Grail's chamber.[45][43]
At the Grail's chamber, the group meets Darnic, the mastermind behind the recreated Great Grail War. Sieg explains who and what Darnic is. He tries to convince him to surrender, saying a broken Grail cannot reach the Root nor activate the Third Magic. Darnic refuses and reminds the group that he already controls 87% of the Grail. He declares that as long as he possesses the Grail, none of them will ever disappear, but they will once he's gone. He then proposes using the Grail to incarnate them if they agree to join him. But they all refuse his proposal on their own principles as heroes. Expecting that to be their answer, Darnic connects to a replica of the Grail that emerges from within the Grail to Sieg's shock. He then fights the group by having the replica Grail continually spawn replica Servants.[43] The group struggle at first since the replica Grail is using their class affinities against them, so they decide to do the same.[46]
After the replica Grail is destroyed, Darnic refuses to give up when he's struck by Kazikli Bey from the supposedly sealed Vlad. Unlike the others though, he retained his memories of the Great Grail War due to Darnic fusing with him during it. He eventually convinces Darnic to accept that his broken dream can never be recovered. After Darnic and Vlad disappeared, Semiramis teleports the group back to the ground.[47]
On the ground, Karna prepares to leave, claiming he has nothing left to say. Ritsuka asks if it's because saying goodbye would make him sad. Karna disappears, wondering if he's that easy to read.[47]
Yuga Kshetra: Genesis Destruction Cycle
[
]
Rama and Karna are summoned together by Ritsuka with the Spirit Origin briefcase. Neither of them recognizes the topography and feels the air is dry and exhibits a feeling of loneliness. Sherlock Holmes asks them about the Cube that Chaldea observed, but only Karna has a vague feeling of seeing it before. While investigating, Rama, Nezha, and Karna notice they're not at full strength after slaying a pack of wild beasts.[48]
Ritsuka's party proceeds to a nearby town, Bichu, where they meet Asha and her dog, Vihan. Her father, Ajay, brings her and Vihan into their home when the Kali attacks the town. As the group slays the Kali, white creatures arrive and target the Kali before turning their attention towards the group. After slaying the creatures, the group is banished by the town elder, Prakash, for slaying the Holy Beasts and the Kali, calling them God's messsengers.[48]
In the nearby plains, Ritsuka's party search for a place to camp when they noticed Asha has followed them to thank them. They learn epics like Mahabharata don't exist in the Lostbelt when Asha doesn't recognize either Rama or Karna's names. Asha then suggests the group camp in a cave she plays in and offers to guide them. She refers to the Cube as God's Skyboulder, believing God created it. The townsfolk dare not approach its location due to the Kali. Asha reveals the Kali appear more frequently when the Kali Yuga approaches, which is tomorrow. After the Kali Yuga, everyone will be killed by God, but those loved by him will be resurrected for the new Yuga.[48]
Later, after camp is set up, Asha explains the Lostbelt's Yuga Cycle. She also explains the Kali increase in number depending on the current Yuga, and those killed by them lose God's blessing. She then recalls a self-proclaimed god came to her town a few days ago before heading to the mountains. The group decides to investigate, suspecting the person is a Divine Spirit and a Stray Servant. Karna then ensures Asha returns home safe. After Karna returns, Rama hopes the self-proclaimed god is Sita, especially since she's Lakshmi's avatar. Karna tells him not to get his hope up since the god could easily be of another panthenon.[48]
Ritsuka's party search the mountains with Nezha searching from the air. Karna soon senses something whose intentions he cannot discern. He tosses his spear in its direction, grazing Scandinavia Peperoncino. The group speak with him when Nezha suddenly crashes before them and disappears. Her killer, another Nezha, then arrives and attacks the group. However, despite overwhelming them, she leaves upon spotting Peperoncino. The group eventually finds a talking elephant god statue that attacks them. Karna breaks the statue to reveal Ganesha inside. They both recognize the other and ask each other what they're doing in the Lostbelt. Karna however finds it strange he said that since he never met her before, yet he vaguely feels they were friends. Ganesha refuses to help the group and goes back into the statue. Ritsuka's party removes her from the statue by force. Afterwards, Ganesha confirms it's been five days since she came to Bichu while it was peaceful, and she agrees to help.[49]
The next morning, the group travel back to Bichu. However, they notice the environment has become completely desolate within a single day. They eventually return to Bichu to find it completely destroyed. They try to protect the survivors from an increasing number of Kali when Ashwatthama suddenly appears. As he fights the group, the other Nezha, William Tell, and Asclepius arrive.[50] William points to the approaching Vimana with God Arjuna, the sole god in India, riding it. God Arjuna calls Chaldea and their allies failures and begins gathering energy for Mahāpralaya. Karna tries to challenge him to combat, but God Arjunga ignores him. Rama throws Brahmastra at him, only for it to bounce off harmlessly. Kama and Karna prepare to fight God Arjuna when Peperoncino arrives and advises against it, calling God Arjuna an amalgamation of the Hindu gods. Peperoncino tries to help the group escape when they're confronted by Ashwatthama. He reveals he was Peperoncino's former Servant, but now he is one of God Arjuna's Lokapala. Karna eventually hits him with Vasavi Shakti in the ensuing fight, and the group escape without finishing him off. Peperoncino warns them that God Arjuna has been preparing to destroy everything in the Lostbelt and then remake it. They reach the Border when God Arjuna initiates the restart. Karna exits and uses Kavacha and Kundala to protect the Border from God Arjuna's Mahāpralaya. Though he doesn't understand it, he is confident he will meet everyone again. He asks Ganesha to take care of Ritsuka for him before he is erased.[51]
When Ashwatthama uses Mahākāla Shakti to send Ganesha and Lakshmibai back to the beginning of God Arjuna's rule to become God's Skyboulder to prove God Arjuna's fallibility, he also enters the place where God Arjuna sends the "evil" he erases to meet Karna there. Ashwatthama wants them to leave immediately before they're torn to shreds, even though time is meaningless in this space. But Karna wants to train so he can face God Arjuna on even ground out of respect and despair for the hardships his brother went through to reach his current state. Ashwatthama accepts, and the two spare countlessly until Karna is at last satisfied. Ashwatthama then relinquishes his body and Spirit Core so Karna can return.[52]
Upon returning, Karna addresses Ganesha as Jinako Carigiri and commends her for how she's grow in the time he was gone. Ganesha responds with a smile and tears of joy.[52] Through Ashwatthama's Spirit Core, Karna knows almost everything that has transpired since his absence. Seeing him, God Arjuna descends to face Karna. He asks Karna why he opposes him, as they had both witnessed the Kurukshetra War. He declares his purging the world of "evil" as just, claiming his world is right. The end of final yuga then approaches something God Arjuna believes heralds the beginning of a world of harmony and peace. Karna refuses to say anything about his brother's world since he never witnessed, instead he'll let those he trusts speak for him. After Ritsuka and Sherlock reject God Arjuna's world, Ashiya Douman arrives. Following a battle between Ritsuka's party and God Arjuna and Douman, Karna sees he cannot harm God Arjuna, even with Shiva's power. Then in response to God Arjuna's boasts of perfection, Karna asks his brother why he absorbed the gods in the first place. He believes God Arjuna truly wanted to create a just world, but he knows Arjuna would never choose such an inhumane path. He therefore deduces Arjuna's inner qualities were inverted somehow, calling God Arjuna the result of his greedily consuming the gods. So he doesn't see God Arjuna as a perfect god, but a man who is both Arjuna and not Arjuna. Karna's words anger God Arjuna, but Douman convinces him to retreat.[53]
Ritsuka's party follows God Arjuna in the Border to Fantasy Tree Spiral when they're stopped by the Sea of MilkWP. Captain activates his Noble Phantasm to transform the Border into the Nautilus to cross the poisonous waters, revealing himself to be Captain Nemo.[53]
Reaching landfall, Ritsuka's party arrives at Spiral. Rama decides to give his Brahmastra to Karna, adding that his utter lack of fame in the Lostbelt makes it impossible to fight at his full strength even without Krisha's curse that he absorbed from Ashwatthama. Karna replies the lack of fame affects him as well, but Rama points to Ganesha as the one person who knows in her soul Karna's heroics. Rama then gives Karna his Brahmastra to grant him Vishnu's power, imploring Karna to save Sita in his place. Taking Shiva and Vishnu's powers as his own, Karna's Saint Graph transforms. God Arjuna and Douman then appear. God Arjuna is delighted to learn that Karna has both Shiva and Vishnu's powers, and believes he is becoming a perfect god like himself. Karna refutes this by saying neither of them is close to being perfect gods. He then points to God Arjuna's fixation on his name as proof that his brother is still human deep inside. Douman then fully activates Spiral. God Arjuna absorbs some of its power before fighting Karna. He questions his own infallibility though after Karna asks him if he ever looked at his own faults, losing his perfect godhood. Despite all of his power, he loses to Karna because he stopped being a god recognized by the people. He realizes the contradiction of wanting to destroy all evil while his evil, his obsession with Karna, remained in his soul. Karna calls God Arjuna a victim of the Lostbelt, but he doesn't pity him, only feeling shame that he couldn't defeat the ordinary Arjuna. He recounts how Arjuna always sought completion, but he feels having nowhere left to go upon reaching completion to be woefully incomplete. God Arjuna realizes from Karna's words that he was a walking paradox from the beginning. He then disappears, disappointed he couldn't be the one Karna wanted to face.[53]
To the shock of his allies, Karna declares he will betray them when Peperoncino decides to defend Spiral. He then returns Brahmastra to Rama after getting him to realize Krishna's curse disappeared with God Arjuna. Now back to his original state, Karna confesses he spent all his magical energy in his fight with God Arjuna. Only through sheer force of will does he remain. Karna then joins Peperoncino and readies to return his body and Spirit Core to their original owner. Ganesha tells him that she plans to return to her regular NEET self once everything is over. Karna tells her however to use the opportunity now afforded to her as god to go out and experience new things. Though this is goodbye, he feels the two of them will fight together again, as long as she remains Ganesha. Ganesha dislikes the idea of fighting again though and bids Karna farewell. Karna bids her farewell as well and returns Ashwatthama's body and Spirit Core to him.[53]

Other appearances
[
]
He also appears in Chibichuki!.
In Type-Moon's April Fools' Day 2015, Lancer is in a group called YARIO and is part of the Imperial Roma talent agency, his class is Farm Idol Unit (牧歌的アイドルニット, Bokukateki Aidorunitto?).

Abilities
[
]
Karna is the "Hero of Charity", one of the most powerful beings in Indian mythology.[54] Even the thunder god Indra had no other choice but to devise an intricate scheme in order to send him to his grave.[15] As the great invulnerable hero of the Indian epic Mahabharata,[3][4] Karna is famed as the rival of Arjuna, the great hero of Hindu mythology.[4] Ashwatthama is also famed as being equal if not superior to Karna, to which he agrees saying that even while he was receiving the teachings of his teacher Drona, it wasn't like he was the strongest warrior around at all.[51] Based on his strength in life, the great hero Karna was truly exceptional, and his name has been echoed in every corner of the world.[13] Despite Karna nerver having been openly recognized when he was alive due to many prejudices,[3] Sherlock Holmes states that his heroic deeds were so great, that it is no exaggeration to say that in the India from Proper Human History, there is not a single person who has not heard his name.[48] He says the same about Rama,[48] who according to Geronimo, is another hero who at full power would be an equal match to Karna.[55][56] Karna along with Rama, Arjuna and Parvati were Da Vinci's top choices of which Servants she would have liked to summon in the Indian Lostbelt with the Spirit Origin graph. Even without the home advantage, he and Rama would still remain among the best servants she could have hoped to summon in India.[48] No matter if his fame was equal to zero, Karna was unmistakably a great hero.[16]
Although Karna was a great hero, he was not known to possess a spear, instead he was famed for riding a chariot and using a bow, as such he is a warrior who is praised for functioning as an Archer and Rider simultaneously.[57] As a Heroic Spirit, Karna has qualifications to be summoned in the Lancer, Archer and Rider classes.[3][4] As a Lancer, he boasts the power level of "Special" A rank,[58] and he contends for the highest place among all Servants.[3] Karna is one of the seven Top Servants summoned by the Moon Cell, and Hakuno Kishinami regards him as a strong hero even among those standards.[33][59] In fact, Karna is a high-class Heroic Spirit said to be on par with Gilgamesh,[58][60][61] and Romani Archaman states that the readings of his Saint Graph are off the charts.[35] Having a nature related to the Sun just like Cú Chulainn and Gawain, Hakuno estimates that Karna must be on their level in power.[29] In fact, Hakuno Kishinami, Leonardo B. Harwey, and BB all regard Karna and Gawain as Heroic Spirits on the same power level, able to equally match each other.[19][21][24][27][29] Therefore, the only factor that gives either of them an edge is the difference between their Masters.[21][27] Due to this, in Fate/EXTRA CCC where Karna is summoned under a third-rate Master, BB had initially assumed that Gawain, just like Karna, would pose no threat to her. However, when Gawain finally faced her, his incredible firepower far surpassed her expectations. She speculates that it must have been due to the difference in the power of their masters.[21] Being strong enough to match Gawain, Rin states that Karna should be strong enough to deal with Passionlip. Even BB was worried of him, and she claimed that if Gawain and Karna joined forces, even she would be overwhelmed.[20] In Fate/EXTELLA, Gawain stated that Karna's Magical Energy was very similar to that of his Noble Phantasm Excalibur Galatine, and that it must have come from a very powerful servant who draws strength from the sun just like him. He warns Nero Claudius to be worry of him, saying that his flames could singe even her.[28]
During the Great Holy Grail War, Karna was the undisputed strongest alongside Achilles.[57] Jeanne d'Arc estimates that Achilles boasts power and ability that rivals Karna, who she considers to be dangerous beyond compare.[13] Shirou Kotomine also states that Achilles could match Karna,[14] and confirms that Karna possesses the strength necessary to opose Vlad while empowered by a fame boost from the fight taking place in his home country, thanks to possessing power which exceeds even said fame. After Mordred learned that, she considered the possibility of her Father being the servant Shirou was talking about. Compared to the other servants of the Red Faction - putting aside Mordred who was operating independently - both Karna and Achilles were truly umparalleled.[12] As such, it is truly a case of two star players in a single team.[11] Semiramis is not far behind, as it is noted that she could probably put up a good match against Karna, with the strength of her mysteries.[62]
Although the Heroic Spirit Karna is unmistakably top class, his Magical Energy consumption is quite bad. Karna isn't capable of maintaining his Mana Burst (Flame) for more than ten seconds with his golden armor continuously active, along with the divine spear he wields. A normal Mage probably wouldn't be able to move even a single finger while supporting him. Even a first-rate Master would be exhausted to the point that they couldn't use their own Magecraft.[15] Although this is very unlikely, but if there is a Master who cannot win even after forming a contract with this Servant, that would be a human with top-ranking hopeless nature, unsuited for combat.[3] During the second half of the Great Holy Grail War, Amakusa Shirou Tokisada, who was directly connected to the Greater Grail, became Karna's master.[17] This granted Karna an abundant mana supply, allowing him to utilize his full power at full throttle, unlike anything seen previously.[11]
Combat
[
]
Having stepped so far into the realm of Gods,[14] Karna boasts great martial prowess.[4] Karna is extremely confident in his abilities, and claims he'd have no trouble in fighting both Siegfried and Jeanne d'Arc simultaneously. He speaks not out of haughtiness or arrogance, because to him, it is a simple truth that he cannot be defeated.[13] Karna's combat strength is equal to that of multiple first-class servants working together. Whereas it took a team comprised of Mordred, Sieg, Chiron, Jeanne d'Arc and Astolfo perfectly following a coordinated tactic to defeat Avicebron's Adam, it is noted that Karna or Achilles should be able to face a giant such as this head-on and achieve victory with ease.[17] Despite this, within the Hanging Gardens of Babylon where Semiramis' power and Authority is truly absolute, Semiramis would be able restrain Karna with just a single wave of her hand.[63] Vlad III in his Legend of Dracula form was also strong enough to punch Karna, sending him flying into a wall. Although the damage of his punch was insignificant to Karna thanks to his armor, he was surprised at how he had managed to overpower him with just his overwhelming physical strength alone.[16]
Karna is extremely quick-witted and agile, although even inside the Hanging Gardens of Babylon, where the fame of all Servants besides Semiramis is reduced to zero, Karna is still said to be one step slower than Achilles.[16] Lancer's spear is a massive length of iron, which he utilizes its sharp tip and immense weight to bring about destruction.[14] Having a long range with his spear naturally slows the speed of the attack, as a small amount of time is lost with every thrust as the spear must be pulled back. However, even Siegfried, whose swordsmanship has long surpassed mankind, was unable to completely defend himself from Karna's assault. Although he managed to ward off the spear's barrage by maneuvering his sword with the smallest possible movement, and by closing the distance one step at a time, Karna managed to strike Siegfried seventy-eight times in different vital points every single time. Thanks to Karna's immense physical Strength and transcendent technique, each of his strikes pack destructive force equivalent to an A rank attack. Although Siegfried's arms should have been torn apart, and his eyes gouged out, thanks to Armor of Fafnir, they were all registered as shallow wounds that could be healed in an instant with Gordes regenerative thaumaturgy. Once Siegfried stops acting careless and relying solely on his armor, he is able to match Karna blow for blow. Every attack was met by its opposite, entwining together and scattering into sparks. The superiority of Lancer's technique still exceeded Saber's by a slight degree, but Saber was tougher in body.[13] Having exchanged hundreds and thousands of blows,[64] in a battle that prolonged for several hours without any of them using their other Noble Phantasms, all things considered, they were more or less an even in terms of strength.[13] A moment's carelessness could lead to a pierced heart or severed head. Anyone would be hard-pressed to tell who had the upper hand, but there was the matter of Gordes. Due to the healing thaumaturgy of his Master, Siegfried could always recover from damage. However, Karna's own ability to recover was also considerable, even by himself. An indication that he was powerfully bound to his Master and supplied by substantial Magical Energy.[13]
Prior to the start of the events of Fate/EXTELLA LINK, Karna was Oraclized by Karl der Große, getting brainwashed and becoming his pawn in the process. During his first fight with Charlemagne, the young hero proves to be strong enough to fight on par with Karna and chase him away, gaining his praise as a worthy opponent.[30] The next time they meet, Karna has the support of Gilles de Rais. To remove the buff empowering Karna, Gawain momentarily fights Karna, preventing him from going after Charlemagne. After Charlemagne successfully destroys the Mana Point giving Karna extra power, he joins Gawain and helps him defeat Karna, making him retreat.[31] In the final battle of the story, Karna also had the support of the St. Metropolita, which was supplying him with extra Magical Energy. Due to having even more power than usual, not even the combined efforts of Arjuna and Charlemagne were able to overpower him. On the contrary. Karna was at a clear advantage against them in close range combat.[32][33]
During the CCC Incident, Karna's full potential is not drawn out due to Jinako Carigiri being a third rate Master. This is largely because by the time he makes his first appearance, he has already lost his greatest weapon, his golden armor.[58] Due to this, even inside the Sakura Labyrinth where it is always night-time, and therefore Gawain is three times weaker than normal, Karna and Gawain are evenly matched in close range combat.[25] Although Karna tried to activate his armor against him, Leonardo B. Harwey used his vanish_add(a) command to cancel out Karna's advantageous effect. After receving a powerful blow from Gawain, Jinako ordered Karna to fire Vasavi Shakti, to which he reluctantly agreed.[26] In the Grand Orders, Karna's armor is also sealed,[3] but he is still able to overwhelm Arjuna in close-range combat by slowly closing the distance between the two, due to Archers shining in long-range combat. However, as expected of the great Arjuna, the two were nearly on par with each other.[41] Their battle was described by Dr. Roman as the very reenactment of mythology, and "off the charts in every way." Nothing less from a Top Servant.[40] In Cú Chulainn Alter's 2nd Interlude, even when working together with Medb, Karna and her were unable to overpower Cú Chulainn Alter, despite the mad warrior having been previously poisoned by Semiramis. Whereas Saber Alter is later shown to be be capable of blocking a strike of full power Cú Chulainn Alter rather easily, one strike of Cu Alter poisoned by Semiramis was still strong enough to kill Karna.[65]
In the Indian Lostbelt, Karna, Rama, and Nezha are unable to perform at their best due to a lonely aura covering the entire world, despite them being summoned in their home country. This doesn't mean they can't fight, but that they definitely can't use 100% of their power. Nezha states that the effects are negligible, and that they should have no serious issues in combat, to which Karna agrees.[48] Karna regards Nezha (Berserker) as a formidable fighter, and even when working together with Rama and Mash Kyrielight they were unable to overpower her. Karna states that if the battle had been prolongued, one of them would have ended up resorting to releasing the full power of their Noble Phantasm.[49] Even with the support of Rama, Ganesha, and Mash, Karna was unable to overpower Ashwatthama in close range combat, and was forced to use Vasavi Shakti in order to buy some time to escape.[51] To face Arjuna Alter, Karna put himself through the same ordeals Arjuna seemingly had went through when he gained the indian divinities, only deciding to fight him once he had pushed himself as far as he possibly could. After fighting Ashwatthama thousands of times over in a realm where time is meaningless, Karna finally reached a state that would allow him to face Arjuna Alter. Although sending Ganesha and Lakshmibai into the past had reinforced the concept that any god who could miss something like this for so long must be defective, even after gaining Shiva's godly strength from Ashwatthama's Saint Graph, Karna was still unable to harm Arjuna Alter.[52] In the myth, Shiva was strong enough to get rid of HalahalaWP, the poison Vasuki the serpent king vomited on the Ocean of Milk, by drinking it. However, Karna, who was only borrowing a portion of Shiva's power at the time, doubts if he would be able to do the same, although he states that he could jump over it and get to the Fantasy Tree by himself if necessary.[53]
Karna's strongest weapon is his "will."[16]
Skills
[
]
Class Skills
[
]
Magic Resistance (C Rank): Negates Magecraft with an aria of two verses or lower. Cannot defend against large-scale Magecraft such as greater magecraft or Greater Rituals. However, when receiving the effect of the golden armor Noble Phantasm, it will not be limited to this.[1][4]
Personal Skills
[
]
Divinity (A Rank): As the son of the Sun Deity Surya, Karna possessed his father's brilliant Authority when he was alive,[10] and thanks to having united with him after death, Karna possesses the highest Divine Spirit aptitude.[1][4] Having recordings of the past three-way battle that determined the fate of SE.RA.PH, Hakuno Kishinami highly regards the enormous strength with which Karna ascended to the Moon Cell. Karna is sometimes called "the Hero of the Sun," and protrayed as an incarnation of the Sun itself. In that regard, his nature has some similarities to Gawain or Cú Chulainn. Cu Chulainn is the son of the Sun god Lugh, and Gawain wields the holy sword of the Sun, Excalibur Galatine. Hakuno estimates that Karna must be on their level.[29] Furthermore, Karna boasts high defensive power in regards to sun deity-lineage's Heroic Spirits of Divinity B or lower.[1][4] Karna is an incarnation of fire, and due to being the son of the sun, he cannot be burned even by flame spirits.[16] Ozymandias claims that their combat compatibility is bad.[66]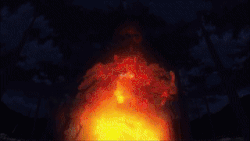 Mana Burst (Flame) (A Rank): The power to put magical energy into weapons. In Karna's case, blazing flames become magical energy to dwell in the weapon used. This Skill is usually active and all the weapons that Karna grasps receive this effect.[1][4] He can use this skill to fly, using the flames as boosters. At maximum power the flames can be used by Karna in a charging attack, capable of crushing average Servants in one hit.[57] Karna while using this skill calls out "O Agni". He can use this skill to burn inside his body, the stakes that held him and restrained his body were all burnt away.[16] The scene looked as if the flame god Agni had descended upon the earth. A stream of fire formed around Karna as if to burn away the ground, yet it didn't harm even a single strand of his hair.
Discernment of the Poor (A Rank): Insight to see through the opponent's character and attribute. He will not be deceived by excuses and deceptions from words. It expresses the power to grasp the true nature of the opponent possessed by Karna, who was blessed with the opportunity to inquire about the life and value of the weak due to being someone without a single relative.[1][4] Shirou Kotomine personally restrained himself from lying as much as possible to avoid this skill and acted out by manipulating Lancer's real master.
Uncrowned Martial Arts (— Rank): Arms competency that was not recognized by others due to various reasons. To the opponents, the rank of his sword, spear, bow, Riding and Divinity appears to be one degree lower than what it actually is.[1][4][16] If his True Name is revealed, this effect will be terminated.[1][4] A considerable weakness, considering Karna's attributes as a hero are not the kind of thing that can remain hidden.[3] Also, this is a digression, but the rank of his Luck stat was reported by Karna himself.[10]
Noble Phantasms
[
]
Kavacha and Kundala
[
]
Emitting the radiance of the sun, Karna wears the armor Kavacha and Kundala, a powerful defensive-type Noble Phantasm integrated in his body that emits the radiance of the sun. Because it's light itself taken shape, it is difficult to destroy even to gods.[1][4] Although Karna boasts the greatest physical defense out of all the Servants that participated in the Great Holy Grail War, it is noted that by concentrating an enormous amount of Magical Energy, Atalanta can fire an arrow strong enough to wound even him.[18] This is because Karna's armor doesn't nullify all attacks, but instead reduces the damage he takes to one-tenth.[10][16] Thanks to his armor, Karna could easily match a thousand of Vlad III's stakes without paying any care to the ones that stabbed countless times all over his body. From his feet to his right shoulder to his left flank to his elbow, neither his movements nor his strength changed at all, as the armor reduced the damage taken to mere scratches that he could heal while fighting.[16]
When facing an attack more powerful than what his armor can safely handle on its own, Karna can cover his body with his Mana Burst (Flame) skill to further augment his Endurance, as seen when he blocked Sieg's Balmung.[57] In his fight against Vlad, when facing larger amounts of stakes, Karna broke one thousand stakes with his spear, burned eight hundred with the flames covering his body, and stopped two thousand with that golden armor.[16] Truly remarkable, considering that Vlad's repeated attacks were half-hearted at all, and that any other Lancer besides Karna wouldn't have been able to withstand it.[11] Even inside the Hanging Gardens of Babylon, where the fame of all servants besides Semiramis is reduced to zero, Vlad III in his Legend of Dracula was strong enough to pierce through Karna's armor by throwing stakes with his hands, as seen when one of them pierced Karna's foot. Darnic believed that had Vlad used this Noble Phantasm during their first encounter in Romania, he would have easily torn Karna apart.[16]
By forcefully invoking the True Name of this Noble Phantasm, Karna momentarily becomes the very radiance of the sun, due the nigh-indestructible armor being imbuded with Surya's power. Thanks to this, Karna was able to endure Arjuna Alter's Mahāpralaya for 5 seconds, only to be destroyed right after.[51] Rama was impressed he lasted as long as he did, and he said that was a feat akin to holding back all the waters of the ocean or catching a falling star with one's bare hands. He states that there are a few heroes in all of history who could have withstood a cataclysm like that, even just for a few seconds.[67] Karna states that no matter how powerful the Moon Cell may be, as long as it remains the moon, it wouldn't be able to destroy his armor.[22]
Brahmastra
[
]
Brahmastra: An Anti-Army, Anti-Country Noble Phantasm granted to Karna. When summoned as a Lancer, it will manifest as a different projectile weapon. By calling upon the name of the god Brahma, it will pursue the enemy and surely hit, but because of a curse it cannot be used on opponents of greater ability than himself.[4] Gawain was able to repel the beam with with an attack called Sword Flash of Loyalty.[25]
Brahmastra Kundala
[
]
By enhancing Brahmastra with his Mana Burst (Flame) skill, Karna can launch his hidden Noble Phantasm and trump card known as Brahmastra Kundala. The Brahmastra, which already had a wide effective range to begin with, has its effective range further widened and its power exceptionally raised,[4] to the point of being compared to nuclear weapons.[1][4] This Noble Phantasm rivals his golden armor.[16] When he was tasked with killing Jeanne d'Arc before she arrived to Trifas, he came to the conclusion that it'd be unwise to underestimate her and thus decided that he'd destroy her with this Noble Phantasm from the start before giving her time to excercise her "privilage". Having just arrived when he was about to unleash it, Gordes considered that it was so powerful, that it should have been wiser for Siegfried to fight alongside Ruler with her invincible "privilage" to defeat Karna. Although Jeanne d'Arc refused to work together with Saber of Balck due to her role as a Ruler, she wanted to cry out for Siegfried to stop fighting him relying simply on his Armor of Fafnir to nullify Karna's attacks, knowing what both of them were truly capable of.[13] When fighting Vlad III, he began to wait for the chance to use this Noble Phantasm in order to increase the success of his finishing blow.[16] Sieg was able to offset this attack with Balmung.[57]
Vasavi Shakti
[
]
In exchange for removing his tremendous defensive power, Karna is able to activate Vasavi Shakti, a one-shot only spear of light that takes down even gods.[1][4] Originally the thunder spear of the King of the Gods Indra which not even him could handle properly.[3] Its power is sufficient to kill gods. Therefore, Heroic Spirits are a matter of course; Monstrous Beasts, Phantasmal Beasts, Divine Beasts, Shields, Fortresses, Bounded Fields, and every single existence is equally meaningless before its might. However it fails to overpower Akhilleus Kosmos due to its unique properties. Even though the light of the spear melted, boiled and trampled upon its world, the Shield was able to endure it as Vasavi Shakti's power is enough to destroy a "single" existence whether that be a person, an army, a fortress or a God. But it's unable to destroy Achilles' world as killing a God does not mean killing a world. If the god is killed, then all that's left is a world without a god. Even without a god, the vast skies, earth, oceans will continue to limitlessly spread, mankind's triumphant song will continue to resound. What thwarted the spear was the world itself. After completely blocking the blast, the shield was destroyed as enduring the might of the spear was too much.[68]
During his fight with Arjuna in Fate/EXTELLA LINK, Karna had the support of the St. Metropolita, which was supplying him with Magical Energy, giving him even more power than usual. Since Arjuna wouldn't have been able to charge his Noble Phantasm in time to defend himself from Vasavi Shakti, Charlemagne used his Joyeuse Ordre to offset it. Although it managed to offset most of the attack, he was left in a wounded state. When Karna fired Vasavi Shakti again a second time, Arjuna was now able to equally match it with Pashupata, having had enough time to get it ready. The resulting explosion of the two Noble Phantasms clashing sent Karna and Arjuna flying away.[32][33]
In the North American Singularity, this attack wasn't powerful enough to reach Cú Chulainn Alter due to Karna being mortally wounded from Cú's previous surprise attack. Even in this condition, Vasavi Shakti still caused Cú great damage, forcing him to retreat.[41] During his fight with Gawain, where Karna was also weakened due to being Jinako Carigiri's servant, the Knight of the Round Table was strong enough to block Vasavi Shakti despite being night-time, when he is 3 times weaker. By forcibly activating his Numeral of the Saint skill which greatly reduces damage for 3 turns, and Leonardo B. Harwey further buffing his Endurance with a Codecast, Gawain was able to ward off the edge of the attack and avoid getting a direct hit. Although Gawain wasn't able to defend against it completely, he still had enough strength left to fire Excalibur Galatine as a counter attack, defeating Karna in the process.[27]
In the events of the Indian Lostbelt, this attack failed to kill Ashwatthama. Although it certainly hurt him, due to Krishna's curse, Ashwatthama started recovering from the damage at an alarming speed. Scandinavia Peperoncino also states that because Arjuna Alter outclasses both Karna and Rama in every way, not even Karna's Noble Phantasms would stand a chance against him. He said this despite Arjuna Alter being occupied at the time charging Mahāpralaya and without taking any defensive action to protect himself.[51]
Forms and Alternate Versions
[
]
Burning Three Gods
[
]
The Burning Three Gods is a form taken in the Indian Lostbelt. Karna also calls it Super Karna.
He achieved this form when Rama granted him Vishnu's power and it combined with Shiva's power that he inherited from Ashwatthama's Spirit Core.[53]
Abilities
[
]
To face Arjuna Alter, Karna put himself through the same ordeals Arjuna seemingly had went through when he gained the Indian divinities, only deciding to fight him once he had pushed himself as far as he possibly could. After fighting Ashwatthama thousands of times over in a realm where time is meaningless, Karna finally reached a state that would allow him to face Arjuna Alter. Although sending Ganesha and Lakshmibai into the past had reinforced the concept that any god who could miss something like this for so long must be defective, even after gaining Shiva's godly strength from Ashwatthama's Saint Graph, Karna was still unable to harm Arjuna Alter.[52] To defeat Arjuna, Rama gave Karna his Brahmastra. He made this decision not only because he had been crippled by Krishna's Curse, but because whereas his fame was meaningless in an India where no one knew about him, there was still a person there, Jinako Carigiri, who knew about Karna's great status and power, giving him a higher chance against Arjuna than Rama.[53]
With a portion of Vishnu and Shiva's power inside him, Karna manifests this new form that proves that he is no longer borrowing the power of other gods, but that he has made them his own. Although the amount of power Karna gained in this form was certainly incredible, Lakshmibai wasn't certain if it would be enough to defeat Arjuna Alter. Arjuna Alter also tried to increase his own strength, accessing the pocket dimension of the Fantasy Tree Spiral, revealing the galaxy inside. Arjuna states that the boost he gained from absorbing its tremendous amount of Magical Energy made him feel just as powerful as when he first absorbed the gods, if not more. Sherlock Holmes states that with that much sheer energy, Arjuna would be able to easily incinerate the Earth's surface, as Goetia did. Super Karna was un-faced by this, saying that gaining power from somewhere else changes nothing, and made Arjuna question his infallibility, leaving Arjuna in his most vulnerable state. Although Arjuna should have outclassed Super Karna in every way, due to having every Indian god whereas Super Karna only had Shiva and Vishnu's power, their battle ended with Super Karna fatally wounding Arjuna. Karna states that Arjuna lost because he lacked something Karna himself possessed. Companions. To put it another way, a god is only a god if people are recognizing him as such. A god cannot be a god if they are all alone. Arjuna grew dependent on power from beyond this world in the Fantasy Tree, and wholly abandoned its people. He may have become a nigh-omnipotent god thanks to that power, able to create and destroy entirely by himself, but such a god is no god.[53]
In-game, Super Karna still has the same skills and Noble Phantasms than his regular counterpart.
Santa
[
]
Due to various circumstances, Karna has become a Santa. Christmas, the one time of the year when everyone wishes for presents. Santa Claus is the one who receives those wishes, and once Karna realized that he has the power to fulfill it, he of course, does not hesitate to take on that role. In response to the children's pleas of "Santa, please give us presents!", he readily replies, "Is that so? Very well then, I shall give them to you." as if it's second nature to him. He is the type of Santa Claus who will fulfill wishes without excess or deficiency.[69]
Personality
[
]
He's cool and seems unfriendly, but he's not a cold person. It's just he's having trouble conveying his kindness. Though he seems to be the same as usual, in a way, his current mental age is "younger". While he maintains his usual coolness, he sometimes says and does things with the fervor of a shonen manga protagonist.[69]
Abilities
[
]
For some reason, his fighting style has turned into a hardcore boxing style. As a result, he remembered his training days when he was younger, when he used to compete with his brethren with his bare hands. It seems that his "desire for pure martial arts training and personal growth" has also slightly increased.[69]
Karna has defeated all five previous Santas. Karna says that Artoria Pendragon Alter was truly first rate. All things considered, she was of course, at a high level, and it's worth noting that the weight of her bulging gift bag was as much of a threat as a slash from the black Holy Sword. Karna believes the only reason he won is that the ring they fought in was too small for her sled to move freely.[69]
Against Jeanne d'Arc Alter Santa Lily, the difference in their ranks was too great to the point it was a no contest. Karna didn't fight her. She just ceded the ownership of the belt.[69]
Altera was also a very strong opponent. Karna says it would've been dangerous for him had she been in perfect physical condition. The wool on her sheep's body could absorb the impact from Karna's punches.[69]
Quetzalcoatl was by far his strongest opponent. It was a head-on melee battle. Through mysterious steps, she unleashed numerous Christmas Killing Method attacks that couldn't be countered with punches… Honestly speaking, Karna couldn't guess what would happen next. Karna hopes to have a rematch.[69]
Florence Nightingale was a terrifying opponent in a different sense. She threw syringes at a boxer… Even if it was out of courtesy, Karna couldn't bring himself to take even one shot. It would be judged as a doping violation, and Karna would lose. Karna says that in some ways, it was the most nerve-wrecking match he had.[69]
Class Skills:
Divinity (A Rank): Even after becoming a Santa, the fact that Karna is the son of Surya the sun god does not change. "Santa is the children's sun. Therefore, I can say that Surya is Santa.", he declared as a matter-of-factly while in the dining hall. Arjuna, who was eating curry behind him, had a puzzled look on his face upon hearing that.[69]
Hard Puncher (EX Rank): A skill that demonstrates the raw power of his fists' strike. A sure-kill fist that can KO an enemy with just a single blow.[69]
Personal Skills:
Foot Santa (A Rank): An amazing skill that combines footwork and being a Santa. This is the foundation of Santa Karna's fighting style. It's a skill that demonstrates footwork and stepping techniques in boxing. In addition to having the ability to always manage the appropriate distance needed according to the situation, a high-speed footwork that can evade attacks and does not miss even the slightest opening the enemy has, it also allows him to walk as Santa Claus to ensure the delivery of gifts to his opponents, even in dangerous places such as lava fields or areas with heavy snowfall.[69]
Flashing Fist (A Rank): This Karna does not carry a spear, he only has his fists. But, that doesn't mean there is a decrease in his combat power. For he was trained by parshurama, an expert in all aspects of martial arts, so he is accustomed to fighting with empty hands. In fact, when he recalls the past when he was studying martial arts along with Arjuna and Ashwatthama, it gives him a fresh sensation that makes his body lighter than it was when he was burdened with the weight of his spear. The maximum speed of the punches he deliver exceeds the speed of light. Those who face it can only see the trails of his fists as a flash of light… maybe. It's just like a flash of a sword without hesitation, that is to say, his fists are just like a sword. "And that is the reason why I am now a Saber!", he cheerfully declared while in the dining hall. Ashvatthaman, who was eating chicken behind him, had a puzzled look on his face the whole time.[69]
Noble Phantasms:
Karna's Noble Phantasms are Winning Arkaputra and Graharāja Santa Cross.
Development
[
]
In Fate/Apocrypha volume 5, Yuuichirou Higashide originally planned to have Karna to act slightly different in the Jumbo Jet Counter-Attack. There were plans to have something like a 'Massive Jumbo Jet Target Shooting scene where Karna readies himself and sticks his spear in the ground, and when Semiramis asks what he is doing, he says, "Weapons are unnecessary. A true hero kills with his eyes!"', but it was too much of a ridiculous gag and it ended up being cut.[11]
Karna is one of Kinoko Nasu's favorite characters, and he was originally designed for the cancelled online Fate/Apocrypha game. At that time Nasu thought it is too good to be shelved away so he decided to put Karna into Fate/EXTRA CCC.
Arco Wada said the original design by pako was too complex to reproduce a 3D model, especially the flaming cape, so the design was changed but she kept the same impression as much as possible.[70]
Creation and Conception
[
]
He was designed by Kinoko Nasu and illustrated by pako.[2][4] He was planned for the original canceled online game project.[4]

Reception
[
]
References
[
]
↑ 1.00 1.01 1.02 1.03 1.04 1.05 1.06 1.07 1.08 1.09 1.10 1.11 1.12 1.13 1.14 1.15 1.16 1.17 1.18 1.19 1.20 1.21 1.22 1.23 1.24 1.25 1.26 1.27 1.28 1.29 1.30 1.31 1.32

[] Fate/Apocrypha material - STATUS: Lancer of Red, p.036-037

Class: Lancer
Master: Shirou Kotomine
True name: Karna
Gender: Male
Height/Weight: 178cm/65kg
Alignment: Lawful Good

Strength: B
Endurance: C
Agility: A
Magic: B
Luck: D
Noble Phantasm: EX

Class Skills
■ Magic Resistance: C
Negates Magecraft with an aria of two verses or lower. Cannot defend against large-scale Magecraft such as High-Thaumaturgy or Greater Rituals. However, when receiving the effect of the golden armor Noble Phantasm, it will not be limited to this.

Personal Skills
■ Discernment of the Poor: A
Insight to see through the opponent's character and attribute. He will not be deceived by excuses and deceptions from words. It expresses the power to grasp the true nature of the opponent possessed by Karna, who was blessed with the opportunity to inquire about the life and value of the weak due to being someone without a single relative.

■ Riding: A
All vehicles and all beasts excepting those of Phantasmal Beast and Divine Beast-rank can be freely operated.

■ Uncrowned Arms Mastership: -
Arms competency that went unrecognized due to various reasons.
According to the opponent sword, spear, bow, riding, and divinity's ranks all appear one rank lower than they actually are.
After the True Name is revealed the effect disappears.

■ Mana Burst (Flames): A
Weapons and body are infused with magical energy,
this instantaneous release elevates ability.
In Karna's case burning flames turn into magical energy that infuse the weapon.

■ Divinity: A
Sun God Surya's son. After death, he unified with Surya, making Karna one who possesses the highest Divine Spirit aptitude.
This Divine Spirit aptitude is for when fighting Sun God Class Heroic Spirits with Divinity B rank and lower. High defensive power is shown.

Noble Phantasms
■ Kavacha and Kundala: O Sun, Become Armor
Rank: A
Type: Anti-Unit (Self) Noble Phantasm
Range: 0
Maximum Targets: 1 Person
Fearing becoming an unmarried mother, Karna's mother, Kunti, for the sake of protecting her son, begged Surya for protection and was bestowed golden armor and an earring.
Emitting the radiance of the sun, the armor is a strong defensive Noble Phantasm.
As it is an existence formed from light even gods find it difficult to destroy.
It has become one with Karna's body.

■ Brahmastra Kundala: O Brahma, Curse Me
Rank: A+
Type: Anti-Country Noble Phantasm
Range: 2~90
Maximum Targets: 600 People
The Anti-Country Noble Phantasm Karna got from the Brahman Parashurama.
It is a bow if his class is Archer, in other classes it manifests as a projectile.
Granted Karna's fiery attribute, one blow is likened to a nuclear weapon.

■ Vasavi Shakti: O Sun, Abide to Death
Rank: EX
Type: Anti-Divine
Range: 2~5
Max Targets: 1 Person
An one-shot only spear of light that takes down even gods. A spear of mortality made out of lightning.
Manifested by converting the golden armor, in exchange of a tremendous defensive power, a spear with a powerful "anti-god" performance is equipped.

CLASS ランサー
マスター:シロウ・コトミネ
真名:カルナ
性別:男性
身長・体重:178cm/65kg
属性:秩序・善

筋力:B
耐力:C
敏捷:A
魔力:B
幸運:D
宝具:EX

クラス別能力:
■ 対魔力:C
二節以下の詠唱による魔術を無効化する。
大魔術、儀礼呪法など、大掛かりな魔術は防げない。
ただし宝具である黄金の鎧の効果を受けているときは、この限りではない。

固有スキル
■ 貧者の見識:-
相手の性格・属性を見抜く眼力。
言葉による弁明、欺瞞に騙される事がない。
天涯孤独の身から弱きものの生と価値を問う機会に恵まれたカルナが持つ、相手の本質を掴む力を表す。

■ 騎乗:A
幻獣・神獣ランクを除くすべての獣、乗り物を自在に操れる。

■ 無冠の武芸:-
様々な理由から他者に認められなかった武具の技量。
相手からは剣、槍、弓、騎乗、神性のランクが実際のものより一段階低く見える。
真名が明らかになると、この効果は消滅する。

■ 魔力放出(炎):A
武器ないし自身の肉体に魔力を帯びさせ、瞬間的に放出することによって能力を向上させる。
カルナの場合、燃え盛る炎が魔力となって使用武器に宿る。

■ 神性:A
太陽神スーリヤの息子であり、死後にスーリヤと一体化するカルナは、最高の神霊適正を持つ。
この神霊適正は神性がB以下の太陽神系の英霊に対して、高い防御力を発揮する。

宝具
■ 日輪よ、具足となれ
ランク:A
種別:対人(自身)宝具
レンジ:0
最大捕捉:1人
カルナの母クンティーが未婚の母になることに恐怖を感じ、息子を守るためにスーリヤに願って与えた黄金の鎧と耳輪。太陽の輝きを放つ、強力な防御型宝具である。
光そのものが形となった存在であるため、神々でさえ破壊は困難。カルナの肉体と一体化している。

■ 梵天よ、我を呪え
ランク:A+
種別:対国宝具
レンジ:2~90
最大捕捉:600人
カルナがバラモンのバラシュラーマから授けられた対国宝具。
クラスがアーチャーなら弓、他のクラスなら別の飛び道具として顕現する。
カルナの属性である炎熱の効果を付与された一撃は、核兵器に例えられるほど。

■ 日輪よ、死に随え
ランク:EX
種別:対神宝具
レンジ:2〜5
最大捕捉:1人
神々をも打ち倒す、一撃のみの光槍。雷光でできた必滅の槍。
黄金の鎧と引き換えに顕現し、絶大な防御力の代わりに強力な"対神"性能の槍を装備する。

↑ 2.00 2.01 2.02 2.03 2.04 2.05 2.06 2.07 2.08 2.09 2.10 2.11 2.12 2.13 2.14 2.15 2.16 2.17 2.18 2.19 2.20 2.21 2.22 2.23 2.24 Fate/Grand Order material III - Karna, p.104-113 translated by ComunCoutinho
↑ 3.00 3.01 3.02 3.03 3.04 3.05 3.06 3.07 3.08 3.09 3.10 3.11 3.12 3.13 3.14 3.15 3.16 3.17 3.18 3.19 3.20 3.21 3.22 3.23 3.24 3.25 3.26 3.27 3.28

[] Fate/Grand Order - Karna (Lancer) Profile [T]

Karna - Lancer

Illustrator and Voice actor
Illustrator: pako
Voice Actor: Koji Yusa

Parameters
Strength: B
Endurance: C
Agility: A
Mana: B
Luck: D
Noble Phantasm: EX

Personal Skills
Discernment of the Poor: A
Mana Burst (Flames): A
Uncrowned Arms Mastership

Class Skills
Magic Resistance: C
Divinity: A
Riding: A

Noble Phantasm
Vasavi Shakti: O Sun, Abide to Death
Rank: EX
Type: Anti-Army・Anti-Divine

Profile
A great hero from the ancient epic poem from India, "Mahabharata". The rival of Arjuna, the central hero of the Mahabharata, as well as his half-brother by a different father.
Upon becoming unable to move due to many curses, he was brought down by Arjuna in a manner similar to deliberate murder.

Level 1 Bond
Height/Weight: 178cm・65kg
Source: Mahabharata
Region: India
Alignment: Lawful Good  Gender: Male
He also qualifies for an Archer or Rider.

Level 2 Bond
Karna is a demigod hero born from the human girl Kunti and the Sun God Surya.
However, right after being born, he was abandoned by Kunti and raised as the son of a coachman.
Still, his attributes as a hero are not the kind of thing that can remain hidden.

Level 3 Bond
After casting away Karna, his mother Kunti gave birth to the five sons of the Pandu royal house.
The third among them is Arjuna, someone who would become a lifelong rival for Karna.
Upon growing old, Karna became an adopted child of the Kuru House that was antagonic to the Pandu House.

Level 4 Bond
However, there were too many curses and obstacles before Karna could fight Arjuna.
Receiving a curse from Brahman, deceived by Indra, forced to swear to not fight anyone other than Arjuna in response to the appeal of his mother Kunti; but even still Karna accepted everything.

Level 5 Bond
From the anecdotes of handing over his armor to Indra, Karna is entrusted to a god-slaying spear by dismantling, tearing up and discarding the golden armor.
A spear of light that even the king of gods was not able to handle properly.
The single strike released by peeling off his whole body and being dyed in blood purges all sorts of impurities.

--- O sun, abide to death.

Interlude
Karna is a highly tolerant Servant who accept all matters as "that is also valid".
He is impartial to all people and, also, honors all people as "their own respective flowers".
Possessessing martial prowess and noble mentality there were never openly recognized due to many prejudices, Karna contends for highest place among all Servants even on the matter of character.

...I believe this to be an unlikely argument, but if there is a Master who cannot win even after forming a contract with this Servant, that would be a human with top-ranking hopeless nature, unsuited for combat.

カルナ - ランサー

イラストレーター・声優
ILLUST:pako
CV:遊佐浩二

パラメータ
筋力:B
耐力:C
敏捷:A
魔力:B
幸運:D
宝具:EX

保有スキル
貧者の見識 A
魔力放出(炎) A
無冠の武芸

クラス別能力
対魔力 C
騎乗 A
神性 A

宝具
日輪よ、死に随え
ランク:EX
種別:対軍・対神宝具

キャラクター詳細
インド古代叙事詩「マハーバーラタ」の大英雄。マハーバーラタの中心的英雄であるアルジュナのライバルであり、異父兄弟でもある。
数々の呪いによって身動きが取れなくなった彼を、アルジュナは謀殺に近い形で仕留めた。

アンロック条件:絆レベルを1にすると開放
身長/体重:178cm・65kg
出典:マハーバーラタ
地域:インド
属性:秩序・善  性別:男性
アーチャー、ライダーなどにも該当。

アンロック条件:絆レベルを2にすると開放
カルナは人間の娘クンティーと太陽神スーリヤの下に生まれた半神の英雄である。
しかし、彼は生まれてすぐにクンティーに見捨てられ、御者の息子として育てられた。
だが、その英雄としての資質は隠し通せるものではない。

アンロック条件:絆レベルを3にすると開放
母クンティーはカルナを捨てた後、王家パーンドゥの五兄弟を産んだ。
その中の三男が、カルナにとって終生のライバルとなるアルジュナである。
成長したカルナはパーンドゥ家と対立するクル家の養子となった。

アンロック条件:絆レベルを4にすると開放
だが、カルナがアルジュナと戦うまでには余りに多くの呪いと障害があった。
バラモンから呪いを受け、インドラからは欺かれ、母クンティーの訴えに応じ、アルジュナ以外とは戦わないと誓わされ、それでもカルナは全てを受け入れた。

アンロック条件:絆レベルを5にすると開放
インドラに鎧を譲り渡した逸話から、カルナは黄金の鎧を分解、破棄する事で神殺しの槍をその手に宿す。
神々の王ですら扱えきれなかった光の槍。
全身を剥離の血に染めて放つ一撃はあらゆる不浄を一掃する。

―――日輪よ、死に随え。

アンロック条件:「施しの英霊」をクリアすると開放
カルナはあらゆることを「それもあり」と受け入れる、極めて寛大なサーヴァントである。
彼は万人に対して平等であり、また、万人を"それぞれの花"として敬っている。
多くの偏見から決して公には認められなかった武術の技量と高潔な精神を持つカルナは、格と言う点でも
全サーヴァント中一、二を争う。

・・・・・・ありえない話だと思うが、このサーヴァントと契約して勝利できないマスターがいるとしたら、
それは戦いに向かない、トップランクに困った性質の人間だろう。

↑ 4.00 4.01 4.02 4.03 4.04 4.05 4.06 4.07 4.08 4.09 4.10 4.11 4.12 4.13 4.14 4.15 4.16 4.17 4.18 4.19 4.20 4.21 4.22 4.23 4.24 4.25 4.26 4.27 4.28 4.29 4.30 4.31 4.32 4.33 4.34 4.35 4.36 4.37 4.38 4.39 4.40 4.41 4.42 4.43

[] Fate/complete material IV: Extra material - Fate/Apocrypha - Karna, p.300-301

Karna, Son of the Sun God
Karna, the invulnerable hero of the Indian epic Mahabharata. His personality is cold and unforgiving. Although conversing with him may give the impression that he is indecisive and somewhat boring, in reality he is always deep in thought and has a loyal heart. He gives an impression of being cold and cruel because he believes that most things and events are "normal", and therefore he does not interfere. Due to this characteristic, he does not really have negative emotions such as hatred and jealousy. Because his behaviors target people's "true nature that should not be put to words", he is disliked by many.



Class: Lancer (Archer, Rider)

Source: The Maharabata

Region: India

Alignment: Chaotic Evil (more correctly Lawful Good)

Sex: Male

Height: 178cm

Weight: 65kg

Armament: Spear



Illustrations: pako
Creator: Nasu Kinoko

Legend
Karna was born between a human mother Kunti and the Sun God Surya. As proof of being the son of Surya, he was given a golden armor that granted invulnerability. However, Kunti abandoned Karna and became the queen of King Kuru. Not knowing who his mother was, Karna grew up with a low social status. However, he soon made his existence known to the world by becoming the honored guest of the Royal House Kauravas, who were hostile to King Kuru. Karna participated in the wars around the borders and fought on an equal footing with Arjuna, son of Kunti and Thunder God Indra. Karna eventually fell in battle after being robbed of his golden armor by Indra, suffering many curses, and losing all of his allies. He died in the hands of his half-brother Arjuna. However, he did not hate anyone and accepted his death.

Status


STR: B

CON: C

AGI: A

MGI: B

LCK: D

Noble Phantasm: EX



Skill


Discernment of the Poor: A


Insight to see through the opponent's character and attribute. He will not be deceived by excuses and deceptions from words. It expresses the power to grasp the true nature of the opponent possessed by Karna, who was blessed with the opportunity to inquire about the life and value of the weak due to being someone without a single relative.



Negates Magecraft with an aria of two verses or lower. Cannot defend against large-scale Magecraft such as High-Thaumaturgy or Greater Rituals. However, when receiving the effect of the golden armor Noble Phantasm, it will not be limited to this.



All vehicles and all beasts excepting those of Phantasmal Beast and Divine Beast-rank can be freely operated. His figure driving a war chariot and running across the battlefield is depicted in the Mahabharata. Its rank is high enough to have aptitude for the Rider Class.



Uncrowned Arms Mastership: N/A


Arms competency that was not recognized by others due various reasons. To the opponents, the rank of his sword, spear, bow, Riding and Divinity appears to be one degree lower than what it actually is. If his true name is revealed, this effect will be terminated.



The power to put magical energy into weapons. In Karna's case, blazing flames become magical energy to dwell in the weapon used. This Skill is usually active and all the weapons that Karna grasps receive this effect.



As the son of the Sun Deity Surya and having united with Surya after death, Karna possesses the highest Divine Spirit aptitude. This Divine Spirit aptitude exhibits high defensive power in regards to sun deity-lineage's Heroic Spirits of Divinity B or lower.

Noble Phantasm


Kavacha & Kundala: O Sun, Become Armor


The golden armor and earring given by Karna's mother, Kunti, who felt fear in becoming an unmarried mother and prayed to Surya to protect her son. A powerful defensive-type Noble Phantasm that emits the radiance of the sun. Because it's light itself taken shape, it is difficult to destroy even to the gods. It is integrated with Karna's body.



Brahmastra: O Brahma, Wrap the Earth


An Anti-Army, Anti-Country Noble Phantasm granted to Karna by Parashurama of the Brahmin. If his Class is Archer it will be a bow, while under other Classes it will manifest as a different projectile weapon. By calling upon the name of the god Brahma it will pursue the enemy and surely hit, but because of a curse it cannot be used on opponents of greater ability than himself.



Brahmastra Kundala: O Brahma, Curse Me


Karna's hidden Noble Phantasm. His trump card. The projectile weapon Brahmastra is bestowed with the sweltering heat effect of Karna's attribute and then fired. The Brahmastra, which already had a wide effective range to begin with, has its effective range further widened and its power exceptionally raised. Its performance is to the point of being compared to nuclear weapons.



Vasavi Shakti: O Sun, Abide to Death


An one-shot only spear of light that takes down even gods. A spear of mortality made out of lightning. When Indra snatched away the golden armor, since Karna's posture was much too noble, he thought that it had to be rewarded. Manifested by converting the golden armor, in exchange of a tremendous defensive power, a spear with a powerful "anti-god" performance is equipped.

太陽神の子
カルナ
インドの叙事録『マハーバーラタ』の不死身の英雄。性格は無慈悲で、一切の容赦もない。会話をしても自己主張が乏しくおもしろみがないように感じられるが、内面は思慮深く、義理堅い心を持っている。冷酷な印象はたいていの物事を"それもあり"と認め、干渉しようとしないため。この性質により彼は恨み妬みといった負の感情をめったに持たない。言動が相手の"言われたくない本質"を鋭く突く所為で、殆どの相手から嫌われてしまう。



クラス:ランサー(アーチャー、ライダー)

出典:マハーバーラタ

地域:インド

属性:混沌・悪(正しくは秩序・善)

性別:男

身長:178cm

体重:65kg

武装:槍



イラスト:pako
設定制作:奈須 きのこ

伝説
カルナは太陽神スーリヤと人間の娘クンティーとの間に生まれ、スーリヤの子である証に不死をもたらす黄金の鎧を授かった。しかしクンティーはカルナを捨て、クル王の后となる。そうして母を知らずに卑しい身分として育ったカルナは、やがて頭角を現し、クル王と対峙するカウラヴァ王家の賓客として、領地を巡る戦争に参加する。そんなカルナと互角の存在として矛を交えたのが、クンティーと雷神インドラの子、アルジュナである。戦の果てにカルナはインドラに黄金の鎧を奪われ、様々な呪いを受け、すべての味方を失って、異父兄弟のアルジュナに討たれる。それでも彼は誰も恨むこともなく、破滅を受け入れた。

筋力値


筋力:B

耐久:C

敏捷:A

魔力:B

幸運:D

宝具:EX



固有スキル


相手の性格・属性を見抜く眼力。言葉による弁明、欺瞞に騙される事がない。天涯孤独の身から弱きものの生と価値を問う機会に恵まれたカルナが持つ、相手の本質を掴む力を表す。



二節以下の詠唱による魔術を無効化する。大魔術、儀礼呪法など、大掛かりな魔術は防げない。ただし宝具である黄金の鎧の効果を受けているときは、この限りではない。



幻獣・神獣ランクを除くすべての獣、乗り物を自在に操れる。『マハーバーラタ』では戦車を駆り、戦場を走る姿が描かれている。ライダーのクラス適性も備えるほどランクが高い。



様々な理由から他者に認められかなかった武具の技量。相手からは剣、槍、弓、騎乗、神性のランクが実際のものより一段階低く見える。真名が明らかになると、この効果は消滅する。



武器に魔力を込める力。カルナの場合、燃え盛る炎が魔力となって使用武器に宿る。このスキルは常時発動しており、カルナが握った武器はすべてこの効果を受けることになる



太陽神スーリヤの息子であり、死後にスーリヤと一体化するカルナは、最高の神霊適正を持つ。
この神霊適正は神性がB以下の太陽神系の英霊に対して、高い防御力を発揮する。

宝具


カルナの母クソティーが未婚の母となることに恐怖を感じ、息子を守るためにスーリヤに願つて与えた黄金の鎧と耳輪。太陽の輝きを放つ、強力な防御型宝具である。光そのものが形となった存在であるため、神々でさえ破壊は困難。カルナの肉体と一体化している。



カルナがバラモンのパラシュラーマから授けられた対軍、対国宝具。クラスがアーチャーなら弓、他のクラスなら別の飛び道具として顕現する。
ブラフマー神の名を唱えることで敵を追尾して絶対に命中するが、呪いにより実力が自分以上の相手には使用できない。



隠されたカルナの宝具。奥の手。飛び道具のブラフマーストラに、カルナの属性である炎熱の効果を付与して発射する。もとより広い効果範囲を持つブラフマーストラの効果範囲をさらに広め、威力を格段に上昇させる。 その性能は核兵器に例えられるほど。



神々をも打ち倒す、一撃のみの光槍。雷光でできた必滅の槍。イソドラが黄金の鎧を奪う際、カルナの姿勢があまりにも高潔であったため、それに報いねばならなと思い与えた。黄金の鎧と引き換えに顕現し、絶大な防御力の代わりに強力な"対神"性能の槍を装備する。

↑ 5.0 5.1 5.2 5.3 5.4 5.5 5.6 5.7 5.8

[] Fate/Apocrypha material - CHARACTER Profile: Lancer of "Red", p.096-097 [T]

Lancer of "Red" - Real name: Karna


Height: 178cm

Weight: 65kg

Blood type: Unknown

Birthday: Unknown

Talents: Positive thinking

Likes: Friendship, Effort, Reconciliation

Dislike: The word "communication skill"

Image colour: Sharp gold shining in the dark

Enemy: 3rd Brother from another father



Comment from Yuichiro Higashide & Ototsugu Konoe

"赤"のランサー - 真名:カルナ


身長:178cm

体重:65kg

血液型:不明

誕生日:不明

特技:ポジティブシンキング

好きなもの:友情、努力、和解

苦手なもの:コミュ力という言葉

イメージカラー:暗中に輝く鋭利なる黄金

天敵:異父兄弟の三男



Comment from Yuichiro Higashide & Ototsugu Konoe

↑ 6.0 6.1 6.2 6.3 6.4 6.5 6.6 6.7 6.8

[] Fate/EXTRA material - Character Profile: Karuna LANCER, p.114

Karna LANCER


Height: 178cm

Weight: 75kg

Blood type: Unknown

Birthday: Unknown

Image colour: Sharp gold shining in the dark

Talents: Positive thinking

Likes: Friendship, Effort, Reconciliation

Dislike: The word "communication skill"

Enemy: Gilgamesh, Passionlip

カルナ LANCER


身長:178cm

体重:75kg

血液型:不明

誕生日:不明

イメージカラー:暗中に輝く鋭利なる黄金

特技:ポジティブシンキング

好きな物:友情、努力、和解

嫌いな物:コミュ力という言葉

天敵: ギルガメッシュ、パッションリップ

↑ 8.00 8.01 8.02 8.03 8.04 8.05 8.06 8.07 8.08 8.09 8.10 8.11 8.12 8.13 8.14

[] Fate/EXTRA material - SERVANT Parameter and Skills: SERVANT LANCER, p.024

SERVANT LANCER


Master: Jinako Carigiri

Identity: Karna

Gender: Male

Height, Weight: 178cm/75kg

Alignment:Neutral Good

Strength: B

Endurance: A

Agility: A

Mana: B

Luck: A+

Noble Phantasm: A++



Class Skills






Personal skills


Uncrowned Arms Mastership: -






Noble Phantasm


Vasavi Shakti: O Sun, Abide to Death


Rank: A++
Type: Anti-Army,
Anti-Divine
Range: 40~99
Maximum number of targets: 1000 units

セイヴァー


真名:カルナ

性別:男性

身長・体重:178cm/75kg

属性:中立・善

筋力:B

耐久:A

敏捷:A

魔力:B

幸運:A+

宝具:A++



クラス別筋力


二節以下の詠唱による魔術を無効化する。
大魔術、儀礼呪法など大掛かりな魔術は防げない。



騎乗の才能。大抵の乗り物なら人並み以上に乗りこなせるが、幻想種は乗りこなせない。

保有スキル


様々な理由から認められる事のなかった武具の技量。
剣、槍、弓、騎乗、神性のそれぞれのスキルランクをマイナス1し、属性を真逆のものとして表示する。
真名が明かされた場合、このスキルは消滅する。
また余談ではあるが、幸運値のランクはカルナ本人による申告である。



太陽神スーリヤの息子。
のちにスーリヤと一体化するため、最高の神性を持つ。
神性がB以下の太陽神系の英霊に対して高い防御力を発揮する。

宝具


ランク:A++
種別:対軍、対神宝具
レンジ:40~99
最大捕捉:千単位
一撃のみの光槍。雷光で出来た必滅の槍。
敵陣である神々の王・インドラから与えられたもの。
神々をも打ち倒す力を持つというが、神話においてカルナがこれを使用した記録はない。

↑ 9.00 9.01 9.02 9.03 9.04 9.05 9.06 9.07 9.08 9.09 9.10 9.11 9.12 9.13 9.14 Fate/EXTELLA material - Lancer Servant English, p.016
↑ 10.00 10.01 10.02 10.03 10.04 10.05 10.06 10.07 10.08 10.09 10.10 10.11 10.12 10.13 10.14 10.15 10.16 10.17 10.18 10.19 10.20 10.21 10.22 10.23 10.24 10.25 10.26 10.27 10.28 10.29

[] Fate/EXTRA CCC - Karna (Lancer) Matrix

Class: Launcher
Name: Karna
Master: Jinako Carigiri
Noble Phantasm: Vasavi Shakti (O Sun, Abide by Death)
Keyword: Golden armor, hero of generosity
Strength: B, Endurance: A, Agility: A, Magic: B, Luck: A+
Divinity: A, Uncrowned Martial Arts: -, Discernment of the Poor: -

Kewords

Vasavi Shakti: O Sun, Abide to Death
A spear of light that can only strike once. A spear of mortality made of lightning.
When it was time for the fight between Karna and Arjuna to reach its final stages, Indra, Arjuna's father and king of the gods, in order to help Arjuna, took away Karna's greatest armor, the "golden armor" through trickery.
However, Karna's behavior on that occasion was so noble that Indra came to adore Karna, the enemy of his son, and gave to Karna, as compensation for taking his armor, the power of the god of thunder that even he had not mastered.
That was this "thunder spear." It holds the power to defeat the gods themselves, but there is not record of Karna using this in his myth.
 
Golden Armor
In Hindu mythology, the golden armor and earrings and the hero Karna had upon his body. Karna's mother, Kunti, feared being an unmarried mother and prayed for the armor and earrings from Surya in order to protect her son.
A defense-type Noble Phantasm that emits the radiance of the sun itself. Since it is light itself given shape, even a god would have difficulty destroying it, and Indra put in the effort to render it unavailable to Karna.
In the myth, Indra took the form of a Brahmin and visited Karna's castle. He approached Karna when he was taking his holy bath and said, "I wish to receive the things you carry."
Karna had sworn not to refuse the request of a Brahmin made during this time. While aware of Indra's trap, he accepted this request and handed over the requested item, the armor that was his only proof of his lineage.
While it was taken from him in the myth, as a Servant, Karna still possesses it. While it appears massive, it's an invincible armor that disregards physics and concepts to curtail antagonistic interference.
As long as he wears it, the damage Karna takes is reduced to one-tenth.
 
Hero of Generosity
The specialty of the Saint of Generosity Karna, according to The Mahabharata.
Karna is poor at expressing his emotions, but he has the tendency to become angry when those who have picked him up, those who have supported him, are scorned. Even if it is a relationship based only on mutual benefit, to repay a favor with a favor is how Karna lives.
Possibly due to that selfless devotion of his, when people came to him, seeking something, he would generally grant it to them, as long as they were being truthful.
And this was without considering possessions or assets but with him considering the state of their heart first.
However, during the Holy Grail War, his master's victory is his priority, so a request for him to "yield his victory" will go unanswered, and he would admonish his opponent, as such a proposal would have no benefit for them.
"What a ridiculous misunderstanding. First of all, victory is something one must attain for oneself. Is a victory that I give truly a victory for you?"
This is not out of ill intentions, but rather because the question of "Doesn't having victory yielded to you cause you to lose at life?" is matter of real worry for him.

01 - 『日輪よ、死に随え』
一撃のみの光槍。雷光で出来た必滅の槍。
カルナとアルジュナの戦いが最終局面を迎えた時、アルジュナの父であり神々の王であるインドラは
アルジュナを助けるため、カルナの最大の武具である『黄金の鎧』を策略で取り上げてしまった。
しかし、その時のカルナの態度があまりにも高潔だったため、インドラは我が子の敵であるカルナに心酔し、鎧を取り上げた代償として自身ですら使いこなせなかった雷神の力を与えた。
それがこの『雷槍』である。
神々をも打ち倒す力を持つというが、神話においてカルナがこれを使用した記録はない。


02 - 黄金の鎧
インド神話において、英雄カルナが身にまとっていた黄金の鎧と耳輪。
カルナの母クンティーが未婚の母となる事に恐怖を感じ、 息子を守るためにスーリヤに願った鎧と耳飾り。
太陽そのものの輝きを放つ、強力な防御型宝具。
光そのものが形となったものであるため、神々でさえ破壊は困難であり、インドラはこれを無効化しようと尽力した。
神話において、インドラはバラモン僧に変化してカルナの館を訪ね、
カルナが御前の沐浴をしている時に"貴方の持ち物をいただきたい"とせまったという。
カルナには沐浴の時にバラモンに請われたら断らない、という誓いがあった。
彼はインドラの罠と知りながらもこの申し出を受け、求められるまま、
唯一の出自の証ともいえる鎧を差し出したという。

神話では奪われたままだが、サーヴァント化したカルナはこの鎧を所持している。
見た目こそ重厚になってしまうが、物理・概念とわずあらゆる敵対干渉を削減する無敵の鎧である。
これがあるかぎり、カルナにはダメージ数値は十分の一しか届かない。

03 -施しの英雄
『マハーバーラタ』において施しの聖者と言われたカルナの特長。
感情表現の乏しいカルナだが、自らを拾い上げたもの、擁護したものを貶められる事には憤怒する傾向にある。
それが利益のみの関係であれ、恩義には恩義で酬いるのがカルナの在り方だからだ。
そんな滅私奉公な性格からか、カルナは人から何かを求められた時、道理が通っていればたいていのものは与えてしまう。
これは彼が持ち物や財産にこだわらず、心の在り方を第一に考えているためだろう。

ただし、聖杯戦争中は主人の勝利が第一なので、"勝ちを譲ってくれ"という求めには応じられないし、それが相手にとって良くない提案であると諭す。
「ふざけた勘違いだ。 そもそも勝利とは自らでしか勝ち得ぬもの。
俺が施す勝利は、本当におまえにとっての勝利なのか?」
これは嫌味ではなく、勝ちを譲られた時点で人生に負けているのではないか?
と本気で心配しての質問である。

Skills

01 - Divinity [A]
The son of the sun god, Surya. In order to allow him to unify with Surya on a later occasion, he possess Divinity of the highest rank. Compared to heroes related to sun gods with Divinity ranked below B, he exhibits high defensive abilities.
While Karna is not good at asserting himself, when it comes to protecting the dignity of his sun god father, he shows a furious determination.
It seems that for the motherless Karna, that his father was the sun god was his only certainty, on top of receiving that power, he swore that he would never be able to do anything that would shame his father.
 
02 - Uncrowned Martial Arts [-]
Skill at arms that when unacknowledged for various reasons. Each sword, spear, bow, Riding, and Divinity skill is brought down one rank, and attributes will be displayed as their complete opposites. However, once his true name is revealed, this skill will no longer take effect.
Also, this is a digression, but the rank of his luck stat was reported by Karna himself.
 
03 - Discernment of the Poor [-]
The ability to observe and see through one's opponent's personality and attributes. Cannot be tricked by deceit or spoken excuses.
Truly, he was a immensely prudent and superhuman hero. He had the virtue to accept differing ideologies, even if they were his enemies', and their accompanying ways of life and respect them as "ways to live."
But Karna has difficulty conveying his true nature. Karna's speech and conduct pricks at those true natures. Words and actions meant to deceive oneself, behavior meant to gloss over, conviction. Karna sees through all of those things and frankly states "the true nature that his opponent wants to hide."
As a result, he comes to be hated by the majority of his opponents and is forced to fight them.
Anyone would hate having their faults being spoken of.
It goes without saying, but Karna's words and conduct do not contain any disgust at his opponent('s faults).
For Karna who affirms the position of every human, both faith that is not compatible with him and beauty and ugliness that he cannot understand are things to be held in esteem. Because he cannot put the admiration in his heart into words, people misunderstand him as someone who "denies and hates everything."

01 - 神性:[A]
太陽神スーリヤの息子。
のちにスーリヤと一体化するため、最高の神性を持つ。
神性がB以下の太陽神系の英霊に対して高い防御力を発揮する。

自己主張の乏しいカルナだが、父である太陽神の威光を守る事には激しい決意を見せる。
母のいないカルナだが、父が太陽神である事だけは確かであり、その力を授かった以上、決して、父を貶める事はできないと誓っているからだろう。

02 - 無冠の武芸:[-]
様々な理由から認められる事のなかった武具の技量。
剣、槍、弓、騎乗、神性のそれぞれのスキルランクをマイナス1し、属性を真逆のものとして表示する。
ただし、真名が明かされた場合、このスキルは消滅する。
また余談ではあるが、幸運値のランクはカルナ本人による申告である。

03 - 貧者の見識:[-]
相手の性格・属性を見抜く眼力。
言葉による弁明、欺瞞に騙される事がない。
実はたいへん思慮深い、人間的に優れた英雄。
異なる思想、敵側のものであろうとその生き方を受け入れ、"それもあり"と尊重する徳の高さを持っている。
しかし、カルナのそういった本質は伝わりづらい。
カルナの言動は本質を突く。
自らを偽った言動、取り繕う態度、信念。
そういったものを見抜き、『相手が隠しておきたい本質』を率直に語ってしまう。
結果、たいていの相手に嫌われてしまい、戦闘を余儀なくされる。
誰だって自らの短所を語られるのは嫌なものだ。

言うまでもなく、カルナの言動は相手(の短所)を嫌悪してのものではない。
人それぞれの立ち位置を肯定するカルナにとって、相容れぬ信念、理解できない美醜も尊ぶもの。
心の中では感心しているものの言葉には出さないため、結果として"あらゆるものを否定し、嫌っている"ように勘違いされてしまうようだ。

Setting

Personal Background I
Karna appears in the Indian epic poem The Mahabharata, as a hero on the vanquished side. (The central conflict of The Mahabharata is the war over influence between the Pandava royal family and Kaurava royal family.)
Karna became famous as the rival of Arjuna, the great hero of Hindu mythology.
Karna was born from the daughter of a human king, Kunti, and the sun god, Surya.
Kunti was the wife of the Kuru king Pandu, but he was under a curse that prevented him from producing children, so his queens each had no choice but other methods to bear children.
Kunti was a woman who had a mantra that allowed her to copulate with and bear the child of any god and, by those means, gave Pandu children.
...But. Before she became the king's wife, she tested the mantra and bore a single child. That child was Karna, the golden hero who was born from relations with the sun god Surya.
Kunti was a determined woman and, afraid of her first birth and anxiety over whether the god would acknowledge his own child, prayed to Surya: "I want proof that this child is your son."
Surya heard Kunti's words and gave his own power and attributes to the child as he was born.
This is the source of the golden armor that made Karna invulnerable.
But. Though she was shown such grace and faithfulness, Kunti threw away her first son. For her, who was to become the queen of Kuru king Pandu, the existence of her son nothing but unnecessary.
This is how Karna, who was thrown away by his owner mother, came to be ignorant of his own birth, but he lived with only the things he had been given by his father, the sun god Surya, held in his chest.
The form of Karna, who didn't know his own mother's face and who questioned whether his mother was motivated by dishonesty, couldn't be called beautiful.
Though he possessed his father's brilliant authority, his form was stained black. His countenance was cruel, and his every action was violent. Because of his lack of human mother, he didn't learn the subtleties of human emotion and spent his days being considered a nuisance by the people around him.
That was how Karna was raised, but he didn't hate his mother or his surroundings. Instead, he accepted everything.
"I was given life by my mother and father. No matter what kind of person my mother is, I do not hold contempt for her. If there is anything I hate, anything I hold contempt for, it is myself alone."
In contrast to his appearance, Karna was an exceedingly virtuous and perceptive child. Possibly the cause of that was because, while he was the child of a god, he was also a child without a single relative. Karna was blessed with the opportunity to question the poor, their lives, and their value. As a result, he chose, of his own free will, the path where he persisted in his own fastidiousness.
"I who was born with more than people should display a 'proof of my life' greater than those of people. Unless I do so, the people without power will not be rewarded."
What Karna had was simply the conviction to live without bringing dishonor to his father's authority and without shaming the people who compensated him. "Though he may be relentless and ruthless, he is also full of majesty," is Karna's stance given form.
And Karna, who had grown to be a young man, participated in a conference of the Kuru family. At this conference, the five Pandava brothers indulged themselves in the martial arts they were so proud of and so famous for. The third son Arjuna's skill at the bow was especially magnificent, to the point that he was praised as having no equal.
When the grounds were united as one voice praising the Pandavas, Karna leapt up to participate and displayed martial arts of the same rank as Arjuna's.
(This is a digression, but the reason for the unmotivated Karna to challenge Arjuna is unclear in the legend as well. The reason that Arjuna was the only opponent that Karna, who never envied nor hated anyone, was conscious of was established later.)
Karna challenged Arjuna to determine which of them was superior. But to challenge Arjuna, a member of the royal family, one must be higher than a Kshatriya.
(*Kshatriya... Those in the caste system who are of the military or royalty. Karna seemed to be a Vaishya (merchant class) or a Shudrya (a slave).)
Karna, whose challenge was refused due to the difference in status, was a laughingstock. The one who saved Karna in this situation was the eldest of the one hundred princes of the Kaurava clan, who opposed the Pandavas, Duryodhana.
He became interested in Karna and made him a king at that place. This is how Karna was saved from disgrace, but his foster father, who had heard of his promotion, appeared and established his origins.
The five Pandava brothers further ridiculed Karna, who displayed martial arts superior to their own, saying, "The son of a charioteer should have a sense of shame."
These words enraged Karna. If it were about himself, he would accept and be resigned to anything, but he would not allow insults toward his foster father. Even if it was a foster father who announced himself out of greed, to Karna, he was the father who raised him, who Karna should take pride in.
The antagonism between Karna and the five Pandava brothers had become something he could not step back from, but sunset had come and the curtain was drawn on the conference.
From then again, Karna, as the friend of Duryodhana, who saved him and treated him as a king, lived as a guest of honor of the one hundred princes of the Kaurava clan.
He would learn later that what awaits him beyond that is a cruel battle with the five Pandava brothers--great hero Arjuna.

Personal Background II
The antagonism between the Kauravas whom Karna entrusted his bow as a soldier and the Pandavas that Arjuna led intensified and finally became a war with their territory in the balance.
That war is called the Kurukshetra War, and that is where Karna's life came to an end.
Karna continued to wield his strength so that the one hundred Kaurava princes, and consequently Duryodhana, would be victorious. On the Pandava side, the only one who could oppose Karna was Arjuna, but even Arjuna could only be resigned to the fact that facing Karna directly was death.
Through several conflicts, pretexts, and mutual hatred, the war between this two camps arrived at Kurukshetra.
Things having reached this point, Karna's mother, Kunti, wagered one last gamble: to reveal his lineage to Karna and draw him to the Pandava camp.
Kunti told only Krishna, who was a friend of Arjuna in the guise of a normal person, of this situation, and the two of them went alone to meet Karna.
Kunti revealed that she was Karna's mother, spoke how fighting with the five Pandava brothers would yield no benefits whilst weeping, and persuaded him that by fighting together with Arjuna, he would attain glory.
Karna, without failing to show the friend of his arch-enemy Arjuna, Krishna, thanks, quietly listened to his mother's arguments.
Afterwards,
"I understand your words. To join hands with the five brothers and return to my proper form. That would be a story filled with light, without a single fault."
Then, facing the rejoicing Kunti, Karna continued speaking in an even softer voice.
"But I wish for you to answer one thing. Do you not feel that those words of yours were too late?"
She was too late in declaring she was his mother. She was too late in looking back upon Karna. "If you do not feel that this is a shame, then please answer. You, who declare yourself my mother, if you yourself have done no wrong, then I will accept the past without feeling ashamed."
While Kunti was a selfish woman, that was due to her natural innocence and and simple-mindedness; she was most definitely not a shameless woman. She knew her own deeds...throwing away Karna, who had just been born, for her own sake...were full of selfishness and reproached herself for that.
And for that reason, she possesses a minimum amount of pride. She could not tell to Karna, who had been raised alone until now, who was grateful to his foster family, who had never once embraced hatred toward another, a horrible lie.
Kunti broke off the negotiation without answering. Karna said this to Kunti, who stood with her head hanging,
"That is a deception, a complacent love. The only one your love can save is you. Your love is directed at no one but yourself. But--"
"I shall answer that feeling. From hereon, during the war, I will not kill any of the brothers who come to match me. I will only use all my power against my arch-enemy Arjuna."
Karna swore not to lay a hand on the brothers of the Pandava family who were inferior to him in strength. The countless times Karna allowed the five brothers to go after this was due to this pledge.
"Return to the place that you obtained with your own hands. ...Though it was only once, I am grateful that you called me your son."
Karna opened the castle gate and escorted Kunti out. That was the love that Karna bore for his mother, Kunti. It was not love for his mother at this late point in time but Kunti's resolution to raise "her feelings as mother" in the end... even if it wasn't genuine... That is what he answered. Kunti risked the danger of having her past come to light. To the hero of generosity Karna, such determination is worthy of compensation.
And so, just before the final battle. Arjuna's father, Indra, who understood that Karna could not be persuaded, took the form of a Brahmin, contacts Karna, and takes his golden armor.
Though Karna had lost the property of being unkillable that he received from his father, he never said he would stop proceeding to the battlefield. He did not care that when he had lost his golden armor he had hastened his own death.
Indra, who was touched by how gallant a figure Karna struck, asked why. Why did he continue to the battlefield, having lost his armor, but without reproaching Indra, who had hatched this scheme out of love for Arjuna?
"There is no need to hate you. It is simply a matter of being a step ahead. In fact--yes. Though you are a god, you are also a father. Such a thing brings me joy."
Then why do you advance toward the battlefield, asked Indra.
"To me, defeat is bringing shame upon my father. Even though death awaits me, I cannot run away."
After all, that was why he lived. To Karna, who lived his life with pride in those who gave him life and raised him, his life was not his own.
"Including, I owe Duryodhana a debt. For some reason, that impudent and timid man is so bright to me. It may be blasphemy against my father but, occasionally, I feel that that sweet light is the warmth of the sun."
It was not the fire of the sun that Karna carried nor the absolute brilliance of Surya; to Karna, the sun was the imperfect charm that humans displayed.
Indra, who saw the divinity of Surya himself in that form, gave Karna his spear. He had taken from this noble hero something greater than his life. Unless he gave something as compensation, his honor would be stained; above all--he was charmed with him: if it were this man, he could wield the greatest spear, that Indra had not given even to his own son.
After, Karna sent off the Brahmin, having lost his armor (flesh), and headed to the battlefield, as thin as a ghost.
The final battle with Arjuna. Karna was already without allies; his charioteer, whom he trusted with his body, was already an enemy, in collusion with the Pandavas.
He had a large number of heavy burdens, his feelings towards his younger half-brothers.
Due to his curse, the wheel of Karna's chariot was stuck in a rut. The string of Arjuna's bow was drawn back to its limits. These brothers who, for a long time, were manipulated by an unseen destiny to compete for supremacy, could only in this moment strike one another with all their might.
--And sure enough, Arjuna's bow shot down the sun.
It is said that after his death, Karna became one with his father Surya. Called "the hero of generosity," he was a saint with the creed of not refusing when people came to ask or rely on him. The hero who, while possessing exceedingly high abilities, was within a tragedy where he was the enemy of his brothers by blood, received various curses, and lost his life without showing his true worth--that is Karna.
This is a digression, but it is impossible to determine if Arjuna knew the truth...that Karna was his older brother...or not.
It seems the only people who knew that Karna was Kunti's son were Karna and Kunti, Krishna, and the sun god Surya.

01 - 人物背景Ⅰ
カルナはインドの叙事詩『マハーバーラタ』に登場する、倒される側の英雄である。
(マハーバーラタはパーンダヴァ王家とカウラヴァ王家、両勢力による戦いを主軸として描かれたもの)
インド神話の大英雄アルジュナのライバルとして名高い。

              ◆

カルナは人間の王の娘クンティーと、太陽神スーリヤとの間に生まれた。
クンティーはクル王パーンドゥの妻だったが、パーンドゥは子供を作れない呪いにかかっており、后たちは各々の手段で子供をもうけるしかなかった。
クンティーは任意の神々と交わり、子供を産むマントラを授かった女で、この手段でパーンドゥの子供を産む。
……が。彼女は王の妻となる前に、マントラの実験として子を一人もうけていた。
この子供こそカルナ。太陽神スーリヤと交わるコトで生まれた、黄金の英雄である。

クンティーはしたたかな女で、初出産の恐れ、神々が自分の子を認知するかといった不安から、太陽神スーリヤに"この子供が貴方の息子である証拠がほしい"と願った。
太陽神スーリヤはクンティーの言葉を聞き入れ、生まれてくる子供に自らの威光、属性を与える。
これがカルナを不死身たらしめる黄金の鎧の出自である。

              ◆

が。そこまでの恩寵、誠実さを示されながら、クンティーは一人目の息子を捨ててしまう。
クル王パーンドゥの后になる事が決まっていた彼女には、息子の存在は無用でしかなかったからだ。
こうして母に捨てられたカルナは自らの出自を知らず、ただ、太陽神スーリヤを父に持つ事のみを胸にして生きていく。
母の顔を知らず、また、その母の動機が不純だった為か、カルナの姿は見目麗しいものとは言えなかった。

父の輝かしい威光は備わっているものの、その姿は黒く濁っていた。
顔つきは酷薄で、その一挙一動は粗暴につきる。
人間の母親がいなかった為に人の感情の機微を学べず、まわりの人間からは煙たがれる日々だった。
そんな境遇で育ったカルナだが、彼は母や周りを恨まなかった。むしろ全てを肯定していた。

「俺が生を受けたのは父と母あってこそ。
母がどのような人物であれ、俺が母を貶める事はない。
俺が恨み、貶めるものがあるとすれば、それは俺自身だけだ」

カルナはその外見とは裏腹に、優れた徳と悟りを得た子供だった。
神の子でありながら天涯孤独の身であったからだろう。
カルナは弱きものたち、その生と価値を問う機会に恵まれた。
その結論として、彼は自らの潔癖さを貫く道を選んだ。

「人より多くのものを戴いて生まれた自分は、人より優れた"生の証"を示すべきだ。
そうでなければ、力なき人々が報われない」

カルナにあるものは父の威光を汚さず、報いてくれた人々に恥じる事なく生きる信念だけ。
"冷酷、無慈悲ではあるが、同時に尊厳に満ちている"
カルナのスタンスはこうしてかたちどられた。

              ◆

そうして青年に成長したカルナは、クル族の協議会に参加する。
協議会ではパーンダヴァ五兄弟がその武芸を誇り、名声をほしいままにしていた。
特に三男アルジュナの弓の腕は素晴らしく、誰もかなう者はいないと讃えられた。

場がパーンダヴァを讃える声で一色になった時、カルナは飛び入りで参加し、アルジュナと同格の武芸を披露する。
(余談だが、消極的なカルナがなぜアルジュナと競おうとしたかは伝説上でも不明とされている。
誰も羨まない、誰も恨まないカルナが唯一意識した相手がアルジュナである理由は、後に判明する事になる)

カルナは優劣を決しようとアルジュナに挑戦する。
が、王族であるアルジュナに挑戦するにはクシャトリア以上の資格が必要となる。

(※クシャトリア……
カースト制度でいう武門、王族。
カルナはヴァイシャ(商人)、あるいはシュードラ(奴隷)だったと思われる)

身分の差から挑戦を断られ、笑いものにされるカルナ。
そんなカルナを救ったのはパーンダヴァと対立する一族、カウラヴァ百王子の長兄、ドゥリーヨダナだった。
彼はカルナを気に入り、その場で王として迎え入れる。
こうしてカルナは不名誉から救われたが、カルナの出世を聞きつけた養父が現れ、カルナの出自が判明してしまった。

パーンダヴァ五兄弟は自分たちより上の武芸を見せたカルナをさらなる笑いものにする。
"御者の息子風情が恥を知れ"と。

カルナはこの言葉に激怒した。
自分の事ならあまんじて受けるが、養父を侮辱された事は聞き逃せない。
……たとえそれが欲にかられて名乗り出た養父だとしても、カルナにとっては自らを育ててくれた誇るべき父だからだ。
カルナと五兄弟の対立はもはや引き下がれないものとなるが、日没を迎え、協議会は幕を下ろした。
以後、カルナは自分を救い、王として扱ってくれたドゥリーヨダナを友とし、彼らカウラヴァ百王子の賓客として生きる事になる。

その先に待つ、パーンダヴァ五兄弟―――
大英雄アルジュナとの過酷な戦いを理解した上で。

02 - 人物背景Ⅱ
カルナが武人として弓を預けるカウラヴァ百王子と、アルジュナを筆頭とするパーンダヴァ五兄弟の対立は激しさを増し、最終的には領地をかけての戦となった。
この戦をクルクシェートラの戦いと呼び、カルナはこの戦でその命を終える事となる。

              ◆

カルナはカウラヴァ百王子を、ひいてはドゥリーヨダナを勝たせる為にその力を振るい続けた。
パーンダヴァ側でカルナに対抗できるのはアルジュナだけであり、そのアルジュナをもってしてもカルナとの直接対決は死を覚悟しなければならないものだった。
いくつかの衝突、因縁、憎しみ合いを経て、両陣営の戦いはクルクシェートラに到達する。

ことここに至って、カルナの母・クンティーは最後の賭けにでた。
カルナに自らの出自を明かし、パーンダヴァ陣営に引き入れようと考えたのである。
クンティーはアルジュナの従者にして友人・クリシュナにのみ事情を明かし、二人だけでカルナと面会する。
クンティーは自分がカルナの母である事を明かし、実の兄弟で戦う事の無益さを涙ながらに語り、アルジュナたちと共に戦い、栄光を手にするべきだと説得した。

カルナは宿敵アルジュナの友人であるクリシュナに礼を欠かさず、また、母の説得を静かに聞き入れた。
その後に、

「貴女の言葉は分かった。兄弟たちと手を取り、正しい姿に戻る。
それはなに一つ欠点のない、光に満ちた物語だろう」

では、と喜ぶクンティーに対し、カルナはなお静かに言葉を続ける。

「だが、一つだけ答えてほしい。
貴女はその言葉を、遅すぎたとは思わないのか」

母と名乗るのが遅すぎた。
カルナを省みるのが遅すぎた。
それを恥と思わないのであれば、どうか答えてほしい。
―――母を名乗る貴方が、自らに何の負い目もないというのなら、自分も恥じる事なく過去を受け入れる、と。

クンティーは身勝手な女ではあるが、それも生来の天真爛漫さ、無邪気さからくるもので、決して恥を知らない女ではない。
彼女とて自らの行い……
自分のために生まれたばかりのカルナを捨てた事……
が我欲に満ちたものだと自覚、自責はあった。
なればこそ、彼女にも最低限の誇りはある。
今まで独りで育ち、養父たちに感謝し、何の憎しみも抱かないカルナに、醜い嘘だけはつけなかったのである。
クンティーは答えられず、交渉は決裂。
うなだれて立ち去るクンティーにカルナは告げる。

「それは欺瞞、独りよがりの愛だ。
アナタの愛で救えるのは、アナタだけだ。
アナタの愛はアナタにしか向けられていない。
だが―――」

「その気持ちに応えよう。
以後、戦において俺に及ばぬ兄弟を仕留める事はない。
俺が全力を尽くすのは、我が宿敵アルジュナだけだ」

五兄弟のうち、実力の劣る他の兄弟には手を出さないとカルナは誓う。
これ以後、カルナは幾度となく五兄弟を見逃すのはこの誓いからである。

「自ら手にした場所へ帰るがいい。
……一度だけだが。
息子と呼ばれた事には、感謝している」

館の門を閉め、クンティーを送り出すカルナ。
それはカルナなりの母親・クンティーへの愛。
いまさら母恋しでもないが、最後に「母親としての情」に訴えたクンティーの覚悟……それが真偽さだからぬものとしても……
に、彼は応えたのだ。
クンティーは自らの過去を明かす、という危険を冒した。
施しの英雄であるカルナにとって、その決意は酬いるに値するものだったのだ。

              ◆

そうして、最後の戦いの直前。
カルナの懐柔はできないと悟ったアルジュナの父、雷神インドラはバラモン僧に化けてカルナと接触し、彼から黄金の鎧を奪った。
父スーリヤから授かった不死身性を失ったカルナだったが、それでも戦いに赴く事をやめるとは言わなかった。
カルナは黄金の鎧を失った時点で、速やかに自らの破滅を受け入れたにも関わらずだ。
あまりにも潔いカルナに感じ入ったのか、インドラは何故、と問う。
アルジュナ愛しでこのような計略に走るインドラを非難せず、鎧を失い、なぜ戦場に向かえるのかと。

「アナタを恨む事はない。
一枚上手だっただけの話だろう。
むしろ―――そうだな。神といえど父親である、というのが俺には喜ばしい」

では戦いに赴くのは何故だ、とインドラ。

「俺にとって敗北とは、父の威光を汚す事だ。
死が待っているにしても、逃げる事はできない」

なにしろ、その為だけに生きてきた。
自らを生み、育ててくれたものたちに胸を張れるように生きてきたカルナにとって、自らの命は、彼自身のものですらなかったのだ。

「それに、ドゥリーヨダナにも恩がある。
俺はなぜか、あの厚顔で小心な男が眩しくてな。
我が父への不敬となるが、たまに、あの甘い光こそが、日の暖かさだと思うのだ」

カルナの背負う太陽の火ではなく、絶対的なスーリヤの輝きでもなく、人間が見せる不完全な魅力こそが太陽だとカルナは語る。
その姿にスーリヤそのものの神性を見たインドラは、自らの槍をカルナに与えた。
彼はこの高潔な英雄から命以上のものを奪った。
その見返りにあたるものを与えなければ自らの名誉を貶める事になるし、なにより―――
己が息子にも与えなかった最強の槍を、この男なら使いこなせるのでは、と惚れてしまったのだ。

              ◆

こうしてカルナはバラモン僧を送り、鎧(肉)を失い、幽鬼のようにやせ細った姿で戦場に向かった。
アルジュナとの最後の戦い。
カルナには既に味方はなく、身を任せる馬車の御者すらパーンダヴァに内通する敵だった。
数々の重荷、異母兄弟である弟への感情。
呪いによりカルナの馬車の車輪は轍にはまり、アルジュナの矢の弦が限界まで引き絞られる。
長く、見えない縁に操られるよう覇を競いあった兄弟は、ここぞとばかりに渾身の一撃を放ち合う。

 ――果たして、アルジュナの弓は、太陽を撃ち落とした。

              ◆

カルナは死後、父スーリヤと一体化したと言われている。
『施しの英雄』と呼ばれ、何かを乞われたり頼まれたりした時に断らない事を信条とした聖人。

非常に高い能力を持ちながら、血の繋がった兄弟と敵対する悲劇を迎え、
様々な呪いを受け、その真価を発揮する事なく命を落とした英雄―――それがカルナである。

余談ではあるが、アルジュナが真相……カルナが自分の兄である事……を知っていたかどうかは定かではない。
カルナがクンティーの息子である事を知っているのは、カルナとクンティー、クリシュナ、太陽神スーリヤだけと思われる。

↑ 11.0 11.1 11.2 11.3 11.4

[] Fate/Apocrypha material - Encyclopedia: Lancer of "Red" [Servant], p.153 [T]

Lancer of "Red" [Servant]
One of the Servants of the Red camp. One of the great heroes that appears in the Ancient Indian epic poem, the "Mahabharata". His true name is Karna. Since details about him have already been revealed in "Fate/EXTRA CCC" and the material book "Fate/EXTRA material", I will only write about Karna as concerned with his appearance in "Apocrypha".
In the Great Holy Grail War, Karna is the Heroic Spirit who didn't acknowledge Shirou Kotomine as his Master right till the very end. He continued to serve the Masters whose consciousness had been stolen until the end. He merely obeyed Shirou out of necessity in order to protect them; if it weren't for that, he would have been an aloof Servant who would merely obey his Master's desire to "obtain the Holy Grail". He truly is a saint, although I get the feeling that, after having served with such an honest and faithful attitude, he said in the Moon Cell, "Then, this time I'm put together with a completely useless shut-in of a Master", but who knows?
This time, he had an abundant prana supply, so he was able to utilize his full power at full throttle, unlike anything seen previously. Honestly, I feel regret over maybe having gone too far with him. He acts as if damage is nothing to him thanks to his golden armor, he sends the enemy flying with his "Prana Burst, he's covered in flames like a burning phoenix, and his divine spear releases a humongous explosion—in contrast to his modest attitude, it gave the impression that he was rampaging violently.
He possesses power and skill that isn't inferior to that of Achilles within the Red camp; truly a case of two star players in a single team. During the great battle in the second volume, Lancer of Black's repeated attacks weren't half-hearted at all, and any other Lancer besides Karna wouldn't have been able to withstand it.
Karna saw in Siegfried in the face of a pure warrior trying to carry out his duty even while feeling anguished by something. It seems it was similar to what he saw in the legendary bowman who he fought in the past.
Also, originally in the Jumbo Jet Counter-Attack battle of volume 5, there were plans to have something like a 'Massive Jumbo Jet Target Shooting scene where Karna readies himself and sticks his spear in the ground, and when Semiramis asks what he is doing, he says, "Weapons are unnecessary. A true hero kills with his eyes!"', but it was too much of a ridiculous gag and it ended up being cut.

↑ 12.0 12.1 Fate/Apocrypha Volume 1, Chapter 2
↑ 14.0 14.1 14.2 14.3 Fate/Apocrypha Volume 1, Chapter 4
↑ 15.0 15.1 15.2 15.3 Fate/Apocrypha Volume 2, Chapter 2
↑ 16.00 16.01 16.02 16.03 16.04 16.05 16.06 16.07 16.08 16.09 16.10 16.11 16.12 16.13 Fate/Apocrypha Volume 2, Chapter 3
↑ 17.0 17.1 17.2 Fate/Apocrypha Volume 3, Chapter 1
↑ 18.0 18.1 Fate/Apocrypha Volume 4, Chapter 4
↑ 19.0 19.1 Fate/EXTRA CCC - Chapter 1: Subordination Garden -Backyard of Eden
↑ 20.0 20.1 20.2 Fate/EXTRA CCC - Chapter 3: The Lip of Love and Hate - Alter Ego / M
↑ 21.0 21.1 21.2 21.3 21.4 Fate/EXTRA CCC - Chapter 4: Anesthetic Castle of Obstruction - Sick, Home Sink
↑ 22.0 22.1 22.2 22.3 Fate/EXTRA CCC - Chapter 7: I Love You
↑ Fate/EXTRA CCC Fox Tail - Chapter 7: Alter Ego
↑ 24.0 24.1 Fate/EXTRA CCC Fox Tail - Chapter 10: Jinako Karigiri
↑ 25.0 25.1 25.2 Fate/EXTRA CCC Fox Tail - Chapter 28: Gawain vs Karna (1)
↑ 26.0 26.1 Fate/EXTRA CCC Fox Tail - Chapter 30: Gawain vs Karna (2)
↑ 27.0 27.1 27.2 27.3 Fate/EXTRA CCC Fox Tail - Chapter 31: Gawain vs Karna (3)
↑ 28.0 28.1 Fate/EXTELLA - Flame Arc; Chapter 3: Sword of the Millennium Capital -Mare Luxuria, the Capital of Lust-
↑ 29.0 29.1 29.2 29.3 Fate/EXTELLA - Golden Poem Arc; Chapter 2: Authority's Purpose -Mare Aurum, the Capital of Roses-
↑ 30.0 30.1 Fate/EXTELLA LINK - Day 1: Battle for the Imperial Capital
↑ 31.0 31.1 Fate/EXTELLA LINK - Day 2: Splitting Forces
↑ 32.0 32.1 32.2 Fate/EXTELLA LINK - Day 6: The St. Metropolita, East Gate
↑ 33.0 33.1 33.2 33.3 Fate/EXTELLA LINK - Day 6: The St. Metropolita, West Gate
↑ 34.0 34.1 34.2 Fate/Grand Order - E Pluribus Unum: The Grand Battle of Legends in North America, Section 15: The King in the High Castle
↑ 35.0 35.1 Fate/Grand Order - E Pluribus Unum: The Grand Battle of Legends in North America, Section 3: Fragment of the Star
↑ 36.0 36.1 Fate/Grand Order - E Pluribus Unum: The Grand Battle of Legends in North America, Section 4: King of Presidents
↑ Fate/Grand Order - E Pluribus Unum: The Grand Battle of Legends in North America, Section 5: Cool Hand Florence
↑ 38.0 38.1 Fate/Grand Order - E Pluribus Unum: The Grand Battle of Legends in North America, Section 16: The Fellowship
↑ Fate/Grand Order - E Pluribus Unum: The Grand Battle of Legends in North America, Section 17: War
↑ 40.0 40.1 Fate/Grand Order - E Pluribus Unum: The Grand Battle of Legends in North America, Section 18: The Killing Fields
↑ 41.0 41.1 41.2 Fate/Grand Order - E Pluribus Unum: Section 19 North American Myth War (Beginning)
↑ Fate/Grand Order - Salomon: The Grand Time Temple - Act 06: V / Arsenal Halphas
↑ 43.0 43.1 43.2 Fate/Grand Order - Fate/Apocrypha: Inheritance of Glory, Section 7: Decisive Battle : Ever-Floating Garden
↑ Fate/Grand Order - Fate/Apocrypha: Inheritance of Glory, Section 2: Castle Defense : Millennia Fortress
↑ Fate/Grand Order - Fate/Apocrypha: Inheritance of Glory, Section 6: A Dream-like Moment
↑ Fate/Grand Order - Fate/Apocrypha: Inheritance of Glory, Section 8: Golden Yggdmillennia: Tree of a Thousand Realms
↑ 47.0 47.1 Fate/Grand Order - Fate/Apocrypha: Inheritance of Glory, Section 9: Thus, It Went Into Hibernation Mode
↑ 48.0 48.1 48.2 48.3 48.4 48.5 48.6 48.7 Fate/Grand Order - Yuga Kshetra, Section 2: Meeting Hope in a Lonely World
↑ 49.0 49.1 Fate/Grand Order - Yuga Kshetra, Section 3: A Mountain Where One Encounters God
↑ Fate/Grand Order: Cosmos in the Lostbelt - Yuga Kshetra: Genesis Destruction Cycle, Section 4: Kali Yuga/The Demon of the End
↑ 51.0 51.1 51.2 51.3 51.4 Fate/Grand Order: Cosmos in the Lostbelt - Yuga Kshetra: Genesis Destruction Cycle, Section 5: Kali Yuga/A Revolving World
↑ 52.0 52.1 52.2 52.3 Fate/Grand Order: Cosmos in the Lostbelt - Yuga Kshetra: Genesis Destruction Cycle, Section 18: Together With You, At the End of the Eternity Known as a Moment
↑ 53.0 53.1 53.2 53.3 53.4 53.5 53.6 53.7 Fate/Grand Order: Cosmos in the Lostbelt - Yuga Kshetra: Genesis Destruction Cycle, Section 19: Final Dark God
↑ Fate/Grand Order - E Pluribus Unum: The Grand Battle of Legends in North America, Section 10: Ambivalent States
↑ Fate/Grand Order - E Pluribus Unum: The Grand Battle of Legends in North America, Section 6: Rama Got His Sword
↑ Fate/Grand Order -turas réalta- - Chapter 38: Fifth Singularity II
↑ 58.0 58.1 58.2

[] Fate/EXTRA material - Encyclopedia: Karna [Servant], p.171-172

Karna [Servant]

Karna is a Servant that appears in CCC.
His class is Lancer, but his Master Jinako has no desire to hide his true name, so he is usually called Karna.
Karna is a character from the India epic Mahabharata, and he is a hero belonging to the side that is defeated in battle.
He was put down by an arrow from the great hero Arjuna, however his existence was not necessarily an evil one, he was simply fated to fight Arjuna, and he is depicted as a significant enemy.
Despite being a handsome man whose looks go unrivaled across the land, he is a man with sharp eyes and has an unapproachable aura.
Merciless to his enemies, his words and actions contain not an iota of superfluity. He doesn't let you sense any humanity within him.
With skin as white as a ghost, and his ominous pitch-black clothes, there is no other Servant that appears as evil as he does.
But actually, he is an extremely considerate and compassionate character.
In response to most issues he says "I see. So that's what's happening." and wisely accepts that what the person says is indeed possible.
His alignment is neutral, but he agrees with things that are good, so his personality is good. He doesn't express himself very well, but he considers the protection of his father's (the Hindu Sun God) authority to be of utmost importance.

Karna is often misunderstood as "evil" because of the way he speaks.
Karna's actions and words are always striking at the essence of things.
There are people who are fakers, or who just say things to maintain appearances, or who lie about their beliefs.
He sees through them all, and candidly jabs at the true nature which those people did not want to reveal. The result is, of course, being hated by most he meets, which unavoidably breeds combat.
Lacking the finesse required to calm the people that his words have enraged, he silently takes up his lance and accompanies them in combat until they give up.
He doesn't dislike people with incompatible beliefs or whom he can't understand, because Karna is a proponent of the idea that everyone has their own circumstances.
He takes this to the point of, "That's also okay… actually, to be honest, I'm a little jealous."
However, the untalkative Karna doesn't often say what really needs to be said, thus he comes off as hating all things despite that being far from the truth.
Though he is the most obedient and tame Servant of all, due to his choice of words, he is disliked not only by his enemies, but even by his Master.

◆

As a Servant he is bound by his contract with Jinako, however he has no specific wish of his own. He simply wanted to serve a Master who made the effort to summon him in their time of need.
His father is the Hindu Sun God, Surya, so his power level is Special A Rank1. His is shoulder-to-shoulder with the exceptional Gilgamesh. He is an incomparably strong servant.
Since Jinako is a third rate Master, his full potential is not drawn out. This is largely because by the time he makes his appearance in CCC, he has already lost his greatest weapon.

As far as Servant battles go there is no complaint about this admirable foe.
Towards the end of the first half, he confronts you as a boss, and brandishes overpowering firepower. His attack from the sky "Brahmastra Kundala" is a bullshit attack which despite being nerfed from its former nuclear bomb tier power, still wreaks havoc with bombs falling from the sky during the time between attack rounds. Even Nasu was killed by this attack when testing the game. Karna is seriously trying to kill you.
Beams also shoot from his eyes, but it's actually just a visual representation of the power of his gaze.
"Weapons are so boorish. Real heroes kill with their eyes…!" is an actual line of his.
Unfortunately due to the limited amount of data that can be used for the game, the first half of this voice line just barely failed to make the cut. A "Men's Knuckle" type of guy.2



^ For the "Special A Rank" part, the Japanese says "特A Rank" which could be any of A+, Special A Rank, or EX A Rank. I'm not sure which is most appropriate.

^ Men's Knuckle is a Japanese fashion magazine that features a male-gal (gyaru) style. This style involves preppy street clothes and lots of accessories (earrings, necklaces, bracelets, etc.). Also known as Onii-kei style.






↑

[] Fate/EXTELLA material - Encyclopedia: Karna [Servant] [T]

Karna [Servant]
A Lancer-class Servant, and front-liner in Tamamo's army.
Karna is a hero who appears in the ancient Indian epic, the Mahabharata.
The child of the Sun God Surya, he is a tragic hero who was never able to bask in the glory of his divine lineage due to a variety of misfortunes throughout his life.
Although he endured a great deal of hardship, Karna himself has no regrets.
In fact, he believes that because he received superhuman abilities from his father, it is his duty to suffer through trials and tribulations.
Karna is also known as the "Hero of Charity" and is famous for his noble nature, that of someone who basically never refuses any sort of request.
He is a Top Servant who was summoned by the Moon Cell.
Tamamo was the first one to invite him to join her army after he was summoned to SE.RA.PH, which led to him siding with the Millennium Capital.
His sharp appearance, combined with the austerity of his words and actions, cause many to incorrectly believe that he is unapproachable and fearsome. In reality, he is one of the most decent people amongst all the Servants.

↑

奈須氏は『EXTRA CCC』での彼の実力について「確かにギルガメッシュと同格の英雄ではありますが、なんたってマスターがアレですからね(笑)どうなるかはお楽しみという事で」、「カルナはギルガメッシュと同格の非常に強力な英霊です。ストーリー前半における最大の壁として主人公達の前に立ち塞がります」とコメントしている

↑ Fate/EXTELLA - Iskandar's Side Story
↑ Fate/Apocrypha Volume 4, Chapter 2
↑ Fate/Apocrypha Volume 4, Chapter 1
↑ Fate/Apocrypha Volume 4, Chapter 3
↑ Fate/Grand Order - Cú Chulainn Alter's 2nd Interlude: Kill Like a Beast, Fight for Carnage
↑ Fate/Grand Order material IV - Ozymandias, p.068-079, translated by castor212 at Beast's Lair.
↑ Fate/Grand Order: Cosmos in the Lostbelt - Yuga Kshetra: Genesis Destruction Cycle, Section 6: The Relic Called Falsehood
↑ Fate/Apocrypha - Volume 5 Fragment: Vasavi Shakti vs Akhilleus Kosmos Japanese Text
↑ 69.00 69.01 69.02 69.03 69.04 69.05 69.06 69.07 69.08 69.09 69.10 69.11 69.12 69.13 69.14 69.15 69.16 69.17 69.18 Fate/Grand Order Karna (Santa) profile translated
↑

TYPE-MOON Ace Vol. 8 - Fate/EXTRA CCC interview with Arco WadaWP, p.045

Arco Wada:
It is difficult to reproduce a 3D model of the large-sized fur without changing the shape too much based on the original concept. We redesigned while keeping the same impression as much as possible.

ワダアルコ:
「大ぶりのファーを3Dモデルで再現するのが難しいとのことで、随分形を変えることになってしまいました。ですが、できるだけ印象を同じにしつつ、清廉さを少しでもお借りできるよう念じて描かせていただきました。」