EnglishEnglish | JapaneseJapanese

Knight of Owner: A Knight Does Not Die with Empty Hands (騎士は徒手にて死せず, Kishi wa Toshu nite Shisezu?) is an ability that is the embodiment of the incident where Lancelot was forced to fight PhelotWP unarmed and proved his fighting prowess by claiming victory with an elm branch. Rather than an overt weapon, it manifests as a "unique ability" retained by his body. Once Berserker grabs a hold of anything that can be even remotely conceptualized as a weapon by his own recognition with his gauntlets and he recognizes that he wishes to wield it, it instantly gains the property of "becoming his Noble Phantasm." Even control of other Servants' Noble Phantasms will instantly go to him should he grab hold of them. It can only be activated for objects recognized as "this is a weapon", so he could use a steel chair if he happened to be skilled in wrestling. He couldn't utilize an aircraft carrier, as its role as weapon transportation is higher than that as a weapon, making it not count as such to him.[2] The ability is completely sealed along with For Someone's Glory once Arondight is drawn by Berserker.
The ability allows for something as worthless as a piece of scrap iron to be turned into a demonic spear or sword capable of damaging Servants and striking legendary weapons. He can make use of weaponry regardless of how it was created or its time of origin, allowing him to take control of anything from legendary weapons to modern weapons and machinery. Compared to Gilgamesh's numerous Noble Phantasms, his can be called endless. He also shows potential to corrupt more abstract weapons like Invisible Air, which is closer to magecraft than a true weapon. The ability soaks the affected items with Berserker's Magical Energy, muddled with bloodthirstiness and hatred, that permeates from his hands. They slowly change as they are tainted with his black color as dark lines invade the item and multiply like the veins on a leaf. The items, covered in a spiderweb pattern of black veins, look alien and repulsive compared to their normal forms.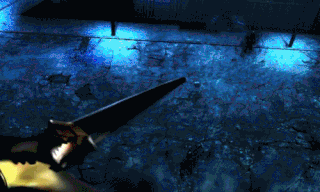 The strength of the weapons is great enough that they can easily clash with Excalibur repeatedly despite normally being mundane objects that would be cut like butter by a Noble Phantasm, and modern weapons turned into Noble Phantasms will be greatly strengthened and have modified capabilities. He can give up the weapons at any time, returning them to their natural state, and immediately switch to another without any trouble. The weapons will stay under control for a brief moment after he lets go of his grip, allowing them to be used as deadly projectiles. When faced with a direct counter to his skill that can cut through magical energy circulation, like Gáe Dearg that can repel Berserker's magical energy and return the fake Noble Phantasms to nothing but bundles of iron, he shows the sense to cancel the ability and tear off an already affected part, and he can also pick up the remains of a cleaved weapon to once again utilize it.
He is able to naturally control any weapon that he wields as if it were an extension of his arm and a favorite weapon with which he specialized in and polished his skills with for many years. The items will be advanced to D Rank Noble Phantasms, and if he takes another Servant's Noble Phantasm of a superior rank, its quality will be maintained while under Berserker's control. The ability is a natural counter to Gilgamesh's Gate of Babylon, which makes use of a large number of projectile Noble Phantasms. Berserker is able to freely catch and wield the weapons shot at him as if they were extensions of his arms, and use them to deflect volleys of weapons capable of completely destroying the surrounding area. He freely catches swords, halberds, battle axes, and exchanges them for more powerful weapons all while not receiving a single scratch.
In Fate/Grand Order, it is a Rank A+ Noble Phantasm for Lancelot as a Berserker and treated as a Rank A++ Skill for him as a Saber in gameplay.
Usage
Melee Weapons: Berserker is able to use a section of a destroyed iron street light pole as a weapon. Over two meters in length, he holds it with two hands like a quarterstaff and displays powerful attacks that push Saber back and match equally with Excalibur, one of the greatest of Noble Phantasms, despite its normally mundane nature. Though his attacks are as "rough as a beast", his natural skill allows for accurate and precise blows, even with something that is still just a twisted iron pole even with his magical energy coursing through it. After it is cleaved by Lancer, he picks the remaining half up and prepares to wield it like a longsword before the battle is halted. During his Interlude in Fate/Grand Order, he is able to use various logs frequently replenished by Mash and even makes use of a pair of disposable chopsticks.[3]
Firearms: Berserker uses two submachine guns (a Barrett M82 rifle and MP5 submachine gun in the anime) given to him by Kirei Kotomine to great effect against Saber. Guns, while deadly to humans, are not a threat to Servants no matter their firing speed or the size of the caliber of the bullets. They are capable of evading them without difficulty, and some even have the skills necessary to deflect shots back with their weapons. Berserker, turning them into Noble Phantasms, makes them into fierce magecraft military equipment that turns the balance in power. Upgrading them to the category of Noble Phantasm shows a great difference in power between the weapon types of "sword" and "firearm", making it difficult to attack. He uses the Barrett M82 Rifle and MP5 Submachine Gun in Grand Order. The bullets, soaked in his magical energy, are lethal to Servants, so even one hit would be able to spell the end for them. bullets traveling faster than the speed of sound are unable to surpass the speed of a Servant's weapon, but their rate of fire leaves them only able to parry. The power of the bullets becomes unimaginably destructive compared to normal, allowing stray bullets to tear large holes in cement and concentrated fire to reduce a small truck into an unrecognizable mess of iron chips in a matter of moments. After taking the two hundred kilogram, six-barreled cylindrical rotary cannon from the F-15, it is accelerated by his magical energy to instantly begin firing. Due to the proximity, even Saber cannot anticipate for the initial velocity of the rounds or have enough time to escape all of the bullets.
F-15J Fighter JetWP: Berserker takes control of Ougi's F-15J by standing on top of it and anchoring himself with the tassels on his armor, gripping it much like a dragon rider of legend. As the "most powerful fighter jet in the world" and the "epitome of modern science", the twenty-meter jet is corroded by his magical energy into a monstrous form. While Ougi is still in the cockpit, Berserker has full control of it and its armaments, which include four AIM-7F/M SparrowsWP, four AIM-9 SidewindersWP, 940 rounds for the 20mm M61 VulcanWP auto-cannon capable of firing 12,000 rounds per minute, and a flare dispenser designed to shoot out decoy heat sources to throw off heat-sensing weapons. It becomes capable of feats that far surpass its normal capabilities, and it moves much like a living creature, writhing and flapping its aileronsWP and letting off a monstrous roar from its twin turbofan engine surging with his magical energy, to perform maneuvers that are seemingly aerodynamically impossible. Using it in a dogfight against Gilgamesh's Vimana, which surpasses the laws of physics, he performs stunts like an Immelmann turnWP, a full vertical descent, and skilled dodges against numerous tracking projectiles from the Gate of Babylon. It is capable of performing barrel rolls which produce intense G's that rupture Ougi's organs and instantly kill him. Every single round of the M61, which would normally be easy for a Servant to dodge and reflect, is now lethal, and their overwhelming numbers make it hard to fight against. The twenty-six pound Sparrow missiles, normally useless against Servants, are transformed into weapons of an entirely different caliber with annihilating might, and the electronic radar-guides in the missiles become magic weapons that control the front stabilizers to chase the subject of Berserker's hatred like hounds. The flare dispenser has been metamorphosed to launch numerous tracking incendiary weapons from its underside, letting off scattered, scorching fireballs capable of attacking enemies from behind and downing the Vimana as it runs into them.
References
↑ 1.0 1.1 1.2 1.3

[] Fate/Zero material - Servant Status: Berserker, p.024-025

Class: Berserker
Master: Kariya Matou
True Name: Lancelot
Gender: Male
Height/Weight: 191cm/81kg
Alignment: Lawful Mad

Strength: A
Endurance: A
Agility: A+
Mana: C
Luck: B
Noble Phantasm: A

Class Skills
■ Mad Enhancement: C
Rank up for all parameters except Luck and Mana, but in exchange, Berserker can no longer think and speak properly.

Personal Skills
■ Magic Resistance: E
Possesses an amulet ring that rejects magical energy with a Magic Resistance value of D Rank, but it is ranked down due to Mad Enhancement.

■ Protection of the Fairies: A
It is a blessing from Elementals; the capacity to increase one's Luck in dangerous situations. Activation is limited to battlefields, where it is possible to perform feats of arms.

■ Eternal Arms Mastership: A+
Mastership of combat arts has reached the point of being said to be unrivaled in one's era. By complete merging of mind, body and technique, it is possible to make use of full fighting skills even when under the influence of any sort of mental hindrance.

Noble Phantasm
■ Knight of Owner: A Knight Does Not Die with Empty Hands
Rank: A++
Type: Anti-Unit Noble Phantasm
Range: 1
Maximum number of targets: 30 People

■ For Someone's Glory: Not For One's Own Glory
Rank: B
Type: Anti-Unit Noble Phantasm
Range: 0
Maximum number of targets:1 Person

■ Arondight: The Unfading Light of the Lake
Rank: A++
Type: Anti-Unit Noble Phantasm
Range: 1~2
Maximum number of targets: 1 Person

CLASS バーサーカー
マスター:間桐雁夜
真名:ランスロット
性別:男性
身長・体重:191cm/81kg
属性:秩序・狂

筋力:A
耐力:A
敏捷:A+
魔力:C
幸運:B
宝具:A

クラス別能力
■ 狂化:C
幸運と魔力を除いたパラメーターをランクアップさせるが、言語能力を失い、複雑な思考ができなくなる。

保有スキル
■ 対魔力:E
魔除けの指輪による対魔力を有するが、狂化によりランクダウン。
無効化はできず、ダメージ数値を多少削減する。

■ 精霊の加護:A
精霊からの祝福により、危機的な局面において優先的に幸運を呼び寄せる能力。
その発動は武勲を立てうる戦場においてのみに限定される。

■ 無窮の武練:A+
ひとつの時代で無双を誇るまでに到達した武芸の手練。
心技体の完全な合一により、いかなる精神的制約の影響下にあっても十全の戦闘能力を発揮できる。

宝具:
■ 騎士は徒手にて死せず
ランク:A++
種別:対人宝具
レンジ:1
最大捕捉:30人
————手にした武器に自らの宝具としての属性を与え、駆使する。
どんな武器、兵器であろうともランスロットが手にした時点でDランク相当の宝具となり、元からそれ以上のランクに位置する宝具であれば、従来のランクのままランスロットの支配下に置かれる。
フェロットの策に鎮められて丸腰のまま戦う羽目になったとき、楡の木の枝でフェロットを倒したエピソードの具現。

■ 己が栄光の為でなく
ランク:B
種別:対人宝具
レンジ:0
最大捕捉:1人
————自らのステータスを隠蔽する能力。
ランスロットは多くの戦闘で黒鎧で正体を隠したまま勝利の栄誉を勝ち取っており、その故事の具現としての能力である。

■ 無毀なる湖光
ランク:A++
種別:対人宝具
レンジ:1~2
最大捕捉:1人
————他二つの宝具を封印することにより初めて解放されるランスロットの真の宝具。
この剣を抜いている間、ランスロット全てのパラメーターは1ランク上昇し、また全てのST判定において成功率が2倍になる。
さらに龍退治の逸話を持つため、龍属性を持つ英霊に対しては追加ダメージを負わせる。

↑

[] ALL OVER/Zero - Fate/Zero Exchange of Questions and Answers, p.022
Questions 02: What's the limit of Berserker's ability to "turn any object into Noble Phantasm"? [T]

Questions 02: What's the limit of Berserker's ability to "turn any object into Noble Phantasm"? Will it work on a battleship? Why not just hijack a computer and become an existence like Sky*et... please put a stop to my overflowing dreams. [Kyoto · Musashibō-san]

Nasu: In theory it's limited to objects that are weapons. An aircraft carrier's role as weapon transportation is ranked higher than it being a weapon, so it shouldn't be counted as a weapon. Something like that. What's your opinion on this, Uro-san?
Uro: For Berserker, the Noble Phantasm can only be activated for things he recognizes as "this is a weapon." In that case, if he is skilled in wrestling, can he... turn a steel chair into a Noble Phantasm?

Q:バーサーカーの「掴んだもの全てが宝具になる」力の限界範囲はどのくらいでしょう。戦艦とかいける?いやむしろコンピュータを乗っ取ってスカ○ネットっぽい存在に......溢れる夢を誰かを止めてください。[京都・武蔵坊さん]

奈:原則的に「武器」としての存在縛りではないのでしょうかねー。空母は武器というより武器を運ぶものとしての価値が高いので、純粋な「武器」とは言えないんじゃね?みたいな。このあたりどうかしら、ブッチー?
虚:うい。たぶんバサカ的に「これは武器」と認識できた範囲でのみ発動する宝具でしょうな。彼にプロレスの心得があればパイプ椅子だって宝具化......すれのか?

↑ Fate/Grand Order - Lancelot Interlude
Fate/stay night




Fate/hollow ataraxia

Argon Coin • Avalon • Avesta • Bellerophon • Blood Fort Andromeda • Breaker Gorgon • Caladbolg II • Caliburn • Dainsleif • Durandal • Ea • Enkidu • Excalibur • Excalibur Morgan • Fragarach • Gáe Bolg • Gate of Babylon • God Hand • Gram • Harpe • Houtengeki • Hrunting • Invisible Air • Kanshou and Bakuya • Nine Lives • Nine Lives Blade Works • Potion of Youth • Rho Aias • Rule Breaker • Tsubame Gaeshi • Unlimited Blade Works • Verg Avesta • Vajra • Zabaniya: Delusional Heartbeat • Zabaniya: Cyber Phantasy

Fate/Zero

Arondight • Avalon • Ea • Enkidu • For Someone's Glory • Gáe Buidhe • Gáe Dearg • Gate of Babylon • Gordius Wheel • Ionioi Hetairoi • Knight of Owner • Prelati's Spellbook • Vimana • Zabaniya: Delusional Illusion

Fate/EXTRA

Agni Gandiva • Amalavijñāna - Boundary of Emptiness • Amita Amitabha • Angra Mainyu/CCC • Aestus Domus Aurea • Athanaton Ten Thousand • Báthory Erzsébet • Bellerophon • Blessing of Wisdom • Blood Fort Andromeda • Blut die Schwester • Brahmastra#O' Brahma, Cover the Earth • Brahmastra Kundala • Brynhild Romantia • Carolus Patricius • Carolus Patricius Auctoritas • Carolus Patricius Dimitte • Charles Patricius • Chakravartin • Cursed Cutting Crater • Daishintou • Eightfold Blessing of Amaterasu • Excalibur Galatine • Excalibur Image • Fairy Snow Photon Ray • Fierce Tiger Forcibly Climbs a Mountain • Gate of Skye • God Force • Golden Hind • Golden Wild Hunt • Joyeuse • Joyeuse Ordre • Kavacha and Kundala • Kazikli Bey • Kilenc Sárkány • Katoptron Katho Phlegon • Märchen Meines Lebens • No Face May King • No Second Strike • Nursery Rhyme • Photon Ray • Saraswati Meltout • Teardrop Photon Ray • The Queen's Glass Game • Vasavi Shakti • Yew Bow

Fate/Apocrypha

Akhilleus Kosmos • Agrius Metamorphosis • Andreias Amarantos • Antares Snipe • Armor of Fafnir • Balmung • Blasted Tree • Bridal Chest • Casseur de Logistille • Clarent • Clarent Blood Arthur • Crying Warmonger • Diatrekhōn Astēr Lonkhē • Dromeus Komētēs • First Folio • Golem Keter Malkuth • Hanging Gardens of Babylon • Hippogriff • Kavacha and Kundala • Kazıklı Bei • La Black Luna • La Pucelle • Left Hand - Xanadu Matrix • Legend of Dracula • Luminosité Eternelle • Maria the Ripper • Phoebus Catastrophe • Right Hand - Evil Eater • Secret of Pedigree • Sikera Ušum • The Mist • Trap of Argalia • Troias Tragōidia • Vasavi Shakti
Unused: Abyssus Draconis • Benkei Butsu • Eighth Implement • Interfectum Dracones • Sacrifice • The Disputed Spoils of War • The Globe • The Seven Arrows of the Big Dipper

Fate/Grand Order

A

Absolute Sword - Endless Flash • Absolute Sword - Endless Three-Stage • Aigis • Agni Gandiva • Airavata King Size • Akafiloga All-Grið • Alf Layla wa-Layla • All Things Must Pass - To Flourish is To Fall • Ama-no-Sakahoko • Amalavijñāna - Boundary of Emptiness • America's Sweetheart of Darkness • Ambushed from Ten Sides - As If There Was No Shadow • An Gal Tā Kigal Shē • An Gal Tā - Seven Colors • Angelica Cathay • Anpu Neb Ta Djeser • Antares Snipe • Anti-fling Rondo • Apfel Schiessen • Arc de Triomphe de l'Étoile • Ark • Arondight Overload • Around Caliburn • Ars Almadel Salomonis • Ars Nova • Ars Paulina • Artemis Hagnós • Ascalon • Assault Medicine Full-Burst Party • Astrapste Argo • Asurashreshtha • Athanaton Ten Thousand • Attendre, Espérer • Authentic Triumph • Autumn Leaf Viewing • Avidya, Three-Stage Thrust • Azamaru • Azrael

B

Balmung Kriemhild • Báthory Brave Erzsébet • Báthory Halloween Erzsébet • Bayard • Beagalltach • Beautiful Journey • Bishamonten's Eight Phases Wheel Charge Formation • Black Arts Decapitation Method - Moonflower • Black Dirty Barty Howling • Black Dog Galatine • Blasted Tree • Bloodbath Crown • Blue Summer Palladion • Brahmastra#Rakshasa-Piercing Immortal (Rama) • Brahmashirastra • Breaker Gorgon • Bölverk Gram • Bone Collector • Boneless Man • Bouclier de Atlante • Breast Zero Erzsébet • Bright Ehangwen • Brynhildr Sigurtein • Bucephalus

C

Caledfwlch Caladbolg • Caladbolg • Caliburn • Candy Star Photon Ray • Caress of the Medusa • Caribbean Free Bird • Caribbean Free Bird - Act 2 • Channeling - Omen of the Great God Ibuki • Chaos Labyrinthos • Chariot My Love • Chariot of Boudica • Chionis Tauros • Christine, Christine • Chronos Rose • Chyornyj Oprichniki • Chu Shi Biao • Chyornyj Oprichniki • Clarent Blood Arthur • Crazy Trip Drive Idol • Crocea Mors • Cross-Calibur • Cruaidín Sétanta • Crying Warmonger • Crystal Dress • Crystal Palace • Curruid Coinchenn • Cursed Cupid Cleanser • Custos Morum

D

Das Rheingold • Dazzling Castle of the Sun in the Demonic Realm • Dead End - Airgetlám • Demon King of the Sixth Heaven • Demon King Turns the Heavens - Red Spider Lily • De Sterrennacht • Des Océans d'Allégresse • Dharmapala Girl - Nine-headed Dragon Massacre • Dimension of Steam • Dinosaur Summer Goodbye • Dio Santissimo Misericordia de mi • Dioscures Tyndaridae • Distihia Milya • Divine Sword - Kusanagi-no-Tachi • Dojo-ji Bell Form 108 - Fire Dragon Mow Down • Duria Antiquior • Durindana

E

Edin Shugra Quasar • Elementary, My Dear • Emotional Engine - Full Drive • Emotional Engine - Vivid Full Sensation • Encomium Moriae • Enfer Château d'If • Eternal Lament • Eternal Mirror that Models the Celestial Bodies • Etherspace, Howbeit the Order • Everlasting Summer Sunlight • Excalibur Vivian • Eye of the Euryale

F

Failnaught • Fairy Tale Erzsébet • Fax Caelestis • Femme Fatale Baiser • Fergus My Love • Fergus, My Good-Looking Brave • Fetch Failnaught • Fintan Finegas • First Folio • Five Elements Mountain - Buddha Palm • Flawless Masterpiece - The Crane's Fate, A Teary Farewell • Fleur de Lys • Flucticulus Diana • Flying Bright Spirit - Fire-Tipped Spear • Formlessness • Fragarach Énbarr • Frieren Scharfrichter

G

Gae Bolg Alternative • Gáe Bolg: Gouging Piercing Spear of Carnage • Ganesh Impact • Ganesha Vighneshvara • Ganryuu-jima • Garden of Avalon • Gate of Skye • God Spear, No Second Strike • God-Striking Whip • God Force • Gohou Shoujo-Kuzuryu Ousatsu • Golden Drive • Golden Eater • Golden Spark • Golden Wild Hunt • Great Death Claw • Great Flame of Mount Ooe • Great Grudge of Rashoumon • Great Ram Nautilus • Grendel Buster • Guillotine Breaker • Gugalanna Strike

H-K

Hachiman Prayer - Shooting Through a Great Demon • Half-dead Blood Axe • Hamesh Avanim • Haradhanu Janaka • Hazy Inverted Moon - Eleven Forms • Heavenly Demon Rain • Heaven's Hole • Het Gele Huis • Hollow Heart Albion • Hope of Avalon • Hört Glut Rachegötter • Iam Redit et Virgo • Imitation God Force • Immortal Chaos Brigade • Inexhaustible Bale • Innocence Arondight • Invisible Air • Ira Lupus • Iz Tula Seven Drive • Jaguar in the Black • Jet, Three-Stage Thrust • Judgment of the Ten Rulers of Afterlife - Journey of the Wicker Basket • Kama Rūpāstra • Kama Sammohana • Kazikli Bey (Berserker) • Kazikli Bey (Lancer) • Knight of Owner • Kur Kigal Irkalla

L

Laevatein • La Féerie d'une Nuit • La Grâce Fille Noël • La Grondement Du Haine • La Grosse Tour • Lapithai Caeneus • Lauda Lentum Domus Illustrius • La Mort Espoir • Laus Saint Claudius • Le Rêve Ensoleillé • Let Us Walk Together Through Our Land • Leviathan Melt Purge • Lie Like Vortigern • Like a Soaring Dragon • Longinus Count Zero • Loptr Laegjarn • Lord Camelot • Lord Chaldeas • Lord Hachitendo of Hakuro Castle's Hundred Demons • Lordless Camelot • Lumino-Calibur

M

Mac an Luin • Maelstrom - Evil Spirit Left Minister • Magna Voluisse Magnum • Mahāpralaya • Mahākāla Shakti • Manual of Accusation • Märchen Meines Lebens • Mara Śūnyatā • Marital Vows of Rainbow Skirts and Feather Robes • Marvelous Exploits • Mata Hari • Mathematical Malignant Annihilate • Mechanical Illusionary Method - Bull Swallowing • Melammu Dingir • Metabole Piglets • Meteor Snegurochka • Mikotto • Mold Camelot • Moles Necessrie • Monte Cristo Mythologie • Moralltach • Mountainous Power and Matchless Valor • Mount Ooe - Enlightened Oni Slayer • Multitude of Colors - Providential Oni Poison • My Red Mead

N-O

Nahin Denge • Namaḥ Samantavajrānāṃ Hāṃ • Nammu Duranki • Nightingale Pledge • Nine Lives • Nine Lives - Roma • Nirmānnarati - Heaven's Foam • Nobunaga THE Rock 'n' Roll • No Second Strike • Nursery Rhyme • O' Dragon, Conquer the Expanses of Wadatsumi • Oar Wooden Sword • Ochd Deug Odin • Ogre Trance • Okuni Repertoire - Kabuki of the Izumo Wild God • Oṃ Ālolik Svāhā • One Shot, My Love • Onikiri Yasutsuna • Only For Killing • Onyx Tauros • Optateshke Okimunpe • Opulence of Sunlight and Catnap • Orchid Rounds X • Orion Hórkos • Ortygia Amore Mio • Outrage Amazon • Ox-King Storm Call - The Inescapable Net of Heaven

P

Pain Breaker • Pale Blue Dot • Pandemonium Cetus • Pāpīyas Metamorphosis • Pashupata • Peerless in Swordsmanship - Zen and the Sword As One • Pèlerinage du Temple • Per Aspera Ad Astra • Phantasm Punishment • Phantom Maiden • Photon Ray • Phoebus Catastrophe • Piedra Del Sol • Pohjola Fimbul • Poseidon Maelstrom • Poseidon Blessing • Prelati's Spellbook • Prince Lanling in Battle • Prisma☆Splash Rainbow! • Prydwen Tube Riding • Pure Land of Mice • Pygmalion Chisel Out • Pygmalion Chisel Out

Q-R

Qliphoth Rhizome • Quetzalcoatl • Queen Anne's Revenge • Quintett Feuer • Ragnarök Lífþrasir • Ramesseum Tentyris • Rapid-fire Ortygia • Red Form • Requiem for Death • Resurrection Fraught Hades • Rêve de Durandal • Rhongomyniad • Roadless Camelot • Roncevaux Olifant • Round of Avalon • Rule Breaker

S

Saint War Order • Samadhi Through Transforming Flames • Sanat Kumara • Sanat Kumara Wheel • Santa Maria - Drop Anchor • Saraswati Meltout • Sea Serpent Storm Blue • Secace • Secace Morgan • Secret-Calibur • Secret-Myniad • Sentinel Stellaris • Serment de Durandal • Settlement Sword • Sfyrí tou Tálos • Sha Nagba Imuru • Shimabara Hell • Shinsengumi • Śakra's Vajra • Shooting Star Ortygia • Sibuxiang • Six Realms Five Rings - The Divine Figure of Kurikara • Six Secret Teachings and Three Strategies - Noble Demon King's Great Feather Fan • Skewered Plasma Blade • Smile of the Stheno • Sneferu Iteru Nile • Snegleta Snegurochka • Song of Grail • Song of Selfless Loyalty • Sotoori Hime - Spider's Demeanour • Space Dead Man's Hand • Spinster Habetrot • Star of Calamity • Sudarshan Chakra Yamaraj • Sumerki Kremlin • Suzume Gaeshi • Svanhvít • Switch On - Airgetlám • Sword of Boudica • Sword of Paracelsus • System Keraunos

T

Taisu Awaken • The Tale of Genji - Aoi - Mononoke • The Tale of Genji - Kiritsubo - Parting • Tarasque • Tauropolos Skia Thermokrasia • Teardrop Photon Ray • Tengu's Feather Fan - Sudden Gale • Testarossa Maiden • Theodosios Constantinos • Thermopylae Enomotia • The Domination Beginning • The Dynamics of an Asteroid • The Greatest Hits - "Calling Agape" • The Pilgrimage of the Five Hundred Arhat • Thirty-six Views of Mount Fuji • Three Enigmas • Thunderer • Ticktock Bomb • A Tour of the Waterfalls of the Provinces • Trichiliocosm • Triple-Linked Crane Wings • Trishula Shakti • Tri-star Amore Mio • Triste Suave Alonso Quijano • Troias Tragōidia • Troia Hippos • Troia Velos • Trojan Reinforce • Tsago Degi Naleya • Tsubame Gaeshi • Tsumukari Muramasa • Tunguska Nine Drive • Twin Arm - Big Crunch • Two-Pronged Formation

U-V

Uisce Beatha • Underthrow Freeze Sinker • Unlimited Lost Works • Unspeakable Formation • Unreturning Formation • Uomo Universale • Uraeus Astrape • Valiente Asalto Dedicado a la Princesa • Vendredi Treize • Vijñaptimātratā: Mystic Eyes of Death Perception • Vijñaptimātratā: Mystic Eyes of Distortion • Vishnu Bhuja • Viy Viy Viy • VR Shinkage-ryuu Hidden Art - Tomoe's Abyssal Solar Blade • Völkermord Feuerdrache • Vulcano Caligorante • Vyākaraṇa - Buddha of Glorious Sandalwood

W-Z

Wandering Tales of Shana-oh (Eye of Shiva - Detecting the Six Secret Teachings • Usumidori - Short Steps With The Heavenly Blade • Benkei - Steadfast Position • Dan-no-Ura - Eight-Boat Leap • Hoemaru - Spider Slayer • Kikenjō - Icicle Cutting) • White Shaft Spear • Wicker Man • Winning Arkaputra • Wish Upon a Star • World Faith Domination • Wry Rhyme Goodfellow • Xiuhcoatl • Yew Bow • Yucatán Regalo de Navidad • Zabaniya(Delusional Heartbeat • Zeus Funder • Zmei Gorynych • Zveri - Krestnyy Khod • Zweite Schiessen

Fate/Prototype




Fragments

Abu el-Hol Sphinx • Bab-ilu • Brynhild Komedia • Brynhild Romantia • Dangerous Game • Enki • Excalibur Proto • Gae Bolg Origin • Kibisis • Mantle • Mesektet • Mirror shield • Ramesseum Tentyris • Stella • Winged sandals • Zabaniya: Delusional Poison Body

Fate/strange Fake

Age of Babylon • Excalibur • From Hell • Grand Dictionnaire de Cuisine • Grand Illusion • Goddess of War • King's Order • Musketeers' Masquerade • Natural Born Killers • Nine Lives • Reincarnation Pandora • Rounds of Lionheart • Unknown‎ (Gilgamesh) • Unknown (Hippolyta) • Zabaniya: Phantasmal Pedigree (Febrile Inspiration • Ichor of Reverie • Meditative Sensitivity • Raving Shadow Flash)

Fate/kaleid

Apneic Beauty • Arrow Protection Amulet • Authoritarian Personalism • Crown Undertaker • Fake Nine Lives • Hades's Cap of Invisibility • Ig-Alima • Mjölnir • Nameless Class Cards • Ninth Prayer • Sul-sagana • The Heavens are Born from the Earth • True Nine Lives • Shadow Hand of Code • Zabaniya: Dead Heartbeat Melody

Capsule Servant

Curly Hair Sword Antenna • Laser Excalibur • Starlight Champs-Élysées

Fate/KOHA-ACE

Boneless Man • Child of the Sun • Coat of Oaths • Demon King of the Sixth Heaven • Fierce Tiger Forcibly Climbs a Mountain • Flag of Sincerity • God Spear, No Second Strike • Golden Demon Realm ZIPANG • Lightless, Three-Stage Thrust • Like A Soaring Dragon • Maxwell's Demon • Sunomata Castle • Sword Hunt • Three Line Formation • Transcendent Dazzling Castle of the Sun

Fate/Requiem

Autumn Leaf Viewing • Flying Dutchman • Galahad Alter's Second Sword • Hannibal Barca's Noble Phantasm • La Grosse Tour • Longinus • Pale Blue Dot • Sword of the Strange Hangings

Other

Brionac • Boomelancer • Cú Chulainn's Castle • Hazanken • Hecatic Wheel • Holy Grail • Gungnir • Unlimited Bla Gáe Bolg Gandr Works Excalibur