Lancer (ランサー, Ransā?) is the Lancer-class Servant of Kayneth El-Melloi Archibald in the Fourth Holy Grail War of Fate/Zero. He is a chivalrous servant who wishes to do his best to serve his Master and obtain victory within the war for the Grail. He shares a bond of mutual respect with rival Servant Saber, wishing to face her in an honorable duel to the death. He is one of the Servants able to be summoned by Ritsuka Fujimaru in the Grand Orders of Fate/Grand Order.
Lancer's True Name is Diarmuid Ua Duibhne (ディルムッド・オディナ, Dirumuddo Odina?), the son of Donn, foster son of Aengus Óg, and first warrior of the knights of Fianna. He is known as Diarmuid of the Love Spot (ディルムッドの愛の黒子?), due to a magical love spot granted to him by a young girl. Any woman who gazes upon the spot instantly falls in love with him, which eventually leads to an encounter with Grainne, the bride of Fionn mac Cumhaill. Gráinne, having fallen in love with Diarmuid at her wedding party, placed a geis upon him to run away with her.[3]
It has been said that, even while at large, Diarmuid stuck to his fidelity to Fionn and did not lay a finger on Grainne.[3] They were pursued relentlessly by Fionn, but after much blood was shed, he decided to recognize their marriage, granted Diarmuid a proper title and land, and welcomed them back as subjects.
Sometime later while hunting with Fionn, Diarmuid was fatally injured by a Demon Boar, the reincarnation of his half-brother. Fionn, who had the ability to transform spring water in to a powerful healing agent was with him, so he had no fear of death. Fionn only needed to walk a few steps to the nearby spring, but with jealousy and hatred towards Diarmuid on his mind, he spilled the water twice. By the third time he went to scoop water, Diarmuid had already succumbed to his wound.[3]
The story of his tragic love affair with Grainne would later become the model for the story of Lancelot and Guinevere.[6]
Appearance
Edit
Lancer is regarded as a remarkably handsome man with quirky long hair combed backward in a rough fashion that has a strand hanging down his face. He wears a dark teal outfit, similar to that of Cú Chulainn's. due to their shared Celtic mythology.
Irisviel instantly notes that his features are capable of sweeping a woman's heart at a glance. It is described that the bold features of his face are the high bridge of his nose and his valiant eyebrow. His hard cut mouth marks him with a stoic air, but his eyes seem make his gaze even more brilliant. Takeuchi considers his charm point to be his droopy eyes and button of a mouth. He has a strong, attractive manly scent that rises from him.
She soon realizes his elegant air of beauty is somewhat unnatural. Even though his features are considered handsome, much of it comes from his spiritual power charming women due to the curse of his beauty spot.
Personality
Edit
Lancer is an extremely proud and noble knight who wishes to serve his lord to the best of his abilities. The geis laid upon him by Gráinne was taken by Lancer as a test of his pride. He never once blamed her for forcing it upon him, and he truly admired her ability to throw away her pride, title, and future for the sake of her love. He was constantly distressed by the fact that he betrayed his lord, and even as he died while Fionn did nothing, he did not blame his lord for his actions. Lancer believed that despite the cruel twist of fate that led him down this path, the days spent with his lord and his love were used to the fullest.
Lancer sees the Grail War as a miracle that will allow him to regain his pride as a knight by fighting noble battles and delivering the Grail to his Master. He sees no use in wishing upon the Grail, as simply being summoned has already half-fulfilled his greatest desire. If Diarmuid appreciated Kayneth's talents and experience, then Kayneth would have treated him with a much softer attitude.[7] To Lancer's disappointment, Kayneth doesn't believe him in the slightest and constantly looks down on his pride as a knight. He constantly berates Lancer, believing that Lancer plans to betray him and take his fiancee, Sola-Ui Nuada-Re Sophia-Ri, by using his magical spot. He is also a coward who constantly make demands that would have Lancer betray his code and win by all cost. Despite his Master's distrust and lack of character, Lancer remains extremely loyal, though he fears that Sola-Ui's attraction to him will eventually cause him to betray his Master once more. He happens to be a submissive man as he constantly took abuse from his Master while offering little resistance to stop it.
Lancer adheres strictly to the codes of chivalry and upholds his pride as a knight to the fullest, steadfastly believing in honor during battle. While being pursued by the knights of Fionn, he refused to fight against his former comrades. Despite having been presented with several chances to kill either Saber and Kiritsugu, he refuses to do so due to the circumstances with which he can do so are against his code. During his battles with Saber, he attempts to provide for the fairest conditions possible. His code and pride also forbids him to ignore evil. During the Caster crisis, he even goes as far as to fight alongside Saber, acting as her "left hand", after she suffers the crippling wound from Gáe Buidhe in order to be able to face her in battle again in the future. He is willing to go so far as to destroy Gae Buidhe, so as to allow Saber to use her Noble Phantasm to destroy Caster, simply because Caster himself is a great evil that has to be wiped out, despite the fact that he himself has nothing to gain from it.
Fate/Zero
Edit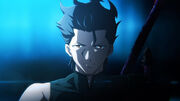 Lancer is summoned by Kayneth El-Melloi Archibald in the fourth Holy Grail War instead of the Rider-class Servant, Iskander, whose catalyst was stolen by Waver Velvet. The contract formed with Lancer is unique in that while Kayneth holds the Command Spells, the energy to materialize Lancer is maintained by Sola-Ui, Kayneth's fiancée. Lancer, on the orders of Kayneth, actively makes his location known in order to entice a battle, while Kayneth hides his location. Saber and Irisviel von Einzbern answer this challenge, and eventually Lancer attains the upper hand by successfully striking her with Gáe Buidhe.
Before their fight can continue, Rider interrupts the battle, then followed by Berserker, and Archer. Once Berserker begins to attack Saber, Kayneth orders Lancer to join him and finish her off. As it is against Lancer's code of honor, Kayneth uses a command spell to force him to attack. Rider, who holds similar values of honor to Lancer, decides to force Berserker to retreat, and threatens to face Lancer with Saber if Kayneth doesn't back down. Lancer is later berated for his actions, though Sola-Ui cuts it short by criticizing Kayneth for not actively participating. Lancer stands up for his Master, who is irritated by Lancer because he believes that Sola-Ui has become infatuated with him. Before the issue can be addressed, their base, Fuyuki Hyatt Hotel, is attacked by Kiritsugu Emiya and Maiya Hisau, who destroy the hotel's foundation and collapses it around the three.
When Kayneth and the other Masters are offered a reward of extra Command Spells for defeating Caster, Lancer is sent to kill off the magic-wielding Servant, who at the time is engaged in battle with Saber. With Saber's help, he is successful in dispelling Caster's monster army with Gae Dearg, but abandons his duel with her in order to rescue Kayneth from Kiritsugu. Rendered bedridden and unable to perform magic, the injured Kayneth is forced to hand over his remaining Command Spells to Sola-Ui, whose infatuation with Lancer has escalated to near-obsession. Lancer is uncomfortably disturbed by how his current situation resembles his past life.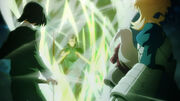 Lancer plays a key role in defeating Caster, when the Servant summons a giant monster to wreak havoc on Fuyuki City. He willingly destroys Gáe Buidhe in order to remove the enchantment inhibiting Saber's abilities, allowing her to employ her full power and destroy Caster.
Lancer returns to the last location where he and Sola-Ui were supposed to meet, only to find Sola-Ui's severed hand. Lancer returns to a displeased Kayneth, apologizing profusely for failing to protect Sola-Ui. He tries to ease Kayneth's displeasure by informing Kayneth that Sola-Ui is still providing Lancer with mana, meaning she is still alive. Kayneth remains furious and openly mocks Lancer, on top of threatening to use a Command Spell he obtained from Risei Kotomine to force Lancer's obedience.
Saber and Irisviel later confront Lancer to finish his duel with Saber, but both are unaware that Saber's Master, Kiritsugu, had already formulated a plan to eliminate both Lancer and his Master. They have an equal battle for a time, though Lancer is unsettled by the fact that Saber is simulating the injury from Gae Buidhe. He believes it is out of pity, but she corrects him in that fighting with honor is the only way to draw out her true strength.
The battle ends when Kiritsugu, holding Sola-Ui and him hostage, coerces Kayneth into using his last Command Spell to force his Servant to commit suicide; Lancer is thus forced to drive Gáe Dearg into his own chest. The shocked Servant realises that he has been fatally betrayed by his current Master, just as his former master Fionn had caused his death during his first lifetime. Enraged with his one wish being denied again for others', especially his Master's personal gain, Lancer dies cursing the Holy Grail, Kayneth, Sola-Ui, Saber, Kiritsugu, and the world at large for his fate.

Einzbern Consultation Room
Edit
Lancer appears in the Einzbern Consultation Room, a metafiction segment analyzing the story, that takes place after he dies and becomes absorbed into the Holy Grail. Lancer has amnesia due to the mental trauma caused by the various events of the Holy Grail War, only remembering certain key parts that gloss over his misery. He enters the dojo believing it to be a school of martial arts that he can challenge, but he is told by Irisviel von Einzbern that they provide consolation. Student 0, temporarily falling under his curse, consoles him on not being able to remember his Master and his wife, telling him to forget his painful past, including his relationship with Grainne. Though she convinces him that he must have died nobly in combat against Saber, Lancer wishes to progress a proper and noble Grail war to a romantic relation with Saber. Irisviel, acting as an agent for the Grail's corruption, brings back his despair by making him remember the true nature of his death before being fully absorbed.

Fate/unlimited codes
Edit
Lancer appears as an unlockable character in Fate/unlimited codes. To unlock him, you have to unlock Saber Alter and Leysritt. To make him show up, you have to get at least three KOs with supers (if game is set to best of 3) before reaching stage 5. Beat Zero Lancer and continue clearing arcade to unlock him. He is known as Zero Lancer (ゼロ・ランサー, Zero Ransā?) with the title Loyal Knight of the Fianna (忠誠なるフィアナの騎士, Chūseinaru Fiana no Kishi?). Unlike the other characters, he lacks any sort of story mode.
He notes that it is an undeserved honor to receive the chance to take up arms again, saying that he will not let the chance go to waste. Should he defeat Saber, he exclaims that it was the conclusion he had sought, and that he is thankful for having the opportunity to challenge her once again. He also notes that it is an unbelievable honor to face Lancer, a memory he will cherish deeply.[8]
Fate/unlimited codes - Zero Lancer command list

Super Move:

Gae Buidhe: Yellow Rose of Mortality (必滅の黄薔薇, Hitsumetsu no Kōshōbi

?

) - Lancer Stabs forwards with the golden spear. Deals 1500 damage. The opponent cannot heal past the damage done with this. Great Combo ender.

Holy Grail Burst Super Move:

Tale of Tragic Love: Devotion to Grainne (悲恋繚乱~グラニアに捧ぐ, Hiren Ryōran - Gurania ni Sasagu

?

) - Lancer stabs the opponent with Gáe Dearg which makes them fall to the ground. He then jumps atop the spear and kicks off of it to spin attack with Gáe Buidhe 3 times before jumping up and throwing Gáe Buidhe into the opponent. 4000 damage.
Fate/Grand Order
Edit
E Pluburis Unum: The Grand Battle of Legends in North America
Edit
Diarmuid appears in the "E Pluribus Unum" Singularity. He serves as a part of the Celtic army under Medb. He and Fionn mac Cumhaill attack Ritsuka Fujimaru, Mash Kyrielight and Florence Nightingale. They face the Protagonist's party again on Alcatraz and are finally killed there.
Salomon: The Grand Time Temple
Edit
Diarmuid is amongst the "E Pluribus Unum" Singularity Servants to aid Chaldea against the Demon Gods Pillar.[9]
Interlude
Edit
In his interlude, he faces Fionn mac Cumhaill.
Other appearances
Edit
In Type-Moon's April Fools' Day 2009, moon.cinemas.jp is a fake movie theater site listing a number of parody films:
Lancer was featured in Chariot Man: A True Tank Man (戦車男, Sensha Otoko

?

), a parody film of Densha Otoko. Lancer is the son of Sola and Kayneth and the older brother of Waver Velvet, he loves his sister. The story is expanded in TYPE-MOON 10th Anniversary Phantasm comic. Diarmuid was insulting Iskander's lack of gift knowledge when Waver was gifted with a Saber figure. The discussion came to an end when Waver dived to save the figure. Diarmuid still doesn't approve of their relationship. He accidentally trips but he was saved by his mother and his mother was saved by his father.
He was featured in Mysterious Planet An Sa Ra (不思議惑星アン・サ・ラ, Fushigi Wakusei An Sa Ra

?

).
In Type-Moon's April Fools' Day 2015, Lancer is in a group called YARIO and is part of the Imperial Roma talent agency, his class is Farm idol unit (牧歌的アイドルニット, Bokukateki Aidorunitto?).
Lancer is called Diar-something-kun (ディルなんとか君, Diru-nantoka-kun?) in Fate/GUDAGUDA Order.
Abilities
Edit
Lancer is an extremely accomplished spearman, capable of skillfully using two spears of different lengths with blinding speed and agility. His amazing warrior prowess is seen when he, despite having his back turned to Saber and not seeing her, is able to put her completely on the defensive, with no opening for a counterattack. Even when he resorts to utilizing just one spear, which is not his preferred style, he is still able to fight Saber without being at a disadvantage. His Noble Phantasms are his twin spears, Gae Buidhe, a spear that makes any wounds caused by it unhealable, and Gae Dearg, a spear that pierces through mana. He keeps them tightly wrapped in amulet cloths from their tips to the handles, sealing their abilities and acting as a counter-measure to avoid revealing their names by hiding the shafts of the weapons. Their abilities begin working immediately after undoing them from their bindings.[10] Also qualifying for Saber, it is likely that it was Kayneth's original expectation to have summoned him as Saber.[6]
He is extremely calm and perceptive during battle, and with his Eye of the Mind (True) skill, he will always have a much greater possibility of winning or properly escaping from battle. He is extremely insightful, as he is capable of leading Saber, whose Instinct skill allows her to avoid danger, into a well thought out trap. By utilizing her lack of knowledge of Gáe Buidhe, he made Saber believe that he had simply abandoned it, and later managed to lure her into a position where he could freely kick it towards her. He obtains no geographical boosts from the cultural sphere around Japan, and due to his greater mana supply from his Master, he has a greater advantage against Cú Chulainn in terms of pure firepower. Cú Chulainn would gain an edge over him should they fight in Ireland.[11]
Lancer has exceptional speed, the highest rank possible for a Servant and a high Strength rank, though the rest of his statistics are much lower. His Magic Resistance renders only high level magic a threat to him. He can easily defeat Servants who rely heavily on their Noble Phantasms. In addition to his close quarters combat prowess, he is confident that he is able to hit Caster's grimoire from the shore of the river with his lance if he can glimpse it for just a moment. This is a throwback to his legend, where he used the same lance to strike down a flying witch after he was in great pain from having been hit with poisonous darts.
He has a good chance of genuinely winning the Grail if a sound tactic is used, but his failure mainly resides in the poor Master-Servant dynamic between him and Kayneth. It is noted that Assassin could potentially defeat him quickly, but no explanation is given as to the reason.[6] He possesses a curse of the Mystic Face variety, not unlike the Mystic Eyes exhibited by Medusa. The curse takes the form of a beauty spot on his face, and causes any woman who looks upon his face to instantly fall in love with him. It can be overcome by individuals with high magical resistance, such as accomplished magi and Servants.
While he follows the codes of chivalry during the War, it would be possible to have him to use underhanded tactics to have a better chance at claiming the Grail. Convincing him that Heaven's Feel is filled with filth instead of an honorable battleground with other heroes and avoiding contact with Saber to keep him from awakening his Chivalric Pride would allow him to utilize Gae Buidhe in a hit and run strategy. Briefly engaging opponents in order to land precise hits with the spear and then retreat would become the main form of attack. He would not directly engage them, allowing him to cripple his opponents one by one by repeatedly attacking them. The other tactic would involve manipulating or taking advantage of Team Berserker in order to let Berserker defeat other Servants and fight him in the final battle.[7]
Development
Edit
Toshiyuki Shirai (Animator Director) first debut in episode 16. His young and vivacious pen draws Lancer and Saber's lively battle, as well as the anguished expressions on Lancer and Kayneth's faces. He said the plan for Lancer's scene was to have him turn into particles of light and fade away. But since he was the type of person who would have cursed everything as he died, Toshiyuki changed it so that he would be enveloped in black mist and crumble away. Even though it was a last-second change of plans, he said it was thanks to the staff who churned out terrific elements, it ended up being a memorable scene.[12]
Ryuji Higurashi said Zero Lancer was a lot easier to draw than Lancer for the Fate/Unlimited Codes.[8]
Creation and Conception
Edit
He was a rare character to write for Gen Urobuchi because he normally views beautiful characters as either evil or stupid as an ironclad rule following that, if a man is too beautifully formed, his life would become truly miserable.[4]
Kinoko Nasu carefully picked out the tragic Celtic hero.[13] It surprised him that Urobuchi, who faithfully followed the beginning of Fate/stay night's story where Saber beaten the Lancer at the start of the story, but he also copied its ending where Lancer committed suicide.[14]
He was designed by Takashi Takeuchi as having the manner of an English rocker.
Atsuhi Ikariya was in charge of the character design for the anime version.[12]
Reception
Edit
Takeuchi calls Lancer as the faithful dog while Kayneth the stubborn man.[15]
Hikaru Midorikawa (Voice actor of Lancer) said Lancer had quite a few of scenes, but he was struck by the scene where he curses them as he dies (episode 16), and by the way he's shown as being so vigorous in the first half of the episode. He was so lively that when he's forced to kill himself, you feel sorrier for him. Midorikawa thought his suicide scene was handled delicately. There's an illustration for that scene in the original (the TYPE-MOON VERSION). But they presented it differently in the anime. Midorikawa was really impressed at how well they pulled it off. Midorikawa wished that they allow Lancer and Saber to go on fighting forever as Lancer seemed to be enjoying himself.[12]
Takumi Yamazaki (Voice actor of Kayneth) said that if team lancer had applied themselves, they would have been the favorite to win the Holy Grail War.[12]
Toshiyuki Shirai said Lancer was really popular at Ufotable, with his, "I'm glad I met you!". He was nicknamed "Sparkling Lancer," and the day after he finished the keyframe art, copies would be posted at the animator's desks, and some of the girls even added world balloons that made him say "My Master!"[12]
References
Edit
↑ 1.00 1.01 1.02 1.03 1.04 1.05 1.06 1.07 1.08 1.09 1.10 1.11 1.12 1.13 1.14 1.15 1.16

[] Fate/Zero material - Servant Status: Lancer, p.016-017

Class: Lancer
Master: Kayneth El-Melloi Archibald
True Name: Diarmuid Ua Duibhne
Gender: Male
Height/Weight: 184cm/85kg
Alignment: Lawful Neutral

Strength: B
Endurance: C
Agility: A+
Mana: D
Luck: E
Noble Phantasm: B

Class Skills
■ Magic Resistance: B
 
Personal Skills
■ Eye of the Mind (True): B

■ Love Spot: C

Noble Phantasm
■ Gáe Dearg: Crimson Rose of Exorcism
Rank: B
Type: Anti-Unit Noble Phantasm
Range: 2~4
Maximum number of targets: 1 Person

■ Gae Buidhe: Yellow Rose of Mortality
Rank: B
Type: Anti-Unit Noble Phantasm
Range: 2~3
Maximum number of targets: 1 Person

CLASS ランサー
マスター:ケイネス・エルメロイ・アーチボルト
真名:ディルムッド・オディナ
性別:男性
身長・体重:184cm/85kg
属性:秩序・中庸

筋力:B
耐力:C
敏捷:A+
魔力:D
幸運:E
宝具:B

クラス別能力
■ 対魔力:B
魔術発動における詠唱が三節以下のものを無効化する。
大魔術、儀礼呪法等を以ってしても、傷つけるのは難しい。

保有スキル
■ 心眼(真):B
修行。鍛錬によって培った洞察力。
窮地において、その場で残された活路を導き出す戦闘論理。

■ 愛の黒子:C
魔力を帶びた黒子による異性の魅惑。
ディルムッドと対峙した女性は彼に対する強烈な恋愛感情を懐く。
対魔力スキルで回避可能。

宝具
■ 破魔の紅薔薇
ランク:B 
種別:対人宝具 
レンジ:2~4 
最大捕捉:1人
————魔力による防御を無効化する長槍。
魔力によって編まれた防具はこの槍の攻撃に対し効果を持たず、また武具に施された魔術的な強化、能力付加もゲイ・ジャルグと打ち合う場合には一切発揮されなくなる。
事実上、物理手段によってしか防御できない《宝具殺し》の槍。
ただし、過去に交わされた契約や呪い、すでに完了した魔術の効果を覆すことはできない。

■ 必滅の黄薔薇
ランク:B
種別:対人宝具
レンジ:2~3
最大捕捉:1人
————回復不能の傷を負わせる呪いの槍。
この槍によるダメージはHPの上限そのが削減されるため、いかなる治癒魔術、再生能力をもってしても『傷を負った状態』にまでしか回復することができない。
ディスぺルは不可能で、呪いを破棄するためにはゲイ・ボウを破壊するか、使い手であるディルムッドを滅ぼすしかない。

↑ 2.00 2.01 2.02 2.03 2.04 2.05 2.06 2.07 2.08 2.09 2.10 2.11 2.12 2.13 2.14 2.15 2.16 2.17 2.18 2.19 2.20 Fate/Grand Order material II - Diarmuid Ua Duibhne, p.298-305
↑ 3.00 3.01 3.02 3.03 3.04 3.05 3.06 3.07 3.08 3.09 3.10 3.11 3.12 3.13 3.14 3.15 3.16 3.17 3.18 3.19 3.20 3.21 3.22 3.23

[] Fate/Grand Order - Lancer Profile [T]

Diarmuid Ua Duibhne - Lancer

Illustrator and Voice actor
Illustrator: Mata
Voice Actor: Hikaru Midorikawa

Parameters
Strength: B
Endurance: C
Agility: A+
Mana: D
Luck: E
Noble Phantasm: B

Personal Skills
Eye of the Mind (True): B
Love Spot: C
Knightly Tactics: B

Class Skills
Magic Resistance: B

Noble Phantasm
Gáe Dearg & Gáe Buidhe: Yellow Rose of Mortality, Crimson Rose of Exorcism
Rank: B→B+
Type: Anti-Unit Noble Phantasm

Profile
Celt mythology. Under the command of the leader Fionn, he was a prominent knight of the Knights of Fianna and the owner of a beautiful face. Possessing a dark mole in his cheek conferred by a fairy, it carried a magical power that made the hearts of young maidens flutter.

Level 1 Bond
Height/Weight: 184cm・85kg
Source: Celtic mythology, Knights of Fianna
Region: Ireland
Alignment: Lawful Neutral  Gender: Male
A knight who spent his lifetime questioning about love, loyalty and pride.

Level 2 Bond
"Red Rose of Exorcism"
Rank: B  Type: Anti-Unit Noble Phantasm
A magic spear described as a "Noble Phantasm-slaying Noble Phantasm".
Negates magical power-like effects on the target that its edge has touched. Basically, it is a Noble Phantasm that possesses an ability for rendering magical defenses powerless.

Level 3 Bond
After making Grainne, a princess that was invited as a bride-candidate for his lord Fionn, fall in love with him, he ended up having to elope and run around all over Ireland as a result of being imposed a geis of "take me along and run away" by her.

Level 4 Bond
It has been said that, even while at large, Diarmuid sticked to his fidelity to Fionn and did not lay a finger on Grainne.
Eventually, after reconciling with Fionn, although he was allowed to openly unite with Grainne, their happiness did not last long.

Level 5 Bond
After receiving a fatal wound from a wild boar that was the reincarnation of his younger brother by a different father, Diarmuid sought the help of Fionn, who possessed the magical power of healing). But due still holding a grudge over the matter with Grainne, Fionn decided to let him die.

Interlude
He has no wish to entrust the Holy Grail with. To be given a second battlefield where he can fulfill his pride as a knight; to Diarmuid that is both his dearest wish and greatest blessing. Pursuing nothing but a bright military honor, free of troubles, Diarmuid participates in this holy war.

ディルムッド・オディナ - ランサー

イラストレーター・声優
ILLUST:また
CV:緑川光

パラメータ
筋力:B
耐力:C
敏捷:A+
魔力:D
幸運:E
宝具:B

保有スキル
心眼(真) B
愛の黒子 C
騎士の武略 B

クラススキル
対魔力 B

宝具
破魔の紅薔薇、必滅の黄薔薇
ランク:B→B+
種別:対人宝具

キャラクター詳細
ケルトの神話。フィオナ騎士団の団長フィンの麾下において、指折りの騎士であり、美貌の持ち主だった。頬に妖精からおくられたほくろがあり、乙女たちの心をときめかす魔力を持つ。

アンロック条件: 絆レベルを1にすると開放
身長/体重:184cm・85kg
出典:ケルト神話、フィオナ騎士団
地域:アイルランド
属性:秩序・中庸  性別:男性
生涯を通じて愛と忠義と誇りを問われ続けた騎士

アンロック条件: 絆レベルを2にすると開放
『破魔の紅薔薇』
ランク:B  種別:対人宝具
「宝具殺しの宝具」と呼ばれる魔槍。
刃が触れた対象の魔力的効果を打ち消す。基本的には、魔術的防御を無効化させるための能力を持った宝具。

アンロック条件: 絆レベルを3にすると開放
主君フィンの花嫁候補として迎えられたグラーニャという姫から一目惚れされ、彼女に「自分を連れて逃げること」をゲッシュとして課せられた結果、駆け落ちしてアイルランド中を逃亡する羽目になる。

アンロック条件: 絆レベルを4にすると開放
ディルムッドは逃亡中もフィンへの忠節を貫き、グラーニャには指一本触れなかったという。
結局、フィンと和解した後には、晴れてグラーニャと結ばれたものの、その幸福も長くは続かなかった。

アンロック条件: 絆レベルを5にすると開放
異父弟の生まれ変わりである猪によって致命傷を負わされたディルムッドは、癒しの魔力を持つフィンに助けを求めるが、グラーニャの件を根に持っていたフィンは彼を見殺しにする。

アンロック条件:「薔薇の双槍」をクリアすると開放
彼が聖杯に託す望みはない。その騎士としての誇りを全うしうる二度目の戦場を与えられることが、ディルムッドにとっては最大の祝福であり悲願である。葛藤なき晴れやかな武勇の誉れのみを求めて、ディルムッドは聖戦に参加する。

↑ 4.0 4.1 4.2 4.3 4.4 4.5 4.6 4.7 4.8 4.9

[] Fate/Zero material - Characters: Diarmuid Ua Duibhne, p.054-057

Diarmuid Ua Duibhne

Height: 184 cm
Weight: 85 kg
Blood type: Unknown
Birthday: Unknown
Image color: Kayneth, Sola-Ui
Talents: Outdoor cooking, welcoming guests
Things he likes: Friendship, codes of honor
Things he hates: Smitten maidens, extremely jealous men
Worst enemy:Kayneth, Sola-Ui

Takeuchi's comment
His charm point is his droopy eyes and button of a mouth. [Takeuchi]

Comment for Diarmuid
Takeuchi: At the time and place where I finished reading the first volume, as I thought "Uh-huh, like this", I was able to create the character's form. His clothing definitely has the manner of an English Rocker (a greaser).
Urobuchi: For me, who has an ironclad rule that beautiful people=evil or stupid, he is a really rare character for me. But I really thought that if a man is too beautifully formed, then his life would truly become miserable.
Takeuchi: Everything is best in moderation. He comes from the same Celtic mythology as Cu Chulainn, so his costume design follows the same lines.
Urobuchi: Celtic bodies! For some reason, as it moves from the time of the Gods to the time of Mankind, simplicity is consequently lost and parts increase; what a wild thought!

Misc text:
Sola-Ui: Lord Derry...
Kayneth: Sola-ui? Sola-Ui!

Takeuchi's comment
For no reason whatsoever, there are a large percentage of messy hairdos in Zero. [Takeuchi]

ディルムッド・オディナ

Takeuchi's comment

Comment for Diarmuid
武内:
虚淵:
武内:
虚淵:

Takeuchi's comment

↑ 5.0 5.1 5.2 Fate/Zero Anime Visual Guide I - Lancer entry, p.020
↑ 6.0 6.1 6.2

[] Fate/Zero material - Encyclopedia: Diarmuid Ua Duibhne [Servant], p.100

Diarmuid Ua Duibhne [Servant]
The Lancer class Servant of the Fourth Holy Grail War, summoned by Kayneth El-Melloi Archibald. A hero of the Fianna, spoken of in Irish mythology. The story of his tragic love affair with Grainne would later become the model for the story of Lancelot and Guinevere. It's no wonder that the Berserker of the Fourth Holy Grail War has such bad compatibility with him!
In battle, he wields two Noble Phantasms: the Crimson Rose of Exorcism (Gae Dearg) which temporarily nullifies the effects of magical energy, and the Yellow Rose of Mortality (Gae Buidhe) which inflicts cursed wounds that cannot be healed by any means.
His basic parameters are not particularly high, but he excels at using battle tactics designed to trip up enemies stronger than himself. In particular, he is the natural enemy of those Heroic Spirits which rely on the powers of their Noble Phantasms to fight. Depending on his strategy, it's even possible that he could have won the entire Fourth Holy Grail War (or suffer a humiliating defeat at the hands of Assassin).
Out of all the Servants in the fourth war, he had the second-worst compatibility with his Master. Though, if his very first opponent had been anybody besides Saber, he might have been able to fight in a way more in line with his Master's expectations. For you see, it was Saber's serene beauty and grace which kindled the flames of chivalry within his heart. Also, while he was summoned as a Lancer this time, and therefore carried the twin demonic spears Gae Dearg and Gae Buidhe, his legends also speak of a pair of demonic swords: Moralltach and Beagalltach. So, there was actually a decent chance he could have been summoned as a Saber. Or rather, that's probably what Kayneth was hoping for…

ディルムッド・オディナ【サーヴアント】
第4次聖杯戦争におけるランサーのサーヴァント。ケイネス・エルメロイ・アーチボルトに召喚され契約する。ケルト神話に語り継がれるフィオナ騎士団の英雄。彼とブラニア姫との悲恋の物語は、後のランスロットとギネヴィアの物語のモデルになったともされている。そりゃ~4thパーサーカーが苦手とするのも無理はない。
魔力の効果を瞬間的に無効化する破魔の紅薔薇(ゲイ・ジャルグ)、いかなる手段でも回復不可能な呪いの傷を負わせる必滅の黄薔薇(ゲイ・ボウ)という二倍の宝具を操る。
基本能力はさほど高くはないが、優位に立った敵の足許を掬う戦術に長けたサーヴァント。とりわけ宝具能力を頼みとする英霊にとっては天敵とも言える。戦略の立て方次第では、確実に第四次聖杯戦争を征していた(もしくはアサシン相手にあっさり不覚をとっていた)と思われる。
第四次でマスターに恵まれなかったサーヴァント第二位。もっとも最初に戦ったのがセイバーでなければ、まだしも多少は従容にマスターの意向を汲んだ戦い方をしていたかもしれない。彼の胸に眠っていた騎士道精神に火を点けてしまったのは、セイバーのあまりに清澄すぎる器量であったのだ。
今回、ランサーのクラスを得たディルムッドは、魔槍ゲイ・ジャルグとゲイ・ボウを携える槍兵として具現化したが、彼の伝承にはモラルタ、ベガルタという2本の魔剣も語り継がれており、セイバーのクラスで召喚される可能性も充分にあった。むしろケイネスはそちらを期待していたのかもしれない。

↑ 7.0 7.1

[] Fate/Zero material - Encyclopedia: Kayneth El-Melloi Archibald [Person's name], p.095

Kayneth El-Melloi Archibald [Person's name]
Kayneth demonstrated genius level talent during his time as a student. He was the youngest lecturer to grace the podium of the Department of Evocation in its history. His skills were not only in research, but also politics. Due to his great lineage, he had extensive connections. He was expected to form the greatest faction in the Clock Tower.
He did not participate in the Holy Grail War due to necessity or duress, it was merely to add a splash of "martial prowess" to his life's story. That was it. Although he did not severely underestimate the Three Founding Houses, he did boast that Lord El-Melloi could overwhelm them by skills alone.
The reason Kayneth brought many dangerous Mystic Code had nothing to do with research, but for entertainment value. Kayneth had talents not only in Spirit Evocation, but also in many fields of magecraft. He was really a man of many talents like Gennai Hiraga or Cao Cao.
Kayneth even considered the Heroic Spirits ---- Servants, to be part of his stock of Mystic Codes. Because he never acknowledged the humanity of Servants, he did not understand Diarmuid's loyalty even until the very end. As a result, he effectively lost through self-destruction.
However, Diarmuid was not choosey of his Master, he would acknowledge anyone who would accept his loyalty. As a result, he did not understand Kayneth as a person either. If Diarmuid really appreciated Kayneth's talents and experience, then Kayneth would have treated him with a much softer attitude.
To Kayneth, unable to bond with his Servant was the second most unfortunate event at the worst. The most unfortunate event by far was encountering Emiya Kiritsugu. Although as a mage, Kayneth won by an enormous margin, as a killer, he was miles behind Kiritsugu. It was inevitable that Kayneth would lose in a melee such as the Holy Grail War. Because of Kayneth's sudden death, his many valuable research accumulated in the Clock Tower was unorganized and left unattended. Although they were almost lost, the most useless formal student suddenly appeared to save the day. He had an unusual talent of "could not put magecraft to practice, but ingenious in the reinterpretation of theories and classification of systems". This student eventually compiled a tome named "Lord Kayneth's Encyclopedia of Arcane Secrets", which laid the foundation for the flourishing of House El-Melloi and its descendants.
By the way, in the Fourth Holy Grail War, the following strategy would insure the absolute victory of Team Lancer:


Kayneth must not let his Servant recognize such things as honour on the battle field or knights' pride. He must let Diarmuid realize that the Holy Grail War was merely dirty chores that needed to be done.

In order to fulfill the previous item, Kayneth must avoid any contact between Diarmuid and Saber with his best effort.

In combat, Kayneth must prioritize securing an exit. In a battle, missions would be considered accomplished if Diarmuid scored one hit with Gae Buidhe. Repeat this tactic, and exhaust all hostile teams.

Capitalize on Team Berserker. Team Berserker was a powerful enemy against all other teams, but Lancer had an advantage due to compatibility. It would be optimal to let Berserker destroy the other teams and reach the finale. He could then be defeated at that point.

ケイネス・エルメロイ・アーチボルト【人名】
学生時代から神童と謳われるほどの才能の閃きを見せ、降霊学科では最年少で講師の座に着く。学究の才能ばかりでなく政治的手腕も巧みで、家門の良さ故に有力なコネも大勢。ゆくゆくは時計塔内の最大派閥を形成するものと嘱望されていた。
彼が聖杯戦争に参加する理由には必ずしも切迫したものがあったわはではなく、自らの経歴の中に「武功」として評価される逸話も欲しくなった、という程度のものでしかない。『始まりの御三家』の必死ぶりを侮っていたわはではなかろうが、それを才覚のみて圧倒できてこそのロード・エルメロイ、という自負があったのだろう。
どちらかといえば研究畑の人間だったにもかかわらず、おそろしく剣呑な礼装を準備していたのは、単純に趣味の産物である。彼は降霊術のみなら、ず様々なジャンルの魔術で才能を見せ、その出鱈目な多才ぶりは平賀源内か曹操か、という有様であった。
英霊を使役するサーヴァントという存在すらも、彼にとっては数ある礼装の一つ、程度の認識でしかなかったのだろう。英霊の人格というものを認める気が毛頭なかったが故に、ディルムッドの忠義に打しても最後まで理解を示すことができず、結果として自滅も同然の敗退を遂げる。
とはいえ実のところディルムッドも、マスターとして自分の忠義を受け正めてくれる相手なら誰でも良かった節があり、ケイネスその人の人柄と向き合っての相互埋解を怠っていたのは事実である。もし板にディルムッドが、ケイネスの才能と経歴にメロメロになるほど感服した上で忠誠を誓っていたならば、ケイネスとてもうちょっと柔らかい接し方をしたんじゃなかろうか。
まあ、サーヴァントと信頼関係を築けなかったことは、ケイネスにとって二番目の不運に過ぎず、ブッチギリに一番の不運は、衛宮切嗣と巡り会ってしまったことに尽きる。魔術師としての位階は切嗣よりはるかに勝りながらも、殺人者としては切嗣に及ぶべくもなく、聖杯戦争という殺し合いにおいての敗退は必定であった。ケイネスの突然の死によって、彼が時計塔において積み重ねてきた多くの貴重な研究は未整理のまま放置され、あやうくその成果は散逸してしまうところだったのだが、いちばん無能だった一人の元弟子が、『魔術の実践はからきしなのに、理論の再解釈と系統分類は天才的』という妙な才覚を持ち合わせていたことで、最終的には『ロード・ケイネス秘術大全』という一冊の魔道書として編纂され、すべての秘術はアーチボルト家の管理上へと戻されて、後の家門の繁栄を盤石のものとした。
ちなみに第4次聖杯戦争におけるランサーチームの必勝パターンは……
• サーブァントに戦場の誉れとか騎士の誇りだとかを意識させない。聖杯戦争は汚れ仕事の処理業務だと常に諦観させておく。
• 前述の条件を満たすために、セィバーとの接触は極力避けること。
• 戦闘においては常に退路の碓保を最優先し、ゲイボウを一撃当てたら目的達成とみなし撤退する。これを繰り返し、各敵対チームの消耗を待つ。
• バーサーカーチームを活用する。他サーヴァントに対しては強敵でありながらランサーだけが相性関係で優位に立てる相手なので、可能であればバーサーカーを最終局面まで生存させて他チームの殲滅を任せ、しかる後に討ち取るのが望ましい。

↑ 8.0 8.1

[] Fate/complete material IV: Extra Material - Fate/Unlimited Codes - Characters - Zero Lancer, p.070-073

Zeroランサー - 時を超えて参戦する忠義の槍騎士

第四次聖杯戦争、つまり『Zero』におけるランサーのサーヴァント。ルヴィアと同じく、条件を満たすと乱入してくる特殊なキャラクターである。プレーヤーキャラクターとしても使用可能だが、ストーリーは用意されていない。ただし、同郷の英雄であるランサーには敬意を表したり、第四次聖杯戦争で決着をつけられなかったセイバーとの戦いに勝つと「にれぞ待ち望んだ結末だ」と発言したりするなど、因縁のある相手には固有の反応を見せる。その性格は騎士としての忠義に満ち、主人のための勝利を第一とするもの。ただしその勝利は誇りあるものでなければならず、正々堂々と互いの武芸を凝らした戦いを望む。戦闘においては"破魔の紅薔薇"ど必"必滅の黄薔薇"という長短2本の魔槍を自在に操り、遠近双方の間合いで敵を圧倒する。



まさかの参戦でした。第五次ランサーよりも描きやすく、わりとすんなり描けました。デモイラストがないので少し寂しいですが、あまりよい結末を迎えられなさそうなので、それはそれでよかったかも?それでも、第四次の『アンリミテッドコード』もやりたいですね。

↑ Fate/Grand Order - Salomon: The Grand Time Temple - Act 06: V / Arsenal Halphas
↑

[] TYPE-MOON 10th Anniversary Phantasm - Encyclopedia: Diarmuid Ua Duibhne [Character], p.380

Diarmuid Ua Duibhne [Character]

ディルムッド・オディナ [人物]【で いるむっど・おでいな】
4次ランサーの真名。チャームポイントは泣き黒子!な輝く貌をもつ可哀相なイケメン。何気にスペックは高いが、安定と信頼の幸運Eで深夜枠なのに昼ドラレべルの泥沼を展開する。なにこれこわい。(投稿者・残念それは残像だ)

↑

[] Comptiq 2007-06 issue - Fate Dojo Q & A:
Q: Cu Chulainn and Diarmuid are both Lancers, but who will win in an honourble battle?

Q: Cu Chulainn and Diarmuid are both Lancers, but who will win in an honourble battle? In their first engagement with Saber, Cu Chulainn was being pressed hard, but Diarmuid was able to pressure Saber. So... Diarmuid is stronger

A: Diarmuid received more backup from his Master (magical energy supply), thus in terms of pure firepower, Diarmuid was stronger. In Japan, both of them received 0 geographical boost (from the cultural sphere), but if the stage was in Ireland --- Cu Chulainn would have an edge.

Q:同じランサーであるクーフーリンとディルムッドがガチンコで戦ったら、 どっちが勝ちますか?初登場時のクーフーリンはセイバーに押しまくられ ましたが、ディルムッドは逆に押してましたよね?ということは ディルムッドのほうが強い……? (三重県/高原の清水)

A:ディルムッドはマスターからのバックアップ(魔力供給量)が 優れているので、単純な火力勝負ならディルムッドに軍配が上がるかと。 日本ではどちらも地形効果はゼロですが、舞台がアイルランドなら ―――クーフーリンに一本かと。

↑ 12.0 12.1 12.2 12.3 12.4

[] Fate/Zero Blu-ray Disc Box II English Translation booklet: Master Session 002 - Lancer Side, p.007-010

Master Session 002 - Lancer Side

Midorikawa: Lancer had quite a few of scenes, but I was struck by the scene where he curses them as he dies (episode 16), and by the way he's shown as being so vigorous in the first half of the episode. He was so lively that when he's forced to kill himself, you feel sorrier for him. I thought his suicide scene was handled delicately. There's an illustration for that scene in the original (the TYPE-MOON VERSION). But they presented it differently in the anime. I was really impressed at how well they pulled it off.

Yamazaki: I bet that if we'd applied ourselves, we would've been the favorite to win the Holy Grail War.

Midorikawa wished that they allow Lancer and Saber to go on fighting forever as Lancer seemed to be enjoying himself.

Animation Material

Kayneth El-Melloi Archibald
Lancer's Master. Lecturer at the Clocktower, the Mages's Association's headquarters.
Eldest son of the Archibald family. Taking part in the Holy Grail War as a feather in his professional cap.
A holy relic in his possession was stolen by Waver, his student.
He makes use of a mana-infused orb mercury, the Volumen Hydragram, to attack and defend. Atsushi Ikariya was in charge of the character design for the anime version.

↑

[] ALL OVER/Zero - Fate/Zero Exchange of Questions and Answers, p.024
Questions 12: Diarmuid tastes so good. [T]

Questions 12: Diarmuid tastes so good. [ Causal horizon · All the evil of the world ]

Gen: Among Fuyuki's local specialty of Servants, we carefully picked out the tragic Celtic hero, have him commit suicide through a Command Seal to ensure the ingredient's freshness. Our restaurant's main chef is very confident in and highly recommends this Lancer dish. There's nothing better than hearing that you enjoyed it.

Q:「ディルムットうめぇー」[因果地平・この世全ての悪]

虚:冬木の名産として名高いサーヴァントの中でも、特に悲劇性の風味が香るケルト英雄を厳選して使用いたしました。素材の鮮度を活かすべく伝統の令呪自害にて調理した、当店のシェフが自信を持ってお勧めするランサー料理。お気に召していただけたようで何よりです。

↑

[] ALL OVER/Zero - Fate/Zero Exchange of Questions and Answers, p.024
Questions 13: ...Is it a tradition that the Saber class is always beaten by the Lancer class at the start of the story? [T]

Questions 13: ...Is it a tradition that the Saber class is always beaten by the Lancer class at the start of the story? [ Wales · Pig of Cornwall ]

Nasu: That also surprised me, it's something to be admired. Please understand the power of Urobuchi Gen, who faithfully followed the beginning of Fate/stay night's story. But... to think he also copied its ending! That person really is a demon! (Biting a handkerchief while crying)

Q:「......セイバーのクラスには、開幕早々ランサーに不覚を取るというジンクスでもあるのでしょうか?」[ウェールズ・コーンウォールの豬]

奈:アレはボクも驚いた。なんというセルフオマージュ.....!Fate/stay nightの冒頭を踏襲する虚淵玄の構成力を思い知ってください。でも......でも、オチまで踏襲しなくでもいいじゃない!鬼だよあの人は!(泣きながらハンカチを噛む)

↑

Fate/Zero Blu-ray Disc Box I, p.030