Noel (ノエル, Noeru?) is an Executor of the Holy Church posing as a teacher at Metropolitan Souya High School in the Tsukihime Remake series.
Profile
[
]
Background
[
]
Noel appears one day as Shiki Tohno's homeroom teacher after his previous one died suddenly, going by the name Noel Aizome (愛染ノエル, Aizome Noeru?). She is the pupil of Ciel, who had taken her in as a student five years earlier after she had run afoul of a bishop.
Thirteen years before the events of Ciel's route, Roa (then using Ciel's body) and a group of his Dead Apostle Ancestor allies attacked her hometown, leaving her the sole survivor. This left her with a deep hatred of both Roa and Ciel, who she blamed as much as Roa himself for the massacre she survived. It is due to this that she became an Executor.
Appearance
[
]
Noel is a woman with brunette hair, brown eyes, and a mature look about her. She keeps her hair in a side ponytail with a pink elastic tie. When undercover as a teacher, she wears a blue blazer and pencil skirt over a white dress shirt, black tights, and high heels. When working as an Executor, she wears a button-up nun's habit with a cutout that exposes her legs and knee-high combat boots. Occasionally, she also wears the traditional coif and veil of a nun with this outfit.
As a result of her vampirization, Noel physically regresses to her fourteen-year-old self, her once brown hair becomes a magenta hue, while her eyes are turned crimson from their original brown. She trades out her church uniform for a purple sleeveless butterfly-esque coat held together by a large bow around her collar. Underneath her coat, Noel wear what appears to be a matching corset and thigh-high stockings. She has a pair of floral wrist cups and a pair of similar looking heels that each possess a single thorn protruding from their ends. Rather than exactly resembling her appearance when she was younger, Noel's face is changed by her vampirization.[2]
Personality
[
]
Noel gives off a friendly impression from her cheerful expressions and is quite flirtatious, especially with Shiki and others who are younger than she is. However, this belies her cowardice and twisted pleasure in inflicting pain on anyone she considers to be weaker than herself, both humans and vampires. She is driven by a strong inferiority complex due to her sub-par skills as an Executor, and it is due to this that she eventually becomes a Dead Apostle in Ciel's route.
Role
[
]
Tsukihime
[
]
Arcueid Route
[
]
Early on in Arcueid's route, Noel attempts to sexually assault Shiki, with him being scared out of his mind as he freezes up. Just as she takes off his glasses, he snaps out of it, pushing her away and immediately running. Afterward, Shiki begins to imagine something calling to him from the end of a really dark alley.
In Arcueid's route, she quits working at the school due to Vlov being taken care of and no longer needing to monitor for potenital Roa hosts.
Ciel Route
[
]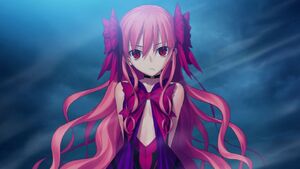 In Ciel's route, Noel is bitten by Vlov Arkhangel; while the bite was not deep enough to turn her and she lacked the potential to become a true Dead Apostle, her fear slowly drives her insane and she begins torturing other vampires to death in an attempt to find salvation. After being confronted by Ciel and losing the ensuing fight, Dr. Arach uses one of her drugs to convert her into a Dead Apostle and the newly vampiric Noel goes on a rampage with the intent to kill Shiki and torture Ciel as revenge for what she suffered. After being beaten by Shiki and Ciel, she uses Arach's final injection, which proves to be too much for her to handle and causes her body to burst into a mass of thorns. She attempts to make one final attack while screaming at Ciel to "save" her, but is destroyed by the Seventh Holy Scripture.
Melty Blood: Type Lumina
[
]
Abilities
[
]
Human
[
]
Noel is an Executor, but compared to others she is not an exceptionally powerful one, referring to herself as "weak against the strong, but overwhelmingly strong against the weak".[3] While she can easily wipe out large groups of the Dead and eliminate normal Dead Apostles, stronger vampiric beings such as Dead Apostle Ancestors or True Ancestors are far out of her league. Her primary weapon is a halberd-like polearm, but she also makes use of a variant form of Black Keys as a sidearm. These Black Keys take the form of stake-like swords rather than thin blades with red hilts, and are specialized towards thrusting rather than cutting. Her polearm is extremely heavy so that it is able to inflict much greater damage on foes, weighing around a metric ton. However, she cannot comfortably swing the weapon even with her training as an Executor, so she must use a Sacrament that lowers its weight in order to be an effective fighter.
While she does not appear to be particularly talented with the Church's sacraments, she shows the ability to create holy barriers strong enough to completely contain fourteen fully grown Dead Apostles. Merely touching the barriers causes the vampires' bodies to melt as if they were exposed to sunlight. The boundaries of these barriers are demarcated by her swords, which she plants in the ground in a similar manner to Ciel's use of the Black Keys.[4] She is also capable of imbuing her polearm weapon with a lightning Sacrament to put more power behind her otherwise unremarkable attacks, and of using a spell that forcibly makes a Dead Apostle experience pain like a human being in order to more sadistically torture them.
In Arcueid's route, she allows Mario to control her limbs, with his assistance allowing her to fight against Arcueid briefly.[5]
Dead Apostle
[
]
Noel still wields her halberd-like polearm as her primary weapon in combat. While normally unqualified to become a Dead Apostle due to lacking the potential, Dr. Arach was able to artificially induce her transformation into a powerful Dead Apostle.
Upon being turned by Dr. Arach through the scientist's experiments, Noel also gains the Dead Apostle Ancestor Rita Rozay-en's Mystic Eyes of Roses (薔薇の魔眼?). The eyes allows her create a telepathic connection between herself and her target, allowing her to either attack her target by projecting her traumatic memories into their minds or by sealing the victim's mind within her own.
She also gains the power to sprout thorny vines from her person. It is implied that Dr. Arach's procedure somehow granted Noel some of Rita Rozay-en's abilities, or those of a vampire from her lineage.

Development
[
]
Creation and Conception
[
]
Noel was developed to fill the previously absent role of a teacher in the school. She was first revealed in TYPE-MOON Ace Volume 10 in 2015. She was designed to have a more "adult" appearance than the main heroines, but as a character turned out to be more like "an adult who sucks at being an adult".[1] The concepts behind her design as a vampire were a "butterfly fairy, but still visibly Noel" and "Noel's dark passions hatched".[2]
References
[
]
↑ 1.00 1.01 1.02 1.03 1.04 1.05 1.06 1.07 1.08 1.09 1.10

[]

Tsukihime Material I

- CHARACTER Profile: Noel, p.32-33

Noel


Gender: Female

Age: 27

Blood type: B

Height: 169cm

Weight: 59kg

Birthday: December 25th

Alignment: Chaotic Neutral

Likes: Gifting herself, social media, antiques, younger lovers

Dislikes: Unwieldy weapons, dentists, younger bosses

Natural enemy: Ciel



Comment from the illustrator: A new teacher transferred to Shiki's school and an Executor working with Ciel. The main idea was designing her more adult than the heroines. Well, she turned out to be more like an adult who sucks at being an adult.

ノエル


性別:女性

年齢:27歳

血液型:B

身長:169cm

体重:59kg

生日: 12月25日

属性:混沌・中庸

好きな物: 自分ごほうび、SNS、アンティーク、年下の恋人

嫌いな物: 扱いの難しい武器、歯医者、年下の上司

天敵: シエル



COMMENT from STAFF
志貴の学校に転任してきた教師であり、シエルと行動を共にする聖堂教会の代行者。
ヒロインたちよりも、色々な面で大人に見えるように抜けてデザインしました。まあ大人というよりは、ダメ社会人って感じになってしまいましたけど。(武内崇)

↑ 2.00 2.01 2.02 2.03 2.04 2.05 2.06 2.07 2.08 2.09 2.10 2.11

[]

Tsukihime Material I

- CHARACTER Profile: Dead Apostle Noel, p.34-35

Dead Apostle Noel


Gender: Female

Age: 27

Blood type: Unknown

Height: 143cm

Weight: 35kg

Birthday: December 25th

Alignment: Chaotic Evil

Likes: Her puny, audacious, and pathetic enemies; her best self

Dislikes: Ciel

Natural enemy: Ciel



Comment from the illustrator: Noel's appearance reborn as a Dead Apostle. The design concept was butterfly fairy, but visibly still Noel. She's not just a younger Noel. Her face was changed by the vampirization. Another possible way to describe concept is Noel's dark passions hatched.

死徒ノエル


性別:女性

年齢:27歳

血液型:不明

身長:143cm

体重:35kg

生日: 12月25日

属性:秩序・善

好きな物: 弱っちくて生意気でみじめな敵、絶好調な自分

嫌いな物: シエル

天敵: シエル



COMMENT from STAFF
死徒に生まれ変わったノエルの姿。
デザインコンセプトは、見たままではありますが妖蝶。単に少女時代のノエルというわけではなく、顔つきも吸血よって変容しています。ノエルの持つ暗い情念の孵化というイメージもあるかもしれません。(武内崇)

↑ Melty Blood: Type Lumina character profile
↑ Tsukihime -A piece of blue glass moon- - Rainbow in the Night route - Day 8: "Reverse Hatching II"
↑ Tsukihime -A piece of blue glass moon- - Moon Princess route - Day 10: "Vermillion, Crimson Moon I"