Okita Souji Alter (沖田総司 オルタ, Okita Sōji (Oruta)?), Class Name Alter Ego (アルターエゴ, Arutā Ego?), is a Counter Guardian appearing in the Imperial Capital Holy Grail Strange Story of Fate/KOHA-ACE. She is also an Alter Ego-class Servant summoned by Ritsuka Fujimaru in the Grand Orders of Fate/Grand Order. There is also a parody form known as Devil Saber.
Profile
[
]
Identity
[
]
Okita Souji (Alter) (沖田総司〔オルタ〕, Okita Sōji (Oruta)?), also known as Devil Okita Souji Alternative (魔神・沖田総司・オルタナティブ, Majin Okita Sōji Orutanatibu?) and Okita Alter (沖田オルタ?). The swordmaster group Shinsengumi became legendary in the Bakumatsu period, and Okita Souji was said to be strongest among them. And she is an alter ego of Okita Souji. She is a Counter Guardian formed through Sakura Saber's spiritual foundation taking in a Holy Grail filled with Seven Servants and being supported by the Counter Force.[1]
In Fate/Grand Order, her background was retconned to reveal that Okita Souji was originally born prematurely and would have died shortly after being born, but the prayers of her sister allowed her to make a contract with the World, which arranged for her body to be used as a Counter Guardian. This version of Okita had a intentionally deteriorated Saint Graph, which was set to self-destruct to ensure the destruction of a major threat to the World at the expense of Okita Alter's existence.
Appearance
[
]
She appears as a young teenage girl with long white hair, tied back at either side with red tassels. She wears a red and black dress bearing similarity to a short kimono and long European style coat, complete with high collar held closed by a rope tassel. She appears to wear long stockings.
Personality
[
]
Due to the circumstances of her creation, Okita Alter came into being with the mentality of a newborn and is at first unable to even speak. She lacked the memories and combat prowess of the original Okita as well, which led her to doubt that she was even an Alter until meeting Okita herself.
She is more emotionless than normal due to her support from the Counter Force, but her roots as Okita remain the same. She takes on a "hitman attitude that will kill anything", but deeply cares for her Master and believes that it was her love for them that allowed her to survive what was thought to be her certain destruction. She is also highly aware that her current existence remains unstable, and so seeks to make good use of the time she has left to her.
In terms of her likes and dislikes, she has stated in her My Room Lines that she enjoys Oden, even to a point where she would hesitate to destroy the Holy Grail after she found out she could wish for Oden during the summer. When asked about her dislikes, the only thing that came to her mind was when she participated in a raffle and didn't win anything. She stated that "drawing nothing but blanks was really mortifying in reality". Both of these likes and dislikes could be related to her parody version, Devil Saber (Parody)'s likes and dislikes as both enjoy Oden. Devil Saber (Parody)'s dislike is "When no Rares drop after rolling 10 Gachas". This can be related to Okita Alter's dislike toward drawing blanks, even in terms of store lotteries.
Okita Alter also cares deeply for her master for "granting her a life that should have never been possible". She has expressed her gratitude multiple times in the My Room Lines for everything her master has given her. But besides these three things, and a wish to wear clothes like Berserker Nobu, she holds most other things and people at a rather neutral opinion.
Role
[
]
Fate/Koha-Ace
[
]
As Sakura Saber, Demon Archer, and Lancer face Caster and the Neo Fuhrer, they find themselves unable to defeat it. Archer kills Lancer, tells Saber to use the Grail, and then dies herself. Saber takes the Grail into herself and becomes Devil Saber.[2] She then defeats Caster and the Neo Fuhrer with Absolute Sword - Endless Three-Stage. Okita returns to normal after and brings a small Archer back with her.[3]
Fate/Grand Order
[
]
GUDAGUDA: Legend of the Imperial Capital Grail
[
]
Okita Souji Alter is the main servant aiding Ritsuka Fujimaru during the third GudaGuda event.[4][5][6][7][8][9][10][11]
All-Out Nobunaga Assault - GUDAGUDA Final Honnoji 2021
[
]
Abilities
[
]
Although Okita Souji Alter shouldn't exist, she gained a Saint Graph with which to manifest thanks to an event during Okita Souji's childhood. When she was on the verge of death, Okita's sister prayed to all deities and sealed the agreement to "forfeit her to the World, once."[1][8] Okita Alter is an extremely special Heroic Spirit with a Saint Graph changed and tailored to exercise the Counter Force's might. Since she was tailored under the goal of manifesting only once, and to either annihilate her target or go down with them, everything besides the Saint Graph's essentials was altered to a level different from that of her base (Okita's Saint Graph), to the point where they can't be considered the same.[1][10] That's also why she was summoned as an Alter Ego instead of in Okita's most suitable Class, Saber.[1][9] She is a potential final state Okita Souji could have attained had she not passed away too young.[1] She claims to be the true Okita Souji... the strongest Okita Souji.[4] The one who rips demons asunder, destroys gods, and collects mankind's prayers. Sakamoto Ryouma states that Okita Alter is on a completely different level than him, in every possible sense.[10]
She is not supposed to get a Master, only to manifest as a Counter Guardian once and disappear.[1] In the Imperial Capital Holy Grail Strange Story, Okita Souji is able to summon Alter into her body to defeat Neo Fuhrer by taking in a Holy Grail filled with Seven Servants.[2]
Combat
[
]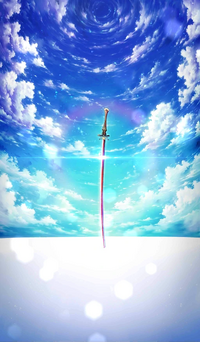 In combat, Devil Saber wields Rengoku, "a cool black katana." The name "Purgatory" is something that was arbitrarily attached and originally it was an unsigned mysterious armament. Somehow it is sentient and intelligent (to the point of being able to communicate on its own), its performance changing considerably according to the user's mood. When the user's condition is good, the center of the sword's blade shines with a crimson light. It seems to be pleased with the purgatory name.[1]
Although her sword looks different from Okita's, they are supposed to be used identically.[8] Her combat style mostly takes Okita's as its base, but she has her own unique additions, including a Magic Resistance rank high enough for someone made under the premise of fighting against the supernatural and an area-of-effect attack for annihilation purposes. On the heat of battle, she tried throwing her sword once, but she learned not to do that because it angered Rengoku. But she still sometimes forgets and throws it. She's the Okita Souji that can shoot beams.[1]
Ascensions
[
]
Because Okita Alter is meant to use all her power in a single fight, like a bomb just waiting to go off, whenever she is summoned, she is in an extremely weakened state in order to save up Magical Energy.[10] In her default state she doesn't even know how to talk or fight.[5] Even after getting more accustomed to fighting, Okada Izou says that she has pitiful skills. He regards her swordplay as a bad joke, with a form BEYOND amateurish. Okita Alter apologizes to Ritsuka Fujimaru after exchanging a few blows with Izou, saying she can't beat him, and they decide to withdraw.[6] Izou believes she is such a weak Servant by this point that she wouldn't last more than a second against Li Shuwen (Young Lancer). Although she was doomed from the start, she still blocked Li Shuwen's attacks no fewer than three times. Despite Okita Alter lacking confidence in her skills, it is thanks to her ignorance that she was able to deliver a flawless, techniqueless decisive blow to Li. Still, Li claims that he may not have lost hadn't he relaxed his guard at the last moment. Ritsuka states that by this point, she seems a lot stronger than she was before. She says that the reason she is moving better is having seen Okita Souji fight, and that Izou's previous fight with Li helped to weaken him.[7] When both Okitas finally fight, Alter is able to slowly polish her style, getting it closer and closer to Okita's. When Okita Alter finally remembers her true nature, she caught up with Okita and becomes able to equally match her in speed, despite having a huge blade. Despite the real Okita activating her Coat of Oaths, she still loses. Although Alter believes Okita could have cut her down at any time, Ritsuka hypothesizes that she chose to train her instead. Before vanishing, she hands her Coat of Oaths Noble Phantasm to Okita Alter, allowing her to finally ascend her Saint Graph to her 2nd stage.[8]
Even in her second stage, Oda Nobunaga is still unsure of whether or not Okita Alter is really Okita's Alter Ego, saying that she's fairly sure that the real Okita could do better than her in combat. Despite Okita Souji Alter working together with Oda Nobunaga, Sakamoto Ryouma, Oryou, Hijikata Toshizou, Okada Izou, and Oda Nobukatsu, they can't "hold a candle" the Demon King of the Sixth Heaven - Akechi Mitsuhide. No matter how much they attack him, their attacks don't work. However, Okita Alter says that if they do something about the Holy Grail in Mitsuhide's chest, she can handle the rest.[9] While Hijikata pins Mitsuhide down, Nobuga uses Demon King of the Sixth Heaven and Ryouma Like a Soaring Dragon,[9] successfully removing the Grail.[10] Nevertheless, the Black Giant doesn't take any damage, and states that a Servant such as Okita Alter with possessing a pitifully weak Saint Graph can't hope to defeat him if Oda Nobunaga couldn't.[10]
By absorbing the Holy Grail that Nobunaga and Ryouma had removed from the Demon King of the Sixth Heaven - Akechi Mitsuhide's chest, Okita Alter was able to manifest her final Ascension. With it, she teleports Mitsuhide into a blanc realm she calls infinity.[10]
Skills
[
]
Class Skills
[
]
Magic Resistance (B Rank): Since, unlike the real Okita, she's made under the premise of fighting against the paranormals, she maintains a Magic Resistance fitting for the Saber Class. By the way, she also overcame her disease. Unfair? Yeah, I get what you mean, but still...[1]
Independent Action (A Rank): As a Counter Guardian, it's possible to act independently. The high rank is because she was tailored for the purpose of manifesting under despairing circumstances and annihilating the target solo or disappearing taking them with her.[1]
Personal Skills
[
]
Furthest Earth (A Rank): The ultimate way of walking, which allows complete movement in all forms of space.[1]
Persistence (B Rank): A constant light shines her way in a battle fought long without pause. Said light proves her memories of that day are real.[1]
Boundlessness (A Rank): An infinite light shines the world as a whole. The golden aurora that destroys Mara.[1]
Noble Phantasm
[
]
Her Noble Phantasm is Absolute Sword - Endless Three-Stage, an attack performed with her sword Rengoku, able to annihilate or remove from the world what which was not supposed to exist, or even what cannot be allowed to exist.[1] During the Imperial Capital Holy Grail Strange Story, Okita Souji Alter used it to destroy Maxwell's Demon and Neo Fuhrer.[3] Incalculable, indisputable, infinite. These three traits are combined in the sword's nature.[1] In the Imperial Tokyo Singularity, it is shown that Okita can access a realm of endless nothingness. A point where nothing exists before or beyond it. A blanc realm she calls infinity.[10] There, she defeats Demon King of the Sixth Heaven - Akechi Mitsuhide on her own.[11]
Forms and Alternate Versions
[
]
Swimsuit
[
]
The child accompanying her is her sword Rengoku.
Abilities
[
]
Class Skills:
Personal Skills:
Noble Phantasm:
Okita Souji Alter's Noble Phantasm is Absolute Sword - Endless Flash.

Development
[
]
Comment from Illustrator
[
]
Who would have thought she was such an airhead character… The concept for the first Ascension is a dark, Gundam MK-2-like Okita. The second Ascension is a what-if scenario for where she fought on the Goryoukaku. And the third Ascension is her final battle mode as a Counter Guardian. Purgatory, her sword taller than herself, was designed by Shimaudon. (Takashi Takeuchi)
References
[
]