Quetzalcoatl (ケツァル・コアトル, Ketsaru Koatoru?), Class Name Rider (ライダー, Raidā?), is a Rider-class Servant summoned by Ritsuka Fujimaru in the Grand Orders of Fate/Grand Order.
Profile
[
]
Identity
[
]
One of the supreme existences in North and Central America as well as in Aztec Mythology.[1][2] In mythology, he is a gentle god who loves peace, and it is said that he bestowed many blessings to the humans.[2] The meaning of his name is "Winged Serpent" or "Feathered Serpent".[1] It is said that he is called the god of wind, spirit of rain, the god of culture, and the god of harvest and life. There is also a legend that he is a Sun God who governed the sun for a time.[1][2]
Legend
[
]
Quetzalcoatl was once regarded as the same as the god Tlahuizcalpantecuhtli, the Good God who is the embodiment of the Morning Star, as well as the Mayan god Kukulkan, and he denied the ceremonial sacrifices the humans offered to the gods "as unnecessary."[1][2] He possesses many legends of virtue, but is also endowed with aspects as a ferocious deity of war. Quetzalcoatl was a righteous god under whom humans prospered.[1] Although he guided the people to prosperity by bestowing them many knowledges such as agriculture and fire, all while loving everybody, he bought the resentment of the god Tezcatlipoca, and before long, in the end, he was defeated in battle by him; it is said that he took off to Venus from the Aztecs, and his figure was erased. Prophecies were left behind of his return to the Aztecs once again; later on, the Aztec people believed that Quetzalcoatl had returned with an army of Spanish people, including a group of Spanish conquerors that had visited the area, and they believed he had reached the decision of having the Aztecs perish.[1][2]
The Yucatán Peninsula is the place where a meteorite fell and caused the extinction of the dinosaurs, and a mythological system was cultivated above this plateau, concealing the "bestowed 'blood' from an outside astronomical object." The first generation Kukulkan (the name of Quetzalcoatl in Mayan Civilization) was an existence that possessed elements (bacteria and microorganisms) of this outside astronomical object, or so it was told. This backstory is closely matched with Altera's, and yet, it was a visitor from the universe more ancient than Altera. However, there is a discrepancy where Altera was an invader while Kukulkan was a being adrift in space.[2]
The deities of South America returned to the jungles of their land and shut down their activities, but they dreamt of the development of humanity. Humanity "is still irrational now, but in the distant future, they will have autonomy, they will have competition with each other, and finally, they will become a species prospering far and wide, plentifully, abundantly, and persistently," and these kinds of deities that arrived by being imported from the outside have slept, dreaming of humanity becoming that prosperous species. Those are the deities of South America in the Fate Universe.[2]
Appearance
[
]
Personality
[
]
A god of peace and tranquility. Now, Quetzalcoatl is an enigmatic elder sister who is addicted to lucha libre. A gentle god who guided to prosperity and with affection, the lovely humans. A gentle god with a famous legend. Basically, human beings are the subjects she watches over in the near future, and whether they are people who points their blades or whether they are people who believes in themselves, she thinks about how one should not kill thoughtlessly. A bright optimist. However, a faithful optimist as well. She surely has a smiling face that makes the sun apparent in the hearts of men, and that she surely believes in opening up a path to a happy era, not letting that brightness be extinguished no matter what kind of crisis there is. An elder sister with a very big-hearted spirit, a broad-mindedness that is like the earth, and a bright and passionate disposition that is like the sun.[2]
Nonetheless, her thought criteria and the scale of her existence is that of a god's. Quetzalcoatl cannot capture everything on the same scale of a human being's, and may even sometimes pass a cruel and brutal judgement as a result. She is without mercy to opponents considered a disaster or a foreign enemy, displaying a terrifying facial expression. For most things, Quetzalcoatl endorses communication and prosperity with a smiling face, saying that "it is wonderful everybody's fineee, so this elder sister is happy!", but she becomes displeased when talking about alcohol and Tezcatlipoca. This person deeply regrets that she was defeated in the battle with Tezcatlipoca, while simultaneously, she feels a lot of resentment as a result. Rather saying that she's angry at Tezcatlipoca, she becomes "sullen" towards her powerlessness in defeating Tezcatlipoca, who is the spider, and that Jaguar deity. Regarding "alcohol", it is the biggest reason why she was defeated in the battle against the former Evil God, and although she wants "no more", she drinks without thinking in order to encourage herself, even now. Only a small bit will get her drunk, and she will state what she really thinks with her "bad self…" And then, she becomes unconscious, having no recollection of it.[2]
The particulars on how Quetzalcoatl got addicted to lucha libre (professional wrestling) is quite simple: she ended up seeing lucha libre during a time when she was summoned into some age, and that overwhelming shock since then made a very strong impression even on her main body sitting on the seat of gods, or so it seems.[1][2]
« So, it's the body! Something like using weapons to occasionally kill each other, that should be avoided to the utmost care! Even during times of discussion, lucha is the most suitable answer! »
(Quetzalcoatl)
Her favorite luchador is Mistico. As a god of wind, and as a god of the Morning Star, Quetzalcoatl observed the luchadores (luchadoras in the case of women) flying freely as if they have wings, and she was deeply moved, shedding tears of gratitude, before having experienced then the distant future, or something like that. Thereafter, her fondness for diligence and her characteristic curiosity turned into her fortune, and she became a luchadora just like that, acquiring a persona of a professional wrestling enthusiast that is unprecedented even among the goddesses.[1][2]
During the moment where Quetzalcoatl is summoned as a Servant, she views something sprouting in the Master, and then becomes deeply moved. Basically, she is the Master's favorite Servant. However, she does not "love the Master" in the meaning of the broader sense, but she loves the "growth of this seed called mankind that is being nurtured within this Master."[2]
Usually, Quetzalcoatl has a feminine tone that is graceful and polite. More or less composed. However, when she encounters something that makes her a little happy, there is a sudden rise in tension within her, and while still like that, she has difficulties in pronunciation, becoming like a pseudo-foreigner in her speech.[2]
Her favorite phrase in the moments of agitating her opponent is "Yucatán?"[2] Seen as free and uncontrolled, Quetzalcoatl is a goddess full of kind-hearted intelligence. She hates sacrificial ceremonies and loves mankind.[1][2] She knows the lucha libre (professional wrestling) of Central and South America by materializing, and she is receiving a great influence from this.[2]
Relationships
[
]
"The worst, disgusting Divine Spirit no matter the time or place. That shitty bastard spider! And as aforementioned, you manifested in the worst form just like I said! Really, you're so dirty-looking to the point that I want to smash you to pieces. Among other things, a god tainted by modern civilization, and I wonder if you are not ashamed of yourself as a god!"

※ (Today's "Shut up, you're in no position to say this")[2]

"I cannot hear anythinggg, and I cannot see him anywhereee! As one would expect from Jaguar, he is in perfect stealthhh!"[2]

Ereshkigal / Ishtar / Gorgon

"Ciao~❤ Well, I'd thought I never see the day that I get to meet you here!"[2]

"The more I know, the more we overlap! Let's get along, my fellow Sun!"[2]

"They are like younger brothers. Eh? They are not?"[2]

■■■■■■ ■■■■■■

"I'll replace the blood in your entire body with a 'deathly poison that goes hand in hand with the most extreme pain in this world', and furthermore, continuously bathe solar winds on your body until it becomes only bones; after that, I'll affix your soul to them so that you'll live as a skeleton as well, before making you do ten thousand years worth of labouring underground in the underworld!"[2]
Role
[
]
Fate/Grand Order
[
]
A portion of Quetzalcoatl has been given form and incarnated as a Servant. This is an incarnation of a copy of one of the highest beings. Due to these abnormal circumstances, Quetzalcoatl has taken the appearance of a completely unknown woman, descending upon the modern era as a god who loves the proud Mexican sport of lucha libre... It's not as if she's particularly worshipped as a god of lucha libre. She just really likes lucha.[1]
Originally a male deity, at the time of materialization, Quetzalcoatl obtained an existence as a female deity. Maybe she was drawn towards the image of Venus (Aphrodite), the goddess of beauty and of the planet Venus, due to the influence of planet Venus's existence which is regarded as the same as Quetzalcoatl's for a long time, or so the person herself says.[1][2]
The deities of South America are greatly unlike the other mythological systems of deities, and those South American deities would take action in "transferring from one human to another." Even the god Quetzalcoatl was identified in several ways according to different regions, and it may not come to light that this female body of some time period became Quetzalcoatl.[1][2]
Seventh Singularity: Babylonia
[
]
Quetzalcoatl is summoned in southern Mesopotamia by Tiamat through the Holy Grail's influence.[4] Together with Jaguar Man, she took control of Ur and Eridu. At Eridu she placed her Noble Phantasm, Piedra Del Sol, at the altar of a temple she had built to increase her Divinity in Sumer.[3] Soon a jungle surrounds both cities to bar Demonic Beasts from entering. However, Quetzalcoatl bans the people of Ur from leaving to get help elsewhere, and those who break that rule will be killed by the jungle. She also has them send one man a day to Eridu under the pretense that they're sacrifices to satisfy her. In reality, though, she is training the men of Ur to be part of her army.[5]
She, Gorgon, and Ereshkigal are convinced by Kingu to become the Three Goddess Alliance.[6][7] Quetzalcoatl joins to prevent the other members from destroying humanity with the Greater Grail of Uruk by getting to it first. In accordance with the Alliance's goal of destroying humanity, she would kill a hundred humans a day. She also wanted humanity to hate Gorgon so they can fight her with all their strength.[8]
Quetzalcoatl breaks through Uruk's southern gate and begins heading towards the ziggurat. She kills the soldiers who try fighting her, immediately reviving them afterwards.[3][9] Ritsuka's party fights her, but stops upon seeing that their attacks are ineffective. Quetzalcoatl tells them her personal method of destroying humanity, saying she won't use her Authority. Mash points out though that she used her Authority in their fight. Quetzalcoatl responds by saying humans need difficult trials to help them grow. She then rides a pterosaur back to the jungle since she reached her quota of killing 100 humans a day.[3]
She welcomes the group when they arrive at her temple, praising them for heading straight for her after her attack. She proclaims she wants to coexist with humans, as they give gods like her purpose, but Ritsuka and Mash say that contradicts with the Alliance's overall goal. Quetzalcoatl says it doesn't, asserting she's helping humans to adapt to their environment. She therefore claims humanity won't go extinct as long as she's around, even though they won't be safe or at peace. She then decides to give Ritsuka a chance to destroy her Sunstone, for as long as the others can hold off. Before that though, she expects Ritsuka to understand her if they also enjoy fighting like she does. They answer they don't to her shock, so she asks what means fighting is to them. Ritsuka answers "It's something to give your all, so you can relax later!" Impressed by their answer, Quetzalcoatl then fights Mash, Ishtar, Medusa, and Jaguar Man. By the time Ritsuka reaches her sunstone, she has defeated the others, and starts approaching the temple's altar. But to her shock, Ritsuka does a plancha from Ishtar's Manna high in the sky. She catches them at the last moment, and joins the group, impressed by Ritsuka's resolve.[9] Afterwards, due to the sheer size of Marduk's axe, Quetzcoatl fastens ropes made from jungle vines to her winged serpents to carry it to Uruk. After preparations are complete, she takes the group to see a cylinder seal in the center of Eridu. After the group learns of its prophecy, Quetzcoatl orders Jaguar Man to supervise the winged serpents carrying Marduk's axe. She then returns to Uruk with the others.[10]
Upon returning though, the group learns Gilgamesh has supposedly died from exhaustion. They doubt this, as Siduri notes a number of similar cases in Uruk. Quetzalcoatl attributes this to Ereshkigal and reveals Ishtar isn't an Alliance member like the others thought. She suspects one of Ereshkigal's gallû spirits took Gilgamesh's soul to Kur. She stops Ishtar from trying to leaving, expecting she knows how to get to Kur. The group then head for Kur to rescue Gilgamesh.[10]
At Kutha, Quetzalcoatl and Merlin are told by Ishtar to stay on the surface, while she, Ritsuka, and Mash descend into Kur. She explains it's because those with divinity are weakened in Kur. She also wants them to bargain with Ereshkigal to return Ritsuka and Mash to the living world if they fail. The group return to Uruk after rescuing Gilgamesh and convincing Ereshkigal to help.[11]
At the ziggurat, the group immediately begins a strategy meeting for Gorgon. Gorgon's current forces comprise roughly 100,000 Demonic Beasts gathered in the Cedar Forest. Gilgamesh orders the group to go to the Blood Fort, while the Northern Wall forces hold off Gorgon's forces. The Blood Fort is in the underground lake deep within the Cedar Forest. Gorgon will also lose much of her Authority once the Blood Fort is destroyed. Gilgamesh suggests Quetzalcoatl throws Marduk's Axe at the Blood Fort from the Northern Wall, where it was relocated. Quetzalcoatl however points out the retribution Alliance members face if they attack each other. Merlin devises a plan where he and Ritsuka will sneak into the Cedar Forest and head to the Blood Fort. Once they're close enough, he'll signal Quetzalcoatl who'll throw the axe to him. He tears off a cloth from his staff to be tied to the axe so it can home in on his location once thrown since the cloth and his staff are connected. The group then travel to the Northern Wall to begin the operation.[12]
Quetzalcoatl and Jaguar Man defend the Northern Wall, while the others head for the Blood Fort. Saving Jaguar Man from Kingu's ambush, Quetzalcoatl confirms to Kingu that she and Ereshkigal deserted the Alliance. Her desertion disappoints Kingu since they thought she would've understood Gorgon's grief, as Hernán Cortés destroyed her civilization. They sympathized with her when she said she'd kill every single human, having thought she'd become an avatar of slaughter. Quetzalcoatl prepares to fight them, declaring she'll kill Gorgon afterwards. She'll consider it her thanks to Gorgon for not trying to killer, and for helping her find a new Master. Kingu finds that absurd and decides to kill her out of disappointment. Quetzalcoatl eventually gets the signal from Merlin. Kingu mistakenly believes she is trying to use it until she throws it at the Blood Fort. As a result of the temple being destroyed, Quetzalcoatl's divinity falls for breaking the Alliance's non-aggression pact, and Gorgon's divinity also falls. Quetzalcoatl vows to punish Merlin for his trickery. She tells Kingu that she won't kill Gorgon, saying that is a job for the humans. Kingu's concern for Gorgon surprises her when they leave to save her. She knows they using her for their own benefit, but she wonders if they love her in their own way.[12]
She and Jaguar Man meet up with the others in Babylon after Tiamat awakened, demanding to know where Merlin is. Mash informs her Merlin is dead, Medusa sacrificed herself to kill Gorgon, and Ishtar went ahead to Uruk. Quetzalcoatl informs her that the surviving Demonic Beasts at the Northern Wall have fled into the forest. She also detected a disturbance from the sea. She then tells Ritsuka and Mash to board her Quetzalcoatlus so they travel to Uruk faster. Ritsuka asks her what happened to Marduk's Axe, but she tells them to forget it, as it lost its Divinity when it destroyed the Blood Fort. She then calls them just as guilty as Merlin for what happened to her, saying they'll get a lecture later. She, Ritsuka, and Mash then fly to Uruk on her Quetzalcoatlus.[6]
They arrive over Uruk to find it under attack by the Lahmu, while Ishtar struggles against them. The group land to fight the Lahmu in order to secure a path to the ziggurat for the citizens to take shelter in. However, they struggle against even one, made worse by the fact they multiply. The Lahmu suddenly leave though, so the group goes to the ziggurat. Ritsuka tells him of Merlin's warning that Solomon had summoned one of the Evils of Humanity. Gilgamesh explains what the Evils of the Humanity are, saying their class is Beast. Tiamat is one of them, though she has yet to fully awaken. She is in the blackened sea, and the source of the Laḫmu. Not only are they slaughtering Mesopotamia's population, they're kidnapping them as well. Those kidnapped are taken to Eridu, which along with Ur are the Laḫmu's nest. Gilgamesh initially orders the group to go to the blackened sea. However, he changes it to Eridu after mentioning Siduri was taken there.[6]
Outside of Uruk, as Mash grieves for Uruk, Quetzalcoatl shows her that the survivors are forming caranvans and heading for the Northern Wall like Gilgmamesh told them. She also points out the soldiers are ready to defend Uruk like Gilgamesh ordered, so Uruk isn't finished yet. The group then proceed to Eridu.[13]
Arriving at Ur, Quetzalcoatl notices the lingering presence of a Servant, unsure if they left or they're dead. She then shows Ritsuka and Mash that Ur's massacred populace, initially not wanting them to see before realizing that would make light of everything they've been through so far. The group then heads to Eridu, where they find the kidnapped victims gathered in the plaza. They also meet a strange Laḫmu that doesn't attack them. Ignoring it, the group enters the plaza where they see the Laḫmu forcing humans kill each other. They kill the Laḫmu to allow the survivors to escape. Kingu arrives and tries to stop the Laḫmu but one rips the Grail from Kingu's body. The group tries to take it when the Laḫmu swallows it to become Bel Lahmu. The group fights it to prevent it from flying to Tiamat to fully awaken her. When it flies off, Quetzalcoatl, Ritsuka, and Mash mount Quetzalcoatlus to chase after it. Quetzalcoatl orders Jaguar Warrior to evacuate and protect the humans.[13]
The group chase Bel Laḫmu to the center of the Persian Gulf where Tiamat is located. If it drops the Grail there, its magical energy will awaken Tiamat. The group eventually catches up to Bel Laḫmu and rams it into the shore. It crashes onto the shore, so Romani orders the group to go finish it off and take the Grail. However, they're knocked down by the corrupted Ushiwakamaru. They kill her and try to resume chasing Bel Lahmu when multiple Ushiwakamaru appear. She cannot be killed, as her Spirit Origin is mixed with the Chaos Tide. While the group fought her, Bel Laḫmu delivered the Grail to Tiamat. After Ushiwakamaru retreats into the sea, the group head to the observatory.[14]
Contacting them from Uruk, Gilgamesh reveals the sea level rose when Tiamat retrieved the Grail. Once it floods Mesopotamia, it'll convert the surviving population into Tiamat's children, destroying the era. The group then returns to the Persian Gulf.[14]
The group fight Tiamat to stop her from launching a blast that will destroy Uruk. After they defeat her, Mash laments how Tiamat let them, wondering if she'd stay in the ocean forever if the Grail wasn't delivered to her. Quetzalcoatl tells her however that Tiamat's mere existence was a threat to humanity, and she needed to be defeated the moment she appeared. Suddenly though Tiamat's true body emerges from the sea. She then walks towards Uruk, sending waves of the Chaos Tide across Mesopotamia. Understanding Tiamat is invulnerable, the group retreat.[14]
Returning to Uruk, the group learns there are only 500 humans left in Sumer. When Ritsuka asks why Tiamat is targeting Uruk, Quetzalcoatl answer it's because Uruk and Gilgamesh are both symbols of Sumerian civilization, saying Tiamat perceives humans and the land as a single life form. The group then learn learn Tiamat has a paradoxical protection, where she cannot die as long as life exists on Earth. Gilgamesh contacts Ereshkigal and asks her to send Tiamat to Kur, where she'll be considered the last living being. He orders her to open a gate beneath Uruk. He suggests they hold off Tiamat with Gugalanna while Ereshkigal completes her task. However Ishtar reveals she lost Gugalanna, who she was looking for when she first met Ritsuka and Mash. Realizing they lack a way to combat Tiamat, everyone takes a break.[8]
That evening, Quetzalcoatl and Jaguar Man visit Ritsuka at the Chaldean Embassy. While Jaguar Man goes off to the kitchen, Ritsuka asks Quetzalcoatl if she knew about Tiamat. She confirms she did, knowing that Gorgon synchronized with Tiamat's consciousness. Keeping that secret from everyone, she showed the cylinder seal in Eridu to warn them of Tiamat's coming in her own way. She confesses she didn't want Ritsuka to know Gorgon was a fake, believing they would've pitied her and taken her lightly. Jaguar Man then returns from the kitchen, wondering if they're discussing on how to flee tomorrow. Quetzalcoatl lies Tiamat might be stopped if they sacrifice a goddess. She then gives her meat to fatten her up as the sacrifice, which Jaguar Man readily eats. When Jaguar Man describes their relationship as a rivalry that keeps the balance, Quetzalcoatl says people are good or evil depending on the strength of a good god or an evil god. She finds it rare for her and Jaguar Man to be allies, as they can never both be successful. Ritsuka then asks her reason for joining the Alliance. Quetzalcoatl lies it's because she enjoys fighting until Jaguar Man reveals her true reasons.[8]
The next day, the group discovers Tiamat's legs are too thin to support her weight. Therefore, she can only walk with the Chaos Tide. Quetzalcoatl stops Gilgamesh from sending 50 elite soldiers to destroy Tiamat's legs, as every soldier is needed to intercept Tiamat at the city wall. She will destroy the Chaos Tide with Piedra Del Sol, which she wouldn't be able to use if Ritsuka had destroyed her Sunstone. She warns, however, that it uses a lot of magical energy and stamina, so she needs to be continuously supplied and be near Tiamat. The group then returns to the Persian Gulf to execute her plan.[15]
At the Persian Gulf, the group struggle against Ushiwakamaru and her clones. She prepares to kill them when Benkei grabs her. Her clones impale them both, but Benkei uses The Pilgrimage of the Five Hundred Arhat to destroy them both. Quetzalcoatl then uses Piedra Del Sol to incinerate the Chaos Tide in Tiamat's perimeter. However, it reemerges from Tiamat, and she starts to fly using her horns. Ishtar says they need to return to Uruk, and come up with a new plan. Quetzalcoatl replies there isn't any point in going back if they don't stop Tiamat. Ishtar tells her to use her own last resort first if she's willing to sacrifice herself. But Quetzalcoatl says that would be useless since Tiamat can fly now. This confuses Ishtar, as Tiamat is the goddess of the Earth, unable to go near the heavens. Quetzalcoatl tries to use Xiuhcoatl on Tiamat, but she is knocked into the Chaos Tide.[15] Jaguar Man catches her however, and brings her to the Cedar Forest. There she buries Quetzalcoatl before returning to Uruk.[16]
After the Singularity is resolved, Quetzalcoatl arrives in Uruk to reveal her survival. She puts Merlin (who returned from Avalon) in a joint-lock when he tries to flee from her. Merlin demands to know how she's alive since she supposedly sacrificed herself to kill Tiamat and failed. Jaguar Man reveals she rescued her. Quetzalcoatl soon stops punishing Merlin, given that his trickery helped them win. She and Jagauar Man then disappear now that Tiamat is gone, as their summoning was only possible because of Tiamat's presence.[16]
Final Singularity: Solomon
[
]
Quetzalcoatl is amongst the "Babylonia" Singularity Servants to aid Chaldea against the Demon Gods Pillars.[17]
Summer Event: Death Jail Summer Escape
[
]
Quetzalcoatl is the vice warden of Medb's prison. Medb allows her to train the prisoners in lucha as part of their rehabilitation in the hopes of getting strong warriors. But to her disappointment, none of the prisoners are up to snuff. She expresses this sentiment to the racers in Ishtar's race are made prisoners. She spars with them and is pleased with the results.
A few days later, after Medb returns from another patrol, Quetzalcoatl listens to her complain about the textures that the racers placed. She murmurs to herself that the textures are being used to form a circuit, not to take control of Connacht like Medb thinks. Medb asks Quetzalcoatl if she learned anything from the racers. Quetzalcoatl answers she hasn't yet as the racers are tougher than expected and asks for more time to learn something conclusive. Medb tells her to get the racers to reveal how to remove the textures as quickly as possible. Stressed by the situation, Medb orders Quetzalcoatl to bring her her most promising trainees, saying she'll take them on herself. Quetzalcoatl is reluctant at first since facing Medb may throw off her trainees' training balance. But she goes get them after determining they can't become true warriors if she plays it safe.
Quetzalcoatl catches Yan Qing (disguised as Medb) trying to access the Prison Field's control device inside Medb's statue. Trying his utmost to be Medb, Yan Qing declares a new environmentalist policy. Thus to save on energy and resource usage, he orders Quetzalcoatl to shut down the Prison Field. But Quetzalcoatl refuses as without the barrier, the prisoners will escape, none of whom have yet to reform. Yan Qing tries again and orders the Prison Field's strength to be reduced by half. But Quetzalcoatl points out that would increase the chances of escapees since prison security is almost entirely dependent on the Prison Field. She suggests, however, shutting down the Prison Field underground, considering it a waste of energy when the prisoners spend most of their time in their cells. She then asks Yan Qing to disguise himself as her and fight in her stead when the racers manage to escape. It isn't to deceive Medb but to trick Ishtar into believing Quetzalcoatl is gone. But for the plan to work, Yan Qing must die in Quetzalcoatl's place for real. Though reluctant at first, Yan Qing agrees with her request. Quetzalcoatl promises they'll spar the next time they meet.
Keeping a low profile, she later attacks the newly constructed Gugalanna while Ishtar's attention is on the racers. After explaining her deception, she reprimands Ishtar as a fellow Goddess of Venus for her foolishness. Then, understanding it is beyond humanity's capacity to control, Quetzalcoatl proceeds to destroy Gugalanna.
Christmas Event: Merry Christmas from the Underworld
[
]
Quetzalcoatl was the third gatekeeper until Ereshkigal shrunk her and flung her out of Kur.
Event: Oni Pagoda Festival
[
]
For an undisclosed reason, Quetzalcoatl agreed to guard the Oni Pagoda's 50th floor for Shuten-douji and Ibaraki-douji. There she sets up a lucha training center, where she trains Spartacus, Beowulf, and Fergus mac Róich. When Ritsuka's party arrives, she tells them that their prize for reaching the tower's halfway point is a lucha match with her. Tomoe Gozen asks her why she sided with the oni. Quetzalcoatl answers it's because Shuten and Ibaraki provided a place perfect for practicing and teaching lucha. She then challenges the group to defeat her, otherwise, the stairs to the next floor will never open. Tomoe defeats Quetzalcoatl, who is so impressed that she wants Tomoe to join her lucha team. Tomoe humbly declines her offer. Quetzalcoatl refuses to divulge the real reason she sided with the oni and leaves.
Christmas Event: Holy Samba Night
[
]
As it is forbidden to have the same Santa for two years in a row, Altera asks Quetzalcoatl to be this year's Santa. Quetzalcoatl accepts the job and goes to receive the Christmas Grail, but she dons a Santa samba outfit, having misheard Altera. Nevertheless, she happily accepts the situation as is. Leonardo da Vinci interrupts the conversation and demands to know what the strange signal she detected was. Altera's sheep, Zerco, explains Quetzalcoatl and the Christmas Grail's myths were incompatible with one another. Quetzalcoatl admits her power was spilt in two, with the other half disappearing elsewhere. Altera agrees and reveals the Christmas Grail is missing as well. But Quetzalcoatl isn't concerned, believing she can still fulfill her duties as Santa and the part of her that left was the part that enjoys combat. She also thinks her other half will come back to her once Christmas is over.
Quetzalcoatl goes about delivering presents in her own unique way when Da Vinci asks Ritsuka and Mash to bring the goddess to the command room. There Da Vinci reveals she found Quetzalcoatl's other half and the Christmas Grail in Mexico, having found them last week while Christmas preparations were underway. Concerned about a minute Singularity, she sends Ritsuka and Quetzalcoatl to investigate and retrieve the Christmas Grail. Ritsuka and Quetzalcoatl then rayshift to Mexico.
Arriving in a town, the pair immediately notice Mexico is covered in unnatural snow. But the townspeople seem to be more preoccupied with something else. Da Vinci then sends Ritsuka and Quetzalcoatl the Grail's coordinates, which they follow through a jungle to a temple. There they meet Quetzalcoatl's other half, who Quetzalcoatl demands return to her. But the other half refuses, saying that she is preparing a ritual to create the true Santa Claus. She then reveals a hidden lucha ring atop the temple and explains she'll be holding an international Santa Tag Team Tournament to determine the true Santa. Realizing she has the Grail, Ritsuka and Quetzal try to get back from her. But Quetzalcoatl's other half, introducing herself as Black Quetzal Mask, and easily defeats Quetzalcoatl. Black Quetzal Mask admits she knew the pair would come, so she invites them to compete once they meet the minimum qualifications.
Retreating, Ritsuka and Quetzalcoatl decide to compete in the tournament and set about finding a partner for Quetzalcoatl. In town, the pair find Bradamante in an alley on the verge of disappearing from a severe lack of magical energy. They save her by providing her with food and magical energy. Realizing they can be trusted, Bradamante recounts how she was summoned to the Mexican jungle for no discernible reason when she spotted the Grail atop the temple. She tried praying to it, but Black Quetzal Mask stole her magical energy and told her that entering the Santa Tag Team Tournament was her only chance of getting it back. Bradamante heeded her words and tried to enter the tournament, only to learn that she needs a partner to participate. She explored the town for one to no avail and eventually collapsed in the alley. Quetzalcoatl proposes they partner up for the tournament, which Bradamante accepts.
Jaguar Man guides Ritsuka's party to their personal gym while avoiding the other teams, as per Black Quetzal Mask's orders, to keep the team composition a secret for a fair tournament. There they watch a promo video where all the competitors (except their team) are in disguise. Bradamante and Quetzalcoatl then spar until it is time for their first match.
Quetzalcoatl and Bradamante's first match is against Santa Alter and Astolfo. Santa Alter considers it her duty and right as the original Santa to test Quetzalcoatl's powers as Santa personally. Quetzalcoatl admits the situation is her fault, so she'll clean up her own and prove beyond a doubt she can be a great Santa. After losing, Santa Alter concedes Quetzalcoatl is this year's Santa and tries to warn her that she'll be coming up against many aspiring Santas. But Quetzalcoatl interrupts and declares she fears nothing as the newest Santa who delivers presents while dancing.
When they get back to their gym, though, Bradamante is attacked by a mysterious assailant. After defeating her, the person removes their disguise to reveal themselves to be Martha. After explaining how she failed to qualify for the tournament, she decides to train Bradamante, having she lacks the power a paladin should. They train until it's time for Bradamante and Quetzalcoatl's second match.
Their second match is against Hector and Penthesilea. Quetzalcoatl asks Penthesilea why she wants to become the true Santa. Penthesilea answer she wants to use the power of Santa to grant her wish of killing Achilles. While she usually doesn't mind such motives, as the current Santa, Quetzalcoatl cannot Santa's power being used for selfish ends. Hector admits he wouldn't mind if Penthesilea's wish was granted, and the match starts. Bradamante defeats Penthesilea using Martha's "Pacifying Raging Beasts" fighting style. Quetzalcoatl then defeats Hector now that Penthesilea, his source of offense, is gone.
The next day, Bradamante and Quetzalcoatl go up against Thomas Edison and Paul Bunyan. Edison has no interest in becoming Santa himself and only wants it to be Christmas forever, so all forms of mass production synonymous with the holiday will always run at full capacity. He then activates the modifications he made to the ring, replacing the ropes with electric ropes. They won't harm Bunyan, thanks to her outfit being specially insulated, and make it impossible to aerial lucha moves. However, during the match, Buyan accidentally electrocutes both herself and Edison. Quetzalcoatl then demonstrates she doesn't need rope to do aerial moves by having Bradamante launch her to defeat Edison with an aerial move.
Following the match, Ritsuka's party hears a crying child and goes to investigate. They find Jeanne Alter Lily and Charles-Henri Sanson. Alter Lily was competing to ensure no impostors become Santa; She is suspicious of Quetzalcoatl's official stance of Santa. However, she and Sanson lost because their opponents cheated, but before Alter Lily can explain how they did, Jaguar Man interrupts as it's prohibited to get firsthand info about a team still in the running from the team they beat. Ritsuka's party part ways with Alter Lily and Sanson, but they're quickly ambushed. They defeat them and return to their gym, where they explain what happened to Mash, Da Vinci, and Martha. Given the highly suspect timing, it is likely Bradamante and Quetzalcoatl's next opponents sent the attackers and they are the cheaters Alter Lily mentioned.
Bradamante and Quetzalcoatl's next opponents freely admit they had sent the ambush, but there is also a third opponent. All three then reveal themselves to be Wu Zetian, Carmilla, and Red Hare. Wu Zetian has taken advantage of the loops in the rules to get them on her team. Even though her team represents China, Wu Zetian got Carmilla (a European) on her team by claiming she is her niece, Hua Meilou. As for Red Hare, she claimed he was her horse. She also got her Torturers included by claiming they're her equipment. During the match, she traps Bradamante and Quetzalcoatl in her poison pot while Carmilla binds Bradamante's wrists with chains. Quetzalcoatl, however, goes underneath Bradamante, allowing her partner to stand on her shoulders. Bradamante then goes on to win the match, but Quetzalcoatl collapses from the poison.
It's a few hours before their next match and Quetzalcoatl still hasn't recovered, so she convinces Martha to be her stand-in. Bradamante doesn't realize Martha isn't Quetzalcoatl until after that day's match. When they return to their gym, Quetzalcoatl has made a full recovery. Bradamante wonders if it was wrong that they won with a secret substitute. Quetzalcoatl tells her it's fine as long as they weren't disqualified for cheating and even if they were, they'd never fight dirty. Martha gives her opinion, followed by Altera giving hers. Quetzalcoatl is delighted to see her senior has come to visit her. Altera explains she entered the tournament on behalf of west Asia but lost. Even though it's forbidden to have the same Santas for two years in a row, Altera believes no one would mind if she went under a drastic image change. But she didn't want to leave just yet, so with Jaguar Man gone, she took the chance to visit Quetzalcoatl and see Charlemagne's niece. She then tells Bradamante and Quetzalcoatl that they'll struggle against their next match, which is the semifinals, unless they come up with a killer finisher.
Moments before the semifinals, Bradamante and Quetzalcoatl manage to create their team attack. Their opponents are Ivan the Terrible and Anastasia Romanov, though the latter initially encased herself in an ice golem before Ivan shattered it. Before the match even starts, the tsars demonstrate their team attack, the speed and power of which makes the match difficult for Bradamante and Quetzalcoatl. But Bradamante refuses to give up and suggests they perform their team attack, even though it hasn't been perfected yet. Quetzalcoatl agrees and they perform their team attack. Ivan and Anastasia counter with their team attack, but Bradamante breaks through. Only Anastasia is defeated, though, and Ivan moves to fall on the collapsed Bradamante. But Bradamante stops playing possum, blinds Ivan, and defeats him.
The time for the finals has come, and since it's no longer necessary to keep team composition secret, the match will be live-streamed. Before the match starts, Quetzalcoatl realizes Black Quetzal Mask has been strengthening the Christmas Grail with the magical energy released during the tournament. Black Quetzal Mask's partner is perfectly still, from whom Da Vinci isn't detecting anything. The match then starts.
During the match, Bradamante notices Quetzalcoatl's attacks are ineffective against Black Quetzal Mask. Da Vinci realizes it's because both Quetzalcoatls share the same innate goodness and Quetzalcoatl as a goddess of good cannot harm good. Bradamante suggests they use their team attack given that she is the main method of attack it and not Quetzalcoatl. Quetzalcoatl agrees and they perform their team attack, demonstrating it has gotten strong since their match with Ivan and Anastasia. The move knocks Black Quetzal Mask down, but she gets back up and decides to stop holding back. She then reveals her partner is the very concept of Santa Claus extracted directly from the Christmas Grail. Wearing "Santa" like a cloak, she is now impervious to Bradamante's attacks. She claims this because Santa is a giver of gifts, not a target to be attacked, so only a Santa of equal purity can harm her now. She then tries to tempt Bradamante to forfeit the match, saying she will grant her wish if she does. But Bradamante rejects her offer, which inspires Quetzalcoatl to lend Bradamante her Santa Power. It isn't enough, though, so the other Santa Servants lend her their power as well. Bradamante goes through a Spirit Origin ascension and uses the power of Santa to defeat Black Quetzal Mask.
The Quetzalcoatls become one again, Bradamante gets her power back, and Ritsuka receives the Christmas Grail. The sun starts to melt the unnatural snow, only for a fluke of nature to bring about a natural snowfall. Bradamante says goodbye, hoping they'll all meet again. Quetzalcoatl thanks Bradamante for being a wonderful partner and blesses her journey not as a goddess, but as a friend. She then sends her off with a samba dance, for which Bradamante thanks her. Bradamante then wishes everyone Merry Christmas and disappears,
Abilities
[
]
Quetzalcoatl is one of the supreme existences in Aztec Mythology and a Chief God caliber Divine Spirit.[1][3] Being a true goddess, Quetzalcoatl is the highest-ranking Divine Spirit there is. As such, she is stated multiple times to be the strongest member of the three goddess alliance,[3][10] far surpassing Ishtar who had manifested as a Pseudo-Servant and Gorgon who possessed the Authority of Tiamat and had used the Holy Grail to become a goddess.[3] Quetzalcoatl boasts a large Magical Energy signal and after having witnessed her levels of Divinity, Jaguar Man seems to be nothing more than a paper tiger in comparison.[9] Despite giving off overwhelming power,[9] she claims that even if both Ishtar and herself had their full-powered authorities and the help of any other powers left in Mesopotamia they wouldn't be able to damage Tiamat's "Titan" form.[14] While she wouldn't normally get summoned, she appears in the Babylonia Singularity due to the chain summoning reacting to Gorgon achieving godhood.[6]
Combat
[
]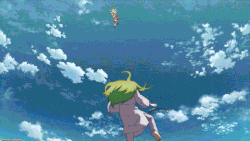 One of Quetzalcoatl's most impressive assets is her physical strength as shown when she annihilated Uruk's south gate with her bare hands and causing an Earthquake.[3] Furthermore, she is also capable of using and even throwing the Axe of Marduk, a Divine Weapon the weight of Eridu, 30 kilometers away to destroy Tiamat's temple.[10] Her scream can also be heard from that distance.[12] Having such raw power, Quetzalcoatl is more than capable of fighting multiple servants at once. Even the combined efforts of Ishtar, Jaguar Man, Ana, Mash, and Merlin are only able to keep her busy for two or three minutes. Ishtar and Jaguar Man would only be able to block her charge one time.[9] She has also been shown fighting on par with Kingu without relying on any of her trump cards.[12] Most impressive, considering Gilgamesh claimed they may have been even stronger than the original Enkidu,[18] a Heroic Spirit whose combat strength is roughly the same as that of Gilgamesh during his prime.[19] In the anime she also displayed high resistance to the Chains of Heaven, though considering her high Divinity, it most likely means that her strength and power are so high that they outclass the Chains' durability even when it is increased in reponse to her Divinity.
After having her divinity reduced over half as a result of breaking her contract with the three goddess alliance by destroying Tiamat's temple,[12] she is still a formidable opponent capable of destroying Laḫmu and blackened Ushiwakamaru's clones alongside Mash.[20]
Quetzalcoatl has the qualifications to be summoned under the Avenger Class.[21] However, she doesn't display any thirst for revenge and violence due to her wanting "to have fun". As such, she usually fights with a playful attitude, and since she considers that dropping "the sun to burn it all" would be boring.[3] Should she lose her cool she'd become a cold-hearted machine.[9] Kingu believes that her alone would be enough for taking the world and becoming an avatar of slaughter.[12]
Authority
[
]
As a God that had dominion over numerous phenomenon, Quetzalcoatl possesses many Authorities. She has shown to be able to resurrect those that she had killed in her death-matches when she invaded Uruk. Piedra Del Sol drags out a portion of her Authority over the Sun and enables her to unleash solar winds that rampage over a large area. When using the true name release of her Quetzalcoatl, Quetzalcoatl is able to perform the manipulation of large-scale lightning, winds and rains.
Additionally, due to being a God of Good at the apex of goodness, nothing good is able to harm her due to "some king of special Skill".[3][9] The only things that could really harm her would have to be evil.[9] Although this trait appears to only be available when she is at the height of her Divinity, such as when she was summoned by the World to the Babylonia Singularity. In-game, it is represented as a buff called Winged Serpent (翼ある蛇, Tsubasa-aru Hebi?, localized as "Feathered Serpent") which nullifies all damage dealt by Servants with a good alignment while significantly reducing the damage dealt by evil and neutral Servants.
Skills
[
]
Class Skills
[
]
Personal Skills
[
]
Noble Phantasms
[
]
Piedra del Sol
[
]
The reason she demonstrates such power and authority in the Babylonia Singularity, is that a temple dedicated to her worship was built in Mesopotamia.[3] This temple possesses Quetzalcoatl's trump card Piedra Del Sol, the megalith of the ancient Aztecs.[2] Even inside a jungle with an incredible amount of Ether much denser than the isle of Britain and on par with a Reality Marble,[5] Quetzalcoatl's temple gives off a particularly strong magical energy response. Destruction of that temple would result in her divinity diminishing.[3]
After Ushiwakamaru claimed that only a Noble Phantasm capable of gathering all the magical energy of the entire era would be able to destroy the Sea of Life, in other words, that only the Bands of Light in the sky could rival Tiamat, Quetzalcoatl hinted that she did in fact possess a Noble Phantasm on that level.[14] However, having her divinity been reduced over half, she later explains that although she can't do an entire ocean worth, this Noble Phantasm is enough to completely vaporize the mud clearing a perimeter around her once she gest ashore. Nevertheless, since the Chaos Tide originated directly from Tiamat's body, the mud gets much denser and powerful the closer you get to her main body and as such, this feat stands near the top of Noble Phantasms in terms of destructive capacity. Had she used this attack on Uruk, she would have burned the city to cinders in an instant.[15]
Piedra del Sol uses a lot of stamina so activating it in her weakened state requires Ritsuka Fujimaru to stand close to her while fighting Tiamat and continuously supply her with mana while she uses it.[15]
Xiuhcoatl
[
]
Quetzalcoatl's second Noble Phantasm is Xiuhcoatl. With it, Quetzalcoatl temporarily prevents her enemies from invoking the True Name of their Noble Phantasms, only to strike them down with her Lucha Libre in a meteor manner.[2]
Weakened due to her divinity being reduced and the Bel Laḫmu piercing through her shoulders, stomach, and thighs after deploying Piedra del Sol, Quetzalcoatl is forced to kiss Fujimaru in order to get some of her energy back. After doing so and internalizing the power of Piedra del Sol, Quetzalcoatl is able to increase the power of her Xiuhcoatl to the point where it replicates "the cataclysmic impact that annihilated countless lives" becoming "the comet that killed Earth"; in other words, the meteorite that killed the dinosaurs. The power of this attack was able to crack Tiamat's right horn, allowing Gorgon, later on, to destroy it with Pandemonium Cetus. Nevertheless, Tiamat's main body didn't seem to take any damage.[15]
Quetzalcoatl
[
]
Quetzalcoatl's third Noble Phantasm is Quetzalcoatl, which consists of her summoning the Quetzalcoatlus, a Cretaceous-era pterosaur, and a member of the Phantasmal Species on a Phantasmal to Divine Beast level, which is also far more powerful than the Quetzalcoatlus that actually lived in the Cretaceous period. The Quetzalcoatlus is known as the largest flying animal in history. During the moment of its True Name release, the mounted Quetzalcoatl is able to perform the manipulation of large-scale lightning, winds and rains.[1][2] The speed of this creature is also extremely high, as when they were chasing the Laḫmu that fled with the Holy Grail, Mash claimed that they had never gone that fast and that it reminded her of the Arash's Airlines flight from the Camelot Singularity.[14] This Noble Phantasm became the reason why Quetzalcoatl can be summoned in the Rider Class.[1][2]
Forms and Alternate Versions
[
]
Santa
[
]
Quetzalcoatl (Samba/Santa)  (ケツァル・コアトル〔サンバ/サンタ〕, Ketsaru Koatoru (Sanba/ Santa)?)
She transformed into a rare Samba Santa in the world. One thing, Quetzalcoatl was mistaking a unfavorable combination of Samba, Santa Claus and a Lucha Libre Tournament.
"Oh, I, it seems I got a mistake a bit at a disaster... But what I have done is no use."
Is it roughly the same thing to make people smile? And with the positive nature of her possession, she stood up as it was as "a goddess giving happiness to the people who she loves".
Dance, Quetzalcoatl! Because of the people's smile.
Fight, Quetzacoatl! For people's peace!
Abilities
[
]
Karna (Santa) defeated Quetzalcoatl. He states that she was by far the strongest Santa he fought, surpassingArtoria Pendragon Alter, Jeanne d'Arc Alter Lily, Altera, and Florence Nightingale. Their fight was a head-on melee battle. Through mysterious steps, she unleashed numerous Christmas Killing Method attacks that couldn't be countered with punches… Honestly speaking, Karna couldn't guess what would happen next. Karna hopes to have a rematch.[23]
Class Skills:
Personal Skills:
Noble Phantasm:
Quetzalcoatl's Noble Phantasm is Yucatán Regalo de Navidad.
Development
[
]
Creation and Conception
[
]
Rei Hiroe is the character illustrator for Quetzalcoatl.[1][2] Kinoko Nasu and Hikaru Sakurai are the scenario writers for her character.[2]
Comment from Illustrator
[
]
"Given that I received a clear concept from Mr. Nasu himself during the time of design, it became quite troublesome on how I changed the clothing design of a character of the same name that I drew before. Concerning the results, I think it has gotten better. It is a good memory of how we did a nice correspondence of letters on guessing what faces were drawn on them."[2]

References
[
]
↑ 1.00 1.01 1.02 1.03 1.04 1.05 1.06 1.07 1.08 1.09 1.10 1.11 1.12 1.13 1.14 1.15 1.16 1.17 1.18 1.19 1.20 1.21 1.22 1.23 1.24 1.25 1.26 1.27 1.28 1.29 1.30 1.31 1.32 1.33 1.34 1.35 1.36 1.37 1.38 Fate/Grand Order Profile of Quetzalcoatl, translated at Chaldeum and by Master of Chaos at Beast's Lair.
↑ 2.00 2.01 2.02 2.03 2.04 2.05 2.06 2.07 2.08 2.09 2.10 2.11 2.12 2.13 2.14 2.15 2.16 2.17 2.18 2.19 2.20 2.21 2.22 2.23 2.24 2.25 2.26 2.27 2.28 2.29 2.30 2.31 2.32 2.33 2.34 2.35 2.36 2.37 2.38 2.39 2.40 2.41 2.42 2.43 2.44 2.45 2.46 2.47 2.48 2.49 2.50 2.51 2.52 2.53 2.54 2.55 2.56 2.57 2.58 2.59 2.60 2.61 Fate/Grand Order material IV - Quetzalcoatl, p.320-331, translated by Clyton at Beast's Lair.
↑ 3.00 3.01 3.02 3.03 3.04 3.05 3.06 3.07 3.08 3.09 3.10 3.11 Fate/Grand Order - Babylonia: The Absolute Frontline in the War Against the Demonic Beasts, Section 11: Hello, Goddess of the Sun
↑ Fate/Grand Order - Babylonia: The Absolute Frontline in the War Against the Demonic Beasts, Section 7: The Tablet of Destinies
↑ 5.0 5.1 Fate/Grand Order - Babylonia: The Absolute Frontline in the War Against the Demonic Beasts, Section 5: Welcome to the Jungle
↑ 6.0 6.1 6.2 6.3 Fate/Grand Order - Babylonia: The Absolute Frontline in the War Against the Demonic Beasts, Section 16: Demise
↑ Fate/Grand Order - Babylonia: The Absolute Frontline in the War Against the Demonic Beasts, Section 2: Humanity's Oldest Fotress City
↑ 8.0 8.1 8.2 Fate/Grand Order - Babylonia: The Absolute Frontline in the War Against the Demonic Beasts, Section 19: Star of the Beginning, We Look Up at the Sky
↑ 9.0 9.1 9.2 9.3 9.4 9.5 9.6 9.7 Fate/Grand Order - Babylonia: The Absolute Frontline in the War Against the Demonic Beasts, Section 12: Temple of the Sun
↑ 10.0 10.1 10.2 10.3 Fate/Grand Order - Babylonia: The Absolute Frontline in the War Against the Demonic Beasts, Section 13: Prophecy of the Heavens
↑ Fate/Grand Order - Babylonia: The Absolute Frontline in the War Against the Demonic Beasts, Section 14: Goodbye, Goddess of the Underworld
↑ 12.0 12.1 12.2 12.3 12.4 12.5 Fate/Grand Order - Babylonia: The Absolute Frontline in the War Against the Demonic Beasts, Section 15: Decisive Battle
↑ 13.0 13.1 Fate/Grand Order - Babylonia: The Absolute Frontline in the War Against the Demonic Beasts, Section 17: The New Humanity
↑ 14.0 14.1 14.2 14.3 14.4 14.5 Fate/Grand Order - Babylonia: The Absolute Frontline in the War Against the Demonic Beasts, Section 18: Awakening
↑ 15.0 15.1 15.2 15.3 15.4 Fate/Grand Order - Babylonia: The Absolute Frontline in the War Against the Demonic Beasts, Section 20: Absolute Demonic Front Mesopotamia (I)
↑ 16.0 16.1 Fate/Grand Order - Babylonia: The Absolute Frontline in the War Against the Demonic Beasts, Section 22: Returning to Chaldea
↑ Fate/Grand Order - Salomon: The Grand Time Temple - Act 08: VII / Health Office Sabnock
↑ Fate/Grand Order - Babylonia: Section 6 Encounter
↑

[] Fate/Grand Order - Enkidu (Lancer) Profile [T]

Enkidu - Lancer

Illustrator and Voice actor
Illustrator: Shidzuki Morii
Voice Actor: Yū Kobayashi

Parameters
Strength: ?
Endurance: ?
Agility: ?
Mana: ?
Luck: ?
Noble Phantasm: A++

Personal Skills
Transfiguration: A
Presence Detection: A+
Consummated Shape: A

Class Skills
Magic Resistance: A

Noble Phantasm
Enuma Elish: O People, Lets Tie the Gods
Rank: A++
Type: Anti-Purge Noble Phantasm

Profile
From its gentle tone and graceful bearings, one would never guess that this is a "Noble Phantasm with a will" that possesses a fierce combat power.
The chains that fasten heavens and earth, regarded by the King of Heroes Gilgamesh as one of the strongest.
A doll created by the hands of the gods, and also an offshot of the earth that harmonizes・becomes one with nature.

A tragic weapon that underwent many adventures as the sole friend of the King of Heroes and, after acquiring a human heart, returned to dirt as a doll.

Level 1 Bond
Height/Weight: Variable
Source: Epic of Gilgamesh
Region: Mesopotamia
Alignment: True Neutral  Gender: -
"If you tell me to fight, I'll fight.
After all, it is not like I hate fighting"

Level 2 Bond
One of the oldest heroes described in the Epic of Gilgamesh. A weapon manufactured by the gods.
Originally, it was "a clay work that could transform into anything" produced by the gods.
It phantasmagorically changes its shape in accordance with circumstances.
Its whole body is equivalent to a weapon of gods.
However, it does not have the same mentality or emotions as people, and at first it was not all that different from a wild beast.

It has been said that, after appearing on this world, it became aware of much by meeting with a single sacred prostitute and eventually choose to take the shape of a person (as its basic form).
This appearance is something modeled after said sacred prostitute out of respect.

Level 3 Bond
Its combat strength is roughly the same as that of the King of Heroes Gilgamesh on his golden age.
In the battle against Gilgamesh described on the Epic, it displayed a performance on par to him, who is recognized as one of the strongest heroes in human history.

The first friend ever discovered by Gilgamesh, who was an aloof existence, and it too perceives Gilgamesh as its peerless friend.
After the fight on the city of Uruk, the friends Gilgamesh and Enkidu underwent many adventures, but it ultimately lost its life after the battle with the divine beast Gugalanna.

Level 4 Bond
Introverted, active and self-assured.
Usually it just loiters like a beautiful flower but, once it gets on the move, it becomes a frightening active monster that doesn't wait, has no mercy and show no self-restrain.

Since they are life forms born from the Earth, it also finds humans "appealing". But, because humans think of themselves as beings apart from nature due to their intelligence, they rank low as protection targets.
It feels that animals and plants are existences closer to itself and it mostly takes action in order to protect them.

That being said, since it had great curiosity (intellectual craving) to begin with, Enkidu regards conversations with humans as an enjoyment.
If said character has an appealing personality (a totalitarian brimming with philantropous mentality, and yet who thinks of himself as foremost), it will demonstrate respect and admiration from the bottom of its heart, feeling joy in support him as a friend.

Level 5 Bond


A unique skill in which parameter values are allotted in accordance to the situation from a prescribed comprehensive value. Enkidu's greatest feature.
The higher the rank, higher the comprehensive value becomes.
At times it makes STR into A Rank, at times it makes END into A Rank.
However, because the conversion limits of parameters is set in stone, it cannot make all parameters into A Rank.
Enkidu possesses a comprehensive value of 30, and each parameter consume the respectively values: A-7, B-6, C-5, D-4, E-3.



The highest rank of presence detection.
It is possible to sense presences from long distances by using the land as a medium.



By making use of the magic energy of the land, it restores itself to its former shape.
So long there is a supply of magic energy from the land, Enkidu's body (which was produced from the clay of the Age of Gods) will never collapse.
A powerful regeneration・restoration ability that is completely unprecedented.
However, the soul is a different matter.

Level 5 Bond
"O People, Lets Tie the Gods"
Rank: A++  Type: Anti-Purge
Enuma Elish.
Enkidu transforms its own body into a Divine Construct.
Becoming a linchpin that converted vast amounts of energy to pierce and tie the target.

Originally, Enkidu was a weapon dispatched by the gods in order to "restore Gilgamesh to god".
The "Linchpin of Heavens" created so that gods and people would not separate, Gilgamesh.
Because such Gilgamesh revolted against the gods, it was charged with the role of binding and bringing him back to heavens.

However, Enkidu became Gilgamesh's friend and, just like its friend wished, chose the path of using this "chain that restrains even heavens" for the sake of people.

エルキドゥ - ランサー

イラストレーター・声優
ILLUST:森井しづき
CV:小林ゆう

パラメータ
筋力:?
耐力:?
敏捷:?
魔力:?
幸運:?
宝具:A++

保有スキル
変容 A+
気配感知 A+
完全なる形 A

クラススキル
対魔力 A

宝具
人よ、神を繋ぎとめよう
ランク:A++
種別:対粛正宝具

キャラクター詳細
穏やかな口調、たおやかな仕草からは想像できないほど苛烈な戦闘能力を持った"意志持つ宝具"。
英雄王ギルガメッシュをして最強の一角と言わしめた、天と地を繋ぐ鎖。
神々の手によって作られた人形であり、自然と調和・一体化する大地の分身でもある。

英雄王の唯一の友として多くの冒険をこなし、心を得た後、人形として土に還った悲しき兵器。

アンロック条件: 絆レベルを1にすると開放
身長/体重:可変
出典:古代メソポタミア神話
地域:メソポタミア
属性:中立・中庸  性別:-
「戦えと言うのなら戦うよ。
僕は別に、戦いを嫌っているわけではないからね」

アンロック条件: 絆レベルを2にすると開放
ギルガメッシュ叙事詩に語られる最古の英雄のひとり。神々によって作り出された兵器。
もとは神々が作った"何にでも変形する粘土細工"だった。
状況に応じて変幻自在に形態を変化させる。
全身がイコール神々の武器にも等しい。
ただし、ヒトのような精神や感情を持たず、当初は野の獣と殆ど変わらないモノではあった。

地上に顕れて後、ひとりの聖娼と出会ったことで多くの認識を得て、やがて(基本形態として)ヒトの形態を取ることを選ぶようになったという。
この姿はその聖娼を尊重し、模したもの。

アンロック条件: 絆レベルを3にすると開放
戦闘力は、英雄王ギルガメッシュの最盛期のそれにほぼ等しい。
叙事詩に語られるギルガメッシュとの戦いでは、人類史に於ける最強の英雄のひとりと目される彼に対して互角の性能を発揮した。

孤高の存在であるギルガメッシュ王が初めて見出した友であり、自身もまたギルガメッシュを無二の友として認識している。
ウルク市での戦いの後、友となったギルガメッシュとエルキドゥは数多くの冒険を行ったが、最終的には神獣グガランナとの戦いの後に命を落とした。

アンロック条件: 絆レベルを4にすると開放
内向的・能動的・強気。
普段は美しい花のように佇むが、いざ動き出せば待ったなし・容赦なし・自重なし、の恐るべきアクティブモンスターとなる。

人間も地球上の生命なので"好ましい"対象だが、人間はその知性から自然と自分たちを分けて考えてしまっているので擁護対象としては低い。
動物、植物に自分と近いものを感じており、彼らを守るために行動する事が主となる。

とはいえ元々好奇心(知的欲求)が大きいエルキドゥは人間との会話を楽しみにしている。
その人物が好ましい性格(博愛精神に満ち、全体主義であり、それでいて自分を第一として考えるもの)であれば心からの敬愛と感心を示し、友人としてこれを支える事を喜びとしている。

アンロック条件: 絆レベルを5にすると開放
○変容:A
能力値を一定の総合値から状況に応じて振り分け直す特殊スキル。エルキドゥの最大の特徴。
ランクが高い程、総合値が高くなる。
時に筋力をAにし、時に耐久をAにする。
ただしパラメーターの返還限界は決まっているため、全ての数値をAにはできない。
エルキドゥは30の数値を持ち、パラメーターはそれぞれA7 B6 C5 D4 E3の数値を消費する。

○気配感知:A+
最高クラスの気配感知能力。
大地を通じて遠距離の気配を察知する事が可能。

○完全なる形:A
大地の魔力を利用し、元のカタチに復元する。
神代の粘土によって作られたエルキドゥの体は大地からの魔力供給ある限り崩れ去ることはない。
他に類を見ない強力な再生・復元能力。
ただし魂は別である。

アンロック条件: 絆レベルを5にすると開放
『人よ、神を繋ぎ止めよう』
ランク:A++  種別:対粛正宝具
エヌマ・エリシュ。
エルキドゥ自身の体を一つの神造兵装と化す。
膨大なエネルギーを変換した楔となって対象を貫き、繋ぎ止める。

エルキドゥは元々、神々がギルガメッシュを『神の元に戻す』為に遣わした兵器だった。
神と人とを分かつまいと作られた『天の楔』、ギルガメッシュ。
このギルガメッシュが神に反乱した為、これを縛り、天上に連れ戻す役割を持っていた。

しかしエルキドゥはギルガメッシュと友になり、その"天をも拘束する鎖"を、友の望み通り、人の為に使う道を選んだ。

↑ Fate/Grand Order Babylonia Anime Episode 16
↑ Fate/Grand Order: Gorgon's My Room Lines
↑ 22.00 22.01 22.02 22.03 22.04 22.05 22.06 22.07 22.08 22.09 22.10 22.11 22.12 22.13 22.14 22.15 22.16 22.17 22.18 22.19 22.20 22.21 22.22 22.23 Fate/Grand Order material VIII Quetzalcoatl (Santa) profile translated by BananaShiki
↑ Fate/Grand Order Karna (Santa) profile translated