Servants (サーヴァント, Sāvanto?) are spirits summoned by the Holy Grail for the purpose of competing under Masters in the Holy Grail War.[1]
Servants are spirits made into special familiars of the highest rank, referred to as Ghost Liners by the Mage's Association, that are bound to the Master. Typically Heroic Spirits under most systems, they can also sometimes be Divine Spirits, Phantoms, Wraiths, and living people depending on various circumstances. Pure Heroic Spirits, the "main body" in the Throne of Heroes, can only be summoned by the World, and summoning even one is considered to be a miraculous occurrence. Differing from the normal definition of familiars that can be likened to minor mascots unable to be stronger than their masters, Heroic Spirits are the most powerful of beings with which even the five magicians would never be able to forge a contract with. Rather than it being a hard process to summon them or the fact that they far surpass magi, it is their intrinsic nature in that they are beings beyond magecraft. Magi can perform rituals to borrow their power to mimic them, but cannot summon actual Heroic Spirits themselves.
Even the Holy Grail lacks the power to summon a true Heroic Spirit, so the process is facilitated by summoning them into one of seven vessels prepared beforehand.[2] The Greater Grail makes a copy using information from the "main body" of the Heroic Spirit, an "emanation", that returns to them as information, in the form of a soul, upon the death of the Servant. Disconnected from the "main body", they are able to know of the actions of the Servant through records, as if reading a book.[1]
Similarly as to how daemons require a form invented by humans in order to take shape, Heroic Spirits need a form to exist in the world. The vessels, classes, act as their temporary name and method of existing. Acting like a "passport to the present", the vessel prepares them for their role as a familiar in advance, allows them to take on that role to help them take form, and brings them forth into the world. Each class identifies only the core skills of the Heroic Spirit because replication of all their abilities is impossible. Their main traits align with the class and are given form, matching the principal nature of the class.[3] Only heroes matching the attributes of the classes are brought forth, allowing them to be summoned into any reflecting their abilities.
Although too powerful to be controlled by humans, they are bound by three Command Spells, representing the Masters' "right to rule" over them, with obedience towards the Command Spells being the "absolute condition required for materialization." Due to the prospect of having a wish granted by the Holy Grail, it also serves as an incentive to cooperate with the Master, as well as requiring them for energy upkeep and acting as their anchor to the world. Killing them will normally go against their purpose, but the Command Spells protect the Master from those who would kill them to seek out one who would be more suitable.
The Ritual: Heroic Spirit Summon (儀式・英霊召喚, Gishiki: Eirei Shōkan?) is a ritual by the planet to summon "humanity's strongest seven Heroic Spirits," Grand Servants, to fight against "a single powerful enemy," such as the Beasts. Ritual: Holy Grail War (儀式・聖杯戦争, Gishiki: Seihai Sensō?) is a derivative of that ritual, alterering the spell to be used by humans for the sake of wishing on a Holy Grail. It took the concept of "seven powers against one" and turned it into "seven Heroic Spirits fighting one another." In comparison to the Grand Servants, the resulting Servants are described as "cheap, convenient, multi-purpose familiars" by Andersen.[4]
The Class Name (クラス名?) of a Servant is the name by which they are referred in a Holy Grail War. Corresponding to their Class, the Master will typically refer to them only by that name to avoid their True Name from being exposed.
The True Name (真名, Shinmei?) of a Servant is something vital to battle, as it can reveal much about them. They most often have their Masters refer to them solely by their class name unless they do not care like Assassin of Black, wish to have a closer connection to their Master like Caster after she reveals her identity, or are under circumstances where it no longer matters like those trapped in the Sakura Labyrinth. There are Servants and Masters with extreme confidence or no filter in revealing their True Names for all to hear, such as Rider exclaiming his name without regard and Illyasviel von Einzbern having supreme confidence in Berserker even with his name revealed.
Their names can reveal certain traits about their abilities, allowing for specific countermeasures, and there are many famous heroes that had met untimely deaths in life. Those killed by poison will be more susceptible to it, those shot down by arrows will be weak against them, those with weak spots will be severely disadvantaged if they are targeted, and those with traits like being weak to monster-slayers or dragon-slaying weapons can be specifically damaged in accordance. Even without such a specific countermeasure being available to one Master, releasing that information to the other Masters can allow for other countermeasures to be brought forth. Most Masters should know instantly of their own Servants' identities, but something like Secret of Pedigree can block even that, and the refusal of a Servant to disclose it can keep them from knowing. In the case of a weak Master susceptible to mind control, they may forgo telling them altogether until necessary.
Famous heroes like King Arthur and Siegfried are very likely to have their identities found out more easily than others, with simply glancing upon Excalibur being enough for any Heroic Spirit to identify King Arthur. Others need to utilize their Noble Phantasms before they reveal themselves, but it may require deductive reasoning even then. While the oldest legendary hero Gilgamesh is able to show off his Noble Phantasms without many being able to guess his identity, and despite his belief that his identity should be obvious to others, he generally discloses it himself. Someone like Archer, being a Counter Guardian from the future and displaying numerous Noble Phantasms with Unlimited Blade Works, is a complete anomaly to others, greatly confusing all who fight him with his contradictory traits that do not match any known hero. There are also those without specific weaknesses whose True Names will bring no trouble if revealed, like Astolfo.
There may be slight variations to the True Names depending on different circumstances:
Alter (オルタ, Oruta

?

) - Servants greatly altered from their normal selves through various means are often given the title of "Alter" after their name. True Archer, an altered Heracles, rejects being called "Heracles Alter" and instead chooses his "human name" of "Alcides".
Lily (リリィ, Riryi

?

) - Servants who take on a more youthful appearance compared to their older selves are often given the title of "Lily" after their name. This title is normally only applied to female Servants, but those like Child-Gil and Alexander are referred to as Lily Servants elsewhere.
Santa (サンタ, Santa

?

) - Servants acting as Santa in the Fate/Grand Order Christmas events are given the title of "Santa" after their name.
Although Servants are beings of Ether that do not get energy from oxygen, they are given forms similar to air-breathing lifeforms, allowing them to "carry out pulmonary respiration as a land type endoskeleton life form." Though they do not require oxygen to function, the lack of air from suffocation can halt their magical energy cycle. Though they can likely endure more than a human, they will eventually reach their limit if enough time passes.[5] Differing from the normal blood of humans, the blood of Servants is the magical energy that drives their Saint Graph.[6]
While some Servants exercise for recreation, their body of Ether is unaffected aside from generating sweat.[7] If a Servant's body part is severed, it can remain in the world so long as the Servant's Spiritual Core is intact. If it is given another source of magical energy before the Servant fades away, it can remain in the world afterward.[8]
Heroic Spirits will most often take the form that represents their golden age at the prime of their lives, but effects like those of a strong curse or a personal attachment to the form can change that to even their selves from just before death.[9] Certain wounds, conditions, and illnesses may remain should they be "something indispensable" for their origin, such as Nero Claudius's migraines as the skill Migraine,[10] Okita Souji's tuberculosis as the Skill Weak Constitution,[11] and Benienma's severed tongue.[12] Once a Servant has been summoned in a Holy Grail War, it is possible for them to retain items from the war, such as Cú Chulainn's makeshift spear from the Second Tokyo Holy Grail War[13] or Artoria's lion plush given to her by Shirou Emiya.[14] If a Servant is summoned or altered in an abnormal way, that self is recorded. Amakusa Shirou says that his summoning in the Ruler-class is a right he gained after his Master forced him into the class, but summoning him without an urgent matter would be almost impossible.[15]
Skills like Mad Enhancement, Mental Pollution, and Innocent Monster can influence their forms and personalities when summoned as Servants, changing them drastically depending on how they were perceived in life or after death. The preference of the Master and suitability for certain Servant classes may also affect them. It also may be the case that how history recorded them became distorted, such as Astolfo appearing feminine when history calls him the "most handsome" of his peers, Alexander the Great being very tall when history recorded him as shorter than average, and those of an opposite gender from their legends.
For those of an opposite gender from recorded history, Chaldea Security Organization notes the phenomenon happens quite frequently, citing lost or misrecorded history, the body representing a unit of Servants rather than an individual person, and other unique cases. Such cases typically come from eras where records are sparse, so the idea of it happening with a famed person from modern history who left behind photographs, self-portraits, and personal anecdotes is seen with suspicion. Chaldea's speculation on such a case would be someone deluded into believing they are the individual, an abnormal Saint Graph, or simply a lie about their True Name.[6]
Servants are beings able to switch between a Spiritual Body and Material Body at will. While in spiritual form, they cannot be easily detected by enemies due to being invisible to the naked eye and most forms of scrying, or be affected by physical interference. They can travel where they please without being impeded by walls, but they also cannot carry anything in that state. Their senses are limited to spiritual sensations, so they must materialize in order to fully experience normal senses when sharing a visual link with their Master. Their upkeep cost is low when not materialized, so many Masters prefer them to stay in spirit form when they are not fighting or doing other tasks that require them to be in physical form to lower the cost on themselves. Depending on the disposition of the Servant or a special case like Saber, such an order may be impossible. It is also hard for them to affect a Material Body in that state, so they must materialize to properly engage in combat.
While they may bleed and take damage to their organs, their true being resides in a Spiritual Core (霊核, Reikaku?) they obtain upon first materializing. Their Material Body envelopes it, and damage must be inflicted to it in order for them to be defeated. It gradually diminishes under magical energy expenditure and while sustaining bodily damage, and their expenditure will escalate under such conditions. If it is damaged through powerful magical energy, curses, or Noble Phantasms, it will be destroyed, meaning that the Servant can no longer stay materialized. The heart and head are directly connected to it, so they are a Servant's greatest weaknesses. Sustaining damage will significantly weaken it, with some Servants having it instantly destroyed and some with Skills like Battle Continuation being able to at least temporarily sustain themselves.[20][21]
While they have Material Bodies like humans, the composition is drastically different. They are of a much higher magnitude, so it is normally impossible for portions to be transplanted onto a human. Shirou Emiya is able to obtain Archer's arm due to them being the same person.[22] Normally the recipient would die of shock, but being even closer than twins allows the surgery to succeed, although Shirou needs to wear the Shroud of Martin to supress the negative effects Archer's arm would have on his body. It is still too much for him even in that case, so being connected to it slowly kills him. Sieg, a homunculus, obtains Siegfried's heart, gaining the ability to transform and have a longer lifespan, yet his body is consumed by memories of Siegfried until it is no longer the same, ending up transforming into a dragon.
Servants must maintain a certain amount of energy to remain materialized and fight, and they must have an anchor to the world, their Master or another physical being in order to remain in the world. Their current strength is reflected by their current stores of energy, so they will lose strength as they lose energy. The Grail itself provides most of the upkeep for Servants during the duration of the Holy Grail War, so Masters, granted Magical Paths to supply energy, do not need to provide vast amounts of energy normally. More energy intensive Servants like A-rank Servants and Berserker-class Servants can still pose a great threat should they not have the ability to provide their upkeep, even draining them to death in the case of Berserkers. Those who are cognizant are able to throttle the energy they intake, keeping their output to a minimum or using only their own stores when their Masters are unable to provide their full cost.
If the Servant is without a Master, has issues with the Magical Paths, or has a Master unable to supply energy, they must supplement themselves elsewhere. As Human Spirits, they have the ability to consume the souls and minds of people and convert them into energy. Their basic abilities do not change from such nourishment, but they become tougher as their magical energy capacity increases. They can also intake semen or blood for energy depending on their method of processing it. Places like Ryuudou Temple can naturally allow them to subside longer, and draining directly from leylines is possible for some. With a full stock of energy, they can subside for a time even with the constant cost of upkeep, and they regain some energy from their own magic circuits daily. Remaining in spiritual form can decrease their upkeep, and while in material form, dematerializing weapons and armor can help cut it somewhat. Food can be converted to supply some energy, and sleeping can stop the consumption. This only helps when no action is taken due to even a single battle using upwards of twenty times as much energy as simply existing, so such methods are only stop-gaps compared to taking in souls.
Servants do not need to eat food, but food can be converted into magical energy to slightly offset energy consumption.[23] Many Servants, especially those who are royalty, choose to do so for recreational purposes.[24] In the case of a Servant possessing a human body directly like Jeanne D'arc, she needs to eat due to the high amount of calories she burns as a Servant affecting the body's energy, but the human body will not die from starvation.[24] Servants can become intoxicated from alcohol consumption.[25]
Servants do not need to sleep, but they can sleep in their physical body as a means of reducing energy consumption if they cannot or refuse to return to spiritual form.[24][26] For Artoria Pendragon who cannot receive energy or return to spiritual form in the Fifth Fuyuki Holy Grail War, sleeping combined with her natural regeneration of magical energy give her a small surplus of energy if she doesn't battle.[27] They do not posses the function to dream like humans, but the Master and Servant connection can allow some Master and Servant pairs to see past memories of each other in the form of dreams.[28]
Even having a full supply will not help a Servant should they lose their anchor to the world with the loss of their Master, so they must quickly seek out another contract. While normally not much of a burden, their energy noticeably drains by the second without one. Depending on the amount of energy and upkeep cost, they may only be able to stay materialized for a brief time. Saber can manage only two hours, while Caster can last two days with a full supply of energy. Those with Independent Action are able to subside without Master support far longer than others, allowing them a better chance to seek out another contract. Much like the class container, their anchor is a "passport to the current age", so losing that will mean being forced to return to the "outside." They cannot form proper contracts with other Servants, as spirits cannot link spirits to the World. Caster is able to summon Assassin, but it is an improper summoning with several complications; rather than her being his anchor, it is the mountain gate, so Assassin cannot leave the area. Without a Master, they are no different than regular spirits and may be affected by the Church's scripture.
It is possible to remain materialized as a normal familiar after the Holy Grail War ends, but it greatly increases the cost without active support from the Grail. Rin Tohsaka, a superior magus, has no issue in providing for Saber's upkeep, Noble Phantasm usage, and Shirou Emiya's Reality Marble at the same time during the Holy Grail War, but in-turn requires the majority of her energy and Shirou's help in keeping Saber materialized after it ends in Unlimited Blade Works. The only one easily able to maintain a Servant is Sakura Matou after becoming the Grail in Heaven's Feel, granting her a limitless supply that easily allows her to maintain Rider. Gilgamesh incarnating allows him to exist indefinitely by granting him A+ Independent Action, allowing him to exist for ten years with no issues. Ruler becomes incarnated through another method, allowing him to exist for about sixty years.
All Servants have an Alignment (属性, Zokusei?), a status showing a clear representation of the mentality of the Servant, differing from the elemental alignment of magi. It is broken down into two parts, a combination of the principles they consider important to their personality. Principles are reflected as Chaotic (混沌/渾沌, Konton/Konton?), Lawful (秩序, Chitsujo?), and Neutral (中立, Chūritsu?, "True"), and their personalities are reflected as Good (善, Zen?), Evil (悪, Waru?), and Neutral (中庸, Chūyō?). Other personalities include Summer (夏, Natsu?) and Bride (花嫁, Hanayome?).Berserker Servants have also displayed Insane (狂化, Kyōka?) as a "principle", and Mad (狂, Kyō?) and Reckless (暴走, Bōsō?) as their "personalities." Differences in personality will not result in major discord, but differing principles can make Servants resolving their differences of opinions difficult.[29] While two Servants may have the same personalities as "good", like King Arthur and Gilgamesh, their Lawful and Chaotic principles lead to differing opinions.[30]
Servants without a known alignment can be found here.
Those summoned as Servants are given the minimum information required to allow them to fit into any era. No matter how ancient the Heroic Spirit, they should understand a number of concepts that were not known in their time.[31] The idea that Saber may be shocked about the immediate world initially worries Shirou Emiya, but the knowledge makes such worry unnecessary. Irisviel von Einzbern first believes that Saber may find flying in a plane to be an amazing experience, but it instead seems less than expected to her. Flying in a plane is also mitigated due to her Riding Skill that could potentially even grant her the ability to fly it. While not given enough information to actually drive modern vehicles, higher ranks of Riding grant the ability to manage such through intuition even if they do not actually recognize what each separate control of a vehicle will actually perform what action. Conversely, even though Ruler understands the basic principles behind the concept of a plane, she is unnerved by the idea of a mass of metal flying through the sky and only has the relief that it did not fall out of the sky after landing. With language, Rider displays the ability to speak English to his Master, Waver Velvet, and also speak Japanese to Taiga Fujimura, allowing him to easily translate between the two.[32]
The knowledge is not all-encompassing, so concepts may still have to be explained to them. Rider is shocked at the true scope of the world compared to the area he had conquered in life, and needs to have certain areas shown to him on a map. He enjoys spending his time learning about different aspects of the world such as wars since his time, and details like the price of a stealth bomber are not immediately known to him. Saber does not understand the idea of dating until it is specifically explained. They are granted knowledge on the Holy Grail ritual itself, but only as much as the outside Masters are told. They do not know of its true purpose in being a method requiring all seven to be sacrificed to reach the Root, only believing it to be a war for a single wish. The knowledge can change upon the nature of the war changing, allowing knowledge of the two teams of Servants and factions of the Great Holy Grail War to be given to them.
They are not granted knowledge on other Heroes through the Grail, but rather from knowledge gained within the Throne of Heroes. Witnessing traits of other Servants can allow them to deduce their True Names with the knowledge even if they are from incompatible eras. Aberrations like Saber, who is not part of the Throne of Heroes due to her circumstances, are able to identify those whose legends would have been known to them in life, such as Cú Chulainn, but cannot identify the legends of later Heroic Spirits like Gilles de Rais even after being directly named.[33]
Under the Fuyuki system, Servants are summoned with the memories of only when they were alive, not retaining anything from after they became a Heroic Spirit.[34] The memories of Servants are returned to the Throne after each summoning, their experiences stored as integrated memories.[35] The Throne of Heroes, having no concept of past or future, contains all of these memories. As the act of a Servant taking in all of a Heroic Spirit's memories would create contradictions, like knowing of events of the very Holy Grail War into which they were summoned, their memories are adjusted to match the time and place into which they are summoned.[36] The Throne also adjusts knowledge and memories according to the world in which they are summoned, to avoid the Servant being confused by multiple sets of memories.[37] Gilgamesh in Fate/strange Fake speculates that, "It may be a desperate measure on the part of the Throne to curb the world's contradictions, even if only slightly."[36]
The Chaldea system of summoning is an exception that allows for Servants to remember past summonings or retain memories.[38] Within Chaldea, the storage of Saint Graphs allows for defeated Servants to be resummoned with all their memories from Chaldea, but certain circumstances can potentially destroy those memories.[39] Memories formed in Singularities are also more easily remembered.[38] Trisha Fellows, studied in Heroic Spirits, theorizes that Reality Marbles, along with Singularities, may allow Servants to keep memories of their summonings.[40] Certain circumstances can also allow certain Servants to bypass the system. Artoria Pendragon's unique circumstances cause her to remember everything she experiences in chronological order.[34] Kundry, due to the circumstances of having been reincarnated multiple times before becoming a Heroic Spirit, remembers all of her summonings.[41] Gilgamesh, while not naturally retaining memories, can bypass the restriction by utilizing his clairvoyance to see into other worlds.[36]
Differing from those who do retain memories, while Francesca Prelati is a still existing version of the Heroic Spirit François Prelati, Francois only remembers up until he was first executed when summoned as a Servant.[36] Should Hassan of Serenity ever fall in love during a summoning, those memories will be sealed within the Throne of Heroes, making it so that particular version will never be summoned again, even in the case of being summoned into the Chaldea system.[38]
Main article: Saint Graph
The Spiritual Foundation (霊基, Reiki?, Localized as "Spirit Origin"), or Saint Graph (セイントグラフ, Seinto Gurafu?), of a Servant is the core of a Servant's existence, described as "their center, their heart, their CPU" that dictates their every function.[42] It differs from the Spiritual Core acting as the foundation of the Servant container.
Within Chaldea Security Organization, they are able to store the Saint Graphs of Servants to allow for their quick resummoning with their memories intact.
Heroic Spirit Possession (英霊憑依, Eirei Hyōi?) is the process of a Heroic Spirit fusing with a human in some capacity. It is possible for a Servant to possess a human, fuse with a human to become a Demi-Servant, and for a human to act as a vessel for the summoning of a Heroic Spirit that lacks a body of its own or possesses Divinity too high to manifest directly to become a Pseudo-Servant. Normally the souls of Heroic Spirits would overwhelm those of humans, making it impossible for them to intermix and grant a human the powers of the Heroic Spirit. Pure souls like those of homunculi can have a better time accepting their power and withstanding transformation of the flesh. The act of a Heroic Spirit possessing a human for even a single second can be called a miracle in itself.[43]
Possession

The Greater Grail is able to make the process work for Ruler by searching for a match with a compatible physical build, spiritual build, personality, and magical energy. The possession seals the target's former personality and spiritually installs the Heroic Spirit. After receiving clearance from the host personality, it performs a "cross-domain base anatomy backup" to be able to restore the target even if Ruler is killed. It adapts the physical and spiritual build, grants the Class Skills, grants knowledge of Heroic Spirits and the modern era, and inputs other required data. Overwriting and merging with the target's body and personality, Ruler notes having most of the target's memories. Rather than two personalities in one body, it is more that they merged into one.[24]
Through an intermediary, like a part of a Heroic Spirit's body or a related catalyst implanted into someone's body, it can be possible to call down the Heroic Spirit directly from the Throne of Heroes to inhabit their body. The process requires something of great power like a Command Spell, and the transformation will only last a few minutes. Due to possessing Siegfried's heart, his soul, and through special Command Spells, Sieg is able to act as a shell for the body of Siegfried, retaining his own personality while being able to utilize Siegfried's abilities.[43]
Some Servants possess abilities that can cause a strong effect on the body of the Master, so they are able to share a physical body with their Master. The Master can become close to an immortal existence for the duration of the Holy Grail War by not being able to die until the Servant dies, but it does not increase their power to the point where they would be able to fight an existence greater than an Assassin-class Servant.[43][44]
In the case of Pseudo-Servants, a human whose soul is sufficiently close to the Spirit in terms of both personality and characteristics is selected and initially summoned, followed by the Spirit that will inhabit the human body. The result of the possession is a being with a personality similar to that of a combination of both the Spirit and the vessel, with the potential of unconsciously inheriting the vessel's memories. In general, the Spirit's personality and mind is dominant but there are exceptions in cases where the vessel has an unusually strong will or if the Spirit is willing to allow the vessel's personality to maintain control.
The Demi-Servant process is only possible with humans that have been genetically engineered from birth for the sole purpose of being compatible with the merger process. Even then, the process is dangerous for both parties and has a minimal chance of success. Only a handful of attempts at creating Demi-Servants have been recorded, and of them only one was ultimately successful.
Main article: Class Card
Main article: Demi-Servant
Main article: Grand Servant
Heroic Spirit Swordmasters (英霊剣豪?) are modified beings present in the Shimosa Singularity. Originally regular Heroic Spirits, they were altered by Caster of Limbo, who cast the Karma of the Absolute Massacre (一切鏖殺の宿業, Issai Ōsatsu No Shukugō?, localized as Curse of Annihilation) on them, greatly increasing their power and granting them regeneration and skills similar to Mad Enhancement and Presence Concealment. They are nothing more than walking corpses that have lost their humanity. According to Caster of Limbo, only Senji Muramasa's finest katana, Myoujingiri Muramasa, can wound them. Later on, Kotarou was also shown to be able to hurt them with his kunai, after he had absorbed Danzou's magical energy.[45]
They are also capable of casting a spell similar to a Reality Marble of a field of corpses where the loser's soul will be consumed.
Members:
Main article: High-Servant
Main article: Pseudo-Servant
Shadow Servants (シャドウサーヴァント, Shadou Sāvanto?) are a variety of Servant that is incomplete, degraded, or false. There are any number of circumstances that bring them about, such as a bad summoning, blackening, or remnants of a Servant's Spirit Origin coalescing around areas with potent magical energy when they should normally be dispersed to the Throne of Heroes. The Seven Fake Heroic Spirits created by Jeanne Alter are similar in nature. In Fate/EXTELLA LINK they are created by Karl der Große with the residual energy a Servant's Spirit Core leaves at the location of their summoning.

Solo Servants are Servants summoned by the Moon Cell after the formal end of the Moon Holy Grail War in Fate/EXTELLA. They exist independently without the need for a Master.
Stray Servant (はぐれサーヴァント, Hagure Sāvuanto?, localized as "Rogue Servant") is a term for Servants who were summoned without a Master or lost their Master. For those in a normal Holy Grail War, they can last between several hours and several days depending on their abilities. They can supplement themselves, but require an anchor to exist for longer than that. Stray Servants appearing in the Grand Orders are able to exist without a Master due to the unusual conditions inherent in Singularities and Lostbelts.
Top Servants (トップ・サーヴァント, Toppu Sāvanto?) are the most powerful "heroes among heroes" in human history who represent the pinnacle of Heroic Spirits. When summoned by the Moon Cell to deal with threats like the awakening of Velber 02 in Fate/EXTELLA, they are said to be summoned in a special class different from the normal classes.
Known Top Servants include Arjuna, Artoria, Gilgamesh, Iskandar, Karna, Jeanne d'Arc, Romulus, Scathach, and Cú Chulainn.
Udon Servants (うどんサーヴァント, Udon Sāvanto?) are Servants created in the parody work Learn with Manga! FGO. They are created from mixing a spirit, Holy Grail Mud, and udon dough. They start out as small, sentient blob of udon dough, eventually developing into Servants.
Masters summon their Servants at the start of each ritual. Different systems possess different means of facilitating the summoning.
Summoning without a system
[
edit
|
edit source
]
It is possible to utilize Heroic Spirit summoning without establishing a dedicated system around a Holy Grail or other catalyst. Gilgamesh utilizes what he calls "real Heroic Spirit summoning" in the Babylonia Singularity, saying it is unlike that of Chaldea. Merlin notes that the timeframe being that of the end of the Age of Gods makes it easier to summon them than in modern times, saying that neither he or Gilgamesh would find it easy to summon them in the magecraft-diminished 21st Century.[46]
Without Chaldea's system, Sion Eltnam Sokaris summons the Captain by forcibly mixing two Saint Graphs together.[47]
Under systems based upon the Fuyuki ritual, there are several factors that determine which Heroic Spirit the Master will summon. It is general that the seven participating Masters are all magi due to requiring basic magecraft to properly perform the summoning, but the quality of the Masters does not matter so long as the most basic summoning requirements are met to fill out the Grail's requirement of seven Servants being manifested. Upon selecting the Masters, the Grail distributes the massive amount of magical energy it has gathered among them to facilitate the process.[31]
Performing a summoning ritual facilitates the process in which the copy of the Heroic Spirit is brought into the chosen class container. Most Masters will prepare a catalyst with which to summon their desired Heroic Spirit, but it is not absolutely necessary. Without a specific artifact, the Grail will, rather than basing it on their power, choose a Servant based upon similarities to the summoner's own nature. When choosing based on power with a catalyst, bad compatibility may make forming a bond impossible, bringing about hardships without being able to have faith in each other. When allowing for a good affinity, it may bring forth a weaker Servant, and it is possible that a single mistake could rouse bad feelings between them due to the resemblance in their personalities being so close.
While the summoning ritual (儀式の召喚, gishiki no shōkan?) are generally specific, their main goal in the Holy Grail War system is to act as a precaution to create a bond with a perfect, reliable Servant. They really only require a summoning circle, even if unskilled, and a catalyst can bypass the need of chanting a spell. Doing so can create aberrations like Gilles de Rais being placed into a normally unsuitable class or King Arthur having a bad connection with her Master that does not allow her to receive magical energy through normal methods. Flatt Escardos is a complete anomaly in that he is able to complete the ritual without even meaning to summon a Servant, simply by "fiddling" with the magical energy in the area. The connection to his Servant is spontaneously established, and it is unknown if it can be called a miracle, luck, or an achievement of his own latent potential. It is possible to specify in the summoning ritual that the Servant be placed under the Berserker class for those familiar with the workings of the Grail System. By adding in a specific line, Zouken Matou and the Einzbern family, as members of the Three Founding Families, were able to choose this class during the Fourth and Fifth Wars respectively. In the Great Holy Grail War, each faction has a summoning ritual according to the color they represent.
Catalysts (触媒, Shokubai?) are symbols and holy relics used to attract the desired Heroic Spirit. Requiring something with a connection to the hero, it can be anything from a sword, armor, a talisman, or even their bones. While something like Rin's Pendant is an artifact holding great power on its own, it is unable to help summon a Servant. If the catalyst is one that is particularly weak, or if it is one with a connection to many different Heroic Spirits, the Heroic Spirit among the candidates that has good affinity with the Master will be chosen.[48] Some are those that have only been connected to a single Heroic Spirit, allowing them to be brought forth regardless of affinity with the Master. In a rare case, EMIYA's catalyst is not the pendant Rin owns in the present. EMIYA is instead a case where he holds a catalyst with a connection to his summoner.
Catalysts are extremely valuable, and it can take much effort depending on the Servant the Master wishes to summon. The Mage's Association, having been collecting the esoterica of thaumaturgy for generations since ancient times, has a grand number of catalysts "numbering among the stars." Kayneth El-Melloi Archibald is able to order a relic from Macedonia, while the Einzberns have to specifically have Avalon excavated from Cornwall. Within the Fate/Apocrypha world, the spread of the Holy Grail War system means many catalysts quickly disappearing over seventy years and numerous Grail Wars. Especially those of Gilgamesh, King Arthur, and Alexander the Great have been scattered and lost over time, and Yggdmillennia specifically collects desired artifacts over decades to procure enough excellent Heroic Spirits. The Association still has enough even then to easily provide seven catalysts to their Red Faction on a short notice.
Chaldea's summoning system requires both Master and summoned Servant to agree to the summoning.
Due to the Human Order being in disarray and its own unique properties, it allows for the summoning of Divine Spirits.
The system allows for the summoning of Pseudo-Servants.
Servants summoning Servants
[
edit
|
edit source
]
It is also possible for some Servants to bring forth other Servants under limited conditions with their own abilities and Noble Phantasms. The newly summoned Servants can then participate in the summoning themselves; these "Chain Summonings" will call upon progressively more powerful Servants and can even summon Divine Spirits.
Under normal circumstances, the Fuyuki ritual is made for the summoning of only "pure Heroic Spirits", so with the exception of Hassan-i-Sabbah, those who are "mixed spirits" "who only have the aspect of a Heroic Spirit" cannot be summoned. Through the induction of Angra Mainyu into the Grail after the Third Holy Grail War in the main timeline and the alterations made by Darnic Prestone Yggdmillennia in the alternate timeline of the Great Holy Grail War, it becomes possible to summon those with anti-hero aspects.[43][63] That limitation is not present in other Holy Grail Wars like the Moon Cell Holy Grail War.
Divine Spirits cannot be summoned normally under most systems. Due to their nature, it is nearly impossible for them to manifest in the current world.
Within the Fuyuki Holy Grail War system, there is a rule that makes only the summoning of Western Heroic Spirits possible due to the Holy Grail being a Western, Christian concept and that the summoning system was created in the world of Western magi.[64][65] Sasaki Kojiro of the Fifth Holy Grail War is a complete aberration in many ways. Other systems like the Moon Cell Holy Grail War have no such restrictions.[66]
Within the Fuyuki Holy Grail War framework, one from the grouping of nineteen Hassan-i-Sabbah will generally be summoned as the Assassin-class Servant due to the very name "Assassin" acting as their catalyst. It is said to be fixed in the system itself that Hassan will always be summoned,[24] but there is a small chance, so low as to be considered nonexistent, that another will answer the summons.[67] Within the world of Fate/Apocrypha, the Subcategory Holy Grail War led to a proliferation in the number of Hassans summoned, allowing all of their True Names and Noble Phantasms to be documented. Masters eventually began adding additional lines to the summoning incantations and bringing catalysts not associated with Hassan to call upon different Heroic Spirits.[67]
The Moon Holy Grail War and FATE system do not possess this limitation.
Main article: Skills
Servants have six primary statistics that make up their overall strength:
Each of the statistics and Skills are translated into specific parameters, reflecting the individual ability of each Servant. They display strength and speed far beyond normal humans, showing in battle displays likened to a "dimension that is completely at odds with the physical laws of this world." Simple hand-to-hand combat between two Servants is enough to wreck a city street in a manner able to be compared to having been carpet-bombed, damaging the ground with only their footfalls, cutting metal with only the backlash caused by their weapons clashing, and tearing away iron from simply brushing against it with weapons.[31] The usage of their Noble Phantasms can easily leave an area in complete ruin, some displaying the capability to easily wreck part of a city with minimum usage or even an entire city should enough time pass.
Both their movement speed and dexterity is enough to make them invisible to the human eye, looking like a breeze of wind when running past and only leaving the aftershocks of their attacks to be felt by onlookers.[31][71] Compared to even a top-class motorcycle like Saber's V-Max able to reach over four hundred kilometers per hour, the dexterity of a Servant places them far above it in both maximum acceleration and speed, and they can rival a jet fighter in speed with proper footwork. It may be still advantageous to use a motorized vehicle in a pursuit due to it only relying on its fuel rather than using their own energy while running on foot.[72][73] The speed of bullets travelling faster than the speed of sound poses no threat, unable to surpass the speed with which they wield their weapons, and those with greater dexterity can easily deflect them with their weapons.[72][73] Not bound by normal logic, they are able to move up the sides of buildings simply by kicking off the sides.
Even the smallest of Servants will have little issue in carrying a person, and Rider, casually copying something out of a comic, is able to lift a vehicle from a construction site to slam down onto her opponents.[24][74] Even those who are physically weak compared to others like Caster-class Servants show great feats of strength, Gilles de Rais displaying grip strength enough to easily crush a human skull and Medea severing an arm with a ritualistic dagger unable to normally even be considered lethal to a regular human.[75][76]
Masters who have made contracts with Servants have the ability to read out the status of a Servant with powers of clairvoyance. It is a unique ability granted by the Grail that summoned the Heroic Spirits, so it cannot be used by those without a contract. They can see through the abilities of the other Servants and compare them to those of their own so that they can guide them as efficiently as possible in battle situations. Tokiomi Tohsaka owned a book that provides a similar ability, but it is useless to a full Master. It was passed on to Rin Tohsaka after his death, and she gives it to Shirou Emiya because he lacks a proper connection to Saber. The book itself is blank, but simply looking at a random page gives him an image in his head that allows him to look upon all known statuses of the Servants in the War. Reading the book will give him new details any time he reads it, and Rin says that he will be able to identify Servants from intuition without using the book after he gets used to it. It is reflected in-game as the Servant status screen.
The strength of the summoned Servants depends on various factors. It is ideal if the Servant can wield their original power as a Heroic Spirit, but it is also possible that they can even surpass their original selves in the case of the attribute enhancement from Mad Enhancement of the Berserker class.[77] It is also possible to obtain abilities from Class Skills they did not originally have in life, such as Riding modern vehicles, or have their own attributes strengthened by their classes' natural attributes.[78]
Cultural Sphere (文化圏, Bunkaken

?

) - The Land (土地, Tochi

?

) in which the Servant is summoned and the Recognition (認識, Ninshiki

?

) they receive there are factors that play a role in their strength. The closer they are to the stage of their legend, a geographical boost, and the more that they are known makes them "stronger", bringing them closer to the strength they had in their legend and providing them with more of their equipment displayed in their legend. Depending on the circumstances, it is possible it can bless them with additional Noble Phantasms.[79] The boost from recognition alone is not that large in making a difference in power as when Rin Tohsaka is speculating on Gilgamesh's ability to overwhelm other Servants.[80] Land plays a greater factor with Cú Chulainn, Heracles, and King Arthur being three heroes around the same level of strength when summoned in Europe. Each would be strengthened in Europe and benefit most greatly in battle in their home country, though Heracles' fame would allow him to display excellent power throughout all of western Europe.[81] Cú Chulainn, gaining zero influence from not being known as well in Japan, does not fully display his "shining existence" on par with them while in Fuyuki, but would anywhere else in the world.[82][83] He would obtain several benefits from being summoned in his homeland, Ireland, and outfight Diarmuid Ua Duibhne, who would have an advantage when both are unaffected by the cultural sphere and have other factors at play. Vlad III gains a great boost in Romania, placing him on the same level as those famed heroes, and Semiramis gains her maximum fame while in the confines of the Hanging Gardens of Babylon.
Magical Energy of the Master - The more powerful the magical energy of the Master, the greater the Servant will be able to reach the strength they displayed in their legend. If they cannot provide proper energy or if the Servant lacks a Master for a time, their parameters lower in proportion. If it is a lack of energy, unknown factors will lower parameters and Skills with some Servants, while the Master's way of life may affect others.[79][84] King Arthur, serving under several different Masters, displays a number of different sets of parameters due to fluctuating levels of energy. Under Shirou Emiya, she receives no energy because his Magical Paths are obstructed and cannot display her full strength. Kiritsugu Emiya is able to supply energy to have her be stronger than when under Shirou, but her luck is affected by his personality due to still not providing enough energy. Rin Tohsaka is an excellent magus that allows her to unleash her full abilities without being affected.[79] Two Servants who would be balanced differently under other circumstances may find the balance tipped when one has better Master support.[83]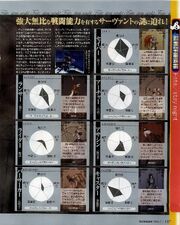 Container Parameters - Unmodified by the strengths and weaknesses of specific Heroic Spirits, the containers of the seven standard Servant classes of the Fuyuki Grail War possess known base parameters.[85] The parameters of the containers has not been shown to affect summoned Servants, allowing for parameters higher and lower than those of the containers. If the hero should be utterly weak to the point of defenselessness like Stheno and Euryale, it is possible for the containers to increase their strength far beyond their regular selves.
Under the FATE system, it is possible for Servants to undergo Ascension (霊基再臨, Reiki Sairin?, Spirit Foundation Second Coming), a reform for the Servants to become stronger by coming closer to their "starting point of conception." It may even bring about a younger, more inexperienced form without reducing their power as a Servant because it is the "most fitting figure" for them.[86]
Form Change: Altered Morphology (形態変化, Keitai Henka?) is an element present in Fate/EXTELLA that allows for Servants to be strengthened in battle, altering their outward appearance and weapons. This is only given to the wielders of the Regalia, rings that symbolize the Royal Authority of SE.RA.PH, given to Servants who have won a Moon Cell Holy Grail War.
Within the Moon Cell, unlocking their Origin as a legend within a Servant grants them great power on the same scale as the Ten Crowns possessed by BB, granting them a Mythological Mystic Code (神話礼装, Shinwa Reisō?).
Artoria Caster has the sword Mythological Mystic Code Marmyadose, though it is currently unknown if they are related to the Mythological Mystic Codes gained upon unlocking a Servant unlocking their Origin.
Battles between Servants can be called a process of gradually shaving off the magical energy that forms their bodies. Attacks that consume a great amount of magical energy will inflict a massive amount of damage on the opponent, but it will also weaken the attacker in the process. In order to inflict a great amount of damage with minimum expenditure of magical energy, it is necessary for them to collect intelligence regarding the enemy and assault their weakness. The greatest weapon is their Noble Phantasm, and a battle between Servants can often be called a battle between Noble Phantasms.
When describing their strength, they can be likened to a single jet fighter in pure attack power, far beyond the ability for a single person to fight. While strong, they would have to refuel many times in order to destroy a city. Though there are many modern weapons that are more powerful, their status as spiritual bodies makes them among the most powerful due to being immune to modern weapons. Their Noble Phantasms can be likened to a jet's ability to load a nuclear warhead far beyond its normal fighting power, with some Servants having extremely powerful ones.[87] With Servants, those with an "extremely average Noble Phantasm" would have one around the level of B Rank which has strength able to be represented through numbers. Broken Phantasms, Invisible Air, and Gae Bolg's thrown strike all deal pure physical damage, while Gae Bolg's piercing version carries a conceptual effect able to kill opponents of a much higher level than the wielder.[88]
Affinity between Servants can factor into battles.
Class Affinity - The various classes posses compatibilities against each other. Within the gameplay of Fate/Grand Order, this results in increased and decreased damage, but it is unknown what effect it has in the story. The only time it has been mentioned is within Fate/Grand Order, and no other story has mentioned it.[89] Class affinity is said to be large enough that it should be factored into fighting the enemy.[90]
Hidden Attribute - The five main attributes Heroic Spirit affect Servants as well, but it does not provide a great advantage and does not need to be factored into battle under normal circumstances.[90]
Humans and Modern Weaponry
[
edit
|
edit source
]
As spiritual beings and divine mysteries, Servants cannot be harmed by normal means and are still considered spirits even in physical form, so they cannot be physically harmed by regular humans or modern weaponry.[91][92] They can only be harmed by attacks accompanied by magical energy like a Servant throwing dirks imbued with magical energy, so they can ignore even debris in battle unless it should become contaminated by an enemy's magical energy.[43] Only Servants can normally harm other Servants physically, so even a paper knife could be used to harm a Servant should another Servant wield it.[91] Servants that are physically incarnated through methods such as blackening can no longer return to spiritual form, allowing them to be damaged with strong enough magical weapons able to pierce the shadows surrounding them in the case of blackening.[92]
For a human trying to apply pressure to a Servant, even one physically the size of a child, it feels like trying to bend a steel beam. Punches with all of their strength will not even cause a Servant to budge a millimeter, and even Souichirou Kuzuki, whose punch is potent enough to crush a human's skull, can only slightly move Archer's head from the impact. Stabbing them with a knife does nothing but bring about a "prickling irritation" that does not hurt at all.[24][93] They can be harmed by physical attacks strengthened magically through Reinforcement or enough Command Spells.[94][95] "Mere bullets" normally pose no threats to Servants regardless of the caliber, but firearms wielded as regular weapons by Servants like Francis Drake's pistols are able to inflict damage, and those ascended to the rank of Noble Phantasm like through Lancelot's Knight of Owner can prove lethal with a single shot.[72][96]
Beings other than Servants that are able to combat Servants are few in modern times. Beings such as Arcueid Brunestud at 30% of her strength, Amaterasu, and Kingprotea would always generally win against a single Servant due to their overwhelming ability. Arcueid could potentially be overwhelmed by two Servants fighting at once even though she is around four times as strong as one, while Amaterasu and Kingprotea require the strength of several Servants to be defeated.[87][97] If speaking of a Servant with an extremely average Noble Phantasm, the members of the Twenty Seven Dead Apostle Ancestors, Kouma Kishima, and Aoko Aozaki can fight directly, while Ciel and Shiki Ryougi's third personality can keep up in a defensive fight that can still be called a fight. Ryougi's normal personality and Shiki Tohno have no chance of matching Servants, but the Mystic Eyes of Death Perception they carry are capable of affecting such beings whether they are incarnated or spiritual bodies.[88][98][99] Humans utilizing ten Command Spells would also be able to damage Servants.[94] Kirei Kotomine and Kiritsugu Emiya at the peak of their strengths during the Fourth Holy Grail War could defeat Servants, but only when the weakest, Caster and Assassin, are at their most exposed, or when they have special conditions in their favor like surprise or suitability against the opponent.[100]
Against Dead Apostle Ancestors, both are types of beings that live in Mystery, so such battles would come down to "having the means of killing the other guy somehow." Servants will generally hold a slight advantage, barring compatibility issues, and the Knight classes, Saber, Archer, and Lancer, will all be able to have solid fights. While Saber's Excalibur is extremely effective against those who overwhelm by material quantity and alienness, there are those capable of surviving being hit by Excalibur-class attacks through pure endurance. At the same time, those same ones with extreme endurance would have a tough time with Lancer's Gáe Bolg.[101] ORT, to which Earth's rules do not apply, and Primate Murder, which has an advantage against primates and requires seven Counter Guardians to control, can be called in a league of their own above both Ancestors and Servants.[102][103]
Heroic Spirits summoned by the Holy Grail are placed into one of various Classes (クラス, Kurasu?). The seven standard classes are the Three Knight (三騎士, Sankishi?) classes of Saber, Lancer, Archer, and the Four Cavalry (四騎, Shiki?) classes of Rider, Caster, Assassin, and Berserker.[77] There are also non-standard Extra Classes (エクストラクラス, Ekusutora Kurasu?) that are "split off from the regular servant classes in order to take on certain roles", such as Ruler which oversees the Holy Grail War.[104] Sherlock Holmes posits that due to Heroic Spirits being a concept irrespective to the existence of Classes formed for the Holy Grail Wars that not all cases of Heroic Spirits can fit into the mold of the Class system. While the Extra Classes can lessen the chance, he says that the amount of Heroic Spirits forced into Classes under which they do not belong will not be zero. This could lead to potential strain on the Servant, such as Florence Nightingale, where they are unable to deduce if her mentality reflects that of her mindset in life or a characteristic granted solely by the Berserker class. The latter case could lead to strain on her mind and Saint Graph.[105]
Under the Fuyuki-based rituals, it is said that only the Three Knight classes will definitely be summoned according to the framework of the ritual, allowing for variation in the rest of the classes. Classes are said to have occasionally changed between the various Fuyuki Holy Grail Wars, but the Three Knight classes will never be replaced by Extra Classes.[36] More than one version of the same class cannot be summoned, even if all the Masters were to use the variation in the summoning chant to get a Berserker-class Servant for example.[106] Within the framework of the False Holy Grail War, the Saber-class does not even exist. Other systems like the Moon Holy Grail War, Chaldea system, and "After" the Holy Grail War allow for the summoning of hundreds of Servants, so there is no restriction on multiple classes.
Servants are normally only of the singular class under which they are summoned, but certain circumstances allow for multiple classes at once or class changes.
Standard Classes
Extra Classes
Ruler: Servants placed within this class govern the Holy Grail Wars, granted rights of an administrator and Command Spells. While typically saints are summoned into it while managing wars related to the Holy Grail, others can be summoned into the class if they are impartial.
Avenger: Servants placed within this class are driven by revenge.
Alter Ego: Servants placed within this class are beings split away from the Saint Graph of another and now act independently from their original selves.
MoonCancer: Servants placed in this class are described as irregulars that threaten the world of the moon.
Foreigner: Servants placed within this class are those who have survived being connected to the Outer Gods that exist outside the universe, and wield strange powers tied to their otherworldly patrons. Such Servants are rarely summoned, as they can inadvertently act as a path for the Outer Gods to enter the world for their own incomprehensible purposes.
Shielder: Servants placed within this class primarily utilize a shield and excel in defensive techniques.
Saver: Servants placed within this class are "Messiah" type Servants.
Gunner: Servants placed within this class specialize in firearms.
Faker: Servants placed within this class are represented by fakes, summoning counterfeits and body doubles.
Gatekeeper: Details of this class are unknown. Watcher could be summoned within as a Servant.
Watcher: Servants placed within this class have some function of observing their Master for a greater purpose.
Ancient Giant: Details of this class are unknown. It is shown to be the class of Surtr.
Ancient God: Details of this class are unknown. It is the Saint Graph Designation of Zeus.
Funny Vamp: This is the class granted to Arcueid Brunestud by the Moon Cell should she participate as a Servant. While she takes on the Berserker class instead, Funny Vamp reflects her whimsical nature and her status as a creature that drains blood, physical energy and money from men.
Non-classed: Some temporary Servants, like the army summoned into Ionioi Hetairoi, are Servants without a class. Gilgamesh during Fate/EXTRA CCC is beyond being confined to a class, so he does not have one.
Grand Classes
Grand Servants (Grand Class) are existences summoned by the Counter Force in order to prevent the extinction of mankind by the Beasts.
Beasts
Beast class is a special container for the Evils of Mankind, beings similar to Grand Servants. 
Altered classes

Classes that are brought about by altering the system on a superficial level. The class of the Servant does not actually change.
Launcher: Launcher, the "Heroic Spirit of the Laser Beam", is a special nickname thought up by Jinako Carigiri for her Servant.
Parody Classes and others
The Parameters for each Servant.
↑ 1.0 1.1

[] Fate/complete material III: World material - Records of Heavens Feel - Servant System: Difference between Heroic Spirits and Servants, p.012

Difference between Heroic Spirits and Servants
Heroic Spirits were Heroes who have left behind great feats in legends after death and become subjects of belief.
Normally, a Heroic Spirit is summoned by the world as power that protects humans.
The ones summoned by humans are Servants. However, Heroic Spirits cannot be controlled by humans, and to summon them, the Holy Grail or something with power of that sort must be used.
The Servant system of Fuyuki summons Heroic Spirits with the power of the Greater Grail. Heroic Spirits summoned as Servants are like "emanations", copies created using the information of the main body of the Heroic Servant.


•Birth of Heroic Spirits
It's been explained that Heroic Spirits are beings that heroes whom belief has been gathered upon become after death, but heroes of myths and legends can be born by the gathering of belief even if they didn't exist. Also, there are those who those who make a contract of some sort with the world when they were alive and as compensation become Heroic Spirits after death. In the Fifth War, Hasan Sabaha was a hero that actually existed, and Herakles and Medusa are ones of legends. Also, Emiya and Artoria are beings that became (or will become) Heroic Spirits after their contract with the world. Those who have become Heroic Spirits are freed from the constraints of time and are moved to the Throne of Heroes, existing to the outside of the World.

•Heroic Spirit summoning
Heroic Spirits are beings cut off from the time axis and can be summoned in any era, regardless of past and future. However, the only one that can summon the main body of the Heroic Spirits is the "world", and alas, humans can't summon the main body and can only summon their emanations, the Servants. Speaking of which, the information (souls) making up the Servants return to the main body at the same time as the death of the Servant, and the main body can know, as records, about the actions of the Servants as if reading a book.

↑

[] Fate/side material - Encyclopedia: Servant [Magecraft], p.061 [T]

Servant [Magecraft]
The Heroic Spirits summoned by the Holy Grail. They fell under the "Familiar" classification.
Seven Classes (only) were designated in advance. They were souls of the greatest purity called forth by using relics tied to the specific Heroic Spirits.
Originally they were not existences that could be controlled by mere humans, but they were forced to cooperate with the Masters due to the Command Spells. These Command Spells represented Masters' right to rule. For Servants, obedience towards the Command Spells were "the absolute condition required for materialization".
Servants could revert to Spiritual Form at any time. While in Spiritual Form, they could pass through inorganic matters that lack mana.
During Lancer's surprise drop attack from the ceilings at the Emiya residence, he phased through the roof and entered the living room. He then materialized after clearing the ceiling.
While in Spiritual Form, Servants were not affected by physical interference. However, their abilities to affect the material world decreased. As a result, it was considered advantageous to materialize during combat.

サーヴァント【魔術】
聖杯によって召喚された英霊たち。分類的には使い魔になる。
予め七つのクラス(筐)を用意し、英霊を繋ぎ止める依り代を利用して呼び出される最高純度の魂。
本来人間に御しえるモノではないが、召喚される時に刻まれる『現界のための絶対条件』として命令権を背負わされる為、マスターとは協力関係を余儀なくされる。
任意で霊体になる事も可能で、霊体時はマナの薄い無機物をすり抜ける事も可能。
衛宮邸を奇襲したランサーが天井から降ってきたのは、屋根から居間へすり抜け、居間の天井あたりで実体化した為。
霊体のままなら通常干渉を受け付けないが、現世への干渉力が落ちるため、戦闘時は実体化していた方が有利とされる。

↑

Fate/EXTRA Saber route - Week 1

↑

Fate/Grand Order - London - Section 8

↑ Fate/Prototype: Fragments of Sky Silver - Volume 4 - Act 4
↑

Fate/Grand Order - Fergus Valentines

↑

Heaven's Feel - Day 10 - Artificial Phantasm

↑

[] Comptiq 2007-10 issue - Fate Dojo Q & A:
Q. Concerning the Servants' appearance, do they take the form they had just before death, or the form they had during the prime of their lives?

Q: Concerning the Servants' appearance, do they take the form they had just before death, or the form they had during the prime of their lives?

A: Generally speaking, they take the appearance they had in their prime. However, if there's some kind of strong curse, or the Servant in question has an attachment to it, then their form from just before death can also appear.

Q:サーヴァントの姿って、死ぬ直前の姿?それとも全盛期の姿?(愛媛県/緑三閃)

A:基本的に全盛期の姿です。何かの強い呪い、ないし本人の執着があるのなら死ぬ直前の姿で現れることもあ りますが。

↑

[] Fate/EXTRA material - SERVANT Parameter and Skills: SERVANT SABER, p.006

SERVANT SABER


Master: Hero

Identity: Nero Claudius

Gender: Female

Height, Weight: 150cm/42kg

Alignment:Chaotic Good

Strength: D

Endurance: D

Agility: A

Mana: B

Luck: A

Noble Phantasm: B



Class Skills
■ Magic Resistance: C

Personal skills
■ Imperial Privilege: EX

■ Migraine: B

Noble Phantasm
■ Aestus Domus Aurea: Golden Theater of the Flamboyant
Rank: B
Type: Anti-team
Range: 30,60,90
Maximum number of targets: Hundred People, Five Hundred People, Thousand people

セイバー


マスター:主人公

真名:ネロ・クラウディウス

性別:女性

身長・体重:150cm/42kg

属性:渾沌・善

筋力:D

耐久:D

敏捷:A

魔力:B

幸運:A

宝具:B



クラス別筋力
■ 対魔力:C
二工程以下の詠唱による魔術を無効化する。大魔術、儀礼呪法等、大がかりな魔術は防げない。
彼女自身に対魔力が皆無なため、セイバーのクラスにあるまじき低さを誇る。

保有スキル
■ 皇帝特権:EX
本来持ち得ないスキルも、本人が主張することで短期間だけ獲得できる。該当するスキルは騎乗、剣術、芸術、カリスマ、軍略、等。ランクがA以上の場合、肉体面での負荷(神性など)すら獲得する。

■ 頭痛持ち:B
生前の出自から受け継いだ呪い。慢性的な頭痛持ちのため、精神スキルの成功率を著しく低下させてしまう。せっかくの芸術の才能も、このスキルがあるため十全には発揮されにくい。

宝具
■ 招き蕩う黄金劇場
ランク:B
種別:対陣宝具
レンジ:30、60、90
最大補足:百人、五百人、千人
生前、彼女がローマに建設した劇場を、魔力によって形成・再現したもの。
ネロが自ら設計した劇場はドムス・アウレアと名付けられた。

しかし。この劇場を開いた時、一度目は多くの観客が途中で去ってしまった。それに憤慨したネロは二度目の公演時に出入り口を全て封鎖し、舞台の幕が下りるまで一人たりとも外に出さなかったという。

皇帝である前に自分を「楽神アポロンに匹敵する芸術家」「太陽神ソルに匹敵する戦車御者」と信じて疑わなかった彼女のみがなせる、固有結界とは似て非なる大魔術。自己の願望を達成させる絶対皇帝圏。

↑

[] Koha-Ace EX - Servant status: Saber

Class: Saber
Master: ???
True name: Souji Okita
Gender: Female
Height/Weight: 158cm/45kg
Alignment: True Neutral

Strength: C
Endurance: E
Agility: A+
Magic: E
Luck: D
Noble Phantasm: C

Class Skills
■ Magic Resistance: E

■ Riding: E

Personal Skills
■ Eye of the Mind (False): A

■ Weak Constitution: A

■ Reduced Earth: B

■ Mumyou Sandan-Zuki
Type: Anti-Unit Demonic Sword
Maximum number of targets: 1 person

Noble Phantasms
■ Coat of Oaths
Rank: C
Type: Anti-Unit Noble Phantasm
Range: 1
Maximum number of targets: 1 Person

■ Flag of Sincerity
Rank: B
Type: Anti-Army Noble Phantasm
Range: 1~50
Maximum number of targets: 1~200 People

CLASS セイバー
マスター:???
真名:沖田総司
性別:女性
身長・体重:158cm/45kg
属性:中立・中庸

筋力:C
耐力:E
敏捷:A+
魔力:E
幸運:D
宝具:C

クラス別能力:
■ 対魔力:E
幕末に魔力とかそういうのねぇから!
神秘の薄い時代の英霊のため対魔力はほとんど期待できない。申し訳程度のクラス別補正である。

■ 騎乗:E
新選組が騎馬を駆って活躍、という話は寡黙にして聞かぬ。申し訳程度のクラス別補正である。

固有スキル
■ 心眼(偽):A
直感・第六感にとる危険回避。虫の知らせとも言われる、天性の才能による危険予知。
視覚妨害による補正への耐性も併せ持つ。

■ 病弱:A
天性の打たれ弱さ、虚弱体質。セイバーの場合、生前の病に加え、後世の民衆が抱いた心象を塗りこまれた結果、無辜の怪物に近い呪いを受けている。
あらゆる行動時に急激なステータス低下のリスクを伴う。確率としてはそれほど高いものではないが戦闘時に発動した場合のリスクは計り知れない。

■ 縮地:B
瞬時に相手との間合いを詰める技術。多くの武芸者、武道が追い求める歩法の極み。
単純な素早さではなく、歩法、体捌き、呼吸、死角など幾多の現象が絡み合い完成する。
最上級であるAランクともなればもはや次元跳躍であり技術を超え仙術の範疇となる。

■ 無明三段突き
種別:対人魔剣
最大補足:1人
希代の天才剣士沖田総司の必殺の魔剣。「壱の突き」に「弐の突き」「参の突き」を内包する。
平晴眼の構えから"ほぼ同時"ではなく"全く同時"に放たれる平突き、超絶的技巧と速さが生み出す秘剣。
三段突きの瞬間は壱の突き、弐の突き、参の突きが"同じ位置"に"同時に存在"する。
壱の突きを防いでも、同じ位置を弐の突き、参の突きが貫いているという矛盾のため、剣先は局所的に事象崩壊を起こす。
そのため三段突きは事実上防御不能の剣戟となる。
応用というか結果から来る事象崩壊を利用しての対物破壊にも優れる。
よその聖杯戦争では似た技を使う英霊もいるらしいよ。

宝具
■ 誓いの羽織
ランク:C
種別:対人宝具
レンジ:1
最大捕捉:1人
浅葱色の羽織。幕末に京を震撼させた人斬り集団「新選組」の余りに有名な装束が宝具へと昇華されたもの。
装備することによりセイバーのパラメーターを向上させ、武装をランクアップさせる。
通常時のセイバーの武装は「乞食清光」であるが、この効果により後世、彼の愛刀とされた「菊一文字則宗」へと位階を上げる。

■ 誠の旗
ランク:B
種別:対軍宝具
レンジ:1~50
最大捕捉:1~200人
誠の一字を掲げる新選組の隊旗。この旗を掲げた一定範囲内の空間に新選組の隊士を召喚することが出来る。
各々の隊士は全員が独立したサーヴァントであるが、宝具は持たず戦闘能力はピンキリである。
他にも全員がランクE-相当の『単独行動』スキルを保有しているため、短時間であればマスター不在でも活動可能。

征服王の宝具と似ているが展開規模が小さく隊士の数もそこそこのため、宝具としてのランクはぼちぼち。

ちなみにこの旗は新選組の隊長格は全て保有しており、発動者の心象により召喚される隊士の面子や性格が多少変化する。
たとえば土方さんが召喚すると悪い新選組。近藤さんが召喚するとお堅い新選組として召喚される。
召喚者と仲が悪いとそもそも来ないやつとかも居る。沖田が召喚するのはわりとポピュラーな新選組である。

↑

Fate/Grand Order - Benienma Interlude: The Secrets of the Book of Enma

↑ Fate/Grand Order - Cú Chulainn (Proto) Valentines
↑ Fate/Grand Order material I - Artoria Pendragon (Saber) Profile
↑

Fate/Grand Order - Amakusa Shirou Tokisada - Interlude - Let's Talk About Saving the World

↑

Fate/Grand Order - Mozart Interlude

↑

[] Fate/EXTRA CCC - Elizabeth Secret Garden [T]

Profile
Name: Elizabeth "The torture idol of the dragon family, Elizabeth Báthory! I'll break your heart to pieces too!"
Height: 154cm "No, 172cm! What do you think of this incredible supermodel-esque stature? My horns are quite tall."
Weight: 44kg "An idol's age and weight ought to be kept secret, but, hey, do you really want to hear it? No matter what? Well then I suppose I'll have to say…I'm a lovely 44kg."
3Size: B77/W56/H80 "There are, er, various things one can do disguise this. I-I'm not wearing slimming clothes!"
Home: House Báthory "The ancient dragons. The noble bloodline that bears their fangs. The House of Báthory in Hungary. The place that was everything to me."
Birthday: May 17th "Could you leave the presents with my manager?"
Weak Point: If you expose my noble wrath I'll never forgive you "Unfortunately I'll have to cut you up, crush you, wring you dry, and then, you have to marry me!!"
Fetishism: Torture…? "No, that's a duty of the nobility, so that's different. So, then…wh, I, with the opposite sex? I don't know anything about that, but, uh, fingers are certainly lovely aren't they?"
What do you look for in a partner? There are a lot of things, but really… "Starting with a house, they need wealth, work, hobbies…there are a lot of things, but ignoring all that nonsense, it's definitely 'destiny' in the end."
What's your favorite color of underwear? Always what's most fashionable in show business "And a top idol most definitely has stripes!"
How do you spend your free time? Recovering from fatigue with a relaxing bath "It's not that easy, keeping up this beauty."

Romanticism:


Fond of Cooking (Wish to be a Beloved Wife):

Elizabeth's second SG.

Though Elizabeth herself says she likes cooking, this is not a simple fondness for the act of preparing food, like that of the red-mantled Archer. Elizabeth's fondness for cooking comes from a desire to be praised by or to monopolize the person she likes. Essentially it amounts to nothing but a desire to be beloved as a wife. Her skill in cooking is utterly lacking.

We can infer that as the fondness for cooking appears as the apex of Elizabeth's wish to be a wife, she then stresses meals. Or perhaps it's part of her draconic instincts.

<>

Though Elizabeth shares her love of song with Saber and her wish to be a beloved wife with Caster, what lies at the bottom of those wishes is completely different.
To confirm her beloved's love — preparing food as a method keep a husband's attention does not come from an "equal relationship." She would "bestow meals" to her husband as a noble. It's no different from feeding an animal. It contains none of the "romance" she longs for. The controlling disposition hard-wired into her devours even her meagre dreams.

Purity (Inexperienced):

Elizabeth's third SG. We would like to leave just what constitutes "purity" to the reader's imagination.

Servants are revived in the form that represents golden age of their lives. So Elizabeth appears as an unwed daughter of house Báthory, a young girl in love with love…one assumes.

<>

An idol must be pure as snow. Forget romance, the moment she comes to know love her shine is lost. As long as she immerses herself in the idol business, this SG will be eternally indestructible.

↑

[] Fate/EXTRA - Li Shuwen (Assassin) Matrix [T]

Class: Assassin
Master: Julius Harway
True Name: Li Shuwen
Noble Phantasm: No Second Strike
Keyword: A second strike isn't needed, Obfuscation
Strength: B, Defense: C, Agility: A, Magic: E, Luck: E
Obfuscation: -, Liuhe Quan: A+++, Concealment: A

Kewords

01 - No Second Strike
Li Shuwen's blows are almost always fatal, whether he throws a hard blow designed to kill or a simple feint to draw his opponent into an attack. A saying that has managed to survive the passing of years is, "For Li Shuwen, a second strike is needless." It is this saying from which his Noble Phantasm get its name.

To be accurate, this isn't a Noble Phantasm in the traditional sense of term. Rather, it is the ultimate expressions of the true power possible by mastering the martial arts. Li Shuwen is considered to be one of the very few to have gained total mastery over his style, and in fact was believed to have transcended the need for physical attacks, instead defeating his opponents by engulfing them in Chi.

There is much debate as to whether Li Shuwen actually uses his Chi to defeat his opponents, although the very few who have managed to survive a confrontation with him report suffering all of the effects associated with this attack, such as obscured senses, heightened state of paranoia, and the feeling that their nervous system was under almost unendurable strain.

02 - A second strike isn't needed
This was the second name given to one of the strongest practitioners of kung fu in Bajiquan history. Considered to be the ultimate master of Bajiquan, it is said that this person was able to take the life of his opponents with a single gentle touch.

03 - Obfuscation
A skill used to completely conceal one's presence.

Although this ability allows the user to become almost completely invisible, the sheer amount of magical energy required almost screams out that some form of thaumaturgy is being used. Should this person's opponent be a skilled magus, their presence would be noticeable in some extrasensory fashion.

There is a way to achieve this state of being without the use of any kind of magical aid and using only the abilities inherent within one's own physical form, but the level of concentration required is far beyond what humans are capable of.

01 - 无二打
李書文の剛打は、牽制やフェイントの為に放ったはずの一撃ですら敵の命を奪うに足るものであった。
「李書文に二の打ち要らず(神槍无二打)」
无二打は、そんな彼の称号がカタチになったものである。

明確に言うと宝具ではなく、武術の真髄。
李書文は達人であり、その勁力が優れているのは言うまでもないが、それ以上に重要なのが相手を「気で呑む」事を実践していたことにあると考えられる。
一説によると、李書文は拳の破壊力だけで相手を倒してはいないらしい。
彼によって絶命せしめられた者たちのほとんどは内臓の破壊ではなく、現在で言うところのショック死状態であったと伝えられる。

「気で呑む」技法は、技法としては固定された名称がなく、わずかに仙道修行の周天行における空周天に酷似した発想があるのみである。
周天行とは気(エネルギー)を心身に巡らせ、それによって全身を活性化した上で気を共鳴・増幅して養っていく鍛錬法の一種。
そのひとつの到達点が全身を気で満たすものであり、また、周囲の空間に自身の気を満たす事にある。

李書文はこの行法によって相手を「気で呑む」、つまり自身の気で満ちた空間を形成することで完全に自分のテリトリーを作っていたのではないか、と考察される。
「気で呑まれた者」は、一部の感覚が眩惑され、緊張状態となり、この状態で相手の神経に直接衝撃を打ち込んだ場合、迷走神経反射によって心臓は停止する。

即ち、ショック死である。

02 - 二の打ち要らず
中国拳法史上、最強の一人と名高い拳法家に贈られた二つ名。
この称号を贈られた拳法家は八極拳の使い手であり、仕合において、どのような軽い手であれ、触れれば相手の命を奪ったという。

03 - 気配遮断
姿を隠して行動するスキル。
その究極として透明化があるが、これは多大な魔力を使用するため"魔術が使われている"気配を残してしまう。
よって、敵対者が優れた術者である場合、
「姿は見えないが何者かが細工をしている」
と感知されてしまうのだ。

魔術にたよらず、自らの体術のみで行う透明化。
それはもはや人間の域とは呼べない魔技である。

Skills

Obfuscation [-]
While a common skill of all Servants of the Assassin Class, the level to which he is able to almost completely obscure his presence goes far above the limits normally associated with this ability.

Liuhe Quan [A+++]
A Chinese meditiative ideal. It is a belief that true mastery of martial arts comes not through training, but acceptance. As this technique is extremely difficult to understand, let alone master, it is only when achieving the rank A that one is thought to have actually begun to learn. Those with ranks exceeding A are considered true masters of the arts.

Concealment [A]
A technique in which one uses their Chi to blend in with the whole of their surroundings. For masters of the ability, it is possible for them to truly become one with the world and have their very forms seem to become invisible.

気配遮断[-]:
アサシンのクラスが持つ共通のスキルだが、このサーヴァントが持つ気配遮断スキルはそれらのどれにも該当しない。

中国武術[A+++]:
中華の合理。宇宙と一体になることを目的とした武術をどれほど極めたかの値。拾得の難易度は最高レベルで、ほかのスキルとは違い、Aでようやく"修得した"と言えるレベル。+++となれば達人中の達人。

圏境[A]:
気を使い、周囲の状況を感知し、また、自らの存在を消失させる技法。極めたものは天地と合一し、その姿を自然に透けこませる事すら可能となる。

Details

01 - Character Background
Li Shuwen (1864-1934)

A Chinese martial arts master from Yanshan County, Hebei-Cangzhou. One of the foremost practitioners of the style of the style known as Bajiquan, he was so powerful that many remarked that with him, "a second strike is needless as long a single blow will suffice."

In addition to his skills in hand-to-hand combat, he was also supremely talented in the use of the spear, so much so that he earned the name "Divine Spear Li." His occasional us of this weapon sometimes causes his opponents to mistakenly classify him as a Lancer. While this wouldn't normally be entirely incorrect, due to his Master's desire for a stealthy Servant capable of killing from the shadows, the traits more associated with the Assassin class have come to the fore.

On a final note, since his ability to become invisible is based on his natural abilities and not on any form of thaumaturgy, he is all but undetectable to the vast majority of magi or anyone dependent on magic.

02 - "Master of the Demonic Fist"
Li Shuwen, Master of the Demon Fist.

One of the few undisputed masters of martial arts, he maintains a delicate balance between the innate goodness and inherent evil found in all men. He fell victim to poison after earning the undying hatred of the countless families of those he had killed.

As a Servant, the balance he maintained in life has slipped slightly, but he still values rationality greatly. While he does not see much difference between good and evil, he will react with disgust and utter contempt for those who stray from rational thinking. And for those who allow what Christians call "The Seven Deadly Sins" to overwhelm their lives, he brings swift and inevitable death.

Although he was known as a deadly fighter throughout his life, in his later years he discovered that true power lay not in the strength of his fists, but in the strength of his convictions. He spent the remainder of his life following valor, not violence.

He freely acknowledge that in his current incarnation he is nothing more than a professional killer, but does so without bitterness or regret. And although he uses his power as Julius directs, could it be that...?

01 - 人物背景:
李書文。1864~1934年。
河北省滄州市塩山県出身の中国武術家。
「二の打ち要らず、一つあれば事足りる」と謳われる、中国拳法史上、有数の拳法家。

李氏八極門の祖である李書文は、"神槍李"とあだ名されるほど槍に長けた人物であったとされている。
彼の使った六合大槍は、八極門の基本的な武器であり、極論して良いならば八極門の素手の技法(八極拳)のほとんどはこの六合大槍の技法を学ぶための前段階に過ぎないとさえいえる。
本来なら彼のクラスはランサーだが、その場合、晩年の姿として現れる。
マスターであるユリウスとの相性から若く猛々しい李書文が望まれ、アサシンとして現れたと思われる。

また、余談ではあるが彼の透明化は圏境による瞑想の極意である。
何の魔術も使わない透明化である為、魔術理論に生きる者たちにとっては"絶対に感知できない"達人の技だ。
……加えて余談ではあるが、かつて地上には李書文同様、何の魔術も使わず人の業のみで分身を自在とした剣士がいたらしい。
その秘剣の名は燕返し。
奇しくも、アサシンのクラスによる魔技であった。

02 - 『魔拳士』
魔拳士・李書文。
基本、義を通す善性だが、悪もまた良しとする武芸者。
あまりに多くの対手を殺めた事で多くの憎しみを買い、最後は毒を盛られて命を終えたという。

              ◆

サーヴァントとしての書文はその道徳性こと一般常識から逸脱していたが、人間性そのものは合理性を重んじる"良識人"である。

正義も悪もそう大差はないが、某(なにがし)の行いが合理に損なっている…無駄が多い…のなら、某(なにがし)に対して露骨な嫌悪を向けるのである。
この某(なにがし)が巨利をむさぼる悪党であった場合、そして某(なにがし)の被害にあっている者からの懇願があった場合、李書文は"縁が出来たな"として某(なにがし)と対峙し、結果として殺害する。

一見、義侠の徒に見える行為だが、中華における義侠とは『情をもって剣を取る』なので、彼の考えは真逆にあたる。李書文の性格、合理性はむしろ現代人のそれに近いものだったようだ。

単純に(純粋に、ではない)強さのみを求めた李書文だが、晩年は暴力の強さではなく、自身の生き方、信念の強さに武を見いだしたと言われる。

自身を拳法家というより殺し屋のたぐいと自認しているが、それを卑下する事も、誇る事もない。
生前は善(よ)く学び、善(よ)く戦い、善(よ)く殺めたので、無念や怨念はまったく持っていない。
サーヴァントとして召還されてからは主であるユリウスの暗器として、ためらいなくその凶拳を振るったが……?

↑ Fate/hollow ataraxia - Monster
↑

[] Fate/complete material III: World material - FAQ with Nasu: Servants, p.132


Q: Can the spiritual core of a Servant be thought of as a vital area that, if destroyed, would cause instantaneous death, like a human's heart or brain?

Q: Can the spiritual core of a Servant be thought of as a vital area that, if destroyed, would cause instantaneous death, like a human's heart or brain?

A: The heart and brain are certainly vital organs. Though they are different from the spiritual core, they can be considered organs directly connected to the core.
When the spiritual core is weakened through mana consumption or damage to the physical body, powerful mana, spells, and Noble Phantasms can no longer be materialized, and the Servant will disappear.

Q:サーヴァントの霊核とは、人間の心臓やのうと同じで、破壊されると即死する急所のようなものと考えてよいのでしょうか?

A:心臓、脳は確かに急所です。霊核とは別のものですが、より霊核に直結した器官と考えられます。
霊核は魔力消費、肉体損傷によって弱体化し、その状態で強力な魔力、呪い、宝具を受けると現界を保てなくなり、サーヴァントは霧散します。

↑

[] Fate/complete material III: World material - Records of Heavens Feel - Servant System: How to Defeat A Servant, p.018

How to Defeat A Servant
When a Heroic Spirit emerges into this world, he first acquires a Spiritual Core. The Heroic Spirit then materialises as the body envelopes this Spiritual Core. In order to defeat a Heroic Spirit, one must inflict damage to the Spiritual Core. The Spiritual Core gradually diminishes as a result of massive magical energy expenditure or sustaining bodily damage. Under these adverse conditions, the Heroic Spirit's expenditure of magical energy will escalate, and should damaged be inflicted through powerful magical energy, curse, or Noble Phantasm, the Spiritual Core will be destroyed, and the Heroic Spirit will no long be able to remain materialised. The heart and head are connected directly to the Spiritual Core, thus they are the weaknesses of Heroic Spirits. Sustaining damage at these locations will significantly weaken the Spiritual Core.

•Battle of Servants
The battle between Servants can be called a process of gradually shaving off the magical energy that forms the their bodies. Attacks that consume a great amount of magical energy will inflict a massive amount of damage on the opponent, but it will also weaken yourself in the process. In order to inflict a great amount of damage with minimum expenditure of magical energy, it is necessary to collect intelligence regarding the enemy and assault his weakness.


↑

[] Fate/complete material III: World material - Records of Heavens Feel - Servant System: Spiritual Body and Material Body, p.018

Spiritual Body and Material Body
"Spiritual Body" is a word that describes an existence with spiritual properties. In other words, a shape is constructed without relying on components with physical properties. On the other hand, "Material Body" means something that is identical in structure as our flesh bodies. A Material Body, just like us, cannot walk through walls, and will hurt and become wounded when beaten with an iron baton. However, a Spirit Body is capable of completely disregarding such physical interference. Attacking a Spiritual Body with a baton or sword (unless they are magical items) will only hit empty space.
When Servants materialise, they acquire Material Bodies in this world. They can also switch to Spiritual Bodies through their will. Spiritual Bodies have the advantages such as low mana consumption, and difficult to be detected by enemies. One of the properties of a Spiritual Body is that it is unaffected by physical interference, but conversely it is difficult for a Spiritual Body to affect a Material Body. As a result, Servants Materialise when engaging in combat.


Although both are Material Bodies, the composition of Servants and Humans are drastically different. Naturally, it is impossible to transplant a portion of a Servant's Material Body to a human. However, Emiya Shirou was able to successfully transplant Archer's left arm to replace his own lost left arm. How is this possible? It is because Shirou and Archer – Heroic Spirit Emiya are the same person.

↑

Fate/stay night

↑ 24.00 24.01 24.02 24.03 24.04 24.05 24.06 24.07 24.08 24.09 24.10 24.11 24.12 24.13 24.14 24.15 24.16 24.17

Fate/Apocrypha - Volume 1

↑

Fate/Grand Order - Almost Weekly Santa Alter

↑

Fate/stay night - Fate - Day 4

↑

Fate/stay night - Heaven's Feel - Day 4

↑

Fate/stay night - Fate - Day 12

↑

[] Fate/side material - Encyclopedia: Alignment [Others], p.065 [T]

Alignment [Others]
In Fate/stay night, all of the Servants' alignments can be viewed on their respective status screens.
The first part indicates the principles they consider important, and the second part indicates personality.
Below is a complete list of alignments featured in the game, for comparison purposes.

Saber: Lawful Good
Lancer: Lawful Neutral
Archer: True Neutral
Rider: Chaotic Good
Caster: Neutral Evil
Berserker: Chaotic Insane
Assassin: Lawful Evil
Kojirou: Neutral Evil
Gilgamesh: Chaotic Good
Saber Alter: Lawful Evil

While a difference in personality generally won't be too much of a problem, a difference in principles will inevitably lead to friction.
Saber and Gil would be a good example of that.

属性【その他】
ステータス画面で見られる、各サーヴァントの属性。
それぞれ重んじる方針と性格を表している。
比べて見ると楽しいので一覧。

セイバー 秩序・善
ランサー 秩序・中庸
アーチャー 中立・中庸
ライダー 混沌・善
キャスター 中立・悪
パーサー カー混沌・狂
アサシン 秩序・悪
小次郎 中立・悪
ギルガメッシュ 混沌・善
Bセイバー 秩序・悪

性格の不一致はそう問題にはならないが重んじる方針が同じ場合、軋際は大きくなるとか。
セイパーとギルはそのいい例。

↑ 30.0 30.1 30.2 30.3 30.4 30.5 30.6

[] Fate/complete material III: World material - Records of Heavens Feel - Servant System: Servant's status, p.014

Servant's status





Strength: Bodily might in terms of power.

Endurance: How much damage one can withstand.

Agility: Quickness and speed of reaction.

Magical Power: How much magical energy can be handled.

Good luck: The quality of one's luck.

Noble Phantasm: The strength of the Noble Phantasm one owns.



•Alignment
A status showing a clear representation of the mentality of the Servant. It represents a combination of the policy they place importance on and their personality, policies being "lawful, neutral, chaotic" and personalities being "good, neutral, evil". These are different from the fire, wind, and other alignments of magi.
Non-matching personalities won't result in major discord, but differing policies will result in difficulty in a Servant resolving differences of opinion with another Servant.
Lawful Artoria and Chaotic Gilgamesh will often have differing opinions despite their personalities both being the same "good".

•Parameter Rule


A set of rules for representing the rank of a particular status. They range from A~E. EX is in a league of its own, representing powerful to the extent of rendering comparisons meaningless. If we assign numbers to ranks, then E=10, with each subsequent rank increasing by +10. Ranks with "+" such as A+ and B+ can momentarily multiply its associated numerical value. For instance, C+(30) can temporarily boost its power to 60, exceeding Rank A (50). Also, "++" represents multiply by three times.

↑

Fate/Zero

"As Saber - that is, Artoria - is an incomplete Heroic Spirit, she would not possess the knowledge that surpasses time and space one gains when one has reached the Throne of Heroes. Therefore, she is not aware of that tale tainted by insanity, the legend of "Bluebeard", Baron Gilles de Rais."

↑ 34.0 34.1 Fate/stay night - Fate - Day 13 - You're my only star
↑ Fate/Grand Order - Artoria Pendragon Interlude - Reasons to Fight
↑ 36.00 36.01 36.02 36.03 36.04 36.05 36.06 36.07 36.08 36.09 36.10 36.11 36.12 Fate/strange Fake - Volume 3
↑ TYPE-MOON Ace Volume 10
Question: So there is still quite a bit of background information that has yet to be revealed.
Narita: That's right. One of the most core pieces of information had been about the conditions for becoming a Heroic Spirit. This was revealed in a bonus novel that came with the UBW 1st season BD box. About how Merlin is still alive in the present so he can't become a Heroic Spirit. As Gilgamesh is also a fellow clairvoyance user, I asked about the state of Gilgamesh's memories when he's summoned. The answer I got was that Gilgamesh can see the possibilities of various parallel worlds if he so chooses, but the Throne adjusts the memories and knowledge of the Heroic Spirit according to the world they are summoned in, so he won't be confused by having multiple sets of memories. I was told that even if he did use clairvoyance to see the possibility of a world where he was swallowed by the mud of the grail, Gilgamesh would reject that world line as being nonsense. I heard a bit of the workings of the Greater Grail, what it was based on, and other bits of important background information for Fate, but I believe Nasu will one day write the story of how the Greater Grail was disassembled!
↑ 38.0 38.1 38.2 Fate/Grand Order - Hassan of Serenity Interlude - That's Why I'm Going to Die Here, As Myself
↑

[[Fate/Grand Order - Salem

↑ Lord El-Melloi II Case Files - Case. Mystic Eyes collection train (Upper): Chapter 2 Part 4
↑ Fate/Requiem - Prologue
↑ Fate/Requiem - Volume 1
↑ Fate/stay night Heaven's Feel route: Day 4 - Rin's Treatment
↑ Fate/Grand Order: Epic of Remnant Shimosa: Section 14 Ultima Cantica: The Stage of Carnage, Onriedo (Middle)
↑

Fate/Grand Order - Babylonia

↑

Fate/Grand Order - Lostbelt 3

↑ 48.0 48.1 48.2 48.3 48.4 48.5 48.6 48.7 48.8

[] Fate/complete material III: World Material - Records of Heavens Feel - Servant System: Servant Summoning, p.013

Servant Summoning
First, the Master performs a ritual to interfere with the Greater Grail, then the Greater Grail borrows the information of the main body of the Greater Grail in the Throne of Heroes.
The information (soul of highest purity of the Heroic Spirit) is blown into the container that is the Class, and the created copy of the Heroic Spirit is the Servant.
The Servant is an unstable existence that should not be in the world so its coordinates in the world have to be anchored, using the Master as the host. The Mater also has the role of supplying magic energy to the Servant.
When performing the ritual, the Master can designate the Heroic Spirit to be summoned by preparing a catalyst with ties to the Servant of his desire. When there is no catalyst, a Heroic Spirit with good affinity with the Master is summoned. In the case of catalysts for multiple Heroic Spirits (for example, the gates of Troy, the symbol of the Trojan War), the Heroic Spirit among the candidates that has good affinity with the Master will be chosen.


| Heroic Spirit | Catalyst list |
| --- | --- |
| Artoria (King Arthur) | Avalon, the sheath of Excalibur. |
| Chu Chulainn | A jewel on which is engraved an original rune inscribed by Chu Chulainn. It had been crafted into earrings. |
| EMIYA | Rin Tohsaka's Jewel Pendant |
| Gilgamesh | Snake Skin |
| Medusa | Mirror dug up from a temple in Eritrea. An item with ties to an old Earth goddess of Greece. |
| Medea | Literature, from Colchis, with ties to Medea |
| Sasaki Kojirou | The mountain gate. |
| Hassan-i Sabbah | Since Hassan is the origin of the word Assassin, the class of Assassin itself is Hassan's catalyst. |
| Heracles | A slab of rock from a temple of Heracles. |

↑ 49.00 49.01 49.02 49.03 49.04 49.05 49.06 49.07 49.08 49.09 49.10

[] Fate/Apocrypha material - Encyclopedia: Knights of the Round Table [Organization], p.156-157 [T]

Knights of the Round Table [Organization]
The general term for the knights who left their names in King Arthur's legend. They are called the Knight of the Round Table because they gathered around a round table along with King Arthur. The knights sitting around the table were all regarded as equal to one another, including the King himself, and they were admired throughout the country. Though the number of them varies according to each story, the standard pattern of thirteen knights is accepted in "Fate/stay night".
In the "Apocrypha" world, the separate splinters from the Round Table serve as summoning catalysts for Heroic Spirits. From among eleven of the knights (with King Arthur and Galahad excluded), the one most compatible to the Master is summoned through it. Like an S-rare definite ticket. Whether it be someone like Lancelot, Gawain, Tristan or Percival, no matter who comes, you truly get the cream of the crop. During these current times where subspecies Holy Grail Wars are popular, they appear in the market at high prices. Naturally, there are many frauds and swindlers. It'd be nice if a certain oil magnate got swindled.

↑ Fate/Grand Order - Lostbelt 5 - Section 17
↑ 53.0 53.1 53.2 Fate/strange Fake - Volume 1
↑ Fate/Grand Order - Lostbelt 5 - Section 25
↑

Fate/Grand Order - An Old Spider Spins Webs of Memory

↑ Fate/Apocrypha Act1: Unbirth
↑

Fate/Zero anime

↑ Fate/KOHA-ACE - Chapter 2
↑ Fate/type Redline - Chapter 1
↑ Fate/strange Fake - Volume 6
↑

Fate/Grand Order - Solomon Singularity

↑

Fate/stay night Unlimited Blade Works: Day 13 - Princess

↑

[] Fate/Zero material - Talk about Fate/Zero: Fate/Zero Summary talk, p.130-135

Fate/Zero Summary talk
Kinoko Nasu X Gen Urobuchi
Moderated by: Takashi Takeuchi

Unused story
Urobuchi: I was having too much trouble thinking of a Caster, so I asked if I could use a Chinese Xian or something. That's how I learned the "Western only" rule.
Nasu: Plus Xian would be too strong.

フェイト/ゼロ 総括対談
奈須きのこX虚淵玄
司会進行:武内崇

未使用のネタ
虚淵:キャスターがあまりに苦しすぎて、中国の仙人とかにしょうこな、と相談したんですが。そこで西洋縛り、というルールを聞いたので。
奈須:仙人は強すぎる、というのもあるしなー。

↑

[] Fate/complete material III: World material - FAQ with Nasu: Servants, p.132-133


Q: Even though the setting is Japan, why are there so few Japanese Heroic Spirits? Is it because the Holy Grail is a Western (Christian) concept?

Q: Even though the setting is Japan, why are there so few Japanese Heroic Spirits? Is it because the "Holy Grail" is a Western (Christian) concept?

A: Exactly.

Q:日本が舞台にも関わらず、日本産の英霊が少ないのなぜでしょうか?これは"聖杯"という概念が西洋(キリスト教)によるものだからでしょうか?

A:その通りです。

↑

[] TYPE-MOON Ace 4 - Nasu: In EXTRA's Grail War, Eastern heroes can be summoned as Servants. The ban is removed.

Nasu: In EXTRA's Grail War, Eastern heroes can be summoned as Servants. The ban is removed.
----Really?! Wasn't Assassin Sasaki Kojirou the only irregular existence...?
Nasu: The summoning system of Fate/stay night's Grail War was created in the world of Western magi, so it can only summon Western heroic spirits. But EXTRA's world itself is irregular, and the Grail War system is different from the previous ones, so Eastern heroic spirits are possible too.

奈須:「エクストラ」の聖杯戦争には、東洋の英雄がサーヴァントとして召喚されています。禁じ手、解禁です 。
――本当ですか!? イレギュラーな存在は、アサシンの佐々木小次郎だけだったはずでは……?
奈須:「Fate/stay night」の聖杯戦争における召喚システムは、西洋の魔術世界でつくられたものだから、西洋の英霊しか召 喚できないようになっているんです。でも、「エクストラ」は世界そのものがイレギュラーだし、聖杯戦争のシ ステム自体がこれまでとは異なるので、東洋の英霊もアリにしようということになりました。出てきた瞬間、「 あいつだー!」と正体がバレバレなサーヴァントも出てくるので、お目にかかったときは容赦なッコんでくださ い(笑)。

↑

[] Fate/Apocrypha material - STATUS: Berserker of Red, p.040-041

Class: Berserker
Master: -
True name: Spartacus
Gender: Male
Height/Weight: 221cm/165kg
Alignment: True Neutral

Strength: A
Endurance: EX
Agility: D
Magic: E
Luck: D
Noble Phantasm: C

Class Skills
■ Mad Enhancement: EX
Parameters are Rank-Up, but is deprived of most reason.
Even when under Mad Enhancement Spartacus is able to hold a conversion. He is fixated on "always making the most difficult choice," so essentially, a mutual understanding with him is impossible.

Personal Skills
■ The Honor of the Battered: B
The magical energy cost of treating Spartacus's injuries with magecraft techniques is 1/4 of the normal cost.
Also, even without the use of magecraft after a certain amount of time, the wound will automatically proceed to be healed.

Noble Phantasms
■ Crying Warmonger: The Howl of the Wounded Beast
Rank: A
Type: Anti-Unit (Self) Noble Phantasm
Range: 0
Maximum Targets: 1 person
Always active-type Noble Phantasm.
Damage inflicted by the opponent is converted into magical energy and stored in the body.
Spartacus can use the magical energy deposited in the body for a boost.
In the case relative to a strong servant, the body itself can transform.

CLASS バーサーカー
マスター:-
真名:スパルタクス
性別:男性
身長・体重:221cm/165kg
属性:中立・中庸

筋力:A
耐力:EX
敏捷:D
魔力:E
幸運:D
宝具:C

クラス別能力:
■ 狂化:EX
パラメーターをランクアップさせるが、理性の大半を奪われる。
狂化を受けてもスパルタクスは会話を行うことができるが、彼は"常に最も困難な選択をする"という思考で固定されており、実質的に彼との意思の疎通は不可能である。

固有スキル
■ 被虐の誉れ:B
サーヴァントとしてのスパルタクスの肉体を魔術的な手法で治療する場合、それに要する魔力の消費量は通常の1/4で済む。
また、魔術の行使がなくとも一定時間経過するごとに傷は自動的に治癒されていく。

宝具
■ 疵獣の咆吼
ランク:A
種別:対人(自身)宝具
レンジ:0
最大捕捉:1人
常時発動型の宝具。
敵から負わされたダメージの一部を魔力に変換し、体内に蓄積できる。
体内に貯められた魔力は、スパルタクスの能力をブーストするために使用可能である。
強力なサーヴァントなどと相対すれば、肉体そのものに至るまで変貌していくだろう。

↑

[] Fate/complete material III: World Material - The Servants of the Fifth Holy Grail War: Berserker, p.036-037 [T]

Hercules
Class: Berserker
Master: Illyasviel von Einzbern
Alignment: Chaotic Mad
Sex: Male
Height: 253cm
Weight: 311kg
Weapon: Axe-Sword

STR: A+
CON: A
AGI: A
MGI: A
LCK: B
Noble Phantasm: A

Legend
A demigod hero of Greek Mythology, he was born between the King of Gods Zeus and a human girl. He received the violent hatred of Zeus' wife Hera because of his origins and was tormented by the goddess at every turn. However, he entirely overcame the difficulties he had been given, and was enshrined as a god in the end.

Heracles had an extremely violent temperament as an infant, and grew up as a shepherd in order to obtain a gentle heart. Having grown into a fine adult, Heracles was recognized for several feats, and gained two children as well as the right of succession to the throne. However, Hera made Heracles go temporarily insane and he killed his wife and children, ending up in the role of a slave to the king to atone for his sins. Here the jealous king gave him a challenge, the famous Twelve Labors. The Labors were all things that a human could not achieve but Heracles completed them safely, and at the same time he was freed from slavery, he received an immortal body.

However, the adventures of Heracles and Hera's hatred did not end there. Hera's numerous artifices resulted in Heracles' poisoning by his own wife from his second marriage. In his final moments, Heracles cremated himself, surrendering to Zeus's judgment. The gods after consulting recognize Heracles' feats, and he was recruited as a god like his father, becoming a constellation.

Tactics
An excellent warrior, he possesses the qualifications corresponding to six classes excluding Caster. Other than specializing with the bow, he has mastered every weapon. However, all that is talk about times when he is not Berserker. Heracles as a Berserker has lost his rationality, and exists only to utterly defeat the enemy from the front as directed by Illya. Naturally, there is no such thing as detailed tactics, leaving it to physical ability and brandishing an axe-sword to strike. Astonishingly, with just that, it is a fact that he demonstrates hand-to-hand combat abilities superior to every Servant. Without breaking to even think about defense, he leaves it to his Noble Phantasm "God Hand."

Class Abilities
Mad Enhancements: B
The Class Skill that characterizes Berserker, it reinforces ability at the cost of reason. As Heracles' possesses the skill at Rank B, in compensation for losing most of his sanity, the levels of all his abilities rise. Heracles beat his harp instructor to death when he was a child, and had many episodes when he killed people in his rage without even hearing them speak. It seems that for Heracles, Berserker that receives "Mad Enhancement" was an easy class to adapt to. Focusing on controllability when out of combat, the rank of "Mad Enhancement" is suppressed by Illya.

Being close to the strongest Heroic Spirit, even restricted to simple direct melee as consequence of Mad Enhancement, Heracles was undoubtedly the strongest among the Servants. However, because of Mad Enhancement, a variety of sword techniques and skills, and a part of his Noble Phantasms was lost. Having his emotions also sealed off and not able to perform any personally motivated actions, only the reason within his core was not lost, having occasions when he felt something like the will to protect Illya.

Personal Abilities
Battle Continuation: A
A skill that allows for the continuation of combat after sustaining mortal wounds. It will also reduce mortality rate from injury. Cú Chulainn's Battle Continuation represents "never give up no matter what", while Hercules' represents the ability to survive. The Noble Phantasm that allows for resurrection after death, God Hand, has exceptional compatibility with the "will not die easily" skill Battle Continuation.
The best result is achieved when a resilient body is combined with this skill.

Eye of the Mind (False): B
A danger avoidance ability based on Intuition/Sixth Sense, gained through many ordeals and adventures. Even though Hercules' sanity was lost due to Mad Enhancement, this skill remained effective as it is nearly an instinct. When crossing swords with a seasoned swordsman like Artoria, he would not fall for half-hearted feints. It is such a troublesome ability for Hercules' opponents.

Although monstrous in size, Hercules has the highest rank in Agility. As a result, it is very difficult to corner him.

Bravery: A+
With his brave and daring spirit, Herakles is able to neutralise mental interference such as suppression, confusion and charm. However, under the influence of Mad Enhancement, this skill is unable to take effect. While operating correctly, Bravery also increases the damage inflicted upon the opponent during melee combat. This skill allowed Herakles to defeat several monsters empty-handed.

Even the brave warrior's heart was painted over by the insanity of Mad Enhancement.

Divinity: A
Being a mixed-race child of the King of Gods Zeus and a human, and becoming a god after death, Herakles naturally possessed the highest level of the Divinity skill. However, this matter became a disaster, ending with his complete entrapment in Gilgamesh's Noble Phantasm "Chains of Heaven" that grows in strength proportionate to the enemy's Divinity.

Noble Phantasm
God Hand: Twelve Labors
Rank: B
Type: Anti-Unit
Range: -
Maximum Targets:

A blessing of Gods, as well as a curse. It is a Noble Phantasm given to Heracles, representing immortality. This Noble Phantasm does not have an overt external manifestation such as a weapon or armour, but if you hazard to put a shape to it, the body itself can be called the Noble Phantasm. God Hand turns one's body into a tough suit of armour and nullifies all attacks Rank B or lower, regardless the attack being physical or magical. It also has the effect of automatic resurrection after death. Because the resurrection effect has 11 uses, Heracles cannot perish unless killed 12 times. In addition, due to Illya's immense magical energy, given enough time, the lives lost can also be regenerated.

Resurrection as well as attack-nullification. Besides these two effects, God Hand also possesses a third effect: rendering an attack that it has experienced before useless. Regardless how powerful is the Noble Phantasm that defeated Heracles, it would be completely nullified after he resurrects.

Nine Lives: The Shooting Hundred Heads
Rank: -
Type: -
Range: -
Maximum Targets: -

Among Hercules'Noble Phantasms, he trusted this one the most. It was the Noble Phantasm which Hercules used to slay the immortal nine-headed serpent Hydra once upon a time, taking the form of bow and arrow. After killing the Hydra, Hercules could even utilise techniques that emulate the ability of this Noble Phantasm when wielding other weapons. In essence, it is "a high speed attack consisting of nine consecutive strikes, as swift as if the attacks are overlapping". Even when delivered via sword, spear, or axe, this technique still boasts power on the level of Noble Phantasms. Also, just like Cú Chulainn's demonic spear Gae Bolg has a technique called "Gae Bolg – Piercing Death Thorn", Hercules' technique shares the "Nine Lives – Shooting of Hundred Heads" name with the Noble Phantasm.

Shirou projected this secret sword technique while projecting Hercules' Axe Sword, thus annihilating the Blackened Hercules. While summoned as a Berserker, Hercules could not use Nine Lives.

↑

Fate/stay night Fate route: Day 15 - Saber, to the church

↑

Fate/hollow ataraxia - Monster

↑

Fate/Zero - Volume 2

↑

Fate/stay night Fate route: Day 3 - Missing Ariadne

↑ 77.0 77.1

[] Fate/complete material III: World material - Records of Heavens Feel - Servant System: Class, p.015

Class
A "Servant Class" is a container prepared for materialising a Heroic Spirit that is summoned into the current era as a Servant.
There are seven Servant Classes: Sabre, Lancer, Archer, Rider, Caster, Assassin and Berserker. Since there cannot be repeats of any one class, the seven Servants participating in a Holy Grail War will be of different classes.
Heroic Spirits determine their classes on the basis of their characteristics, and then summoned as the Servant of the corresponding class. For instance, the only class appropriate for Artoria is Sabre, but Hercules, who was said in legends to be proficient with all weapons, can be summoned into all classes but Caster. The affinity between the Master and the Heroic Spirit will determine which class the Heroic Spirit will be summoned into. However, the Einzberns, as one of the "Three Founding Families" and well-informed of the rules of the Servant system, was able to preemptively interfere with the system and summon Hercules as Berserker.
Among all the classes, Sabre, Lancer and Archer are also called the "Three Knights". They are frequently Heroic Spirits from the Age of Gods when sorceries were common. Due to high magic resistance, modern magi are unable to inflict damage to them.
The Assassin class is special, as the only qualifying Heroic Spirits are the Hassan al-Sabbah's.

Saber
Knight of the Sword. The compatible Heroic Spirit naturally needs to possess legends as a knight of sword, as well as the highest levels of attributes in all but MGI. Class Abilities include Magic Resistance and Riding. Also, compatible Heroic Spirits usually excel in delivering powerful burst attacks.

Lancer
Knight of the Lance. Its high qualifying conditions are second only to Sabre. Attributes are excellent overall, in addition, AGI must be high. Of course, Servants of this class are proficient in hit-and-run tactics that capitalise on range and speed. This class includes many Heroic Spirits who were knights.

Archer
Knight of the Bow. A class that excels in possessing powerful Noble Phantasms. The qualifying condition is not attributes, but the possession of powerful projectile weapons or special abilities related to projectile weapons. Highly effective as scouts. They have not only the Magic Resistance ability of the Knight Classes, but also the class ability of Independent Action.

Rider
Mounted soldier. Heroic Spirits who rode mounts (not limited to living creatures) qualify for this class. Although attributes tend to be lower compared to the Three Knight Classes, this is compensated by the abilities of the mount described in legend. Besides Magic Resistance, class abilities also include high Riding.

Caster
Magus. Qualifying conditions only include mastery of sorceries of the highest calibre. Due to this trait, the qualifying Heroic Spirits tend to have low combat abilities. In addition, since the majority of Servants have Magic Resistance, this class is thought to be the weakest of all.

Assassin
Assassin. The only qualifying Heroic Spirits are the generations of Hassan al-Sabbah's, and one of them would be summoned. All of them do not have glorious legends as heroes, thus possess low attributes. Class ability is Presence Concealment, and the use of this ability during battle is the lifeline of Assassin.

Berserker
Mad Warrior. Heroes who have gone berserker during battle qualify for this class. Normally it is considered ideal if a Servant can wield power at the level of the original Heroic Spirit, but "Mad Enhancement" allows for the attribute enhancement of the Servant beyond the ability of the original at the cost of sanity. A class originally used to enhance weak Heroic Spirits.

↑

Fate/Zero - Volume 2

"Considering the special abilities of Servant classes, Saber has an overwhelming advantage over Caster when they battle. When she achieved the class of the Heroic Spirit of the sword, her ability of magic resistance was increased in magnitudes."

"Saber's sixth sense was also strengthened to a degree due to her class's specialty, almost to the level of precognition. If even she felt uneasy about the enemy, Irisviel also had to reevaluate Caster."

↑ 79.0 79.1 79.2

[] Fate/complete material III: World material - Records of Heavens Feel - Servant System: Factors Affecting Servant Status, p.014

Land

Recognition

Magic energy of Master



The three factors that affect the status of a Servant are land, recognition, and Master.
With respect to land and recognition, the closer one is to the land (cultural sphere) that was the stage of the legend of the Heroic Spirit and the more that spirit is known, the stronger he is.
The meaning of "strong" here is the Servant becoming closer to the strength, equipment of that of the legend. Through this blessing, the addition of another NP is also possible.
If Chu Chulainn had been summoned in his homeland Ireland, a castle, chariot, protection of sleeplessness, and the like would have been added probably. Also, if the magic energy of the Master is powerful, the Servant will become closer to his strength as in the legend.



Saber - Master: Emiya Shirou

Saber - Master: Emiya Kiritsugu

• STR: B
• STR: B

• CON: C
• CON: A

• AGI: C
• AGI: A

• MGI: B
• MGI: A

• LCK: B
• LCK: D

• Noble Phantasm: C
• Noble Phantasm: A++

Class Skills:
• Magic Resistance: A
• Riding: B
Class Skills::
• Magic Resistance: A
• Riding: A

Because Artoria has served under several Masters, she is a good example for demonstrating the effect that the Master's magical energy has on Servant Status. Because Shirou's Magical Paths were obstructed, Artoria's ability cannot be called that of the best Servant while having Shirou as her Master.
Artoria's abilities rose when having Kiritsugu as Master. Her LCK status decreased since even Kiritsugu still could not provide sufficient magical energy, as a result the status was affected by the Master's way of life. When having Rin as a Master, Artoria was able to unleash her original abilities without being affected by the Master.


↑

Fate/stay night Unlimited Blade Works: Day 13 - Proposal

↑

[] Fate/complete material III: World material - FAQ with Nasu: Servants, p.132


Q: If the Holy Grail War were set in Europe, would Cu chulainn (Lancer), King Arthur (Saber), and Heracles (Berserker) be roughly equal in power?

Q: If the Holy Grail War were set in Europe, would Cu chulainn (Lancer), King Arthur (Saber), and Heracles (Berserker) be roughly equal in power?

A: ...Well, if we're talking western Europe in general I'd say the first two would be powered up to an equal degree... though England and Ireland, the odds would be sharply in the respective hero's favor. Heracles would display excellent power in all of western Europe.

Q:もし聖杯戦争の舞台はヨーロッパ圏であった場合、クー・フーリン(ランサー)はアーサー王(セイバー)やヘラクレス(バーサーカー)と互角以上の性能を持つことができたのでしょうか?

A:......いや、西欧圏でいうならふたりとも同じぐらいパワーアップするかと......イングランドやアイルランドならぐるっと逆転しますが。ヘラクレスは西欧圏でも十全の力を発揮するかと。

↑

[] Fate/Side Material - Encyclopedia: Lancer [Servant], p.077 [T]

Lancer [Servant]
Heroic Spirit of the lance. Requires supreme agility, as well as excellent close combat skills. Though they tend to be less flashy than the other classes, they are a very reliable type of Servant.
The Lancer in the story has a rough and tumble personality, but at his core he believes in justice and is easy to get along with. He is an agreeable youth acting out the role of one gentle in disposition yet strong in body.
His true identity is the great Celtic hero, Cu Chulainn.
If the stage of this Holy Grail War were anywhere but Japan, he would be a shining existence on par with Heracles and King Arthur.
As was mentioned in the story, he is a Heroic Spirit that specializes in survival, capable of returning alive no matter how hopeless the situation. Unfortunately, this time luck wasn't on his side.
It is said that in the midst of battle he would unleash a fearsome war cry, and at the same time his body would swell and bulge with muscle as his behavior became like that of a demon.
However, though he possesses the qualifications to be a Berserker there is no doubt that the Lancer class suits him best.
He responded to the summoning solely because he wanted to engage in a valiant fight to the death, but this simple wish was never granted to him.
He is a tragic Servant, who embodies the cynical notion that "wishes don't come true".

ランサー【サーヴアント】
槍兵の英霊。最高の敏捷性を求められ、白兵戦にも優れた能力が求められる。華やかさはないが堅実なサーヴァントタイプ。
粗野で暴力的な性格だが、根は正義の人で人懐っこい。気は優しくて力持ち,を地で行く好青年である。
正体はケルトの大英雄クーフーリン。
この聖杯戦争の舞台が日本でなければ、ヘラクレスやアーサー王に並ぶ光り輝く存在だったろう。
本編でも述べられた通り、生き延びる事に特化した英霊。どのような死地からも生還するが、今回は運が無かった、と言わざるを得ない。
曰く、"戦闘時では雄叫びと共に体が盛り上がり、悪鬼の如く振舞った"とか。
パーサーカーの条件も備えた人物だが、やはり彼に はランサーが似合っていよう。
"死力を尽くした闘い"を求め、それを代償として召喚に応じたランサーだが、願いが葉えられた事は一度も無かった。
願いとは葉えられないもの、という皮肉さを体現した悲運のサーヴァントである。

↑ 83.0 83.1

[] Comptiq 2007-06 issue - Fate Dojo Q & A:
Q: Cu Chulainn and Diarmuid are both Lancers, but who will win in an honourble battle?

Q: Cu Chulainn and Diarmuid are both Lancers, but who will win in an honourble battle? In their first engagement with Saber, Cu Chulainn was being pressed hard, but Diarmuid was able to pressure Saber. So... Diarmuid is stronger

A: Diarmuid received more backup from his Master (magical energy supply), thus in terms of pure firepower, Diarmuid was stronger. In Japan, both of them received 0 geographical boost (from the cultural sphere), but if the stage was in Ireland --- Cu Chulainn would have an edge.

Q:同じランサーであるクーフーリンとディルムッドがガチンコで戦ったら、 どっちが勝ちますか?初登場時のクーフーリンはセイバーに押しまくられ ましたが、ディルムッドは逆に押してましたよね?ということは ディルムッドのほうが強い……? (三重県/高原の清水)

A:ディルムッドはマスターからのバックアップ(魔力供給量)が 優れているので、単純な火力勝負ならディルムッドに軍配が上がるかと。 日本ではどちらも地形効果はゼロですが、舞台がアイルランドなら ―――クーフーリンに一本かと。

↑

[] Fate/complete material III: World Material - The Servants of the Fifth Holy Grail War: Gilgamesh, p.024-025 [T]

Gilgamesh
Class: Archer
Master: Kotomine Kirei
Alignment: Chaotic Good
Sex: Male
Height: 182cm
Weight: 68kg
Armament: Armour

STR: B
CON: C
AGI: C
MGI: B
LCK: A
Noble Phantasm: EX

Legend
The great king depicted in mankind's oldest epic – "The Epic of Gilgamesh". He was an actual king who ruled Uruk, the capital city of ancient Mesopotamia during the Sumer Dynasty 5000 years ago.
A despot who possesses high divinity with 2/3 being God and 1/3 being human, and believed he was invincible. However, answering the call of people who were oppressed by Gilgamesh's tyrannical policies, Enkidu, a man created by the goddess Aruru, was released to fight against Gilgamesh. Gilgamesh and Enkidu met and battled as enemies, but soon they began to recognise each other and rule the nation together. Gilgamesh gradually began to change after finding a friend who he considered to be an equal, and Uruk became unprecedentedly prosperous. Gilgamesh, as the greatest king, eventually acquired all the treasure on the earth.
The goddess Ishtar wooed Gilgamesh, but was rejected bluntly. As a result, Ishtar unleashed the Bull of Heaven in a fit of rage, wrecking havoc on earth. After her failure, Ishtar complained before the Gods and caused the weakening and eventual death of Enkidu, who could not resist the will of the Gods that created him. The death of Enkidu significantly impacted Gilgamesh, and as a result he set out for the underworld in order to acquire the potion of immortality. However, the potion was drunk by a snake, and Gilgamesh died in despair.

Tactics
Gilgamesh battles by shooting the originals of all Noble Phantasms like bullets via Gate of Babylon. The tactic yields excellent destructive power to magic energy efficiency. Since every Noble Phantasm is a bullet, the real magical energy used is merely the activation cost of Gate of Babylon. Because he possesses the originals of all Noble Phantasms, he can assault the weakness of any Servants. As a result, Gilgamesh has the advantage over most of the Servants in combat.
Because he has absolute self-confidence, he is able to calmly show himself before his opponents. However, depending on mood, he is also fine with scoring kills by raining Noble Phantasms behind the enemies' back. The will of the king cannot be simply gauged by the concept of tactic.

Class Abilities

Magic Resistance: E
Magic resistance gained through the class ability of Archer. However, since Gilgamesh did not have any abilities that can resist magecraft, it remains at the minimum level of E. Its effect is merely light damage mitigation against sorcery rather than full neutralisation. The cause of his low Magic Resistance is probably related to his Master, Kotomine Kirei's lack of magical energy. In reality, during the Fourth Holy Grail War, Gilgamesh's Magic Resistance was elevated to C with Tohsaka Tokiomi as his Master.
Although his Magic Resistance is low, Gilgamesh is able to neutralise most sorceries due to having many items that defend against sorcery, such as the golden armour. The defensive powers of these items are quite high, as Rin's sorcery was completely repelled.
If magi attempt to use large-scale sorceries and act as "mongrels" that impede the king, Gilgamesh will simply unleash a raging wave of Noble Phantasms and completely crush them without giving them the time to cast spells. (Translator's Note: Gate of Babylon and Sword Spam are now officially categorised as a form of Magic Resistance.)

Independent Action: A+
With an Independent Action rank that sets him completely apart from the rest, Gilgamesh is able to operate without a Master. With a rank of A+ that exceeds even A, the support of a Master is unnecessary even while unleashing a large amount of magical power. It is an ability that bends the rules and allows for the continued materialisation of Servants even after the conclusion of the Holy Grail War. After being summoned as Archer during the Fourth Holy Grail War, Gilgamesh remained materialised for 10 years until the Fifth.
Since the Fourth Holy Grail War, the ability to freely operate without regard for the Master remained unchanged. However, the ability to remain materialised after the Holy Grail War was not gained until he was showered by the content of the Holy Grail. At the end of the Fourth Holy Grail War, Gilgamesh was absorbed for a while after being showered by the black mud spilled from the broken vessel of the Holy Grail. However, Gilgamesh could not even be digested by the mud that was filled with "All the World's Evil – Angra Mainyu". On the contrary, he was given a flesh body and regurgitated back into the present world. As a result, Gilgamesh was completely incarnated and continued to survive as an existence with a physical body. Also worth mentioning is that, thanks to the changed shape and personality granted by the potion of youth, the super egotistical Gilgamesh was able to live in the human society for 10 years without much trouble.

Personal Skills

Golden Rule: A
Being fated a life that is filled with riches. Gilgamesh lives the life of a nabob and has no money troubles. In the legend, he claimed all the world's treasure as his own. The originals of Noble Phantasms preserved in his treasury were collected during this period. Although this ability seems unrelated to battle, it plays a great role in arming Gilgamesh.
Upon seeing Gilgamesh's golden figure, Rin half-jealously called him "Gin-Pika" (Gold-glitter).

Charisma: A+
Often praised as the greatest king, Gilgamesh's ability to command and lead great armies is excellent. Charisma is a rare talent, and a B rank is sufficient to lead a nation, but Gilgamesh has a rank of A+. At this level, it is not a matter of popularity or skill, but closer to something like sorcery or curse. An army led by Gilgamesh will have a tremendous increase in abilities.
An egotistical Gilgamesh radiating with self-confidence will sure boost the morale of his army to an extremely high level.

Divinity: B (A+)
Due to being 2/3 God, Gilgamesh possesses the highest level of divinity among the many Heroic Spirits. His level exceeds even Herakles, who is the son of Zeus and ascended to the Pantheon after death. However, Gilgamesh despises the Gods because they killed his friend Enkidu, unleashed the Bull of Heaven onto the earth, and caused him much trouble. As a result, his Divinity decreased.
He is the half-man-half-God King of Heroes born from the union of King of Uruk, Lugalbanda, and goddess Rimat-Ninsun. (Translator's Note: Wait what? Half and half?)

Noble Phantasms

The Star of Genesis which Separates the Heaven and Earth – Enuma Elish
Rank: EX
Type: Anti-World
Range: 1~99
Maximum Targets: 1000 Persons

The sword that cuts and divides the World, with output matching or even exceeds Artoria's Excalibur. Its power will further increase given the support of Noble Phantasms within Gate of Babylon. More correctly speaking, "Sword of Rupture – Ea" is the Noble Phantasm, "Enuma Elish" is the state under which Sword of Rupture – Ea unleashes its maximum output. By generating wind pressure strata, the attack crushes the enemies by simulating spatial rends. In addition, the names "Sword of Rupture – Ea" and "Enuma Elish" are all given by Gilgamesh. They are thought to be references to the Great God Ea (Enki) of the Mesopotamian and Babylonian myths, and the Genesis Epic of the Babylonian myth, Enuma Elish.
The most powerful sword that cannot be duplicated by Unlimited Blade Work. Gilgamesh calls it "something that knows the hellish planet before genesis".
The three cylindrical blades spin in different directions, generating air pressure strata. Its power will not be neutralised even when colliding with Excalibur.

Gate of Babylon
Rank: E~A++
Type: Anti-Personnel
Range: -

A key-like sword that connects to the "Golden Capital". The spatial connection with the treasury allows for easy access to the items within. The rank changes to E~A++ because Gilgamesh put all the originals of Noble Phantasms into the treasury. In other words, E~A++ reflects the rank of the items in the treasury. If the treasury does not contain a wealth of valuables, then it will not be a useful Noble Phantasm.
The favourite Noble Phantasm within the Gate of Babylon is the chain which has captured the Bull of Heaven – Enkidu. It is an anti-deity Noble Phantasm that increases in strength as the target's Divinity increases. It was able to completely seal Herakles.

↑

TECH GIAN February 2004 Issue - Pg. 157

↑

Fate/Grand Order

El-Melloi (boy): Ascension is a reform to become stronger! What is the point of turning back to my old, half-assed self?!
Stheno: For you, there are things that can be done because of that figure....
Stheno: No, maybe the meaning here is that the "starting point of conception*" lies in that figure.
Stheno: Look, the abilities as a Servant have not dropped right?
Stheno: When you are fighting as a "leading actor", that is your strongest.... no, your most fitting figure.

↑ 87.0 87.1

[] Fate/stay night Premium FanBook, p.047 - Q: How strong are Servants?

Q: How strong are Servants?
Nasu: Well you see, attack power is about the same as one fighter. A fighter has way too much power for one person too stand up against, but to destroy one city they'll have to refuel many times. But what makes these guys dangerous is that since they're spiritual bodies, regular weapons won't work against them. As far as destructive power goes, there are more numerous powerful weapons among modern ones, but as normal weapons won't do a thing to them, they're among the most powerful. Anyway, just as fighters can load a nuclear warhead, they each have their own Noble Phantasms and among the Servants there are ones that have ridiculously powerful ones. That's why when I meant strength being the same as a fighter I thought it would be easier to image. Oh and, if I were to say it in a sort of non-serious way, they'd be 1/4th of Tsukihime's Arcueid I suppose? The strength of one I mean. Against one Servant, Arc would probably win, but against two, while Arc's having trouble against the one, the other could get behind her and nail her... maybe.

Q: That's more like, whoah, Arc's tough, heh.
Nasu: (Grinning) 1/2 of Neko Arc.

Q:サーヴァントの強さとは、どれくらいのなモノなんでしょう?

きのこ:これはですね、攻撃能力はだいたい戦闘機一機分なんですよ。 戦闘機は個人で立ち向かうには強力すぎる力をもっているけれども、 一つの街を滅ぼすには何度も補給しなければならない。 ただ連中(サーヴァント)が厄介なのは、奴ら霊体なので通常攻撃が効かないんですよ。 破壊力においては近代兵器のほうが強力なものが多いんですけど、 通常兵器が聞かないと言う時点でいまだ最強。 で、戦闘機も核弾頭を搭載できたりするように、宝具をそれぞれ備えており、 中にはとんでもない宝具を持ってる奴がいる。 だから、強さは戦闘機ぐらいだと言うのがイメージしやすいかなと。 あと、ギャグっぽく言うならば「月姫」のアルクェイドの4分の1くらいかな? 一人頭の強さは。サーヴァント一人だとアルクが勝つだろうけど、 サーヴァント二人だとアルクがてこずってる間に後ろからプスッと…いけるかな。

Q:むしろアルクェイド強えーって話ですねソレ
きのこ:(ニヤリとしつつ)猫アルク2分の1くらいの強さだぞと。

↑ 88.0 88.1

[] Comptiq 2005-10 issue - Fate Dojo Q & A:
Q: I have a question about the Servants vs. other character answer in the 9th issue of Comptiq. About a Servant with an average Noble Phantasm, who would have one and what rank would that have been?

Q. I have a question about the Servants vs. other character answer in the 9th issue of Comptiq. About a Servant with an average Noble Phantasm, who would have one and what rank would that have been?

A: That's a serious question. The level of the Noble Phantasm would be B, and ability being represented by numbers would be called an average Noble Phantasm. Broken Phantasm, Barrier of the Wind King (C), Gae Bolg (thrown) (B), that sort.
On the other hand, those with conceptual effects, destiny interference types fall into a special category. With Gae Bolg (regular), no matter how much Arcueid might be superior to Lancer in numbers, she will be killed depending on her luck, you see.

Q:9月号のサーヴァントと他作品キャラ比較についての質問です。対象は平均的な宝具を持ったサーヴァントとのことでしたが、本編でいうとどのくらいのランクの宝具を持った、誰がそれに近いのでしょうか?

A:まじめな質問です。宝具のレベルはB、能力が数値で表せるものが平均的な宝具
といえます。ブロークンファンタズム(不明)、風王結界(C)、ゲイボルグ(投げ)(B+)、といったものでしょうか。逆に効果が概念的なもの、運命干渉系が特殊な部類です。ゲイボルグ(通常)はいかにアルクェイドが能力値的にランサーを凌駕していようと、運次第でコロっと殺されますから。

↑

Fate/Grand Order - Orleans - Section 6 - One Thing After Another - Da Vinci: Hey guys, are you enjoying your trip through 15th century France? Now then, let's get today's lecture started. Today I'll be talking about Servant categories. Most of the Servants that can be summoned are divided into seven classes. Saber, Archer, Lancer, Rider, Berserker, Caster, Assassin. Each class has various compatibilities. Saber has the advantage over Lancer, for instance. And Lancer over Archer, and Archer over Saber. Rider over Caster, Caster over Assassin, and Assassin over Rider. And Berserker is strong against all classes, but weak when attacked. It's like a game of rock, paper, scissors. Keep this in mind when fighting the enemy. Of course, there are some Servants who don't fall into these categories. I'll explain them another time. Okay, circle's good to go. Have a nice journey!

↑ 90.0 90.1

Fate/Grand Order - London - Section 3 - The Demonic Fog Laughs - Da Vinci: While the make the circle, I'll help you pass the time. Previously, I spoke about Servant class affinity, so I think I'll expand on that. Just as each Heroic Spirit has a story to tell, they have classifications that explain how they were born. There are three attributes: Heaven, Earth, Human. Most Servants fall under one of these categories. Heaven includes Divine Spirits demoted to Heroic Spirits, children of gods, and the embodiments of legends. Earth includes legendary heroes that took hold in the land, fairies, and Demonic Beasts. Human is for heroes and great people who actually existed. I'm included in this group, as a great artist who actually existed. Heaven wins over Earth, but loses to Human. Earth wins over human, but loses to Heaven. And Human wins over Heaven, but loses to Earth. ...Humans believe in gods. However, gods that they stop believing in become "nonexistent." Native heroes and fairies have nothing to do with faith. However, they are no match for the gods that created them. ...And there are rare, special Heroic Spirits that do not belong in any of the three attributes. They are an exception of exceptions. --The Heroic Spirits of the Star. They do not belong to Heaven, Earth, or Human. Yet they exist on earth under heaven, and are born of humans. Servants of the Star have nothing to do with Heaven, Earth, or Humans. After all, they're an exception. That said, these are nothing more than categories. The effects aren't as pronounced as Class affinity, so it's not worth integrating into a strategy. ...And that wraps up this session. Summoning circle setup complete. Good luck in this era, too!

↑

Fate/stay night Unlimited Blade Works: Day 14 - Ideal

↑ 94.0 94.1

[] Fate/complete material II: Character Material - Characters: Kirei Kotomine, p.066-069

Kirei Kotomine

Nasu Kinoko & Takeuchi Takashi • Character Discussion

Nasu: There were many Command Spells on his arm. In fact, at one point there was this idea to present the effect of the Command Spells consumed to defeat Zouken in Fate/Stay Night with all the bells and whistles. With about ten Command Spells, even a human being can damage a Heroic Spirit. Ultimately I did not get the chance to do so. Mmm, True Assassin was not as reliable as I thought he would be (sweat drop)."

Takeuchi: Speaking of strength, who is stronger, Ciel or Kotomine?

Nasu: Ciel is overwhelmingly strong, due to her circuits, constitution and immortality. The strength of Kotomine at the time of Zero was due to his abnormally large number of Command Spells and his tenacity towards Kiritsugu. It was truly the brightest moment of his life. The Kotomine at that time could even win against Ciel.

言峰綺礼

奈須 きのこ&武内崇 • キャラクター別対談

言峰はどれくらい強いのか
奈須:それは虚淵玄に聞いてくれ(笑)。

武内:でも本編の言峰は、聖杯の泥をかぶって肉体は『Zero』の時代より衰えたんじゃ?

奈須:あそこで死んだ人間が10年後も生きていただけですごいけどね。彼の腕には令呪が何個もあるんですが、実は『stay night』本編で臓硯を倒す時に消費される令呪をガンガン効果的に表示しようというアイデアもあったんです。たとえ生身の人間だったとしても、令呪を10個近く使えば英霊にダメージが与えられますから。でも結局はやる機会がなかった。ええ、思った以上に真アサシンが頼りなかったので(汗)。

武内:ゲームをプレーした人にはそういう快感もあっただろうけど、言峰が強かったのか真アサシンが弱かったのかは微妙かな。

奈須:真アサシンってどんな時でも油断しない慎重なサーヴァントなんですよ。遠くから獲物を投げて敵を仕留めるような。で、最後のチェックメイトで妄想心音を使うんだけど「こいつ心臓ないッス」ってヘタれた(笑)。

武内:「あれ、心臓出てこないよ?」ワキワキワキ。

奈須:その隙を突かれて、臓硯を狙われたというお馬鹿さんですから……。あれは詰めを誤った真アサシンが悪い。

武内:さすがに想定外だとは思うけどね。生きている人間に心臓がないなんて。

奈須:ちなみに桜ルートにおける言峰は、セイバーが敵に回ったら怖いというのとは逆に「今まで嫌だった奴が味方に回ったら頼もしいぞ」というコンセプト。イリヤを抱いて走るシーンにその全てが集約されています。『stay night』で士郎が迷える少年であるのに対し、言峰は『Zero』においてすでに迷える時期を抜けて一個人として完成している人間なので、ハンパない強さなんです。アインツベルン城に潜入する時も「ロッククライミングぐらい嗜んでいないのか?」って言ってましたけど、普通嗜んでないから。お前はどんだけ厳しい少年時代をすごしたんだよ、と(笑)。

武内:強さといえば、シエルと言峰はどっちが強いの?

奈須:シエルのほうが圧倒的に強いです。不死身だしあの血筋ですから。『Zero』の頃の言峰が強かったのは、彼が有していた異常なほどの令呪数と切嗣に対する妄執が原因であり、人生で一番輝いていた瞬間だったんですよ。あの頃の言峰ならシエルにも勝てる。

↑

Fate/stay night Unlimited Blade Works: Day 14 - Rin's clever attack

↑

Fate/EXTRA - Week 1

↑

[] Fate/EXTRA CCC Fox Tail Material - Alter Ego G

Alter Ego G
Master: ???
Real Name: Kingprotea
Gender: Female
Height/Weight: 30~?m/?kg
Alignment: Lawful Good

Strength: EX
Endurance: EX
Agility: A
Magic: D
Luck: B
Noble Phantasm: -

Alter Ego of thirst of love.
G means gigantism, growing, greed.
It was formerly sealed at the ends of the imaginary number space.
Alter Egos are complexes made from several goddesses, however Protea is created from the essence of the great Mother Goddess that is common throughout all mythologies. Her self can be treated as a Noble Phantasm as she does not possess a Noble Phantasm. As with the Golden White Face, she's a hazard that can only be overcome in battle through the combined strength of several servants.

Class Skills
■ Huge Scale - EX
A cheat skill that evolved from Self-Modification.
There is no limit to how large she can get. Once the upper limit is reached, the upper limit is further increased. This is infinitely repeated. Basically infinite growth of infinite growth.
Anywho, she's a planet destroying universe level disaster, but giant transformation makes her lose complex intelligence and function. This skill cannot bear common sense, so one completely self-destructs.

■ Grow Up Grow - EX
Cheat Skill evolving from Experience Point Bonus.
Experience Point Bonus allows one to gain a bonus percentage of experience points after a battle. King Protea's skill cheats and changes it to "Always gaining Experience Points."

Personal Skills
■ Self-Suggestion - EX
Suggestion applied to oneself.
A skill that raises resistance against mental interference. At A rank "I do not age = Truly stops aging" level of assumption is possible. At EX level, whatever is going on in that mental world is outside of understanding.

アルターエゴ G
マスター:???
真名:キングプロテア
性別:女性
身長・体重:30~?m/?kg
属性:秩序・善

筋力:EX
耐力:EX
敏捷:A
魔力:D
幸運:B
宝具:-

渇愛のアルターエゴ。
Gはgigantism,growing,greed,の意。
かつては虚数空間の果てで封印されていた。
アルターエゴは複数の女神の複合体だが、プロテアはあらゆる神話に共通する大母神のエッセンスから創られた 。彼女自身が宝具扱いである為、宝具は所持していない。
金色白面同様、複数のサーヴァントが一丸となって戦って初めて打倒できる災害。

クラス別能力:
■ ヒュージスケール:EX
スキル「自己改造」が暴走したチートスキル。
限界のない規模拡大を可能とする。レベルが上限に達すると自らの規格を巨大化させ、さらなるレベル上限を設 定。これを無限に繰り返す。無限増殖とも。
いずれは星を破壊する宇宙レベルの災害だが、巨大化すれ場するほど知性・機能の複雑化が失われていくだめ、 通常の知性体ではこのスキルに耐えられず、自己崩壊してしまう。

■ グロウアップグロウ:EX
スキル「経験値ボーナス」が暴走したチートスキル。
「経験値ボーナス」は戦闘によって得る経験値に何パーセントかの追加ボーナスが入るものだが、キングプロテ アはこのスキルをされにチート化、「常時、経験値を取得する」ものに変えてしまった。

固有スキル
■ 自己暗示:EX
自身にかける暗示。
精神攻撃への耐性をあげるスキルで、Aランクにまでなると "私は歳を取らない=本当に老化が止まる "レ ベルの思い込みが可能となる。EXレベルになると、もう心象世界では何がおきているか理解の外 である。

↑

[] Comptiq 2005-09 issue - Fate Dojo Q & A:
Q. In the other Type-Moon works, who else besides Arc can fight against Servants?

Q: In the other Type-Moon works, who else besides Arc can fight against Servants?

A: If we're working on the condition of one on one, with an extremely average Noble Phantasm. Generally most of the 27 Ancestors, Kishima Kouma, Aozaki Aoko.
If it's just a defensive fight, but would still be a fight, then Ciel. Shiki (Rakkyo), Shiki (Tsukihime) are no match for Servants....but Ryougi Shiki (3rd personality) might be able to go as far as the Ciel class.

Q:TYPE-MOON他作品で、アルク以外にサーヴァントとガチンコできるのは誰ですか?

A:一対一、宝具が極めて平均的なものであるなら…という前提でいきます。二十七祖のほぼ全員、軋間紅摩、蒼崎青子。防衛戦だが戦闘になる、というのであればシエル。式、志貴の主人公コンビはサーヴァントには及びません…でも、「両儀式」ならシエルクラスまであがるかも。

↑

[] TYPE-MOON Fes. Official Pamphlet 10th Anniversary Q & A Booklet:


Q: Since Saber and Gilgamesh have physical bodies in Fate/Stay Night, can Shiki see lines on them?

Q: Since Saber and Gilgamesh have physical bodies in Fate/Stay Night, can Shiki see lines on them? (@LestatDusk)

A: Not just when they have a physical body, the Mystic Eyes of Death Perception are effective even when they're in spiritual bodies. For Shiki [Ryougi], if the opponent can be recognized as "living" (not "life", but "live"), she can see the lines of death. For example, the ghosts in Overlooking View were dead, but they were "living" in the sense that they can interfere with the current world.
Also, why she didn't succeed against the Sarira in Araya's arm is because it belonged to an enlightened one who achieved "becoming extinguished, alive." To kill it by the lines of death means she has to decipher advanced "lines of death" levels higher than the normal concept of death. But what's sad about bones is that rather than having to do that, they'll turn into ash if you burn them. If you have time to be using Death spells, level up and beat it physically.

Q:セイバーとギルガメッシュは、フェイト/ステイナイトでは肉体をもっているので、シキは彼らの死の線を見ることができますか?

A:肉体を持っているどころか、霊体のままでも直死の魔眼は効果アリ。式にとって"生きている(ライフではなくライブ)"という認識が当てはまる相手なら死の線は見えています。たとえば俯瞰風景の幽霊たちは死んでいるけど、現世に介入できる時点で「生きている」。
また、荒耶が埋め込んでい仏舎利に後れを取ったのは、アレが"いきながら入滅した"覚者のものだから。死の線で殺すには、通常の死の概念よりなん段階も高度な"死の線"を読み解かなければならない。でもそんなことをするより焼いてしまえばあっさり灰になるのは骨の悲しさ。ザキ系の呪文を使っている暇があるならレベルをあげて物理で殴れ、である。

↑ Fate/Zero - Einzbern Consultation Room 6
↑

[] Comptiq 2006-11 issue - Fate Dojo Q & A
Q: Who'd win if the Servants and the 27 Ancestors fought each other?

Q: Who'd win if the Servants and the 27 Ancestors fought each other? Also, who'd win in a fight between Bazett, a renowned powerhouse of the Association, and Ciel, top class in even the Association?

A: Depends on compatibility, but basically Servants will have the slightly higher advantage. With Saber, Lancer, and Archer classes, we ought to be able to relax and see decent fights. In particular, Saber has THAT sort of Noble Phantasms so against guys like the 27 Ancestors that overwhelm by material quantity and alienness, she'd be REALLY tough.
....Well, there are also some of those tough Ancestors that can withstand a direct hit from Excalibur-class attacks, but against those guys that just (emphasis on just; other stats don't match up) have wickedly high HP, Lancer-aniki'd be pretty tough.

Q:サーヴァントと27祖が戦ったらどちらが勝つんでしょうか? また、協会屈指の実力者・バゼットと、教会でも最高クラスの シエルが戦ったらどっちが勝つんですか?(新潟県/神田聖一)

A:相性の問題もありますが、基本的にはサーヴァントがやや有利。
セイバー、ランサー、アーチャークラスなら安心して戦いを見守れます。
特にセイバーは宝具がアレなんで、二十七祖みたいな"物量と異質さで圧す"連中には滅法強いかと。……まあ、中にはエクスカリバークラスの直撃を受けても耐えられるタフな祖がいるので、そういうHPだけバカ高いヤツにはランサー兄貴が強かったりするワケです。
あとバゼットさんとシエル嬢ですが、ホロウの段階ではシエルの勝ちは動きません。バゼットさんが開眼してフラガラックを使いこなせるように なるといい勝負になります。

↑

[] Fate/complete material III: World material - FAQ with Nasu: Miscellaneous, p.136


Q: Who would be stronger if Servants fought the 27 Ancestors?

Q: Who would be stronger if Servants fought the 27 Ancestors? Servant's also have superhuman battle ability, but the 27 Ancestors are also superhuman monsters.... I got the impression that ORT, Primate Murder, Altrouge Brunestud, and so on were obviously stronger than Servants.

A: All I can is they're both powerful.... They're both beings that live in mystery, so the only thing that can be said is that it all depends on the situation the moment it comes done to ""having the means of killing the other guy somehow". Among those, Earth rules won't even apply to ORT in the first place and Primate Murder has the super advantage against primates so they're in a league of their own, I suppose. Speaking of which, for one Primate Murder, seven Guardians would be the appropriate amount.

Q:サーヴァントと"吸血鬼の二十七祖"が戦った場合、どちらのほうが強いでしょうか?サーヴァントも人外の戦闘能力を持っていますが、二十七祖も人間離れした怪物ですし......。特にORTやプライミッツマーダー、アルトルージュ・ブリュンスタッドなどは、あからさまにサーヴァントよち強いような印象を受けました。

A:どっちもどっち、としか・・・・・・。どちらも神秘に生きるものたちなので、"なんとかして殺す手段がある"時点で状況次第としか言えません。そんななか、 ORTはそもそも地球上でのルールが成立しないし、プライミッツマーダーは霊長に対して超有利なので別格でしょうか。ちなみに、プライミッツマーダー1匹に対して守護者七騎であたるのが妥当なところです。

↑

[] Comptiq 2005-09 issue - Fate Dojo Q & A
Q: About the power comparison between Arc and Servants, would the Arc being compared be the 30% one or the full one?

Q: About the power comparison between Arc and Servants, would the Arc being compared be the 30% one or the full one?

A: That would be the 30% Arc. It takes 7 Counter Guardians to control the Primate Murder and the Servants of the Grail War are based on these.

Q:きのこ氏がファンブックで仰っていたアルクとサーヴァントの強さ比較ですが、この比較されているアルクって、30%程度しか力を出せていない状態と、全力状態のどちらでしょか?

A:どっちかてーと30%のアルクです。もともと某プライミッツマーダーを御するには七騎の守護者が必要とされており、聖杯戦争の七騎のサーヴァントというのはこれになぞらえているらしいですよ、どうにも。

↑

Fate/Grand Order - Jeanne Alter interlude

↑

Fate/Grand Order - Florence Nightingale Interlude - She who fights for someone

↑

[] Comptiq 2007-10 issue - Fate Dojo Q & A
Q.「Fate/Zero」では、「召喚の際にある一文を呪文に組み込むことで英霊がバーサーカーになる」という記述がありました。ということは、すべてのマスターが呪文にこの一文を組み込んだら、バーサーカーだらけの聖杯戦争がはじまるんでしょうか?

Q:「Fate/Zero」では、「召喚の際にある一文を呪文に組み込むことで英霊がバーサーカーになる」という記述がありました。ということは、すべてのマスターが呪文にこの一文を組み込んだら、バーサーカーだらけの聖杯戦争がはじまるんでしょうか?(埼玉県/ひろいち)

A:そうですね。基本的に絶対枠としているのは3騎士だけなので、思いっきり特殊なマスターが集まれば世にも奇妙な聖杯戦争がはじまるでしょう。
でも、同じクラスの重複召喚はできません。
Community content is available under
CC-BY-SA
unless otherwise noted.