Sola-Ui Nuada-Re Sophia-Ri (ソラウ・ヌァザレ・ソフィアリ?) is the fiancée of Kayneth El-Melloi Archibald who acts as a secondary magical energy supply and later Master of Lancer in the Fourth Holy Grail War of Fate/Zero.
Profile
[
]
Background
[
]
Sola-Ui is a part of the Sophia-Ri family who is also the daughter of the head of the spiritual evocation division of the Clock Tower of the Mage's Association.[4][5]
She is engaged to Kayneth El-Melloi Archibald as a result of a strategic marriage arrangement and the decision of her family to entrust their crest to her older brother, Bram Nuada-Re Sophia-Ri instead. Because her brother did not succeed as a mage, there is increasing pressure from her family to marry Lord El-Melloi.
Appearance
[
]
Personality
[
]
Sola-Ui is described as a troubled woman who gives off the feeling being an extremely cold and possessing a severe and temperamental sense of authority. She behaves according to her background as a high-class woman born as a prestigious aristocrat, though she is also a person who is sentimental.
Cruel and careless, Sola-Ui is both devious and clever, often taking advantage of circumstances to get what she wants. She has no affection for Kayneth and does not get along with him well, deriding him harshly as a coward for not confronting his enemies openly. In contrast, she has no qualms about developing feelings towards Lancer and deferring to him when he defends Kayneth's behavior.
Role
[
]
Fate/Zero
[
]
Sola-Ui is Kayneth's fiancée and apparently does not get along with him. While Kayneth acts as Lancer's Master, Sola-Ui maintains the materialization energy for the Servant. Her first appearance occurs in the second novel of the series, after the melee battle between the Servants.
She openly calls him a coward for not facing the other Masters face-to-face and criticizes his strategy when commanding Lancer against the other Servants. However, she is quickly chastised by Lancer, who stops her from arguing any further with Kayneth. As a result, he suspects that she may be developing affections for the Servant. Before the issue is addressed, Kayneth's stronghold in the Fuyuki Hyatt Hotel is attacked by Kiritsugu Emiya and Maiya Hisau.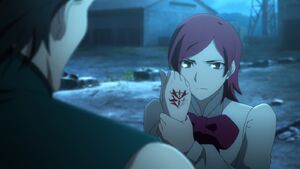 After several confrontations with Kiritsugu, Kayneth is eventually severely injured. Sola-Ui coerces him into surrendering his command seals to her, under the threat of killing him if he refuses. He reluctantly agrees, given the extent of his physical injuries. Sola-Ui, now Lancer's Master, is disappointed that Lancer only sees her as a proxy to Kayneth because of his sense of honour and his guilt towards abandoning his previous Master when he was alive because of a woman.
Sola-Ui later witnesses the battle between Caster and the other Servants from a distance, after Lancer refuses to take her into battle. During the battle, she is suddenly attacked and knocked unconscious by Hisau Maiya. Maiya chops off one of Sola-Ui's arms, the one which carries the command mantra of Lancer, and then takes the woman as bait for Kiritsugu to use against Kayneth. The anime adaption depicts Sola-Ui's arm being cut off before Maiya renders her unconscious, forcing Sola-Ui to endure the horror of being unable to use any Command Spells to summon Lancer or forcing him to reciprocate her love.
She proves to be effective collateral against Kayneth; during Lancer and Saber's fight, Kiritsugu appears before El-Melloi holding Sola-Ui captive at gunpoint. Kayneth agrees to a mage's contract, an unbreakable agreement between mages at the cost of permanently being unable to use sorcery, where Kiritsugu agrees not to harm either Kayneth or Sola-Ui on the condition that Kayneth forces Lancer to kill himself. In the sound drama, she was still conscious when she saw Lancer commit suicide and was devastated when Lancer dies but in the novel and anime she was unconscious. She and Kayneth are shot by Maiya soon after and Sola-Ui dies of gunshot wounds.
Other appearances
[
]
Sola-Ui cameos in the Lord El-Melloi II's Case Files Special Episode where several of Kayneth's students are watching the two of them from afar. While some of the boys comment on her looks, Waver Velvet states that he isn't interested.[6]
Abilities
[
]
Sola-Ui is a descendant of the Sophia-Ri family and possesses considerably higher numbers of magical circuits than an average person. While her status as a magus is low because her family entrusted their family crest to her older brother, her bloodline is prestigious enough that her match with Kayneth is seen as definite assurance that the next generation will exceed their ancestors.
Though few of her skills are seen, Sola-Ui was able to heal Kayneth's wounds after he was almost killed, but unable to restore his magic. She has sufficient mana to maintain the materialization energy for Lancer, even after losing her arm containing the command seals for the Servant and enduring the pain to remain alive afterward, in spite of severe blood loss and only receiving basic first aid.
She is somewhat skilled in Spiritual healing like Kirei Kotomine, but is unable to remove Kayneth's Command Spells unless he agrees on it.
Development
[
]
Creation and Conception
[
]
Sola was designed to be a girl with a strong nose bridge, so Takashi Takeuchi designed it to be straight. He wanted to do something different with her costume, but it turned into a simple blouse and ribbon design after he simplified it a great deal. One of the comments from Gen Urobuchi was "Isn't she too cute?" Her cuteness caused Nasu to "come down with a strange disease", and he turned down Takeuchi's idea to make her more lively. Urobuchi thinks team Lancer would fit better into a comedy in contrast to the misfortunes they suffer in the story, and wondered if he should have given her longer scenes after becoming Lancer's Master.[2] Urobuchi wanted to dedicate more pages for Sola-Ui. But it probably wouldn't turn out to be a happy scene if he were to write it.[7]
Megumi ToyoguchiWP (Voice actress of Sola-Ui) said that it was her dream job to be part of the Fate series. She had previously auditioned back during Fate/stay night and now she gotten mature, it became easier for her to play Sola-Ui.[5]
Reception
[
]
Urobuchi said that Sola-Ui is someone who can truly shine only in doujinshi.[7]
Megumi ToyoguchiWP said that the scene where Sola-Ui broke Kayneth's fingers was the scene that stuck to her mind, she further elaborates that Sola-Ui's face was incredibly terrifying.[5]
References
[
]
↑ 2.00 2.01 2.02 2.03 2.04 2.05 2.06 2.07 2.08 2.09 2.10

[] Fate/Zero material - Characters: Sola-Ui Nuada-Re Sophia-Ri, p.052-053, 084

Sola-Ui Nuada-Re Sophia-Ri
Height: 165cm
Weight: 52kg
Blood type: O
Birthday: August 19
Image color: Violet
Three Sizes: B88/W56/H84
Talents: Criticizing others' cooking, complaining to customer service
Things she likes: Shopping
Things she hates: Sorting and organization, cooking and laundry
Worst enemy: Maiya Hisau

Comment for Sola-Ui
Takeuchi: A girl who was said to have a strong nose bridge, so I designed it as straight. I remember Urobuchi-san saying "Isn't she too cute?" (laugh)
Urobuchi: Yeah, she's way too cute. Thanks to that, Nasu-san came down with a strange disease.
Takeuchi: Actually, I wanted to make her a little more lively. It was a little disappointing when he put an end to it like that.
Urobuchi:Looking back at how thin the third volume was, I wonder right now if it would have been better to stretch out the scenes with her deal and team-up with Lancer.

Takeuchi's comment
Sola's early costume design. I always wanted to do something different so I simplified it a lot, but in the end it became the usual blouse and ribbon design.

Takeuchi's comment
As opposed to the various misfortunes of the Lancer team in the main work, they would fit beautifully in a comedy.

ソラウ・ヌァザレ・ソフィアリ

Comment for Sola-Ui
武内:
虚淵:
武内:
虚淵:

↑ 3.0 3.1 3.2 3.3 3.4 3.5 Fate/Zero Anime Visual Guide I - Characters: Sola-Ui Nuada-Re Sophia-Ri entry, p.034
↑

[] Fate/Zero material - Encyclopedia: Sola-Ui Nuada-Re Sophia-Ri [Person's name], p.099

Sola-Ui Nuada-Re Sophia-Ri [Person's name]
Daughter of the noble Nuada-Re bloodline, which boasts considerable behind-the-scenes influence within the Association, and Kayneth El-Melloi Archibald's fiancé.
Generally, families of magi make it a rule to only pass down their secrets to a single successor, while keeping any other children they may have ignorant of even the existence of sorcery itself. However, at the time Sola-Ui was born, the Nuada-Re family was embroiled in a tumultuous power struggle, and there was a very real fear that their legitimate heir could be assassinated. As a result, they enacted a plan to train both the older brother and the younger sister in the rudiments of sorcery, so that either one could inherit the family crest.
In the end, though, the conflict died out before anything happened to either child, and Sola-Ui's older brother was given the crest and the title of successor.
Sola-Ui, on the other hand, was no longer of any use to her family, and her very existence was disavowed. She became a mere tool to be given away in a political marriage, where her excellent physical capacity for sorcery and childhood training would allow her to serve as an assistant for some first-rate magus.
However, Sola-Ui did not harbor any resentment toward this treatment. To be perfectly frank, she didn't even understand what "likes" and "dislikes" were in the first place. While it's certainly true that she always selfishly toyed with those around her, that was simply because it was ingrained in her from a very young age that acting in a way that would preserve her value as a noble was the secret to success in life. Sola-Ui herself had never truly wanted or hoped for something even once since being born.
Consequently, she didn't care one bit whether the attraction caused by Diarmuid's mystic face was real love or not. For her, the simple sensation of passion boiling up from the depths of her heart was her greatest treasure, and she had she had no intention of giving it up after she had finally obtained it. Because, passion is the very thing that gives life value.
…When Nasu Kinoko heard all of that, he started writhing around muttering something that sounded a lot like "It's a perfect moe bull's-eye…!"

ソラウ・ヌアザレ・ソフィアリ【人名】
魔術協会において隠然たる勢力を諮る名門ヌァザレ家の娘。ケイネス・エルメロイ・アーチボルトの婚約者。
通常、一子相伝を原則とする魔道の家門は、嫡子以外には魔道の存在そのものすら秘匿するのが通例だが、ソラウの誕生当時、ヌァザレ家はかなり不穏な権力闘争の最中にあり、嫡子を暗殺されるのではないかというパラノイアに取り憑かれていた。そこで対策として、ヌァザレは兄妹の双方に魔術の初歩教練を施し、いずれ魔術刻印を移植する段になって生存していた方を後継者とする方針を取った。
ところが、結果的に兄妹双方ともに息災のまま闘争は終結し、魔術刻印と嫡子の地位はソラウの兄へと与えられる。事実上の用済みとなり、存在そのものすら否定された形のソーフウだったが、魔術師としての優秀な肉体的遺伝形質と、幼少期に叩き込まれた基礎魔術の素養は、一流魔術師に助手として奉仕するに足るだけのものがあり、そこも含めた「商品価値」として、彼女は政略結婚の道具とされる。
その扱いにソラウが不満を懐いたわけではない。そもそも好悪という感情の何たるかすらソラウには理解できないものだった。たしかに彼女は気難しい我が儘で周囲を翻弄し続けてきたが、それは自らの貴人としての価値を高く保つための態度として幼少期から刷り込まれた処世術であり、ソラウが心の底から何かを欲したり希望を懐いたりしたことは、生まれてこのかた一度もなかったのである。
故に、ディルムッドの魔貌による魅惑が、慕情として正しいものかどうかなど、ソラウにとって問題ではなかった。彼女にとっては、心の奥底から湧き上がる激情という感覚こそが、生まれて初めて手にした至宝であり、人生の価伯とすべきモノだったのだ。
……という設定を聞いた奈須きのこが「ワタクシの萌えポイントにドストライクでございます」とのたうち回ったとかなんとか。

↑ 5.0 5.1 5.2

[] Fate/Zero Blu-ray Disc Box II English Translation booklet: Master Session 002 - Lancer Side, p.007-010

Master Session 002 - Lancer Side

Midorikawa: Lancer had quite a few of scenes, but I was struck by the scene where he curses them as he dies (episode 16), and by the way he's shown as being so vigorous in the first half of the episode. He was so lively that when he's forced to kill himself, you feel sorrier for him. I thought his suicide scene was handled delicately. There's an illustration for that scene in the original (the TYPE-MOON VERSION). But they presented it differently in the anime. I was really impressed at how well they pulled it off.

Yamazaki: I bet that if we'd applied ourselves, we would've been the favorite to win the Holy Grail War.

Midorikawa wished that they allow Lancer and Saber to go on fighting forever as Lancer seemed to be enjoying himself.

Animation Material

Kayneth El-Melloi Archibald
Lancer's Master. Lecturer at the Clocktower, the Mages's Association's headquarters.
Eldest son of the Archibald family. Taking part in the Holy Grail War as a feather in his professional cap.
A holy relic in his possession was stolen by Waver, his student.
He makes use of a mana-infused orb mercury, the Volumen Hydragram, to attack and defend. Atsushi Ikariya was in charge of the character design for the anime version.

↑ Lord El-Melloi II's Case Files {Rail Zeppelin} Grace note Special Episode: Waver, Reunion, and the Magic Lantern
↑ 7.0 7.1

[] ALL OVER/Zero - Fate/Zero Exchange of Questions and Answers, p.025
Questions 20: What's Urobuchi's favorite scene? Also, if it exists, please tell us about something you didn't finish. [T]

Questions 20: What's Urobuchi's favorite scene? Also, if it exists, please tell us about something you didn't finish. [ Taitō · Mountain of Mash Tree ]

Gen: Even though it's for my own enjoyment, probably the great revival of the true Gilgamesh. I also wanted to dedicate more pages to Kariya and Sola-Ui. Uh... but it probably wouldn't turn out to be a happy scene if I were to write it. Looks like Sola-Ui really is someone who can truly shine only in doujinshi.

Q:虚淵のダンナ的にいちばん好きなシーンってなに?あとやり残した事とかあったら一つ[台東区・マッシュきの山]

虚:限りなく自己満足なのは、ネイキッドギル様大復活とか。あと雁夜とソラウにもうちょっとページを割いてあげたかったのだけれど、うーん、俺が書いたら愉快なシーンにはならなかったかも。やはりソラウはアンソロでこそ輝く女か。