Hiken - Tsubame Gaeshi (秘剣・燕返し?, lit. Secret Sword: Swallow Return or Swallow Reversal, localized as Secret Technique: Turning Swallow Strike) is the fabled technique of the legendary swordsman Sasaki KojiroWP who was said to be able to cut down a swallow in mid-flight. He achieved a Mystery attained only with human techniques that rivaled the Noble Phantasms of Servants.[2][3] It is not something recognized as a Noble Phantasm under the Fuyuki Servant system, but rather an intrinsic Skill of the anonymous swordsman representing and using the legend of the great individual Kojiro as his source of identity. While still unranked, it is classified as a Noble Phantasm under the FATE system. This demonic sword technique, the utmost and sole technique used by Assassin, is not a Noble Phantasm or a magical phenomenon, but it has reached a level comparable to one out of pure godlike skill that "surpasses even Servants." It is a technique where three concurrent arching blades close on the enemy from all sides to create a prison, allowing no chance for defense or evasion. While he downplays it as simply successive slashes done "quickly", it is actually bending the laws of physics to multiply its existence. It starts with a flash from this world, followed by two absolutely simultaneous, over-lapping flashes that disregard the concept of time and space, producing a slash attack that arrives from three different directions by momentarily using the Multi-Dimensional Refraction Phenomenon of Zelretch's Second Magic to transcend speed, dexterity, feints, and many other elements. It is an extremely important secret technique to Assassin, who never takes up a stance, which can be seen by observing how he lifts his sword and swiftly launches the technique.[2][4]
He has an extremely long range with his 150 cm Monohoshi-Zao, which would normally be ineffective at close range where he uses the technique. The first strike comes at the opponent with overwhelming speed, creating a circular arc horizontally to surround them. This isn't much trouble on its own, especially with the length of the blade, but the slightly slower second vertical strike meant to block off escape from above and the third vertical strike to keep the opponent from escaping to the side completely overwhelms the opponent. It is a technique that "challenges god" with mere human skill, making it impossible to block. If one of the slashes is blocked, the other two will hit. Due to the close range, if the opponent attempts to retreat, the longsword will quickly cut them down. Assassin normally fights on higher ground to have an advantage over his opponents, but Tsubame Gaeshi requires a level foundation in order for it to be perfectly executed. If he lacks a proper foothold, he will only be able to make the first two slashes. As this technique is born of prodigious skill instead of a magical ability, it requires no additional magical energy beyond what Assassin needs to move.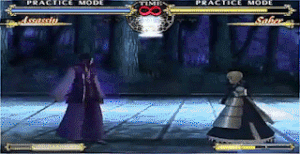 Like Gáe Bolg, it is impossible to avoid, albeit through different mechanics. It is possible to develop countermeasures against Gáe Bolg after learning that it targets the heart, but the only true countermeasure against Tsubame Gaeshi is to not allow him to use the skill at all. It is possible to avoid the incomplete version with two slashes by escaping to the side, but the real technique is nearly impossible to survive. Saber, fighting with pure technique due to being unable to use Excalibur at that range, manages to defeat it after Assassin allows his sword to be damaged in order to lure her onto flat ground. Through her precognition and pure determination, she is able to see the weak point in the technique, a tiny opening between his left arm and waist. She only barely manages to avoid being cut while rushing through the opening, and the only reason it was a success was due to her experience with the technique used beforehand on her and the damaged blade. If the blade had been in perfect condition, the technique would have stayed invincible. Fate/unlimited codes features a technique called Hiken: Tsubame Mai (秘剣・燕舞, lit. Secret Sword: Swallow Dance?), which is a series of six blinding strikes around the enemy, followed by Tsubame Gaeshi.
The process behind the development of the technique was simply Assassin attempting to figure out the means of cutting down a swallow in mid-flight. He found that swallows feel the shaking of the wind caused by the sword strike in order to avoid the blade. It is impossible to avoid disturbing the air, no matter how fast the strike, and a sword can only move in a straight line. The swallow can move horizontally or vertically to avoid it, so a single strike cannot possibly cut one down. The swallow's escape route must be completely blocked off, meaning that after the first attack, another is necessary to entrap it. The second blow cannot possibly be done in time to hit the swallow, and it is beyond human capabilities to attack multiple times in one instant. He accepted that it was impossible, but with nothing else to do as a simple and honest reason, he spent his entire lifetime practicing the sword in order to reach the pinnacle of swordsmanship until the very end. After a long period of time, he perfected the technique and it reached another state entirely. Although with some limitations, he eventually attained, perfected and refined his goal, a Mystic Sword technique as a prison of slashes that treads into the Second Magic without any knowledge of Magecraft or True Magic by doing nothing but spending his life swinging his longsword, following a single worthless idea on how to kill a flying swallow.
There is a sword of infinity that leads to multiplicity. A way to acknowledge "multiple possibilities". A single act that is originally finite; a single slash that can only be performed at one time, in one space. It is, so to speak, an "infinite" sword that gives birth to several "correct answers". To make one's own existence transparent to the extremes, till there is nothing more. And yet to grasp for "something" beyond that. That is Kojiro's "Tsubame Gaeshi". A sword that creates a "future" that not even the gods can escape from.[5]
References
[
]
↑ 1.0 1.1 1.2 1.3 Fate/Grand Order material II - Sasaki Kojiro, p.006-011
↑ 2.0 2.1 2.2 2.3 2.4

[] Fate/Grand Order - Assassin Profile [T]

Kojirou Sasaki - Assassin

Illustrator and Voice actor
Illustrator: Mata
Voice Actor: Shinichirō Miki

Parameters
Strength: C
Endurance: E
Agility: A+
Mana: E
Luck: A
Noble Phantasm:

Personal Skills
Eye of the Mind (False): A
Vitrification: B

Class Skills
Presence Concealment: D

Noble Phantasm
Tsubame Gaeshi
Rank: -
Type: Anti-Unit Mystic Sword

Profile
A swordsman described as a worthy rival of one of Japan's prominent master fencer - Miyamoto Musashi.
Mastering the Ganryuu-style at a young age, a genius swordsman said to find no equal no matter where he went.
And yet---

Level 1 Bond
Height/Weight: 176cm・63kg
Source: Historical fact
Region: Japan
Alignment: Neutral Evil  Gender: Male
"No matter who may be, one is evil from the moment he cuts down a person."

Level 2 Bond
A refined man who admires the beauties of nature and wraps his body in an elegant battle surcoat.
Aloof from the world and having a somewhat elusive personality but, as expected, he is a warrior who likes fair and square contests.
Due to living in a age where casualties happened in a daily basis, his perspectives about life and death may also seem cold-hearted for a modern person.

Level 3 Bond


Anti-Unit Magic Sword. Maximum Targets: 1 person.
A sword technique that rivals Noble Phantasms, attained only with human techniques.
A special move that simultaneously cuts apart an enemy with three circles.
Seems to be one of the things that can be called multi-dimensional refraction phenomenon.
Originally, it was something developed to cut a swallow flying on the sky.

Level 4 Bond
He himself calls it a secret sword technique, but on the eyes of the surroundings it is unmistakably a magic sword.
For that is not the work of man.
He himself says that it was developed for cutting a flying swallow, but, of course, it is possible to cut a swallow even without a mystic technique such as this.
Rather, this is a story about the lack of compromise, and also, how much extreme talents for martial arts was possessed by this swordsman - who reached the blessings of the sword just for such a reason.

Level 5 Bond
Souwa's Understanding: B
A unique ability that prevents drop on hit-accuracy no matter how much the same technique, the same sword skill is employed against an opponent.
It becomes impossible to see through attacks.
"The eyes grow used to the attacks"; maybe it means that such inferior sword swings are not unleashed.

Interlude
Unlike Musashi, Sasaki Koujirou is a fictional swordsman whose real life is indefinite.
This "Sasaki Koujirou" is nothing but an nonentity swordsman that was summoned due to the fact he can reproduce the "Tsubame Gaeshi" that appears in Koujirou's legend. The mental state of this genius swordsman - who remained anonymous for life, and was summoned in order to fill up for a fictional Heroic Spirit - is, of course, "that is fine too" it seems.

佐々木小次郎 - アサシン

イラストレーター・声優
ILLUST:また
CV:三木眞一郎

パラメータ
筋力:C
耐力:E
敏捷:A+
魔力:E
幸運:A
宝具:

保有スキル
心眼(偽) A
透過 B+
宗和の心得 B

クラス別能力
気配遮断 D

宝具
燕返し
ランク:対人魔剣
種別:-

キャラクター詳細
日本有数の剣豪・宮本武蔵の好敵手として語られる剣士。
若くして巌流を極め、向かうところ敵無しとされた天才剣士。
なのだが---

アンロック条件:絆レベルを1にすると開放
身長/体重:176cm・63kg
出典:史実
地域:日本
属性:中立・悪  性別:男性
「人を斬る以上、何者であれ悪であろうよ」

アンロック条件:絆レベルを2にすると開放
花鳥風月を愛で、雅な陣羽織に身を包む風流人。
飄々とどこかつかみ所のない性格をしているが、やはり武人であり、正々堂々とした勝負を好む。
人死にが日常だった時代に生きたからか、その生死観は現代人には冷酷なものに見える事も。

アンロック条件:絆レベルを3にすると開放
○燕返し
対人魔剣。最大補足・1人。
宝具に匹敵する、人の技だけで到達した剣技。
相手を三つの円で同時に断ち切る絶技。
多重次元屈折現象、と呼ばれる物の一つらしい。
もともとは空を飛ぶ燕を斬るために編み出されたもの。

アンロック条件:絆レベルを4にすると開放
本人は『燕返し』を秘剣と呼ぶが、周囲から見れば紛れもない魔剣である。
人間業ではないのだから。
空を飛ぶ燕を斬るために編み出した、と本人は言うが、無論、ここまでの魔技がなくとも燕は斬れる。
むしろそれだけの理由で剣の冥加に達したこの剣士が、どれほど妥協せず、また、極まった武の才を持っていたかという話だ。

アンロック条件:絆レベルを5にすると開放
○宗和の心得:B
相手に同じ技、同じ剣技を何度使用しても命中精度が下がらない特殊な技能。
攻撃が見切られなくなる。
"攻撃に目が慣れる"などという下手な剣筋は繰り出さない、という事か。

アンロック条件:「LEGEND・OF・THE・SAMURAI」をクリアすると開放
佐々木小次郎とは、武蔵と違いその実像が定かではない架空の剣士である。
この"佐々木小次郎"は小次郎の伝説にある『燕返し』が再現できるという点から呼び出された名も無い剣士にすぎない。
架空の英霊を埋めるために呼び出された、生涯無名であった天才剣士の心境は―――
やはり、「それも良し」なのだろう。

↑

[] Fate/side material - Encyclopedia: Assassin [Servant], p.055 [T]

Assassin [Servant]
Heroic Spirit of assassination.
Different from other Classes, only certain Heroic Spirits qualified for Assassin.
He was the samurai who guarded the mountain gate of Ryuudou Temple.
Sasaki Kojiro was summoned into this class because a certain unorthodox summoner violated the rules.
Strictly speaking, Assassin was a Wraith rather than a Heroic Spirit.
He seemed to be a martial artists who had connections with the Ryuudou Temple in the past.
His true name was unknown. To be more specific, he never had a true name.
Perhaps because he never had the possibility to become a liege, he had no ambitions. He lived only for the wish to stand in the inner sanctum of swordsmanship, and eventually he achieved a Mystery that rivaled the Noble Phantasms of Servants.
In terms of pure swordsmanship, he was the greatest in this Holy Grail War.
Since he was summoned with the mountain gate as the catalyst, he could not leave the gate.
...Huh? Almost like a Jibakurei eh?

アサシン【サーヴアント】
暗殺者の英霊。
他のクラスと違い、ある英霊しか成れない筈のクラス。
柳洞寺に至る山門を守る侍。
佐々木小次郎がこのクラスになったのは、偏に召喚者がルール違反の者だった為。
厳密には英霊ではなく亡霊。
过去、柳洞寺に縁のあった武芸者と思われる。
本名は不明。というより、本名などない。
もとより仕官の可能性がなかった為か我欲がなく ただ剣の境地に立つという願いだけを粮とし、その果てにサーヴァントの宝具が備える神秘と互角の剣技を得るに至った。
純粋な剣技のみで言えば、今回の聖杯戦争中最高のサーヴァントである。
柳洞寺を触媒にして召喚されたので、あの山門から离れる事は出来ない。
……む?なんか地縛霊っぽい?

↑

[] Fate/complete material III: World Material - The Servants of the Fifth Holy Grail War: Assassin, p.034-035 [T]

Kojiro Sasaki
Class: Assassin
Master: Medea
Alignment: Neutral Evil
Sex: Male
Height: 176cm
Weight: 63kg
Weapon: Katana

STR: C
CON: E
AGI: A+
MGI: E
LCK: A
Noble Phantasm: ??

Legend
Kojiro Sasaki. A Japanese man without a real identity, and it may not be an overstatement to say that he has never existed. He was described as the rival of Nitoryu sword master Miyamoto Musashi, and a handsome swordsman who skillfully wielded the 3-shaku-long (approximately 1m) nodachi "Bizen Osahune Nagamitsu" which is also called "Monohoshi Zao". His duel with Miyamoto Musashi at Funajima Island, such lines as "Kojiro has been defeated!", and the finale of death by having his forehead crushed by an oar are all legendary. Although he was said to be the disciple of Chujoryu kodachi master Toda Seigen, there are numerous conflicting documentations and legends, which still shroud his true identity even now.
The "Kojiro Sasaki" summoned in Fate/Stay Night is not a Heroic Spirit. He is an existence closer to wraiths. He was a nameless martial artist given the name Kojiro Sasaki. What his real identity was, there is no way to know. He seemed to be related to the Ryudo Temple. He uses a long Japanese katana and discovered the ultimate technique "Tsubame Gaeshi"... and these are absolutely all he possesses. His pursuit of sword technique, sophistication, and finding joy in duelling with strong foes are all reminiscent of the legendary Kojiro Sasaki: cool and elegant.
Assassin's differences with Kojiro are that, his katana is longer (approximately 1.5m), and the engraving on the katana is "Bitchu Aoe" (Blue River of Bitchu).

Tactics
Although a Servant of the Assassin class, he does not employ assassination techniques such as ambush, instead frequently choosing to fight face-to-face. During battle, Assassin counters the opponent's attack with sword techniques and Eye of the Mind, or simply by dodging. If he detects an opening, he would decapitate the opponent with the 5-shaku katana with certainty. Also, Assassin can deliver slashes even while standing idly, without assuming any stances. His technique is extremely swift, and very difficult to read. Kojiro Sasaki's ultimate weapon is the technique that has reached the pinnacle of training and approaching True Magic --- Tsubame Gaeshi. It is an attack that delivers 3 slashes simultaneously, enough to overwhelm even Artoria.

Class Abilities

Presence Concealment: D
Since he is not a true Servant Assassin, this is not a class ability. It is his intrinsic ability as a martial artist to "cut off his presence". This is not a skill to hide, but a technique of the mind for the martial artist to merge with his surroundings. Because this is not a skill trained for assassination, it cannot match the Presence Concealment of Hassan. In reality, a Kojiro Sasaki who cuts off his presence is an opponent that is hard to detect even for a Servant. It is extremely difficult to perceive Kojiro during the first encounter. However, because his activity is restrained to within the range of the Ryudo Temple Gate, those who know the existence of Kojiro can detect him relatively easily. With this said, due to Kojiro's personality, battles are usually commenced only after the parties have presented and introduced themselves. As a result, this ability is rarely used for its original purpose.

Personal Abilities

Eye of the Mind (False): A
Premonition ("Spidey-sense") or sixth sense, very different from Emiya's danger avoidance originated from "predictions augmented by experience". It may be called a natural talent to sense danger. During the Grail War, in the battle with Artoria, Kojiro crossed blade with an invisible sword numerous times. He was able to use this ability to gauge even the length and width of the sword, and see through the fact that Artoria was unable to use her Noble Phantasm attack due to a lack of mana.
See through the weapon and style of his opponent after crossing blades only a few times, the perception of his eyes is the best among Servants.

Vitrification: B+
An ability commonly called "heart of clear water". More precisely, it is a mental state acquired after reaching the pinnacle of arduous training. With this ability, Kojiro is able to maintain a cool and collected heart, regardless the situation. For example, even facing his very own death will not cause him to waver. During battle, mental interference such as charm and fear sorceries activated by the opponent is completely neutralised. For a "gate guardian", this ability is certainly very useful.
Like the many trees that surround the Ryudo Temple, Kojiro watches the gate in silence with a heart of clear water, just like an unwavering guardian.

Knowledge of Respect and Harmony: B
A special ability that prevents the reduction of accuracy regardless how many times the same technique has been used on one foe. In other words, the ability to "render one's attacks unreadable to the enemy". Although Kojiro and Artoria crossed blades numerous times, due to this ability, Artoria still could not adapt to Kojiro's technique despite having Rank A Instinct. Paired with Kojiro's unique "head-shot" techniques, the effect is vastly increased.
No matter retreating and challenging him how many times, Artoria still cannot see through Kojiro's techniques. She was always forced back to square one and fought as if it was the first encounter again.

Tsuabame Gaeshi
The ultimate sword technique that assaults the opponent from three directions "simultaneously". Strictly speaking, this is neither a Noble Phantasm nor a magical phenomenon. The nameless martial artist who materialised as "Kojiro" sought nothing but the pinnacle of swordsmanship during his life. He trained himself in pursuit of swordsmanship, and doing nothing but swing his sword. After a long period of time, his technique finally reached another state. A flash from this world, followed by two absolutely simultaneous, over-lapping flashes that disregard the concept of time and space, producing a slash attack that arrives from three different directions. This is the "Multidimensional Refraction Phenomenon—Kischua Zelretch" that transcends speed, dexterity, feint and many other elements. Although with some limitations, a nameless martial artist who knows naught of sorcery or True Magic is able to tread into the realm of the "Second Magic".
The range of this skill is approximately 3m. In order to deliver the first strike as a horizontal slash, Kojiro relinquished his high ground advantage over Artoria and moved to an equal level before unleashing this technique. You may discern how special a secret technique "Tsubame Gaeshi" is to Kojiro, who never assumes a stance, by observing how he lifts his sword and then swiftly launches the technique.

↑ Fate/Grand Order Epic of Remnant - Shimosa Parallel World: Chapter 15, Duel between Musashi and Kojiro, translated by anon at /fgog.
Fate/stay night




Fate/hollow ataraxia

Argon Coin • Avalon • Avesta • Bellerophon • Blood Fort Andromeda • Breaker Gorgon • Caladbolg II • Caliburn • Dainsleif • Durandal • Ea • Enkidu • Excalibur • Excalibur Morgan • Fragarach • Gáe Bolg • Gate of Babylon • God Hand • Gram • Harpe • Houtengeki • Hrunting • Invisible Air • Kanshou and Bakuya • Nine Lives • Nine Lives Blade Works • Potion of Youth • Rho Aias • Rule Breaker • Tsubame Gaeshi • Unlimited Blade Works • Verg Avesta • Vajra • Zabaniya: Delusional Heartbeat • Zabaniya: Cyber Phantasy

Fate/Zero

Arondight • Avalon • Ea • Enkidu • For Someone's Glory • Gáe Buidhe • Gáe Dearg • Gate of Babylon • Gordius Wheel • Ionioi Hetairoi • Knight of Owner • Prelati's Spellbook • Vimana • Zabaniya: Delusional Illusion

Fate/EXTRA

Agni Gandiva • Amalavijñāna - Boundary of Emptiness • Amita Amitabha • Angra Mainyu/CCC • Aestus Domus Aurea • Athanaton Ten Thousand • Báthory Erzsébet • Bellerophon • Blessing of Wisdom • Blood Fort Andromeda • Blut die Schwester • Brahmastra#O' Brahma, Cover the Earth • Brahmastra Kundala • Brynhild Romantia • Carolus Patricius • Carolus Patricius Auctoritas • Carolus Patricius Dimitte • Charles Patricius • Chakravartin • Cursed Cutting Crater • Daishintou • Eightfold Blessing of Amaterasu • Excalibur Galatine • Excalibur Image • Fairy Snow Photon Ray • Fierce Tiger Forcibly Climbs a Mountain • Gate of Skye • God Force • Golden Hind • Golden Wild Hunt • Joyeuse • Joyeuse Ordre • Kavacha and Kundala • Kazikli Bey • Kilenc Sárkány • Katoptron Katho Phlegon • Märchen Meines Lebens • No Face May King • No Second Strike • Nursery Rhyme • Photon Ray • Saraswati Meltout • Teardrop Photon Ray • The Queen's Glass Game • Vasavi Shakti • Yew Bow

Fate/Apocrypha

Akhilleus Kosmos • Agrius Metamorphosis • Andreias Amarantos • Antares Snipe • Armor of Fafnir • Balmung • Blasted Tree • Bridal Chest • Casseur de Logistille • Clarent • Clarent Blood Arthur • Crying Warmonger • Diatrekhōn Astēr Lonkhē • Dromeus Komētēs • First Folio • Golem Keter Malkuth • Hanging Gardens of Babylon • Hippogriff • Kavacha and Kundala • Kazıklı Bei • La Black Luna • La Pucelle • Left Hand - Xanadu Matrix • Legend of Dracula • Luminosité Eternelle • Maria the Ripper • Phoebus Catastrophe • Right Hand - Evil Eater • Secret of Pedigree • Sikera Ušum • The Mist • Trap of Argalia • Troias Tragōidia • Vasavi Shakti
Unused: Abyssus Draconis • Benkei Butsu • Eighth Implement • Interfectum Dracones • Sacrifice • The Disputed Spoils of War • The Globe • The Seven Arrows of the Big Dipper

Fate/Grand Order

A

Absolute Sword - Endless Flash • Absolute Sword - Endless Three-Stage • Aigis • Agni Gandiva • Airavata King Size • Akafiloga All-Grið • Alf Layla wa-Layla • All Things Must Pass - To Flourish is To Fall • Ama-no-Sakahoko • Amalavijñāna - Boundary of Emptiness • America's Sweetheart of Darkness • Ambushed from Ten Sides - As If There Was No Shadow • An Gal Tā Kigal Shē • An Gal Tā - Seven Colors • Angelica Cathay • Anpu Neb Ta Djeser • Antares Snipe • Anti-fling Rondo • Apfel Schiessen • Arc de Triomphe de l'Étoile • Ark • Arondight Overload • Around Caliburn • Ars Almadel Salomonis • Ars Nova • Ars Paulina • Artemis Hagnós • Ascalon • Assault Medicine Full-Burst Party • Astrapste Argo • Asurashreshtha • Athanaton Ten Thousand • Attendre, Espérer • Authentic Triumph • Autumn Leaf Viewing • Avidya, Three-Stage Thrust • Azamaru • Azrael

B

Balmung Kriemhild • Báthory Brave Erzsébet • Báthory Halloween Erzsébet • Bayard • Beagalltach • Beautiful Journey • Bishamonten's Eight Phases Wheel Charge Formation • Black Arts Decapitation Method - Moonflower • Black Dirty Barty Howling • Black Dog Galatine • Blasted Tree • Bloodbath Crown • Blue Summer Palladion • Brahmastra#Rakshasa-Piercing Immortal (Rama) • Brahmashirastra • Breaker Gorgon • Bölverk Gram • Bone Collector • Boneless Man • Bouclier de Atlante • Breast Zero Erzsébet • Bright Ehangwen • Brynhildr Sigurtein • Bucephalus

C

Caledfwlch Caladbolg • Caladbolg • Caliburn • Candy Star Photon Ray • Caress of the Medusa • Caribbean Free Bird • Caribbean Free Bird - Act 2 • Channeling - Omen of the Great God Ibuki • Chaos Labyrinthos • Chariot My Love • Chariot of Boudica • Chionis Tauros • Christine, Christine • Chronos Rose • Chyornyj Oprichniki • Chu Shi Biao • Chyornyj Oprichniki • Clarent Blood Arthur • Crazy Trip Drive Idol • Crocea Mors • Cross-Calibur • Cruaidín Sétanta • Crying Warmonger • Crystal Dress • Crystal Palace • Curruid Coinchenn • Cursed Cupid Cleanser • Custos Morum

D

Das Rheingold • Dazzling Castle of the Sun in the Demonic Realm • Dead End - Airgetlám • Demon King of the Sixth Heaven • Demon King Turns the Heavens - Red Spider Lily • De Sterrennacht • Des Océans d'Allégresse • Dharmapala Girl - Nine-headed Dragon Massacre • Dimension of Steam • Dinosaur Summer Goodbye • Dio Santissimo Misericordia de mi • Dioscures Tyndaridae • Distihia Milya • Divine Sword - Kusanagi-no-Tachi • Dojo-ji Bell Form 108 - Fire Dragon Mow Down • Duria Antiquior • Durindana

E

Edin Shugra Quasar • Elementary, My Dear • Emotional Engine - Full Drive • Emotional Engine - Vivid Full Sensation • Encomium Moriae • Enfer Château d'If • Eternal Lament • Eternal Mirror that Models the Celestial Bodies • Etherspace, Howbeit the Order • Everlasting Summer Sunlight • Excalibur Vivian • Eye of the Euryale

F

Failnaught • Fairy Tale Erzsébet • Fax Caelestis • Femme Fatale Baiser • Fergus My Love • Fergus, My Good-Looking Brave • Fetch Failnaught • Fintan Finegas • First Folio • Five Elements Mountain - Buddha Palm • Flawless Masterpiece - The Crane's Fate, A Teary Farewell • Fleur de Lys • Flucticulus Diana • Flying Bright Spirit - Fire-Tipped Spear • Formlessness • Fragarach Énbarr • Frieren Scharfrichter

G

Gae Bolg Alternative • Gáe Bolg: Gouging Piercing Spear of Carnage • Ganesh Impact • Ganesha Vighneshvara • Ganryuu-jima • Garden of Avalon • Gate of Skye • God Spear, No Second Strike • God-Striking Whip • God Force • Gohou Shoujo-Kuzuryu Ousatsu • Golden Drive • Golden Eater • Golden Spark • Golden Wild Hunt • Great Death Claw • Great Flame of Mount Ooe • Great Grudge of Rashoumon • Great Ram Nautilus • Grendel Buster • Guillotine Breaker • Gugalanna Strike

H-K

Hachiman Prayer - Shooting Through a Great Demon • Half-dead Blood Axe • Hamesh Avanim • Haradhanu Janaka • Hazy Inverted Moon - Eleven Forms • Heavenly Demon Rain • Heaven's Hole • Het Gele Huis • Hollow Heart Albion • Hope of Avalon • Hört Glut Rachegötter • Iam Redit et Virgo • Imitation God Force • Immortal Chaos Brigade • Inexhaustible Bale • Innocence Arondight • Invisible Air • Ira Lupus • Iz Tula Seven Drive • Jaguar in the Black • Jet, Three-Stage Thrust • Judgment of the Ten Rulers of Afterlife - Journey of the Wicker Basket • Kama Rūpāstra • Kama Sammohana • Kazikli Bey (Berserker) • Kazikli Bey (Lancer) • Knight of Owner • Kur Kigal Irkalla

L

Laevatein • La Féerie d'une Nuit • La Grâce Fille Noël • La Grondement Du Haine • La Grosse Tour • Lapithai Caeneus • Lauda Lentum Domus Illustrius • La Mort Espoir • Laus Saint Claudius • Le Rêve Ensoleillé • Let Us Walk Together Through Our Land • Leviathan Melt Purge • Lie Like Vortigern • Like a Soaring Dragon • Longinus Count Zero • Loptr Laegjarn • Lord Camelot • Lord Chaldeas • Lord Hachitendo of Hakuro Castle's Hundred Demons • Lordless Camelot • Lumino-Calibur

M

Mac an Luin • Maelstrom - Evil Spirit Left Minister • Magna Voluisse Magnum • Mahāpralaya • Mahākāla Shakti • Manual of Accusation • Märchen Meines Lebens • Mara Śūnyatā • Marital Vows of Rainbow Skirts and Feather Robes • Marvelous Exploits • Mata Hari • Mathematical Malignant Annihilate • Mechanical Illusionary Method - Bull Swallowing • Melammu Dingir • Metabole Piglets • Meteor Snegurochka • Mikotto • Mold Camelot • Moles Necessrie • Monte Cristo Mythologie • Moralltach • Mountainous Power and Matchless Valor • Mount Ooe - Enlightened Oni Slayer • Multitude of Colors - Providential Oni Poison • My Red Mead

N-O

Nahin Denge • Namaḥ Samantavajrānāṃ Hāṃ • Nammu Duranki • Nightingale Pledge • Nine Lives • Nine Lives - Roma • Nirmānnarati - Heaven's Foam • Noah's Ark • Nobunaga THE Rock 'n' Roll • No Second Strike • Nursery Rhyme • O' Dragon, Conquer the Expanses of Wadatsumi • Oar Wooden Sword • Ochd Deug Odin • Ogre Trance • Okuni Repertoire - Kabuki of the Izumo Wild God • Oṃ Ālolik Svāhā • One Shot, My Love • Onikiri Yasutsuna • Only For Killing • Onyx Tauros • Optateshke Okimunpe • Opulence of Sunlight and Catnap • Orchid Rounds X • Orion Hórkos • Ortygia Amore Mio • Outrage Amazon • Ox-King Storm Call - The Inescapable Net of Heaven

P

Pain Breaker • Pale Blue Dot • Pandemonium Cetus • Pāpīyas Metamorphosis • Pashupata • Peerless in Swordsmanship - Zen and the Sword As One • Pèlerinage du Temple • Per Aspera Ad Astra • Phantasm Punishment • Phantom Maiden • Photon Ray • Phoebus Catastrophe • Piedra Del Sol • Pohjola Fimbul • Poseidon Maelstrom • Poseidon Blessing • Prelati's Spellbook • Prince Lanling in Battle • Prisma☆Splash Rainbow! • Prydwen Tube Riding • Pure Land of Mice • Pygmalion Chisel Out • Pygmalion Chisel Out

Q-R

Qliphoth Rhizome • Quetzalcoatl • Queen Anne's Revenge • Quintett Feuer • Ragnarök Lífþrasir • Ramesseum Tentyris • Rapid-fire Ortygia • Red Form • Requiem for Death • Resurrection Fraught Hades • Rêve de Durandal • Rhongomyniad • Roadless Camelot • Roncevaux Olifant • Round of Avalon • Rule Breaker

S

Saint War Order • Samadhi Through Transforming Flames • Sanat Kumara • Sanat Kumara Wheel • Santa Maria - Drop Anchor • Saraswati Meltout • Sea Serpent Storm Blue • Secace • Secace Morgan • Secret-Calibur • Secret-Myniad • Sentinel Stellaris • Serment de Durandal • Settlement Sword • Sfyrí tou Tálos • Sha Nagba Imuru • Shimabara Hell • Shinsengumi • Śakra's Vajra • Shooting Star Ortygia • Sibuxiang • Six Realms Five Rings - The Divine Figure of Kurikara • Six Secret Teachings and Three Strategies - Noble Demon King's Great Feather Fan • Skewered Plasma Blade • Smile of the Stheno • Sneferu Iteru Nile • Snegleta Snegurochka • Song of Grail • Song of Selfless Loyalty • Sotoori Hime - Spider's Demeanour • Space Dead Man's Hand • Spinster Habetrot • Star of Calamity • Sudarshan Chakra Yamaraj • Sumerki Kremlin • Suzume Gaeshi • Svanhvít • Switch On - Airgetlám • Sword of Boudica • Sword of Paracelsus • System Keraunos

T

Taisu Awaken • The Tale of Genji - Aoi - Mononoke • The Tale of Genji - Kiritsubo - Parting • Tarasque • Tauropolos Skia Thermokrasia • Teardrop Photon Ray • Tengu's Feather Fan - Sudden Gale • Testarossa Maiden • Theodosios Constantinos • Thermopylae Enomotia • The Domination Beginning • The Dynamics of an Asteroid • The Greatest Hits - "Calling Agape" • The Pilgrimage of the Five Hundred Arhat • Thirty-six Views of Mount Fuji • Three Enigmas • Thunderer • Ticktock Bomb • A Tour of the Waterfalls of the Provinces • Trichiliocosm • Triple-Linked Crane Wings • Trishula Shakti • Tri-star Amore Mio • Triste Suave Alonso Quijano • Troias Tragōidia • Troia Hippos • Troia Velos • Trojan Reinforce • Tsago Degi Naleya • Tsubame Gaeshi • Tsumukari Muramasa • Tunguska Nine Drive • Twin Arm - Big Crunch • Two-Pronged Formation

U-V

Uisce Beatha • Underthrow Freeze Sinker • Unlimited Lost Works • Unspeakable Formation • Unreturning Formation • Uomo Universale • Uraeus Astrape • Valiente Asalto Dedicado a la Princesa • Vendredi Treize • Vijñaptimātratā: Mystic Eyes of Death Perception • Vijñaptimātratā: Mystic Eyes of Distortion • Vishnu Bhuja • Viy Viy Viy • VR Shinkage-ryuu Hidden Art - Tomoe's Abyssal Solar Blade • Völkermord Feuerdrache • Vulcano Caligorante • Vyākaraṇa - Buddha of Glorious Sandalwood

W-Z

Wandering Tales of Shana-oh (Eye of Shiva - Detecting the Six Secret Teachings • Usumidori - Short Steps With The Heavenly Blade • Benkei - Steadfast Position • Dan-no-Ura - Eight-Boat Leap • Hoemaru - Spider Slayer • Kikenjō - Icicle Cutting) • White Shaft Spear • Wicker Man • Winning Arkaputra • Wish Upon a Star • World Faith Domination • Wry Rhyme Goodfellow • Xiuhcoatl • Yew Bow • Yucatán Regalo de Navidad • Zabaniya(Delusional Heartbeat • Zeus Funder • Zmei Gorynych • Zveri - Krestnyy Khod • Zweite Schiessen

Fate/Prototype




Fragments

Abu el-Hol Sphinx • Bab-ilu • Brynhild Komedia • Brynhild Romantia • Dangerous Game • Enki • Excalibur Proto • Gae Bolg Origin • Kibisis • Mantle • Mesektet • Mirror shield • Ramesseum Tentyris • Stella • Winged sandals • Zabaniya: Delusional Poison Body

Fate/strange Fake

Age of Babylon • Excalibur • From Hell • Grand Dictionnaire de Cuisine • Grand Illusion • Goddess of War • King's Order • Musketeers' Masquerade • Natural Born Killers • Nine Lives • Reincarnation Pandora • Rounds of Lionheart • Unknown‎ (Gilgamesh) • Unknown (Hippolyta) • Zabaniya: Phantasmal Pedigree (Febrile Inspiration • Ichor of Reverie • Meditative Sensitivity • Raving Shadow Flash)

Fate/kaleid

Apneic Beauty • Arrow Protection Amulet • Authoritarian Personalism • Crown Undertaker • Fake Nine Lives • Hades's Cap of Invisibility • Ig-Alima • Mjölnir • Nameless Class Cards • Ninth Prayer • Sul-sagana • The Heavens are Born from the Earth • True Nine Lives • Shadow Hand of Code • Zabaniya: Dead Heartbeat Melody

Capsule Servant

Curly Hair Sword Antenna • Laser Excalibur • Starlight Champs-Élysées

Fate/KOHA-ACE

Boneless Man • Child of the Sun • Coat of Oaths • Demon King of the Sixth Heaven • Fierce Tiger Forcibly Climbs a Mountain • Flag of Sincerity • God Spear, No Second Strike • Golden Demon Realm ZIPANG • Lightless, Three-Stage Thrust • Like A Soaring Dragon • Maxwell's Demon • Sunomata Castle • Sword Hunt • Three Line Formation • Transcendent Dazzling Castle of the Sun

Fate/Requiem

Autumn Leaf Viewing • Flying Dutchman • Galahad Alter's Second Sword • Hannibal Barca's Noble Phantasm • La Grosse Tour • Longinus • Pale Blue Dot • Sword of the Strange Hangings

Other

Brionac • Boomelancer • Cú Chulainn's Castle • Hazanken • Hecatic Wheel • Holy Grail • Gungnir • Unlimited Bla Gáe Bolg Gandr Works Excalibur