Who is the Lancer of Black?
Play Sound
Vlad IIIWP (ヴラド三世WP, Vurado Sansei?), Class Name Lancer of "Black" ("黒"のランサー, "Kuro" no Ransā?), is the Lancer-class Servant of Darnic Prestone Yggdmillennia of the Black Faction in the Great Holy Grail War of Fate/Apocrypha.
Profile
[
]
Identity
[
]
Vlad III is the Lord Impaler (串刺し公, Kushizashi Kō?) (1431-1476), the greatest hero of Wallachia, whose feats in war caused him to be known fearsomely as the "Impaling Prince" to the Turks. Due to the legends associated with him, another name has been spread across the world, The Little Dragon, better known as the vampire Count Dracula. While the nation was small, he was a hero who ascended to the throne and managed to turn back the numerous invasions of the Ottoman Empire that had trampled over every other country. Though the model for Dracula, he was not a vampire, but a man of devotion and great hero.[4]
Vlad's homeland, the Principality of Wallachia, was a small country stuck between the large nations of Turkey and Hungary. He led a tragic life, during which his father, Vlad II Dracul, was murdered and his older brother Mircea was buried alive, both by rebellious boyars, and Vlad himself went to war against his younger brother, Radu the Handsome. He was motivated by a love of his nation and a duty to maintain its sovereignty and power, so he purged all who would oppose its interests. Though he had a very clear sense of justice, he was brutal in his methods, having executed about one fifth of the population of his country through his life.
Vlad's war against Turkey was a desperate battle including guerrilla warfare and scorched earth tactics. Several times, Vlad left mountains of Turkish enemy soldiers he impaled. Vlad was captured by King Matthias of Hungary in 1462 on grounds that he was a collaborator to the Turks, and was confined for twelve years in prison. His feats accomplished in defense of his country during the time were defiled, and all that was left was a legend passed down of a humiliating, blood-starved fiend. He turned his back on the on the Orthodox Church in 1476 and converted his country to Catholicism; the same year, he died in a battle against the Turkish army with his younger brother Radu. Vlad was 45.[3]
Appearance
[
]
Lancer is dressed in a royal fashion, appearing as black as a shadow in the night, contrasted with his pale face and long, silk-like white hair. He gives off an overwhelming presence, causing ceaseless trembling wherever he happens to look. This does not stem from fear due to a violent nature, but rather that those exposed to his icy gaze recognize themselves as hopelessly weak and powerless existences before him.
It is said that the difference between him and his counterpart is their aspects being different, this version being Vlad III's aspect as a King, while his counterpart is his aspect of a Warrior.
Personality
[
]
Though there is an aura of danger about him, he in fact possesses a modest and considerate personality. His opinions and unrestrained manner of expression lend easily to the impression that he is a sociopath who has disengaged himself from the standard mores of society. His somewhat obstinate nature worries Darnic, but he believes they will work fine together due to having the same goal. He is the only one of the Servants who truly possesses a fervent desire to obtain his wish. He is angered by the legend of "Count Dracula" that has stained his name, so he wishes to restore his name's honor.[3] Although he will not deny the path he walked in life, even those to which he has resigned himself like the war against the Turks and his imprisonment, he cannot forgive his name being smeared with blood, telling of a humiliating legend of a blood-starved fiend, in matters that did not involve him in any way. He tries to ignore the reputation of the vampire modeled after him in a mature manner, but somehow, representations of him that he comes across will end up being destroyed.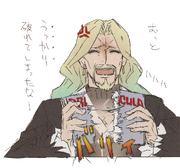 Despite being a Servant, he is the effective leader of the Black Faction. He sits atop a throne as Lord of the castle, with Darnic serving at his side. He does note that although Darnic refers to him as Lord, that he will call him Master in turn and state that he is only a Servant. He chides Darnic for excessive flattery, stating that he lacked much as a leader. He did not have the people behind him, great captains to properly lead his soldiers, meaning he could accomplish little else on the battlefield besides what he gave his all to accomplish. He does not state it as an admission of incompetence, but that he did not have enough people and time. He is greatly pleased at having finally obtained his captains, the six irreplaceable Heroic Spirits following under him, especially noting Siegfried as the most magnificent warrior and Caster of Black's golems as an incomparable force of war. He wishes they had been by his side during life, allowing for the circumstance of his imprisonment to be avoided.
Role
[
]
Fate/Apocrypha
[
]
Beginning Stages of the War
[
]
Lancer is summoned by Darnic Prestone Yggdmillennia two months before the Great Holy Grail War, allowing him to properly establish his territory. After having announced that Yggdmillennia possesses the Greater Grail, they get resistance from the Mage's Association in the form of fifty hunters dispatched to subdue them. Displaying the overwhelming power of a Heroic Spirit, Lancer easily annihilates all but one of them in thirty seconds. The one remaining manages to activate the reserve system, allowing for the Red Faction to be formed. At some point, Lancer also warns Darnic to never ask him to use his secondary Noble Phantasm, Legend of Dracula, due to his disdain for it.
He presides over the multiple summoning of Saber of Black, Rider of Black, Berserker of Black, and Archer of Black along with Darnic. Commanding for the Heroic Spirits who will serve under him to be brought forth, Darnic calls for the summoning to commence.[5] Gordes Musik Yggdmillennia becomes angry upon the others expecting him to reveal Saber's true name when it could prove as a critical weakness, so Lancer, knowing his identity as Siegfried, grants him permission to keep it secret. After he and Darnic are left alone, Lancer speaks of the state of affairs, but chides Darnic when acting too flattering.
Greatly pleased with having capable captains under him in the form of Servants unlike during his life, he feels Saber particularly is the most magnificent warrior possible. Praising the rest in turn, he feels that he would not have been imprisoned had they been by his side. With his wish of clearing his now bloodstained name, Darnic promises him that the Grail will grant his wish. They discuss the still absent Assassin of Black, believing that she will soon be with them, not knowing the unforeseen circumstances of her summoning. He later presides over the viewing of the scried images of Kairi Sisigou and Saber of Red fighting Caster of Black's golems, asking Saber and Archer of the opinions of the opponent. Pleased that the believe the Saber to be no outstanding threat, he murmurs that the true start of the battles is approaching.[6]
Lancer and the other Black Faction Servants later confront the rampaging Berserker of Red, who seeks to bring down the "oppressors". After Rider and Caster stop him, Lancer confronts Berserker, calling himself then one above the "oppressors", which causes Berserker to attempt to attack him. Lancer then uses his Kazikli Bey to pierce Berserker's body with multiple stakes, completely immobilizing him, intending to have Caster manipulate Berserker to fight against the Red Faction. When the Rider and Archer of Red are of Red are detected in the area, Lancer sends Saber and Berserker of Black to fight them.
Battle At Castle Yggdmillennia
[
]
Lancer leads the Black Faction in the first large battle against the Red Faction, who reside atop the Hanging Gardens of Babylon. Lancer himself utilizes Kazikli Bey to destroy a number of Dragon Tooth Warriors summoned from the Hanging Gardens. Lancer of Black confronts and fights Lancer of Red, who utilizes his armor and Mana Bursts to counter Kazikli Bey. However, Lancer of Black manages to also wound Lancer of Red by summoning the stakes inside his body. As Lancer of Red is about to utilize another Noble Phantasm, the Greater Grail is acquired by the Hanging Gardens, causing Lancer of Red to retreat.[7]
Lancer of Black's Transformation
[
]
Lancer, Archer and Caster of Black all attack the Hanging Gardens to retrieve the Grail and are confronted by Lancer, Rider and Archer of Red. Lancer of Black again fights Lancer of Red, but is now at a disadvantage due to having his powers weakened inside the Hanging Gardens. However, Darnic then appears and forces his Servant to utilize their other Noble Phantasm, Legend of Dracula, with a Command Spell, despite Lancer being extremely hesitant. As Lancer of Black is transformed into a vampiric form, he attempts to kill Darnic who uses his remaining Command Spells to make Lancer go after the Grail and unify himself with Lancer, making them the Nameless Vampire.
The Nameless Vampire begins to attack the homunculi, drinking their blood and transforming them into monsters. The Servants of Black and Red decide to form an alliance against the Nameless Vampire, with the recently arrived Ruler also aiding them. While they manage to fight the Nameless Vampire and even partially overpower him, until the Red Faction Servants are suddenly immobilized due to their Master's being changed, allowing the Nameless Vampire to escape further into the Hanging Gardens. However, he is confronted by Shirou Kotomine, one of the Masters of Red, who uses holy sacraments to kill the Nameless Vampire, reducing him to ash.[8]
Fate/Grand Order
[
]
Event: Inheritance of Glory
[
]
Even after being absorbed into the Greater Grail, Vlad still remains fused with Darnic. Driven only by his desire to obtain the wish granter for himself, Darnic's will manifested mindless replicas of the war's participating Servants, except for the Rulers, and had them repeatedly fight in a recreation of the Great Holy Grail War.[9][10] He also sealed Vlad away to ensure he couldn't gain a sense of will thanks to Sieg's, the Grail's caretaker, influence.[11]
Eventually thanks to Darnic weakening during his fight against Ritsuka's party, Vlad is able to manifest himself with his original personality intact and ambushes his former Master with Kazikli Bey. He tells Darnic that he must accept his fate and reveals he retains his memories from the war, unlike the other Servants. He assumes it was the result of Darnic fusing with him. But rather than desiring revenge, Vlad wishes to defeat Darnic as per his duty as a hero and the mercy he feels for his former Master. Darnic doesn't believe Vlad doesn't hold a grudge against him, though. Vlad asserts to Darnic, however, that anger doesn't last forever. He reminds Darnic that they both pursued their dreams, even though they know they will never be realized. Their dreams are the only thing they are truly loyal to, and that loyalty will never change no matter how much they're decried and feared. Vlad then tells Darnic to abandon his scheme as he'll be betraying his own dream if he doesn't. Darnic accepts the truth of Vlad's words and disappears.[11]
With Darnic now gone, Vlad declares that the Great Holy Grail War has truly come to an end. Then, understanding he is the Grail's caretaker, he tells Sieg that humans will inevitably arrive and discover magic with or without the Grail. Regardless, he wants Sieg to take solace in the fact that an excellent ending awaits him. He then bids farewell and disappears.[11]
Abilities
[
]
Vlad III is known for both being a great hero who fought against the invasion of the Ottoman Turks tooth and nail using guerrilla tactics. While famous for being the model for Count Dracula, within Romania, his heroic aspects are emphasized.[6] In fact, no Heroic Spirit possesses greater fame in Romania than Vlad. Being the greatest hero of Transylvania, as long as he is within his territory, he receives a boost in the rank of all his parameters, and his Noble Phantasm becomes usable. As such, as long as he is in Romania, he has possibly the greatest fame of all, a match for Heracles in Greece or King Arthur in Britain.[5] While the boost in power due to fame is not usually that great, his own is on the level of devoted piety within his country, bringing his current form extremely close to his prime in life.[7] Being the strongest trump card of the Black Faction during the Great Holy Grail War, he gives off an overwhelming pressure.[5] Despite possessing superb parameters which tower above most of the other Servants in the Black Faction, and Kairi Sisigou referring to him as an "absurdly overpowered Lancer", Shirou Kotomine confirms that Karna and Achilles possess the strength necessary to oppose Vlad, likely thanks to possessing great fame themselves or power which exceeds even said fame. When Mordred learned that, she considered the possibility of her father being either Lancer or Rider of Red.[6] Vlad III was naturally able to evade, block and repell the countless arrows shot by Atalanta's Phoebus Catastrophe without much difficulty.[7]
Having been summoned with the characteristics of a hero, outside of Romania where he is mostly known for the legends of Dracula, his fame wouldn't give him any power. Rather, it would inhibit his ability to display his original specs, as seen when he entered the Hanging Gardens of Babylon, where the fame of all other servants besides Semiramis is reduced to zero. He likens the drop in power from going to ten at his peak down to six. While able to fight with Karna evenly previously, he is greatly inferior to him in that state. Even without covering his body in flames, Karna was able to repel all of the stakes produced by Vlad's body with just his spear and armor.[8]
When considering viable classes under which he can be summoned, Saber and Archer are discounted due to him having no known legends of using swords or bows, Assassin and Berserker are generally considered out of the question, and the possibility of Caster is considered almost zero. Rider and Lancer both seem viable due to his feats.[6] Surprisingly, Vlad can also be summoned as a Berserker. In this case, perhaps due to the effects of Mad Enhancement, he would easily accept the fact that he is a Vampire and fight as a monster instead of a king.[4]
Skills
[
]
Class Skills
[
]
Magic Resistance (B Rank): Magecraft Invocations in regards to three bars or less are completely nullified. It it is difficult to be harmed by greater magecraft, Ritual Spells, etc.[1]
Personal Skills
[
]
Demonic Defender of the State (EX Rank): Capacity of the Servant to mark a region as his personal dominion by securing the surrounding leylines prior to an engagement, permitting reinforcement of his combat capabilities when fighting in defense.[1][3] He is able to transform Trifas and the surrounding areas into the land he rules over as Lord over a period of two months. Inside this domain, Vlad III acquires a combat bonus comparable to a Berserker's A rank in Mad Enhancement.[1] This allows Vlad III to display some degree of advantage even against top rank Heroic Spirits such as Achilles, who boast of worldwide-class fame.[7] Kazikli Bey is a usable Noble Phantasm only where this skill forms its domain.[1][3]
Noble Phantasms
[
]
Kazikli Bey
[
]
Vlad III's main Noble Phantasm is Kazikli Bey. Within a range of 1 kilometer, a maximum of 20 thousand pikes can gradually manifest over time, bursting from the ground to impale opponents.[1][3] Manifested pikes remain as a physical barrier that eliminates free ground, and evasion thus becomes less likely with passage of time.[3] The sight of the pikes impose a curse-like psychological effect, destabilizing an opponent's mental condition with oppressive anxiety or fear.[1][3] Although each stake doesn't possess much destructive power, and their speed is also low, there are very few Anti-Army and Anti-Fortress Noble Phantasms capable of killing over ten thousand people.[7]
This Noble Phantasm allowed Vlad to calmly hold his own against Karna and Atalanta. In truth, their odds of overwhelming Vlad were fifty-fifty, since fighting a force of twenty thousand was beyond the capacities of even a mighty Heroic Spirit. Even then, there would have been no problems if they were alive, but unfortunately, they were facing him as Servants.[7] Although Vlad had a certain advantage, Karna was able to break one thousand stakes with his spear, burn eight hundred with the flames covering his body, and stop two thousand with his golden armor in a single assault.[8] In truth, Vlad's repeated attacks weren't half-hearted at all, and any other Lancer besides Karna wouldn't have been able to withstand it.[12]
Legend of Dracula
[
]
Vlad's second Noble Phantasm is Legend of Dracula. In Romania, Vlad is treated as a hero, but this Noble Phantasm releases his abilities as the "Vampire Dracula", who possesses great fame worldwide outside of his home country.[13] In this form, Vlad gains an extreme amplification of his body's overall power and ability and regeneration.[1] As shown when Karna pierced his heart where his Spiritual Core was located, the boost in strength Vlad receives in this form is so great that even attacks on that level were reduced to having no effect. When Achilles threw his spear fast enough to surpass the sound barrier, the spear that should have been close to impossible to evade was stopped by one of Vlad's hands. A feat as outrageous as grabbing a flying missile bare-handed. Naturally, his hand's flesh was torn to shreds, his nerves were snapped apart, and his bones were smashed loudly. However, he regenerated his hand faster than the speed at which he had been wounded.[8] Though his thought processes are weakened equivalent to the effect of Mad Enhancement, if you look at his overall abilities, his strength is greater in this form than Vlad III as a sovereign.[13] His superhuman strength is enough to punch Karna and send him flying into a wall. Although the damage of his punch was insignificant to Karna, he was surprised at how he had managed to overpower him with just his overwhelming physical strength alone. Darnic believes that had Vlad used this Noble Phantasm during his first encounter with Karna, Vlad would have easily torn him apart.[8]
In exchange for this great power, Vlad's skills and other Noble Phantasms are sealed.[1] In this form, Vlad's weapons include stakes that he can create from within his body to stab his enemies.[13] Thanks to his superhuman strength, he can throw these stakes so fast that they break the sound barrier as if it were extremely natural. Their power is equal to that of a Noble Phantasm, being able to pierce through the top of Karna's foot. Even Karna, Achilles, Atalanta, Chiron, Avicebron empowered by Command Spells and commanded by Jeanne d'Arc, who kept knocking down with her flag his arms as he tried to extend them were forced to fight him without showing the slightest bit of relaxation in their faces. Even these six servants who were all worthy of being called the strongest didn't allow themselves to hesitate for a moment. It wasn't in order to stop themselves from being negligent, but rather, that they were desperate. By continuously changing his form, his attacks tore not only through golems but even occasionally the two Archers, approaching them with speed that resembled teleportation. However, with all 6 servants attacking him together, the situation was advantageous for them. They simply kept buying time. When dawn came, his powers would drop sharply.[8]
Development
[
]
He was designed by Gen Urobuchi and illustrated by Hirotaka Maeda for the original cancelled online game project.[3]
References
[
]
↑ 1.00 1.01 1.02 1.03 1.04 1.05 1.06 1.07 1.08 1.09 1.10 1.11 1.12 1.13 1.14 1.15 1.16 1.17 1.18 1.19 1.20 1.21 1.22 1.23

[] Fate/Apocrypha material - STATUS: Lancer of Black, p.022-023

Class: Lancer
Master: Darnic Prestone Yggdmillennia
True name: Vlad III
Gender: Male
Height/Weight: 191cm/86kg
Alignment: Lawful Neutral

Strength: B
Endurance: B
Agility: A
Magic: A
Luck: D
Noble Phantasm: A

Class Skills
■ Magic Resistance: B
Magecraft Invocations in regards to three bars or less are completely nullified.
It it is difficult to be harmed by High Thaumaturgy, Ritual Spells, etc.

Personal Skills
■ Demonic Defender of the State: EX
By reserving leylines in advance, the specific range is treated as "one's domain."
With regards to battle inside this domain, the ruler, Vlad III acquires a combat power bonus comparable to a Berserker's A rank in Mad Enhancement.
Kazikli Bey is a usable Noble Phantasm only where this skill forms it's domain.

Noble Phantasms
■ Kazikli Bey - Execution Lord
Rank: B
Type: Anti-Army Noble Phantasm
Range: 1-99
Maximum Targets: 666 people
From space a large amount of spears appear skewering the opponent
Attack radius is 1km. Maximum amount of stakes reaches 20,000
Also, every time a spear is taken in the hand and hits the opponent, the effect "skewered" is born. With the heart as the origin and oriented outwards stakes appear
In addition, seeing countless amounts of spears gives the opponent a feeling of oppression

■ Legend of Dracula: Legend of Fresh Blood
Rank: A+
Type: Anti-Unit (Self) Noble Phantasm
Range: -
Maximum Targets: 1 person
Due to his oral tradition, he incarnates into his Dracula image. Transformation into a vampire.
Becoming Count Dracula, Vlad III's normal skills and Noble Phantasms are sealed in exchange for: extreme amplification of the body's ability, animal and fog shapeshifting, healing ability, Mystic Eyes of Enchantment, and a vulnerability to light and holy symbols weak point is also obtained.

CLASS ランサー
マスター:ダーニック・プレストーン・ユグドミレニア
真名:ヴラド三世
性別:男性
身長・体重:191cm/86kg
属性:秩序・中庸

筋力:B
耐力:B
敏捷:A
魔力:A
幸運:D
宝具:A

クラス別能力:
■ 対魔力:B
魔術発動における詠唱が三節以下のものを無効化する。
大魔術、儀礼呪法等を以ってしても、傷つけるのは難しい。

固有スキル
■ 護国の鬼将:EX
あらかじめ地脈を確保しておくことにより、特定の範囲を"自らの領土"とする。この領土内の戦闘において、王であるヴラド三世はバーサーカーのAランク『狂化』に匹敵するほどの高い戦闘力ボーナスを獲得できる。『極刑王』はこのスキルで形成した領土内においてのみ、行使可能な宝具である。

宝具
■ 極刑王
ランク:B
種別:対軍宝具
レンジ:1~99
最大捕捉:666人
空間から大量の杭を出現させ、敵を串刺しにする。
攻撃範囲は半径1km、杭の数は最大二万本に及ぶ。
また、手にした槍が敵に一撃を与えるたびに"串刺しにした"概念が生まれ、心臓を起点として外側へ向けて、杭が出現する。
加えて、無数の杭の数を目視した敵には精神的な圧迫感も与える。

■ 鮮血の伝承
ランク:A+
種別:対人(自身)宝具
レンジ:-
最大捕捉:1人
後の口伝によるドラキュラ像を具現化させ、吸血鬼へ変貌する。
ドラキュラ伯となったヴラド三世は通常のスキル・宝具を封印される代わりに、身体能力の大幅増幅、動物や霧への形態変化、治癒能力、魅了の魔眼といった特殊能力と、陽光や聖印に弱いという弱点を獲得する。

↑ 2.0 2.1 2.2 2.3 2.4 2.5 2.6 2.7 2.8

[] Fate/Apocrypha material - CHARACTER Profile: Lancer of "Black", p.066-067 [T]

Lancer of "Black" - Real name: Vlad III


Height: 191cm

Weight: 86kg

Blood type: Unknown

Birthday: 10th November

Talents: Impaling

Likes: Competent vassals

Dislike: Very ambitious vassals

Image colour: Crimson

Enemy: Worldwide reputation



Comment from Yuichiro Higashide & Ototsugu Konoe

"黒"のアーチャー - 真名:ケイローン


身長:191cm

体重:86kg

血液型:不明

誕生日:11月10日

特技:串刺し

好きなもの:有能な家臣

苦手なもの:野望値か高い家臣

イメージカラー:真紅

天敵:ヒュドラ



Comment from Yuichiro Higashide & Ototsugu Konoe

↑ 3.00 3.01 3.02 3.03 3.04 3.05 3.06 3.07 3.08 3.09 3.10 3.11 3.12 3.13 3.14 3.15 3.16

[] Fate/complete material IV: Extra material - Fate/Apocrypha - Vlad III, p.304-305

Vlad III, the Lord Impaler
He is the lord impaler of the Principality of Wallachia. Motivated by a love of his nation and a duty to maintain its sovereignty and power, he purged all who would oppose its interests. Though there is an aura of danger about him, he in fact possesses a modest and considerate personality; but his opinions and unrestrained manner of expression lend easily to the impression that he is a sociopath who has disengaged himself from the standard mores of society. He tries to ignore the reputation of the vampire modeled after him in a mature manner -- but somehow, representations of him that he comes across will end up being destroyed.



Class: Lancer

Source: Historical fact

Region: Europe

Alignment: Lawful Neutral

Sex: Male

Height: 190cm

Weight: 80kg

Armament: Spear



Illustrations: Hirotaka Maeda (Rejet.co)
Creator: Gen Urobuchi (Nitroplus)

Legend
This is the real man (1431-1476) who was the model for the legend of Dracula. He had a very clear sense of justice but was also brutal, as he executed about one fifth of the population of his country through his life. His homeland, Wallachia, was a small country stuck between the large nations of Turkey and Hungary. He led a tragic life, during which he murdered his father, buried his older brother alive, and went to war against his younger brother. His war against Turkey was a desperate battle including guerrilla warfare and scorched earth tactics, and several times, he left mountains of Turkish enemy soldiers he impaled. He was captured in Hungary due to political circumstances, and spent 12 years in prison. Then, in 1476, he turned his back on Orthodox Church and converted his country to Catholicism; the same year, he died in battle against the Turkish army and his younger brother Radu. He was 45.

Status


STR: C

CON: C

AGI: B

MGI: A

LCK: D

Noble Phantasm: B



Skills


Demonic Defender of the State


Capacity of the Servant to mark a region as his personal dominion by securing the surrounding leylines prior to an engagement, permitting reinforcement of his combat capabilities when fighting in defense. Kazikli Bey is a Noble Phantasm that may be deployed only within the marked domain.

Noble Phantasm


Kazıklı Bei: The Lord of Execution


A noble phantasm deployable only within the Servant's marked domain. Within a range of 1 kilometer, a maximum of 20 thousand pikes can gradually manifest over time, bursting from the ground to impale opponents. Manifested pikes remain as a physical barrier that eliminates free ground, and evasion thus becomes less likely with passage of time. The sight of the pikes impose a curse-like psychological effect, destabilizing an opponent's mental condition with oppressive anxiety or fear.



Legend of Dracula: The Succession of Blood


Due to his oral tradition, he incarnates into his Dracula image. Transformation into a vampire.
Becoming Count Dracula, Vlad III's normal skills and Noble Phantasms are sealed in exchange for: extreme amplification of the body's ability, animal and fog shapeshifting, healing ability, Mystic Eyes of Enchantment, and a vulnerability to light and holy symbols.

串刺し公
ヴラド三世
ワラキア公国の串刺し公。祖国への愛と為政者としての責任感が強迫観念になっており、それを妨げる者は例え身内でも害虫として駆除する。このように危険な彼だが、その本質は気配りが細やかな人格者だ。しかし手加減を知らないという一点において、彼は人倫を逸脱しているがゆえに誤解されやすい。自身がモデルのドラキュラ伝説を書籍や映画で見かけた場合、大人な態度でスルーしようと努めるが、つい"うっかり"それを破壊してしまう。



クラス:ランサー

出典;史実

地域:欧州

属性:秩序・中庸

性別:男

身長:190cm後半

体重:80kg台

武装:槍



イラスト:前田浩孝(Rejet.co)
設定制作:虚淵玄(ニトロプラス)

伝説
吸血鬼ドラキュラのモデルとなった実在の人物(1431年-1476年)。潔癖な正義感と惨忍性の持ち主であり、生涯に自国民の5分の1を処刑した。彼の祖国ワラキアは、大国トルコとハンガリーに挟まれた小国。その国で彼は父を暗殺され、兄を生き埋めにされ、弟と戦うという悲運の人生を送る。トルコとの戦争では死に物狂いのゲリラ戦と焦土作戦で、トルコ兵を串刺しの山にして敵を幾度も退けた。しかし政治的事情によりハンガリーに捕えられ、12年の幽閉生活を送る。その後、1476年には正教会からカトリックに改宗してワラキア公に返り咲くも、同年弟のラドゥとトルコ軍との戦いで戦死した。享年45歳。

筋力値


筋力:C

耐久:C

敏捷:B

魔力:A

幸運:D

宝具:B



固有スキル


敵を含む、フィールド上のあらゆる障害を飛び越えて移動できる。
「遥かなる吾が故郷アルカディア、峻険なる山嶺連なりし彼の地の岩から岩へと、飛び渡り遊びし吾なりき」

宝具


大地から大量の杭を出現させ、敵を串刺しにする。 攻撃範囲は半径1km、杭の数は最大2万本に及び、次第に数を増す杭は敵の退路を塞ぎ、時間が経つごとに回避を困難にする。 また、杭の数が増すと呪的な心理効果が発生し、見る者に恐怖と精神的圧迫感を与える。
ただ『護国の鬼将』によって作成した領土内でしか使用できないという欠点がある。



後の口伝によるドラキュラ像を具現化させ、吸血鬼へ変貌する。ドラキュラ伯となったヴラド三世は通常のスキル・宝具を封印される代わりに、身体能力の大幅増幅、動物や霧への形態変化、治癒能力、魅了の魔眼といった特殊効果と、陽光や聖印という弱点を獲得する。

↑ 4.0 4.1

[] Fate/Apocrypha material - Encyclopedia: Lancer of "Black" [Servant], p.164-165 [T]

Lancer of "Black" [Servant]
One of the Servants of the Black camp and the man who leads them. His true name is Vlad III, the protector of Romania, but his other name of "Dracula" is more overwhelmingly famous in the rest of the world outside of Romania. Due to Bram Stoker's novel "Dracula", he, who was formerly a local hero of Romania, instantly rose in fame worldwide as the classic example of vampires.
…Originally, Dracula meant "Son of the Dragon" and was far removed from a vampire. The reason why he became the classic example of vampires is due to none other than the fact that Vlad III's deeds were too drenched in blood.
His overwhelming cruelty in skewering twenty thousand Turk soldiers caused Mehmet II, who vanquished the northern Roma Empire, to say "I fear no human. But the devil alone is a different matter". In posterity, several of the episodes in his life were pointed out to be fabrications in order to pin crimes on him, but even so, his cruelty was so great it was forever carved into history.
And on the other hand, his heroic title as the "Shield of Christianity" who protected Romania from the hands of Mehmet II has been re-acknowledged.
Outside of the light novels, he also appears in "Fate/EXTRA". This version of him is a fanatic knight whose appearance, weapons and words are different from the one in these novels, with his aspect as a man who loves his wife emphasized.
In the light novels, he was summoned with his aspect as a monarch emphasized. The fact that he was summoned in his homeland of Romania greatly contributes to this. Thanks to his fame bonus, his parameter ranks are higher compared to when he is summoned in other countries. In addition, he manifested as a Servant with extraordinary power due to his skill "Demonic Defender of the State".
But even with that, he was gradually cornered by the collective attacks of the Red camp and stepped into a place where he couldn't receive the benefits of his fame in order to retrieve the stolen Greater Grail.
Just as he was weakened and prepared to die, his Master Darnic appeared before him. He calmly made Vlad choose the most repugnant choice that Vlad wanted to avoid.
Though he is more terrifying than anyone else when enraged, he is fundamentally a military man of integrity who loves his country. Though the topic of vampires is no good with him, he could be called a Servant who is extremely easy to fight alongside if you exclude that point.
His misfortune laid in the fact that the cornerstone of their group, Saber of Black, disappeared before he could fight and, most of all, that his Master was an archetypal magus.
…Even so. His form as he led his troops and tried to protect his country and the Holy Grail was truly noble.
Furthermore, the other compatible class that he is capable of being summoned as is Berserker. In this case, perhaps due to the effects of Mad Enhancement, he would easily accept the fact that he is a vampire and fight as a monster instead of a king. His weapons are the stakes he shoots out from his body.

↑ 5.0 5.1 5.2 Fate/Apocrypha Volume 1, Chapter 1
↑ 6.0 6.1 6.2 6.3 Fate/Apocrypha Volume 1, Chapter 2
↑ Fate/Grand Order - Fate/Apocrypha: Inheritance of Glory, Section 7: Decisive Battle : Ever-Floating Garden
↑ Fate/Grand Order - Fate/Apocrypha: Inheritance of Glory, Section 2: Castle Defense : Millennia Fortress
↑ 11.0 11.1 11.2 Fate/Grand Order - Fate/Apocrypha: Inheritance of Glory, Section 9: Thus, It Went Into Hibernation Mode
↑

[] Fate/Apocrypha material - Encyclopedia: Lancer of "Red" [Servant], p.153 [T]

Lancer of "Red" [Servant]
One of the Servants of the Red camp. One of the great heroes that appears in the Ancient Indian epic poem, the "Mahabharata". His true name is Karna. Since details about him have already been revealed in "Fate/EXTRA CCC" and the material book "Fate/EXTRA material", I will only write about Karna as concerned with his appearance in "Apocrypha".
In the Great Holy Grail War, Karna is the Heroic Spirit who didn't acknowledge Shirou Kotomine as his Master right till the very end. He continued to serve the Masters whose consciousness had been stolen until the end. He merely obeyed Shirou out of necessity in order to protect them; if it weren't for that, he would have been an aloof Servant who would merely obey his Master's desire to "obtain the Holy Grail". He truly is a saint, although I get the feeling that, after having served with such an honest and faithful attitude, he said in the Moon Cell, "Then, this time I'm put together with a completely useless shut-in of a Master", but who knows?
This time, he had an abundant prana supply, so he was able to utilize his full power at full throttle, unlike anything seen previously. Honestly, I feel regret over maybe having gone too far with him. He acts as if damage is nothing to him thanks to his golden armor, he sends the enemy flying with his "Prana Burst, he's covered in flames like a burning phoenix, and his divine spear releases a humongous explosion—in contrast to his modest attitude, it gave the impression that he was rampaging violently.
He possesses power and skill that isn't inferior to that of Achilles within the Red camp; truly a case of two star players in a single team. During the great battle in the second volume, Lancer of Black's repeated attacks weren't half-hearted at all, and any other Lancer besides Karna wouldn't have been able to withstand it.
Karna saw in Siegfried in the face of a pure warrior trying to carry out his duty even while feeling anguished by something. It seems it was similar to what he saw in the legendary bowman who he fought in the past.
Also, originally in the Jumbo Jet Counter-Attack battle of volume 5, there were plans to have something like a 'Massive Jumbo Jet Target Shooting scene where Karna readies himself and sticks his spear in the ground, and when Semiramis asks what he is doing, he says, "Weapons are unnecessary. A true hero kills with his eyes!"', but it was too much of a ridiculous gag and it ended up being cut.

↑ 13.0 13.1 13.2

[] Fate/Apocrypha material - Encyclopedia: The Succession of Blood [Noble Phantasm], p.189 [T]

The Succession of Blood [Noble Phantasm]
Legend of Dracula. The forbidden Noble Phantasm of Lancer of Black, Vlad III. In Romania, Vlad is treated as a hero, but this Noble Phantasm releases his abilities as the "Vampire Dracula", who possesses great fame worldwide except for Romania. In that sense, it resembles the "Hanging Gardens of Babylon: Aerial Gardens of Vanity" which is also a fictional legend.
This Noble Phantasm grants the power of vampires from fiction, making Vlad capable of turning even Servants into fellow vampires through the act of sucking their blood. He can also change form into mist or a flurry of bats, and all physical damage is negated when he is in those forms.
Besides his fangs and superhuman strength, his weapons include stakes which he can create from within his body to stab his enemies. Though his thought processes are weakened equivalent to the effect of Mad Enhancement, if you look at his overall abilities, his strength is greater in this form than Vlad III as a sovereign.

鮮血の伝承【宝具】
レジェンド・オブ・ドラキュリア。