VortigernWP (ヴォーティガーン, Vōtigān?) is the brother of Uther Pendragon and uncle to his two children, King Arthur (Artoria Pendragon) and Morgan le Fay.
Profile
[
]
Background
[
]
Near the end of the fifth century, after the Roman Empire's collapse, Britain was inhabited by many tribes led by kings. The kings worked together except for Vortigern. The brother of the strongest king Uther Pendragon, Vortigern was said to be the personification of the white dragon, born from within Britain to destroy it.[2] He was born by Britain itself interfering with his conception, making him something more than human.[1] He was the incarnation of the will that tried to reject the Age of Man.[3] A treacherous king of a small tribe, he declared that he would unite Britain, using its various tribes as tools to accomplish this.[2] He had drank the blood of the white dragon, lost his humanity, and become the very will and avatar of Britain.[4]
Merlin once foretold how the white dragon representing the SaxonsWP and the red dragon representing Britain would battle each other.[5] Artoria Pendragon, the incarnation of the red dragon, was created by Uther to oppose the incarnation of the white dragon, Vortigern.[3]
Vortigern invited the Saxons to Britain and threw the island into chaos. The fortress city of Londinium, constructed when Rome ruled Britain, was destroyed, and Uther lost his life in combat with Vortigern. Thus was Britain plunged into the Dark Ages and everyone on the island saw only inescapable doom. However, the mage Merlin prophesized that Uther's heir would draw the Sword of Selection from the stone, defeat Vortigern, and become the true King of Britain.[2]
Ten years after she drew the sword from the stone,[6] King Arthur and her army confronted Vortigern in the ruins of the fortress city of Londinium.[2] Believing that the coming Age of Man that was to wipe out the age of Mystery would defile the island nation, he wished for it to fall, returning it to its original form and making it into hell, a "paradise of darkness no man can set forth in forever." During his battle with King Arthur and Gawain he deprived their holy swords of their light, transformed into a giant dragon, and was killed by King Arthur with Rhongomyniad. As he died he warned King Arthur that with his defeat the age of Mystery in Britain would inevitably end, and her own dragon essence was at odds with the Age of Man that was to come. As long as she existed, Britain had no future.[4]
Following Vortigern's death, King Arthur built the castle of Camelot in the ruins of Londinium with the help of the fairies.[2]
Appearance
[
]
Vortigern is a dark figure whose armor has become black and he is covered in shadow, having become a hole in the world.[4] Saber Alter is called his "spitting image", implying that his armor was similar to hers.[7] After losing his power, he is simply an old, dying man.[4]
Personality
[
]
« "Why do you resist? Why do you not accept it? Why do you cling to humanity? Britain must fall. You must perish. If this island is to be defiled by human hands one day, then I will bring it back to its original form. I must turn Great Britain into hell. A paradise of darkness forever uninhabitable by man." »
(Vortigern as he began his battle with Artoria)
Vortigern is fundamentally opposed to humans ruling Britain and wants it to remain a land dominated by Mystery. He calls the ones who gave Artoria Rhongomyniad fools, saying that by doing so they have called forth even greater ruin than his tyranny would be, and believes that as long as Artoria lives Britain has no future because her dragon essence is at odds with the oncoming Age of Man.[4]
Role
[
]
Garden of Avalon
[
]
Garden of Avalon recounts the battle against Vortigern from Gawain's perspective. While Arthur was called a perfect and invincible king, the battle against Vortigern was one where defeat was very possible. Having cornered him in his citadel while fending off the foreigners, Artoria, Gawain, and her other elite troop made their way to the throne room where Vortigern was barricaded alone. Believing the battle to be won, they let their guard down and were overwhelmed by a single attack in their hesitation. It incinerated the troops, destroyed Gawain's morale, and took the light away from both Excalibur and Excalibur Galatine. Gawain could only watch as Artoria fought with Excalibur's faint light, never giving up even though she was fighting against Britain itself in the form of a dragon.
Destroying the citadel as he grew in size, Vortigern and Artoria fought for hours, and Gawain, finally regaining himself, could only beg her to retreat. She simply asked for his assistance with a smile, rejuvenating his spirit as they both fought the dragon. They were able to stall Vortigern by piercing their swords through his hands while Artoria pierced his heart with Rhongomyniad. Breaking the tyranny that had spewed from Vortigern, it left him as a feeble old man, calling them fools for granting Artoria the spear and saying they have brought forth greater ruin in order to defeat him. With his dying words, he claims that Artoria cannot save the kingdom because the coming of the age of civilization will mean the country has no future so long as she, whose power is at odds with humans, still lives.
Fate/Grand Order
[
]
Main article: Oberon Vortigern
Goredolf Musik states Proper Human History Vortigern is a Fae embodiment of Britain's will, specifically to preserve its Mysteries and destroy its humans.
Lostbelt Vortigern is the incarnation of the British Lostbelt's wish to destroy itself. Vortigern's Saint Graph was partially corrupted into "Oberon" upon his arrival in the Lostbelt by the Proper Human History's influence brought on by Lostbelt Morgan, and he spends much of the chapter pretending to be Oberon, a Servant from the Proper Human History. He is a threat to humanity who desires the destruction of both Lostbelt Britain and Proper Human History.
Other appearances
[
]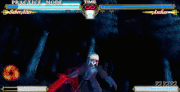 In Fate/Grand Order, Artoria Alter mentions him during her chant while using Excalibur Morgan. During Artoria Alter's interlude, Jeanne d'Arc Alter compares Artoria Alter to him. In the English Lostbelt, Da Vinci explains Vortigern's story when comparing Proper Human History with the history of the Lostbelt.
In Fate/unlimited codes, Artoria Alter has an attack called Vortigern: Hammer of the Vile King (卑王鉄槌, Hiō Tettsui?) where Excalibur is engulfed in a black aura and swung in an upward arc.
Abilities
[
]
Vortigern, having drank the blood of the white dragon and become the very avatar of Britain, is a monster who even the powerful Knights of the Round Table could not imagine. Covered in darkness, he is a "hole in the world" that acts as a devourer of holy swords, the darkness growing thicker the holier its adversary. One attack is enough to incinerate a retinue of elite knights and bring Gawain and Artoria to the brink of defeat. There is a limit to the amount of light it can devour, causing Excalibur Galatine to fully lose its brilliance while Excalibur still retains the "glow of a weak bonfire."[4] Vortigern's darkness is similar to the darkness of Excalibur Morgan.[8]
He is able to fully become a dragon, increasing in size enough to destroy an entire citadel and engulfing a great amount of it with nothing but his neck. His roar is able to summon dark clouds. Standing against him is to stand against all the island of Britain, futile even to Artoria whose holy sword can burn the land. It requires the combined might of Artoria and Gawain to bring about a miracle to defeat him. After the both Artoria and Gawain faced him for a while, they managed to restrain his movements by dugging their holy swords into his hands, depriving him of some of his freedom. It was then that Artoria used Rhongomyniad to pierce through the heart of the crucified dragon which then roared its death scream and crumbled to dust.[4]
References
[
]