VritraWP (ヴリトラ, Vuritora?), Class Name Lancer (ランサー, Ransā?), is a Lancer-class Servant summoned by Ritsuka Fujimaru in the Grand Orders of Fate/Grand Order.
Profile
[
]
Identity
[
]
The serpent Asura or evil dragon mentioned in the RigvedaWP and the MahābhārataWP.
Its name means "obstacle" and is said to have the power to block water and cause drought.
It is the god Indra who defeats Vritra and releases the water. Vritra is always portrayed as an enemy of Indra, and the conflict between the two is mythically repeated many times.
Another name for Indra, Vritrahan, means "the one who kills Vritra."
History
[
]
Indra battled the dragon Vritra, but Indra had sworn an oath to Vritra to not hurt it with weapons made of wood, stone, metal, or any other conceivable weapon, to not hurt it with any object dry or wet, and to neither attack it during the day or night. Indra attacked at twilight, neither day or night, and used a column of sea foam, not wood, stone, metal, dry, or wet, to defeat the dragon.
Appearance
[
]
It is a mystery why it is summoned by a female body.
From the episode that Indra's trick, the beautiful Rambha sent to him died, may be imitating that Rambha, or by becoming a beautiful woman, "Indra's cowardly hand already It may indicate the determination that "I will not eat".
Fundamentally, it transcends gender, and the essence does not change in either case, so the servant Vritra has only the characteristics of a woman that matches the current shape.
Personality
[
]
Role
[
]
Fate/Grand Order
[
]
Abilities
[
]
In combat, she possesses the vajra that was lobbed into her mouth.
Skills
[
]
Class Skills
[
]
Personal Skills
[
]
Fated Enemy of God (A Rank): Although Vritra is told in various ways by folklore, its role has not changed. Skills that show the existence that is fundamentally in opposition to God, its invariant position and significance of existence.
The Vajra That Penetrated (A Rank): I brought a Vajra shot into my mouth.
Eternal Immortal Demon (EX Rank): Even if she is defeated by Indra, after some time she will revive once again and begin a battle against the gods. A skill that demonstrates that eternal cycle, that nature of Immortality that could even be likened to a natural phenomenon. The confrontation between "Vritra who stems waters (by bringing about droughts or trapping it in the clouds and mountains)" and "Indra who unleashes that with thunderstorms" is not a one-time occasion; it is something that's been repeating since the distant past and will probably repeat eternally in the future as well. That is, perhaps, the very primordial faith that reveres nature and the gods. Vritra reigns as an immortal demon with the same intensity as the reverence towards nature that the people pour into the gods.
Noble Phantasm
[
]
Vritra's Noble Phantasm is Asurashreshtha.
Development
[
]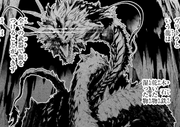 Vritra first appears in the Fate/Apocrypha (manga) as a cameo.

References
[
]