Watcher (ウォッチャー, Wocchā?) is a Watcher-class Servant summoned by Sigma in the True and False Holy Grail Wars of Fate/strange Fake. Although summoned in the place of True Lancer, the shadows of Watcher claim Sigma himself will become True Lancer.
Watcher's True Name is unknown, hidden as ○○○·○○○○, or ○○○○○○○ (○○○·○○○○, あるいは○○○○○○○?).[1] Although described as a Heroic Spirit, she is said to be an abnormal phenomenon that would be hard to call a hero, god, or demon.[2] Upon her summoning, Enkidu senses an "abnormality" with their Presence Detection skill and wonders if they have "angered them a little," but does not believe it has anything to do with a Heroic Spirit being summoned.[3]
The actual Servant has yet to appear to Sigma, but the manga adaptation reveals her to be a large flying whale-like creature.[4]
Watcher's personality is currently unknown, as she has yet to reveal itself to Sigma.
The shadows often speak of regret and hatred.
Sigma summons his Servant without a catalyst at the behest of Francesca. Upon the summoning being completed, he is greeted by Watcher's shadows, confused by their appearance. They mention that he is unlucky in having summoned them, but that they have high hopes that he'll become True Lancer after he passes several trials.[3] Watcher himself doesn't show himself or speak to Sigma, instead observing the Grail War and transferring the information he receives to the shadows. The parties of the war are unable to notice Watcher, except for False Lancer, who can sense a presence similar to certain beings in their own era, and False Caster, who can sense someone watching him.[5]
False Assassin approaches Sigma and the shadows warn him his first trial has begun. He asks Watcher to assist him, but the shadows remind him that they cannot touch anything. False Assassin assumes he is talking to himself, but realizes he is a Master and attacks. Having observed her in battle, the shadows are able to warn Sigma about her Noble Phantasm, Zabaniya: Phantasmal Pedigree. Thanks to the warnings, Sigma is able to dodge each attack and escape. As he is running, he comes across Ayaka Sajyou. The shadows tell him she is an innocent dragged into the war, so he attempts to take her to safety. False Assassin and Saber arrive. The shadows explain that Ayaka is Saber's Master and that Saber is Richard the Lionheart. Mysteriously, the shadows imply that Sigma would be able to take Saber on in a fair fight.[6]
Because of Sigma attempting to protect Ayaka, Saber and False Assassin invite Sigma to join their alliance. Due to the fact that nobody can see the shadows of Watcher, Sigma claims that he has summoned Lancer Charlie Chaplin to both Saber's alliance and Faldeus Dioland, one of the people behind the war, who is keeping in contact with Sigma, and that Chaplin chooses to remain concealed for now. Later, Sigma has a chat with False Assassin over the nature of their faith. When she wishes him well and leaves, he stares at her, causing the shadows to tease him and ask if he is smitten, which he denies.[7]
Watcher continues to supply Sigma with much information throughout the War, telling him about the battle between True Archer and True Berserker, the spies in the other sides of the War, as well as the upcoming battle for the safety of Tsubaki Kuruoka, the young comatose Master of False Rider.[8]
As Sigma and False Assassin observe Saber's battle with False Archer, the shadows tell Sigma that False Archer's true name is Gilgamesh. When Sigma admits he doesn't want to help save Tsubaki because it doesn't benefit them and that he's jealous because he was not saved when he was a child, the shadows scold him for his immaturity. Sigma changes his mind and says he'll help False Assassin rescue Tsubaki, and that afterwards, he'll tell True Archer that she is not in the hospital so that he'll hopefully not attack it. The shadows ask him what changed his mind about not wanting to help when there is no benefit, and he is unable to answer. When they enter the hospital, Jester Karture attacks them. The shadows identify him to Sigma and warn him his second trial has begun.[9]
During Sigma and False Assassin's battle with Jester, the shadows feed Jester's personal information to Sigma. Sigma recites this information, unnerving Jester and making him demand to know how Sigma knows, which Sigma doesn't answer.[10]
Sigma, False Assassin, and several others have been sent into Tsubaki's dream world by False Rider. Sigma realizes he can no longer see the shadows nor hear their voice. False Assassin suggests calling his Servant to his side with a Command Spell. Sigma considers it, but decides not to as he has no idea what would happen.[11]
Watcher's summoning is different than a normal summoning. The Watcher Class is not the normal Servant class under which she would be summoned. The shadows mention potentially being properly summoned under the Gatekeeper class.[5]
Watcher's Skill ○○○○○○○'s Trials (censored on the status sheet) is a variation of an "Anti-Humanity Skill." It allows her to alter the Luck stat of life born from her womb to give them trials. This ability is not almighty enough to manipulate destiny, and it is meant to be mainly used on the Master with which she is contracted. This skill leaves the Master with a high probability of dying.[1]
The purpose of Watcher is not to act as Servant replacing one of the other classes. She is a "lookout" observing the Holy Grail War, and said to be an obstacle for Sigma to overcome so he can become "Lancer while living." She will give him "unreasonable" trials to overcome so that he can "become somebody."[5] The shadows profess that Sigma is unlucky in having summoned Watcher, that he is now burdened with unavoidable hardship.[3] They have high hopes for him that he'll become Lancer.
Watcher's Skill Dweller of Another Phase is the ability of being indestructible with the exception of very specific circumstances rendering her able to be destroyed.[1] While Watcher's form is shown to the reader, she is depicted as translucent and not actually visible to anyone, including her Master.[4] Unlike other Servants, her very existence contradicts the current world, so she can never manifest with a physical body.[1] She cannot be directly felt or sensed by others, but Enkidu is able to notice some sort of presence upon her summoning. Caster senses the feeling of being watched. Although nothing has physically changed about his room, he feels "as if the quality of the space itself had changed." Although an uneasy feeling, he decides to pay it no mind and feels fine with an "audience" spectating.[5]
While she does not appear to Sigma, he can feel the connection through magical energy to Watcher. He states that she does not seem to be draining his magical energy.[3] She can only manifest a portion of her body in the moment it is being destroyed if conditions are met, but this manifestation is within a timeframe lower than 0.00001 second.[1]
Watcher's Skill Universal Bird's-Eye grants the capacity to understand everything within a limited territory in which she is summoned, limited to sight, hearing, and magical energy detection at Rank B.[1] This Skill takes effect the moment she is summoned. She cannot see into the past, so anything from before her summoning is unknown to her.[5] The exact radius is unknown, but there are some areas in Snowfield outside of her range.[12] This information is shared with the shadows, allowing them to notify the Master of what Watcher observes. While she can use the knowledge to predict certain actions, form ideas as to how individuals will act, and deduce patterns from basic personality traits, she knows nothing of what she has not directly observed, and she cannot read minds.[13][12]
She can observe entire groups and point out exact numbers, individual flaws like traitors within the group, and their entire scope of activity. She cannot grasp the intentions of those who act wordlessly and dispassionately without them first taking observable action. If the individual is like Ishtar, they can completely isolate their presence from observation even to the point where Watcher cannot even make a guess.[12] Upon her summoning, she notices the various irregularities of the Holy Grail Wars, including that Heracles was transmuted into the Avenger Alcides and other unnatural existences being drawn into the city.[5] She can observe and relay even Servant True Names and Noble Phantasms should she observe them.
Watcher's Skill Watcher is a Skill "that represents the Watcher class' special contract status towards the Master." For Watcher specifically, she communicates with the Master through various figures referred to as Shadows (影法師?).[1] These shadows are beings with which only the Master of Watcher can hear and interact. Due to Watcher's influence, they appear directly in the summoner's brain to interact. They can interact with Sigma in some sense, allowing him to feel one put a hand on his shoulder.[7] He describes the shadows as being like Heroic Spirits, two of them claiming to be able to appear as proper Heroic Spirits under other circumstances, but they are not Heroic Spirits in their current state as Watcher's shadows.[5] Due to not being Heroic Spirits, their appearance and personalities may be different than their Heroic Spirit forms.[14] Sigma cannot read their statuses like a Master would be able to view those of Servants. They cannot use any Noble Phantasms, and lack anything that can be called a weapon, not a blade or even a chopstick.[3]
They each appear one at a time to speak in turn, displaying distinctive appearances and personalities.[3] They guide Sigma for unexplained reasons related to his supposed destiny to become Lancer, mentioning Watcher's trials frequently. They will generally not act on their own until asked, unless there is an impending danger of which they wish to warn Sigma. While they may be vague and deliberately withhold information, they do not lie to Sigma.[13] They are granted knowledge of the Holy Grail War and the modern world through both Watcher and the Grail much like the Servants.[5]
The self-proclaimed Captain (船長?) is the first of Watcher's shadows to appear. He is a modernly-dressed, aging old man with gray hair and a large vertical scar that runs from his face to below his collar. His features are described as being "old enough to be called elderly" but also strong enough to give the presence of an active-duty marine. He appears in an old chair, carries a cane in his hand, and he has a distinctive smooth, white artificial leg attached at one knee.[7]
He claims that as a proper Heroic Spirit that he would manifest as a class founded on vengeance rather than as a Rider. Upon sensing True Archer, he feels "presence like his own" and resonates his own rage with it.[13]

"Boy with wings on his back"
[
edit
|
edit source
]
The boy with wings on his back is a self-described "escaped prisoner." Compared to the more modern looking captain, he is dressed more like someone from ancient myths. Upon his back and shoulders, he is fitted with mechanical wings, having degraded to looking skeletal with pieces of wax and white feathers interwoven throughout.

One of the shadows is Asclepius[14] in the form of a young boy in his early teens. Wearing a white garment, he carries a staff with a living snake entwined around it. He says his appearance of being a child is due to the effect of using his own body as part of a clinical study to test Medusa's blood.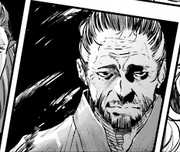 One of the shadows wears an "outfit that reminds Sigma of a Japanese temple." Despite being faced with the possibility of Sigma having to fight Saber, the individual states that he would not try to stop Sigma if Sigma wished to face Saber as a trial. Sigma notes it seems strange that the shadow acted as if Sigma stood a chance.

One shadow is noted to be a particularly carefree man, even during a serious situation. He also says he would have "materialized and made a go of it as a Heroic Spirit" if Sigma had been a woman.

One of the shadows is a female aviator.

One of the shadows is a knight who seems to hold King Arthur in high respect, falling into silence when Sigma references Monty Python and the Holy Grail as the basis of his knowledge on the topic.
Watcher was originally going to be a Shielder-class or Gatekeeper-class Servant.[15] The design of Watcher was first revealed in the fourth volume of the manga adaptation.[4]
↑ 1.00 1.01 1.02 1.03 1.04 1.05 1.06 1.07 1.08 1.09 1.10 1.11 1.12 1.13 1.14 1.15 1.16 1.17 1.18 1.19 1.20 1.21 1.22 1.23 1.24 1.25 1.26 1.27 1.28 1.29

[] Fate/strange Fake - Volume 6 - Servant status: Watcher[T]

Class: Watcher
Master: Sigma
True Name: ___ ____, or _______
Sex: Supposedly female, but her current Master (Sigma) is unable to confirm
Height and Weight: Unable to manifest as an entity with mass
Alignment: Lawful Neutral

Strength: —
Endurance: EX
Agility: —
Magic: EX
Luck: —
Noble Phantasm: EX

Class Skills
■ Anti-Magic: EX
■ Overrun Territory: B

Personal Skills
■ Watcher: B
A skill that represents the unique form of a Watcher's contract with their Master. In this Heroic Spirit's case, that means communicating with her Master via "shadows."

■ Trials of _____: B
A variant of a certain anti-humanity skill. Watcher is able to bestow trials on lifeforms born from wombs by altering their luck. Because it is not powerful enough to manipulate fate, this ability is primarily used on Watcher's own Master. Watcher's Master is extremely likely to die.

■ Overlook All Creation: B
The ability to comprehend events taking place in the set area where Watcher was summoned. At rank B, it is limited to events observed via sight, hearing, and sensing magical energy.

■ Denizen of a Different Phase: A
A skill that indicates invincibility except under certain specific conditions. Watcher contradicts the current state of the world and therefore can never manifest with a body like other Servants. Conversely, Watcher is able to manifest only a portion of her body for less than 0.00001 seconds only in the moment that the conditions are met and she is destroyed.

■ (Obscured in volume 6)

Noble Phantasms
■ (Obscured in volume 6)

CLASS ウォッチャー
マスター:シグマ
真名:■■■・■■■■、あるいは■■■■■■■
性別:女性と伝えられているが現状のマスター(シグマ)には確認不能
身長・体重:質量を持った存在としては顕現できない
属性:中立・秩序

筋力:―
耐力:EX
敏捷:―
魔力:EX
幸運:―
宝具:EX

クラス別能力:
■ 対魔力:EX
■ 陣地蹂躙:B

固有スキル
■ 番人:B
ウォッチャーとしての、マスターに対する特殊な契約形態を表したスキル。この英霊の場合は「影法師」を通じてマスターと交流する。

■ ■■■の試練:B
とある対人類スキルが変化したもの。母胎から生まれし生命に対し、幸運値を変動させて試練を与える事ができるが、運命を操作できるほど万能ではない上に、主にそれは自らと契約したマスターに対して向けられるものである。マスターは高確率で死ぬ。

■ 万象俯瞰:B
自らが召喚された一定領域で起こっていることを把握するスキル。Bランクでは視覚と聴覚、魔力感知で観測されることに限る。

■ 異相の住人:A
特定の状況を除き不滅である事を示す能力。現在の世界の在り方と矛盾する為に他のサーヴァントのように肉体を持つ形では決して権限できない。逆に言うと条件が揃って滅する瞬間のみ。0.00001秒に満たぬ時間、肉体の一部だけを顕現させることができる。

■ ???
(黒塗りされて確認できないがもう一つスキルを有する。)

宝具
■ ???

↑ Fate/strange Fake volume 3 teaser - However, Sigma does not yet know that what he had summoned was an especially abnormal "phenomenon" that can hardly be expressed as the sort of heroes, gods and demons.
↑ 3.0 3.1 3.2 3.3 3.4 3.5 Fate/strange Fake Volume 3 - Interlude: "The Passion of the Nameless Soldier"
↑ 4.0 4.1 4.2 Fate/strange Fake Manga Chapter 14: "The Passion of a Nameless Soldier (Part 2)"
↑ Fate/strange Fake Volume 3 - Interlude: "The Trials Begin"
↑ 7.0 7.1 7.2 Fate/strange Fake Volume 4 - Interlude: "The Boy Does Not Believe In God"
↑ Fate/strange Fake Volume 4 - Interlude: "The Parade of Treachery"
↑ Fate/strange Fake Volume 5 - Interlude: "Mercenary, Assassin, Vampire I"
↑ Fate/strange Fake Volume 5 - Interlude: "Mercenary, Assassin, Vampire II"
↑ Fate/strange Fake Volume 5 - Interlude: "Mercenary, Assassin,           "
↑ 12.0 12.1 12.2 Fate/strange Fake Volume 4 - Interlude: "The Parade of Treachery"
↑ 13.0 13.1 13.2 Fate/strange Fake Volume 4 - Interlude: "Backstage at a Third-Rate Comedy"
↑ TYPE-MOON Ace 12 - Pg. 105 - ---彼のサーヴァント。ウォッチャーはかなり謎めいた存在ですね。
成田:「ウォッチャー」というクラス名は、ただ見張るよりは番人や灯台守という意一味合いが強いです。じつはギルガメッシュの別の形態と呼ばれているクラスのゲートキーパーやシールダーにする案もあったんですが、やはりウォッチャーがいちばんしっくりくるかなと。ウォッチャーの正体は、一部の読者さんは既に気付いていると思います。
Community content is available under
CC-BY-SA
unless otherwise noted.